Jonathan Larson's landmark Pulitzer Prize and Tony Award-winning rock musical Rent will celebrate it's 10th Anniversary with a one-night-only benefit that reunites the original cast on April 24th .
To continue the celebration, the next night, producers Jeffrey Seller, Kevin McCollum and Allan S. Gordon announced that tickets for the regularly scheduled performance will be drastically reduced.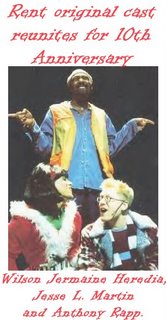 The reunion performance will be followed by a gala at Cipriani 42nd Street, sponsored by Target. Honorary chairs are James L. Nederlander of the Nederlander Organization [Rent plays at the Nederlander Theatre on West 41st Street]; Jonathan M. Tisch, chairman of NYC & Company and CEO of Loews Hotels; and Gordon.
Proceeds from the benefit performance will be donated to Friends in Deed, a center for life-threatening illness co-founded by Mike Nichols; the New York Theatre Worskshop, the East Village theatre where the musical originated; and the Jonathan Larson Performing Arts Foundation, which provides financial support to theater composers, lyricist and bookwriters.
Among those who originated roles ten years ago are Taye Diggs, Tony Award-winner Wilson Jermaine Heredia , Jesse L. Martin, Idina Menzel, Adam Pascal and Daphne Rubin-Vega.
Tickets range from $1,000 to $2,500; to purchase call (646) 505-5175 or go to http://[email protected]/.
But, wait, there's a way to avoid robbing a bank. Limited in the number of seats though it may be, there's a much less expensive way you can be there, too.
At 2 P.M. on April 24th there will be a registration in the Nederlander lobby for a lottery drawing of $20 tickets for the first two rows of orchestra seats for that night's historic performance. Cash only, of course.
And there's another bargain in store the next day.
On April 25th all tickets for that night's performance, featuring the current cast, will be $20. Tickets will go on sale that morning at 9 A.M. on a first-come, first-served basis. There is a limit of two tickets per person on a cash-only basis.
Rent, a modern-day interpretation of Puccini's La BohËme, tells the story of struggling artists in the East Village - some drug-addicted, some dying of AIDS. It is directed by Michael Greif. The show opened at the Nederlander on April 29, 1996 following a history-making, sold-out engagement at NYTW.

EILEEN HECKART SPOTLIGHTED

Oscar, Tony, Drama Desk and Emmy-winning actress and Theatre Hall of Famer Eileen Heckart, whose theater career began way Off Broadway with the now defunct Roman Catholic theater troupe, the Blackfriars Guild, and spanned from 1943-1990 on Broadway, is being celebrated in a touching memoir by her son, Luke Yankee, a West Coast-based director, actor and director.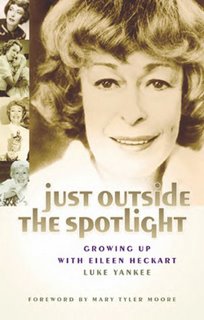 Just Outside the Spotlight: Growing Up with Eileen Heckart [Back Stage Books; $25; 304 pages, hardcover; with 60 black & white photographs; Index] has a brief foreword by Mary Tyler Moore, recounting the time Heckart appeared on her show in the recurring role of Aunt Flo.
The gravely-voiced, thin-as-a-rail Heckart was known to be as generous as she was talented.
Besides countless films and TV roles dating back to the time of live, hour-long dramas, she appeared on Broadway in such hits as The Voice of the Turtle, Picnic [an award-winning role she didn't get to recreate onscreen], The Bad Seed [in a role she recreated onscreen], The View from the Bridge, The Dark at the Top of the Stairs [1958, Tony nominee, Featured Actress]; Invitation to a March [1961, Tony nominee, Featured Actress], You Know I Can't Hear You When the Water's Running, and Butterflies Are Free [1970, Tony nominee, Featured Actress] .
She was a 2000 recipient of Tony Award Honors for Excellence in Theatre. She died December 31, 2001.
Yankee calls his mother a combination of Auntie Mame and Betty Crocker. The book - part memoir, part scrapbook, part scandal sheet - recounts warm friendships and often hilarious encounters with Marilyn Monroe, who used to baby-sit her children, and such show business royalty as Bette Davis, Ethel Merman, Paul Newman, Marlene Dietrich, Sophia Loren, Lucille Ball, Clark Gable, Thornton Wilder, Arthur Miller, Elia Kazan, William Inge, Bob Fosse, Ellen Degeneres [whom, it turns out, she inadvertently outted] - not to mention a Cardinal or two and a president or two, such as LBJ.
The book is a fun and often poignant read, but one thing that's missing is an index of Heckart's hundreds of theater, film and TV roles.

OF THEE I SING, YES, THEE

The first musical to win the Pulitzer Prize, George and Ira Gershwin's 1931 political satire Of Thee I Sing is next up at City Center Encores!, May 11 - 14. Four-time Tony Award-nominee Victor Garber, off for some time in LaLaLand co-starring in prime time TV, returns to once again captivate audiences as presidential candidate Jack P. Wintergreen.
In a forerunner of many presidential runs to come, Wintergreen is side-tracked by scandal. Yes, the female kind.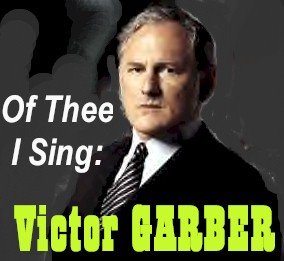 In its original Broadway run, the show, with one of the largest casts the main stem had ever seen, was a massive hit and played over 440 performances.
"Of Thee I Sing has one of the best overtures every written for a Broadway show," notes Encores! musical director Paul Gemignani. "Gorgeous music by George Gershwin. I'm looking forward to conducting that score with our orchestra."
In addition to the classic title tune and "Wintergreen for President," score highlights include "Love Is Sweeping the Country," "Who Cares?", "A Kiss for Cinderella," "Never Was There A Girl So Fair," "Because, Because," "Jilted" and a tune that received quite a bit of popularity in it's day, "Some Girls Can Bake A Pie."
Gemignani has enjoyed a long-time association with Sondheim musicals and conducted the the American Theatre Orchestra for Symphony Space's celebrated, marathon Wall to Wall Sondheim in honor of the composer's 75th birthday. His introduction to Encores! came in 1999 with Do Re Mi. He's music directed and conducted 35 Broadway shows, including On the Twentieth Century, Evita!, Crazy For You and the Kiss Me, Kate revival. In 2001, he was honored with a Tony Award for Lifetime Achievement.
Garber, who made his Broadway debut when he joined the cast of 1977's acclaimed drama The Shadow Box, went on to star in Deathtrap [Tony-nominated, Featured Actor, Play], the original Sweeney Todd, the 1982 Little Me revival [Tony-nominated, Best Actor, Musical], the original Noises Off, Lend Me A Tenor [Tony-nominated, Best Actor, Play], Damn Yankees [Tony-nominated, Best Actor, Musical], LCT's Arcadia and Art.
Of Thee I Sing's performance schedule will be: 8 P.M. on Thursday, Friday and Saturday, May 11-13, with a 2 P.M. matinee on May 13; and at 6:30 P.M. on the May 14.Lead sponsorship for Encores! 2006 season is provided by Newman's Own. Single seats [$90-$25] for this last presentation of the season are available at the City Center box office, through CityTix at (212) 581-1212, or online at http://www.nycitycenter.org/.

FROM BROADWAY TO THE CIRCUS
Chuck Wagner, known for portraying larger-than-life characters on Broadway [Les Miz, Jekyll & Hyde and five years and over 1,200 performances as the beast in Disney's Beauty and the Beast] and in the regionals has run away to join the circus. Through next Monday [April 17], you'll find him arena-center at Madison Square Garden as an Everyman ringmaster of Ringling Bros. and Barnum & Bailey's Greatest Show On Earth.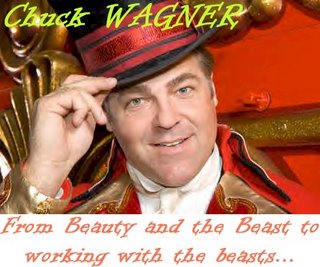 "I've gotten to do what most of us only dream of doing," laughs Wagner. "Run away and join the circus."
He says the idea of preserving the past is very important "and Ringling Bros. is one of America's national treasures. That's one of the reasons I was attracted to this job. The other, to be perfectly honest, was the money. With the Special Equity Contract, it was the end of the world as far as making a living on the road for me and many actors."
Right now he's left family behind in Florida, where the kids are in school and his wife is supervising the reconstruction of their hurricane-damaged home, and living in his new home-away-from-home, a not-so-spacious compartment on the RBBB train. He's looking forward to criss-crossing the nation over the 10 months.
"Traveling with Ringling Bros.," Wagner claims, "is not unlike being on the road with a show. It's like a bus and truck tour, but instead of staying in a different hotel room every stop, I've got a train!"
Examing his options, after a visit town to audition for Bosco in The Woman in White and Arthur in the Spamalot tour, "and none of that happening, the opportunity came to audition for the circus. I went for it."
RBBB impresario Kenneth Feld also went for Wagner, saying "Not only does Chuck have acting chops and a commanding presence, but he possesses a voice that can fill and captivate any arena."
"There's never a dull moment," reports Wagner, "with two and sometimes three shows a day. And there's no shortage of traveling companions: artists from all over the world, a herd of elephants; Andalusian, Arabian, quarter and Canadian pacer horses [ridden by the Cossack troupe]; and my little dog."
Wagner, who began his career in 1976 in a production of 1776, co-starred as Athos in the short-lived Tom O'Horgan/Joe Layton The Three Musketeers [produced by Feld's father, Irvin]; as the original Prince in Sondheim's Into the Woods and, most recently, in the Kiss Me, Kate tour.
He doesn't plan to stay with the circus forever. Theater is in his blood. His next ideal option, he says, is to audition for the national company of Disney's Tarzan, when time comes for it to hit the road. He's friends with Olivier, Tony and Drama Desk Award-winning Shuler Hensley [Oklahoma! revival] and says his name is written all over the role of Kerchak.

ANIMATION GENIUS AT WORK

Long, long ago before there was that galaxy far, far away and animator Ray Harryhausen was Hollywood's human CGI genius.
Cinema buffs of a certain age and sci-fi fans who've discovered Harryhausen's brilliant work on DVD have vividly etched memories of his prehistoric creatures, mythological monsters and aliens - especially the fighting skeletons in Jason and the Argonauts, the angry T. Rex in Island of the Gwangi. and Joe, the huge, friendly gorilla of Mighty Joe Young.
The Art of Ray Harryhausen by Harryhausen and Tony Dalton [Watson-Guptill; $50; 240 pages, oversized hardcover; 211 color and 75 black & white illustrations], a companion book to 2004's Ray Harryhausen: An Animated Life, gives a fascinating frame-by-frame behind-the-scenes look at the fantasy world created by the critically acclaimed master of stop-motion animation.
The book is lavishly illustrated with huge reproductions of film cells and storyboards. Peter Jackson, the Oscar-winning director of the Lord of the Rings trilogy and the King Kong remake, has written a laudatory Foreword tribute.

EXPECT FAN GRIDLOCK UPTOWN AND DOWNTOWN
Look who's in town to act! Has there ever been such a celebrity-studded season? Have there ever been such mobs at stage doors?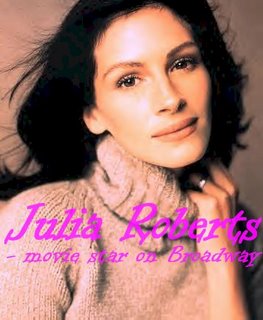 Harry Connick Jr. in Pajama Game; Ali McGraw and Julianna Margulies in Festen, Maxwell Caulfield in Tryst; Cyndi Lauper in Threepenny Opera opposite Alan Cumming, Julia Roberts and Paul Rudd in Three Days of Rain and, soon, Ralph Finnes, opposite Cherry Jones, in Faith Healer.
Downtown, in June, in Neil LaBute's Some Girl(s) you'll have everyone's favorite nanny, Emmy and Golden Globe-winner Fran Drescher returning to the stage Off Broadway and joining TV's favorite supposedly-gay [what no Emmy and Golden Globes for that run on Will and Grace?] hunk Eric McCormack and the stunning Maura Tierney [ER].
Over at Festen, audiences have been quite abuzz, buzz, buzz about this adaptation of a cult Danish film - especially abuzz, buzz, buzz about McGraw's Broadway debut.
At Wednesday's matinee, in spite of fight director Terry King's well-rehearsed choreography, in a particular heated Act Two moment [onstage], Michael Hayden banged his head quite badly. After many applications of ice cubes to reduce the swelling, ever the trouper, he went on that night.
[Rent photo: JOAN MARCUS]


--------
Ellis Nassour is an international media journalist, and author of Honky Tonk Angel: The Intimate Story of Patsy Cline, which he has adapted into a musical for the stage. Visit www.patsyclinehta.com.

He can be reached at [email protected]





Why are you looking all the way down here?
For more articles by Ellis Nassour, click the links below!

Previous: MAXWELL CAULFIELD: CHARMING, HANDSOME RAKE IN TRYST; EBERSOLE AND MAXWELL SHINE; LUPONE, McENTIRE, MITCHELL ON CD; MORE

Next: Actress Nominees; Threepenny's Peachy Roles; Drama Desk Noms Announced Thursday; Starshine On and Off Broadway; Broadway 1968; South Pacific Concert On PBS; Tribeca Film Fest; More

Or go to the Archives