Robert Cuccioli is back from his voyage of self discovery after taking Broadway by storm in Jekyll & Hyde and he's landed in Paris...the Off Broadway one of Jacques Brel.
Though he's been away - and sometimes not that far away - for almost six years, he returned quite invigorated about his life and career. He's starring with Natascia Diaz, Rodney Hicks and Gay Marshall in the revival of Jacques Brel Is Alive and Well and Living in Paris at the kinky Zipper Theatre [336 West 37th Street].
Brel's songs have been enthralling audiences for over four decades. The Zipper production, directed by Gordon Greenberg [Floyd Collins; Paper Mill's Baker's Wife], is the first major revival since the acclaimed original in 1968 at Greenwich Village's famed Village Gate nightclub [now the Village Theatre], where such artists as Woody Allen, Nina Simone, South African trumpeter and jazz musician Hugh Masekela and controversial apartheid activist, actress and unique song stylist Miriam Makeba were introduced along with fiery Latin jazz nights.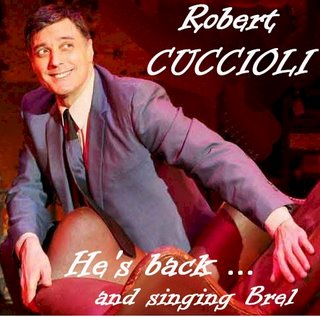 Cuccioli's sporting a new look with his cropped hair, but the voice hasn't changed. It's still a stellar attraction.
He became the toast of Broadway and a hugely popular matinee idol in 1997 in the starring role in Frank Wildhorn and Leslie Bricusse's Jekyll & Hyde.
In recent years, he's spent a lot of time shaking off that image. Other than a brief run in an Off Broadway play, this is New York's first opportunity to see the new Cucc.
"What really attracted me to the production was that it's an ensemble piece," he says. "I'm getting to work with three other actors. The ensemble environment is something I'm drawn to."
The other attraction, he admits, are the Brel songs: "Amsterdam," "Madeleine," "Marieke," "Brussels," "Alone" and, among the nearly 30 tunes featured, "Carousel" and "If We Only Have Love."
"Each song is a gem within a gem," states Cuccioli. "As a singer, I connect with them because they are a challenge. They're perfect for an actor because each one is like a play. They're story songs with a beginning, middle and an end. For that reason, they fit very well into a revue format because, even if taken out of context, they hold their own weight."
The repertory of the Belgian Brel, who made his home and fame in France, are a blend of ballads, tangos, boleros and rock. They examine themes of war, adventure, broken dreams, people from all classes, being young, growing old and, of course, love. With his concentration on scamps, sailors, vagabonds and the complexities of life, Brel's work is also not without its sense of humor.
Thanks to lyricist Mort Shuman, who co-created the original, and poet Eric Blau, the majority of the songs featured are in English.
"Translations are tricky," says Cucc. "You have adjectives, verbs and nouns misplaced, so the ideal is to get the meaning as close as possible to what Brel is saying in French." And Cuccioli and company ran into several different translations. "We looked at lists of them," he explains. "In some, the lyrics just don't flow well; so we kept at it to find phrases that fit better."
He notes that this production can't be called an exact revival. "Songs have been rearranged for dramatic and theatrical context and some new tunes have been added. It's a complete rethinking. As I understand it, the 1978 production was more concert. Everyone stood and sang. Gordon has given the show a through-line to connect the pieces. It's impressive how everything flows."
Many of the tunes Cucc sings, like "Jackie" and "Amsterdam," were performed by Shuman in the original, but there are some changes. "A song that may have been sung by a man is now sung by a woman," he points out and several tunes are brand new."Songs heard here onstage for the first time include "Ca Va," "A Song for Old Lovers" and "Ne Me Quitte Pas" are among the Brel compositions making their debut.
Fans of Brel's work know that some compositions have a lot of lyrics sung at breakneck speed. "Yes," laughs Cuccioli, "some are very wordy. It's a bit of a challenge when you're learning them. You've got to get really grounded in them so that they're totally in your body. You don't have a lot of time to think about them. Once you get in front of an audience, you begin to hear and enjoy them."
Long Island native Robert Cuccioli had appeared as Javert in the long-running Les Miserables, but on April 28, 1997, when J&H finally trucked in to make its New York debut, he was already a matinee idol from one of the lengthy tours.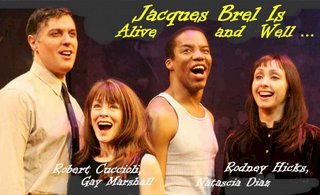 The type of bedlam, especially after matinees, outside the Plymouth Theatre stage door was the kind that today would greet a member of a charted boy band, American Idol winner or a Brad Pitt.
Fans, mostly female, screamed at the top of their lungs for their Cucc to come out. The commotion, which went on for nearly four years, was so loud it wasn't such a pleasant experience for actors and audiences in longer nearby shows.
"The critics didn't jump to their feet," Cuccioli notes , "but we did get some good reviews. That season we were the longest running show of anything that got Tony-nominated or even won."
He was Tony and Drama Desk-nominated for Best Actor [winning the DD Award], and the show was nominated for Best Musical.
However, in an affront, it didn't receive a nod in the score department. And this was a Frank Wildhorn musical before there were Frank Wildhorn musicals to deride.
"Whatever else," says the actor, "Jekyll & Hyde was a crowd-pleaser. Before we got to New York, several of the songs were pretty much pre-sold. Frank was very smart. He had the music out there before the show came to town. I knew what we had, and certainly the audiences were responsive. In fact, they loved it. Many came back again and again."
J&H gave him many learning experiences. "One thing it taught me," he says, "was how to be a pop singer, which is something I'm more attracted to than Broadway legit. Some singers can naturally go to it because pop's what they've listened to all their lives; but, for me, it was another muscle I had to learn, another ear I had to go to. I listened to rock, but ended up doing Broadway-sound type shows."
Another lesson was the responsibility "of carrying such an enormous show on my shoulders. I hope I did it well."
Robert Cuccioli may have been an overnight sensation, "but," he smiles, "there were a lot of overnights. There were fifteen years of auditioning and working all manner of odd jobs to survive before Jekyll & Hyde."
Ironically, getting into theater was an accident. "I loved music and singing," says Cucc. " I was in the school glee club, had a rock band and played clubs. In college, I majored in finance. I did theater and people would tell me I was good. They would ask if I ever considered doing it as a career. It never occurred to me."
Instead, he became a successful Wall Street trader. When the bug did bite, he started going to auditions, "where it was all trial and error." He came to J&H in 1994, late in the game, after there had been two major regional productions and a New York workshop, which starred Terrence Mann.
After the run, "I had a difficult time finding things to inspire me," explains Cucc. "That led me to the challenge of directing, which I love. After the run, I was exhausted and I didn't want to sing anymore. Every note in my body had been expended. I began learning about myself - what I wanted, what I didn't want."
There was a brief stint Off Broadway in the Enter the Guardsman, then, attempting to take advantage of that blazing hot fame, Cucc became bi-coastal. "No matter how successful you are here, for the most part, the TV folks don't know about it. There are some casting directors who come to town a couple of times a year and check out what's going on onstage. A couple knew who I was and what I'd done; but, the majority, no."
He managed some TV episodic work, but it wasn't satisfying. He always found himself in a New York state of mind: "It's fine out there unto itself, but there's a different mentality. I found it a little destructive. The energy of New York is what I love. It's part of me and I didn't want to give up on me. There was one big negative. When I came back, it meant starting over again. That was hard for someone who'd been in the business twenty years!"
The last few years for this actor, who turns 48 next month, were "eclectic." Cucc's goal was "to shake things up a bit. People had a certain impression of me. For a while there, I was really pigeonholed. I needed to shake that up for the outside world and also for myself.
"I was trying to stretch myself," he continues, "break the stereotypes of what people thought and what I thought of myself." Two years on the road and two years on Broadway in J&H gave him the type of cachet where regional theatres risked hiring him for things they normally wouldn't consider him for. That's worked out pretty well. "I've been doing everything from Shakespeare to drama to comedy to Rodgers and Hammerstein."
There were straight plays in San Jose and at the McCarter, musicals for Pittsburgh Civic Light Opera and He musicals at New Jersy's Paper Mill Playhouse and classics the New Jersey Shakespeare Theatre, where recently he portrayed Mark Anthony in Julius Caesar.
Because he grew as an actor in J&H ó "it was the widest range of anything I've been asked to play - dramatically, emotionally, physically, vocally" - things are no longer as difficult. I still find challenges, but if I got through that I feel I can get through anything."
Cucc finds the kinky Zipper, with its variety of car seats and motley array of other types of seating, "perfect for Brel. The atmosphere is very Bohemian and you just might think you're somewhere on the Left Bank."
Tickets are $65. Purchase through Telecharge [www.telecharge.com or (212) 239-6200)]. For more information, www.jacquesbrelreturns.com.

ONE NIGHT ONLY: DIVAS WITH MUSCLE

Les Ballets Grandiva, a troupe that blends the beauty, physicality and grace of classic ballet but with men in tutus and toe shoes, will stage an outrageous evening of dance in honor of their 10th Anniversary at Symphony Space [2537 Broadway at 95th Street] on Monday, April 10, at 8 P.M.
Victor Trevino's comic ballet group, which has played to great acclaim and SRO in Japan and China, is the largest of its kind. The company, which originally consisted of 13 dancers and a repertoire of seven ballets, has grown to 19 dancers and 32 ballets.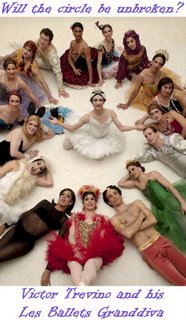 Wherever they appear, critics hail Grandiva "as more than dancers en travesti, flitting and floating on pointe. The company transforms the male comedy ballet art form from mere sight gag to the height of technical precision and dramatic excellence."
Grandiva dancers have performed with such companies as the Kirov, ABT, Houston Ballet, National Ballet of Canada and the Royal Swedish Ballet.
Monday's program will include a world premiere: Nightcrawlers, choreography by Peter Anastos and music, performed live, by Chopin [but not performed live by Chopin] and Anastos' Serenadiana, music by Tschaikovsky [who also will not be performing]; as well as these "classics" from their repertoire: Dying Swan, choreography by Dennis after Fokine to music by Saint-Saens; and their most in-demand piece, Marcus Galante's Star-Spangled Ballerina to the music of, of course, John Philip Sousa.
Best of all, tickets [general admission] are only $10. Tickets are on sale online at http://www.symponyspace.org/ or through the box office, (212) 864-5400, through Sunday. For more information, visit http://www.balletsgrandiva.com/.
BROADWAY STAR TO BE EXPOSED IN TIMES SQUARE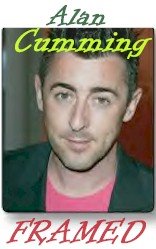 Tuesday, May 2, not long after the Drama Desk nominations are announced, Alan Cumming, currently Mack in Roundabout's revival of The Threepenny Opera, will get what's coming to him: at least, on the walls of Times Square bistro Tony's di Napoli.
There he will join theater luminaries Chita Rivera, Hugh Jackman, John Lithgow, Antonio Banderas, Billy Crystal, Whoopi Goldberg and, among numerous others, Robert Goulet, as his portrait will be unveiled for the Broadway Wall of Fame.
He'll be side by side his recently inducted Threepenny co-star Cyndi Lauper, who graciously paid tribute to her band members "who helped get me where I am," co-stars Cuming [for suggesting she come to Broadway in the show] and Jim Dale [just for being Jim Dale].
A few nights later, Harry Connick Jr. was inducted and, in spite of constant suggestions from Pajama Game cast and crew, resisted taking off his shirt.
He did graciously sign autographs and pose with co-stars Kelli O'Hara, who not only kissed him but his portrait [tinkling the ivories in PJs and an athletic tank, you know, the kind they used to call "wifebeaters"], Michael McKean, Roz Ryan and event host Valerie Smaldone of 106.7 FM Radio.
The Wall of Fame oils, by graphic artist Dan May, are done in a quasi-art nouveau style - sometimes dark, sometimes bordering on caricature.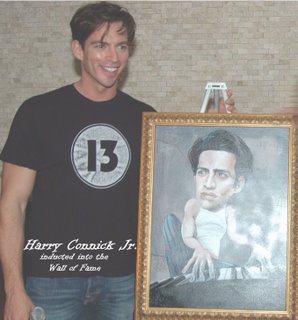 Connick hasn't just been starring in Roundabout's hit revival of PJ Game. He's busy in the recording studio readying his Columbia two-CD disc Harry On Broadway, Act 1 [in stores May 9] which will include the PJ Game cast in songs from the show and Connick and O'Hara in songs from his Broadway composing debut, Thou Shalt Not.
Connick fans should visit http://www.sonystore.com/ for 25% discounts on a number of his releases, including a pre-order bargain on the new set.

PEGGY LEE AND DISNEY CLASSIC ON DVD
Lady, a golden cocker spaniel, meets up with a mongrel dog - from the wrong side of town, of course. His name is Tramp, so what did you expect?
Disney's brilliant animators turned this fairy tale romance between two dogs into the first wide-screen [Cinemascope] feature, Lady and the Tramp, which enthralled children of all ages.
Now, Disney has brought the 76-minute animated feature back in a limited edition to celebrate the film's 50th Anniversary. It's being released on DVD for the first time [special two-disc edition, $30].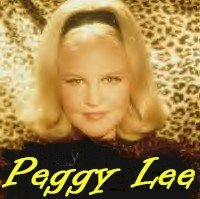 Unless you dig deep into the bonus material, you won't find Peggy Lee's name or the fact that she wrote the lyrics to jazz composer Sonny Burke's exquisite score, which includes five original songs - three of them quite memorable: "Bella Notte," sung over a candlelight spaghetti dinner outside a bistro, "The Siamese Cat Song" and "He's A Tramp."
Lee and Burke had forward thinking agents and their contracts stipulated royalties for reproduction "in any future format." They were at the top of their game and well paid by Disney, but they didn't participate in proceeds from later releases, TV showings and eventually video.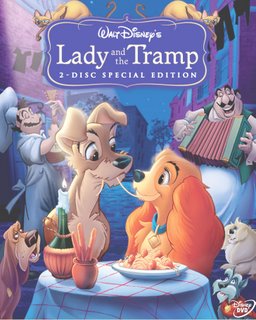 In a case that made show business headlines, Lee sued the studio for breach of contract, claiming she still retained rights. In 1991, after a lengthy, stubborn and puzzling legal battle, the courts awarded her a settlement of $2.3-million.
Now, back to the movie. In addition to Lee voicing four characters, there's Barbara Luddy as Lady, Larry Roberts as Tramp and veteran character actors Verna Felton [Aunt Sarah] and Stan Freberg [Beaver].
The DVD is a pristine remaster from original negatives of the theatrical release and a 1999 video restoration process that incorporated U.S. and international formats of the film. The soundtrack has been enhanced with a dynamic 5.1 Disney theater mix.
Bonus materials include never-before-released deleted scenes and a newly discovered alternate storyboard version of the film. In the doc, Lady's Pedigree: The Making of Lady and The Tramp, there's rare footage of Disney himself. There are games: a DVD-Rom where you can adopt one of the pups seen in the shop window and a 3-D virtual board game that tests knowledge of dogs seen in Disney films.
Walt Disney Records has released Lady and the Tramp and Friends, a nine-track budget CD [$10] that includes the five songs from the film along with Alan Menken and Howard Ashman's "Kiss the Girl" from The Little Mermaid and Something There, featuring Angela Lansbury as Mrs. Potts, from Beauty and the Beast. Two additional soundtrack songs from unidentified 1999 and 2000 films complete the line-up.
CALLING ALL RAY BRADBURY FANS

The limited engagement of Godlight Theatre Company's New York premiere of Ray Bradbury's stage adaptation of his cult classic novel Fahrenheit 451 ends on April 23 in Theatre C at 59E59 Theatres [between Madison and Park Avenues].
Bradbury is no stranger to adapting his works for the stage or screen. He has won an Emmy and been nominated for an Oscar for his animated film Icarus Montgolfier Wright.
Godlight is the company that brought us Bradbury's adaptation of A Clockwork Orange [2003]. Fahrenheit 451 is directed by Godlight's artistic director, Joe Tantalo, who also directed Clockwork.
The 90-minute stage adaptation has met with mixed critical reaction in productions around the country, but fans of the author's sci-fi imagination have flocked to see it.
Titled for the temperature at which book paper burns, Fahrenheit 451 is Bradbury's meditation on censorship and defiance. In a futuristic world where books are banned and TV rules, fireman Guy Montag [Ken King, who starred in Clockwork Orange] learns of a past where people were not afraid, where they were allowed to think.
Performances are Tuesday-Saturday at 8:30 P.M. and Sunday at 7:30. General admission tickets are $25 [$17.50 for 59E59 members] and available from Ticket Central, (212) 279-4200 or online, http://www.ticketcentral.com/.
--------
Ellis Nassour is an international media journalist, and author of Honky Tonk Angel: The Intimate Story of Patsy Cline, which he has adapted into a musical for the stage. Visit www.patsyclinehta.com.

He can be reached at [email protected]





Why are you looking all the way down here?
For more articles by Ellis Nassour, click the links below!

Previous: DISCOUNTED PREVIEWS AND LOTTERIES; WELL AND RING'S TALENT BOUNTY; VEGAS PHANTOMS AND TICKET PRICES; JABARA MUSICAL, LAST DANCE; MORE

Next: MAXWELL CAULFIELD: CHARMING, HANDSOME RAKE IN TRYST; EBERSOLE AND MAXWELL SHINE; LUPONE, McENTIRE, MITCHELL ON CD; MORE

Or go to the Archives