Could anyone play an aspiring Mr. Charm with a hidden agenda better than suave Maxwell Caulfield? He opened last night Off Broadway at the Promenade as Victorian Age George Love in the American premiere of Tryst.
Playing opposite Amelia Campbell, the 46-year-old actor who began his show business career as a male stripper, acquits himself well - displaying powerful acting chops that may surprise you if you only know him as Michael Carrington in Grease 2.
Putting aside the long roster of TV roles he's done and My Night with Reg, his nude romp Off Broadway, directed by his mentor, Tony-winning director Jack Hofsiss, Caulfield did take over the featured role of Gerald Croft in the Royal National Theatre's production of J.B. Priestly's An Inspector Calls [1994]; portrayed John Merrick on tour in Bernard Pomerance's 1979 Tony-winning Best Play The Elephant Man [directed by Hofsiss]; and, 20 years ago, portrayed the demanding role of lustful drifter Sloane in Joe Orton's Entertaining Mr. Sloane Off Broadway.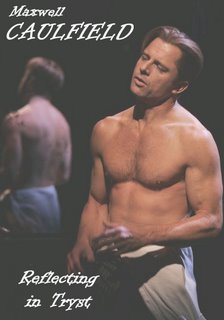 Tryst marks his return to the New York stage after what he considers a much too-long absence. It's the American title for English author and former actress/director Karoline Leach's play The Mysterious Mr. Love, which had a successful 1997 premiere at London's Comedy Theatre.
"When I saw it on the West End," recalls Caulfield during a break from rehearsals, "it came over as an unconventional thriller. George was a role that fascinated me. Then [producers] Morton Wollowitz and Barbara Freitag approached me out of the blue. Fate! I have to tell you, George and Adelaide are two cherry roles and Amelia and I are mining them for everything in the lode."
He's in wild admiration for his leading lady, who first impressed Broadway with her Tony-nomiated role in the, sadly, shortlived Our Country's Good. "She's a spitfire! I've been a long-time fan, since catching her in Translations [1995; with Brian Dennehy, Dana Delany, Rufus Sewell and Michael Cumpsty] and Waiting in the Wings [1999; opposite Lauren Bacall, Rosemary Harris, Dana Ivey, among others]. In those plays, she was so overshadowed by the stars."
Nor does Caulfield hide his enthusiasm for director Joe Brancato [Cobb, From Door to Door], the founder and artistic director of Stony Point's Penguin Repertory Company [now in it's 28th year]. "He never stops brainstorming, and is so inclusive. There's a wonderful duality to George and Adelaide and Amelia and I were, shall I be polite and just say, pushed constantly by Joe to discover new facets. It was amazing what we unearthed."
An interesting aspect of Leach's play is that in the beginning one character comes over as stronger than the other, then the tables turn and the balance of power between George and Adelaide shifts drastically.
"Not only does George find himself being drawn to Adelaide in ways he didn't anticipate," Caulfield explains, "but they also discover a common bond - parental abuse. It takes a while for Adelaide's penny to drop; but when it does, she's on to George. What George hadn't reckoned on was how this woman would get to him. For the first time, he's forced to confront feelings he's never had."
In charting the course of their characters, explains Caulfield, there were challenges. "It was important for me to maintain a comfortable, charming exterior while still trying to hoodwink Adelaide. In Amelia's case, it was in how she segues from an awkward, innocent shop girl after George does a Svengali thing on her - when he's finally able to exert control over her and make her look at herself in the mirror and see this vibrant woman."
Caulfield says he relishes creating characters far afield from what he's done "and George, this diabolical character, has been fun. I drew on things in my personal life. After all, we all put on a mask of some kind in our daily lives. Maybe we're not necessarily trying to be duplicitous, but just acting that we are in a better mood than we are or that we're more confident than we are.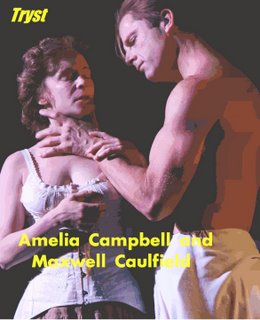 "In George's case," Caulfield continues, "it's an extreme version. He's not homicidal. He's merely aspiring to be something that he's not - to be in a class that he wasn't born into. That blind ambition brings out this dark personality lurking within that gives him that alter ego he uses to seduce and rob women."
In rehearsal, another challenge Caulfield and Campbell faced was that often, while in the midst of quite intimate conversation and combustible moments, they would break the fourth wall. "That took time to get right. The hardest part was to do it in such a way so that the audience doesn't get comfortable with it and think we're doing some sort of cabaret."
Maxwell Caulfield, born in Scotland, has an American connection in his stepfather, who was a Marine D.I. at Parris Island, SC, and who, when he couldn't stick with the discipline at home, kicked him out at age of 15.
Three years later, he got a Green Card and relocated to the States, where, admittedly, he used his good looks and sex appeal to make money as an "exotic dancer." That somehow led him into acting.
On the road in Elephant Man, he met his wife Juliet Mills, 18 years his senior, who played Mrs. Kendal. They married a year later and he became fiercely devoted to her daughter Melissa. [Mills plays the more than slightly unhinged, wicked and very funny 300-year-old-witch Tabitha Lenox on the NBC daytime drama Passions.]
In 1981, he made his Off Broadway debut in EMS. That netted him the plum starring role in the 1982 sequel to Grease, one of the most successful musical films of all time, playing pposite Michelle Pfeiffer.
Both were being groomed for Hollywood stardom, but in it's initial release, the film took a critical drubbing and was a box office bomb [a bomb that went on to reap great profits on video and in numerous primetime TV showings].
Caulfield's greatest body of work has been on TV: numerous roles in soaps, voice-overs for animated features, guest roles, recurring roles, series and miniseries. Highlights among those are his portrayal of bad boy Miles Colby on Dynasty [1981] and The Colbys [1985]. He also appeared in the first episode of Beverly Hills 90210 as a suitor interested in much younger Shannen Doherty.
He worked Off Broadway in several short-lived plays, then in 1985 he appeared opposite Jessica Tandy, David Strathairn and Elizabeth Wilson in Salonika at the Public Theatre. Other credits include a national tour of Sleuth opposite Stacy Keach, Sweet Bird of Youth at Williamstown, Paradise Lost with Geraldine Page and The Woman in Black with Roy Dotrice.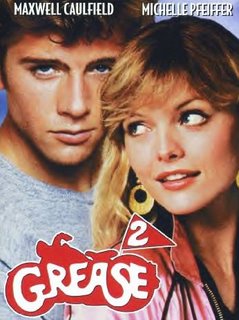 How much of his new acting chops were influenced by his father-in-law, Oscar winner Sir John Mills who appeared in over 100 films and who began his career on the English stage as a song and dance man in 1929?
"Where do I begin? Sir John [who died in 2095 at 97] was the quintessential English gentleman and the consummate pro. I was always impressed with what an innovative actor he was. His interpretation of working class men and British military officers was groundbreaking. He showed their vulnerability in a way that hadn't been done before. He brought a new sense of realism.
"I recall once Michael Caine, a sort of professor of acting, speaking in reverential terms about Sir John and the influence his work had had on him. He was a true national institution. One reason he was so beloved in England is that he didn't attempt to become an international star. He was loyal to his roots. He never went Hollywood. That really endeared him."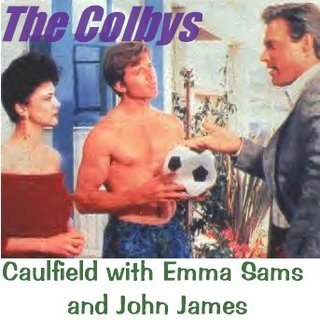 Caulfield says that Mills was not only a true family patriarch but also "one of the most generous-hearted men I've had the privilege to know. Even right at the end, his spirit was absolutely dazzling. He urged me to take care of Juliet, and we had a laugh because, all these years, she's been taking care of me!"
In addition to numerous films, Caulfield caught Mills onstage as the retired general in Brian Clarke's The Petition [1986] at the National, which co-starred Rosemary Harris; Little Lies, an adaptation of The Magistrate; Goodbye, Mr. Chips at the Chichester Festival Theatre [1982]; as Doolittle in Pygmalion [1987]; and he saw his one-man show, An Evening with John Mills, countless times.
"Sir John didn't look too kindly on primetime telly and resisted taking roles on it for years," recalls Caulfield, "but I almost had him talked into doing a guest bit in the hit BBC medical drama, Casualty, which I did for two seasons."
In 2004, Mills, then deaf and legally blind, was invited to do a double episode and Caulfield read him the script. "Even though he was somewhat infirm," says the actor, "he was still mobile as long as someone was on hand. The character he was to play is ailing in hospital and, in the end, dies. I almost had Sir John there. ëYes, yes,' he'd say. ëI can see this working.' I didn't want to read him the ending, but I had to. He said, ëOh, that's in such poor taste, the poor man dying. Tell them I'm not interested.'"
Caulfield sadly concludes, "I only got to watch him. That would have been my opportunity to work with him."
Though he's kept busy the last two years, he hasn't been onstage. "I'd be lying if I didn't say the living isn't easy at home in Santa Barbara. I committed a huge blunder in not coming back [to the New York stage] sooner. I saw how ultra competitive it had become and wasn't fond of all the stunt casting that was going on. But when the script for Tryst arrived, Juliet read it and got very excited. She has great instincts and told me I should do it."
Caulfield says that he and Campbell are so happy to be in such a sumptuous production. "Our producers have pulled out all the stops. David Korins [Bridge and Tunnel; Blackbird] has designed a magnificent set and we couldn't have asked for a better lighting designer than Jeff Nellis. Joe's orchestrated the music really creatively. It's eerie and foreboding, but also pushes the plot forward. The Promenade is one of the sweetest houses I've ever played.
He adds, "I was thrilled the other day when Joe referred to me as a ëNew York actor.' I took that as a very high compliment. And I intend to do more. Lots more. There's nothing better than playing to a live audience!"
Caulfield reports that the original aspiration for Tryst "was to go in for names and to be done on Broadway. Some that have come up are Kevin Bacon and Helen Bonham Carter. It's ended up being Campbell and Caulfield uptown, but we won't disappoint you. Tryst's become quite a sensual piece."
He adds, "Joe's taken this rather conventional type thriller with the handsome bounder and the vulnerable wallflower and given it quite a jolt. and we're kicking the crap out of these roles. We're aiming this show for the matinee ladies and the midnight men!"

STARS SHINE ONSTAGE

There are certainly more than two must-see performances currently on the boards in New York, but two of the most impressive are currently Off Broadway.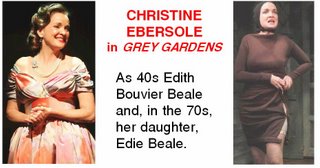 Consider Tony Award-winner [42nd Street revival] Christine Ebersole [Steel Magnolias revival; Tony-nominated for LCT's Dinner at Eight revival] in one of the most mesmerizing and all consuming characterizations of her career - and one of the most acclaimed performances of the season, the dual roles of Edith Bouvier Beale and "Little" Edie Beale in Grey Gardens.
The musical on the Mainstage at Playwrights Horizons is by Scott Frankel, Michael Korie and Doug Wright [I Am My Own Wife]. Mary Louise Wilson co-stars in Act Two as the older Beale. The director is Michael Greif [Rent].
Catch GG quickly, as it comes to an end on April 23.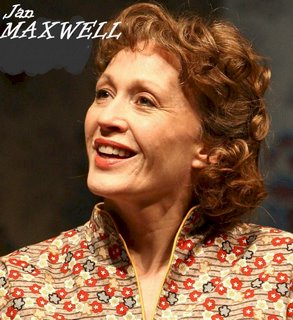 Can that really be Jan Maxwell as loopy Kath in Roundabout's revival of Entertaining Mr. Sloane at the Laura Pells Theatre? Since there's only one female role in Joe Orton's black comedy, it must be. But it may take you a while to register that this is the same Maxwell, 2005 Drama Desk Award winner [Outstanding Featured Actress] and Tony Award-nominee for Chitty Chitty Bang Bang and, among a llist of memorable portrayals, the icy Elsa Schraeder in the 1998 Sound of Music revival. But this is Maxwell as you've never seen her: lusty, sex-crazed, dizzy, canny.
Alec Baldwin, Chris Carmack and Tony Award winner Richard Easton [Invention of Love], co-star. EMS plays through May 21.
Surely, these are two actresses that will make the nominations cut in the upcoming weeks.

STARS SHINE ON CD RELEASES

Patti LuPone, currently portraying Mrs. Lovett in one of the season's most acclaimed performances in Sondheim's Sweeney Todd, has a new CD, The Lady with The Torch [Ghostlight Records] which she developed through a series of East Coast/West Coast concerts and last March's sold-out Carnegie Hall show.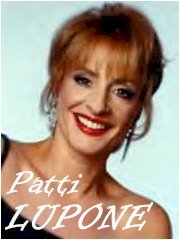 LuPone sings an eclectic array of torch ballads by Harold Arlen and Ted Koehler, "Ill Wind"; Billy Barnes, "Something Cool";George and Ira Gershwin, "The Man I Love"; Jule Styne and Sammy Cahn, "Early Autumn"; and, among several others, Arlen and Truman Capote's "Don't Like Goodbyes" from House of Flowers.

The Lady with the Torch was conceived and directed by Scott Wittman. Orchestrations are by Sondheim musicals veteran Jonathan Tunick with musical direction by Chris Fenwick, who for the studio recording, conducted a 10-piece orchestra. Joel Moss and label prez Kurt Deutsch produced.

+ + + +

All is not lost if you weren't among the lucky 1,000 + at the one-night-only June 2005 Carnegie Hall concert of Rodgers and Hammerstein's classic South Pacific starring Reba McEntire as Nellie Forbush, Brian Stokes Mitchell as Emile de Becque and, in a bit of most unsual casting, Alec Baldwin as Luther Billis. Decca Broadway has released a CD souvenir.

Lillias White as Bloody Mary, Jason Danieley as Lieutenant Cable and Dylan Baker and Conrad John Schuck are among the co-stars.

One of the very positive pluses of the recording, produced by multi-Grammy-winning Jay David Saks, is Sondheim master musical director and City Center Encores! musical director Paul Gemignani conducting the 45-piece Orchestra of St. Luke's. The production boasts the type of ensemble probably only the original production could afford: a chorus of 50. The package contains notes by R&H Org prez and exec director Ted Chapin.

Want more? The concert will be broadcast Wednesday, April 26 on PBS.

+ + + +

Just out from Ghostlight, is Songs From an Unmade Bed, lyrics by Mark Campbell and music by 18 composers - one per track.

Michael Winther starred in the New York Theatre Workshop's innovative song cycle musical as a smart, and ultimately resilient gay New Yorker on a journey through the pitfalls and triumphs of romance and heartache.

For those awaiting the CD of the Public Theatre and Ted Sperling's production of John LaChiusa's two one-act musicals under the title See What I Wanna See, it's here - with original stars Marc Kudisch, Aaron Lohr, Idina Menzel, Henry Stram and Mary Testa. Ghostlight has put together an innovative package with a slightly unusual booklet, that includes a very helpful synopsis and all lyrics.


PARTY

Jim Caruso's Monday night Cast Party at 9:30 P.M. on April 17 at Birdland [315 West 44th Street, between Eighth and Ninth Avenues] will feature Streisand impersonator Steven Brinberg in Simply Barbra! celebrating "the ultimate diva's birthday" with signature songs and special guests from Daniel Reichard, Jersey Boys; David Burnham, Light in the Piazza; and Matt Cavennaugh, Grey Gardens. For reservations, call (212) 581-3080.

UPPER WEST FEST

Symphony Space [Broadway and 95th Street] and its numerous Upper West Side partners will present the First Annual Upper West Fest from Friday, April 28th - Sunday, May 14th. It's being billed as the largest collaborative arts event ever held on Manhattan's Upper West Side.

Programs will celebrating music, dance, film, literary, theatre and visual arts. In addition, there'll be numerous family programs.

The more than 50 scheduled events will take place not only at the Peter Norton Symphony Space but also from 59-116th Streets. They include SS's Dance Sampler, a 12-hour marathon on Saturday April 29, showcasing the depth and breadth of contemporary movement, featuring children's dance, world premieres from Sync and the Melting Pot Theatre Company, works in progress by MOMIX and Complexions and a screening of Walt Disney's Fantasia.

The Upper West Fest is sponsored by Zabar's, the landmark gourmet food emporium at 80th Street and Broadway with promotional support from NYC & Company, New York's official tourism marketing organization.

The Fest is offering a $25 pass which entitles holders to purchase one ticket for any Upper West Fest event and receive a second ticket to the same event free. For full programming and event times, visit www.upperwestfest.com.

SYMPHONY SPACE GALA

Alec Baldwin will be among the honorary chairs of the May 1 Symphony Space gala A Celebration in Story and Song, which, among others, will honor Marian Seldes and filmmakers D.A. Pennebaker. Chris Hegedus [Elaine Stritch At Liberty].

There'll be a silent auction, cocktails, dinner and live auction, all starting at 7 P.M. at the Lighthouse at Chelsea Piers.

Event tickets are $600, if you want to be a Headliner, to $10,000, in case you want to be a Legend, for a table of 10. To purchase or for more information, contact Mary Hedahl, SS's associate director for Development for Individual Giving, at (212) 864-1414 X. 229.

[Tryst photos: CAROL ROSEGG; Grey Gardens and Entertaining Mr. Sloane photos: JOAN MARCUS]

--------
Ellis Nassour is an international media journalist, and author of Honky Tonk Angel: The Intimate Story of Patsy Cline, which he has adapted into a musical for the stage. Visit www.patsyclinehta.com.

He can be reached at [email protected]





Why are you looking all the way down here?
For more articles by Ellis Nassour, click the links below!

Previous: THE NEW ROBERT CUCCIOLI SINGS BREL; GRANDIVA DIVAS; ALAN CUMMING FRAMED; PEGGY LEE/DISNEY CLASSIC ON DVD; MORE

Next: RENT CAST REUNITES FOR 10TH ANNIVERSARY; EILEEN HECKART'S LEGACY IS CELEBRATED; B&B'S CHUCK WAGNER JOINS THE CIRCUS; MORE

Or go to the Archives