Of interest to anyone who's managed to get the hot, hot, hot seats for Roundabout's revival of The Pajama Game [the Tony-winning 1995 musical] starring the hot, hot, hot Harry Connick Jr, Kelli O'Hara, Michael McKean and Roz Ryan there's Harry On Broadway, Act 1, a two-CD set [Columbia, SRP $22] which not only contains PJGame's original cast recording but also Connick's Tony-nominated score for 2001's Thou Shall Not.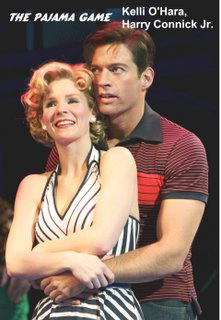 Connick, making his Broadway debut in PJGame; Tony-nomineee O'Hara [The Light in the Piazza]; and McKean will be appearing at Tower Records, 1961 Broadway at 66th Street, on Tuesday at 7 P.M. to autograph their CD. The line will surely start to form quite early.
McKean will forever be known for his role as Leonard "Lenny" Kosnowski for six seasons on the classic TV sitcom Laverne & Shirley, not to mention his celebrity impressions during the peak of Saturday Night Live in 1975.
He's no stranger to Broadway, having starred in Rupert Holmes' short-lived thriller Accomplice and, recently, as Harvey Fierstein's first replacement as Edna Turnblad in Hairspray. Then, among an incredibly long roster of film and TV work, there's his memorable rock band spoof This Is Spinal Tap.
Ryan, who as a singer gives belt new definition, was a memorable Effie in the original Dreamgirls and, not long ago, a Mama Morton in Chicago.
The season's front-runners for Best Revival have to be PJGame, directed and choreographed by Drama Desk-nominated Kathleen Marshall, and John Doyle's no-frills Sweeney Todd.
Both shows received Drama Desk revival nods and, barring cataclysmic circumstances, it would be all but unthinkable if they don't receive Tony nods. But, strange things do happen. Did you expect Chris to be booted off Idol when he was being touted as the winner?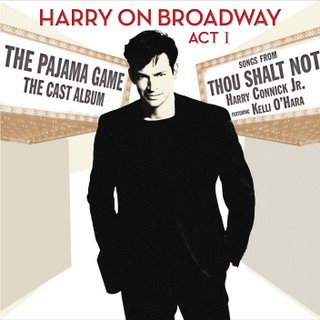 Richard Adler-Jerry Ross PJGame's score includes the standard "Hey There," sung by Connick and O'Hara as Sid and Babe; plus the show's three megashowstoppers: "Steam Heat," performed by Joyce Chittick as the transformed [from tomboy to siren] Mae; "Hernando's Hideaway," done by Megan Lawrence with a bit of improvised piano by Connick; and "I'll Never Be Jealous Again," by McKean's Hines and Ryan's Mabel.
Among the 25 tracks [22 songs, reprises and a heart-pounding overture], Babe and the PJ factory gals, then Sid, Babe and company and, again, Sid and Babe glide effortlessly through three other winning tunes: "I'm Not At All In Love," "Once-A-Year-Day" and "There Once Was A Man."
The second disc presents Connick, O'Hara and Connick's quartet in jazz-influenced renditions of "Take Me To the Mardi Gras," "I Like Love More," "I Need To Be In Love," songs that were either in or written for Susan Stroman's 2001 Lincoln Center Theatre production of Thou Shalt Not, which ran 85 performances and starred Kate Levering [42nd Street revival], Craig Bierko [Music Man revival] and, in a performance that put him on the fast track, Norbert Leo Butz, who was Tony and Drama Desk-nominated.

DRAMA DESK AWARDS INKS CELEBS, SHOWS
The 51st annual Drama Desk Awards, hosted for the third consecutive year by Harvey Fierstein take place Sunday, May 21, from 9 - 11 P.M. in the Concert Hall of Fiorello H. LaGuardia High School of the Performing Arts at Lincoln Center [109 Amsterdam Avenue at West 65th Street].
The Awards, which honor Broadway, Off Broadway and Off Off, will be webcast by TheaterMania.com and have delayed telecasts on Thirteen/WNET, NYC TV25 and, nationally, over 25 PBS stations. A "Red Carpet" segment will feature Rex Reed interviewing arriving nominees.
Nominees for Outstanding Play are: Alan Bennett, The History Boys; David Hare, Stuff Happens; Warren Leight, No Foreigners Beyond This Point; Martin McDonagh, The Lieutenant of Inishmore; Terrence McNally, Dedication or The Stuff of Dreams; and Craig Wright, The Pavilion.
Nominations for Outstanding Musical are: The Drowsy Chaperone, Grey Gardens, Jersey Boys, See What I Wanna See, Thrill Me and The Wedding Singer.
The Awards will feature the stars of nominated plays and the stars and entertainment from nominated musicals.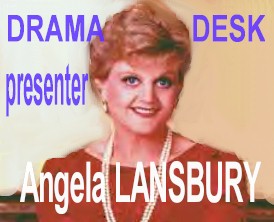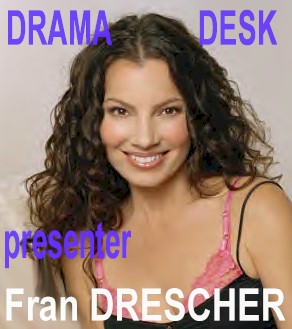 Set to appear are Harry Connick Jr., Taye Diggs, Paige Davis, Fran Drescher, Victor Garber, Richard Griffiths, Angela Lansbury, Patti LuPone, Cynthia Nixon, Kelli O'Hara, Jonathan Pryce, Paul Rudd and Sigourney Weaver.
Hallie Foote will present her father Horton Foote a Lifetime Achievement Award. He was represented Off Broadway this season with Outstanding Revival of a Play nominee The Trip To Bountiful, starring Drama Desk nominee Lois Smith.
There will be performance numbers from The Drowsy Chaperone, Grey Gardens, Jacques Brel Is Alive and Well Living In Paris, Jersey Boys and Sweeney Todd. Billy Stritch will be musical director and accompany artists on piano.
The Drama Desk membership is comprised of more than 130 professional theater critics, reporters and editors.
To purchase tickets for the black-tie event at $175 each, which include a pre-Awards reception, call (212) 352-3101 or go online at TheaterMania.com. Tickets may also be purchased at the TheaterMania.com box office at the Virgin MegaStore Times Square from Noon - 6 P.M. For additional information, go to www.dramadesk.org.

NOT ON THE DD LIST
Nothing surprises when the Tony Awards and Drama Desk Awards nominating committees make their pronouncements, but we're never quite prepared for the omissions of talent we thought impressive or some of the directives from Awards headquarters.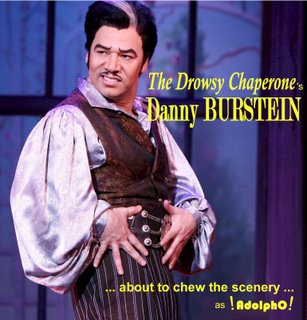 For instance, the DD nominators chose The Lieutenant of Inishmore for their Outstanding Play category, but failed to nominate a single member of the cast or director Wilson Milam.
When questioned about this, one member of the nominating committee noted that all of the above were certainly considered but just didn't have the votes to make the final cut of six in the categories.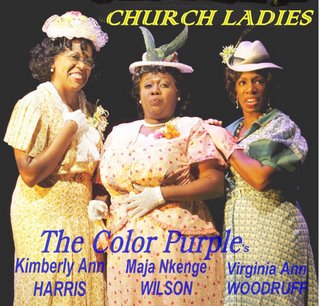 It was pointed out that Drama Desk's mission is to recognize excellent Off Off, Off and on Broadway, "so we have many more considerations." Regarding the one nomination for Lieutenant, the nominating committee member said, "That goes to show we were impressed with the quality of the writing."
It's true that's it's an honor just to be nominated, and also that not everyone can be nominated.
The Drama Desk nominators valiantly see upward of 500 plays and musicals in the various venues. The nomination process is a daunting task. And, of course, it's never possible to please everyone. Still...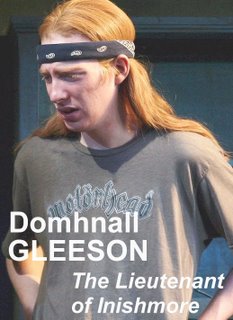 So here are some nominations for Most Egregious Omissions of the Season, Actress/Featured Actress: Amelia Campbell, Tryst; Joyce Chittick and Megan Lawrence, The Pajama Game; Tyne Daly, Rabbit Hole; Danai Gurira, In the Continuum; Dana Ivey, Mrs. Warren's Profession; and LaChanze, Felicia P. Fields and [the Church ladies] Kimberly Ann Harris, Maja Nkenge Wilson and Virginia Ann Woodruff, The Color Purple.

For Most Egregious Omissions of the Season, Actor/Featured Actor: Danny Burstein, The Drowsy Chaperone; Chris Chalk, Defiance; Ralph Fiennes and Ian McDiarmid in Faith Healer; Euan Morton, Measure for Pleasure; Oliver Platt, Shining City; Paul Rudd, Three Days of Rain; and David Wilmot and especially Domhnall Gleeson as Davey in The Lieutenant of Inishmore.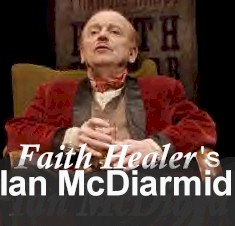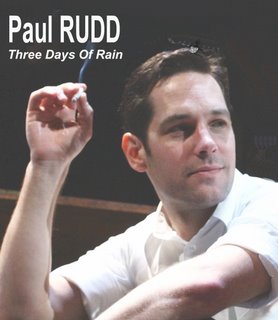 A nomination for Most Mysterious Title should go to Conor McPherson for Shining City; and for Most Jolting, Jaw-dropping Surprise Ending to Martin McDonagh for The Lieutenant of Inishmore.
In case you're wondering why Jayne Houdyshell is not on the Outstanding Omissions list, she was nominated as Outstanding Actress by Drama Desk when Well, played Off Broadway in 2004.

BEST FEATURED ACTRESS?

Did you catch one of the items in the announcement from the Tony Awards Administration Committee referring to the performance by Cherry Jones in Faith Healer?
It reportes that the three-time Tony-nominee [taking Best Actress honors for The Heiress and Doubt], who's billed above the title [the usual barometer] would not be considered for eligibility in the Best Actress category, but as Featured Actress.
It's unknown if the play's producers made this request or if it was a decision of the Tony adm com.
In a nod to Tony-winner Rita Moreno's acceptance speech when she picked up the Best Featured Actress award for her performance as Googie in Terrence McNally's 1975 The Ritz ["The only thing I supported was my bra!" said Moreno], the only thing Jones is supporting is- is- isó; well, when you consider the performance, she's not supporting anything or anyone. She's onstage alone, barefoot, sitting in a chair and chain-smoking.
In a more rational move, the Drama Desk nominations committee saw fit to place Jones in their Outstanding Actress category.

DON'T MISS THEM
The Drama Desk Awards bestowed two well-deserved Outstanding Ensemble Performance Awards: to the nine-member cast of Lincoln Center Theatre's revival of Clifford Odets' Awake and Sing at the Belasco, which has been nominated for Outstanding Revival/Play; and, at the Public Theatre, the 16-member cast of David Mamet's seething "history play" Stuff Happens, which has been nominated for Outstanding Play.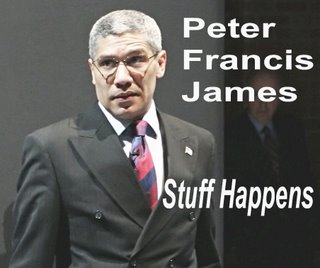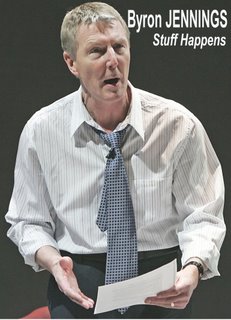 The opportunity to catch both casts/plays end June 25.
It won't come as a surprise that a standout in AandS is three-time Tony and Drama Desk nominee Zoe Wanamaker in her first NY stage appearance since 1998's Electra.
David Hare's Stuff Happens is one of the most politically potent plays in many seasons, but there are two other reasons to see it.
In an excellent ensemble cast, there are two particular standouts: long-time character actors Peter Francis James as Colin Powell and Byron Jennings as Tony Blair.

RARE BECKETT
To celebrate Samuel Beckett's 100th birthday year, Kaliyuga Arts will present a rare staging of the playwright's All That Fall in an Equity-approved showcase May 25-June 3 at the Cherry Lane Theatre [38 Commerce Street, off Seventh Avenue South in Greenwich Village].
The Cherry Lane has been host to two Beckett American premieres, Endgame [1958] and Happy Days [1961]. This will be the first New York staging of All That Fall since 1959's Living Theatre production.
All That Fall was commissioned by BBC Radio after Beckett's astounding success with Waiting for Godot and Endgame. It was broadcast in 1956.
The play, which is described as "a riotous, existential romp," has been called "a tour-de-force in audial pornography."
The story turns on Maddy Rooney, an ancient woman "destroyed with sorrow and pining and gentility and church-going and fat and rheumatism and childlessness," and her perilous journey to meet her blind husband at the train station on what may be his 100th birthday and the succession of characters she meets enroute.
All That Fall has the largest cast of any of Beckett's plays: 11. They play humans [adults and children]. According to Beckett, most of the characters are based on people he knew in his youth.
The cast features Helen Calthorpe as Rooney and Rand Mitchell as her husband. John Sowle, co-artistic director of Kaliyuga Arts, is directing.
The play will be performed in the style of a radio play, with actors holding scripts gathered around microphones and rendering the sound effects. The cast will also provide the sounds sheep, birds, cattle, fowl, dogs, donkeys and voice inanimate objects.
Kaliyuga Arts' mission since 1986 has been to "render oddities with grace and insight." The company has produced award-winning works in L.A., S.F. and worldwide. This is their first New York production since basing here.
Performances are at 7 P.M. with Saturday matinees at 3:00. Tickets are $18 and available on line at SmartTix.com or by calling (212) 868-4444. For more information, visit http://www.kaliyuga.com/.

LANE AND BRODERICK GO DIGITAL
Curtain up on the DVD release of Mel Broooks and Thomas Meehan's The Producers [Universal Home Video, SRP $30; 2 hours, 15 minutes] with Nathan Lane and Matthew Broderick reprising their Tony-winning roles as get-rich-quick schemers Max Bialystock and Leo Bloom in Susan Stroman's sumptuous adaptation of the Tony-winning Broadway show.
Original cast members Tony-winner Gary Beach, as "flamboyantly untalented" director Roger De Bris, and Tony-nominee Roger Bart, as his "common-law" assistant Carmen Ghia, co-star.
When it came to casting the movie, the powers that be seemed to think that it would help the box office by pumping up the cast with some Hollywood names. It didn't.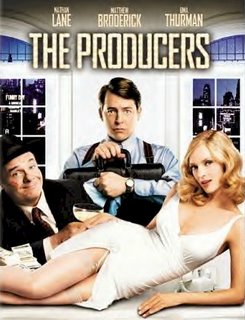 The jury is still out on Uma Thurman's performance as luscious Swedish secretary/receptionist Ulla; and though fans of the show would have killed to see Brad Oscar in the role of Third Reich playwright Franz Liebkind, Will Ferrell acquits himself quite nicely.
There was never any illusion that the Broadway stage show would be classy. The material is tasteless and often vulgar, like in so many of Brooks films. Yet it worked, and won a record 12 2001 Tony Awards, including Best Musical.
The film rarely rises to anything approaching class but, the surprising critical shellacing the film adaptation took aside, there's much to enjoy. The DVD contains bonuses galore!
Some things can be done better onstage; others, bigger and better onscreen. Production designer Mark Friedberg superbly recreated West 44th Street on a soundstage, including Sardi's, Shubert Alley and the Shubert Theatre.
Movie musicals buff Stroman has recaptured the production on film in a throwback to the old-fashioned spectaculars she popcorned her way through as a kid.
More so than onstage, Lane seems to be channeling Zero Mostel's unbeatable performance in the original film from the twisted mind of Brooks. Lane and Broderick play off each other with hilarious results, particlarly at their initial meeting in the "We Can Do It" sequence.
Lane's gift for comedy is well known, but it's Broderick who's full of surprises. He explodes onscreen, expanding his stage persona with ab fab slapstick and never sounded better on the vocals.The latter is certainly true with Broderick's "I Wanna Be A Producer" number, where he transforms from mousy accountant to a Merrick-wanna-be. It's great fun when those file cabinets pop open revealing girls, beautiful girls, in miles and miles of smiles and pearls.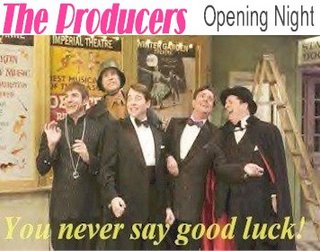 Beach shines throughout. What is his little nod of a salute in the Broadway musical, still playing [as he is] at the St. James, to Judy Garland's "Born in a Trunk" sequence in A Star Is Born is now an all-out tribute.
The splashy opening number, "Opening Tonight" and other ensemble moments feature a roster of theater names; among them: Las Vegas Phantom and Annie Get Your Gun's Brent Barrett [in high leather drag!], George Dvorsky, Kathy Fitzgerald [from the stage musical], Hunter Foster [currently starring in the stage show], Judy Kaye, Andrea Martin, Nancy Opel, Marilyn Sokol and Karen Ziemba [not to mention Jai Rodriguez as Sabu!]. John Barrowman, gone Germanic blonde, as the singing stormtrooper, adds a jolt of theatricality to the "Springtime for Hitler" number, especially with his clarion tenor.
There's over 30 minutes of "never-before-seen" material, including "King of Broadway," which was cut from the film, outtakes; a feature titled Analysis of a Scene: I Wanna Be a Producer, which has an extended version of the number; behind the scenes footage; plus feature commentary with director Stroman.
[Photos: 1, 5, 6, 8 and 9) JOAN MARCUS; 7 ) MONIQUE CARBONI; 10 and 11) MICHAL DANIEL; 12) ANDREW SCHWARTZ]


--------
Ellis Nassour is an international media journalist, and author of Honky Tonk Angel: The Intimate Story of Patsy Cline, which he has adapted into a musical for the stage. Visit www.patsyclinehta.com.

He can be reached at [email protected]





Why are you looking all the way down here?
For more articles by Ellis Nassour, click the links below!

Previous: The Tonys Turn 60; Encores!' Of Thee I Sing And Benefit for City Center; Cirque du Soleil's Corteo; Lupone To Torch Vivian Beaumont; Maria Friedman Live And On CD; More

Next: Tony Award Nominations; The OBIEs; Julie Wilson Honors; Classic Movie Musicals on DVD; Beckett's Godot In Harlem; More

Or go to the Archives