The 23-member 2006 Tony Award Nominating Committee has spoken.
As you would expect, there are a couple of surprises and surprise omissions. One of the omissions is rather a bit of a shocker.
It's no surprise that musicals led in the number of nominations, especially since there are more categories for them than plays. Regarding the surprise nominations, it's probably best to keep those in confidence out of loyalty to the source making the observations.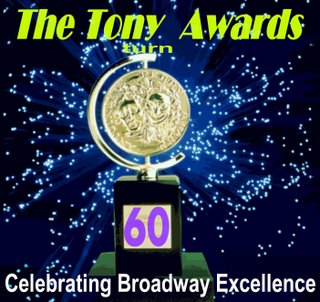 The Tonys, presented by the American Theatre Wing and League of American Theatres and Producers, will celebrate 60 years of honoring Broadway excellence on June 11.
They'll be broadcast on CBS live from Radio City Music Hall [8 - 11 P.M.]. A host is yet to be announced.
In the Play categories, the LCT revival Awake and Sing! led with the highest number of noms: 8.
Best Play nominees are Alan Bennett's The History Boys, Martin McDonagh for The Lieutenant of Inishmore, David Lindsay-Abaire's Rabbit Hole and Conor McPherson for Shining City.
At the top of the musical nominations list, The Drowsy Chaperone garnered nods in 13 categories.
The Color Purple, snubbed by the Drama Desk Awards nominating committee, is runner-up with 11 noms, with The Pajama Game coming up with nine. Other Best Musical nominees are Jersey Boys and The Wedding Singer.
Maybe with all the nominatioins for TCP, Oprah will change her mind and host the Tonys. What a ratings bonanza for the Awards if she did! We await the announcement of a host with baited breath.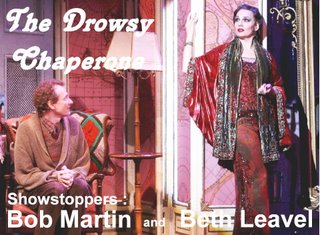 Best Performance, Actor, Play nominees are Ralph Fiennes, Faith Healer; Richard Griffiths, The History Boys; éeljko Ivanek, The Caine Mutiny Court-Martial; Oliver Platt, Shining City; David Wilmot, The Lieutenant of Inishmore.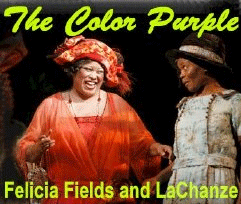 In quite an unexpected move, if you were judging house capacity on the throngs waiting at the stage door of the Schoenfeld Theatre, the producers of Caine Mutiny announced they're leaving port after Saturdays performances.
Here you have one of the season's most acclaimed performances from éeljko Ivanek as Lieutenant Commander Queeg and, in the other two starring roles, top TV names David Schwimmer and Tim Daly.
Were you as jolted back into the real world as so many others were when it was reported that last week's CMC-M receipts were a mere $163,935. There should be a new rule: every gawker and autograph seeker must buy a ticket.
Paul Rudd, who was overlooked by the DD nom com, suffered the same fate at the hands of the Tony nom com, but a certain gorgeous Hollywood star will surely keep Three Days of Rain from ending before its time.
Best Performance, Actress, Play nominees are Kate Burton, The Constant Wife; Judy Kaye, Souvenir; Lisa Kron, Well; Cynthia Nixon, Rabbit Hole; and Lynn Redgrave, The Constant Wife.

The announcement that the Tony administrators had decided that Cherry Jones, a star of Faith Healer, wouldn't be eligible for this category but for Featured Actress had more than a few heads shaking and, since the pronouncement was made, some figured the administrators were up to something - for instance, to give someone else a shot in the Actress category.
Of course, not every excellent performer can be nominated, but imagine the shock yesterday morning to a majority of those who were mesmerized by the depth and emotion of Jones's spellbinding performance - the one exception, perhaps, being that theater reporter from a certain New York daily - when the two-time Tony winner didn't make the Featured cut for what would have been her fourth nomination.
Hats off to the Drama Desk nom com for not only nominating Jones but also for putting her in the correct category [Outstanding Actress].
Nominees for Best Performance, Actor, Musical are Michael Cerveris, Sweeney Todd; Harry Connick, Jr., The Pajama Game; Stephen Lynch, The Wedding Singer; Bob Martin, The Drowsy Chaperone; and John Lloyd Young, Jersey Boys.
Nominees for Best Performance, Actress, Musical are Sutton Foster, The Drowsy Chaperone; LaChanze, The Color Purple; Patti LuPone, Sweeney Todd; Kelli O'Hara, The Pajama Game; and Chita Rivera, Chita Rivera: The Dancer's Life.
A much-belated Tony Award for Lifetime Achievement will be presented to multiple Tony-winning director/producer Harold Prince. The Intiman Theatre of Seattle has been selected for the 2006 Regional Theatre Tony, which is accompanied by a grant of $25,000 sponsored by Tony partner Visa USA. The Tony Administration Committee also voted a Special Tony to Sarah Jones, star and creator of Bridge & Tunnel.
Have Visa, will travel. If so, a limited number of tickets are on sale to the public. They may be purchased online at http://www.tonyawards.com/ or by calling TicketMaster, (212) 307-4544.
On the Tony web site, developed and hosted by Tony partner IBM, there's also news and feature content from Playbill. You can also enjoy a video player link for up close and personal encounters with winners; access to their acceptance speeches and the impact of winning a Tony; an archive of nominees and winners in every category from 1947; Tony trivia; and a detailed profile of the fascinating Miss Perry, among other things, a pioneer for women producers on Broadway.

THE OBIES

The 51st Annual Village Voice OBIE Awards were announced yesterday in a ceremony hosted by Lili Taylor and Eric Bogosian. For a complete list of winners of the prestigious Off Broadway honors, go to www.villagevoice.com/obies.
Congratulations to the selection committee for choosing among the 2006 honorees Dana Ivey, Mrs. Warren's Profession; Euan Morton, Measure for Pleasure; and Danai Gurira and Nikkole Salter, In the Continuum; especially since these performers were overlooked in the Drama Desk nominations.

LEGEND TO BE HONORED

Cabaret, recording, film and Broadway legend Julie Wilson will receive her due on Sunday night [May 21] in the final edition of Roasts, Toasts and Tributes. Recording legend Margaret Whiting along with Baby Jane Dexter, Steve Ross, Mark Nadler and performance artist Stephen Brinberg will be among the headliners honoring Wilson.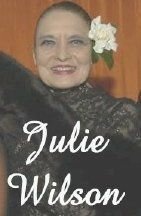 The event, presented by Carolyn Montgomery and Reveille Productions, is at 8 P.M. at St. Clement's Theatre [423 West 46th Street].
Wilson's illustrious, 60-year career in the theater includes Broadway, the West End and, befitting her title of "First Lady of Cabaret," all the smart supper clubs. She's been acclaimed for her charm and warmth onstage but most especially for the way she mesmerizes audiences with her interpretation of lyrics.
On Broadway, besides starring opposite Peter Allen in the infamous Legs Diamond, Wilson was a later Lalume in Kismet [1953] and a later Babe in The Pajama Game [1954].
Montgomery, a Nightlife Award-winning comedienne/singer co-hosts with Jay Rogers [When Pig's Fly] and Nightlife Award-winner Julie Reyburn.
Tickets are $20 and available at www.smarttix.com or by calling (212) 868-4444.

CLASSIC MOVIE MUSICALS ON DVD

The M-G-M slogan "More Stars Than There Are In Heaven" was never truer than in the five DVD set [Warner Home Video, SRP $60] Classic Musicals from the Dream Factory.
Celebrated stars we have come to know by their first names - June, Fred, Lucy, Cyd, Judy, Kathryn, Lena, Van, Gene, Debbie, Frank, Esther not to mention Dan Dailey and the dazzling Dolores Gray - and eye-popping musical numbers and costumes in glorious Technicolor are showcased in the package, where Gloria DeHaven, Vera-Ellen, Phil Silvers and Red Skelton also pop up.
The musicals, ranging from the beginning to the end of Metro's Golden Age, are making their DVD debuts.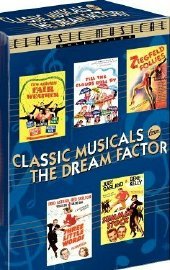 They are the much underrated It's Always Fair Weather, Summer Stock, Three Little Words, Till The Clouds Roll By and the spectacular Ziegfeld Follies.
In the Warner Home Video tradition, each film has been fully restored from original camera negatives [with color correction and Dolby sound enhancing]. Each disc carries a "Making of" feature and a treasure trove of bonuses, including outtakes and vintage cartoons.
It's Always Fair Weather [1955] was conceived as a follow up to On the Town. It starred Kelly who co-directed and co-choreographed with Stanley Donen; was produced by Arthur Freed of the studio's legendary Freed Unit. OTT's Betty Comden and Adolph Green did the lyrics. Andre Previn, already a "wunderkind" at only 25, composed the score. Previn, Comden and Green received Academy Awards nominations.
As MGM musicals go, this was one highly original film. It was also Kelly/Donen's first in Cinemascope and great effort was made to take advantage of the wide screen ratio.
The story centers on WWII buddies Kelly, Dailey and famed dancer/choreographer Michael Kidd who vow to reunite in 10 years. When they do they discover their lives have moved in different directions.
Boxing, Madison Avenue and a new medium called TV combine to restore their bond.
Problems arose even before production began. One-time best friends Kelly and Donen clashed over control of the film. Another cause of friction: Gray, who appeared on Broadway in Comden and Green's Two On the Aisle, the short-lived Carnival in Flanders [Tony Award], Destry Rides Again [Tony-nominated], the short-lived Sherry!, 42nd Street [as a later Dorothy Brock]; and, to great, great acclaim, on the West End in Annie Get Your Gun and Follies].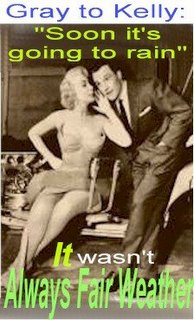 Gray, with a rep for being high strung and difficult, and Kelly butted heads over just about everything. As brilliant as Kelly's dancing was, Gray's was just as brilliant [and, in a stunning gown by Helen Rose, she was singing, too]. He became insanely jealous and fought, and sometimes succeeded, to have her part reduced.
Kelly took it another step further, totally alienating Donen and Gray, by lying to her that the picture was running over-budget and that her one big number, "Thanks, But No Thanks," [with Gray and a huge male chorus on an ingenius set] would have to be shot in one take.
MGM, the great Metro, didn't have enough cameras available? Gray was furious, but when she found out it was Kelly attempting to get back at her, she set out to out-dazzle him. She succeeded.
The number, if, indeed, shot with one camera as legend has it, looks absolutely impossible and is one of musical cinema's underrated dance production numbers.
That one sequence alone should have been enough to make Gray a major Hollywood star, but, says Miss Comden, "the musical was way ahead of its time and not the type the public had come to expect from M-G-M, which was known for fluff and gloss. It had a dark edge. The critics were wowed, but the public didn't respond. It was one of our biggest disappointments."
Outstanding musical highlights include Kelly's roller skating tap dance; the elegant Cyd "Those Legs!" Charisse in a k.o. of a routine with broken-nosed pugilists [even if a bit too much is required of her in the acting department] and Kelly, Dailey and Kidd's high-spirited romp using trash-can lids as dancing shoes.
Among the bonus material are three deleted musical sequences: Kelly and Charisse's "Love Is Nothing But A Racket," Kidd's 10-minute dance number "Jack and the Space Giants" and alternate takes of "The Binge," the number with the trash can lids. There's also an audio bonus of Gray's deleted vocal "I Thought They'd Never Leave."
Also in the package:
Summer Stock [1950] was to be Garland's last picture under her MGM contract [she was cast in Annie Get Your Gun, then fired]. She left on a high note with "Get Happy," one of the most spectacular production numbers of her career, which she performed in the now-classic costume of black tights, jacket and fedora.
Three Little Words [1950], starring Astaire and Skelton, is a loose bio pic of tunesmiths Bert Kalmar and Harry Ruby.
Till the Clouds Roll By [1946], a very loose bio pic of Jerome Kern [portrayed by Robert Walker], begins with a awesome musical-within-a-musical recreation of the 1927 Act One opening of Kern's Show Boat and ends with a spectacular musical cavalcade of his classic melodies, climaxing with Sinatra singing Ol' Man River.
There are cameos by 25 stars [including Garland, Horne and Dinah Shore] an equal number of Kern tunes. The coup is a rare screen appearace by Fanny Brice.
Ziegfeld Follies [1946], eight directors [including Vincente Minnelli] and two years in the making, is the type of all-star revue extravaganza [no pesky plot gets in the way] only MGM could pull together. Highlights include the famed Astaire/Kelly duet and a spectacular Williams aqua number. Completing the mix, Judy, Kathryn and Lena and a bit of Verdi's La Traviata opera. Only at Metro, kids!

GODOT IN HARLEM
Celebrating Beckett's centennial year, the OBIE and Drama Desk Award-winning Classical Theatre of Harlem, now in it's seventh season, is presenting Beckett's Waiting for Godot through June 25th at HSA Theater [645 St. Nicholas Avenue at 141st Street].
Wendell Pierce [HBO's The Wire] has the role of Vladimir. Billy Eugene Jones [Gem of the Ocean, A Raisin in the Sun revival], Chris McKinney and J. Kyle Manzay co-star. The director is CTOH co-founder Christopher McElroen.
Tickets are$35, with student and group discounts available, and can be purchased by calling (212) 868-4444 or at www.smarttix.com.

WILL AND FRAN GRACE OFF BROADWAY
With Will & Grace's Eric McCormack, The Nanny's Fran Drescher, making her belated return to the New York stage, not to mention Judy Reyes [TV's Scrubs], Maura Tierney [TV's E.R.] and Brooke Smith [the hit movie, In Her Shoes] in MCC Theater's U.S. premiere of Neil LaBute's eagerly awaited Some Girls(s), one wonders if the Lortel Theatre [121 Christopher Street, between Bleecker and Hudson Streets] will have NYPD mounted calvary to control crowds such as West 45th Street has seen with the arrival of Ms. Roberts and Mr. Schwimmer.
The play, which begins performances on Wednesday [May 17] reunites LaBute with director Jo Bonney, who helmed MCC's critically-acclaimed Fat Pig last season. The strictly limited engagement ends Saturday, July 8.
Set in hotel rooms in Boston, Chicago, Seattle and Los Angeles, Some Girl(s) is described as "an irreverent stumble into the heart of darkness that is the modern single male." It follows Guy [McCormack], a soon-to-be-engaged Alpha male and NYC writer as he pays a last visit to ex-girlfriends. Drescher, in a long stretch from her nanny duties, portrays a Boston professor.
Some Girl(s) had its world premiere at the West End's Gielgud Theatre in May, with David Schwimmer making his London stage debut as Guy.
Tickets are $65-$70 and may be purchased through www.Ticket Central.com or by calling (212) 279-4200.

CELEBRATING JULE STYNE
On Monday night [May 22] in Jim Caruso and TheaterMania.com's series at Birdland [315 West 44th Street], record label PS Classics will celebrate the release of Jule Styne in Hollywood with Maria Friedman, Leslie Uggams and, among others, Norm Lewis live in concert.
The CD features and the concert will highlight the Tony-winning and five-time Tony-nominated composer's standards, such as "I'll Walk Alone" and "It's Been A Long, Long Time," Broadway tunes from Gentleman Prefer Blondes, Gypsy, Funny Girl and Bells Are Ringing [lyrics by Leo Robin, Sondheim, Bob Merrill and Comden and Green, respectively], and gems from his film repertory, including his 10 Academy Award-nominated songs.
Showtime is 7 P.M. Admission is a $30 cover and $10 food/drink minimum. For reservations, call (212) 581-3080 or go online at www.instantseats.com/birdland.
--------
Ellis Nassour is an international media journalist, and author of Honky Tonk Angel: The Intimate Story of Patsy Cline, which he has adapted into a musical for the stage. Visit www.patsyclinehta.com.

He can be reached at [email protected]





Why are you looking all the way down here?
For more articles by Ellis Nassour, click the links below!

Previous: Harry Connick Jr. and The Pajama Game Cast CD; Drama Desk Award Presenters; Who's Not DD-nominated; Rare Beckett; The Producers On DVD

Next: Theatre World Awards; Kim Stanley Bio; Wedding Singer Cast CD; Fred Willard In Rare Stage Appearance; Nancy Anderson and TV Stars Star Off Broadway; More

Or go to the Archives