The official cut-off date for Tony eligibility for the 2005-2006 seasons is Wednesday, May 10. On May 16, Tony winners Phylicia Rashad, Natasha Richardson and Liev Schreiber will announce the nominations live from the New York Public Library for the Performing Arts, where an impressive exhibition has been mounted: The Tony Awards Celebrate 60 Years of Excellence.

The 60th annual American Theatre Wing's Antoinette Perry "Tony" Awards, named in honor of the 30s and 40s actress/producer, are co-presented by the League of American Theatres and Producers. They'll be broadcast on CBS from Radio City Music Hall on Sunday, June 11. Broadway's multiple, Tony-winning producer Elizabeth I. McCann is again managing producer.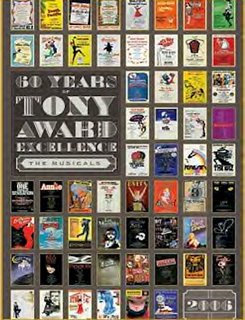 The Awards host has yet to be announced. Will it be Oprah? Will it be Billy? Could it possibly be Katie or Julia?
Doing the introductions will be Wing chairman Sondra Gilman, Wing president Doug Leeds and League president Jed Bernstein.
The Tony Awards Celebrate 60 Years of Excellence exhibition is on the first and second floors of the Library's Dorothy and Lewis B. Cullman Center. It features original window cards from each Tony-winning play [1947's All My Sons right through to last season's Doubt] and musical [from 1949's Kiss Me Kate to last season's Monty Python's Spamalot].
It's open through June 10 from Noon to 6 P.M. Tuesday, Wednesday, Friday and Saturday and to 8 P.M. on Thursday. Admission is free.
The official Tony Awards web site, www.TonyAwards.com, is developed, designed, and hosted by Tony Awards partner IBM.
You can purchase Awards tickets and enjoy a video player link for up close and personal encounters with winners; access to winners' acceptance speeches and the impact of winning a Tony on their careers ; an archive of nominees and winners in every category from 1947; Tony trivia; and a detailed profile of the fascinating Miss Perry, among other things, a pioneer for women producers on Broadway.

ENCORES! SEASON ENDS WITH GERSHWIN AND GALA
Victor Garber, back where he belongs [NY theater] during hiatus from primetime TV stardom, will be singing Gershwin at Encores! Of Thee I Sing as John P. Wintergreen, the National Party's candidate for president of the United States in the 1931 satire of politics and romance. Performances at City Center are May 11 - 15. The special Monday performance is a benefit for City Center.
Garber, a long-time Broadway fav, has been Tony-nominated for Damn Yankees, Lend Me A Tenor, Deathtrap and the 1985 revival of Little Me. Other credits include the original Broadway casts of Arcadia, Noises Off and, as Anthony, in Sweeney Todd.
He's been Emmy-nominated for the ABC miniseries Life with Judy Garland: Me and My Shadows, and the TV blockbuster Alias. Films include Titanic, The First Wives Club, Sleepless in Seattle and Legally Blonde.
Tony and Drama Desk winner Jefferson Mays [I Am My Own Wife] co-stars as the "highly forgettable" vice president, Alexander Throttlebottom. Also featured are Tony-nominee Jennifer Laura Thompson [Urinetown; Wicked as Glinda] playing presidential love interest Mary Turner; and Jenny Powers [Meg, Little Women].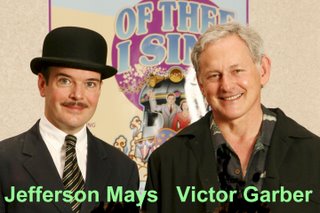 Jonathan Freeman, Michael Mulheren, Lewis J. Stadlen [who's done everything], David Pittu [Stuff Happens], Eric Michael Gillett and Raymond Jaramillo are among the large supporting cast.
Thompson has appeared in Encores!'s Pardon My English and Strike Up the Band!

Of Thee I Sing was the first musical to be awarded the Pulitzer Prize for Drama. George Kaufman and Morrie Ryskind wrote the book. The musical was revived four months after it originally closed in 1933 and in 1952.
The score includes "Love Is Sweeping the Country," the classic "Who Cares" and the title tune, which was a huge hit in the 30s.
Tony-winning director John Rando [Urinetown], two-time Tony-nominated choreographer Randy Skinner and musical director Paul Gemignani head the creative team.
Skinner choreographed Encores! 1999 Do Re Mi, starring Nathan Lane and Randy Graff, which was music directed by Gemignani.
"It's such a supreme pleasure to work with a real pro such as Victor," says Skinner. "Wintergreen is a great part for him. He knows what he's doing! This is one of the Gershwin's best scores. It's got three hit tunes, but one of the things that makes it unique is all the wonderful choral music. I'm so blessed to have such an incredibly-talented ensemble [14 singers and eight dancers], and Mara Davi [Maggie in the upcoming ACL revival] and Jeffry Denman [The Producers], the two dance leads, have two wonderful dance numbers, including 'Love Is Sweeping the Country.'"
Skinner, who assisted Gower Champion on choreographing the tap numbers for the original 1980 42nd Street and created new choreography for the 2001 revival, promises a big tap number that will open Act Two.
Prior to coming aboard this season as Encores! musical director, Gemignani music directed and conducted 35 Broadway shows, including On the Twentieth Century, Evita!, Crazy For You and the acclaimed Kiss Me, Kate revival. In 2001, he was honored with a Tony Award for Lifetime Achievement.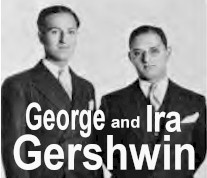 "Of Thee I Sing has one of the best overtures every written for a Broadway show," notes Gemignani. "Gorgeous music by George Gershwin. Conducting this score with our wonderful orchestra is something I've looked forward to."
The performance schedule will be: 8 P.M. on Thursday, Friday and Saturday; and 2 P.M. Saturday, as well as 6:30 on Sunday. Single seats are available at the City Center box office, through CityTix at (212) 581-1212, or online at http://www.nycitycenter.org/. Prices range from $90 to $25.
The May 15 benefit will begin at 6 P.M. with cocktails, followed by the performance. Dinner will be served after in the City Center Atrium. Honoree City Center board chairman Raymond A. Lamontagne will be presented with the Fiorello H. LaGuardia Award, given for distinguished service to New York City and to City Center, by Paul Newman, whose not-for-profit Newman's Own food line is the lead sponsor of Encores! 2006 season.
Proceeds from the gala will go to support City Center's dance and theater performances, education programs, and efforts to ensure its continued vitality and excellence. For Gala tickets, call (212) 763-1205.
For more on George and Ira Gershwin, including lyrics to their songs, visit gershwinfan.com.

CIRQUE DU SOLEIL'S CORTEO
Fans of Cirque du Soleil have come to expect lavish, Felliniesque productions under the blue-and-yellow "grand chapiteau," and Corteo, the newest edition to hit New York, through Sunday, July 2, on Randall's Island, certainly doesn't disappoint. There's enough high and low-flying and acrobatic skill for just about everyone. The surprise is that some of the most memorable moments are the simplest.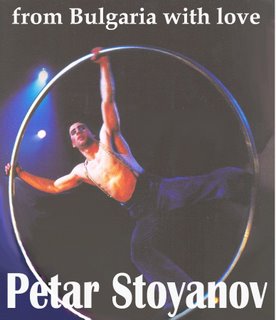 Corteo, which means "cortege" in Italian, and segues from the joyous funeral procession of a clown through the spectacular moments of his life as he's suspended, E.T.-style, on the journey from earth to the hereafter - guided by a herald of some very agile angels.
Cirque founder and CEO Guy Laliberte has long made a tradition of juxtaposing the charmingly ridiculous with what looks impossible. But with touring Cirques and Cirques in Las Vegas, Orlando and overseas [seems they're spreading almost as fast as those Starbucks!], how do you keep it fresh? You pump some new blood and thinking into the mix. He did. Of the 14 "creators" on Corteo, half are working with Cirque for the first time.
Amid fantastical sets by Jean Rabasse [including a stunningly-painted double proscenium scrim], special effects and Dominique Lemieux's phantasmagorical costumes, the cast of 55 plus from 16 countries [Argentina, Armenia, Belarus, Brazil, Bulgaria, France, Italy, Israel, Kenya, Russia, Spain and, among others, the U.S.] perform old-fashioned vaudeville, clowning and breathtaking acrobatics by athletes and Olympic gymnasts at the peak of their prowess.
Under Daniele Finzi Pasca's artistic direction, there's power juggling [the Teslenko family], high-flipping on teeterboards [Stephane Baauregard, Viachaslau Hahunou and others], balancing and twirling on giant hoops [Petar Stoyanov, Yuliya Raskina, others], chandelier swinging [Evelyne Allard, Julie Dionne, others] and a duo silk strap act [Dmytro Grygrov and Olesia Shulga].
Then there's upside down tight-wire walking and upright tight-wire walking [Anastasia Bykovskaya] in ballet point shoes and bare feet that climaxes in a difficult climb up a 40-degree diagonal wire.
The jaw-dropping finale, "Tournik," features a troupe of multi-nationals bouncing to great heights on a trampoline net and being flung through the air from human trapezes to human catchers - doing double and triple somersaults as they soar.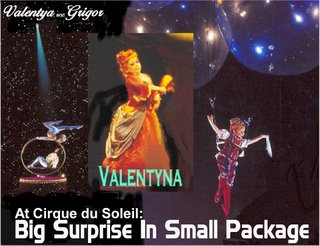 In all this glitter and awe, Ms. Pasca introduces a bit of innovation with the show's biggest surprise - which, ironically, comes in a small package: Valentyna Pahlevanyan of the Ukraine, the very petite star who literally steals the show.
"Think you've seen what Cirque du Soleil has to offer?" reads one bit of promotion. When it comes to Ms. Pahlevanyan, the answer would have to be a resounding No.
Whatever Ms. Pahlevanyan lacks in physical statue, she more than makes up for in class, glamour and comic and acrobatic ability.
In a magical sequence called "Helium Dance," Valentyna stops the show floating through the cavernous tent attached to gigantic helium-filled balloons and being gently passed back and forth by audience members squealing with delight.
In another sequence, the beautifully-staged "Adagio," she and husband Grigor, about her size, do hand-balancing and contortion on a pivoting ring set on a revolving platform.
No Cirque du Soleil would be a Cirque without a unique score and this edition has four composers: Philippe Leduc, Maria Bonzanigo, Michel Smith and Jean-Francois Cote. The richly-orchestrated live music ranges from the weird to the sublime with lots of percussion, even a bit of bagpipes and some tango and samba rhythms.
Especially in Corteo, it would be impossible to dismiss the contributions of Nathalie GagnÈ's make-up design.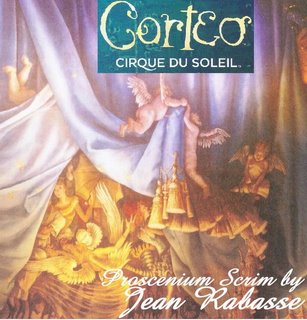 Among the corporate sponsors are American Express, Celebrity Cruises and, locally, WABC-TV and The New York Observer, but you still have to buy tickets. Prices are: $60-$95, adults; $42-$66.50, children; and, weekdays and the Friday afternoon performance, $54-$85.50 for seniors [65 and over] and students [13 and over, with I.D.].
For Corteo tickets and performance schedule, go to cirquedusoleil.com. To purchase by phone, call (800) 678-5440. For 20 or more tickets, contact [email protected] or call (800) 450-1480.
No matter how you arrive - by car or the special buses at the Lexington Avenue 125th Street subway station [$3 roundtrip, if transferring from the subway with your Metro card; $5 otherwise], there's a lot of walking involved. Wear comfortable shoes.
When you get to the Cirque grounds adjacent to the stadium, a small reward awaits: free samples of Haagen-Dazs most performances.
If you have about an extra $125 to spare or you're celebrating a very special occasion, looking to impress or want to experience Cirque in the lap of tented luxury, you might consider the Tapis Rouge experience, which starts one hour before showtime.
In a candlelit atmosphere, highlighted by holograms, unexpectedly comfortable inflated furniture and showcases of costumes and memorabilia, a limited number of guests [250 is the cap] enjoy an array of gourmet food, free-flowing Champagne, wines, a Bombay Sapphire open bar with specialty drinks served in elegant Art Deco crystal, soda and juices for the kids and a lavish array of intermission desserts.
Executive chef Ricky Esquivel has as many suprises up his sleeve as does Ms. Pasca in the "grand chapiteau": hors d'oeuvres of edible orchids stuffed with chicken, jumbo shrimp from a pottery spoon station, coconut chicken with peanut sauce, sweet potato and roasted pepper and curry Aioli dips, roasted bell pepper soup served in a large shot glass and mini-pizzas. The standout dessert is a strawberry Champagne smoothie.
Prices for this extravagance are $220 for adults and $154 for children [2-12] and include valet parking, priority seating, a $15 Corteo program and parting gift. For reservations and tickets, use the contact information above.
Even in Tapis Rouge, you won't be exempt from souvenir temptation. There's a large boutique, featuring among other items, stunning decorative masques, priced from $10-$500.
On sale in all gift boutique areas is the new 90-minute highlights DVD of Corteo [SRP: $29], with six bonus features, including two behind-the-scenes mini-docs. It's available from the Cirque online boutique: cirquedusoleil.com, where you will also find much information on all Cirque shows and products.
The DVD is also available in music outlets and Amazon.com. The score CD will be available later this month on Movement/Cirque du Soliel Musique.

LADY LUPONE

Tony and Olivier Award-winning Broadway fav Patti LuPone, Drama Desk-nominated [surely with a Tony nom nod to follow] for her role as Mrs. Lovett in the acclaimed John Doyle no-frills revival of Sondheim's Sweeney Todd, revives her one-woman show The Lady with the Torch on Monday, May 22 at 8 P.M. at Lincoln Center's Vivian Beaumont. The one-night-only concert benefits Broadway Cares/ Equity Fights AIDS.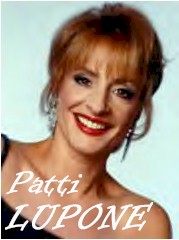 The event also celebrates the recent launch of Ghostlight Records's CD of Lupone's show, which she premiered last year in sold-out engagements at Feinstein's at the Regency, L.A.'s Cinegrill and S.F.'s Plush Room in San Francisco followed by Carnegie Hall.
Director/lyricist Scott Wittman, a Tony-winner for Hairspray, conceived The Lady with the Torch and directs. He conceived and directed Lupone's 1995 solo Broadway show and is responsible for the concept and lyrics of Martin Short's upcoming Fame Becomes Me.
Orchestrations are by Sondheim veteran Jonathan Tunick, with musical direction by Chris Fenwick - conducting a 10-piece orchestra.
Lupone's repertory of torch ballads are by Arthur Schwartz, Jule Styne, Billy Barnes, Stan Kenton and June Christie, Johnny Mercer, George and Ira Gershwin, Willie Nelson and Cole Porter. She is dedicating the concert in memory of her longtime musical director Dick Gallagher.
Tickets [$50 to $500] are available online at http://www.broadwaycares.org/ or by calling Broadway Cares/Equity Fights AIDS, (212) 840-0770.

MARIA FRIEDMAN LIVE AND ON CD

"The first lady of the British musical stage" Maria Friedman, whom Broadway audiences were introduced to last November as the star of Andrew Lloyd Webber and David Zippel's short-lived The Woman In White, has released her American debut CD, Now and Then [Sony Classical].
Long considered a premiere interpreter of Sondheim's work, she puts her acclaimed dramatic vocal power to good use on "Finishing The Hat," from the Pulitzer Prize-winning Sunday In the Park with George, a sexy take on "Broadway Baby" from Follies and, accompanied in an extraordinarily rare appearance on piano by Sondheim, "Children and Art" from SundayÖGeorge.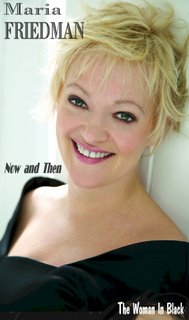 Now through June 3, Friedman is performing selections from her CD in her act at CafÈ Carlyle [Madison Avenue at 76th Street], her third appearance there and a salute to Sondheim, "who," notes Friedman, "is solely responsible for my career." Musical director is Nicholas Archer.
On Now and Then Friedman widens her reach. There are stellar interpretations of Cole Porter ["I Happen To Like New York"], Rodgers and Hart ["My Romance"], Harold Arlen and Ira Gershwin ["The Man That Got Away"], Jacques Brel ["If You Go Away"] and, with the title tune, Michel Legrand.
In addition, she performs a poignant rendition of Charlie Chaplin's "Smile." In a contemporary vein, Friedman does Kate Bush's "The Man With The Child In His Eyes."
There're two personal favorites: "In the Sky," an anti-war song popularized in the 40s in Lithuania's Vilna Ghetto, once known as the "Jerusalem of Lithuania," which was completely destroyed by the Nazis; and "Guess Who I Saw Today" by Murray Grand and Elisse Boyd. Of the latter, Friedman says, "I just love this song! You'll be convinced this is a sweet love ballad with a happy ending and then comes this surprise twist."
As Woman In White was about to open, Friedman was diagnosed with breast cancer. Between treatments, she valiantly returned to perform and garnered excellent notices for her performance as Marian Halcombe, the sister trying to right her wrongs, in the Gothic thriller.
On the West End, she won Olivier Awards for her one-woman show Maria Friedman: By Special Arrangement, portraying Mother in Ragtime and Fosca in Passion. There were Olivier noms for SundayÖGeorge, Lady In The Dark, Roxie in Chicago, The Witches of Eastwick; and TWIW.
The West End cast double CD of TWIW is available on EMI.
For more on Friedman, visit at www.aboutmaria.com.
To catch Friedman live at CafÈ Carlyle Tuesdays through Saturdays at 8:45 P.M. and Fridays and Saturdays at 10:45, call (212) 570-7189. There's no minimum, but there is a $75 cover.

WICKED CAST AND FRIENDS HOST BENEFIT

On Monday, May 15, in what promises to be a big event for theater fans young and old, the cast of Wicked and special guests perform Broadway Acoustic Soul, a concert of classic Broadway tunes with a bit of a twist. It will benefit Quilts for Kids. It takes place at 7 P.M. at Central Presbyterian Church [593 Park Avenue at 64th Street].
Carol Kane, Megan Hilty, Eden Espinosa, Jenna Leigh Green, Ben Cameron, Brandi Chavonne Massey, Rhett George, Marty Thomas and Shoshana Bean will be joined by Tituss Burguss and Donnie Kehr [Jersey Boys], Krisha Marcano [Color Purple], Greg Reuter [Spamalot], Peter Matthew Smith [Hairspray], Eric LaJuan Summers [Wedding Singer], Tony-nominee Daphne Rubin-Vega [Rent], Tony-winner Adriane Lenox [Doubt), the cast of Altar Boyz; and Broadway Boys.
Broadway Acoustic Soul is produced and directed by Anthony Galde and Schele Williams, who produced the hugely successful all-star Hurricane Katrina benefit Broadway to Bourbon Street at the Gershwin last fall.
Quilts designed with the Wicked and other shows' logos and signed by the casts will be auctioned by Michael Maloney of ABC's Extreme Home Makeover.
Quilts for Kids is a grassroots organization begun in 2000 by Linda Aria where discontinued designer fabrics are transformed into quilts for children with life threatening illnesses and those battered and abused. QFK, with 30 chapters worldwide, has saved over one million pounds of fabric from landfill and converted them into 30,000 quilts.
Tickets for Broadway Acoustic Soul are $150, which include a 6 P.M. reception with casts and gift bag, and $100; $50 for students with I.D. To reserve, call (215) 295-5484.

THE NUN'S STORY
The BMI Lehman Engel Musical Theatre Workshop, birthplace of Avenue Q, ACL and The Little Shop of Horrors, in collaboration with Mel Miller's Musicals Tonight!, will present a sneak preview of The Tragic and Horrible Life of the Singing Nun. The presentation will take Monday, May 15 at 6:15 P.M. at the 45th Street Theatre [354 West 45th Street, between Eighth and Ninth Avenues].
The musical, by Andy Monroe and Blair Fell and based on Fell's play, is a homage to Jeanine Deckers [Sister Luc-Gabrielle] the Belgian nun who became a chart-topping pop star under the name of Soeur Sourire with the 1963 song "Dominique."
Deckers was celebrated in the media and introduced on Ed Sullivan's top-rated CBS variety show Toast of the Town, but what the public doesn't know is that after she became a household name, her hit faded and she left the religious life, Deckers' career and life evolved into a nightmare of addiction, depression, betrayal by the Church and a tragic end in 1985.
The Tragic and Horrible Life of the Singing Nun, says Fell, "is mostly fiction and strictly libelous! While it adheres to the bare bones of Jeanine's life, it owes more to the tradition of backstage melodramas such as Imitation of Life, All About Eve and The Valley of the Dolls, not to mention Beyond the Valley of the Dolls."
Musical Mondays Theatre Lab producing director is Frank Evans, with Mary Ellen Ashley and Anne Bernstein as consulting producers.

HIGH TIMES ON THE HIGH LINE
The trendy Gansevoort Market [a.k.a. the Meatpacking District] and surrounding area is going to have it's own music festival this month next year along the developing Highline Park, thanks to David Bowie.
Along with David Binder, the Broadway/Off Broadway producer [A Raisin in the Sun revival, Hedwig and the Angry Inch, De La Guarda] and veteran nightlife and concert promoter Josh Wood, Bowie is establishing the High Line Festival, to be held annually over a 10-day period. He will also be the creative voice behind the Festival and in charge of choosing "a diverse collection of artists and musicians, who inspire me and capture my point of view."
Events will take place at street level and at neighboring venues alongside the High Line, a public park being created from abandoned elevated 1930s rail tracks from the West 30s to Gansevoort Street in Greenwich Village. It's New York's biggest and most prestigious public works project in over 50 years.
The Festival will include music, nightlife, visual art, performance and film - featuring superstars and emerging talent. It will culminate in a large, outdoor concert by Bowie and special guests, which will mark the singer's first New York concert since 2003.
In Bowie's footsteps, a different world-class artist will be selected each year as the High Line Festival's curator.
For more information about the High Line project, visit www.thehighline.org.
--------
Ellis Nassour is an international media journalist, and author of Honky Tonk Angel: The Intimate Story of Patsy Cline, which he has adapted into a musical for the stage. Visit www.patsyclinehta.com.

He can be reached at [email protected]





Why are you looking all the way down here?
For more articles by Ellis Nassour, click the links below!

Previous: Drama Desk Awards Set For May 21, Harvey Fierstein To Host; Rice and Webber's First Collaboration On CD; Musical Monday Double Bill; Ava Gardner Biography; More

Next: Harry Connick Jr. and The Pajama Game Cast CD; Drama Desk Award Presenters; Who's Not DD-nominated; Rare Beckett; The Producers On DVD

Or go to the Archives