The bets are on in Vegas. Will the spectacular debut of Phanton - The Las Vegas Spectacular, premiering Saturday [June 24th] with a gala as only Vegas can stage at the Venetian Hotel, Casino and Resort change Broadway¥s luck on the Strip?
Broadway hunk Brent Barrett [Annie Get Your Gun, Kiss Me, Kate, Chicago] and Tony Award-winner Anthony Crivello [Kiss of the Spider Woman, Les MisÈrables] will alternate running amok through "The Music of the Night" as the Phantom on the sometimes two-a-night schedule. Each performance boasts a cast of 40+.
Many question if there¥ll be an audience for the Olivier, Tony and Drama Desk-winning musical in that Nevada oasis of overkill in the sands? And if the spectacle and operatic arias of composer Andrew Lloyd Webber and lyricists Charles Hart and Richard Stilgoe a bit too high-faluting for the hoards who invade that sandpit, praying for luck to be their lady.
Can a sumptuously staged and costumed musical spectacular entice those players rolling craps or pumping dollars, quarters and nickels into the Blazing 777s and Wheel of Fortune slots? Have no doubt, for as crowded as the gambling floors of the casinos are so, too, are the showrooms.
There¥s a firm hope that what¥s said in Vegas about P-TLVS won¥t stay in Vegas.
The star-studded, red-carpet gala as the City of Lights [the one in the Nevada desert] officially debuts David Rockwell¥s spectacular $40-million opera house, modeled on the one from that other City of Lights [the one in Paree]. P-TLVS is estimated to cost a mind-boggling $35 million. Feature films have been made for less [well, a couple, anyway].
SEEING DOUBLE: Alternating Phantoms BARRETT and CRIVELLO on Venetian stage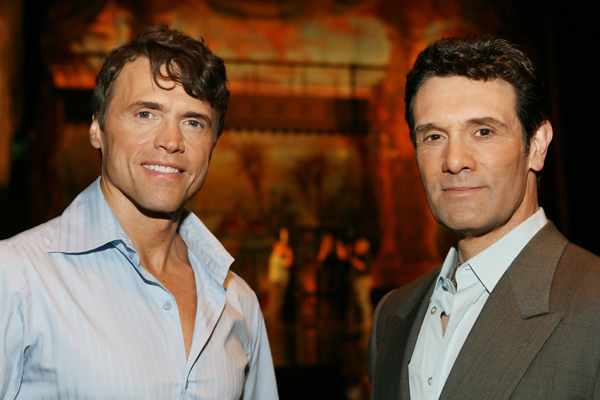 Barrett, one of theater¥s most easy-going and affable talents, says, "It¥s quite exciting to be part of this amazing project and to perform in the theater, which is unbelievable. Our preview audiences have been absolutely fabulous."
Not a gambling man, he plans to stay away from the table games and slots and take advantage of as many of Vegas¥ scenic wonders as his schedule permits [both on the Strip and those nearby, such as Mount Charleston, a 45-minute drive away, where in a matter of minutes you ascend from the desert heat to a world of snow and Swiss chalets].
P-TLVS reunites ALW with multiple award-winning director Hal Prince, the recipient of a 2006 Tony Award for Lifetime Achievement, from the original West End and Broadway stagings. They also worked together with lyricist Tim Rice on Tony-winner Evita.
[Trivia: Prince was ALW and Rice¥s choice to direct their Broadway debut, Jesus Christ Superstar; but through a massive screw-up of mail and messages it was not to be.]
Due to the challenging vocal score and schedule [and the dreaded fear of Vegas entertainers: dry throat], in addition to the alternate Phantoms, Prince has double-cast some lead roles.
Christine is portrayed by Sierra Boggess [regionally: Les MisÈrables, West Side Story] and Elizabeth Loyacano [The Woman in White, Oklahoma!]. The Carlottas are Elena Jeanne Batman, who played the part on Broadway, and Geena Jeffries, who played the role in San Francisco. Tim Martin Gleason, a recent Broadway Raoul, repeats his role.
Original choreographer Gillian Lynne, who also handles the musical staging, orchestrator David Cullen, musical supervisor David Caddick and others from the show's original creative team are onboard in Sin City. Cullen says he¥s delighted to be working with a 19-piece orchestra. Prince's associate director is Arthur Masella and Jack Gaughan is musical director.
POTO, which continues to break Broadway and West End records and is Broadway¥s long-run champ [now in its 19th year], is a world-wide household name - 65,000+ performances in 20 countries and 110 cities. There¥ve been tours on top of tours and sit-downs on top of sit-downs. It gets more repeat attendance than probably any other show in history; so a fair question is, since they¥ve built it, who will come?
ALW¥s Really Useful Company, a winner when it comes to savvy marketing of his musicals, and co-presenters Theatre for Live Nation, BASE Entertainment and the Venetian, not one to hedge its bets, are banking that Prince¥s 95-minute reconception, with not a single musical number deleted, will break the bank.
The first performance was a good omen. "When the house lights dimed," Prince reported, "the capacity audience automatically started to applaud, before the show even started! And from there it just kept going. Very electric! Then came the thunderous standing ovation."
P-TLVS, he says, "is a chance to revisit a work of art years after it was created and with a splendor and special effects that weren't even dreamed of twenty years ago, when the show debuted."
David Ian, global chairman of Live Nation, whom you might think would be a bit nervous with so much on the line, says, "We¥re excited to be staging this truly unique production, which will exceed everyone's expectations. Our desire was to produce a show with world class content in one of the greatest markets in the world. We feel it¥s a perfect fit with Las Vegas."
HIGH ROLLERS: Making their Vegas debuts, ALW and legendary director HAL PRINCE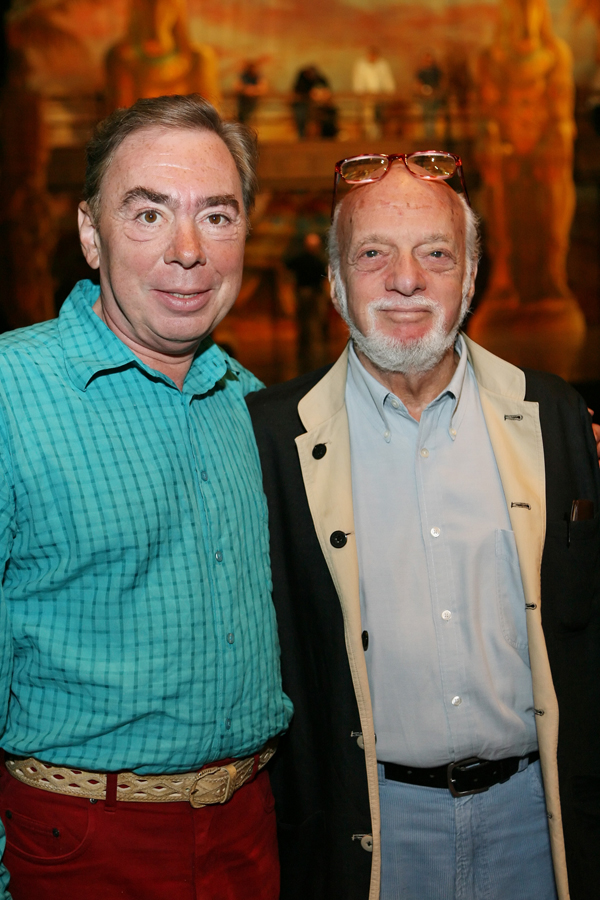 Scott Zeiger, a veteran theatrical producer and presenter and executive producer, BASE Entertainment, says, "The extraordinary talent we¥ve assembled truly complements the once-in-a-lifetime setting. The Venetian, the physical production and our amazing cast combine to create a show that will be unrivaled on the Strip, or anywhere else."
Rockwell¥s breathtaking 1,800-seat replicia of the 1862 Paris Opera, located not far from the shops along the all-weather Grand Canal and the stunning, huge faux reproductions of Tintorettos and Titians, will be the buzz for years to come. It has the type of state-of-the-art production and special effects capability Broadway can only fantasize over.
You may recall that Rockwell is the architect of Hollywood's glitz and glitter Kodak Theatre and set designer for Hairspray.
The stage, which opens to its very own lake for the gondala rides into the Phantom¥s lair, has depth, height and vast wing space. Then there's the sparkling and humongous one-ton chandelier, which you can expect to do more than just crash! It will have an explosive, fiery descent.
Bway POTO: long-run champ; HOWARD McGILLIN, SANDRA JOSEPH ride the gondala into theater history books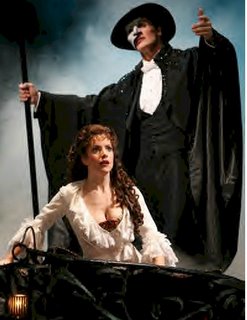 The most successful theatrical endeavor of all time, The Phantom of the Opera has grossed more than $3-billion worldwide since its 1986 London premiere. It swept the 1988 Tony Awards, winning seven, including Best Musical as well as seven Drama Desk Awards.
The film adaptation of POTO was released worldwide in 2004. Though it didn¥t achieve box office blockbuster status here, it¥s been a huge draw overseas and is receiving high ratings in its premium TV debuts and in DVD sales.
Phantom - The Las Vegas Spectacular performs Wednesday-Monday at 7 P.M. and Friday-Wednesday at 10 P.M. Tickets are sold 90 days prior to the desired performance.
Tickets are priced "slightly" higher than on Broadway. There are 25 orchestra rows, with the "chandelier-friendly" first eight center ones, called the Golden Circle, priced at $157 per seat. Remaining orchestra and the first three rows of the mezz are $132. Balcony seating is $107 and $82. All credit cards accepted.
To order call (866) 641-7469 or (702) 414-7469, or visit http://www.venetian.com/. The official website is http://www.phantomlasvegas.com/.

SHAKESPEARE IN THE PARK
The NYSF¥s free Shakespeare in the Park performances of Macbeth [through July 9] starring Liev Schreiber are Tuesday - Sunday at 8 P.M. MoisÈs Kaufman [Gross Indency] is directing. Lynn Cohen and Jennifer Ehle are among the cast of 24.
Tickets are available on a first-come, first-served basis on day of the performance beginning at 1:00 pm ó line forms early ó at the Delacorte Theatre, mid-Park at 80th Street, or from 1 - 3 at the Public. For more information, call (212) 539-8750 or visit www.publictheater.org.
Get ready to stand in line for tickets [remember The Seagull?] for Meryl Streep in the world premiere of Brecht¥s Mother Courage and Her Children, which the NYSF presentS in the Delacorte August 8 to September 3 [no performances August 7, 14, 22, 23 and 28]. Translated by Tony Kushner, George C. Wolfe will direct with music by Jeanine Tesori [Thoroughly Modern Millie].

Mother Courage focuses on a mother who questions the roles of honesty, virtue, and family in a bitter struggle for survival amid war¥s killing fields.

MORE SHAKESPEARE IN THE PARK
Boomerang Theatre Company is presenting its eighth season of free Shakespeare in NY parks. King Lear willl be presented June 24 and 25 at 2 P.M. in Riverside Park [108th Street and Riverside] and, in Central Park [enter at 69th Street and Central Park West], July 22, 23, 29 and 30. For information on Boomerang¥s free Lear in other boroughs and their Fall season at their West 21st Street Center Stage, visit www.boomerangtheatre.org.
August 1st, 4th and 5th, the Drama Desk and Obie-winning Classical Theatre of Harlem will revive their acclaimed 90-minute production of Macbeth in Harlem¥s Marcus Garvey Park under the sponsorship of City Parks Theater and Time Warner. In addition to lots of severed heads, there¥ll be music, dance and chant. For more information, visit www.cityparksfoundation.org.

MORE PARK HAPPENINGS
Get your blankets out, pack those picnic baskets with cucumber and pimento cheese finger sandwiches and chill the wine.
The Great Lawn, mid-Park from 79th to 85th Streets, is the scene of the fifth annual Broadway Under the Stars Monday [June 26] at 8 P.M. This free evening, sponsored by theater-friendly Target, will feature songs from Tony-winning [21 of 'em] Hal Prince¥s shows. A fireworks finale closes the concert.
Michael Cerveris, John Cullum, Christine Ebersole, Sutton Foster, Shuler Hensley, Brian d'Arcy James, Jane Krakowski, Rebecca Luker, Bebe Neuwirth and the "Jersey Boys" are set to appear with full orchestra.
Directing BUTS will be Tony-nominated director/choreographer Jeff Calhoun [Annie Get Your Gun, Big River]. Choreography is by Chase Brock. Phil Reno [Drowsy Chaperone, The Producers] is music director.
The next night [June 27], at 6 P.M.. the Charles A. Dana Discovery Center, 110th Street between Fifth and Lenox Avenues, will host a free concert by Central Park Brass, From Harlem To Broadway. The music of Joplin and Gershwin, among others, will be featured. Seating is provided for this Park event.
Upcoming: the New York Philharmonic Concerts on the Great Lawn. Tchaikovsky and Dvorak will be heard Wednesday, July 12, with Xian Zhang conducting. Jennifer Koh will be the featured solist. Marin Alsop will conduct Prokofiev and Beethoven Tuesday, July 18. The soloist will be Leila Josefovicz. Philarmonic concerts begin at 8 P.M. and are followed by fireworks.
BABS TELL-ALL COINCIDES WITH TOUR
La Streisand is, without question, one of the world's great entertainers. She¥s made her mark onstage, on record, in film [not only as an actress but also as director and producer], in concert, on TV, in politics [at least one president has listened to her after she serenaded him]. And she can sell books. There¥ve been countless BS biographies, so why add another?
Tom Santopietro, a veteran Broadway stage manager [¥97 Dolls House, Tru, Marilyn, many more] who claims to be BS¥ultimate fan has his reasons for The Importance of Being Barbra [Thomas Dunne Books, hardcover, 256 pages, $23; photos, Index]. In it he expresses some strong opinions and, while covering BS¥career highlights and forays into political commentary, he doesn¥t ignore some of her missteps.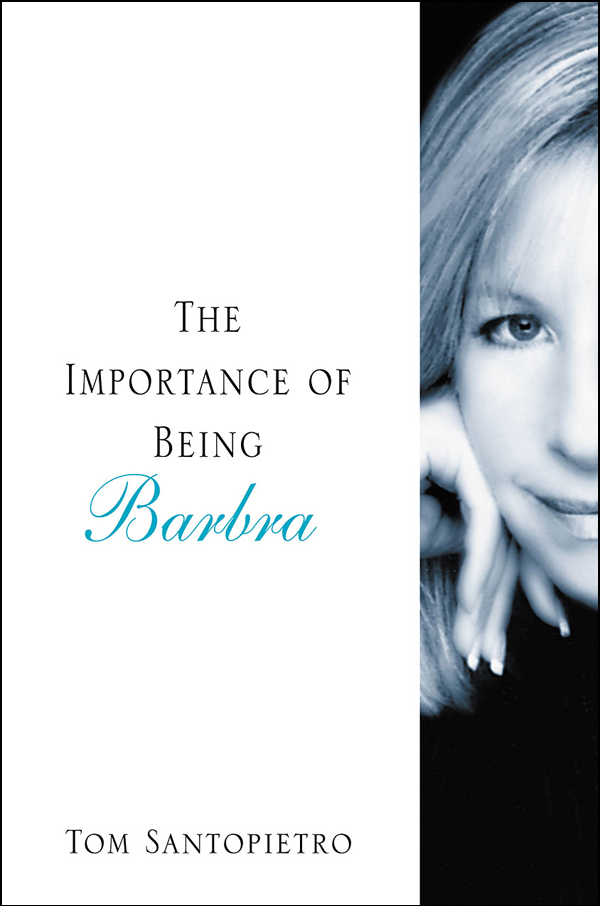 Chapters cover Recordings, Film [up to BS¥screen comeback, the tasteless blockbuster

Meet the Fockers

], Television, Concerts, Theater and Politics. An interesting aspect is how Streisand developed a working relationship with Sondheim. He also takes a looks at her her Dolly Levi in the film adaptation of

Hello, Dolly!

and recent uninspired albums.

He says, "What fascinates me about Streisand is the work. Why she is a worldwide icon on a level achieved only by Sinatra and Elvis. Like them, she¥s an outsized talent with an outsized personality. Love her or hate her, you pay attention.

"I chose not to focus on her love life and marriages," he continues, "but to look at the reasons for her success. I wanted to delve into her demanding perfectionism, driving ambition, the fervent gay following and the amazing pull of her voice, which connects with people around the globe."

Santopietro also examines how BS changed the perception of Hollywood beauty, broke down barriers for women and, when she hit the scene, how startling she was to ¥60s America. One of the things I like best about Santopietro, other than he¥s a theater vet, is that he calls BS "Babs."




THEATRE MUSEUM HAMPTONS BENEFIT

The Theatre Museum will hold its first

Straw Hat Sensation

on Sunday, July 2, in East Hampton from Noon to 3 P.M. at the estate of producer/theatre owner Stewart Lane, chairman of TTM board of trustees, and his wife, producer/actress Bonnie Comley, an advisory committee member. It¥s part of TTM¥s Meet the Author series, funded in part by a MetLife Foundation grant.

The special guest is Chris Lemmon, who¥ll be signing his book A Twist of Lemmon, a tribute to his father, Jack.
The suggested donation is $150 per person, which includes a buffet lunch, jazz and a signed copy of the book, with a Foreword by Kevin Spacey and personal reminiscences by Shirley MacLaine, Neil Simon and, among others, Julie Andrews.

TTM president Helen Marie Guditis said that all proceeds benefit the Museum, New York's first and only chartered non-profit museum dedicated to the history of the theatre and whose mission "is to preserve, protect and perpetuate the legacy of theatre through innovative programming", including exhibitions, theatre arts education residencies and workshops.

For more information and directions and to make a reservation, call (212) 764-4112 X. 203 or visit www.ttmnyc.org/.

READY FOR A LITTLE KABUKI?

TKO Entertainment is presenting The World of Ryuji Sawa July 8th and 9th at 2 P.M. at East Fourth Street¥s Kraine Theater. The program incorporates Japanese popular theater, Kabuki, dance, Taiko drumming, and sword fighting. Sawa, a veteran of Japanese theater, film and TV, will be featured with a cast of 12.

On July 6, Sawa will host a workshops on Kabuki dance [ 2 P.M.] and sword fighting [4 P.M.] at Nola Studios [250 West 54th Street].

LIVE AND SOON LIVE ON ON CD

Seemingly indestructive and seductive tigresses Eartha Kitt is marking her 12th appearance at the Carlyle. The engagement ends July 1st, but DRG Records is recording the show for an October release CD, which, among numerous other songs, "Come On-A My House," "Hate/Love New York," "Ain't Misbehavin'," "La Vie En Rose," "Darling, Je Vous Aime," "C'est Ci Bon," "September Song" and "It Was A Very Good Year."

For Carlyle reservations, call (212) 744-1600.

[P-TLVS and POTO photos: JOAN MARCUS]


--------
Ellis Nassour is an international media journalist, and author of Honky Tonk Angel: The Intimate Story of Patsy Cline, which he has adapted into a musical for the stage. Visit www.patsyclinehta.com.

He can be reached at [email protected]





Why are you looking all the way down here?
For more articles by Ellis Nassour, click the links below!

Previous: Roz Ryan Power Night Tonight; Bloomsday Friday; Broadway By the Year Season Finale; Actor's Fund Benefit Stars Charles Busch; More Bette Davis; More

Next: Curtains: What's Not To Like? A Kander and Ebb Score, A Fun Book with A Killer Running Amok In A Theatre and A Killer Cast and Creative Team

Or go to the Archives