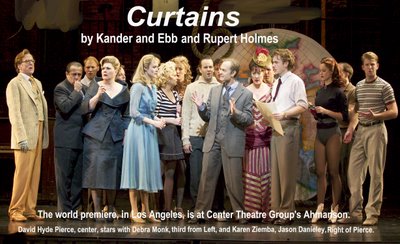 Los Angeles - "I don't want to jinx it," says the book writer, Tony Award-winning Rupert Holmes of the world premiere production of Curtains, his and Kander and Ebb's musical comedy murder mystery, "but we have a 1,600-seat house, packed at every show, and audiences are howling from the start and they never stop. There's more fun in this show than anything I've ever written. Oh, I know about standing ovations these days, but we're getting them at every performance. To say I'm thrilled would be a vast understatement."
L.A. theatregoers are the first to see the new musical, presented by Center Theatre Group in a pre-Broadway run opening August 9 at the flagship of the Music Center, the Ahmanson Theatre, the grand finale to its 2005-2006 season.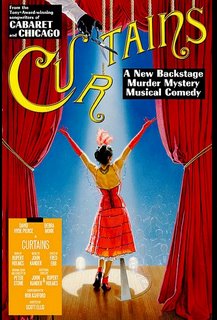 Multiple Tony and Drama Desk nominee Scott Ellis is the director, with choreography by Rob Ashford [1992 Tony, Thoroughly Modern Millie]. Curtains runs through mid-September.
With the death of Ebb in 2004, it marks one of the last collaborations by the longest-running songwriting team in Broadway history - a beloved duo that gave us Cabaret, Zorba, Chicago, The Rink, Steel Pier and Kiss of the Spider Woman [not to mention Flora, the Red Menace, The Happy Time, 70 Girls 70, The Act and Woman of the Year].
The team met through mutual friends, reports Kander, "and it was a case of instant communication and instant songs. Our neuroses complemented each other. But the really lucky thing is that, as we began to work, we fell into an ethic that allowed us to enjoy what we were doing. We never made an intellectual decision. We just fell into it."
He notes writing musicals wasn't always easy and sometimes it was very hard, "but even when there was trouble and concepts or songs changed, the act of writing was never unpleasant for us."
Curtains' curtain raiser is the death of the leading lady of Robbin' Hood!, a Wild West musical retelling of the Sherwood Forest legend, in pre-Broadway tryouts in Boston, who comes to her untimely end during a thunderous ovation while taking her bows.
David Hyde Pierce of Fraiser fame, stars as Frank Cioffi, a bungling Boston homicide detective, albeit one who is a fan of musicals, who conducts what soon becomes a murder investigation. Since everyone on and backstage is a suspect, the company finds itself holed up in the Colonial Theatre. As rehearsals go forward, Detective Cioffi finds himself caught in a web of bedlam, deceit, massive theatrical egos, a budding love affair and more murder.
Pierce feels this last K&E collaboration "is a historical moment for the stage. The premise of a musical set against a murder mystery is a bit tricky, which makes it all the more fun. John and Fred are at the top of their game and the result is classic Kander and Ebb. And, with Peter gone, Scott's idea to bring in Rupert, an acknowledged master of the mystery/thriller genre, was genius."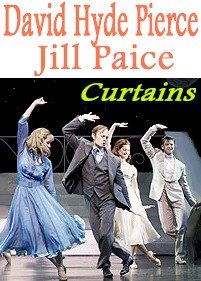 Four-time Tony-nominee Debra Monk [who won the 1993 Featured Actress award as well as a Drama Desk nod for Lanford Wilson's Redwood Curtain], plays producer Carmen Bernstein.
Karen Ziemba, a three-time Tony-nominee [and a winner for LCT's Contact] and four-time Drama Desk-nominee [and a winner for the K&E revue And the World Goes ëRound and Contact], is Georgia Kendricks, the lyricist of the try-out musical ["Not unlike Betty Comden," she reports].
They co-star along with Jason Danieley, as Kendricks' estranged husband [who attempts to carry on, of course, for the sake of the show. Jill Paice and Edward Hibbert, who was also seen frequently on Fraiser, are featured with Noah Racey [Never Gonna Dance, TMM], Darcie Roberts [Crazy for You, Dream] and an 18-member cast.
[Trivia: This is Monk's sixth show with Ellis. She and Hyde Pierce met in his early Broadway days in a reading of a Christopher Durang play; and she later appeared with him on Fraiser. Monk and Ziemba met in the cast of Steel Pier, which Ellis conceived and directed. Ziemba met Ashford when they joined the cast of Crazy for You and performed with Racey in Never Gonna Dance.]

Curtains was developed by Holmes from an original concept by the late Tony-winning book writer Peter Stone, who won three Tonys for his librettos for Titanic, Woman of the Year and 1776. His six nominations included one for the book of The Will Rogers Follies.
With the death of his long-time partner Fred Ebb, composer Kander has done additional lyrics with Holmes.

"Because it's a murder mystery, Curtains has an edge," Ellis explains, "but it's also a wonderful homage to musical theater. We've known some Kander and Ebb shows to be dark. Even though we have a murder, this one isn't. And because it's a show within a show setting we really embrace that ëLet's put on a show' feeling that Mickey and Judy had."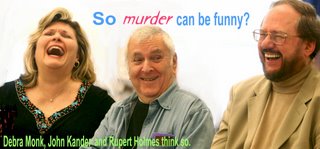 The Center Theatre Group proudly points out they debuted The Drowsy Chapperone and sent it on its merry, Tony and Drama Desk-winning way to Broadway. Everyone connected with CTG certainly feels Curtains in on the same trajectory.
Director Michael Ritchie, former producer of the Williamstown Theatre Festival, was tapped to assume artistic directorship of the three-component CTG in January, 2005 ó replacing Gordon Davidson, a three-time Tony-nominated director, who won for The Shadow Box [1977]. He oversaw the Ahmanson for 15 years blazing new horizons. He also originated numerous hits and Tony Award-winners in the complex's smaller playhouse, the Mark Taper Forum, since its inception in 1967.
Davidson, a theatrical giant, was also a six-time Tony nominee as producer, winning twice for Angels in America: Millennium Approaches [1993] and Perestroika [1994].
Ritchie has big shoes to fill, and he's filling them. Among his initiatives for CTG is to present original musicals and large-scale productions through partnerships with Broadway producers. He has A-List support on Curtains: Roger Berlind, Roger Horchow and Daryl Roth.
"There is no formula for producing a hit," Ritchie says. "If there were, we'd all be doing it and on a regular basis. So instinct and gut feelings played into our decision to produce Curtains." He notes that, as with any new musical, "the risk was great, but as we felt with The Drowsy Chaperone, the potential reward was greater."
He adds, "I was drawn to the show for very simple reasons: the music is terrific and the story is compelling. When I'm reading a new script, my main guide is whether I want to continue turning the pages. Nothing more, nothing less. ëAm I engaged by the story?' is the question I keep asking."
With Curtains, Ritchie explains that he not only wanted to turn the page, "but couldn't wait to. The songs by John and Fred just sang from the pages and Rupert's book is absolutely hilarious. The plot machinations and character shifts were beautifully imposed, and the fact that it had a theatrical setting made it all the more irresistible. It's an engaging and wildly comic romp that will keep audiences guessing right up to the end."
Because of Fraiser [which won him four Emmy Awards] and his Drama-Desk-nominated performance in Spamalot, Ziemba states the obvious, "Everyone knows David can be funny, but in Curtains he's amazing. This is Kander and Ebb so you expect the songs to be incredible, but this score just keeps coming at you."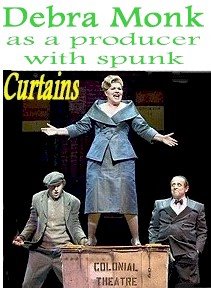 Having originated the role of Shelby Stevens in K&E's Steel Pier and having been a Mama Morton in Chicago, Monk is no stranger to their scores. She's also been aboard Curtains, since the 2001 workshop.
"What attracted me and kept me attracted," she explains, "was that it has one of John and Fred's greatest scores. It was also the opportunity at that time to work with Peter Stone. And now Rupert, who's written one heck of a part for me."
In Curtains, she delights in hearing the vamps K&E are famous for. "Their scores are always so funny and rich. The songs so full of irony. They can do something big and brassy, then turn around and write the most heartfelt ballad. And follow that with a great eleven o'clock number. If anyone loves Kander and Ebb, they won't be disappointed."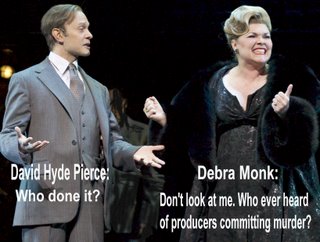 Monk, who has been a producer in her career [as well as a writer], says, "I was never a producer like this one. Carmen's very special; one of a kind, really. She's larger than life and loves theater deeply. She's a shrewd businesswoman, but she also has heart."
And no, she states with an exclamation mark, contrary to scuttlebutt, Carmen isn't based on Fran Weissler! "As I understand it," says Monk, "she's based on a woman Peter knew."
Curtains is a musical and Ziemba's in it, so she must dance, right? "Well," she reports, "not really. I mostly sing and act. But, hey, they figure Ziemba's in the show so they gotta give me some dancing. So, I do. A little. However, the bulk of the dancing is done by our wonderful ensemble."
She couldn't be happier with her songs. "John knows Debra and me so well that he came up with perfect songs that are just right for our characters. One of John and Fred's great assets is they can write beautiful songs that come out of the story. What's really special are their big finishes, the kind that really lift your heart. This score raises the bar even for them!"
And Holmes' book packs punch, says Ziemba, "because the comedy comes from the theatrical egos of the characters."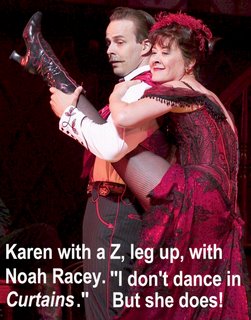 For his part, after short-lived Broadway productions of Accomplice [1992] and Solitary Confinement [1994] and the great joy of working on his beloved TV series Remember WENN, set in the late 30s into the life-changing early 40s when radio was king at a Pittsburgh station where the employees are as wacky as the characters they portray on the air.

It was a dream situation, he states, "one I'll never encounter again. There was no laugh track, no commercials. I was able to write a continuing story line, fifty-six half-hour episodes. I thought of it as writing the world's longest play." He was able to shoot it in New York with a repertory company, many of whom were seasoned theater veterans.

Now, he's adaptated Remember WENN for the stage, an arena dear to his heart from his experience working with Joe Papp and the Public to develop Drood, as that musical eventually came to be called.

After Curtains, back at home in Scarsdale, he'll continue to develop Charles Strouse and Lee Adams' adaptation of Paddy Chayevsky's original teleplay and Academy Award-winning film Marty, which starred John C. Reilly in a Boston tryout in what Holmes called "a heart-breaking performance."

In addition to a tour of Say Goodnight, Gracie, which starred the late Frank Gorshin regionally and on Broadway, there are the new adaptations, Second Hand Lions, into a "magical" family musical, and First Wives Club.

He loves calling the musical "a valentine to the shows I was weaned on. My first Broadway musical was My Fair Lady." He still has vivid memories of it, even though when he saw it, the show was well into its run.

The stars were Michael Allinson [Coco, Sleuth, Shadowlands] and Pamela Charles. "Unfortunately, at the matinee I attended, Ms. Charles sort of phoned her performance in. I didn't hear one note of hers in ëI Could Have Danced All Night.'"

It may not have been the only performace she phoned in, for MFL is Charles' only Broadway credit.

"Still," says Holmes, "I came away floating on air. Nothing could spoil it. More than any other, My Fair Lady set the standard for the Golden Age of Broadway Musicals."

It shares a long list, which includes West Side Story, Bells Are Ringing, The Music Man, Damn Yankees, The King and I, The Pajama Game, Candide and The Most Happy Fella.

"I set the story in 1959," he reveals, "to convey the simple, joyful wonder I felt as a boy witnessing those great musical comedies. I thought it would give me the opportunity to remind an audience who can remember and inform one that doesn't."

It also allowed him to create larger than life theatrical characters and temperamental directors. "If I wrote about Broadway today," he admits, "I'd have to bring in Lloyd Webber, Mackintosh's mega musicals and Disney. But setting it as I have, I was able to fall back on the legends."

Helping to evoke that era, he notes, are Ashford's evocative choreography and William Ivey Long's costumes.

"In fact, Curtains is the William Ivey Long encyclopedia. One of his mentors was Cecil Beaton, who did My Fair Lady, so there are lovely tributes to the look of that period not only in styles but also in color schemes."

Noting how computer driven today's shows are, he wanted to remind audiences of the noisy scene changes of old. "I recall all those vividly-painted drops in the musicals that the actors stood in front of while things were shifted behind them. I thought of the fun we'd have bringing those back."

Bright and brassy is how Holmes describes Curtains' score, "but it's a bit different for Kander and Ebb. However, there's no mistaking it's a Kander and Ebb score. It has their mark, which is the absolute height of theatricality with a wonderful show business sensibility. There're also a couple of stirring tunes that would cause any thespian's heartbeat to race."

The British-born Holmes [nee David Goldstein], who came with his English mother and Yank Air Force father to New York when he was three, soon lost his accent living in Levitttown, Long Island."

Always instilled with an intense love of music, he attended and graduated from the Manhattan School of Music and became a successful session pianist and arranger for Gene Pitney, the Platters, the Drifters and the Partridge Family.

Musically, he's a sort of jack and master of all theatrical trades.

For his 1986 Tony and Drama Desk-winning Best Musical The Mystery of Edwin Drood, Holmes was the first artist to receive Tonys for Book, Music and Lyrics. Jonathan Larson was the second.

He laughs, "I'm probably one of the few who've won Edgar Awards from the Mystery Writers of America and sung on American Bandstand."

Holmes has recorded over 15 albums. Two of his best known and biggest-selling tunes are the megahit "Escape (The Pina Colada Song)" and "Him." He's written novels, one of which was adapted for the screen.

He wrote, arranged and conducted extensively for Streisand, with tunes on six albums and reveals there are some ten songs they did that have never been released. Other tunes have been recorded by Judy Collins, Rita Coolidge, the Jets, Patti Lupone, Dolly Parton, Dionne Warwick, Margaret Whiting and, among numerous others, Britney Spears.

Easily, though, his great love is the mystery/thriller genre. "Mysteries and thrillers have that extra something that keeps you guessing," he states. "They invite audiences to get one step ahead of the detective, and even when they're wrong - which in the case of Curtains they usually are - that's part of the fun. In this show, no matter how certain you are of who done it, chances are you'll be surprised."

He does realize there's going to be a problem keeping the show's ending secret. "The killer's the same at every performance, so you have the possibility of audiences spilling the beans. We're hoping they won't, but it's not something you can control. However, I've come up with a couple of little games."

He pauses briefly and laughs about how it would be if Curtains were set in present day. "We'd be all about CSI-type forensic and DNA evidence, wouldn't we, and all the excitement of an old-fashioned who-done-it would be missing. What kind of good time would that be?"

[Production photos by Craig Schwartz; Rehearsal photos by Joan Marcus.]


--------
Ellis Nassour is an international media journalist, and author of Honky Tonk Angel: The Intimate Story of Patsy Cline, which he has adapted into a musical for the stage. Visit www.patsyclinehta.com.

He can be reached at [email protected]





Why are you looking all the way down here?
For more articles by Ellis Nassour, click the links below!

Previous: Phantoms Haunt New Vegas Opera; Shakespeare And More In Parks; New Babs Tell-All; Kabuki Anyone?; More

Next: Phantom - The Las Vegas Spectacular Competes with Vegas' Brand Of Spectacular

Or go to the Archives