[Don't miss tonight's live broadcast from the Vivian Beaumont Theatre of LCT's Adam Guettel/Craig Lucas'The Light In the Piazza on PBS'Live from Lincoln Center. ]
Is there anyone still around who remembers Monday as a dark night in theater? How things have changed. Monday is now the day when you have to carefully choose your options - and they are many, from staged readings and workshops to club acts, concerts and benefits.
This Monday it's going to be very difficult to choose just one.

ROZ RYAN SAYS FAREWELL FOR A WHILE
Soul diva extraordinary Roz Ryan is out of pajamas tonight and into a glamour mode as she entertains in concert at Danny's Skylight Room [346 West 46th Street, between Eighth and Ninth Avenues] at 11 P.M. in One Night Only: An Eternal Love.
"This won't be just another self-indulgent moment in the life of a night club singer," laughs Ryan. "The difference in this show is that it will be a real intimate evening. You remember 'Tonight I gave the greatest performance of my life,' about a performer keeping face and performing in spite of a love lost. As showgirls, we all have to do that sometimes."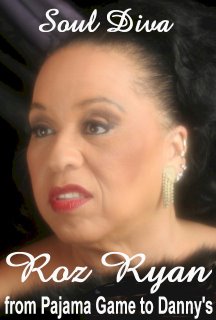 Lost love? Ryan's is that she's losing Broadway [for now]. With The Pajama Game wound down for now, she soon heads back to "my other home," the West Coast. You can expect some surprise guests in the audience, so there'll be emotion onstage and off.
Ryan is a former Effie in the original Dreamgirls, and a Mama Morton in Chicago.
In additon to torch renditions of "All Of Me," "Yesterday When I was Young" and "Lush Life," there'll be such Ryan standards as "Hey, Old Friend," "The Best Is Yet To Come" and the Antonio Carlos Jobim classic "Dindi."
The show features one of Ryan's favorite "all-around" musicians, Shelton Becton, who'll also music direct his "Becthoven" Symphony Orchestra with Nikki Parrot on bass and Buddy Williams on drums.
There's a $10 cover and $12 minimum. Reservations are highly recommended. Call (212) 265-8130.

CELEBRATING JAMES JOYCE

Bloomsday On Broadway, the only complete and annual New York reading of James Joyce's Ulysses, which takes places every June 16, will be celebrating its 25th anniversary tomorrow. The 12-hour reading marathon begins at Noon at Symphony Space's Peter J. Sharp Theatre.
Among the 80 Bloomsday readers will be Kathleen Chalfant, Mia Dillon, Keir Dullea, Fionnula Flanagan, Jonathan Hadary, Larry Keith, Stephen Lang, Frank McCourt, Malachy McCourt, David Margulies, Denis O'Haire, Marian Seldes, Steven Spinella and Fritz Weaver. Symphony Space artistic director Isaiah Sheffer is the host.
Mozart will have a place side-by-side Joyce with a rendering of Don Giovanni, sung, of course. Traditional Irish music will be sung as well.
This anniversary will put more focus on Stephen Dedalus, a thinly-disguised Joyce and one of the book's three major characters [along with Leopold Bloom and Molly Bloom].
Sheffer notes there'll be two major readings from Joyce's A Portrait of the Artist: the Christmas dinner scene at the Dedalus household and the ending in which Dedalus declares his spritual independence and defiance.
"This second part gives a picture of the younger, pre-Ulysses Dedalus," he says.
A portion of the marathon will highlight work by Joyce's friend, sometime secretary and disciple, Samuel Beckett, the Nobel Prize-winning Irish playwright whose Centennial is being celebrated. Included will be a portion of Beckett's novel Molloy, text from his Krapp's Last Tape, monologues and poetry.
June 16, 1904 is considered by Joyce devotees as the most famous fictional date in literature, because it's the date when Bloom walked around Dublin - in the pages of Ulysses.
Many Bloomsday events are available on CD, including last year's marathon. This year's is being taped for broadcast on WBAI.
Bloomsday tickets are $20; $14 for SS members; and $17 for students and seniors. To purchase, call (212) 864-5400, or visit www.symphony space.org.

BROADWAY BY THE YEAR SEASON FINALE

The largest, most star-studded cast ever has been assembled for Scott Siegel's season finale Broadway by the Year on Monday, June 19 at 8 P.M. at Town Hall. Broadway shows from 1978 will be brought to vivid life again.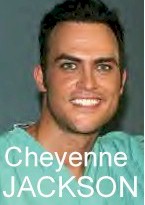 The cast, which Siegel calls "stellar and diversified" [which means not only from Broadway but also the world of cabaret] includes Bryan Batt, who is also directing, Tony Award winner Chuck Cooper, Felicia Finley, Julie Garyne, Cheyenne Jackson, Nancy Lemenager, Nancy Opel, Noah Racey, Christine Pedi and Lennie Watts.
Ross Patterson is music director and arranger, with accompaniment from his Little Big Band.
The cast will render numbers from such shows as The Best Little Whorehouse in Texas, Bob Fosse's Dancin' , On the Twentieth Century and Working.
"One of the advantages of having a large cast," Siegel adds," is that you can more accurately match the song with the singer. And have your leading man, your ingÈnue, belter, blues singer and the perfect singer for that popular 'unplugged'moment."
Tickets in the $45 and $40 range are still available at the Town Hall box office or through TicketMaster at (212) 307-4100 or ticketmaster.com.

SPEAKING OF BROADWAY BY THE YEAR
Bayview Records has just released The Broadway Musicals Of 1949, which was recorded live at Town Hall's April, 2004 Broadway By the Year.
The cast includes Scott Coulter, Cady Huffman, Nancy Lemenager, Noah Racey, Marla Schaffel, Martin Vidnovic, Lennie Watts, Robert Westenberg and Karen Ziemba.
In addition to 1949 giving us Rodgers and Hammerstein's legendary South Pacific, there were such shows as Jule Styne's Gentlemen Prefer Blondes, Kurt Weill's Lost In the Stars, Marc Blitzstein's Regina, Johnny Mercer's Texas Lil'Darlin' and one of the rare times in show business history the words Irving Berlin and flop musical were uttered, but such was the case with Miss Liberty.
Ziemba is a particular delight on "(I'm In Love with) A Wonderful Guy" and her unamplified rendition of "A Cockeyed Optimist." Not to be overlooked, however, is Vidnovic's powerful "off-mike" "Lost In the Stars" and "This Nearly Was Mine."
Ross Patterson and His Little Big Band are featured along with excerpts from Scott Siegel's narration.
1949 is available from Footlight Records, (718) 963-0750 or through www.footlight.com , www.originalcastrecords.com and Tower Records at Lincoln Center.

ACTOR'S FUND BENEFIT
Charles Busch returns as Angela Arden, the reclusive recording diva, for one night only, Monday [June 19], in the film/stage noir thriller Die! Mommie! Die! The performance, a benefit for The Actors Fund of America, is at 7:30 P.M. at the renovated Hudson Theatre [145 West 45th Street].
Tyler Maynard [Altar Boyz], TV hunk Christopher Meloni [Law & Order SVU, Oz] and Drama Desk winner and Tony Award nominee Jayne Houdyshell are among the featured cast.
The lavish costumes for the benefit revival are designed by 2006 Drama Desk-nominees and multi-award-winning Michael Bottari and Ronald Case, who created the 40+ gowns in the style of numerous silver screen goddesses for the original stage production and film adaptation, which, of course, also starred Bush.
They've been designing for Busch for over 12 years. The duo won the 2003 Lucille Lortel Award and a Drama Desk nomination for the Busch wardrobe for Shanghai Moon.
"We're trying to work in as many costumes from the film as possible," says Bottari, "which will mean a lot of quick changes. In the play, we weren't able to use but eight or nine."
Bottari/Case's costumes for Busch, including "a huge pile of Size 10 spiked heels," will be exhibited in Los Angeles at the Hollywood Museum in July, says Case, "right next to Joan Crawford and Bette Davis'!"
For tickets and more information, call (212) 221-7300 Ext. 133 or visit www.actorsfund.org.

SPEAKING OF LA GRAND DIVA DAVIS

There's more Bette to love on DVD. Following the success of Warner Home Video's Volume One of The Bette Davis Collection, there's the just released Volume Two and, again, it's filled with not only Davis goodies in the form of remlasted classics from the Warner Bros. vaults but also new making-of documentaries and bonus material galore [featurettes, musical shorts, vintage cartoons], including a new doc in separate packaging on Davis narrated by Susan Saradon.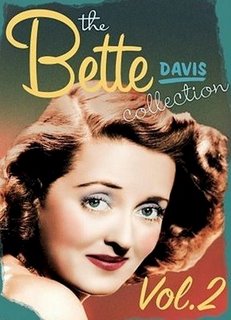 The Bette Davis Collection, Volume Two [WHV, SRP $60] recognizes Davis as one of the screen's legendary talents with remastered prints from original camera negatives with sound enhancing. The accompanying docs have seldom-seen footage of La Davis on a number of TV shows, including an appearance on The Andy Williams Show, where, on that rare occasion she appears without a cigarette, she sings and swings to a rock beat. Yes, that has to be seen to be believed.
The best-known contemporary film in the six-DVD package is Robert Aldrich's Grand Guignol Whatever Happened To Baby Jane [1962], co-starring that other screen legend Joan Crawford.
This film, the study of two ex-stars who gloriously terrorize each other is actually a two-disc special edition with commentary by Charles Busch, among others, and on Disc Two four docs on Bette, La Joan and the making of the film. The best of these is All About Bette, hosted by a dour Jodie Foster [in spite of diamond broaches and earrings], but it has excellent material and focus.
An earlier classic, a sort of Davis/Warner Bros. revenge against David O. Selznick when he passed on Davis and Errol Flynn for the roles of Scarlett and Rhett in Gone with the Wind, is also included: Jezebel [1938], directed by the legendary William Wyler in glorious B&W.
There is even a two-degrees connection to GWTW. Remember the Confederate Ball and how Scarlett shocked everyone by dancing, when she was in mourning. In Jezebel, when Davis, a New Orleans beauty smitten to the point of jealous rage with genteel Southern gentleman Pres Dillard, brazenly arrives at the White Ball in a red gown, she shocks and awes the townfolk. It's one time you don't need Technicolor to see color!
Her performance opposite Henry Fonda set off romantic fireworks and earned Davis her second Best Actress Academy Award. The heroic ending is a bit much, but Davis manages to make it work.
Co-star, the always reliable Fay Bainter, won the Supporting Oscar.
Also in the Collection, Volume Two and all making their DVD debuts are The Man Who Came To Dinner [1942], based on the George S. Kaufmann/Moss Hart stage triumph and co-starring the Broadway lead Monty Woolley, the delightful Billie Burke, Jimmy Durante in a take off of Harpo Marx, Reginald Gardiner in a spoof of Noel Coward and, as movie star Lorraine Sheridan [a role modeled on Gertrude Lawrence], Ann Sheridan; Marked Woman, [1937], a gritty, almost classic film noir with Davis in her fourth pairing with Humphrey Bogart [in a role that was the total opposite of his screen sterotyping at that time] as a prostitue [or what was alluded to be a prostitue at that time] and gangster moll; and Old Acquaintance [1943], a classic potboiler that is often hilarious as well as poigant.
Old Acquaintance, based on the John Van Druten play, in fact, is having its long-delayed home video debut, and its pleasures are many. The movie's tagline, referring to Davis, was "There are certain things one just doe! But I did!" Actually, and to her credit, she doesn't.
This is a female pix to the helt and extraordinarily well-done. The best is watching two screen divas, pumped with ego - Davis and Miriam Hopkins, who were involved in a long-simmering feud [since sparring in a 1939 film], try to outdo each other. Winner: hands down, Hopkins. Even strong, veteran director Vincent Sherman must have met his match with these two divas.
Hopkins could always be depended upon for over-the-top acting and she was an infamous upstager. Here, the duo eat up so much of the scenery that they must have had the production crew working overtime.
Their dislike was more intense and hateful than the Davis and Crawford feud during the making of and, when it really intensified, following the release of Baby Jane.
Although Davis never missed an opt to badmouth Hopkins, often calling her "a bitch" and "jealous," the latter had reason to be more than a little upset with Davis, who'd had an affair with her husband and also won the plum role of Julie Marsden in Jezebel, which Hopkins fought tooth and nail for after originating it five years earlier in the short-lived Broadway production.
In spitre of the rivalry, poignant and often telling performances emerge in the story of two writers who yearn for what the other has. And co-star John Loder gives an excellent, understated perforomance.
The dashing Loder was the male lead. He had an A List career leading up to his portrayal of Pres Drake [Gentleman Jim, Now, Voyager, How Green Was My Valley, Tin Pan Alley and, all the way back to the 30s, King Solomon's Mines, Hitchcock's Sabotage, Lorna Doone and The Private Life of Henry VIII [not to mention silents]. In spite of his huge list of starring or major featured roles -- not to mention the fact that he was one of the female hearttrobs of the time -- [though seen] he didn't get so much of mention in the trailer and, worse, had to settle for billing under newcomer Gig Young [in a much smaller role], who was billed as a "star of tomorrow." [Funny thing, Young had already appeared in 15 films, though he was most often uncredited.]
The extensive bonus materials include an additional bonus disc containing the exclusive-to-the-Collection Stardust: The Bette Davis Story, the feature length documentary narrated by Sarandon with interviews with James Woods, Gena Rowlands and others who worked with the star, including director Sherman, who was briefly Davis' lover. The doc is produced and directed by Emmy-winner Peter Jones.
Davis made her Broadway debut in 1929 but soon after went West. After a brief tenure and horrible B-pictures at Universal, she signed with Warner Bros., where she made 50 of her 100 plus features. She became one of Hollywood's most highly paid stars and the studio's most bankable asset until, after firings and much drama in her demand for better roles, 1949 when she left to become an independent. She had the last laugh: her next film at Fox was All About Eve.
She received an impressive 10 Oscar nominations, rivaled only by Kate Hepbun [Davis even laid claim to naming the Academy Awards Oscars because she said the nude rear of the statuette reminded her of her Uncle Oscar]. Her breakthrough performance [and first Oscar nomination] was in Of Human Bondage. She went on to garner acclaim in such classics as Dark Victory, The Letter, Now, Voyager, The Little Foxes and All About Eve.
Davis was the first woman president of the Motion Picture Academy of Arts and Sciences and was the first woman to be honored with the American Film Institute's Lifetime Achievement Award.

NEW DAVIS BIO
The perfect companion piece to Volume Two of The Bette Davis Collection is Charlotte Chandlier's The Girl Who Walked Home Alone : Bette Davis, A Personal Biography [Simon & Schuster, SRP $26; 368 pages; 16 pages of B&W photos; thorough Filmography; Index].
Chandler, author of such celebrity bios as Hello, I Must Be Going: Groucho and His Friends [1978]; I, Fellini [1995]); and Nobody's Perfect: Billy Wilder - A Personal Biography [2002], returns to tackle the screen legend. This book, based on extensive interviews conducted shortly before Davis' 1989 death, reads more like a conversation, with the story told mostly in Davis' own words. Davis knew she was good and a major force in films and she had no fear of speaking up for what she felt she deserved.
There are countless anecdotes as Davis discusses everything from her father's early abandonment of the family, desire to become an actress and her mother's sacrifices to make that dream happen to her infatuation with several of her leading men, her four marriages and two abortions, her pain and outrage over her daughter's portrayal of her in a tell-all book, her blatant opinions of other actors and actresses and her troublesome reputation, which she claims was much undeserved [she says she would never have been branded "difficult" had she a male star]. [Having worked with and interviewed Miss Davis twice, and approaching those occasions with some trepidation, I can report she laughed as hard as she drank and smoked and was always captivating.]
The experince of being married to and working with Davis comes over vividly, and with some new details, as Chandler interviewed directors, actors and friends who reveal the strong, stubborn woman behind the star.
Ellis Nassour is an international media journalist, and author of Honky Tonk Angel: The Intimate Story of Patsy Cline, which he has adapted into a musical for the stage. Visit www.patsyclinehta.com.

He can be reached at [email protected]





Why are you looking all the way down here?
For more articles by Ellis Nassour, click the links below!

Previous: The Tonys Celebrate Broadway Excellence And 60 Years Of Saluting It; The Tony Race; Down Tony Memory Lane; Who Was This Antoinette Perry? More

Next: Phantoms Haunt New Vegas Opera; Shakespeare And More In Parks; New Babs Tell-All; Kabuki Anyone?; More

Or go to the Archives