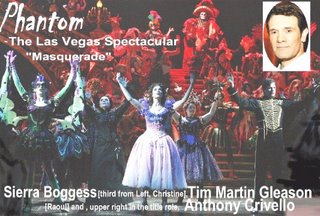 Las Vegas - Bets are still being wagered on the Vegas Strip on whether or not the debut of the "all new" reconception of The Phantom of the Opera here, 18 + years after premiering on Broadway and becoming a worldwide phenomenon, will have staying power.
Many have questioned if Phantom ~ The Las Vegas Spectacular, as it has been rechristened, can change Broadway's luck on the Strip after the recent failures of Avenue Q and Hairspray to draw audiences to at least make the weekly nut.
It's not all bad news for Broadway. One of the biggest draws on the Strip is the Abba musical Mamma Mia!, a hit since it opened in 2003.
One obstacle to success in Vegas is the vast array of entertainment available - everything from the beguiling and ridiculous to the bawdy and XXX. There's no shortage of white tigers, sharks, dolphins, magicians or topless and, sometimes, bottomless dancers.
Then, there's that other attraction: gambling.
Tourists can gamble almost anywhere these days, so they come to Vegas to have a grand old good time. Can an operatic-style musical, even one as sumptuously staged and costumed as P~TLVS, entice enough of them away from rolling craps or pumping quarters and nickels into the Blazing 777 and Wheel of Fortune slots?
Will the populace of this boomtown, one of the fastest-growing in the U.S., with its plethora of cultural attractions [Philharmonic orchestra, jazz festival, UNLV Performing Arts Center], where a majority avoid the infamous Strip, support the production?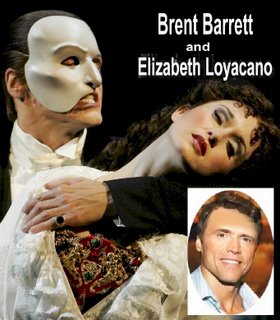 Phantom ~ The Las Vegas Spectacular, intermission-less in the Vegas tradition with nearly an hour cut, plays in a specially-created and designed $40-million theatre at The Venetian Resort, Hotel and Casino. The production is estimated to cost a mind-boggling $35-million. [Feature films have been made for less - well, a couple, anyway].
A projected audience of 80-million is necessary to go beyond breaking even. So there¥s a firm hope that what¥s said in Vegas about P-TLVS won¥t stay in Vegas.
With two shows a night and 1,800 seats to fill at performances, business has to be spectacular. Since officially opening a month ago with a red-carpet gala, business has been above average during what Vegas considers low season [which, seeing the throngs on the street, in the casinos and theatres, makes one wonder what high season is like].
Ever since a disappointing licensed production of ALW's Starlight Express opened in 1993 at the Hilton, The mogul/composer has wanted to return to town in a big way. "I've long been a fan of Las Vegas," says Lloyd Webber. "It's been my ambition for twenty years to bring a show here, and Phantom is the perfect property."
[Trivia: In 1991, when the original Aladdin Casino was about to be imploded, it was Lord Webber's ambition to replace it with a resort called Phantasy, where visitors would enter to find a choice of three musicals running. "It was going to be a wonder," says ALW, "but we were ahead of the times." The deal went South.]
For all the hype about reimagining POTO, you have to look hard for any major "reimagining." Worse, there's not an abundance of that something - spectacular - which should be inherent in a show titled Phantom ~ The Las Vegas Spectacular.
It's a shame that the powers-that-be launched the Vegas premiere of The Phantom of the Opera dubbed as spectacular. Just as it's all but impossible for traditional Broadway producers to compete against the resources of the Disney Studios, how can Broadway spectacular be judged favorably on the Strip that's given new definition to that word.
What "spectacular" $10-$15-million buys on Broadway is a pittance compared to what Vegas - thanks to 24-hour gaming and us poor suckers who think we'll somehow hit a jackpot - can accomplish with budgets of $50-, $100- and $150-million.
But ALW and Hal Prince can largely hold their heads high.
What has endeared POTO to 100 million [give or take a few thousand] theatergoers is, as Lloyd Webber is fond of saying, "the story of the Phantom and the universal theme of love and love lost. In the end, that's what stays with audiences."
Prince smartly resisted the temptation to go the Vegas route and vulgarize or camp the show up. Well, there is that bit of daredevil antics - a necessity in any Vegas spectacular - by the Phantom on the chandelier.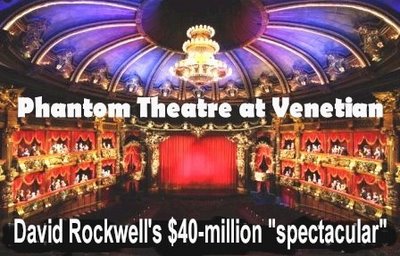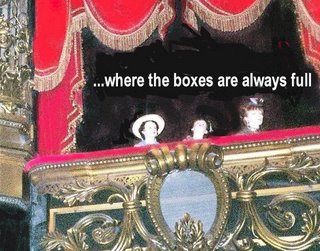 The esteemed director and his design team [working with the inspired Olivier, Tony and Drama Desk Award-winning costumes and production design of the late Maria Bjˆrnson] have created a stunning reproduction of the West End and Broadway blockbuster and do it in approximately 95 minutes.
The cast of 40+ is headlined by Brent Barrett [Annie Get Your Gun, Chicago revival, Prince's Candide revival and the West End Kiss Me, Kate] and Tony-winner Anthony Crivello [Kiss of the Spider Woman; also, Marie Christine, Les Miz], both known to anyone who follows theater; but to the daily influx of thousands of tourist they're unknowns. However, POTO has tended to make stars, not be driven by them.
What draws record audiences to the West End, Broadway and worldwide, making the show a historical long-run champ, is the name of composer Andrew Lloyd Webber, who knows a thing or two about savvy marketing.
Since there have been changes in the sequence of events - one in particular - and with the show shorn of some character development, the Phantom comes over more violent and less sympathetic.
Barrett and Crivello acquit themselves admirably in a role they're playing for the first time. They have slightly different styles and, thankfully, don't have to give copycat portrayals. However, to the unknowing audience member, it would be difficult to point "That's Brent!" or "That's Tony!" What distinguishes them is height. Barrett is taller. When it comes to vocal power, they're an equal match.
Due to the challenging vocal score and schedule [and the dreaded fear of Vegas entertainers: dry throat], Prince double-cast the roles of Christine. Elizabeth Loyacano [The Woman in White, Oklahoma!] and Sierra Boggess [regionally: Les Miz, West Side Story] are the beautiful and vocally-gifted soprano ingÈnues.
Tim Martin Gleason, a recent Broadway Raoul, repeats his role here with equal effect.
The Carlottas are Elena Jeanne Batman, who played the part on Broadway, and Geena Jeffries, who played the role in San Francisco. Nothing against the ladies, but if Judy Kaye had played the role as Batman and Jeffries have been directed to, there's a strong chance that Featured Tony wouldn't be hers. Kaye brought the necessary fiery diva aspect to Carlotta, but without ever garnering a hiss thanks to her very calculated sense of humor.
How fabulous this production would be if the Carlottas had been allowed to bring the over-the- top costuming and comic timing that delectable Minnie Driver brought to Carlotta in the film.
Madame Giry continues to be played with larger-than-life silent movie gestures and equal parts of Gale Sondergaard's Spider Woman and Mrs. Hammond [The Letter] and Judith Anderson's Mrs. Danvers.
One somewhat prominent featured role in POTO has traditionally been cast weak. The same holds true for the casting of that role here.
Okay, yes, Phantom ~ The Las Vegas Spectacular has another star: the swinging, dangling, gigantic chandelier.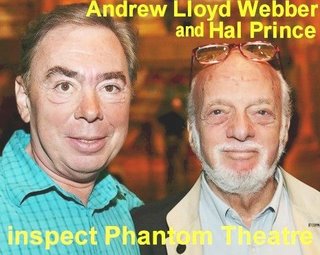 Prince laughs at the word of mouth and media frenzy POTO's chandelier has received, but says that's part of the show's history.
In P~TLVS, a fragment of the chandelier lies under wrap onstage and when the auctioneer gives the cue to illuminate Lot 666, it rises to join three other pieces that have been floating, for years we are to believe, magically above the auditorium.
Once assembled to measure an impressive 15ë X 16ë, the chandelier, draped in hand-strung crystals and period lighting, is heisted 80' to a center dome [courtesy of extra heavy duty, but thin wire, 32 winches and 40 computers]. It's weighs a ton and is almost five times the size of the prop in theatrical productions.
"This will the one audiences will remember," smiles Prince. "It's dazzling beyond imagination and certainly delivers response in relation to its enormous size."
That depends on where you're sitting and if you're paying attention at the specific moment the Phantom commits his dastardly deed and orders the chandelier into a fiery free fall to a mere ten feet above those audience members in its trajectory. Don't blink. It only takes three seconds; then it's gone. [Hint: the best seats are mid-orchestra back and the front mezz.]
Whereas in POTO the Phantom seems to be acting alone [even though he has the magical ability to be in sometimes two and three places at the same time], here it appears he has an assistant who comes to his aid when he fulfills his promise of "a disaster beyond imagination."
Since the chandelier, as in the film adaptation, has its cataclysmic demise at the end of the show, there's now a bit of an awkward segue from "All I Ask Of You" on the opera house roof to the "Masquerade" celebration.
The segue is helped immensely by Paul Kelly, who was associate designer to Maria Bjˆrnson on the Broadway production, who's created a striking fly-in exterior of the opera house framed in hundreds of bright lights.
As before, the lion's share of choreography, courtesy of Gillian Lynne, whose brilliance and ingenuity helped make Cats a long-run champ on the West End and Broadway, is in "Masquerade," which opens Act Two of the traditional POTOs.
Here, there's nothing different in the still extraordinarily colorful number except that the stage can accommodate a much larger and more authentic-looking staircase.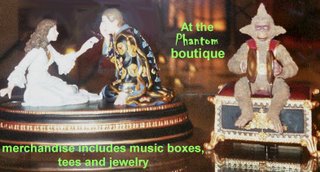 "All I Ask Of You," the love duet, and Christine's "Wishing You Were Somehow Here Again" are again poignant highlights. In the former, thanks to a more detailed scenic design and special effects, it becomes clearer that Christine and Raoul are cavorting on the roof of l' Opera Populaire. There's the addition of blinding pyrotechnics in one scene.
A particular highlight of P~TLVS is the 19-piece orchestra. David Cullen, the show's orchestrator with ALW, has come through with lush orchestrations. David Caddick, also a POTO veteran, is musical supervisor. Jack Gaughan is musical director.
So far, there's been little mention of "spectacular" in Phantom ~ The Las Vegas Spectacular, so one wonders why the powers-that-be burdened the show with that word baggage.
Scott Zeiger, executive producer and head of BASE Entertainment, announced that he didn't want to present Phantom in Vegas "the same way that you would present it in Phoenix, Los Angeles, New York or London. It's got to be something different. Otherwise, why come all the way here to see the same Phantom that's playing in, say, Tampa?"
He added, "The extraordinary talent we¥ve assembled truly complements the once-in-a-lifetime setting. The Venetian, the physical production and our amazing cast combine to create a show that will be unrivaled on the Strip, or anywhere else."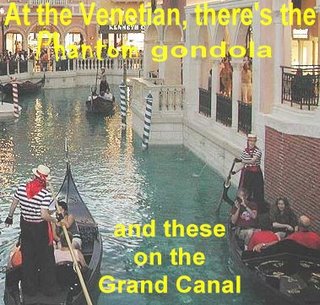 David Ian, global chairman of Live Nation, said to expect a "truly unique production, which will exceed everyone's expectations."
ALW noted that today's "cutting-edge theater technology will allow all the things that we naughty boys in the theater love when we have the budget to do it. Phantom in Las Vegas will give us the rare opportunity to utilize all of the theatrical advancements of the last twenty years and create an environment that is singularly unique."
What should you expect of this version at the Venetian, posed Prince. "How do you deliver what has drawn audiences for over twenty years and at the same time make it new and surprising? This was the task facing all of us. "
David Rockwell's theatre is a surprising space, he continues, "unlike any we have performed in. When the opportunity to bring a 95-minute version of The Phantom of the Opera to Las Vegas, arguably the entertainment capital of the world, presented itself, it was more than tempting."
In fact, says Prince, it was an invitation he couldn't refuse. "To be able to incorporate today's special effects and technical capabilities into this timeless music and story is a great thrill. They wanted surprises, we gave them surprises."
Rockwell is the architect of Hollywood's glitz and glitter Kodak Theatre and set designer for Hairspray. His 90.000 square-foot replica of the 1862 Paris Opera [in that other City of Lights], is a wonder.
Located at the back of the complex where, before the walls were ripped out, a branch of the Guggenheim Museum was located, it's only a nearby escalator/elevator ride from the shops along the all-weather Grand Canal, St. Mark's Square and huge but stunning faux reproductions of Tintorettos and Titians.
It's good that, as Rockwell puts it, "the theatre is designed to harmonize with the show's set design and help transport the audience into the story." Otherwise, it easily could overshadow it.
Antique-like, high-backed seats are comfortable and there are no bad sightlines, though you wouldn't want to sit too close or to the far left or right. The theatre has a design drawback in how the entrance doors had to be placed, all on one side. The ushers kindly advise those in the front orchestra that if they must leave the auditorium during the performance for any reason to please walk up their nearest aisle and exit from a door that's not adjacent to the stage. Of course, very few seem to hear the admonition.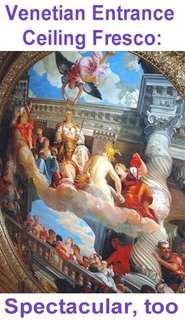 In Vegas, "spectacular" is a jaw-dropping state of mind. Everything is "spectacular," so to be spectacular you really have to pull out all the stops as do the two still running show-horse spectacular standard bearers: Jubilee! at Bally's, twice nightly, where in addition to a tribute to Fred and Ginger, the Titanic hits an iceberg, compartments flood and, amid thunderous pyrotechnics, the ship sinks; and the Folies Bergere at Tropicana, where plumed, towering headdresses are higher than an elephant's eye and semi-nude showgirls raise a few blue-blood eyebrows.
[Alas, the Lido de Paris, which had spectacle coming out of spectacle, not to mention topless and almost bottomless gals and guys, is no longer. In it's heyday, long before John Napier thought of having a faux helicopter as part of his scenic design for Miss Saigon, helicopters (not to mention airplanes and Zeppelins) flew high above the Stardust (soon to be imploded for yet another mega casino/resort) showroom while onstage there were trains, earthquakes, erupting volcanoes and bursting dams.]
A short drive away on Tropicana Avenue is the Liberace Museum with the flamboyant pianist's spectacular treasure: jeweled cars and concert grands, 50- and 100-pound capes of monkey and Artic fox and ermine, even red, white and blue hot pants and a Swaroski crystal chandelier.
Back on the Strip you have Treasure Bay's pirates, who swashbuckle aboard seemingly seaworthy ships and, next door, Mirage's exploding volcano; the Sphinx guarding the pyramid of Luxor; and, atop the tallest observation tower West of the Mississippi, Stratosphere's unimaginable thrill rides and magnificent views.
There's also Bellagio's dancing waters, Caesar Palace's moving statues, Rio's Carnival sky parade and Wynn's cascading waterfalls that drop into a dazzling lake that's full of surprises.
Nor should one forget the architecture of the resorts, such as Caesar's with its gigantic Coliseum, the desert oasis that's the Aladdin, the semi-skyscrapers of Manhattan at NYNY, the Eiffel Tower and environs of the [other] City of Lights at the Paris and, at The Venetian, home of Phantom - The Las Vegas Spectacular, the Disneyesque reproduction of Venice in all its faux glory.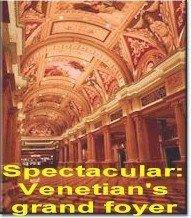 Rockwell's Phantom Theatre stage has depth, height and vast wing space. It's just not used to deliver a lot of spectacular. How interesting it would have been to do something startlingly different with the travelator sequence, which here doesn't seem to work as coherently as it does in traditional POTOs.

In a city where water is supposedly a precious commodity but where there's water, water, water [dancing or otherwise] everywhere, how exciting [hear the gasps!] it would be to have the stage open and become a lake for the gondola ride into the Phantom's lair.

Maybe Raoul could even have done a Cirque du Soleil O- or Franco Dragone Le Reve-style high dive into the lake.

To even remotely recoup the expense of the new theatre and the cost of the production, P~TLVS will have to sell and sail well for five to 10 years. That's the type of spectacular which will keep Vewgas audiences coming.

The Olivier, Tony and Drama Desk-winning musical is far from an unknown commodity. It's greatest selling point is that, as one of the five best-known musicals ever and certainly the one that's raked in the most revenue, it's time-tested and beloved.

How else would it have grossed more than $3-billion in 65,000+ performances in 20 countries and 110 cities? Even the 2004 film adaptation, which was rather a dud in the U.S., has done huge overseas b.o. and is racking up high ratings in foreign premium TV debuts and DVD sales.

In unique Vegas, the glittering oasis of overkill, the big question for some time will be if the romantic pop opera ballads and operatic arias of composer Andrew Lloyd Webber and lyricists Charles Hart and Richard Stilgoe are too high-faluting for the hoards who invade the Vegas sandpit exhorting luck to be their lady.

The true test is in the months to come. Really Useful Company [ALW's organization], Live Nation and Base Entertainment, the lead producers and no strangers to producing or marketing theater, are not hedging their bets. Their goal is to make sure the property gets even better known.

To attract audiences, the producers are offering special weekend packages and conducting a huge media blitz not only into adjoining states but overseas. Vegas has worldwide cache. A huge tourist element has always been foreigners, especially from Asia.

Most shows in Vegas don't have language-barrier problems and, now, with P~TLVS's whittled down production, it's more foreigner-friendly than ever.

However, all those superspectacular spectaculars from Cirque du Soleil aren't going anywhere and The Producers and Spamalot are Vegas-bound. But, for now, Phantom ~ The Las Vegas Spectacular has Broadway in Vegas back on a winning streak.

_____________________________

Phantom ~ The Las Vegas Spectacular performs Wednesday-Monday at 7 P.M. and Friday-Wednesday at 10 P.M. Tickets are sold 90 days prior to the desired performance and are priced "slightly" higher than on Broadway. There are 25 orchestra rows. Golden Circle tickets are $157. Remaining orchestra and the first three rows of the mezz are $132. Balcony seating is $107 and $82. To purchase, call The Venetian Casino Hotel Resort box office, toll-free, (866) 641-7469 or (702) 414-7469, or online at www.Venetian.com. Visit the official website: www.phantomlasvegas.com.


Thursday: Visit the Phantom's Lair with Brent Barrett


[Phantom ~ The Las Vegas Spectacular and rehearsal photos: JOAN MARCUS; Phantom Theatre photo: JAFFREY GREEN; Incidental photos: ELLIS NASSOUR]



--------
Ellis Nassour is an international media journalist, and author of Honky Tonk Angel: The Intimate Story of Patsy Cline, which he has adapted into a musical for the stage. Visit www.patsyclinehta.com.

He can be reached at [email protected]





Why are you looking all the way down here?
For more articles by Ellis Nassour, click the links below!

Previous: Curtains: What's Not To Like? A Kander and Ebb Score, A Fun Book with A Killer Running Amok In A Theatre and A Killer Cast and Creative Team

Next: Into the Vegas Phantom's Lair with Brent Barrett

Or go to the Archives