Las Vegas - Brent Barrett didn't arrive in Las Vegas, as an alternating star of Phantom ~ The Las Vegas Spectacular, with his image plastered across hundreds of billboards.
Yes, images of the Phantom abound just about everywhere, with a particularly huge one on a side of The Venetian Casino Resort Hotel [where P~TLVS plays]'s faux St. Mark's Square tower; but the face is masked.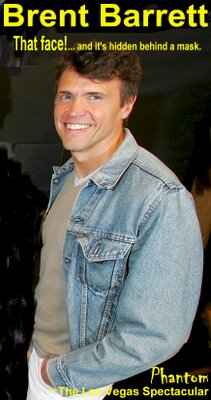 Barrett has been called by critics "one of the greatest leading men in musical theater today" and, by no less than Ben Brantley, an actor "with matinee idol presence and a glorious tenor voice."
He's fondly remembered for his recent starring role opposite long-time friend Karen Ziemba in the City Center Encores! production of The Pajama Game; and his Frank Butler opposite Reba McEntire in the revival of Annie Get Your Gun.
For his role as Fred Graham/Petruchio in the 2001 West End Kiss Me, Kate, Barrett displayed great athletic prowness, had the critics raving and was Olivier-nominated.
Still, Barrett is not among Vegas' best-known faces, such as Wayne Newton [thank the show biz gods!], Danny Gans [the voice of a thousand other faces] or Lance Burton.
In fact, only a select few here recognize the face that has endeared itself to the New York theatrical community since he made his Broadway debut as Diesel in the 1980 revival of West Side Story.
That suits Barrett just fine.
"It's wonderful to be able to go where I need to go and do what I want to do without being recognized," he says. "It can be fun being incognito, especially walking through the casino on the way to work. There's such a mass of humanity. I can browse the shops, stop by Starbucks to have a coffee and people watch."
Barrett's not a gambling man, "but it's hard to avoid passing through some parts of the casino, especially since our Phantom Theatre doesn't have a stage door. But I don't go far into the gaming area. From the parking garage, there's an elevator or escalator that will take us almost to the theatre entrance. And, as theatres go, this one is just sensational."
He says if he wants to be social, there are restaurants in the vicinity of the theatre lobby. "I've never known The Venetian to not be busy and sometimes it's difficult getting a table, but," he laughs, "that's the time to not be so incognito and mention very nicely what you're doing out here."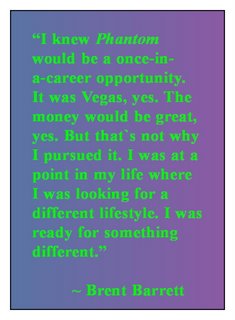 Audiences have been wonderful. "I'm surprised to hear that so many have never seen The Phantom of the Opera, so we have a lot of first-timers, even after all these years. Then you have those who want to come back to see it again, especially here in Vegas."
This is, of course, the Vegas premiere of a new "casino" edition of the worldwide blockbuster by Andrew Lloyd Webber, Charles Hart and Richard Stilgoe under the direction of legendary Hal Prince.
In a city where entertainers have long feared the dreaded dry throat, luckily, Barrett hasn't experienced vocal problems. "It's very dry, so I drink water and try very hard not to talk a lot. There's smoking out here, so you have to be careful to stay away from that. That's really all you can do."
He adds, "That and getting a lot of rest. I don't worry about exercise. Because of the running time, I have only one brief section where I'm off stage. Other than that, I'm running about, up and down stairs and across catwalks and crawling into tight spaces."
Small bits of that "running about," when the Phantom is singing, are on vocal tracks, but Barrett stresses the word "small."
He notes that the streamlined Vegas production isn't as physical for the Phantom. "Because of the time constraints and costume changes, there are certain things he used to do that are now done by doubles."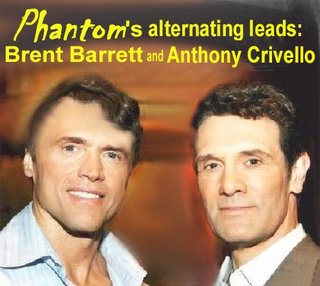 The alternate casting keeps Barrett and Crivello and their Christines [Sierra Boggess, Elizabeth Loyacano] on their toes. "We're in constant rotation," he reports. "It's great because you never get too comfortable. Some think that because we don't always perform with the same Christine, it throws us off. It's not the case. The Phantom drives the show. He's the one up there in charge."
Barrett feels the abbreviated version works well. "Hal and Andrew made good choices. They did a great job on excising sections while keeping the story intact. They've kept the integrity of the show and have enhanced it enough to make Vegas audiences oooh and ahhh."
One of the best things about appearing in P~TLVS is working with a 19-piece orchestra that sounds like a full symphony.
It turns out, there's a reason for that. "Under the Vegas contract," he reveals, "they were allowed to prerecord some fifteen minutes of enhanced instrumentation. A couple of numbers, such as ëAll I Ask Of You,' have full symphony backing. In that section of ëMusic of the Night' where the music swells, that's a full symphony."
When told that it seems that the Phantom is unmasked longer in P~TLVS than in the theatrical productions, Barrett didn't agree. "Maybe because in this shortened version you see so much more of the Phantom, it may seem like he's unmasked longer."
There are ten shows a week, with performances at 7 and 10 P.M. Barrett is off on Tuesday, and he and Crivello alternate Thursday and Sundays.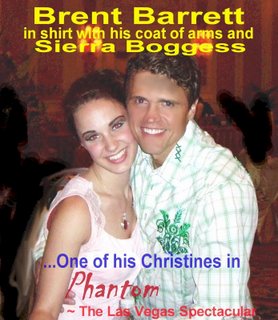 "We have two days off," he reports. "Right now, Anthony and I never do two shows on the same night." However, that might change. " Once we're really established, we're discussing doing two shows on one of the alternate nights. That way, we can have three days off."

Barrett is certain that appearing in the Vegas production will have a positive impact on his future. "I knew this would be a once-in-a-career opportunity. It was Vegas, yes. The money would be great, yes. But that's not why I pursued it. I was at a point in my life where I was looking for a different lifestyle. I was ready for something different."
He also wanted the opportunity to work with Prince again. Barrett appeared as the egocentric Maximillian in Prince's lavish second revival of Candide in 1996. It's his first Andrew Lloyd Webber show and, he says, "the Phantom's songs are a Broadway tenor's dream."
Why have some Vegas editions of Broadway shows had a difficult time in Vegas? "Does anyone ever know what will appeal to audiences? Some things that are socko on Broadway may not fare as well out here. Theater, no matter where, is a gamble."
However, he does admit that Vegas has a slight edge over what Broadway can do and that's because casinos have money to mount lavish productions. "Spectacle on Broadway is one thing, but here it's a horse of a different color. Green. Money's never an obstacle. The theatres are so right-now state-of-the-art that they can handle whatever kind of special affects you desire. Huge stages with vast wing space, elevators and turntables within elevators and turntables. Here, they can hoist a one-ton chandlier eighty feet into a doom! Few Broadway houses are equipped to do what can be done here."
Barrett is no stranger to town, but "living here, I'm really taken by it. A fantastic thing about Las Vegas is that you're only a half hour or a few hours away from great beauty and hundreds of things to do."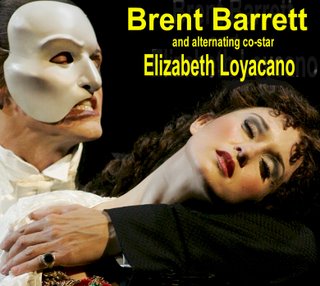 There's Mount Charleston [a 45-minute drive away, where in a matter of minutes you ascend from the desert heat to a world of snow and Swiss chalets], Red Rock Canyon [a haven for hikers and rock climbers], Lake Mead, Hoover Dam "and you're within a fairly easy commute of Los Angeles, Palm Springs, even the Grand Canyon. It's a great central location.
"Now that the show's open and running," he continues, "I'll be able to explore a lot more. In July and August, you really don't want to get outside for too long anyway! The temperatures can be very scary."
He's gone so far as to purchase a house, a twenty-minute drive West of the Strip. During rehearsal breaks and what free time he has is spent at Lowe's "buying things to put the house together. That's my casino."
Barrett's contract is for a year, when he hopes to resume his role in Princesses [which featured Boggess], the Matthew Wilder/ David Zippel/Cherri and Bill Steinkeller musical set against the background of a girls prep school doing a musical about, well, a princess, with the stalwart and often misdirected help of a Hollywood superstar.
"It was fun and I had a great time during it's pre-Broadway run," says Barrett. "I would love for it to happen. Seattle [the 5th Avenue Theatre] went very well. At the time there was no available New York theatre, but David [Zippel, also the director] and everyone agreed there was work still to be done."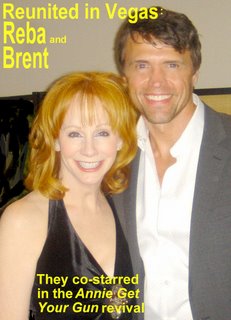 Even after P~TLVS and wherever the work takes him, he says he'll always want to return to the area.
"When you get off the Strip," he states, "the city is quite interesting. With the amount of people moving to the area, estimated to be seven thousand a month, it's got incredible growth potential. There's culture, but it can be developed more. In the outlying areas, people are still looking for things to do, things to see."
Right now, he's hoping, that high on the list of things to see is Phantom ~ The Las Vegas Spectacular.
Barrett can't get over how spectaular David Rockwell's spanking new, $40-million Phantom Threatre is. "But, in addition to it's sheer beauty, there are 1,800 seats and," he notes, "not a bad seat in the house. The way David designed the auditorium gives it a warm, intimate feeling. All of us salute him and his team for the good job they did in getting the acoustics right."
He compares the opening of the show, when the chandelier rises to be assembled, akin to being in a planetarium. "The pieces float all around the auditorium to that great underscoring like great planets in the solar system. When it's all together, that chandelier is gigantic!"
Onstage and, especially, high above the stage, he admits, "there's always an element of danger. We have to be very careful. Our crew takes safety issues very seriously."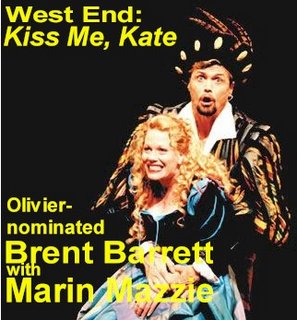 When the chandelier into its free-fall, it gets within ten jaw-dropping, nerve-pounding feet of those directly under it.
There's been only one accident but, with two ghostly Phantoms in the house, to borrow a phrase from Carlotta, things do happen.
At an early run-through when it was being tested, relates Barrett, "someone, who will go nameless, forgot to put the Stop on the winch drive system and it came crashing down and tore out a few seats."
Not all the special effects always work. "It's live theater," he emphasizes. "There are duds and misfires."
There have been more than a few in the cemetery sequence, which features Christine singing "Wishing You Were Somehow Here Again" and a confrontation between the Phantom and Raoul [portrayed by Tim Martin Gleason].
"The Phantom is very upset that this guy is stealing away his girl," says Barrett, "and he slings brickbats of fire from his fingers at him. The problem is that the flames are sent by radio transmitter. So you're always are a bit nervous. You always hope. But when the radio doesn't pick up the signal, Anthony and I are up there going like Cat Woman - zing, zing, zing! - but nothing's happening.
"Not everything always works the way it's supposed to," he adds, laughing. "Not even in a thirty-five million dollar production!"
Visit Brent Barrett's official web site, www.brentbarrett.com. For information on Phantom ~ The Las Vegas Spectacular, go to www.phantomlasvegas.com.
[Photo credits: 1) ETHAN MILLER/Getty Images ; 2) JACOB ANDRZEJCZAK ; 3) JOHN O'LOUGHLIN ; 4) JOAN MARCUS; 5) MICHAEL CAPRIO]



--------
Ellis Nassour is an international media journalist, and author of Honky Tonk Angel: The Intimate Story of Patsy Cline, which he has adapted into a musical for the stage. Visit www.patsyclinehta.com.

He can be reached at [email protected]





Why are you looking all the way down here?
For more articles by Ellis Nassour, click the links below!

Previous: Phantom - The Las Vegas Spectacular Competes with Vegas' Brand Of Spectacular

Next: Tony-winner Ruben Santiago-Hudson Directs August Wilson; Absinthe at the Seaport; Coming This Season

Or go to the Archives