Ruben Santiago-Hudson is laughing. He's calling himself a "doting father," referring to the fact that he's directing August Wilson's Seven Guitars, the revival of which is kicking off the Signature Theatre Company's season of Wilson plays.
Seven Guitars, a metaphor for the play's seven characters, received eight Tony Award nominations, including Best Play. Santiago-Hudson won for Best Featured Actor. It also received five Drama Desk nominations, including a Featured Actor nod to RS-H.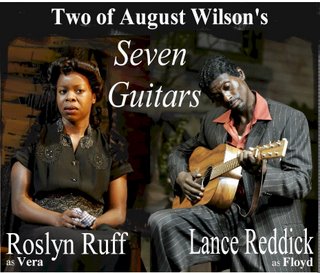 [In addition, it was a nominee for the 1995 Pulitzer Prize for Drama, as was Wilson's 1992 Two Trains Running and his 2000 King Hedley II. Mr. Wilson won Pulitzers for Fences [1987], also honored by the Tonys and Drama Desk as Best Play, and The Piano Lesson [1990], honored as Outstanding Play by Drama Desk.]
"August Wilson's contribution to the American theater is beyond measure," says Signature artistic director James Houghton. "We're excited to be presenting three of his legendary twentieth-century cycle plays and honored by the faith his estate has shown. When we worked with August, he was happy for his work to be presented in an intimate setting and at an affordable prices, making it accessible to all."
Santiago-Hudson states, "August left so much for us to explore. He was fully in love with African-American people, their laughter, anger, style and perseverance. It's a glorious thing for me to be in a position to honor the integrity of his work, which says: All my people are worthy and their worst qualities are redeemable."
The role of Theo in the Negro Ensemble Company's 1985 revival of Lonnie Elder's Ceremonies in Dark Old Men, put the actor, then 27, on the map.
In 1999, four years after making his Broadway acting and singing debut as Buddy Bolden in Jelly's Last Jam opposite Gregory Hines' Jelly Roll Morton, he was chosen by renowned director [the late] Lloyd Richards to portray Canewell in Seven Guitars. It was a much-celebrated performance in a celebrated play.
There's such a deep, spiritual bond between Santiago-Hudson and Wilson that he often speaks as if Wilson is still with us. He reveals he's kept the last phone message between them. "Since August isn't here," he says, "it's a way to stay close."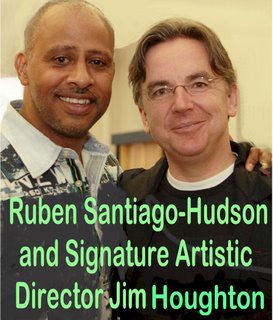 RS-H, considering his connection to Seven Guitars and the fact that Mr. Wilson [who died in 2005], was a mentor, approached the casting of the revival meticulously. "Õ auditioned lots and lots of actors in an effort to put together the right family."
That family consists of Lance Reddick [TV's Oz, The Wire] in the pivotal role of blues singer Floyd, Roslyn Ruff as his left behind sometime fiancÈ, Kevin T. Carroll [Take Me Out] as Canewell, Brenda Pressley and Charles Weldon as neighbors Louise and Hedley. Cassandra Freeman as Louise's drop-dead gorgeous neice and Stephen McKinley Henderson [a veteran of numerous Wilson plays on Broadway, Off Broadway and regionally] as Red complete the "guitars."
"The cast," says Santiago-Hudson, "was passionate about August's work and being a part of this production. Happy to say, there's not a false note in the casting. They are amazing."
Seven Guitars is set in the late 40s in Pittsburgh's Hill District, as are several of the playwright's works.
The revival, with tickets at the bargain price of $15 [through the lead sponsorship of Time Warner and Target], at the 160-seat Signature Theatre at the Peter Norton Space [555 West 42nd Street, between Tenth and Eleventh Avenues], is sold out. The the eight week run is set to end September 23; however, there's a cancellation line and efforts are underway to extend or move the revival.
"As soon as I found out that Jim [Houghton] planned saluting August's work," he reports, "I called and asked if he needed somebody to go for coffee, somebody to act, somebody to direct." He's happy Houghton settled on the last option. "To let me be a part of it is the ultimate blessing."
Wilson explored the depths of his characters in monologues. One of the most impressive is in Seven Guitars, when Canewell speaks late in Act Two on the loss of love. It was probably one of the deciding reasons for Santiago-Hudson's Tony win.
"It's a beauty," he says. "It still moves me and audiences. Kevin handles it gorgeously. Watching him recreate this role that's so close to me has been quite an experience. He has the same philosophy I have. I don't go in any play expecting anything other than the absolute joy of creating of a role."
He also has praise for Signature audiences. "They're an educated group. They come to appreciate theater, and they respect actors. There's rapt attention to the words."
Sometimes there's a question you want to ask but you don't want it taken the wrong way.
Having seen so many of Wilson's plays and how he portrays "white folks," one might wonder if there were any that he liked. There must have been, because the producers and regional theatre artistic directors who kept his work before the public are white.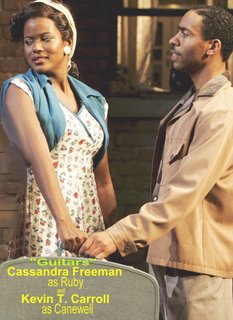 A white person can come out of some Wilson plays fairly beaten up, asking "What did I do?" So RS-H is asked, "Did he ever write anything about white people that was nice - that's good, that's positive?"
"Yes," he immediately states, "there's the role of Solly Two Kings in Gem of the Ocean, in which I appeared on Broadway. He's literally a part of Aunt Ester's family."
[GOTO is also the play on which RS-H made his directorial debut in 2005 productions at NJ's McCarter and SF's A.C.T.]
Santiago-Hudson, a native of Lackawanna, NY, south of Buffalo, says, "The folks who don't harbor hatred and don't condone it might feel a bit beaten, because that's not who they are. What August has done in his plays is examine the results of the opposite behavior on blacks."
He points to how Wilson in Seven Guitars has Floyd describe how he got arrested for walking down the street after his mother's funeral. "In Pittsburgh," RS-H says with indignation. "In Pennsylvania."
The actor/director recalls that in the rooming house where he was raised and where his autobiographical play and film Lackawanna Blues is set, "everyone had been to jail - some for just spitting on the sidewalk, some for vagrancy. Others for inciting a riot, when they were just hanging out on a corner because they didn't have two dollars in their pocket."
He can't control himself when he relates the story that Stephen McKinley Henderson, who plays Red in the Seven Guitars revival, told of his grandfather in St. Louis getting a ticket for screaming at a white mule. "He was told to call the mule Mister," states RS-H.
The characters in Wilson plays are said to come from his and the experiences of family and friends, so was he an angry man? "Being quite honest," says Santiago-Hudson, "in my life I know very few black men who aren't angry. Heck, everyday somebody gives me a reason to be angry. It's what you do what that anger that's important.
"How can that anger manifest into something positive?," he continues. "I take my anger, as probably did August, and try to make it a positive thing. I try to prevent things that have happened to me from happening to those who are close to me. Let me educate my kids and at-risk teens about the obstacles they're going to face; and how they can overcome those obstacles through hard work and patience."
RH-S says that often he's at his happiest when someone makes him angry. "If I took everything that happened to me in a day and got angry about it, I'd probably take a gun and kill a few people. But I try to make those situations a lesson. I've had people tell me, ëI don't like your walk' and ëYou have a doctorate, so why do you talk like you do?'
"My reply to that," he furter states, "is I speak the Queen's English when I perform Shakespeare. In my day-to-day existence I'm uptown at the Lenox Lounge and downtown at Carnegie Hall. I take the middle ground. I don't bring myself off as too white or too black. But I'm both. I'm Latino and black."

One aspect of the Seven Guitars revival that RS-H is also proud of is the original blues score by Bill Sims Jr. "Everything in the play says something, whether subconsciously or ethereally. So it was important to link the right music to the story. So there's a variety of blues styles, Early on, there's acoustic when Floyd takes out his guitar and, later, electric guitar."
Then there's that jukebox in the lobby. "Compiling the music on that took me four months, but when I see audience members strutting and dancing to the blues as they exit, it was worth it."
He's also happy to note that there's another connection to Wilson in the revival at Signature. Associate artist Constanza Romera, who designed the costumes, is the playwright's widow.
Santiago-Hudson emphasizes that he's approached the play with great integrity, that not a word has been cut.
That leads one to another burning question: "Has August Wilson ever written a short play?"
RS-H responds, "I've been in longer ones." Probably by August Wilson. "Nope. It was by a guy named Chekhov and a fella named Shakespeare. And I've done plays that have had two intermissions."
He adds, "Seven Guitars is a two and a half hour play with intermission. That's not long when what you're seeing is classic theater."
Signature continues the August Wilson Series with revivals of Two Trains Running, beginning November 7; and, in February, with King Hedley II. All tickets will be $15.
For subscription information or to purchase single tickets or for possible ticket cancellations, call (212) 244-7529.

Absinthe Makes the Heart Grow Fonder

And in some cases, the Absinthe or la Clique show in the Spiegeltent, a small [320 seats], but elegant souvenir from the world of 20's Berlin cabaret, at the on the South side of Pier 17 at the South Street Seaport, makes you grow a bit, welló Okay, let's just not say. Use your imagination.
After acclaimed runs throughout the U.K., Ireland, Canada and Australia, it is finally making its New York debut, and an auspicious one it is.
Beyond the charming old world faÁade and inside the round Spiegeltent [translated as "tent of mirrors"], the teak trimmings are set off by colorful stained glass panels.
The variety acts are a combination of old-time carnival sideshows and hucksterism, Paris' Crazy Horse and Cirque du Soleil's Zumanity in a very intimate setting. The stage may be small, but the artists are among the best presented in this type show in several years.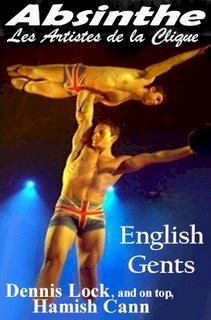 Right at the top, your attention is captured by the well-defined English Gents, Dennis Lock and Hamish Cann, accompanied by a brolly in their tailored pinstrips and bowler hats as they engage in amazing hand-to-hand acrobatics. The highlight is their finale salute to native merry olde England.
Una Mimnagh displays amazing prowness on the trapeze. The WOW-factor continues with Russian contortionist Yulia Pikhtina, who could teach Detroit a lot about how to rev their engines as she spins hula hoops at breathtaking speed over just about every body part.
Some may have a strong distaste for how far Miss Behave, as Amy Saunders is known, takes her routines, but in early appearances she is fun and, in the tightest red plastic dress you'll ever see, very sexy as she give deep throat new definition.
There are also guest appearances by local artists on various nights.
Except for one act, Absinthe could be family entertainment.
But Ursula Martinez, an English lass, in one of her sequences puts the show in a not-the-Big-Apple-Circus and firm adult-only context - except for the most broadminded family with kids advanced well beyond their ages. She certainly knows the art of striptease; and is quite the magician as she makes a tiny red silk handkerchief disappear right before your eyes and reappear in the unlikeliest cavities and crevices. For some, Martinez's in-your-face bits may be a little disconcerting.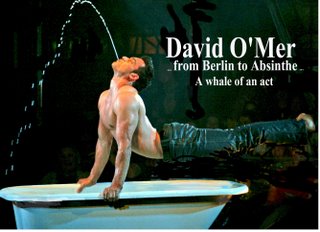 Every circus, cirque and show has to have a memorable finish. Absinthe doesn't disappoint with Berlin native David O'Mer, who displays amazing body language performing stunning routines on aerial straps in between immersing himself in a water-filled bathtub.
Front row patrons don't have to fear. Protection is provided as he sprays and splays. There's a very nice touch at the very end.
With the minimal signage, you may have trouble locating the Spiegeltent site at the Seaport's Pier 17. Walk to the East River end, where the box office, tent and a charming beer garden can be found on the far, South-side patio. Arrive early. Seating is on a first-come basis.
Barring an extension, Absinthe plays through September 5. There are two shows some nights, at 8 and 10 P.M.. For tickets at $60, showtimes and information on other programs to appear in the Spigeltent, call (212) 279-4200 or visit. www.spiegelworld.com.
The closet subway connection is the Broadway-Nassau/Fulton Street station, which can be reached by A, C, 2, 3, 4, 5 and 6 trains. After that, walk East about six blocks.

Coming Soon To A Theatre Near You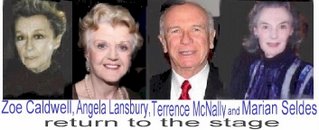 The 2006-2007 season will surely be one to remember. There's something for everyone.
Events to eagerly look forward to are the return to the stage of legendary actress Zoe Caldwell, winner of four Tony and three Drama Desk Awards in Classic Stage Company's January English language premiere of Tony Award winner Yasmina Reza's A Spanish Play, translated by David Ives; and the return of four-time Tony and three-time DD-winning Angela Lansburyteaming with five-time Tony-nominated [she won in 1971] and six-time DD-nominated [and a winner in 1971] Marian Seldes in Terrence McNally's new work Deuce, set at a tennis match. It will open in April on Broadway. The Tony-winning McNally and Ms. Seldes were DD-nominated this past season for PS' Dedication or The Stuff of Dreams.

Beginning September 6 [through October 15], Michael Cumpsty will headline a large cast in Classic Stage Company's 39th season opener, Richard II, directed by CSC's artistic director Brian Kulick. They teamed last season for CSC's imaginative production of Hamlet, for which Cumpsty received an Obie. For membership and ticket information, order online at http://www.classicstage.org/; call (212)-352-3101 or toll free at (866) 811-4111; or visit the box office at 136 East 13th Street.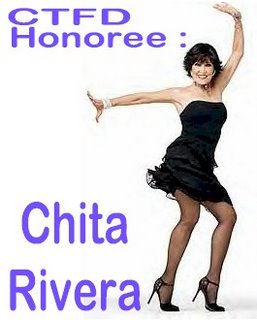 Signature Theatre Company's 15th Anniversary and its salute to Pulitizer Prize-winning playwright August Wilson will be highlighted by a program of play readings and music, August Wilson and the Blues, on Saturday, September 9 at 7 P.M. as part of the River To River Festival at Battery Park's Castle Clinton National Monument.
In addition to the 14th season of Encores! [opening in February with Sondheim's Follies], two highlights of New York City Center's season will be London's Sadler's Wells Theatre's production of the Olivier Award-winning Push [October 11- 15], featuring French ballet superstar Sylvie Guillem, who's co-choreographer with contemporary dancer Russell Maliphant; and Career Transition for Dancers's 21st Anniversary production One World [October 23], honoring dance legend Chita Rivera and the Rudolf Nureyev Dance Foundation. Fundraiser guests will include Sutton Foster, James Earl Jones and Rosie O'Donnell and performances by, among numerous others, ABT. For more of the lineup and general ticket information, visit www.nycitycenter.org. For One World gala tickets, call (212) 228-7446 X. 33.

The Atlantic Theater Company will host the New York premieres of Tina Howe's Birth and After Birth and Pulitzer Prize-winner [and ATC co-founder] David Mamet's adaptation of Harley Granville-Barker's classic The Voysey Inheritance. ATC will end its season in it's new Chelsea/West 16th Street theatre with the world premiere of a still-untitled musical by Grammy-nominated artist Patty Griffin and Keith Bunin. Tony-nominated and DD-winning Michael Mayer [Thoroughly Modern Millie] will direct. In the workshop, TMM's Tony and DD-winning Sutton Foster, Light in the Piazza's Tony and DD-nominated Matthew Morrison and Tony and two-time DD nominee Linda Emond participated. To become an ATC member [which qualifies you for $25 tickets to main stage performances], call (212) 645-1242 or visit www.atlantictheater.org.

[Seven Guitars production photos: CAROL ROSEGG, rehearsal photo: NELLA VERA; Absinthe photos: PRUDENCE UPTON; Composite: JUDY AXENSON, AUBREY REUBEN, ELLIS NASSOUR; Chita Rivera: ANDREW ECCLES]
--------
Ellis Nassour is an international media journalist, and author of Honky Tonk Angel: The Intimate Story of Patsy Cline, which he has adapted into a musical for the stage. Visit www.patsyclinehta.com.

He can be reached at [email protected]





Why are you looking all the way down here?
For more articles by Ellis Nassour, click the links below!

Previous: Into the Vegas Phantom's Lair with Brent Barrett

Next: The Fantasticks: The World's Longest-Running Musical Returns; Irving Berlin in Hollywood and Doylestown; More

Or go to the Archives