The world's longest-running musical is back. And The Fantasticks is a show that all but the most hardened soul will love.
The story is schmaltzy - the ageless one about boy and girl fall in love/boy and girl fall out of love/boy and girl fall back in love. Yet, for over four decades Tom Jones and Harvey Schmidt's musical, by far their best known, has entralled millions in over 12,000 productions worldwide. Not bad for a show that was considered quite avant garde for its time.
It is also probably the world's most-honored musical, with awards upon awards including the Obie and, in a rare recognition of an Off Broadway show, a 1992 Special Tony Award.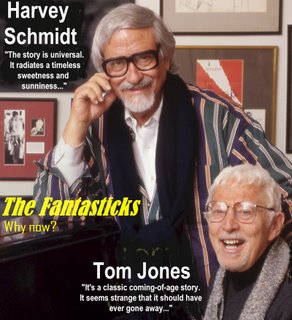 Jones and Schmidt were honored with ASCAP's 1993 Richard Rodgers Award. They were inducted into the Theatre Hall of Fame in 1999. The composers have stars in the Lortel Theatre Off-Broadway Walk of Fame.
Off Broadway, "the little musical that endured," as it came to be called, racked up a record-shattering 17,162 performances when it closed Off Broadway in January, 2002.
Ironically, considering the legend that's grown up around the show, it almost didn't happen. But more on that later.
The news is that it's back, opening tomorrow, in the Uptown Theatre District: the third-floor, 199-seat theatre in the Snapple complex [Broadway and 50th Street], which still has some technical kinks to work out. An attractive lobby space is not one of them, and on it's walls is much of the priceless media memorabilia S&J have collected through the years.
Jones [book and lyrics] is directing. Fantasticks veteran Janet Watson [recent Big River, Pacific Overtures] has done the musical staging.
Several of the songs - "Soon It's Gonna Rain," "They Were You," "I Can See It" and especially "Try To Remember" - have become theater and pop standards now known to generations. They still have the magical ability to soar.
Except for a bit of political correctness, not much attempt has been made to change the show, often thin as air but with dark clouds brewing. It's pretty much intact as it was running Off Broadway for 42 years.
Of course, the cast is different; and is particularly good - highlighted by three stage vets: Burke Moses [Beauty and the Beast, Kiss Me, Kate, Guys and Dolls, NYCO's Most Happy Fella,], who possesses one of theater's great voices, as El Gallo; Martin Vidnovic as Papa Bellomy and Leo Burmester [Les Miz, Big River, Thou Shalt Not] is Papa Hucklebee. Vidnovic, a Tony nominee for the Brigadoon revival and a Drama Desk winner for Baby, is intimately acquainted with the show since he's a former El Gallo.
If you haven't had the pleasure of seeing Moses onstage, running the gamut from comedy and drama to parody, think of him as almost a twin of Danny Burstein.
Although he only occasionally gives a hint here that he could mop up the stage as a future Aldolpho in The Drowsy Chaperone, there's probably no other actor who could come close to Burstein's exhilaratingly pompous and hilarious performance.
Also starring in The Fantasticks are Santino Fontana as Matt, Sara Jean Ford as Luisa, Robert R. Oliver as Mortimer and Douglas Ullman, Jr. as the Mute.
Returning to the musical for the first time since it originally opened in 1960 is Thomas Bruce, as Henry, the old actor.
There's certainly comedy in the show, but Oliver and Bruce, thankfully, imbibe their scenes with shameless scenestealing - literally walking off it [even giving Moses a run for his money, which is pretty difficult to do].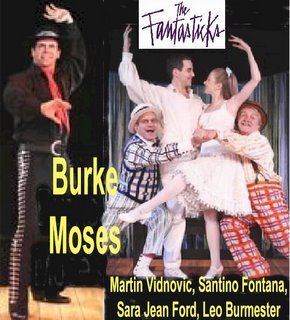 It's not the best kept secret that Thomas Bruce is Jones.
What's it like returning to a role after nearly a half a century? "In one way, it feels totally strange to be recreating Henry," replies Jones. "Forty-six years is a long hiatus! In another, it feels totally natural."
Part of those "strange/natural" feelings may have to do with the fact that at the midtown Snapple Theatre, the producers have duplicated the atmosphere and set of the original production in Greenwich Village, where the musical ran for 42 years.
Jones explains, "I put on the same old age make-up, even though I'm old enough not to need it! I crawl into my space for my surprise entrance, and it's not quite as easy as it once was. But when I step out into the lights and the audience laughs, I feel that I've come home. Actually, that I never left it."
Flashback to August, 1959:
Jones, Schmidt and friend Word Baker met as students at the University of Texas, where J&S had been at work on a "unique new entertainment" for a decade.
A professor introduced Jones to Edmond Rostand's 1890 play Les Romaneques, a story of two fathers - next door neighbors - who concoct a feud to fool their romance-obsessed son and daughter into falling in love.
"It had a profound effect on me," he says, "but I didn't think of it as a source of a musical. In fact, I'd never seen a musical, except in the movies. We did hundreds of plays in college, but not one musical. It was later, in graduate school, when I met Harvey and Word, that I began to discover musical theater."
On their move to New York, while writing special material for revues, the duo decided to write a "fun musical."
"I don't remember who suggested the Rostand piece," says Jones, "but we all agreed. Then Harvey and I got drafted."
When they returned to civilian life, the duo continued working on their show, which championed such new ideas as an open stage. After another three years, they were about to throw in the towel when Baker suggested trying it out in summer stock.
The Fantasticks, as they titled it, a one-act blithe spirit of a musical about love in all its gorgeous simplicity and heartbreaking complexities, would be on a triple bill in New York in Barnard College's summer festival.
What about the title? "The fathers refer to Luisa and Matt as being ëfantastic,'" Jones notes.
Adds Schmidt. "Tom added the ëk' to make the show sound more mysterious."
The mini-musical, in this early inception written completely in verse, was the definition of putting on a show on a shoestring budget.
The "orchestra" was Schmidt playing piano. In a stroke of later genius, he added a harpist to accompany the songs. An accomplished illustrator, he designed and executed the costumes in bare bones fashion. Still they had color and sparkle.
It was Jones' job to get producers uptown to see the show. Rehearsals ran smoothly until the dress. Susan Watson, playing Luisa, was recovering from a fall from the ladder that was the show's only "scenery" and strained her vocal chords. She could hardly manage a whisper.
The choreographer stepped in to Watson's dances, and Schmidt sang her songs. It was some performance.
"We didn't know what else could go wrong," exclaims Jones.
But, in one of those wonderful but rare show business stories, afterwards Lore Noto, a fledgling producer, said he thought The Fantasticks would be perfect for the booming world of off beat Off-Broadway.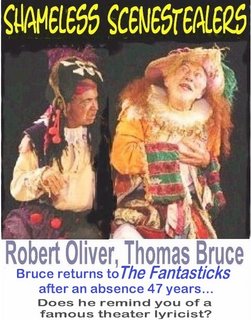 "Like all producers," says Schmidt, "he had some suggestions. They were minor. One was that the show be expanded to two acts." The duo couldn't help but love Noto when he told them his other condition, "that he'd produce the show only if we had total creative control."
J&S were so poor that they held auditions in the Upper West Side apartment they shared. "We couldn't afford a casting director," remembers Jones. "Hopefuls were lined up out the door and down four flights of stairs. I don't remember how Jerry [Orbach] heard about the show, but he came and sang and read right in the living room. He was sensational."
Then and there, the composers and Baker decided he'd be the perfect El Gallo and they went to tell him; but Orbach, late for another audition, had left to grab the subway. Relates Schmidt, "We ran down the stairs past the other waiting actors and caught him at the corner."
As fate would have it, Orbach scored at the next audition and was offered a role in a new Broadway show. "At five times the salary Lore could pay!" recalls Schmidt.
But, psychic that he may have been, Orbach chose The Fantasticks. It ended up being a smart move. The other musical closed out of town. As a result of his fantastic reviews, he was soon Broadway-bound in the lead in David Merrick's production of Gower Champion's Carnival.
Other members of the original cast were: Bruce as Henry, George Curley as Mortimer, Rita Gardner [currently in The Wedding Singer] as Luisa, William Larsen as Hucklebee [the girl's father], Kenneth Nelson [later of Boys in the Band fame] as Matt, Richard Stauffer as the Mute and Hugh Thomas as Bellomy. Jay Hampton had the role of the Handyman, which was eventually dispensed with.
Though cast and with a theatre, the 150-seat Sullivan Street Playhouse, and though The Fantasticks opened [May 3, 1960] "it was a miracle we didn't close," Schmidt states.
"Of the handful of people involved in the original production, no two remember it quite the same," says Jones. "That goes for Harvey and I, and we were there; and have been answering questions about it for over forty-seven years."
From inception, the duo thought their creation would be the perfect show for what was shaping up to be a unique decade. Maybe they were a bit ahead of their time.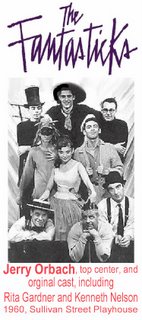 "Our opening was punctuated not only by the snores of sleeping audience members," Jones vividly remembers, "but also by such comments as ëI don't understand it!' and ëWhat the hell was that?' And then came the reviews!"
"They weren't money notices," laughs Schmidt.
Jones says they weren't that bad. For the most part, they were. Especially the all- important Times review by the much-respected Brooks Atkinson, who was known to love innovative theater. He wrote: "Two acts are one too many to sustain the delightful tone of the firstÖ[It's] the sort of thing that loses magic the longer it endures."
Even critics puzzled by the musical praised the cast and Baker's unique staging in the Sullivan Street's U-shaped arc. Still, The Fantasticks appeared doomed.
"In retrospect," claims Jones, "it's amazing that we had a second night, much less that we were able to run that first week with anyone in the audience."
Gardner remembers the rocky days after the opening. "The critics thought the show was sweet, but we didn't get the reviews."
Even at then-Off Broadway prices of $2.95, $3.95 and $4.95, Gardner says, "audiences were sparse. Sometimes we played to ten and twenty people. It got so bad that Lore suspended performances and took the show to East Hampton. We generated enough word of mouth there to assure some kind of life back on Sullivan Street."
[Tickets for the revival are $75, and can be purchased through Ticketmaster.com or by calling (212) 307-4100. The Broadway entrance to the Snapple theatres is up several long flights of stairs; however, there is an elevator to the theatres located on West 50th Street in a small street-level acess lobby.]
Thanks to excellent outer critics' reviews and the gradual exposure the songs received on TV from such huge pop stars as Harry Belafonte, Ed Ames and Barbra Streisand, The Fantasticks went on to have quite a life.
By its third year, it was an established hit and remained so for years. In 1986, it almost closed when producer Noto became ill.
"When the closing notice was placed in the Times," reports Schmidt, "there were protests and calls and letters poured in from around the world. We were saved when Lore's friend Don Thompson stepped in to take over until he recovered." Within a week, performances were sold out.
Noto's 44 original investors received a 35% return on their $16,500 total investment.
In addition to setting a world record in New York, The Fantasticks gave performances at the White House. The show has been seen by nine presidents. It also established record runs in Los Angeles, San Francisco and Denver.
Of course, the question is being asked, "Why bring the show back now?"
Jones responds,"I don't know why it seems strange to have it back. The Fantasticks is a classic coming-of-age story. Really, it seems strange that it should ever have gone away. There are now hundreds of thousands who've never seen the show."
Muses Schmidt, "The story is universal. It radiates a timeless sweetness and sunniness."
Jones points to other happenings: "Look at the changes and social upheaval we've been through since 2002. There's a certain comfort level in having our modest little show performing its ritual parable over and over today in the simplicity of its bare-bones staging." He adds, laughing, "The original production made it through ten presidents. I'd like to see it get through at least one more!"
Still available on DRG Records is the original cast album of The Fantasticks. The label also has a recording of the 1993 Japanese tour cast, which includes dialogue and features Jones and, at the piano, Schmidt.

Irving Berlin and Hollywood

It's not too late to catch the beautifully-mounted exhibition, Show Business: Irving Berlin's Hollywood at the very impressive James A. Michener Art Museum in Doylestown, PA [138 South Pine Street; (215) 340-9800], in the shadow of that famed rustic arts, crafts, antiqueing and cruising getaway, New Hope. But hurry, it closes September 3.
Berlin was no stranger to this thriving arts colony, which was home not only to Michener and Pearl Buck but also a number of theater luminaries, such as the Oscar Hammersteins, who weekended and summered there.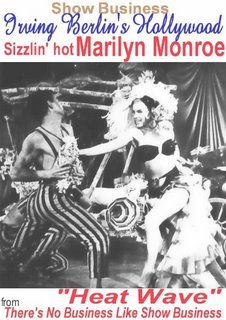 Berlin and Hollywood have been linked since the advent of "talking pictures, " with Jolson singing "Blue Skies" in The Jazz Singer; Astaire and Rogers dancing in Top Hat; Crosby crooning "White Christmas" in Holiday Inn and the 1954 VistaVision blockbuster sequel; and Merman and company singing the title tune [from the score of Annie Get Your Gun] and Marilyn Monroe's sultry rendition of "Heat Wave" in There's No Business Like Show Business.
The Michener's large, downstairs gallery has divided the prolific, often brilliant [and cantankerous] composer/lyricist's career into periods, such as 1927-1931 and 1934-1942, to give the exhibit a real sense of continuity.
Among the more than 100 objects and images evoking the extraordinarily rich Berlin legacy are reproductions [most from the Lincoln Center Library for the Performing Arts collections] of photos, window cards, set and costume designs, drawings and caricatures, album covers and letters.
There are few authentic artifacts, other than scrapbooks, but the walls are lavishly mounted with medium to large reprints of colorful movie posters from among the six decades of films featuring Berlin songs and scores.
In addition, wall legends go into detail on many of the films, such as the casting controversy surrounding the film adaptation of AGYG, the firing of Garland and her replacement, the larger-than-life Betty Hutton.
A wide-screen TV plays clips from such films as On the Avenue [1937; Dick Powell, Madeleine Carroll, Alice Faye, Ritz Brothers], White Christmas [Crosby and Kaye] and TNBLSB [Merman, Dan Dailey, Donald O'Connor, Mitzi Gaynor, MM].
Show Business: Irving Berlin's Hollywood requires a separate $4 admission. Among items on sale at the museum's gift shop is curator David Leopold's book Irving Berlin's Show Business [Abrahms].
Don't miss the James Michener room, which is crammed with artifacts, manuscripts and volumes of the Pulizter Prize-winning journalist and writer, whose books have sold more than 75-million copies.
The Michener galleries are roomy, comfortable and well-lighted. They contain hundreds of impressionistic paintings from the New Hope Art Colony as well as regional artists. For more information, visit online at: www.michenermuseum.org.

Coming Soon To A Theatre Near You

September 5-October 14, Keen Theater Company will present the New York premiere of Theophilus North by Matthew Burnett, based on the Thornton Wilder novel. Performances will be at Theatre Row's Clurman, 410 West 42nd Street, between Ninth and Tenth Avenues. Purchase $40 tkts through Ticket Central, (212) 279-4200 or www.ticketcentral.com.
The Drama Desk and Obie Award-winning Mint Theater Company, 311 West 43rd Street, fifth floor] continues its mission of presenting revivals of noteworthy or all-but-forgotten works will stage St. John Ervine's 1919 John Ferguson, beginning September 8 [through 25]. Martin Platt direct this rare New York revival [acclaimed on its original opening in the NYTimes by no less than Alexander Woollcott] about an Irish farmer facing eviction and its devastating chain of events. For tickets and additional information, go to www.minttheater.org.
Chelsea's Joyce will be jumping as it hosts 16 of the world's dance companies beginnging September 19 with the Joyce debut of acclaimed, NY-based Shen Wei Dance Arts, presenting the NY premiere of Re-, inspired by the people and culture of Tibet. Also on tap is the Merce Cunningham Dance Company's eyeSpace, in which audiences download and listen to the score on their iPods while watching the performance. How innovative, however you provide the iPods. For a listing of Fall attractions, which include Europe's provocative Ballet Preljocaj, Les Ballets Trockadero de Monte Carlo, Ballet Hispanico and Garth Fagan Dance, go to www.joyce.org.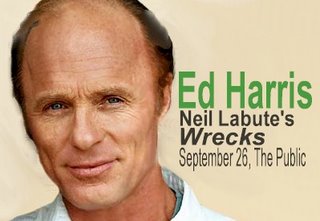 Not unexpectedly, the Public Theater has quite a varied season planned. While you're waiting in the Delacorte cancellation line for tkts to, hopefully, experience theater's "supernova" Ms. Streep [singing for the first time since her 1977 Lt. Lillian Holiday in Happy End] and Mr. Kline in Papa Brecht's Mother CourageÖ, you might contemplate making a run to the Public box office. Big news: After ten years, Ed Harris is returning to the boards in the U.S. premiere of Neil Labute's Wrecks - beginning September 26 [to October 29]. Labute, who'll direct, says "It's a play to challenge your assumptions about love, family and marriage." In November, the Public presents the free New York premiere of the first cycle of Pulitzer Prize-winning Suzan-Lori Parks' 365 Days / 365 Plays, a national year-long festival using the combined resources of a wide cross-section of theater companies. For additional programming and information, go to www.publictheater.org.

The 2004 Drama Desk Award-winning Classical Theater of Harlem will spotlight its eighth season on September 29 [through November 5] with a new production of King Lear, with Tony-nominee AndrÈ De Shields in the lead role. This is a co-production with D.C.'s Folger. Peter Weiss' Marat Sade follows in February. The season concludes with an original adaptation of Sophocles' Elektra titled (The Blood) Elektra. All performances will be at the HSA Theater, 645 St. Nicholas Avenue, near 141st Street. Solo tickets are $35, with a season subscription for $75. To order, call Smarttix, (212) 868-4444 or go online to www.classicaltheatreofharlem.org.

The 2006 Drama Desk Award-winning York Theatre Company's season of its acclaimed Musicals in Mufti series begins October 13-15 with Take Me Along, Robert Merrill/Joseph Stein and Robert Russell's adaptation of O'Neill's Ah, Wilderness!. The musical will be followed a week later with Alan Jay Lerner and Stein's Carmelina; and another week later with Albert Hague/Arnold Horwitt/Will Glickman and Stein's Plain and Fancy. Performances are at the Saint Peter's Theatre, 54th Street, east of Lexington Avenue. For tickets and information, visit www.yorktheatre.org

[Photo of Harvey Schmidt and Tom Jones: JOE SOREL; Fantasticks production photos: JOAN MARCUS]


--------
Ellis Nassour is an international media journalist, and author of Honky Tonk Angel: The Intimate Story of Patsy Cline, which he has adapted into a musical for the stage. Visit www.patsyclinehta.com.

He can be reached at [email protected]





Why are you looking all the way down here?
For more articles by Ellis Nassour, click the links below!

Previous: Tony-winner Ruben Santiago-Hudson Directs August Wilson; Absinthe at the Seaport; Coming This Season

Next: Cirque du Soleil: The Dominant Force in Las Vegas Spectacular - The Beatles LOVE

Or go to the Archives