LAS VEGAS - This sand pit in the scorched Nevada desert has a knack for reinventing itself. It has gone through many cycles, sometimes in less than a year.
Ten years ago, with gambling proliferating through all but two states, it seemed like a great idea when the Las Vegas powers-that-be got together and decided to segue from Sin City to The City of Family Entertainment. And it worked for a while. But, especially after the drop in tourism following the events of 9/11, those same powers saw doom approaching.
This boom town of glittering overkill has something for everyone - from the sublime to the ridiculous. The pseudo-Disneyesque theme park drew tourists, but instead of gambling they were gawking at Bellagio's dancing waters, Treaure Island's swashbuckling pirates, Caesar's moving statues, Mirage's exploding volcano and Siegfried and Roy's prestidigitations and white tigers, Luxor's sphinx and giant pyramid, Rio's Carnival in the Sky and Sahara's NASCAR complex.
Don't overlook faux Paris with its Eiffel Tower, faux Venice with its Grand Canal, faux NYNY with its skyscraper wings and Coney rollercoaster, Stratosphere's tallest tower West of the Mississsippi with its rooftop thrill rides or the downtown Freemont Experience. Perhaps the unlikeliest entertainment pairing of all is gambling and top caliber thrill and animal acts performed high above the casino floor of Circus Circus.
Revenues were down. What was missing was the vital ingredient for success: gamblers, especially that much sought after target range of 25- to 30-olds - those young, carefree males who think nothing of flying themselves in for a weekend of huge stogies, wicked fun and games; and the well-heeled dudes from Palm Springs and L.A. in their fancy sport cars who drink themselves into excited frenzy and risk stacks of wampum in the frivolous pursuit of Lady Luck.
So five years ago, it was back to Sin City and "What Happens in Vegas, Stays in Vegas." Mayor Oscar Goodman proclaimed, "The brand we're creating is one of freedom based on sensuality. The bottom line is people can come, go to the brink of whatever's legal [and just about everything is] without having anyone look over their shoulder."
While this reinvention was taking place, Vegas was also undergoing another transformation. Since the opening of Caesar's in 1960, The Strip resorts have become known not only for imploding the old for the megacomplexes but also for spectacular entertainment.

In Vegas, "spectacular" is a state of mind. Everything is "spectacular," so to be spectacular you really have to pull out all the stops. That's why Broadways shows, such as Avenue Q and Hairspray didn't fare too well; and why the bets are still on if the $40-million Phantom ~ The Las Vegas Spectacular, which is Olivier and Tony-winning theater but not in the ballpark of Vegas-type spec, can last the necessary 10 years to recoup its cost the $30-millon constructions costs of its jewel box theatre at the Venetian.

Even the two show-horse spectacular standard bearers Jubilee!, celebrating 25 years on The Strip, at Bally's [where in addition to a tribute to Fred and Ginger, the Titanic hits an iceberg, compartments flood and, amid thunderous pyrotechnics, the ship sinks] and the Folies Bergere at Tropicana [where topless showgirls in towering plumed headdresses parade in the type of production numbers that Busby Berkeley would envy] are showing their age and filling less and less of their gigantic showrooms.

The Lido de Paris, which had spectacle coming out of spectacle, not to mention topless and often bottomless gals and guys, is no longer. In its heyday, long before John Napier thought of having a faux helicopter hover in Miss Saigon, helicopters [not to mention airplanes and Zeppelins] flew high above the Stardust [soon also to be a relic as it will be imploded for yet another mega resort] showroom while onstage there were trains, earthquakes, erupting volcanoes and bursting dams.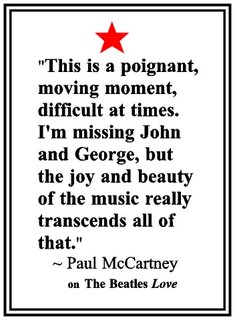 When Nevada legalized gambling in the early 30s, "family" entertainment meant something entirely different. When Jewish American gangster "Bugsy" Siegel hit town with his plan for a lavish casino, gaming was concentrated downtown in casinos along Fremont Street. Clientele consisted largely of construction crews building Hoover Dam 30 miles away on the Colorado River at the Arizona border.
Headliners such as Elvis, Liberace, Wayne Newton and Ole Blue Eyes and his Rat Pack helped establish Vegas as the world capital of entertainment.
The late 50s brought the jolt of topless performers with the opening of Minsky's Follies. It's grown wider and wider to the point that clothing optional shows abound just about everywhere. None, however, have the cache of The Strip's two competing brand-name intimate cabaret revues, which also stress a lot of bottomless: Cirque du Soleil's Zumanity at NYNY and Le Femme, the all-French Crazy Horse show, at MGM Grand.
Paris' Crazy Horse has long been known for its erotica, but Cirque du Soleil, that worldwide Canadian brand of sunny, Felliniesque big top extravaganza? Zumanity is billed as "another side of Cirque du Soleil" and it certainly is. [More on this in the next installment.]
Just as this gaming and hedonism oasis consistently reinvented itself to draw tourists willing to part with their money, so too has Strip entertainment transitioned to a new plateau of spectacular spectacular. The luxury sandpit's dominant force in Strip entertainment is not transferring abbreviated Broadway hits to town but the ever more spectacular spectacular of Guy LalibertÈ and his Montreal-based CduS. There are now five resident shows here.
It's not all bad news for Broadway. One of the biggest draws on the Strip is the Abba musical Mamma Mia!, a hit since it opened in 2003. Coming soon are The Producers and Spamalot.
Some might think that Cirque is oversaturating the Vegas market. Eric Heppel, the artistic coordinator for CdS's spectacular spectacular K¿, disagrees. "Each of our shows has a different identity. MystËre [at Treasure Island] is typical of our early touring shows. Since it opened, we've been breaking the mold of what Cirque's known for. There's been a progression in the maturity of the projects and what can be done with today's state-of-the-art technology."
If the secret to success is branded entertainment using advanced technology, CdS's latest installment, in the gargantuan rebuilt Siegfried and Roy Theatre at Mirage, The Beatles LOVE is the ultimate show business marriage. It merges the innovative creative minds of Cirque with a celebration of the musical legacy of the biggest, most famous and best-selling rock ën roll group of all time.
There are trapeze and trampoline sequences but for the first time CduS has unified a show around music from one source, and music that's known the world around. LOVE runs a typical Vegas 90 minutes, but it has twice the scenes [24] than any other Cirque show.
Heppell draws an interesting comparison between Broadway and Vegas. "The world comes to Broadway," he says. "It's just that more of the world comes to Vegas and they come with higher expectations. While our shows have themes and storylines, they can't have a lot of dialogue. They can't. They have to be accessible to our wider audience."
Make that: dialogue in English. As any Cirque fan knows, the various shows invent fascinating languages that are used in melodic chants and dirges.
The biggest challenge was getting Paul McCartney, Ringo Starr and the estates of John Lennon and George Harrison to lend their music.
Jason Pritchard, LOVE's artistic coordinator, reports that turned out not to be such a great challenge. "The show became a partnership with the Beatles' Apple Corps Limited. It was born out of the personal friendship and trust between George Harrison and [CduS founder] Guy LalibertÈ."
The fact that Cirque is a known and respected commodity didn't hurt. And then there's that old adage: If it [in this case, the music] stays locked up, who will hear it? How will the catalog make money?
Everyone thought Yoko Ono, obsessed with protecting Lennon's legacy, would be the stumbling block. But she wasn't. Starr and Olivia Harrison quickly came aboard; and, last, but certainly not least, McCartney.
With Sir George Martin, who produced most of the Beatles' albums and who's affectionately called the fifth Beatle, and his son Giles onboard to produce and mix the music, trust was there. The Fab4 always believed his sensibilities were very much close to theirs.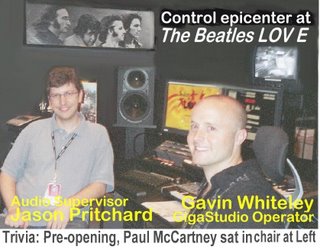 "We were a bloody great band," says McCartney. "I'm proud of the music we made. When it was suggested we partner with Cirque, it reminded me that over the years I'd given some thought to remixing our music. I always decided there wasn't much reason for it. ëLeave it alone,' I said. But when Cirque approached, I thought if ever there was a reason, this was it."
When Sir George sought his blessing for what he hoped to do, McCartney said, "I told him to go further. Do some strange things. I like experimentation." Once he heard what the Martins had done, "I realized our music wasn't finished. The Cirque show gives it a new slant and a new life."
Dominic Champagne, who directed and wrote the original concept, explains that his vision for LOVE "was to create a Beatles experience rather than a Beatles story. I wanted to take the audience on an emotional journey rather than a chronological one. I wanted to explore the landscapes and experiences that marked the group's history."
He adds that whenever he had doubts, "I checked with Paul. He never had anything to complain about. When I asked if we had his blessings for our approach, he said yes."
There were no disagreements or problems. "We've always liked associating ourselves with slightly crazy people," laughs McCartney. "Circus people are slightly crazy. Artists are slightly crazy. We were no different. We were slightly crazy."
In a nutshell, the essence of The Beatles LOVE is taking audiences on a song-by-song magical mystery tour into the heart and soul of what the Beatles wrote and composed. It's a journey through their exploration of the aesthetic, political, anti-war and spiritual trends of the wild, rebellious 60s.
There's the message of revolution to change the world, to free your mind; of peace; of attraction [as in "Something (In the Way She Moves)"] and love being all you need. So it seems quite natural that LOVE is presented in a spectacle that's slightly mad and madcap. The approach is compatible with the exuberant and irreverent youth of that time and the Fab4's music.
While there are some trademark CduS elements, such as aerial entrances and performance and acrobatics [on in-stage trampolines and high-flying Rollerbladers], the emphasis is on high-energy, freestyle dance. And, of course, the Beatles' vocals.
As much WOW! as you hear from audiences over the lavish visual feast and the amazing physical aspects [which include total surround sound and H.D. projections on 100' wide screens], the Cirque WOW! factor is mostly missing.
Particularly impressive numbers are "Here Comes the Sun," "Come Together," "A Day in the Life, "Hey, Jude," "Sgt Pepper's Lonely Hearts Club Band" and "All You Need Is Love." But there were a couple of bits in the incredibly staged "Lady Maddona" number that I found less than impressive and tasteless, especially the dancer stomping around in mod overalls. It seemed like a flashback to the Hollywood image of blacks kids in the South in the 30s and 40s.
The show, estimated to cost $60-million, is inhabited by a 60+ cast of colorful characters in extravagant costumes doing freestyle choreography [sometimes just stomping], but in spite of storylines that bring to life the lyrics of the songs, it's all about the music.
No expense was spared there, and that's the best and biggest payoff of the show.
Audio head Gavin Whitely discusses the $100-million redesign of what was the Siegfreid explains, "The structural steel and three of the walls are original to the Siegfried and Roy Theatre. The South wall was demolished and rebuilt thirty feet back. The hanging ceiling was removed and now our technical grid spans the entire space. That alone makes the auditorium seem much taller."
Jean Rabasse's design concept was to surround the stage in a "bubble." He wanted the theatre interior and set design to be intertwined so it would be impossible to tell where one ends and the other begins. The objective was "to put the audience as close to the performers as possible. The furthest row from the stage is ninety-eight feet."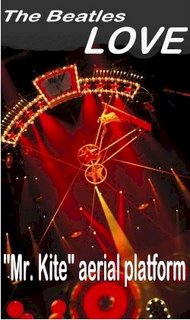 He had the classical 1,500-seat proscenium gutted and placed the action in the center, in a configuration of a Union Jack. Rabasse claims, "You could come and see LOVE four times and see something quite different each time."

Sure, go back eight times - if you win big at the tables or slots. And who doesn't?

It's claimed that there are no bad seats. True, the action takes place around you; so there are unobstructed views. But 98' isn't close. You're in Vegas. Be a high rolller and don't opt for the cheaper seats. Hint: Some of the best views are higher up from the front of the overhanging rows.

The 2,013-seat auditorium boasts a stage complex miraculously capable of doing just about anything.

Giga [sound] studio engineer Gavin Whitely says, "You can't build a theatre or show of this grandeur in New York or just about anywhere else. Even the stage of Radio City Music Hall, which is considered pretty incredible, can't do what ours is technically capable of. That stage has three elevators. We have five."

With excavations, there's much more depth under the stagehouse. In addition, with five lift options, the stage can seem to do miraculous things. This also gives the stagehands and set decorators the ability to be setting the stage for the next scene some 25 feet below the playing level. When the current sequence finishes, it's like someone ques "Open sesame!" and the floors part. While that element of the show descends, another slides center and up, up, up into view.

One thing for certain: you won't have a hard time hearing the music.

Sir George felt that the panoramic sound design would be the closest anyone would get to hearing the Fab4 play live again - and the closest anyone could get to being in the studios with them.The 2,013-seat theatre features a stage miraculously capable of doing just about anything.
There are eight sound system zones, each with dedicated, sophisticated systems capable of functioning independently. In all: 6,341 speakers, and not a whisper of an echo. In addition to the massive house speakers, every seat is equipped with speakers over both shoulders for real surround sound. There's also a speaker in the back of the seat in front of you.

"To maintain sound quality," explains Whiteley, "there are detailed sound spot checks every performance day. Acoustically, the house is well designed - something that's not often the case on Broadway. There it's like the producers give the sound engineer a one hundred thousand dollar budget and three days to get it right. This room was studied, restudied and studied again."

Pritchard states, "Jonathan Deans, our sound designer, knew the acoustics had to be beyond perfect. It's a Beatles show. The audiences, which range from grandparents to grandchildren, that come knew the music. They arrive with a high expectation and we try not to disappoint them."

To create the LOVE musical soundscape, the Martins spent two years constructing the music by combing, combining and remixing the Beatles' master tapes from the Abbey Road sessions. A great discovery was some 13 hours of session chatter between the Fab4. Snippets of that is used quite innovatively in the production for collages of voice-over narrative.

The studio set up at the Mirage and, during the rehearsals in Montreal [September '05-January '06] was as close as possible a duplicate to what Sir George had at Abbey Road. "The same hardware, the same size speakers, everything just as it was," reports Whiteley.

Pritchard counts 28 numbers in the show, "but if you tally in all the musical fragments it comes to about a hundred." As an example of how this could be, he pointed out that in the "For the Benefit of Mr. Kite" sequence, you hear that tune and bits of twelve others.

"The only thing that hasn't come from the sessions," Whiteley points out, "is an original string score that Sir George composed to accompany George [Harrison]'s guitar and voice recording of ëWhile My Guitar Gently Weeps.'"

One of the challenges of the job, says Sir George, "was getting the balance right. Giles and I wanted to make sure there were enough good, solid hit songs, but we didn't want it to be a ëBest of' catalog. We also felt it important to put in some lesser-known but interesting Beatles music."

The younger Martin adds, "Our goal was to achieve a sense of drama with the music so audiences would feel they're intimate with the band. So it had to be Beatles' music as it had never been heard before. Since people are being knocked out by what they are hearing, I know we succeeded."

However, things do go down. Pritchard and Whiteley sit side by side every performance at a massive control epicenter, on guard - watching, listening. Controlling the show are hundreds of computers, with back ups of the back ups! In the dark, with dogtracks in the flooring and stage elevators going up and down, the performing space can be dangerous for the artists.

"But," Whiteley notes, "during lighting transitions and while the stages are being reconfigured, the movement of the performers is closely timed and watched by on and off stage managers. One of the most incredible things is the way the Martins set up the music, which is constant from beginning to end [as in most Vegas shows, there is no intermission]."

Their master control board, explains Pritchard, gives them the ability to stretch or pause the music. "Unlike popping in a CD and letting it run," he explains, "we're able to monitor the action onstage and audience response and start or stop at any given moment."

They feel a heavy responsibility. "A large vision was created by Dominic and the Martins," says Pritchard. "We have state of the art technology, but we have to be vigilant to make sure it's up to the task at every performance."

Adds Whiteley, "The Martins put together such an amazing musical experience. We want to maintain it so every audience is a great honor."

Speaking of experiences, as one might expect, The Beatles LOVE has been a poignant, moving one for McCartney, Starr, Ono and Mrs. Harrison, where it's not always been paths strewn with roses and lollipops. From all indications, it's been smooth sailing.

"We're missing John and George," states McCartney. "It's been difficult at times, but the joy and beauty of the music transcends all of that." For him, as for LOVE's audiences, the show has moments that transcend reality and puts him back in the moment when it was all happening.

"I was privileged to have been there from the first track to the last track," he intones. "I can hardly believe it. I wake up some mornings and say, ëI was in the Beatles?' It's a slightly strange feeling. There are only four people in the world - in the universe - who can say that. And I was one."

[A CD of the remixed music of the Fab4 will be available next month. The Beatles LOVE is performed at the Mirage, Thursday through Monday, with two shows nightly at 7:30 and 10:30. Tickets are $69-$150. To purchase, go to the LOVE box office - if you're in Vegas, or call (800) 963-9634, go online at http://www.thebeatleslove.com/, http://www.thebeatles.com/ or http://www.mirage.com/. ]


Next: Cirque du Soleil's superspectacular K¿ : BroadwayStars



Coming up: CduS's erotic cabaret Zumanity and O.

[Photos: 1 and 3: TOMAS MUSCIONICO/Cirque du Soleil; 2: ELLIS NASSOUR]


--------
Ellis Nassour is an international media journalist, and author of Honky Tonk Angel: The Intimate Story of Patsy Cline, which he has adapted into a musical for the stage. Visit www.patsyclinehta.com.

He can be reached at [email protected]





Why are you looking all the way down here?
For more articles by Ellis Nassour, click the links below!

Previous: The Fantasticks: The World's Longest-Running Musical Returns; Irving Berlin in Hollywood and Doylestown; More

Next: Cirque du Soleil: The Dominant Force in Las Vegas Spectacular Amazes with KA

Or go to the Archives