The life of an aspiring actor isn't easy. Often it's filled with frustration and desperation. Sometimes, as in the case of Michael Emerson, miracles happen.
With the talent, versatility, excitement and strength that he brings to his onstage roles, Michael Emerson has gone from memorable guest starring roles on hit TV series to a leading role as the mysterious Henry Gale on ABC's Lost, which he has instilled with, as one critic put it, "a creeptastic stillness."
"I really find appealing roles that can be sparsely played," he explains, "that have an empty quality." Empty? Quite a few might say "creepy, scary."
Maybe it's something inherent in the way he approaches creating characters. "It doesn't start off saying 'creepy' or 'scary.' I play around with the character until the director says 'That's what I want.' As far as Henry goes, from reading the script, I had no idea who he was or where it was supposed to go. It wasn't discussed at story meetings. It was just show up and say the words. I was winging it, going on instinct."
Emerson first jumped from obscurity to "overnight stardom" with his extraordinary performance Off Broadway in 1997's Gross Indecency: The Three Trials of Oscar Wilde. The show was an Off Off showcase hoping it might stir up enough buzz to have an Off Bway run.
Kevin McAnarney, the production press agent, daringly suggested to New York Times first string critic Ben Brantley that Emerson was giving an extraordinary performance in an extraordinary play, directed and written by emerging director/playwright Moises Kaufman [The Laramie Project].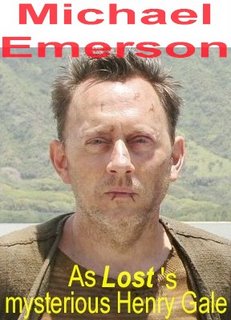 "We were a bunch of grumbling, out-of-work actors hoping to find agents," laughs Emerson, "but, thankfully, we rehearsed as if it was Broadway. What happened was unbelievable, unprecedented."
Brantley gave the play the type of rave any Broadway show would die for.
He wrote that it was "the must-see sleeper of the Off Off Broadway season"; and "the Wilde of Mr. Emerson, making his New York debut, is stunning as he progresses from epigrammatic assurance to a public role for which he is no longer writing the script. By the production's end, he is majestically pathetic, a man who is still unable to understand completely what happened to him."
The review resulted in such a barrage of calls for tickets that the phone system blew out. The show had legs - not only going on to a long Off Bway run but also to acclaimed engagements in San Francisco and Los Angeles.
Though he'd been working steadily in small roles in film and TV since 1990, suddenly he was besieged by agents. "I was offered movies and a big money role on Broadway," recalls Emerson, "but I decided to stick with the show. I was happy doing what I always wanted to do. I had a regular paycheck and was finally able to quit my day job. And where would I find another part like Oscar Wilde? It was every actor's dream come true. How often does that happen?"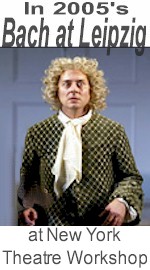 He's returned to the stage, which he says is his first love, regionally, Off Bway and on Broadway as Willie, the poetic attorney fallen on hard times as a skid row alcoholic, in 1999's revival of Iceman Cometh, starring Kevin Spacey; and as the academic, ever boyish husband in the acclaimed 2001 revival of Hedda Gabler, opposite his friend/admirer Kate Burton.
But what brought him national recognition was the recurring role in 2000 of the diabolical serial killer William Hinks on the ABC's top-rated The Practice. That performance was applauded with an Emmy as Best Guest Actor in a Drama Series.
"William had quite an impact on TV audiences," notes Emerson. "I'm still recognized on the street, for better or worse. He was a rather chilling character and some are still uncomfortable with him. Ironically, like the character, I was never sure if William was a serial killer. It was the topic of much discussion among the actors and [series creator] David Kelley. I was never certain David had it sorted out in his mind."
At the time, Emerson was unemployed and happy to get a gig on a top-rated series. "The part was extraordinarily well-written," he states. "It was to be one episode, and then, as we began to work, David got excited and kept writing and writing. He may still be writing!"
The opportunity also gave him quality time to spend on the West Coast with his second wife, film, TV and stage actress Carrie Preston [Festen, LCT's 2004 The Rivals; TV's Emeril], whom he met performing Shakespeare in the South. They married in 1998.
[Trivia: They have appeared together on film in the 2004 indie Straight-Jacket, a comedy about a Hollywood sham marriage; and Emerson co-starred in the 2005 indie gay comedy 29th and Gay, which Preston directed. It's impossible to forget one of Emerson's most prestigious film roles: Zep Hindle in the indie horror flick, Saw.]
Last season, he was introduced on ABC's blockbuster Lost as mystery man Ben Linus [later to be found to be Henry Gale] in yet another addition to the series' convoluted but always entertaining plotline. In a not-so-unusual occurence on the show, Ben, out of nowhere, just literaly dropped in on the plane crash survivors. This season he graduated to full lead star billing and commutes regularly between home in L.A. to location sites in Hawaii.
Emerson grew up on a central Iowa farm. He got hooked on acting accidentally. In high school, he says, "I joined the speech club, not the drama club. I always gravitated toward language. I loved debate. We'd got to district and state contests, and I sort of excelled in extemporaneous speaking and humorous declamation. I was a ham!"
It was in college that those skills made him a desirable candidate for campus productions, which he did on a lark "until I was totally consumed by the acting bug."
In 1976, after four years of theater and art courses at Iowa's Drake University, "I couldn't get to New York fast enough," he laughs. "I was ready for Broadway. Unfortunately, Broadway nor Off Broadway nor Off Off Broadway was ready for me! I couldn't even get a job as a spear carrier!
"I thought I was too big for Iowa," he adds, "but found New York too big for me. New York was all I ever dreamed of and, when I finally got there, I never pursued my dream. I was too busy trying to survive."
For ten years, it was all he could do to barely eke out a living. "I worked every - and I mean every! - job imaginable, dozens of them in the theatre district, until my interest in theater evaporated." Among those were stints as a freelance illustrator for the Boston Globe and The New York Times and a salesman at a high-end Times Square crafts boutique.
Emerson relocated to Florida, where after work, he was extensively involved in every aspect of community theater: designing scenery, acting, directing. "Eventually came commercials and training films," he says. "With that, I made half a sensible person's living."
The actor traveled the South in his pickup truck, "becoming everyone's favorite non-union journeyman gypsy actor in classic repertory. When I'd ëgone about as fer as I could go,' I knew it was time to try New York again."
But Emerson says he didn't want to endure what he had in the past. "I decided I was either hitting New York cold, which wasn't a terribly appealing prospect, or I was going to find an MFA program that would allow me to mix with professionals and a higher grade of directors."
He needed to get a fresh perspective on himself, to test how good he was and to expand on what he'd experienced regionally. He was accepted for a Master of Fine Arts/Professional Actor Training program in Alabama.
For two years, he found himself immersed "body and brain" in every aspect of theater. "I was run ragged. There were no breaks, no holidays, no nothing. Just voice training, movement, technique classes on how to deliver the classical texts, fight training, theater history courses, everything. After that, there were rehearsals."
He found the idea of having a "monastic theatrical experience" appealing. "It was an opportunity to leave the world and get focused on intellectual pursuit. However, I was thirty-eight, and felt like the world's oldest graduate student."
As difficult as the study was, he returned to New York a better person and better prepared to develop his career. He met an agent who took him on a non-exclusive basis "and I stayed, ready to fight the good fight in earnest."
However, he got his big break on his own. Emerson heard that Kaufman, founder and A.D. of the Tectonic Theater Project, was auditioning actors over 35 for a reading of an Oscar Wilde play.
"I was familiar with the Wilde plays," states Emerson, "had even acted in a couple - and could do a credible British dialect."
Kaufman, was about to give up on finding the right Oscar when Emerson walked in off the street. He was cast after the first audition, "but it took two and a half years to make it to Off Broadway."
The Times' and subsequent money reviews changed his life, explains Emerson. "I knew it would never be the same. It was dazzling and pretty dizzy. When it got overwhelming, I'd just go home and hide."
He is absolutely amazed at the reach and power of TV. "More people are seeing me in Lost than will ever see me in all the stage plays I will ever do. Which is sort of humbling. Or troubling. Or both."
[Emerson's frequent co-star, friend and booster Kate Burton has enjoyed her share of the TV spotlight - most recently in the recurring role of Dr. Ellis Grey, an acclaimed Seattle surgeon now in the throes of Alzheimer's Disease, on the hit Grey's Anatomy.
See end of column for other stage names appearing on TV.]

One Night Only - And It's Tonight!

The strength and courage of Christopher and Dana Reeve will be celebrated tonight at a star-studded gala at the Marriott Marquis.
Among the numerous stars onhand will be Nathan Lane, Harvey Fierstein, Donny Osmond, Joan Collins and film/TV actress Olivia Wilde [The O.C.]. Broadway musical talent paying tribute will be Tony winner John Lloyd Young and the cast of the Tony-winning Jersey Boys, Tarzan's Josh Strickland and Jenn Gambatese and Lisa Brescia from The Times They Are A-Changin'. They will be joined by the Reeve children: Matthew, Alexandra and Will.
The Christopher Reeve Foundation will present philosophy, inc.'s Cristina Carlino with the Dana Reeve Hope Award. Bruce C. Ratner, president and CEO, Related Companies [major cityscape developers] and former New Jersey Governor, Drew University president and chair of the Terrorist Attacks [9/11] Commission Thomas H. Kean will receive Visionary Leadership Awards.
Proceeds benefit the foundation's work in funding research and finding treatments and cures for spinal cord injury. For more information, visit http://www.christopherreeve.org/.

Two Nights Only: Cirque du Soleil Goes Arena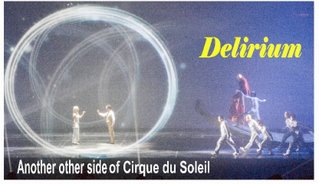 Delirium, the first live arena event from entertainment conglomerate Cirque du Soleil, has its Manhattan premiere November 8 and 9 at Madison Square Garden. Produced in association with LiveNation [Phantom ~ The Las Vegas Spectacular], the large-scale show is said to be one of the most massive productions ever to tour.
Created and directed by Michel Lemieux and Victor Pilon, Delirium is Guy LalibertÈ and Gilles Ste-Croix's multifaceted concert event featuring remixed music from various CduS productions. It's touted as a show that "pushes the limit of arena performance through technical magnitude, awe-inspiring musical tableaux, human introspection and creative prowess."
Cirque gave its The Beatles LOVE at Vegas's Mirage added depth and breath with gigantic projections that encircle the auditorium. For Delirium, the projections are the equivalent of four IMAX screens. Some images are even live feeds that create interaction between the show and the audience.
The centerpiece, however, is music: "an urban tribal beat" of a state-of-the-art pumped music, dance and theater by singer/songwriter Nitza plus a large cast of multi-national musicians, singers and dancers who "will transform the arena into joyous frenzy." Get me prime seats now!
In addition to traditional Cirque du Soleil aerial, sport, hand balancing acts and some awesome helium-fueled balloon flying [as seen in the recent engagement here of CduS's Corteo], there's choreography by Emmy-nominated Mia Michaels, who choreographed Franco Dragone's Celine Dion: A New Day at Vegas' Caesars' Palace and numerous pop acts. The stunning costumes are the work of Michel Robidas.
For the first time, lyrics in English, French, Spanish, Portuguese and Wolof [the language of Senegal] are used instead of the surreal invented languages heard in Cirque shows. Robbie Dillon, who contributed lyrics for the hot, hilarious, adult revue Zumanity: Another Side of Cirque du Soleil at Vegas' New York, New York casino, composed the English lyrics.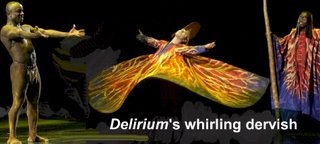 Twenty of Cirque's memorable musical moments - originally composed by RenÈ DupÈrÈ, BenoÓt Jutras and Violaine Corradi - have been re-mixed by producer, composer and arranger Francis Collard "to inject hyper-energizing new life."
Among the musicians are famed percussionist brothers El Hadji Fall Diouf and Pape Abdou Karim Diouf of Senegal; GaÔa, an energetic group rooted in Brazilian and Peruvian rhythms; Italian-born percussionist Raffaele Artiglieri; and Brazilian Italo-Cuban singer Dessy Di Lauro.
The music from Delirium has just been released on the Cirque label.
Delirium corporate sponsors include Citi, American Airlines and LG. Still, you must buy tickets [$39.50-$129.50] if you wish to attend. To purchase, visit the Garden box office or Ticketmaster locations, call (212) 307-717 or go online to http://www.cirquedusoleil.com/.

Cocktails and Pasta Buffet Benefit

Nancy Anderson, Orfeh, KT Sullivan, Jana Robbins and, among others, Tony nominee and DD winner Jane Summerhays [Me and My Girl] will perform at Theatre Resources Unlimited's Sixth Annual TRULove benefit, Sunday, November 12, at 12:30 P.M. at Times Square's Tony's di Napoli.
TRU, a supportive network of producing organizations, sponsors monthy panel discussions and such programs as the TRU Voices Play Reading and Musicals Reading Series, The TRU Audition Event and scholarships to the Commercial Theater Institute. In association with Back Stage, they present popular industry panels that bring together actors, production executives and essential vendors.
Attorney and philanthropist Howard L. Blau will receive the org's TRU Spirit of Theater Award. In addition, the honoree for the first Howard L. Blau Award for Musical Theater will be announced for a promising new work of musical theater.
There will be a silent auction, which among several luxury items will include tickets to High Fidelity, Grey Gardens, Spring Awakening, Legally Blonde and SHOUT! The Mod Musical.
Benefit tickets are $75 to $125 [for Circle of Angels contributors]. To purchase, go online to www.truonline.org/store.html.

Fairy Tale At New York City Opera

There are signs that the holidays are fast approaching. Some department stores had Christmas decorations up before Halloween. Holiday store windows are either up or in the design stage. The first major theatrical holiday event is the New York City Opera's lavish production of Humperdinck's Hansel and Gretel, an opera the kids [as well as adults] will love.
Hurry. There are only five more performances at Lincoln Center's New York State Theatre: November 11 at 1:30; November 12 at 1:30 and 5:30; November 18 at 1:30; and November 19 at 1:30. For tickets, call Centercharge, (212) 721--6500 or order online at www.nycopera.com.

Early Mel Brooks
Through November 19, Musicals Tonight! is presenting a rare revival of Shinbone Alley, the shortlived [49 performances] 1957 musical based onDon Marquis' archy and mehitabel stories with book by Joe Darion and Mel Brooks and music by George Klemsinger. Performances take place at the McGinn/Cazale Theatre above the Promenade [Broadway and 76th Street].
Eartha Kitt, Eddie Bracken, Jacques d'Amboise, George S. Irving and Lillian Hayman were the original stars. Choreography was by Joe and Rod Alexander and New York City Ballet premiere dancer and Dance Theatre of Harlem founder Arthur Mitchell was their assistant.
Next up, but not until March, is a rare revival of Kander and Ebb's bittersweet family 1968 Tony-nominated musical The Happy Time.
Musicals Tonight! subscriptions are still available by calling (212) 362-5620. Single tickets are $20 and may be purchased by calling (212) 868-4444 or online at www.smarttix.com.

Nyack Has An Arts Center Again

The former Helen Hayes Performing Arts Center [123 Main Street] in Nyack has reopend. On November 12, for one performance only, they are presenting A Night with Ellen Burstyn. Tim and Scrooge by Neil Berg [100 Years of Broadway show and CD] and former Mad Magazine editor Nick Meglin, plays eight performance beginning November 14.
For tickets, call (866) 811-4111.

Stage Actors On the Move
Lately, you can't help but notice the number of New York stage actors appearing in lead or featured roles on TV.
There'sBroadway veteran, four-time Tony nominee [he won for Coco] and two-time DD nominee [he won for Big River] RenÈ Auberjonois as the ever perplexed Paul Lewiston [Boston Legal]. Auberjonois has been a frequent star of TV as well as numerous stage productions here and regionally.
Next to come to mind are Alex Baldwin [30 Rock]; Craig Bierko, formerly a Broadway Music Man [Boston Legal], Lynn Cohen, most recently walked off with raves opposite Meryl Streep in Mother CourageÖ [Sex and the City, Law & Order]; Blythe Danner [Huff]; Sally Field [Brothers & Sisters]; Victor Garber [Justice, Alias]; Anthony Heald [Boston Legal, Boston Public]; and Stephen Hill, a founding member of Lee Strasberg's Actor's Studio [Mission Impossible, Law & Order].
The list is even longer when you include T.R. Knight [George on Grey's Anatomy]; DD nominee Caroline Lagerfelt; CarLuke MacFarlane [Scotty on Brothers and Sisters]; Megan Mullally [Will & Grace]; Sarah Paulson, most recently in the revival of The Glass Menagerie [Studio 60 On the Sunset Strip]; Sara Ramariez, Tony winner for Spamalot [Grey's Anatomy]; Tony winner Ron Rifkin [Brothers & Sisters, Alias]; multiple Tony nominee, multiple DD winner and Steppenwolf co-founder Gary Sinise [CSI-New York]; Stephen Spinella [24, and so many more]; Patricia Wettig [Brothers & Sisters; Prison Break; Thirtysomething]; and Tony and DD nominee Vanessa Williams [Ugly Betty].
Drama Desk-winning playwright Jon Robin Baitz is the creator and executive producer of Brothers & Sisters. Rifkin and Sarah Jessica Parker starred in his Off Broadway and film adaptation of The Substance of Fire. Baitz also did the contemporary adaptation of the Hedda Gabler that starred Kate Burton.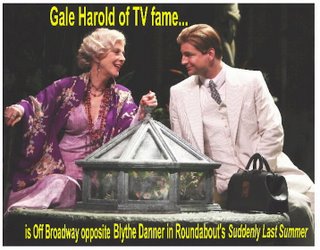 2005 Tony nominee for Doubt Heather Goldenhersh, two-time Drama Desk nominee Julie Halston, 1997 Tony and DD nominee Sam Harris, 2005 DD winner Jesse Tyler Ferguson and Jason Ritter are stars or have recurring roles on the CBS comedy The Class, directed by veteran, award-winning James Burrows [Will and Grace, Friends, Fraiser, Cheers], son of famed playwright/director Abe Burrows.

For years, the Law & Order franchise has kept New York actors busy on the small screen, including stars or former stars Jesse L. Martin, S. Epatha Merkerson, Michael Moriarty, the late Jerry Orbach, Paul Sorvino, Sam Waterson and Dianne Wiest.

Among the numerous stage actors in L&O recurring or guest roles have been Dylan Baker, Philip Bosco, Betty Buckley, John Cariani, Chuck Cooper, Tovah Feldshuh, George Grizzard, Zeljko Ivanek, Byron Jennings, Dick Latessa, Jan Maxwell, Ruben Santiago-Hudson and Fritz Weaver.

In a turnabout is fair play, Gale Harold, so devastatingly mean in Queer As Folk and who more recently vanished after several episodes this season in the starring role of Fox-TV's thriller Vanished, has materialized Off Broadway co-starring as Doctor Cukrowicz opposite Blythe Danner and Carla Gugino in Mark Brokaw's production of Tennessee Williams' Suddenly Last Summer at Roundabout's Harold and Miriam Steinberg Center Laura Pels Theatre.

Making Sunday's Desperate Housewives more enjoyable these past three weeks has been Laurie Metcalf, best known for her run on TV's Rosanne but who [with ex-hubby Jeff Perry] was a founding member of Steppenwolf, as housewife-with-a-mission Carolyn Bigsby. Unfortunately, that plum role may come to an end this Sunday in an episode that Metcalf literally dominates. Let's just say bad things happen; things that may signal the end of her recurring role. Metcalf has been no stranger to film or TV; sadly, she hasn't been on Broadway since 1995's short-lived My Thing of Love; however, she was quite memorable Off Bway in 1987's Educating Rita by Willy Russell and in 1984's Balm in Gilead, for which she shared a DD for Outstanding Ensemble Acting.

Making the same sort of impact on Boston Legal this season that Michael Emerson made on The Practice in his recurring role is David Dean Bottrell as "peepie" Lincoln Meyer - a role that will surely, hopefully, get him an Emmy nomination. Bottrell is also a director and writer, but best known for his work in sitcoms. However, nothing in those roles gave a hint of what he could deliver as the incredibly creepy, prissy Lincoln.

"I sort of retired from acting fifteen years ago to work as ascreenwriter," says Bottrell. "I was badgered into auditioning for Lincoln against my will. Boy, am I glad I did. It's been a truly great experience. David Kelly's scripts have been fantastic."

Lincoln Meyer returns to B.L. for two additional episodes late this month.

Bottrell acted regionally and here for 12 years in 80s and 90s. As a playwright, his Dearly Departed was presented at Second Stage.

If you're over the top on Boston Legal, as Bottrell surely is, you've got stiff competition. It's hard to top Betty White's frying pan murderess or anything William Shatner does. Did you know that Shatner trotted the boards, and not just on Broadway [where he won a Theatre World Award for his role in The World of Suzie Wong]? But long after TV beckoned, Shatner made quite an imact in Mart Crowley's second play, Remote Asylum [1970; L.A.'s Ahmanson Theatre] after his blockbuster Boys in the Band. The play didn't win great critical acclaim, and Shatner went back to TV.

[Photo credits: 1) ABC Television; 2) CAROL ROSEGG; 3) JEAN-FRANCOIS LEBLANC/Cirque du Soleil; 4) RICK DIAMOND/Cirque du Soleil; 5) JOAN MARCUS]



--------
Ellis Nassour is an international media journalist, and author of Honky Tonk Angel: The Intimate Story of Patsy Cline, which he has adapted into a musical for the stage. Visit www.patsyclinehta.com.

He can be reached at [email protected]





Why are you looking all the way down here?
For more articles by Ellis Nassour, click the links below!

Previous: You Can't Escape Jim Dale; Julie Harris to Be Honored; Inside Broadway Celebrates with Free Performance; Cabaret Meets Country; More

Next: Busy Monday the 13th: Benefits and Special Events Galore

Or go to the Archives