Theater tickets are great stocking stuffers, whatever the holiday; and there's a reason to get thee to the Ambassador box office or Telecharge, because starting next week guess who's coming back to Chicago? None other than newly "hip" Tony and Drama Desk winner Bebe Neuwirth - and not in the role she created in the City Center Encores! original or the current, long-running revival.
"I'm not playing murderess Velma Kelly," says Neuwirth of the role she originated when the show won 1997 Tony and Drama Desk Awards as Best Revival. "I'm returning as Chicago's most famous jailhouse murderess, Roxie Hart."
She thought it was a nice way to help celebrate the Kander and Ebb's musical revival's 10th Anniversary and the fact that it's entered the history books as Broadway's longest-running revival.
It's also a noteworthy milestone for the actress/dancer, who turns 48 on New Year's Eve. Seven months ago she underwent hip replacement surgery! And, she reports, she's doing quite well, indeed after voicing concerns that she might not be her "old self" again [able to dance, especially Fosse-style - or, as Neuwirth puts it, "wiggle again"].
You can throw those concerns out the window, especially seeing how Neuwirth has thrown herself into rehearsals for her return. Of course, it's no secret that the role of Roxie is a lot less taxing than that of Velma's.
Neuwirth, one of theater's brightest talents, will be forever best known for her role as Dr. Lilith Sternin on the hit series Cheers and Fraiser, but in her original role, she won Tony and Drama Desk Awards as Best/Outstanding Actress. Those awards sit alongside her 1986 Tony Featured win for her role as Nickie in Sweet Charity. Strangely, she wasn't even nominated by the Tonys or DD for her sexy turn as Lola in the 1997 revival of Damn Yankees.]
Returning to the show as Roxie, Neuwirth has her share of showstopping numbers, including "Me and My Baby," "Roxie" and her duet with Velma, "Nowadays."
Though the actress and brilliant dancer has learned the show from a different angle, she says she didn't do a lot of physical preparation. "When you've been around a show a long time, it's there. You have a relationship with all the characters. You understand how the show needs to be serviced."
She notes that her philosophy when she takes on a part is to "look not only at the choices you need to make for the role, but also at how those choices will best service the show."
Neuwirth explains that when an actor is cast in a show, "you learn what that animal is. I'm coming back to Chicago knowing what the animal is. That's a big head start."
The relationship between Roxie and Velma, states Neuwirth, is an interesting one. "They have a connection, but they're not friends. The only time they pretend to be is in the show's last moment. They're adversaries in heated competition" [not only for attorney Billy Flynn's attention and favors but also for public sympathy].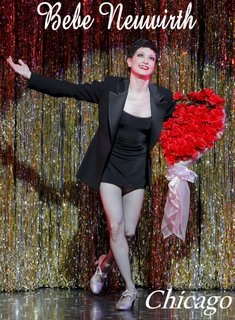 Velma is the jailhouse star because the murder she committed has been blasted across daily headlines; but then Roxie knocks off her lover, gets Velma's celebrity lawyer and, in a flash, usurps her to become the media star.
"Roxie's scheming," laughs Neuwirth, "doing her own thing to keep the notoriety she's gained. What's ironic is that both get a setback when the pineapple heiress Go-To-Hell-Kitty lands in jail."It's the survival of the fittest and Roxie has to find a way to usurp Kitty. She comes up with a novel approach.
In this "new adventure," as Neuwirth calls it, she has good company. In the role of arch rival Velma Kelly is Tony Award nominee [for Smokey Joe's CafÈ] Brenda Braxton. Billy Flynn, the celebrity attorney with a knack for winning impossible cases, is played by multi-platinum recording artist and rock legend Huey Lewis. The indefatigable Roz Ryan, who was Jennifer Holliday's first replacement in Dreamgirls and who knows a thing or two about belt, is Mama Morton, the jailhouse matron.
One of the great assets of Chicago is the choreography by Ann Reinking, the original Roxie in the revival, reproduced in the style of Bob Fosse, one of the choreographers who revolutionized dance on Broadway. Needless to say, the show's always been blessed with some of Broadway's best dancers.
Did she have any idea that Chicago, presented in the same no frills concert as when it originated in Encores!, would have the type of longevity the show is enjoying? To be honest, and [in addition to being blunt, you can depend on Neuwirth for that, No.
"In fact, I thought the show might be too good to be true. I felt audiences would be expecting more - expecting thing to come flying out of the wings, the ceiling or the floor. I knew the score by John and Fred and the book by Fred and Bob were fantastic, but I wondered if it was going to be enough."
However, she knew she was in something special; yet there was a but. "The show was so good, I couldn't imagine it running more than a year. Everything about it was great - the score, the book, the performers and the way our director Walter Bobbie presented it. But remember back then, Broadway musicals were all about spectacle.
"Every show tried to top the other," she continues. "There was the French Revolution [Les Miz], the crashing chandelier [POTO], the helicopter [Miss Saigon]." All that over the top stuff just wasn't fair to audiences or the performers. "It distanced audiences from the heart of the piece. Everything was bigger than the piece, bigger than the performers. When you dehumanize a show's material, it whittles away at the soul. Theatergoers come away having seen something, but without their soul being nourished."
If you want to see spectacle, she points out, "there's a place for that. You go to Las Vegas. That's what they do well. Theater is an essential human experience. It's what the human race has been doing since we were in tribes, gathered around fires and telling stories. Shows don't need a lot of theatrical ormolu [gilding with gold paste; or over-the-top styling], as I would call it. But the movement kept picking up steam, and then we came along."

She didn't realize it at the time, but ten years ago Chicago began to make Broadway history. The show "brought down the movement" of spectacle for spectacle's sake.
"There's no artifice in Chicago," Neuwirth explains. "Walter showcased the material, the music, the choreography, the performers." It was what it was. The cast put their best foot forward and hoped for the best in return. They got it.
"What's more," smiles Neuwirth, "is that it didn't take long for the arriving musicals to fall into line and not depend so much on spectacle."
Chicago's reviews were ecstatic; audiences came and are still coming.
According to Neuwirth, "People were thrilled to be back in touch with the intimate core of a show. They were relieved.
She spoke of there being "something unrivaled" about seeing dancer and and singers live onstage. "When you've got the right material and a great score," she adds, "it's a visceral experience!"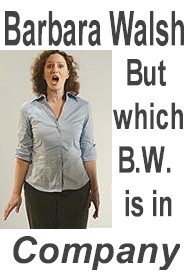 Who's That Girl?

We know Tony and DD-winning Barbara Walsh is in Company, playing the coveted role of Joanne, but a lot of folks - even many supposedly in the know, are wondering where is the B.W. they remember as a later Velma Von Tussle in Hairspray, the mother in Off Bway's Normal, Mrs. Baskin in Big, Mrs. Lyons in Blood Brothers and her award-winning turn as Trina in Falsettos.
She's been playing so many Mrs. lately that she may be a bit too hot, too sexy, too sophisticated as Joanne, sizzling as she sings the showstopper "The Ladies Who Lunch."
So is that Barbara Walsh or another Barbara Walsh? To investigate, I waited to see who would exit at the Barrymore Stage Door. It took a while, but sure enough the Barbara Walsh we've come to know as one of theater's most gifted actresses and singers emerged. Her Joanne is quite a transformation.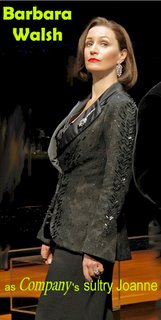 It also appears that director John Doyle has uncovered Walsh's previously unknown musical abilities. In the Sondheim show, she plays a mean triangle.

The Gift of Music
There's no shortage of new theater and cabaret-related CDs for last minute consideration as stocking stuffers.
* The cast album of Steven Slater and Duncan Sheik's Spring Awakening [Decca Broadway], which moved from being SRO at the Atlantic Theater Company to being SRO at the Eugene O'Neil, arrives with a parental advisory for explicit content"
The CD captures the energetic spirit of the show, which deals with family ties, friends and the sexual coming of age of young people in an 1890s Germany. [Trivia: one of the show's lead producers is actor Tom Hulce of Amadeus fame.] It contains a handsome booklet with notes, photos and all lyrics.
The ATC company is in tact for the move to Broadway. Angels in America veteran Stephen Spinella, a three-time DD winner and two-time Tony winner, and the always dependable Christine Estabrook play the adult roles. The young ensemble, headed by Jonathan Groff and Lea Michele, measure up to the demands of the score.
The show has been hailed as "groundbreaking," "a jolt of genius," "electrifying" and is being compared to Rent and as a landmark production akin to Hair.
With some explicit lyrics and scenes of simulated sex, admittedly it won't be the show for everyone.
Tony nominee and DD winner Michael Mayer [Thoroughly Modern Millie] has done a superb job of stagings and kudos to lighting designer Kevin Adams for his stunning contribution. Some aspects of staging decisions could be questioned. Since the show is already miked [and very nicely by Brian Ronan], what's the reason for having the performers often pull out a cordless mike or sing standing at a mike? Once or twice, the gimmick gets a chuckle from audiences; other times, it's quite disconcerting.
* Scott Frankel/Michael Korie/Doug Wright haunting musical Grey Gardens [PS Classics], a huge success for Playwrights Horizons and now on Broadway at the Wallter Kerr, takes audiences on a fascinating journey into the high-riding Hamptons lives of Edith Beale and her mother Edith Bovier Beale; and, in Act Two, as a result of rejection, misplaced loyalty and dependence on one another, into their besotted minds and fantasies.
The original cast CD arrives with stellar packaging, befitting DD winner Christine Ebersole's spectacular performance. The booklet has photos, notes and lyrics.
* The cast CD of Jacques Brel Is Alive And Well And Living In Paris [Ghostlight], featuring original cast members Robert Cuccioli, Natascia Diaz, Rodney Hicks and Gay Marshall, offers more: an additional eight tracks, which can be downloaded on iTunes from http://www.jacquesbrelreturns.com/.
* There are also seven bonus tracks to accompany Patti Lupone's The Lady with the Torch CD [Ghostlight] of her Carnegie Hall show conceived by Scott Wittman. The orchestrations are by Sondheim musicals veteran Jonathan Tunick with musical direction by Chris Fenwick, who for the studio recording, conducted a 10-piece orchestra.
The newly available tracks for downloading to iTunes or purchase on CD include four Cole Porter classics and Ralph Blaine/Hugh Martin's "Have Yourself a Merry Little Christmas" from Meet Me in St. Louis. For more information, visit http://www.ghostlightrecords.com/
* What about some music from Chicago? And not just what's being or was heard on Broadway. The two CD/DVD 10th Anniversary box set [SRP, $35] includes the revival cast album, 12 tracks performed by international stars of the show [such as Anna Montanaro, German; Bianca Marroquin, Spanish], Lynda Carter, Melanie Griffith, Ute Lemper, Liza Minnelli [who also appeared in the original production on Broadway], John O'Hurley and Brooke Shields.
From the original original cast album, there are two tracks featuring Gwen Verdon, Chita Rivera and Jerry Orbach. The collector's item here, however, is Fred Ebb and John Kander singing "Looping the Loop," which was cut from the show.
The DVD includes interviews with Neuwirth, her original co-star and Ann Reinking, Bobbie, Kander and footage from international productions.
* Other shows' cast CDs for perfect theaterlover gifts include Mary Poppins [Disney]; and The Fantasticks and the Grammy-nominated The Drowsy Chaperone [both, Ghostlight].

Ringin' Out the Old and Ringin' In the New
* There's no need to sit home alone New Year's Eve. If you can't get out to the cabaret, get out to the 59E59 Theatres, which are hosting their second annual theater-wide celebration. Party entertainment will include live music, dancing, complimentary wine/beer/soft drinks, cocktails [from a cash bar], midnight Champagne toast, party favors and catering by top New York chef David Burke.
Things will start to hop at 9:30 P.M. New Year's Eve [Sunday, December 31], when the theatres transform into a multi-level party destination, and continue into the wee hours of 2007. Theatres will features cabaret and jazz in a nightclub setting and a DJ spinning a mix of 70s and 80s music.
Tickets are $100; $70, for 59E59 members. Purchase through Ticket Central, (212) 279-4200, or online at www.ticketcentral.com. If you wish to include a ticket for the 7 P.M. Murder Mystery Blues, based on Woody Allen short stories, the price bumps up to $130.
* The Laurie Beechman Theatre, the cabaret theatre located within the West Bank CafÈ [407 West 42nd Street at Ninth Avenue] will be toasting in 2007 with hors' d'oeuvres, a three course dinner from WBC executive chef Joe Marcus, Champagne toast and a musical performance by Lisa Asher and Brandon Cutrell.
Price: $78, plus tax and service. Purchase from Smarttix: http://www.smarttix.com/ or call (212).868-4444.
How much would enjoy spending New Year's Eve with Tony and DD-winning Audra McDonald, soon to headline Roundabout's revival of Tom Jones and Harvey Schmidt's 110 in the Shade?
You can, at Lincoln Center's Avery Fisher New York Philharmonic 8 P.M. concert. McDonald will perform songs of Ellington, Gershwin and Arlen. Ted Sperling will conduct.
Prices start at $82 and go up, up, up like New Year's Eve fireworks and not down, down, down like the Times Square ball - and you can buy Champagne at the bar. Tickets available at the AF box office, by calling (212) 875-5656 or online at www.nyphil.org.
* If you wish to be in the heart of Times Square but snug as a rug, try the $350 package from Tony's Di Napoli's, which is right in the thick of the New Year's Eve action [147 West 43rd Street]. The "deal" includes dinner, cocktails, wine, party favors and - just before midnight - a short walk to a special viewing area to see the ball drop. Then, you can return for coffee and dessert. For reservations, call (212) 221-0100.

You Don't Have to Wait for New Year's Eve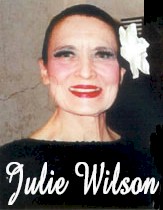 59E59 Theatres is also hosting cabaret artists this month. On December 23rd, 29th and 30th, the legendarly Julie Wilson will perform here interpretations of Cole Porter, Noel Coward, Cy Coleman and Harold Arlen.

December 26 - 29 Heather MacRae will reprise her critically-acclaimed cabaret show, Songs for My Father: A Musical Tribute to Gordon MacRae, with songs from her father's films, including Oklahoma! and Carousel, and stories of growing up in Hollywood.

For cabaret reservations, call (212) 279-4200.


Kennedy Center Honors Telecast on December 26

The John F. Kennedy Center for the Performing Arts 2006 Kennedy Center Honors will be telecast on December 26 in an edited two-hour presentation on CBS. Recipients honored at the 29th annual national celebration of the arts were: Andrew Lloyd Webber, Zubin Mehta, Dolly Parton, Smokey Robinson and Steven Spielberg.

[Photos: 2) PAUL KOLNIK; 3) CAROL ROSSEG; 4) PAUL KOLNIK; 5) JOAN MARCUS]



--------
Ellis Nassour is an international media journalist, and author of Honky Tonk Angel: The Intimate Story of Patsy Cline, which he has adapted into a musical for the stage. Visit www.patsyclinehta.com.

He can be reached at [email protected]





Why are you looking all the way down here?
For more articles by Ellis Nassour, click the links below!

Previous: Five Days to Christmas and Hanukkah's Already Here - Have You Done Your Holiday Shopping?

Next: Tom Stoppard: "It's All Onstage" in Coast of Utopia; Julie Andrews at Kid's Night; Singles Anyone?; Busy Monday with the Hall of Fame, Nightlife Awards, Rockers for BC/EFA, Vineyard's 25th Anniversary; More

Or go to the Archives