There are five more opportunities to catch the City Center Encores! season opener Follies. Some have a few quibbles here and there, but almost everyone agrees Christine Baranski, Victoria Clark, Victor Garber, Michael McGrath, Donna Murphy and, in the excellent featured cast, Mimi Hines are stellar.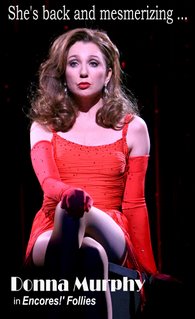 In fact, it appears that her portrayal of Phyllis is a Welcome Back to Broadway hug for Murphy, making her first theatrical appearance since departing Wonderful Town in September, 2004. She brings down the house in "The Story of Lucy and Jessie" and is in top form doing "Could I Leave You"?
This should get theatergoers revved up for her return to Broadway in May as Lotte Lenya in Manhattan Theatre Club's Kurt Weill bio-musical LoveMusik opposite Michael Cervais as Weill, under director Hal Prince.
Clark, as Sally, onstage here for the first time since her Tony and Drama Desk-winning role in Lincoln Center Theatre's The Light in the Piazza, is especially riveting performing "In Buddy's Eyes."
Garber as Ben, Broadway pro that he is and even suffering from a sore throat, managed to take the audience with him for a ride on "The Road You Didn't Take." McGrath, as Buddy, scored well with "The Right Girl." Baranski, a unique choice for Carolotta, belts "I'm Still Here" over the gods and out into 55th Street.
Hines, an almost original Broadway Funny Girl [she was the first replacement for Streisand], proves time hasn't dampened her amazing comic skills. Her "Broadway Baby" is a whopper of a showstopper.
There are other standouts in the cast of nearly 40, including Robert Fitch and Anne Rogers as the Whitman duo singing/dancing "Rain on the Roof" and "Bolero d'Amour" [the latter done with Barrett Martin and Denise Payne as their younger selves].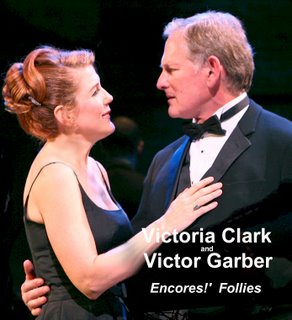 Trivia: Fitch made his Broadway debut in 1960's Tenderloin! and went on to numerous character and ensemble roles until he struck gold in 1977 as Rooster in Annie. Rogers is an acclaimed veteran of the West End, where she won raves in The Boy Friend and as Eliza in My Fair Lady. She played on Broadway in Half A Sixpence, Walking Happy and the original 42nd Street and recently was a highlight of the York Theatre Company's Busker Alley benefit.
Casey Nicholaw [Tony and DD-nominated director/
choreographer, The Drowsy Chaperone; Tony and DD-nominated choreographer, Spamalot] is director. Broadway veteran Eric Stern is music director of the Encores! orchestra.
It would seem the likelihood of this Stephen Sondheim/ James Goldman 1971 multiple Tony-winner and cult favorite being remounted on Broadway is a long shot.
Single Follies tickets are $25 - $100 and available at City Center's box office, through CityTix at (212) 581-1212 or online at http://www.nycitycenter.org/. With two more Encores! concerts upcoming, you might consider purchasing season tickets.

And Now for Something Dramatic
Boyd Gaines, the Tony and DD-winner for Contact and Tony winner for Roundabout's 1993 revival of She Loves Me, has starred in such musicals as the 1995 revival of Company [as Bobby] and the Lincoln Center Theatre revival of Anything Goes.
However, he's proved himself equally adept in heavy dramas, such as Roundabout's recent Twelve Angry Men revival and The Heidi Chronicles, for which he won his first Tony. Now, he's doing it again in the revival of Journey's End, which started previews last night. It's one of the most dramatic and provocative roles he's played in a drama that has a fascinating past.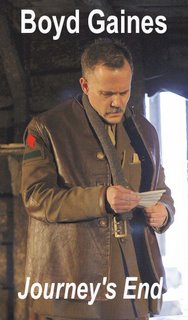 "It enjoyed an acclaimed run in London in 2004," says Gaines. "It was supposed to run for two months to celebrate the 75th Anniversary of the original production. It ended up spanning two and a half years." Two Broadway productions followed, in 1929 and 1939.
Based on a true experience of friendship, bonding and survival, the play by R.C. Sherriff, is set against World War I and follows a group of British officers "as they await their day of reckoning" while fighting the last great German offensive.
"It's a taunt, remarkable play," reports Gaines, "and an extraordinary experience. Ironically, it almost never got produced."
Gaines is Lieutenant Osborne, the second in command. Hugh Dancy [Emmy Award nominee, HBO's Elizabeth I opposite Dame Helen Mirren], is making his Broadway debut as commanding officer Stanhople.
Co-starring are Tony/DD winner Jefferson Mays [Tony and Pulitzer Prize winning I Am My Own Wife] and Stark Sands [film, Flags of Our Fathers; TV, Six Feet Under], who's also making his stage debut.
In 1928, when insurance agent Sherriff sent out his manuscript, no one was interested. WWI had ended ten years previously. In that conflict, 770,000 British lives were lost and another three million were injured.
"Not surprisingly," notes director David Grindley, who also helmed the West End revival, "the subject was considered too painful to address as theater."
The play was given readings, directed by James Whale, and co-starred then unknown Laurence Olivier [as Stanhope]. Despite tremendous critical reaction, producers still wouldn't risk mounting it. Maverick producer Maurice Browne bucked the odds and opened it in January, 1929. Olivier was unable to return because of a prior commitment and was replaced by Colin Clive.
"Even with critical raves," Grindley reports, "ticket sales remained slow. But, as word of mouth spread, every performance was sold out. By the end of the year there were thirteen productions in English, including one on Broadway, and seventeen across Europe."
The play proved a cathartic experience for a generation and transformed the lives of its creators. Sherriff penned such British cinema classics as Goodbye, Mr. Chips and The Four Feathers. Whale and Clive came to Hollywood as director and star of Frankenstein; with Whale going on to helm Journey's End film adaptation as well as The Invisible Man, Waterloo Bridge and the first sound Show Boat. Browne wasn't so fortunate. A string of failures followed and he ended his life in poverty.
"Journey's End needs to be seen now more than ever," says Grindley. "It doesn't make a strident message, but there is one - that there must be a better way to conduct human affairs. I'm sure it will have a great impact with Broadway audiences."

Blues in the Night, 10 Times Only

In their salute to Black History Month, the Drama Desk-honored York Theatre Company [East 54th Street, between Lexington and Third Avenues, in St. Peter's Church] presents Tony and DD Award winner Lillias White [The Life] for 10 performances only -through February 25 - in the Off-Broadway premiere of Alan Govenar and Akin Babatunde's Blind Lemon Blues, which features more than 60 Blind Lemon Jefferson songs.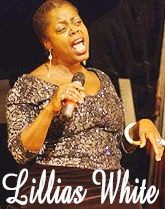 White, who's been recording a jazz CD for release later this year, appeared in Chicago [Mama Morton], How To Succeed..., Once on This Island and was a Cats Grizzabella and a Dreamgirls Effie. Off-Broadway, she was seen in Dinah Was and William Finn's Romance in Hard Times [Obie]. On PBS' Great Performances: Live from Carnegie Hall, she was Bloody Mary in South Pacific.
Babatunde is Jefferson in this musical, set in 1948 New York, which celebrates the legacy of the blind Texas street guitarist and trailblazing recording artist of the late 20s, and his influence on popular music.
Blind Lemon Blues, presented in association with Documentary Arts and Central Track Productions, features an additional cast of five singers and dancers. The musical made its U.S. debut in 2005 in Dallas. After its York showcase, it goes on a nine-city European tour.
Tickets are $35. Purchase by calling the York box office, (212) 935-5820 or online at www.yorktheatre.org. Twenty dollar student tickets are available for any performance with valid I.D.

A Valentine for that Special Someone
It will be launched two weeks after Valentine's Day, but what a warmly-appreciated Valentine's Day gift to that special someone you've been dating tickets for Singles' Night on Broadway would make. Or think of this as Broadway playing cupid. Get a group together for a show and parteee-time. There'll be plenty of eligible hopefuls of both sexes on hand.
Singles' Night, for those 21 and older, is February 28. With the purchase of a ticket to any of the 21 participating Broadway or Off Broadway shows, theatergoers are invited for cocktails at Madame Tussauds and receive special offers for the "after-show bash" at either Trattoria Dopo Teatro, Zanzibar and T New York, all in the Theatre District. There'll also be restaurant and parking discounts and a raffle to benefit Broadway Cares/Equity Fights AIDS.
Stats claim there are more than 765,000 singles just in New York City alone, so with Brooklyn, Queens, The Bronx and Staten Island in the mix, the chances of meeting someone and someone who loves theater as much as you are pretty good.
For tickets and available shows, go to http://www.singlesnightonbroadway.com/. SNOB is sponsored by the League of American Theatres and Producers in association with Madame Tussauds, The New York Times and Budweiser Select.

Rarely Seen Tennessee Williams
The White Horse Theater Company, known for it's revivals of plays by Sam Shepard plays, is presenting Tennessee Williams' rarely produced 1968 experimental play In the Bar of a Tokyo Hotel through February 18 at the Abingdon Theatre Arts Complex [312 West 36th Street, off Eighth Avenue]. Directing is White Horse founder and co-artistic directors Cyndy A. Marion.
The piece juxtaposes the experiences of a famous American painter and his desperate wife against the backdrop of exotic Japan. In its premiere, the five-character ITBOATH shocked audiences more than any other Williams play with its language, stark minimalism and brashness.
Tickets are $18 and can be purchased by calling (212) 868-4444 or online at www.smarttix.com.
There's more Williams Off Off Bway: Starting Thursday and through March 18, you can catch Williams' Sweet Bird of Youth at the Gloria Maddox Theatre [151 West 26th Street, seventh floor]. Terry Schreiber [Broadway, K2; Off Bway, Roundabout's Desire Under the Elms], for 30 years the head of theater lab T. Schreiber Studios, is director.
Set on the steamy Mississippi Gulf Coast, Williams described this work, a solid hit on Broadway in 1959 [starring Tony-nominated Geralding Page and Paul Newman; directed by Elia Kazan], as "a play in which the relationship of gigolo drifter Chance Wayne and the Princess Kosmonopolis provide complementary illustrations of America's adulation of youth and the collapse that ensues for people who follow this dream once the youth has fled."
Admission is a suggested donation of $20 and may be secured one hour prior to showtime at the Maddox box office. Reservations can be made online at http://www.theatermania.com/ or by calling (212) 352-3101.

An Off Broadway Bargain Bonanza
For one week only, March 4 through the 11th, 28 Off-Broadway shows will offer tickets for only $20 and beginning 20 minutes before show time. This will be the first in what will be an annual promotion called 20at20, a project of the Off-Broadway Brainstormers and the League of Off-Broadway Theatres and Producers.
Part of the pitch is that if you're really gung-ho, you could possibly see as many as five shows in one day [because of various starting times] for less than the price of one ticket to a Broadway show.
Purchases must be made at theatre box offices on a cash-only basis. Among the shows are Altar Boyz, The Fantasticks, I Love You, You're Perfect..., Jacques Brel..., A Jew Grows in Brooklyn, Jewtopia, My Mother's Italian..., Naked Boys Singing, Perfect Crime, Stomp, 25 Questions for a Jewish Mother and The Voysey Inheritance. For a complete listing and more information, visit www.offbroadway.com.

Something for Theaterlovers
Craig Morrison, theater restoration architect, historian and author of Theaters [the first comprehensive study of American theatres], will give a free lecture, "How Broadway Flourished and Matured During the 20th Century" February 21 from 6:30-8 P.M. at the Urban Center of the Municipal Art Society [457 Madison Avenue at East 51st Street].
The lecture is in connection with the MAS's ongoing Times Square theatre history exhibit. Seating is limited. Reserve online at [email protected] or call (212) 935-2075.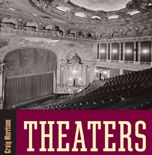 Morrison's Theaters [398 pages, Norton/Library of Congress; hardcover with CD-ROM; 1,200 photos and illustration; bibliography, index; SRP $75] is a rich history of American theatres from 18th-Century opera houses, nickelodeons and vaudeville houses to movie palaces and the modern multiplex.
The author is more than a historian. He's a lively storyteller and the book is crammed with anecdotes. It's a must for any lover of theater, theatre history and architecture.
Theaters is lavishly illustrated with photos by Walker Evans, Ben Shahn, Dorothea Lange, Marion Post Wolcott and, among others, Gordon Parks. For the first time, there are numerous drawings from the LOC archives.

On the Cabaret Scene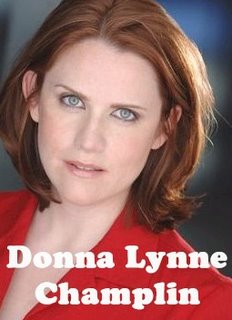 Donna Lynne Champlin, featured as Pirelli in the Broadway revival of Sweeney Todd and Mary Gallagher in Michael John LaChiusa's acclaimed, DD-nominated First Lady Suite, appears in concert Monday at Birdland in Finishing The Hat. The performance consists of stories and songs from Champlin's career and personal adventures, picked randomly by audience members, yes, from a hat.
Besides her numerous regional appearances, you may remember Champlin opposite Linda Lavin and Michele Pawk in Hollywood Arms, By Jeeves and James Joyce's The Dead as well as the Ricky Ian Gordon/ Richard Nelson musical My Life With Albertine.
Showtime is at 7 P.M. Tickets are $30, with a $10 food/drink minimum, and are available online at www.instantseats.com/Birdland or by calling the Birdland box office, (212) 581-3080. Jim Caruso's weekly Cast Party follows at 9:30 in the showroom.
The Metropolitan Room at Gotham [34 West 22nd Street, between Fifth and Sixth Avenues], a 2007 Nightlife Award honoree, presents unconventional jazz stylist Baby Jane Dexter in the premiere engagement of her You're Following Me! through tomorrow, February 15 - 17 and the 22nd - 24th at 8 P.M.
Dexter, called one of the more formidable voices on the New York club scene, promises "to dip into a savory soup of styles -- pop, jazz, R&B and the great American songbook as I fuses my life experiences from agony to ecstasy." There'll be some Arlen, Bricusse, Leon Russell and Rogers and Hammerstein all music directed by Ross Patterson, who'll be on keyboards joined by a trio.
There's a $25 cover plus two drink minimum. For reservations, call (212) 206-0440. Upcoming at Metropolitan: Bryan Bat, Larry Gatlin, Tammy Grimes, Andrew Lippa and Marilyn Maye. For more information, visit http://www.metropolitanroom.com/.

First-Time Stories Benefit Autism Services
My First Time, an all-star Broadway concert to benefit Quality Services for the Autistic Community will take place February 26 at New World Stage at 7 P.M. It will offer a rare opportunity to see Broadway legend Anita Gillette perform.
Featured artists will include Hunter Bell and Susan Blakwell [title of show], Matt Cavenaugh [Grey Gardens], Jeffry Denman [The Producers, White Christmas], Ed Dixon [Les Miz], Hunter Foster [Urinetown, Producers], Terri Klausner [Evita], Asa Somers [GG], John Tartaglia [Avenue Q, Beauty and the Beast] and belter extraordinaire Mary Testa.
Students from Center Stage Theatre Company, Westport, CT, will sing. CW11 News anchor Jim Watkins will host.
Director Igor Goldin [recipient of the 2006 Award for Excellence in Direction for Common Grounds in the NYMT Festival] explains that the concert will showcase "first-hand stories and songs from the performers' own "first" experiences, such as their first show, their first professional stage success or the first show or star that inspired them to follow their hearts to Broadway."
Tickets are $25, $45 and $65. Reserve by calling QSAC at (212) 244-5562 or 718- 728-8476 X. 2059. For more information, visit www.QSAC.com.

Classical Arias in Concert
Celebrating the release of his CD ARIA: Opera Without Words [Decca; SRP $17], renowned classical pianist Jean-Yves Thibaudet appears in the Morgan Library and Museum's Gilder Lehrman Hall [225 Madison Avenue at 36th Street] February 15th at 7 P.M. Along with the performance, Thibaudet will have a discussion, Q&A and signing.
"Ever since I was a boy," says Thibaudet, "I wanted to sing because the human voice allows you to share the deepest of emotions. Unfortunately, I was not born with the type of voice that one needs for opera or Lieder; but I'm thankful I was given these hands so I can sing with my fingers."
Among the selections to be heard from the CD are Puccini's "O mio babbino caro" [from Gianni Schicchi] and "Vissi d'arte" [Tosca], Gounodës "Jewel Song" [Faust], arias from Gluck's Orpheus and Euridice and Wagner's "Ride of the Valkyries."
Tickets are $20 [members] and $25. Purchase online at www.themorgan.org/public.

Mark Your Calendar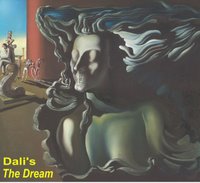 A must-see event is the upcoming exhibition at the Metropolitan Museum of Art, Barcelona and Modernity: Gaud" to Dal", which opens March 7 and runs through June 3. It's the first comprehensive exhibition of its type mounted in America.

On display will be over 300 paintings, sculpture, drawings, prints and architectural models that explore the innovative work of Barcelona's artists, architects and designers between Barcelona's 1888 Universal Exposition and Franco's Fascist regime beginning in 1939.


[Photos:1 and 2) JOAN MARCUS; 3) PAUL KOLNIK]




--------
Ellis Nassour is an international media journalist, and author of Honky Tonk Angel: The Intimate Story of Patsy Cline, which he has adapted into a musical for the stage. Visit www.patsyclinehta.com.

He can be reached at [email protected]





Why are you looking all the way down here?
For more articles by Ellis Nassour, click the links below!

Previous: Follies Kicks Off Encores! Season; A Really "Hip" Bebe Neuwirth's Back in Chicago; The Return of Zoe Caldwell in A Spanish Play; A Torrid Barbara Walsh in Company; Hurry to Catch Julie White in Little Dog L

Next: A Banner Season for All-But-Forgotten Playwright Harley Granville-Barker; Voysey Inheritance's Designers; Philharmonic's Fair Lady; Metropolitan's Gaud" to Dal"

Or go to the Archives