New York City Center's 2007 Encores! gets off its to a rousing start Thursday-Monday with six performances of Stephen Sondheim and James Goldman's 1971 multiple Tony Award-winner and theatergoer cult favorite, Follies.
The stars in the star-studded season opener should, hopefully, make for a memorable "revival." Two-time Tony and three-time Drama Desk Award winner Donny Murphy will be making her first theatrical appearance [other than at benefits], as Phyllis, since departing Wonderful Town in September, 2004.
In May, she undertakes the role of Lotte Lenya in Manhattan Theatre Club's Kurt Weill bio-musical LoveMusik at the Biltmore opposite Michael Cervais as Weill and under director Hal Prince.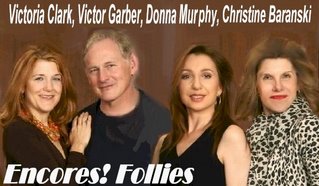 Follies is also headlined by two-time Tony and DD-winner Christine Baranski [as Carlotta] fresh from MTC's Regrets Only, Tony-winner Philip Bosco, Tony and DD-winner Victoria Clark [older Sally] and four-time Tony-nominee, two-time Emmy-nominee Victor Garber [older Ben] and Tony/DD nominee Michael McGrath [older Buddy], in what appears to be the first lead role for this multi-faceted performer [of late breaking up audiences in Spamalot; and still vividly remembered for his numerous roles in Little Me and Swinging on a Star].
Providing strong back-up in the cast of nearly 40 are Mimi Hines [who followed Streisand as Fanny Brice in Funny Girl] in her first New York stage appearance since appearing in the 1994 Grease revival; Dorothy Stanley and comedy legend JoAnne Worley.
Portraying the younger Ben, Buddy, Phyllis and Sally are Colin Donnell, Curtis Holbrook, Jenny Powers and Katie Klaus.
Casey Nicholaw [Tony/DD-nominated director/choreographer, The Drowsy Chaperone; Tony/DD-nominated choreographer, Spamalot] is directing. Broadway veteran Eric Stern is music director.
Follies, set inside the crumbling Weissman Follies theatre, takes place in the 70s and 30s simultaneously as the memories of former stars and showgirls and chorus boys are rekindled at a reunion before the building is razed. The present isn't so rosy, but flashbacks recall dreams, young love and the glorious production numbers and "beautiful girls."
The lavish musical premiered at the Winter Garden in April, 1971, running a total of 522 performances [closing July, 1972]. It won eight Tonys - Score, Directors [Hal Prince, Michael Bennett], Choreography [Bennett], Actress [Alexis Smith], three more for design; in addition to nominations for Best Musical, Book, Actress [Dorothy Collins], Featured Actor [Gene Nelson]. It won in all seven Drama Desk categories where it received a nod - surprisingly, Outstanding Musical wasn't one of them.
Sondheim wrote a number of showstoppers, including "Broadway Baby," "Could I Leave You," "The God-Why-Don't-You-Love-Me Blues," "I'm Still Here," "In Buddy's Eyes," "Losing My Mind, "The Story of Lucy and Jessie" and "Too Many Mornings."
Perhaps, because it never made its money back, it wasn't considered successful; but there probably isn't another musical of contemporary times more beloved by theater devotees.
Follies had a well-received New York Philharmonic concert in 1985. A 1998 Paper Mill Playhouse revival, with an all-star cast, won critical and audience raves. Roundabout's 2001 Broadway revival, with an all-star cast, didn't resonate as well.
Encores! lead sponsor is long-time supporter Newman's Own, with additional funding from the Ira and Leonore Gershwin Philanthropic Fund, Donna and Ben Rosen, the Joseph S. and Diane H. Steinberg Charitable Trust and the Shubert Foundation.
Upcoming is the 1932 Irving Berlin/Moss Hart musical Face the Music from March 29 - April 1; and an original Encores production, a 50-year musical retrospective, Stairway to Paradise from May 10 - 14.
Season tickets are available at the City Center box office, through CityTix at (212) 581-1212 or online at http://www.nycitycenter.org/. Single Follies tickets are $25 - $100.

A Reason to Go Back to Chicago
None other than newly "hip" Tony and Drama Desk winner Bebe Neuwirth has returned to co-headline the hit Chicago revival, but she's not in the role she created in the City Center Encores! original or the current, long-running revival.
"I'm not playing murderess Velma Kelly," says Neuwirth of the role she originated when the show won 1997 Tony and Drama Desk Awards as Best Revival. "I'm returning as Chicago's most famous jailhouse murderess, Roxie Hart."
She thought it was a nice way to help celebrate the Kander and Ebb's musical revival's 10th Anniversary and the fact that it's entered the history books as Broadway's longest-running revival.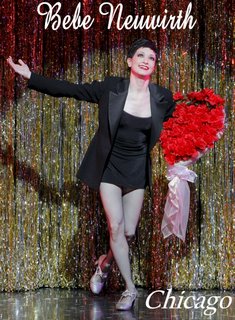 It's also a noteworthy milestone for the actress/dancer, who turned 48 on New Year's Eve. Eight months ago she underwent hip replacement surgery! Neuwirth reports she's doing quite well, indeed, after voicing concerns that she might not be her "old self" again [able to dance, especially Fosse-style - or, as she puts it, "wiggle again"].
It's said that the role of Roxie is a lot less taxing than that of Velma, played by the indefatigable Tony Award nominee [for Smokey Joe's CafÈ], Brenda Braxton; but as she hangs and swings from ladders and goes through her share of showstopping numbers, including "Me and My Baby," "Roxie" and her duet with Velma, "Nowadays," it's hard to imagine Neuwirth having had any kind of surgery.
Neuwirth, one of theater's brightest talents, will be forever best known for her role as Dr. Lilith Sternin on the hit series Cheers and Fraiser, but in her original Chicago role, she won Tony and Drama Desk Awards as Best/Outstanding Actress. Those awards sit alongside her 1986 Tony Featured win for her role as Nickie in Sweet Charity. Strangely, she wasn't even nominated by the Tonys or DD for her sexy turn as Lola in the 1997 revival of Damn Yankees.]
Though she's learned the show from a different angle, she didn't do a lot of physical preparation. "When you've been around a show a long time," points out Neuwirth, "it's there. You have a relationship with all the characters. You understand how the show needs to be serviced." She notes that her philosophy when she takes on a part is to "look not only at the choices you need to make for the role, but also at how those choices will best service the show."
Neuwirth explains that when an actor is cast in a show, "you learn what that animal is. I'm coming back to Chicago knowing what the animal is. That's a big head start."
The relationship between Roxie and Velma, she states, is an interesting one. "They have a connection, but they're not friends. The only time they pretend to be is in the show's last moment. They're adversaries in heated competition" [not only for attorney Billy Flynn's attention and favors but also for public sympathy].
Velma is the jailhouse star because the murder she committed has been blasted across daily headlines; but then Roxie knocks off her lover, gets Velma's celebrity lawyer and, in a flash, usurps her to become the media star. It's the survival of the fittest and Roxie has to find a way to usurp Kitty. She comes up with a novel approach.
"Roxie's scheming," laughs Neuwirth, "doing her own thing to keep the notoriety she's gained. What's ironic is that both get a setback when the pineapple heiress Go-To-Hell-Kitty lands in jail."
She had no idea Chicago, presented in the same no frills concert as when it originated at Encores!, would have the type of longevity it's enjoying. "I thought the show might be too good to be true. I felt audiences would be expecting more - expecting thing to come flying out of the wings, the ceiling or the floor. I knew the score by John and Fred and the book by Fred and Bob were fantastic, but I wondered if it was going to be enough."
Maybe those skimpy costumes on the gals and bare, bulging chests on the guys and the erotic dancing have been responsible for keeping some seats filled.
Neuwirth knew she was in something special; yet there was a but. "The show was so good, I couldn't imagine it running more than a year. Everything about it was great - the score, the book, the performers and the way our director Walter Bobbie presented it. But remember back then, Broadway musicals were all about spectacle.
"There was the French Revolution [Les Miz], the crashing chandelier [POTO], the helicopter [Miss Saigon]," she continues. "All that over the top 'stuff' wasn't fair to audiences or the performers. It distanced audiences from the heart of the piece. Everything was bigger than the piece, bigger than the performers. When you dehumanize a show's material, it whittles away at the soul. Theatergoers come away having seen something, but without their soul being nourished."
If you want to see spectacle, she points out, "there's a place for that. You go to Las Vegas. That's what they do well. Theater is an essential human experience. Shows don't need a lot of theatrical ormolu [gilding with gold paste; or over-the-top styling], as I would call it. But the movement kept picking up steam, and then we came along. Walter showcased the material, the music, the choreography, the performers. There's no artifice in Chicago."
The cast put their best foot forward and hoped for the best in return. They got it. "What's more," smiles Neuwirth, "is that it didn't take long for the arriving musicals to fall into line and not depend so much on spectacle. People were thrilled to be back in touch with the intimate core of a show. Theere's something unrivaled about seeing dancers and and singers live onstage. When you've got the right material and a great score, it's a visceral experience!"

Some Other Chicago Assets

You might wonder, especially if you've seen Chicago a few times, what reason do you have to go back again. Well, in addition to Neuwirth, there's the indefatigable Braxton and, the ab fab Carol Woods as brassy matron "Mama" Morton.
One of the show's great assets is the choreography by Ann Reinking, the original Roxie in the revival, reproduced in the style of Bob Fosse, one of the choreographers who revolutionized dance on Broadway.
The revival has always been blessed with some of Broadway's best dancers and that hasn't changed. The "Cell Block Tango," with Braxton and the five other "merry murderesses" really strutting their stuff, is still a whopping showstopper [especially when the follow-spot operators are awake. At the performance I attended, Braxton, except for the glow from her teeth [which have to be the whitest on Broadway], was basically in the dark.
The current ensemble is highlighted by the incredible sex appeal of blonde, pony-tailed Robyn Huder as Mona; and muscular hunk Julio Agustin [does he live in the gym?], who sometimes subs in the role of Fred Casely. When he pumps, grinds, gyrates and flexes that body, Agustin reminds you of the sizzle Michael Berresse, the original Casely, brought to the part.
Unfortunately, the Ambassador Theatre, home to Chicago, is graying and lacks a great deal in seating comfort. The theatre is blessed with an extraordinarily wide proscenium, but because of the way the orchestra fans out as it approaches the awkward rear [starting at the extreme sides of Row K] and tiny interior vestibule, some of the sightlines leave a lot to be desired. The ideal location to view Chicago is the front mezz.
When the Chicago workhorse eventually leaves this grand dame of a theatre, hopefully, the Shuberts will put that Facility Fee charge fund to work on an extreme makeover - theatre edition. With over 1,100 seats and its prime location on West 49th Street, just off Broadway, and the demand for prime main stem houses the Ambassador could be an in-demand showplace.

Company's Sizzler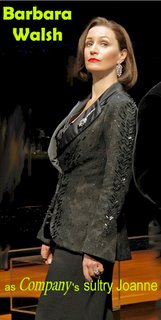 She's played so many Mrs. roles lately - a later Velma Von Tussle in Hairspray, the mother in Off Bway's Normal, Mrs. Baskin in Big, Mrs. Lyons in Blood Brothers and her award-winning turn as Trina in Falsettos - that it's terrific to see Barbara Walsh breaking out into a sexy mode as the way too hot, too sophisticated Joanne in Company, sizzling as she sings the showstopper "The Ladies Who Lunch."
Even if you're familiar with her distinguished stage career, it may take a few minutes and perusal of your Playbill for it to dawn on you that that that's Walsh. Her Joanne is quite a transformation.
It also appears that director John Doyle has uncovered Walsh's previously unknown musical abilities. In this Sondheim revival, she plays a mean triangle.

A Season for the Return of Theater Legends
Zoe Caldwell

Making her first New York theatrical stage appearance since her Tony/DD-winning masterful portrayal of Maria Callas in Terrence McNally's 1995 Master Class , Zoe Caldwell, winner of four Tony and three DD Awards, heads the excellent ensemble in John Turturro's production of Yasmina Reza's A Spanish Play at Classic Stage Company.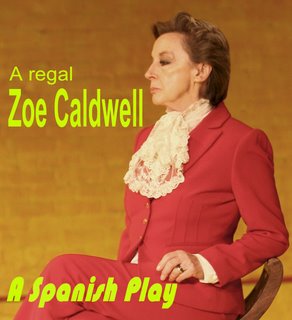 You've read the reviews. It would be an understatement to say that not everyone was mad about Reza's latest. This play-within-a-play-and-movie-rehearsal does run on, becoming the longest [at one hour and 50 minutes], intermissionless 90-minute play in a while. Those tranquilizing, existential monologues Renza [author of the Tony-winning Art] favors over just spitting out what she really wants to say can really test your patience.
But Miss Caldwell, who's an admirer of Renza's work, saw something in the script that many others missed.
After the death of her husband of nearly 35 years, the beloved, gentleman producer Robert Whitehead, Miss Caldwell took "a hiatus from theater." She began her "return" with a 2002 appearance opposite Patti Lupone and George Hearn in a concert presentation of A Little Night Muisc as Madame Armfeldt [the role played by Hermione Gingold on Broadway] singing "Liasions" and "The Glamorous Life" at Chicago's Ravina Festival. There was one leap back on a Broadway stage in 2003 as a mystery guest in The Play What I Wrote.
But when you've been acting for over 60 years, that sawdust in your blood often boils into the temptation to do what you love best. ALNM proved such an exhilerarting experience that she headed West and repeated her Madame Armfeldt role in 2004 with the Los Angeles Opera, in a lavish production [first done by the New York City Opera] that co-starred Laura Benanti, Victor Garber, Danny Gurwin, Judith Ivey, Marc Kudisch and Michele Pawk.
Late last year she appeared to help announce the 2007 Theatre Hall of Fame honorees. Could she possibly be ready to make her return to the New York stage? CSC and Turturro thought so. Miss Caldwell liked the idea of working with an ensemble and the fact that ASP had "something to do with theater" - even if in Spain. She said Yes.
To have the likes of an actress of Miss Caldwell's stature in a play, you would think it would be a show on Broadway. But ASP is Off Broadway in CSC smallish East Village theatre. Forgetting, if you can, what critics said about the play's length and density, ASP is worth a visit for Miss Caldwell's elegant, regal Pilar, the mother of two actress daughters. As the play finally winds down to three climaxes, Miss Cladwell gives quite a radiating performance. She even reveals she's adept at comedy.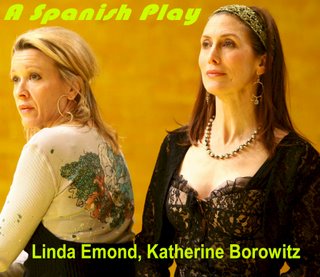 The much-celebrated Miss Caldwell, who's appeared with most of the world's great theater companies, has benefit of the outstanding performances of Katherine Borowitz [who happens to be Mrs. Turturro], Linda Emond [Homebody/Kabul] and Larry Pine [Stuff Happens]; not to mention the much-needed and appreciated comic relief of Tony/DD-winner Denis O'Hare [Take Me Out].
CSC is known for how it reinvents its playing space and set designer Riccardo Hernandez continues that tradition with an explosion of color that transports you to the Costa del Sol.
Turturro's decision to use live video feeds of some onstage and back stage moments helps focus the audience [after the eventual realization of those sitting on the aisle that the guy creeping down the stairs of the center section is the cameraman and not someone trying to sneak out]. However, about three-quarters of the way through he discontinues it just when it could be a great asset to the performers and audience.
Who knows when Miss Caldwell will again be onstage? This is an opt not to be missed. You have until March 4 to catch her.

Then Comes Angela, Marian and Terrence at Play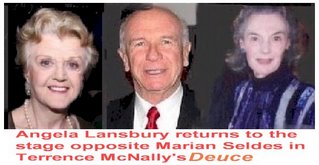 April showers? Who cares? Tony and Drama Desk-winning Broadway and TV legend Angela Lansbury is coming back to Broadway. Not in a musical, but starring opposite our beloved five-time Tony-nominated [she won in 1971] and six-time DD-nominated [and a winner in 1971] Marian Seldes in Terrence McNally's Deuce, set at a tennis match where two doubles legends reunite. The Tony-winning McNally and Ms. Seldes were DD-nominated last season for Primary Stages' Dedication or The Stuff of Dreams.

Performances begin April 16 at the Music Box . Tony and DD-winning Michael Blakemore is directing. The Tony-winning McNally and Ms. Seldes were DD-nominated last season for PS' Dedication or The Stuff of Dreams.


Last Chance

Sunday, February 18 is the last opportunity to catch one of the season's most talked about and acclaimed performances, that of Julie White as the hard-edged, marathon-talking Hollywood agent in Second Stage Theatre's The Little Dog Laughed, Douglas Carter Beane's bittersweet "don't ask, don't tell" comedy now on Broadway at the Cort Theatre.


..................................... ... ......... ...... .......A........................... A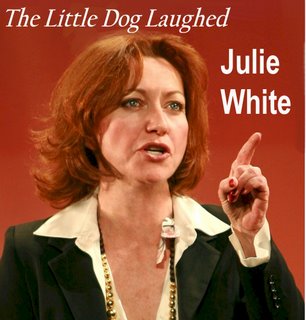 She hasn't popped on the scene from nowhere, having done plays at SS, Off Broadway in Dinner with Friends and Roundabout's Fiction and her memorable turn in Barbra's Wedding, but nothing she's done prepared us for this Drama Desk-nominated performance. This role fits like a glove.

White, a 2006 DD-nominee for her portrayal of Diane, stars with Tom Everett Scott; Johnny Galecki [TV's Roseanne], who displays - along with several other personal attributes - a wonderful stage presence; and now, with Ari Graynor's departure, the original Off-Broadway actress Zoe Lister-Jones in the role of Ellen. Scott Ellis is the director.

[Note: Galecki will be out of certain performances due to prior commitments.]

Could White be a Tony contender? SS and that roster of A-List producers wouldn't have moved the show to Broadway if they didn't think she and the play were Tony nom worthy. It's impossible to take your eyes off White during her hilarious monologues on the mystique of stardom where she seethes with a blistering understanding of how the Hollywood system works.

White's delivery is as fast as any champion driver in the Indy 500! Even if you've seen the play, a return visit is recommended just to catch some of White's prized moments - some of which you probably missed. Here is one of her prized mile-a-second run-on moments:

>>>Diane:

The Mahayana Buddhist monks of the Namghala Monastery create the sand mandala.
This time consuming expression of faith involves the delicate layering of multi-colored
sand into intricate patterns. To see them is to be rendered speechless. They often take
weeks to create. They are admired briefly, and then dismantled, blown away like the
sand of the beach and washed into the sea. This ritual is performed as a constant
reminder, that all of man's toil is ultimately folly. As an exercise of tedious futility this
act pales in comparison to watching show business professionals order a salad.
(imitating)
"Yes, I want the Cobb Salad and could you make sure that the chicken and the bacon are
not touching and I want no egg, but bonus avacodo and on the side extra virgin olive oil
and seven lemons. And there can be no red onion because my nutritionist says if I ingest
red onion I will die! <<<

Many audience members seem so mesmerized that, in the last few minutes of the play, they miss an element of White's late Act Two high-pitched, faster-than-a-speeding-bullet phone conversation. Pay close attention and you'll discover the answer to one of the most asked questions of the season: Where does the title comes from?





--------
Ellis Nassour is an international media journalist, and author of Honky Tonk Angel: The Intimate Story of Patsy Cline, which he has adapted into a musical for the stage. Visit www.patsyclinehta.com.

He can be reached at [email protected]





Why are you looking all the way down here?
For more articles by Ellis Nassour, click the links below!

Previous: Tom Stoppard: "It's All Onstage" in Coast of Utopia; Julie Andrews at Kid's Night; Singles Anyone?; Busy Monday with the Hall of Fame, Nightlife Awards, Rockers for BC/EFA, Vineyard's 25th Anniversary; More

Next: Encores!' Follies Is a Must; Boyd Gaines in Journey's End; Lillias White Sings the Blues; Broadway Single's Night; Rare Tennessee Williams; Off Broadway Bargain Week; On the Cabaret Scene

Or go to the Archives