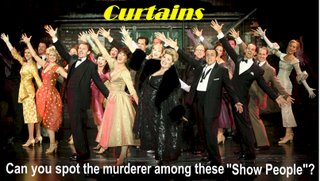 "Audiences are howling from the start and they never stop," says book writer, Tony Award-winning Rupert Holmes of Curtains, his and John Kander and Fred Ebb's musical comedy murder mystery which opens tomorrow. "There's more fun in this show than anything I've ever written."
With the death of Ebb in 2004, Curtains, years in development, marks one of the last collaborations by the longest-running songwriting team in Broadway history - a beloved duo that gave us Cabaret, Zorba, Chicago, The Rink, Steel Pier, Kiss of the Spider Woman, Flora, the Red Menace, The Happy Time, 70 Girls 70, The Act and Woman of the Year.
Curtains' curtain raiser is the death of the leading lady of Robbin' Hood!, a Wild West musical retelling of the Sherwood Forest legend, in pre-Broadway tryouts in Boston, who comes to her untimely end during a thunderous ovation while taking her bows.
David Hyde Pierce of Fraiser fame, stars as Frank Cioffi, a bungling Boston homicide detective and fan of musical comedies, who conducts a murder investigation where everyone on and backstage is a suspect.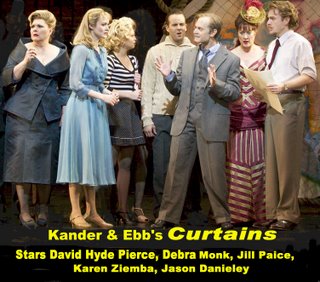 But the show must go one and as it does, Cioffi finds himself caught in a web of bedlam, deceit, massive theatrical egos, a budding love affair and more murder.
Pierce feels this last K&E collaboration "is a historical moment for the stage. The premise of a musical set against a murder mystery is a bit tricky, which makes it all the more fun. John and Fred are at the top of their game and the result is classic Kander and Ebb. And, with Peter gone, Scott's idea to bring in Rupert, an acknowledged master of the mystery/thriller genre, was genius."
Tony and Drama Desk winner Debra Monk plays producer Carmen Berstein. Having originated the role of Shelby Stevens in Steel Pier and having been a Mama Morton in Chicago, is no stranger to K&E scores. She's also been aboard Curtains since the 2001 workshop.
"What attracted me," she explains, "was that it has one of John and Fred's greatest scores. It was also the opportunity at that time to work with Peter Stone. And now Rupert, who's written one heck of a part for me."
She's delighting in hearing the vamps K&E are famous for. "Their scores are so funny and rich. The songs are full of irony. They can do something big and brassy, then turn around and write the most heartfelt ballad. And follow that with a great eleven o'clock number. If anyone loves Kander and Ebb, they won't be disappointed."
Monk, who has been a producer in her career [as well as a writer], says, "I was never a producer like this one. Carmen's one of a kind, larger than life. She loves theater deeply. She's a shrewd businesswoman, but she also has heart." And no, she states emphatically, contrary to scuttlebutt, Carmen isn't based on Fran Weissler! "She's based on a woman Peter knew."
Tony and DD winner Karen Ziemba is Georgia Kendricks, the lyricist of the try-out musical. "Not unlike Betty Comden," she reports
Because of Fraiser [which won him four Emmy Awards] and his DD-nominated performance in Spamalot, Ziemba states the obvious, "Everyone knows David can be funny, but in Curtains he's amazing. This is Kander and Ebb so you expect the songs to be incredible, but this score just keeps coming at you."
Curtains is a musical and Ziemba's in it, so she must dance, right? "Well," she reports, "not really. I mostly sing and act. But, hey, they figure Ziemba's in the show so they gotta give me some dancing. So, I do. A little."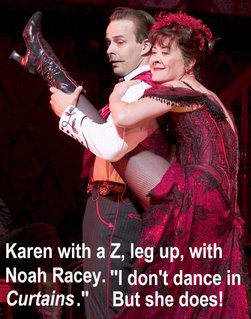 She couldn't be happier with her songs. "John knows Debra and me so well that he came up with perfect songs that are just right for our characters. One of John and Fred's great assets is they can write beautiful songs that come out of the story. What's really special are their big finishes, the kind that really lift your heart. This score raises the bar even for them!" She adds that Holmes' book "packs punch because the comedy comes from the theatrical egos of the characters."
Monk and Ziemba co-star along with Jason Danieley, Jill Paice, Edward Hibbert [seen frequently on Fraiser], Noah Racey, Darcie Roberts and an 18-member cast. Multiple Tony and DD nominee Scott Ellis is the director, with choreography by Rob Ashford [1992 Tony, Thoroughly Modern Millie].
This is Monk's sixth show with Ellis. She and Hyde Pierce met in his early Broadway days in a reading of a Christopher Durang play; and she later appeared with him on Fraiser. Ziemba won raves starring Off Bway in the K&E revue And the World Goes 'Round. She and Monk met in the cast of Steel Pier, which Ellis conceived and directed. Ziemba met Ashford when they joined the cast of Crazy for You and she performed with Racey in Never Gonna Dance.
Curtains was redeveloped by Holmes from an original concept by the late Tony-winning book writer Peter Stone, who won three Tonys for his librettos for Titanic, Woman of the Year and 1776. His six nominations included one for the book of The Will Rogers Follies.
With the death of his long-time partner Fred Ebb, composer Kander has done additional lyrics with Holmes.
"Because it's a murder mystery, Curtains has an edge," Ellis explains, "but it's also a wonderful homage to musical theater. We've known some Kander and Ebb shows to be dark. Even though we have a murder, this one isn't. And because it's a show within a show setting we really embrace that ëLet's put on a show' feeling that Mickey and Judy had."
Bright and brassy is how Holmes describes the score. "It's a bit different," he notes, "but there's no mistaking it's a Kander and Ebb score. It has their mark, which is the absolute height of theatricality with a wonderful show business sensibility. There're also a couple of stirring tunes that would cause any thespian's heartbeat to race."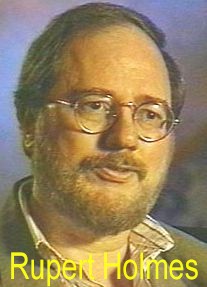 The British-born writer/composer [nee David Goldstein] came with his English mother and Yank Air Force father to New York when he was three and, living on Long Island, soon lost his accent. After music school, he went on to become a session pianist and arranger for Gene Pitney, the Platters, the Drifters, even the Partridge Family.
Holmes has written novels and recorded over 15 albums. Two of his best known and biggest-selling tunes are the megahit "Escape (The Pina Colada Song)" and "Him." He wrote, arranged and conducted extensively for Streisand, with tunes on six albums. Other songs have been recorded by a variety of top-selling artists. For his 1986 Tony and DD-winning Best Musical The Mystery of Edwin Drood, Holmes was the first artist to receive Tonys for Book, Music and Lyrics. Jonathan Larson was the second.
After short-lived Broadway thrillers Accomplice and Solitary Confinement, he had "the great joy" of working on his beloved TV series Remember WENN, set in the late 30s into the life-changing early 40s when radio was king at a Pittsburgh station where the employees are as wacky as the characters they portray on the air.
It was a dream situation, he states, "one I'll never encounter again. There was no laugh track, no commercials. I was able to write a continuing story line, fifty-six half-hour episodes. I thought of it as writing the world's longest play."
Now, he's adapted Remember WENN for the Public Theatre, a company dear to his heart from his experience working with Joe Papp to develop Drood. Also in the works are Charles Strouse and Lee Adams' adaptation of Paddy Chayevsky's original teleplay and Academy Award-winning film Marty, which starred John C. Reilly in a Boston tryout. In addition to Say Goodnight, Gracie, starring the late Frank Gorshin on Broadway and on tour, there are upcoming adaptations of the films Second Hand Lions and First Wives Club.
Holmes calls Curtains "a valentine to the shows I was weaned on. I set the story in 1959 to convey the simple, joyful wonder I felt going to theater." He still has vivid memories of such shows as My Fair Lady, West Side Story, Bells Are Ringing, The Music Man, Damn Yankees, The King and I, The Pajama Game and The Most Happy Fella. "The new time setting gave me the opportunity to remind an audience who can remember those shows and inform one that doesn't."
It also allowed him to create larger than life theatrical characters and temperamental directors. "If I wrote about Broadway today," he admits, "I'd have to bring in Lloyd Webber, Mackintosh's mega musicals and Disney. But setting it as I have, I was able to fall back on the legends."
Holmes realizes there's going to be a problem keeping the show's ending secret. "The killer's the same at every performance, so we're hoping audiences don't spill the beans. It's something you can't control. However, I've come up with a couple of little games."

Late Breaking News
He's coming back and Broadway's going to have him. That's Harvey Fierstein, who will return to the stage in The Catered Affair, the stage musical adaptation of Paddy Chayefsky's 1955 teleplay and Gore Vidal's 1956 screenplay.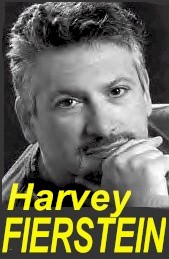 Fierstein, a four-time Tony-winner will not only co-star but is also writing the book. The score is by John Bucchino. Directing is Tony-winner John Doyle [Company, Sweeney Todd no-frills revivals]. The musical is set to open on Broadway in one year. This September, it inaugurates the 07-08 season at San Diego's Old Globe Theatre.
Further casting is incomplete, but Fierstein has reported he will not be cast in either of the feisty roles originated on the big screen by Bette Davis and Ernest Borgnine [Debbie Reynolds was the bride-to-be]. He will be the bride's uncle. Gay, of course. It also appears that he will have a hand in producing the musical.
Rumored to star in the role of the father is John C. Reilly, who received raves in the Boston tryout of Charles Strouse/Lee Adams/Rupert Holmes' adaptation of Chayevsky's original teleplay and Academy Award-winning 1955, Marty.
"His was a heart-breaking performance," reports Holmes.
The musical, set in The Bronx in the early 50s, will be produced by Jujamcyn Theatres, Harvey Entertainment/Ron Fierstein and Richie Jackson.
The story is very familiar to any family whose daughter got married: spend your life savings from your hard-working years in a family business or launch your only daughter's marriage with a lavish affair that the couple don't want.
In its original airing on The Philco Television Playhouse, Thelma Ritter co-starred.
Chayefsky transitioned from writing in the 50s for the Golden Age of live TV to playwright and award-winning screenwriter. In addition to Best Picture, Borgnine won Best Actor for Marty. The playwright also wrote the blistering film The Goddess, made memorable by Kim Stanley's performance. In 1956, he had a hit on Broadway, Middle of the Night [later filmed], which starred Edward G. Robinson, Martin Balsam, Gena Rowlands and Anne Jackson.

Broadway by the Year: 1938

Monday's installment in Scott Siegel and Town Hall's Broadway by the Year recalls songs from 1938 on what then called The Great What Way. If you're a series regular, you know Siegel, year to year, keeps expanding casts; so it won't come as a surprise that 1938 will feature 11 stars.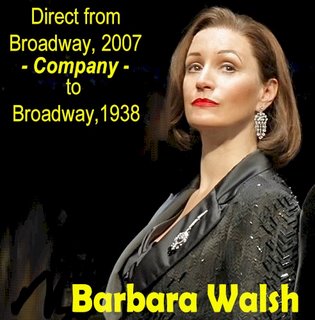 Under the direction of Tony-nominated Emily Skinner will be Andy Blankenbuehler, Drama Desk-nominee Sarah Uriarte Berry [Light in the Piazza], Aaron Lazar [Les Miz, LITP], Shannon Lewis, Ray McLeod, Christiane Noll, Connie Pachl, former Phantom and vampire Hugh Panaro, Martin Vidnovic [The Fantasticks], Tony and DD-nominee Barbara Walsh [currently sizzling in Company]. Skinner, always an audience fav, will also perform.
Musical director and arranger is Ross Patterson, playing keyboards with his Little Big Band.
Featured will be such American theater classics as "September Song," "It Never Was You," "Falling in Love with Love," "This Can't Be Love" and "Spring Is Here." Siegel, of course, promises at least one "unplugged" number.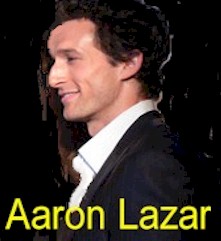 "This is one of the most dynamic casts that I've ever assembled," says Siegel. "I'm especially happy getting Hugh Panaro and Emily Skinner, who were both in Side Show, together again and to have Andy Blankenbuehler dancing. He's choreographed numbers for us, but this is his first time dancing on Broadway by the Year - right on on the heels of his triumph as a choreographer for In the Heights."
Broadway by the Year is made possible, in part, with support from The Edythe Kenner Foundation.
Limited tickets for Monday's BBTY 1938 are available at $40 and $45 through TicketMaster.com, by calling (212) 307-4100, visiting the Town Hall box office or www.the-townhall-nyc.org. Upcoming: April 30, The Broadway Musicals of 1959 with Marc Kudisch directing and no doubt singing; and June 18, The Broadway Musicals of 1964, Part II.

Broadway Musicals by the Year on CD
Since 2002, the Broadway by the Year series has yielded 14 cast albums on Bayview Records. Just released is the cast CD of The Broadway Musicals of 1929, produced by Peter Pinne, with Leslie Anderson, Nancy Anderson, Christine Andreas, Bryan Batt, Ron Bohmer, Jeffry Denman, Noah Racey and Emily Skinner putting their stamp on songs by Coward, Dietz, Hammerstein, Kern, Porter, Rodgers and Hart, Schwartz and Youmans.
American was in the midst of a deep Depression, but the above composers rallied the country with such classic songs as "If Love Were All," "With A Song In My Heart," "What Is This Thing Called Love?" "More Than You Know," "Without A Song," "Button Up Your Overcoat," "I Guess I'll Have To Change My Plan" and "Moanin' Low."
Musical director is Ross Patterson, playing keyboards with his Little Big Band. The director was Gabriel Barre.
Copies will be available for purchase on Monday at Town Hall or you can visit http://www.bayviewrecords.com/, http://www.footlight.com/ or http://www.borders.com/.

Face the Music and Dance

City Center Encores! continues its 2007 season with the first ever full-scale restoration of Irving Berlin and Moss Hart's 1932 revue, Face the Music, which plays five performances March 29 - April 1.
Headling are Tony winner and DD-nominee Judy Kaye, Tony and DD-winning director Walter Bobbie [Chicago revival], who's returning to his song and dance roots, Jeffry Denman and Meredith Patterson.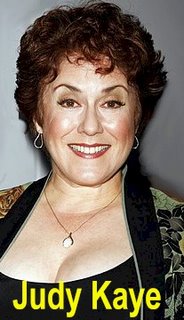 Eddie Korbich, Timothy Shew [original Les Miz] and Lee Wilkof are among those in the 30 plus cast. Tony-winner and DD-nominated John Rando [Urinetown] is directing with choreography by two-time Tony-nominee Randy Skinner. Music direction will be by Rob Fisher.
Face the Music opened at the New Amsterdam in 1932. It wasn't a runaway hit [that honor went to Of Thee I Sing]. Hart's book took a beating, with some citing it as too clichÈd, but Berlin's score was considered "glorious" and "kicky."
The story, a sort of six-degrees-of-separation precursor to The Producers, is of a down-on-his-luck producer desperately trying to raise the money for his latest revue. Investors include a handful of bad cops. The show flops on opening night, but becomes a hit when racy material is added and the Vice Squad tries to shut it down.
Songs include "Let's Have Another Cup of Coffee," "Soft Lights and Sweet Music," "Torch Song," "I Say It's Spinach (And The Hell With It)," "When the Folks High Up Do the Mean Low Down" and "Manhattan Madness."
"The Irving Berlin score is filled with wonderful melodies that audiences will be discovering for the first time since 1932," points out Skinner. "This is rarely revived Berlin and Hart. [Musicals Tonight! did a no-frills production in 2002.] There are two well-known songs, ëLet's Have Another Cup of Coffee' and ëSoft Lights and Sweet Music.'"
Skinner, one of the nation's leading authorities on tap, adds that FTM is giving him the opportunity to choreograph ballroom, tap, and some hot jazz numbers to the authentic 1932 arrangements. "It's always a pleasure to create dance to anything Berlin wrote. He was a composer who understood dance. He wrote three film scores for Fred Astaire and Ginger Rogers! His music is very rhythmic and syncopated."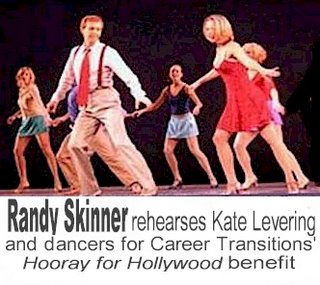 But there have been challenges. "We don't have a lot of rehearsal time," reports Skinner. "Putting up all these dance numbers in a week is quite the task! I am truly blessed to have some of Broadway's best dancers."

Among them are Patterson, Mylinda Hull, Todd Lattimore and Wes Pope, who worked with Skinner in the 42nd Street revival, and Jerold Goldstein, who worked with Skinner in Ain't Broadway Grand.

"These dancers understand the style of this period," says Skinner. "That's an enormous help when you have this kind of pressure."

Another goal is to make the tap sequences fresh. "With tap numbers," explains Skinner, "you try to create new rhythms and patterns that will be exciting to hear and see. In Encores!, because there's limited costuming and props, you have to let your choreography compensate for what's missing. But that's also the fun of choreographing. It's amazing what you can do when all you have is a bare stage and a great Irving Berlin tune. "

Lead sponsorship for Encores! is provided by a grant from Newman's Own. Encores! artistic director Jack Viertel points out that vital additional support comes from the Joseph S. and Diane H. Steinberg Charitable Trust, the Ira and Lenore Gershwin Philanthropic Fund, the Shubert Foundation, the Blanche and Irving Laurie Foundation and Allen & Company.

Tickets for the 2007 Encores! season are available at the City Center box office, through CityTix at (212) 581-1212 or online at http://www.nycitycenter.org/. Available single tickets are $25-$95.

Friends On the Move Jamie deRoy, winner of tons of nightlife accolades and awards [in addition to being a theater producer and record producer], is bringing her award-winning variety show and some of her cabaret and theater friends to the Nightlife Award-winning Metropolitan Room in Chelsea [34 West 22nd Street, between Fifth and Sixth Avenues] for a round of Thursday night variety showcases.

The first show is March 29 at 7:30 P.M., with guests comic Eddie Brill, two-time Tony-nominee Penny Fuller, Hilary Kole, Michele Ragusa and Victoria Shaw. Musical director is Paul Greenwood. Jamie deRoy & Friends director is Barry Kleinbort.

For the deRoy series, admission is a $20 cover with two drink minimum. For reservations, call (212) 206-0440.

[Photos: 1, 2 and 3) JOAN MARCUS; 5) CNN; 6) PAUL KOLNIK; 9) LILIAN BARBUTI]






--------
Ellis Nassour is an international media journalist, and author of Honky Tonk Angel: The Intimate Story of Patsy Cline, which he has adapted into a musical for the stage. Visit www.patsyclinehta.com.

He can be reached at [email protected]





Why are you looking all the way down here?
For more articles by Ellis Nassour, click the links below!

Previous: A Banner Season for All-But-Forgotten Playwright Harley Granville-Barker; Voysey Inheritance's Designers; Philharmonic's Fair Lady; Metropolitan's Gaud" to Dal"

Next: Kristin Chenoweth to Host Drama Desk Awards; Another Phantom Milestone; A Passion Play; The Balcony Returns; At the Ballet; Choice TV and Film Programs; More

Or go to the Archives