Antoinette Perry is the namesake of the Tony Awards. From childhood, everyone called stunningly beautiful but tough-as-nails Denver actress "Toni." That was the name by which she was known in theatrical circles in her early acting career and later as a pioneering producer and director. With much chagrin, she felt compelled in the late 1930s to change the "i" to a "y" because of the immense popularity of the Toni hair home permanent line.
I had the unique opportunity to interview Miss Perry's daughter, Margaret Frueauff Fanning, who died Sunday, April 8 at her ranch in a remote sector of Colorado, a state her grandparents helped settle in the 1860s. She was 94. She reverted to her mother's maiden name onstage and screen.
She was quite a character. Under her mother's tutelage, she and sister Elaine, acted on the New York stage. Ten years ago, I was somehow able to contact her in Colorado and speak with her about her mother.
"Mother wanted to be an actress as soon as she could lisp," Margaret Perry told me. "She was fond of saying that she didn't say she was going to become an actress. From childhood on, she felt she was one. No one could have convinced her she wasn't. When other girls were playing with dolls, mother was putting on shows in the backyard."From age 15, she toured with her uncle's company, "watching and learning, doing everything from helping in wardrobe and selling tickets" to eventually playing ingenue roles in melodramas, farces, even Shakespearean male roles.
In New York, famed impresario David Belasco, obsessed with her beauty and porcelain complexion, put her on the Broadway stage, where she graduated to major starring roles.
Ever the ladies' man, Belasco let Miss Perry slip into the hands of an old Denver beau, Frank Frueauff, an oil, gas and utilities magnate [his companies eventually merged and became CITGO]. At the peak of her New York acting career, Miss Perry married Frueauff. They traveled the great liners to Europe and, on settling in New York, entertained in their Fifth Avenue apartment in robber baron style.
It didn't take him long to convince her to give up theater and become a full-time wife, mother and hostess. Or so her husband thought. Margaret Perry explained that it didn't take long "before mother's theatrical aspirations clashed with Frank's conservative lifestyle and, very discreetly, very much on the sly, she got back into the business."
In 1920, approached by Brock Pemberton, a flamboyant press agent turned producer, Miss Perry became an "angel" in Pemberton's productions. Soon, using her husband's money, she became a silent partner. When her husband discovered his wife has invested in theatre and had done so well, he gave his blessings. Then, in 1922, he died of a heart attack. He left a $13-million estate.
"In those days," said Margaret Perry, "that was a vast, unimaginable amount of money. Mother was quite knowledgeable of the stock market. With father, we'd often go to brokerage offices to watch the ticker tape."
Miss Perry's savvy increased the wealth from what she was able to claim from her husband's estate [after much legal wrangling] with shrewd investments. "Mother guided many an actor to good fortune with her tips," reported Margaret Perry. "She generously lent money, and bailed actors and playwrights out of overdue hotel bills. She enjoyed the extravagant life. The summer of 1923, she took us, our governess, Uncle Brock, as we were instructed to call him, and his wife Margaret, and ten others to Europe for seven weeks. On coming home, Mother heard theatre's siren call again."
Miss Perry [Mrs. Frueauff] told an interviewer she wasn't leading a very fulfilling life. "Should I go on playing bridge and dining, going in the same old monotonous circle? It's easy that way. But it's a sort of suicide, too."She hadn't been forgotten, and was soon back on the boards in starring roles in a broad spectrum of plays by Kaufman, Ferber and William S. Gilbert [of Gilbert and Sullivan].
"It was in 1927, during a revival of Electra, in which mother played Clytemnestra, that she came to a decision to leave acting," Margaret Perry said. "The effects of a stroke had taken a toll. Mother was no longer the beauty of fifteen years ago at the prime of her acting career. She went into a great depression and became an avid reader. Then suddenly, no doubt thanks to Uncle Brock, her interests changed."
Miss Perry, greatly influenced by by actress/playwright Rachel Crothers, who directed her own plays, decided she wanted to direct. She quickly became a unique innovator in theater at a time when there were only a handful of women producers and directors.
Needless to say her relationship with Pemberton, with whom she was now intimately involved, gave her an edge; but her shrewd stock market investments doubled the size of her holdings. She and Pemberton had modest successes until 1929, when they struck paydirt with Preston Sturges's Strictly Dishonorable, a cynical play about virtue and Prohibition. A critic praised Perry "for doing a man's job" as director. Scalpers got $30 a ticket. Movie rights were sold. They were on their way to easy street.
"A month later," remembers Margaret Perry, "the stock market crashed. Mother awoke two million dollars in debt. It took seven years to recover. Somehow, probably because of the success of Strictly Dishonorable, she talked banks into a loan of two million dollars."
Even during the depths of the Depression, Miss Perry, according to Margaret, "was generous to a fault. She was maternal to everyone. It didn't matter if you were the taxi driver who took her to the office, the theatre janitor or on that pedestal of pedestals to her, an actor. She cared and was always eager to help those in need."
Margaret also confided that her mother was an inveterate gambler. "The seed money for many an American Theatre Wing [which she co-founded] activity or show investment came from her winnings at the racetrack. Even during Wing board meetings, mother played the horses. She'd have her secretary tiptoe in to give her the odds, then place a wager with a bookie."
Before her death in 1947, Miss Perry and Pemberton had a huge smash with Mary Chase's Harvey, starring Frank Fay and Josephine Hull, which ran a then-unheard of 1,775 performances, It was also adapted into a successful film starring James Stewart and Miss Hull.
Margaret Perry appeared onstage, beginning at 16, in the late 20s and made her Broadway debut in 1931. She was directed by her mother in Ceiling Zero [1935] and Now You've Done It [1937]. In the late 40s, she became interested in following in her mother's famed footsteps, producing and directing. Unfortunately, she said, she didn't have her mother's "or Uncle Brock's intuvity" for investing in hits. Her producing efforts were shortlived.
On June 28, 1946, as Margaret and sister Elaine [an actress, stage manager, and producer/director who died in 1986] made plans for their mother's 58th birthday celebration the next day, Miss Perry had a fatal heart attack.
Friends and peers were stunned to discover she was $300,000 in debt and living on $800 a week from Harvey royalties.
Once a reporter questioned her support of things theatrical. He asked, "Why do you devote so much of your money and time to such thankless activities?" Replied Tony, "Thankless? They're anything but that. I'm just a fool for the theater."
"True," said Margaret. "Theater was mother's great love, her passion, what she lived and breathed. Her outstanding trait was that she cared. It didn't matter if you were a janitor, cab driver, or, on that pedestal of pedestals, an actor."
Pemberton memorialized her as "an individualist who met life head on, dramatized life, and gave of a generous nature." He proposed an award in her honor for distinguished stage acting and technical achievement. At the initial event in 1947, as he handed out an award, he called it a Tony. The name stuck.
Margaret Perry's second of three husbands was the renowned actor Burgess Meredith. With her last husband, scenic designer Paul Fanning, she had four children. She is survived by three of them, Karl, John and Clare.

Sondheim Musicals Remastered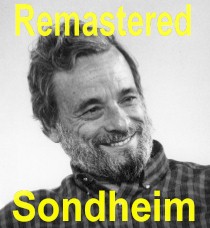 On the heels of Masterworks Broadway's four-disc Legends of Broadway series saluting Barbara Cook, Angela Lansbury, Bernadette Peters and Chita Rivera, comes MB's digitally remastered reissues of the original Broadway cast recordings of four of Stephen Sondheim musicals: Into The Woods, Merrily We Roll Along, Sunday In The Park With George and Sweeney Todd.

Into the Woods, the 1988 Tony and Drama Desk Award-winning Best/Outstanding Musical, has first-time-ever bonus tracks that include John Cameron Mitchell, through an interesting chain of events, singing "Giants In The Sky."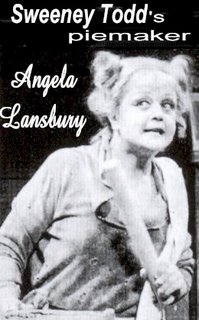 Merrily We Roll Along, which earned 1982 Tony and DD nominations for Best/Outstanding Score, has an extraordinary bonus: the "It's A Hit" demo from Sondheim's personal archives.
Bonus tracks for Sunday in the Park with George, recipient of the 1985 Pulitzer Prize for Drama and nominated for 1984 Tony and DD Awards for Best/Outstanding Musical, include Julie Andrews, Stephen Collins, Rachel York, Michael Rupert and Christopher Durang performing Putting It Together's "Putting It Together."
Sweeney Todd, on two discs, the 1979 Tony and DD Best/Outstanding Musical, has a load of bonuses, including "Symphonic Sondheim: Sweeney Todd" from Sondheim: A Celebration at Carnegie Hall, featuring Eugene Perry, Henry Perry, Jerry Hadley and American Theatre Orchestra conducted by Sondheim musicals veteran Paul Gemignani; and Julie Andrews performaing "Sweet Polly Plunkett" from PIT.
Victor Garber, who played Anthony in the original production, says he sensed early on that "I was about to be part of something innovative." He adds, "I remember feeling exhilarated when Steven first played ëJoanna' for me. It was the most beautiful thing I ever heard." Then came the day when he entered the theatre and set eyes on the set. "I'd never seen anything so big. My heart sank. I felt intimidated! It took me two months to find my way around it. Technical rehearsals were brutal; yet, all the while, it was tremendously exciting!"
Each disc [SRP $14 to $25] contains illustrated booklets with new liner notes by performer-turned-director Richard Jay-Alexander.

Something New for Somethings Old
The Metropolitan Museum of Art's long-awaited opening of the new Greek and Roman Galleries is next week. It was worth the wait.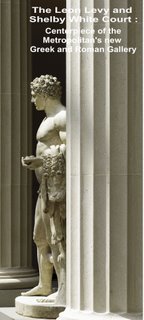 A spectacular "museum-within-the-museum" for the display of one of the finest collections in the world of Hellenistic, Etruscan, South Italian and Roman art, much of it unseen in New York for generations, arrives after more than five years of construction. It's located in the Lamont Wing at the South end of the Museum.
The installation continues on the wholly redesigned mezzanine level, where galleries for Etruscan art and the Greek and Roman study collection overlook the court from two sides.
The centerpiece of the new galleries is the Leon Levy and Shelby White Court - a monumental, peristyle court for the display of Hellenistic and Roman art. It occupies an area created by the architectural firm of McKim, Mead and White between 1912 and 1926 and evokes the garden of a Roman villa. The space has been stunningly transformed into a soaring two-story atrium with a colored marble floor.
The mainstay of the new galleries will be art created between 900 B.C. and the early Fourth Century A.D., tracing parallel stories of the evolution of Greek art in the Hellenistic period and the arts of southern Italy, Etruria and the world of the Roman Empire.

They're Back - Two Nights Only!

Les Ballets Grandiva, 19 men in tutus and toe shoes, returns April 16 and 17 at 8 P.M. to the Peter Jay Sharp Theater at Symphony Space to celebrate the company's 11th Anniversary. LBG combines outrageous antics with the physicality and [sometimes] grace of classic and modern ballet.
Showcased will be three premieres: company founder Victor Trevino's Le Grande Tarantelle with music by Louis Moreau Gottschalk ; Brian Reeder's They Who Wore White Flowers, music by Rachmaninov; and Marcus Galante's Who Dares? (a symphony in weee), music by Leroy Anderson.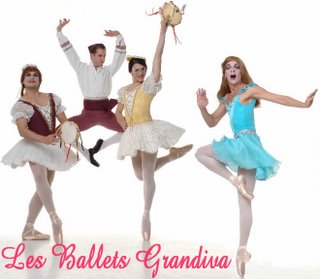 The latter pays tribute to Balanchine's fun, jazzy ballet Who Cares! Also featured from the Grandiva repertoire will be a pas de deux from Spartacus.
Costuming is an important element of ballet and Grandiva takes this to an extraordinary level; so Jose Coronado's designs for LGT and TWWWF and Oswaldo Muniz's for
WD should be colorful and stunning.
Dancer Allen Dennis [a.k.a. Karina] will be celebrating a milestone: 25 years touring the world as "the most senior male ballerina absoluto." He won't let audiences down. He'll perform his legendary Dying Swan.
Grandiva has performed to sold-out houses in Japan and was seen live by over 90,000. Television appearances have reached over 30-million Asian viewers. The company performed at the Shanghai Grand Theater, marking the first time a male comedy ballet company performed in such an important Communist country venue.
Les Ballets Grandiva showcases dancers who have performed with such major companies as St. Petersburg's Kirov, ABT, Houston Ballet, National Ballet of Canada and the Royal Swedish Ballet.
Tickets are $21 and $ 26 [$17 and $22 for SP members] and $15 for students and seniors and are available online at http://www.symponyspace.org/, at the SP box offices or by calling (212) 864-5400.

Milestone
On Wednesday, April 18th, the little show that could, Warren Manzi's Off Broadway murder mystery Perfect Crime celebrates its 20th Anniversary at the Snapple Theatre Center [Broadway at 50th Street]. Last December, in another milestone, the puzzling psychological thriller's leading lady Catherine Russell celebrated her 8,000th performance as psychiatrist Margaret Brent. The only other Off Broadway show that comes close is Blue Man Group, which in November began its 16th year.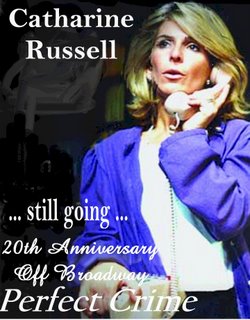 Since its premiere, Perfect Crime has moved seven times. Russell admits it's a complex outing, but claims that, unlike many who've seen the play [even two or more times], the plot is "figure out-able, but you really have to listen to put the clues together correctly. Ten-year-olds often figure out who the murderer is faster than their parents."

Russell attributes the play's longevity to the fact that "people love thrillers, our tickets are affordable [$40-$50] and we are in the heart of Times Square."

Like that that TV battery-operated bunny, she's still going strong. Since the play opened, she has only missed four performances [for her siblings' weddings]. Neither rain, snow, sleet nor hail has kept her from her appointed rounds - not even illness; and, unlike other colleagues, she's never taken a vacation. If the adage is "The show must go on," Russell feels it must go on with her.

Also in the cast are Richard Shoberg, David Butler, Philip Hoffman and Patrick Robustelli.

Russell's record [ratcheted up now to 8, 142 performances], doubles that of Carol Channing for Hello, Dolly! and far surpasses the 1,809 times Marian Seldes performed in Deathtrap.

"I love what I do," says Russell. "That keeps me healthy and happy. It helps that I don't smoke or drink. Of course, there's been a toll on my personal life. I've gone through several fiancÈes, but now I have one who is used to being with a workaholic."

Russell, who's also GM of the STC, where the record holder for the world's longest-running musical [17,162 performances for the original production], Tom Jones and Harvey Schmidt's The Fantasticks is in revival, somehow manages to find time to teach [acting at NYU, English at Baruch College (CUNY)].


What Will the Critics Say?

You might wonder what the critics will have to say on April 23rd about the cast of Project Shaw's Androcles and the Lion by, yes, GBS at New York's historic Players Club [16 Gramercy Park South, between Park Avenue and Irving Place]. Wonder no more because they will heap praise upon praise upon their performances because they are the cast.

PS, continuing it's three-year program of tackling the 50 plays, well known and the obscure, Shaw wrote, is presenting New York journalists and critics: David Cote, Adam Feldman, David Finkle, Eric Grode, Charles Isherwood, Howard Kissel, Jeremy McCarter, Michael Musto, Patrick Pacheco, Rex Reed, Michael Riedel, Frank Scheck, Michael Schulman, Raven Snook Alexis Soloski and Roma Torre. No, Matthew Murray and I weren't asked - even to audition!

Also starring [there are no featured or ensemble roles in this presentation because of the ego factor] Seth Rudetsky as Androcles, Bruce Vilanch as the Lion and Brendan Lemon as host.

David Staller is series director and the reading is presented by his Gingold Theatrical Group, named for actress Hermione.

Among the upcoming readings in the 07 series are The Millionairess, July 23; Pygmalion, September 17 and Man and Superman, December 17. For a full list, visit the web site. Readings are at 7 P.M Tickets for the readings are available after the first of each month.

Tickets are $15 and available through www.TheaterMania.com, (212) 352-3101 or http://www.projectshaw.com/.


Food, Glorious Food - and Cabaret

The Play Company holda its Fourth Annual Cabaret Gourmet gala Monday from 7:00-9:30 P.M. at the Angel Orensanz Foundation [172 Norfolk Street, between Houston and Stanton Streets]. A theatrical celebration of the shared spirit of the culinary and theater arts, the event will feature delicacies from New York's top chefs and restaurants, wines and cocktails, silent and live auctions and performances by stars of stage and screen.

Participating chefs/restaurants include Michael Ayoub, Cronkite Pizzeria and Wine Bar;
David DeCarlo, Angus McIndoe; Nancy Olson, Gramercy Tavern; and Cedric Tovar, Waldorf Astoria's Peacock Alley.

The performance line-up includes Tony nominee Manoel Felciano [Sweeney Todd], Tony and DD nominee Malcolm Gets [Amour], Cheyenne Jackson [All Shook Up], composer Michael John LaChiusa, author Alex Prud'Homme [My Life in France with Julia Child] and Mary Testa. Tony and DD winner Ted Sperling [The Light in the Piazza] is musical director.

The Play Company, a not-for-profit Off-Broadway company developing and presenting new works, was co-founed by Kate Loewald, Jack Temchin and the late Mike Ockrent. Lauren Weigel is managing producer.

Tickets are $99 to $5,000 [VIP tables of ten]. For reservations, call Leslie Caiola, (212) 398-2977. For more information, visit http://www.playco.org/.


Lortel Nomination Highlights

The 22nd Annual Lucille Lortel Awards for Outstanding Achievement Off-Broadway will be presented May 7th at New World Stages.

The League of Off-Broadway Theatres and Producers has a limited number of tickets, for the ceremony only, on sale at the NWS box office and through Telecharge.com, (212-239-6200).

Nominated for Outstanding Play are Keith Bunin's The Busy World Is Hushed [Playwrights Horizons], Christopher Shinn's Dying City [Lincoln Center Theater], A.R. Gurney's Indian Blood [Primary Stages] and David Hare's Stuff Happens [Public Theater].

The nominees for Outstanding Musical are Scott Brown and Anthony King's Gutenberg! The Musical!, Lin-Manuel Miranda and Quiara Alegr"a Hudes' In the Heights, Duncan Sheik and Steven Sater's Spring Awakening and Rachel Sheinkin, Valerie Vigoda and Brendan Milburn's Striking 12.Among the special awards to be presented will be Lifetime Achievement to Kevin Kline and Outstanding Body of Work, to Classical Theatre of Harlem. Christopher Durang will be inducted into the Lortel Theatre's Playwrights' Sidewalk. For a complete list of the 2007 nominees, go to www.LortelAward.com.


Sneak Peek at Upcoming Herman Doc

There's quite a buzz going around regarding Words and Music by Jerry Herman, Amber Edwards' 90-minute documentary from NJ Public Television. It will be broadcast in the Fall by PBS, but will have its premiere Saturday, April 14 at the Sarasota [FL] Film Festival.

Before its TV showing, several invitational screenings are planned, such as one on June 18 at New York's Museum of Television and Broadcasting. However, if you would like a preview, go to: http://njn.net/television/specials/wordsandmusicbyjerryherman/ .

Nearly five years in the making, the film incorporates photographs and archival footage, much of it never seen by the public, including Carol Channing's first time singing Hello, Dolly!'s title song; Super-8 films of Angela Lansbury in Mame and Dear World; numbers from Mack & Mabel and the college musical Jerry wrote at University of Miami.

Since 1988, Edwards has been host/producer of NJN's Emmy-winning State of the Arts and producer, writer and narrator of Public Radio's Jersey Arts on the Radio.




[Photos: 2) Martha Swope; 4) Eduardo Pitino]





= ~ = ~ = Recent Archive = ~ = ~ =



Monday, March 5, 2007
[ STARS ] A Banner Season for All-But-Forgotten Playwright Harley Granville-Barker; Voysey Inheritance's Designers; Philharmonic's Fair Lady; Metropolitan's Gaud" to Dal"

Wednesday, March 21, 2007
[ STARS ] Curtain Up on Kander & Ebb's Curtains; Harvey Fierstein Back to Broadway in New Muscial; Recalling Broadway 1938; A CD of 1929 Broadway Classics; Encores! Restores Berlin and Hart's Face the Music

Monday, April 2, 2007
[ STARS ] Kristin Chenoweth to Host Drama Desk Awards; Another Phantom Milestone; A Passion Play; The Balcony Returns; At the Ballet; Choice TV and Film Programs

Wednesday, April 11, 2007
[ STARS ] Antoinette Perry's Daughter's Memories of a Theater Legend; Sondheim Remastered; Something New at the Met for Somethings Old; The Grandivas Return; An Off Broadway Milestone


--------
Ellis Nassour is an international media journalist, and author of Honky Tonk Angel: The Intimate Story of Patsy Cline, which he has adapted into a musical for the stage. Visit www.patsyclinehta.com.

He can be reached at [email protected]





Why are you looking all the way down here?
For more articles by Ellis Nassour, click the links below!

Previous: Kristin Chenoweth to Host Drama Desk Awards; Another Phantom Milestone; A Passion Play; The Balcony Returns; At the Ballet; Choice TV and Film Programs; More

Next: In Legally Blonde, Opposites Attract: Orfeh and Andy Karl Are a Real Life Duo; Celeste Holm Milestone; Cryer and Ford Return Big; Naked Angels One Act Fest; Rockin' Arias; Movies from Tribecca to Boxed Errol Flynn

Or go to the Archives