All About Celeste
Academy Award-winner and Theater Hall of Fame inductee Celeste Holm turns 90 on April 29 and the occasion will be celebrated at a star-studded, invitation-only event in a Times Square eatery.
Grey Gardens producer Michael Alden [who was a producer on the Drama Desk-nominated Bat Boy] is the host. Among those scheduled to appear are Angela Lansbury, Marian Seldes, Christine Ebersol, Elaine Stritch and Michael Feinstein; and old friends Governor Mario Cuomo and his wife Matilda and Walter Cronkite.
Ms. Holm made her stage debut at 17, and was on Broadway two years later. She played bit roles, then a featured one in Saroyan's The Time of Your Life before achieving star status in Oklahoma! She went on to another 23 shows, including Bloomer Girl, The King and I, Mame and, most recently, I Hate Hamlet. She not only knew George M. Cohan, but performed onstage with him five times.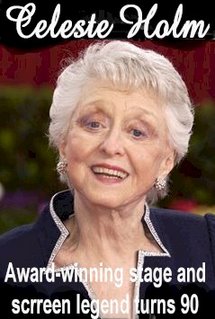 Ms. Holm has never denied the rumor that she ceremoniously turned down producers Zev Buffman and James Nederlander's offer to co-star in the 1979 Broadway revival of Oklahoma! when she realized they wanted her for Aunt Eller and not boy-crazy Ado Annie [who "cain't say no"], the role she originated.
In her third film, Zanuck's anti-Semitc classic Gentlemen's Agreement, she won the Oscar and Golden Globe for Supporting Actress; and was Oscar-nominated twice again for Come to the Stable and All About Eve. Though she made more films, including The Snake Pit, The Tender Trap and High Society [co-starring Bing Crosby, Frank Sinatra and Grace Kelly], it was TV that made her a beloved household presence. She appeared on every conceivable type program, from the Golden Age of live TV and 1965's Rodgers and Hammerstein Cinderalla to her series Honestly, Celeste!
After three divorces, in 1961 Ms. Holm married veteran actor Wesley Addy, who died in 1996. In 2004, on her birthday, she married Frank Basile [not the baritone Saxist, but the tall, handsome opera singer], 45 years her junior. They are a fiercely devoted couple. He helped pull her through the devastating effects of a stroke which affected her speech.

They're Back and They're Everywhere

Through Friday, 59E59 Theatres is host to the return engagement of Gretchen Cryer and Nancy Ford's Getting Their Act Together Again. Cryer, the bookwriter and lyricist, and composer Ford, musical theater's most successful and enduring female writing team, are best known for 1978's I'm Getting My Act Together and Taking It On the Road, which enjoyed a three-year run at the Public and Circle in the Square [downtown] and became an international hit.
GTATA is a take on the "hits and misses" of the duo's professional and personal lives. Between the two, they've garnered two Emmy Awards, a Grammy nomination, Drama Desk Award and, among other honors, an Obie.
Cryer and Ford fans won't want to miss TheatreworksUSA's production of their world premiere musical adaptation of Lucy Maud Montgomery's family classic Anne of Green Gables, presented by through May 5 at the Lucille Lortel Theatre [121 Christopher Street]. Directing is Tyler Marchant.
Tickets for GTATA are $25 [17.50 for 59E59 members] and $25 for AOGG. They're available at http://www.ticketcentral.com/ or by calling (212) 279-4200. Cryer and Ford are also the authors of Circle of Friends at American Girl Place [609 Fifth Avenue at 49th Street]. Tickets are $34. For reservations, go to http://www.amerciangirlplace.com/ or call (877) 247-5223.

Naked One Acts

Playwrights and theater artists have come together at 42nd Street's Duke Theatre to support Naked Angels' presentation of Armed and Naked in America, a program of one-acts with provocative takes on the state of American politics and culture.
Among the playwights featured this week are Warren Leight and David Rabe. Directing will be, among others, Will Frears, Evan Yionoulis and Marisa Tomei. Videos, music performances and guests from the worlds of politics, media, and entertainment compliment the evenings.
For a complete list of plays and showtimes, visit www.dukeon42.org. Tickets are $40 and available at http://www.telecharge.com/ or by calling (212) 239-6200.

Rockin' Arias
If you like your opera with a little rock twist, you'll love the East Village Opera Company, appearing at Town Hall April 27 at 8 P.M. Co-founders lead singer Tyley Ross and arranger/multi-instrumentalist Peter Kiesewalter's mission was "to embrace what the pomposity of rock and the pomposity of opera without demeaning or satirizing either."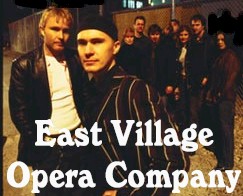 The musicians front an 11-member powerhouse band, with arias sung by Ross and AnnMarie Milazzo. Their unorthodox musical settings are likely to include bossa nova, disco, Celtic and bluegrass - sometimes in the same aria.
EVOC's hard-hitting arrangements surprisingly compliment "Nessun dorma" and "Un bel di" from Pucinni's Turandot and Madama Butterfly, "La donna Ë mobile" from Verdi's Rigoletto, "Au fond du temple saint" and the "Habanera" from Bizet's The Pearl Fishers and Carmen, "Ebben? Ne andrÚ lontana" from Catalani's La Wally and other arias performed full-length and in their original languages.
Tickets for the Town Hall concert are $37.50 and $40.00, and are available from TicketMaster, (212) 307-4100, at http://www.ticketmaster.com/ or the Town Hall box office.
The East Village Opera Company's self-titled CD [Decca/Universal Classics, SRP $13] just hit stores, with 12 tracks produced by three-time Grammy-winner Neil Dorfsman [Sting, Dire Straits, Paul McCartney, Bjork]. The CD contains impressive string arrangements recorded by the Czech Philharmonic Chamber Orchestra featuring lead violinist Pauline Kim.

Upcoming at Town Hall

April 30, Broadway By the Year: The Broadway Musicals of 1959 with Marc Kudisch directing and no doubt singing "unplugged"; on June 18, the season finale The Broadway Musicals of 1964, Part II. Musical director and arranger is Ross Patterson, playing keyboards with his Little Big Band.
Tickets are $40 and $45 and available through TicketMaster.com, by calling (212) 307-4100, visiting the Town Hall box office or www.the-townhall-nyc.org.
If these two concerts sparkle with the still-talked-about surprises and delights of last month's entry, The Broadway Musicals of 1938, audiences are in for a supreme good time. That concert will soon be available on CD from series label Bayview Records.

At the Movies ~
Tribeca Film Fest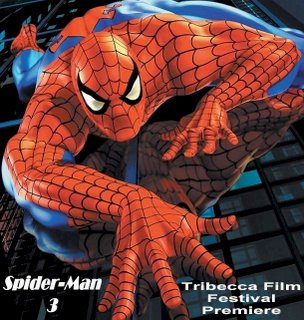 The 2006 Tribeca Film Festival, presented by American Express, begins its sixth year on April 25 [through May 6] with 159 features and 85 shorts from 41 countries. Tribeca Film Festival was founded by Robert De Niro, Jane Rosenthal and Craig Hatkoff. Presented by American Express, the selections include 75 world premieres.
TFF's opening night gala, hosted by former Vice President Al Gore and sponsored by General Motors and National Geographic, will be held at BMCC TriPAC College [Chambers Street and West Side Highway] and include musical performances and the launch of the SOS Short Films Program.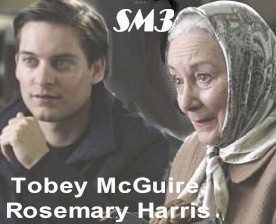 On April 30th at the UA Kaufman Astoria in Queens, Spider-Man 3 [Columbia Pictures]premieres, directed by Sam Raimi and starring Tobey Maguire, Kirsten Dunst, eight-time Tony nominee and five-time Drama Desk winner and multiple nominee Rosemary Harris, James Franco, Oscar-nominee Thomas Hayden Church, Topher Grace, Tony and DD-nominee Dylan Baker, Theresa Russell and Oscar and Emmy-winner Cliff Robertson. There'll be free simultaneous screenings in the other four boroughs.
To purchase Festival passes, packages and individual tickets, go to http://www.tribecafilmfestival.org or call (866) 941-3378. Single tickets can be purchased online, by phone or at the Tribeca Film Festival box office, 15 Laight Street, between Varick Street and Sixth Avenue [one block south of Canal Street]. The web site has a complete list of films, other events [such as free screenings], venues and prices.
How About Something Different?

After the Wedding
[IFC Films], the Danish entry in the Oscar Foreign Film category, is a sweeping drama, taking the viewer from the deepest poverty of an Indian orphanage on the brink of closure to the rarefied world of a billionaire's Copehagen. The director is Susanne Bier, one of Denmark's foremost filmmakers.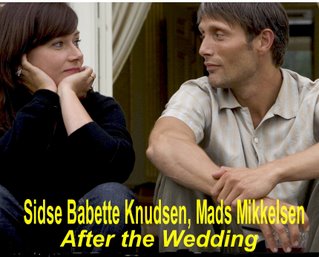 To her and writer Anders Thomas Jensen's credit, what could be a glorified tearjerker with all the makings of a daytime soap plotline, becomes an intimate human drama on the inanity and complexities of life. The film is as sparse as it is stark [following the Danish "dogme" philosophy]. Only toward the finish does Bier disappointingly go Hollywood luxe.
The story: long-ago lovers, beautifully played by Sidse Babett Knudsen and Mads Mikkelsen [seen recently in Casino Royale] are unexpectedly reunited at the nuptials of the woman's daughter; and a secret she's kept from him is suddenly revealed. What follows is a heart-wrenching dilemma, especially when you wonder if the meeting was coincidence or planned by the woman's husband, played by Rolf Lassg‡rd.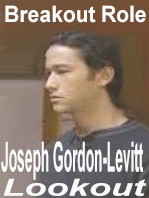 If you're in the mood for a little color film noir, The Lookout [Miramax] is the ticket. The directorial debut of Oscar-nominated writer Scott Frank [Out of Sight], it dives into the human dilemna of survial when you're in way over your head or what used to be your head.
In the breakout role of his career, Joseph Gordon-Levitt distances himself far, far away from zany Tommy Solomon of the long-running sitcom Third Rock from the Sun.

The story: a high school hockey champion's life is forever altered after an auto accident that leaves him as "damaged goods" and two friends dead and a girlfriend disabled. His days and nights are a series of routines to help him relearn lifeskills. He says, "I want to be who I was," but that can never be. The plot thickens a criminal element decides to take advantage of that. Jeff Daniels and Matthew Goode [Match Point] provide strong support.

In Like Flynn
Errol Flynn thrilled audiences and stole hearts during a career that encompassed more than 50 films. His stock in trade was hanging from masts, often with a sword in one hand and a maiden in the other, and duels to the death. His natural athleticism and good looks made him one of the most popular stars of the 30s and 40s.
In classics such as
The Adventures of Robin Hood, The Sea Hawk
and
Captain Blood
, his exploits were awe-inspiring. Sadly, as he grew older he didn't grow wiser. He lived his onscreen rake's image to a hilt - getting into brawls, scandals and providing screaming tabloid headlines - and dying four months after hitting 50.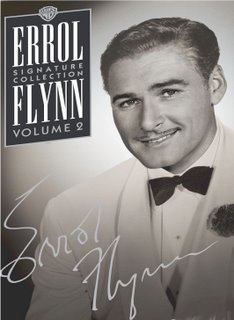 2005 saw the release of Errol Flynn: The Signature Collection, Volume 1 [Warner Home Video], which featured the above titles, The Private Lives of Elizabeth and Essex [co-starring Bette Davis] and the gritty Westerns They Died with Their Boots On and Dodge City.
Just released is Volume 2 of Errol Flynn: The Signature Collection [WHV, SRP $50], five-discs in the new compact "Skinny" DVD cases [half as wide at one and a half inches] with meticulously remastered editions of Flynn classics The Adventures of Don Juan, The Charge of the Light Brigade, The Dawn Patrol, Dive Bomber and Gentleman Jim.
Each contain director/historian commentaries and loads of bonus material, such as Oscar-nominated shorts, musical two-reelers, cartoons, even vintage newsreels.
Two films make the set a must. ...Don Juan [1948], in Technicolor, was Flynn's return to swashbuckling adventure, under the sure hand of director Vincent Sherman, as he rescues the Spanish queen [Viveca Lindfors] from the snares of an evil duke. Amidst Oscar-winning costumes and superb sets, Flynn dalliances with married beauties, narrow escapes from dungeon escapes and that duel.You know the 300, now meet the 600.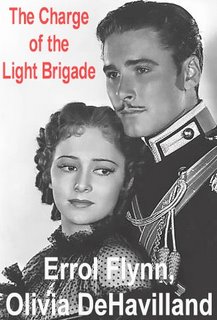 The Charge of the Light Brigade [1936], B&W, is inspired by Tennyson's poem, "Into the valley of Death rode the six hundredÖReel'd from the sabre-stroke, shatter'd and sunder'd. Then they rode back, but not, not the six hundred."
The charge is a pulse-pounding nine minutes of thundering hoofs and flashing sabers as Flynn abetted by British Lancers challenge 25,000 Russians. Olivia de Havilland, Flynn's ... Robin Hood and Captain Blood throb, co-stars. Max Steiner composed the score.
The Dawn Patrol [1938], directed by Edmund Goulding, costars David Niven in an aerial action yarn as WWI British flyboys quaff down beers and gun down their German foes. Basil Rathbone is featured.
Dive Bomber [1941], Technicolor, has Flynn going to war as a flight medical researcher. Fred MacMurray plays his squadron commander. Directed by one of Hollywood's greatest action pros, Michael Curtiz [Casablanca], the flyboys put differences aside and risk all to confront blackout-inducing G-forces and high-altitude sickness. A "co-star" is the USS Enterprise, World War II's most decorated aircraft carrier.
Flynn was a man's man and Gentleman Jim [1942] is a man's movie. He's Irish American heavyweight champ James J.Corbett, doing rigorous fight choreography and gliding footwork, jabbing not too gently with a strong left-hook. Alexis Smith, at her peak, co-stars. Based on Corbett's autobiography The Roar of the Crowd. Another Hollywood great, Raoul Walsh, who helmed seven Flynn films, directed. Ward Bond plays boxer John L. Sullivan.

Upper West Fest

Symphony Space presents the Second Annual Upper West Fest, celebrating the diverse cultural and artistic richness of Manhattan's Upper West Side, from April 28 - May 20 with 20 UWS cultural organizations participating. There'll be more than 50 dance, music, art, film, theater, family programs and special events - some free.
The Upper West Fest is sponsored by Zabar's and zabars.com. Media sponsors are the West Side Spirit and The New York Times.
The Fest is offering a $25 pass [allows additional free tkt to same event]. For full programming, event times and venues, visit http://www.upperwestfest.com/.

Celebrating William Inge
The 26th Annual William Inge Theater Festival, held April 25 - 28th, will honor Jerry Bock and Sheldon Harnick for their Distinguished Achievements in the American Theatre. The first Peter Stone Librettist Award will go to Joseph Stein. The Festival, at the William Inge Center for the Arts at Independence [Kansas] Community College, will pay homage to Wendy Wasserstein and August Wilson; and debut Touched, a new play based on Inge's life.
Tony-nominee Walter Willison will present William Inge: The Musicals, numbers from various musicals [produced, workshopped or announced] adaptated from Inge plays, such as Hot September [from Picnic], Bus Stop and Come Back, Little Sheba.
For information on workshops, guests and readings, visit http://www.ingefestival.org/.
East Village Inge
Inge's semi-autobiographical Tony-nominated
The Dark at the Top of the Stai
rs, his last major play, is revived Off Broadway in the Transport Group's 50th Anniversary production at the Connelly Theatre [220 East 4th Street, between Avenues A and B]. Donna Lynne Champlin, mostly known for musicals and making a huge dramatic leap with this production, Patrick Boll, Colby Minifie [
The Pillowman
] and Jay Potter head the cast of six, which features Tony Award winner Michele Pawk [
Hollywood Arms
] in the scene-stealing role of brassy Lottie Lacey. The director is TG's A.D. Jack Cummings III [DD-nominated
The Audience
].
Musical Comedy Monday


Queen Esther
, a family musical based on the story of Purim by Ryan Cunningham and Joshua Salzman [
I Love You Because
], is being presented April 23 at 6 P.M. by Musical Mondays at the McGinn/Cazale Theatre [Broadway at 76th Street]. Musical Mondays produces in concert with the Tony-honored BMI-Lehman Engel Musical Theatre Workshop.
Tickets are $10. To reserve, call (212) 989-6706.
[Photos: 2 and 3) PAUL KOLNICK; 4) AUBREY RUBEN; 6 and 7) Columbia Pictures; 8) IFC Films; 9) ALLEN FRASER/Miramax Films; 10) Warner Bros.
]
Recent Archive :
Monday, March 5, 2007
[ STARS ] A Banner Season for All-But-Forgotten Playwright Harley Granville-Barker; Voysey Inheritance's Designers; Philharmonic's Fair Lady; Metropolitan's Gaud" to Dal"
Wednesday, March 21, 2007
[ STARS ] Curtain Up on Kander & Ebb's Curtains; Harvey Fierstein Back to Broadway in New Muscial; Recalling Broadway 1938; A CD of 1929 Broadway Classics; Encores! Restores Berlin and Hart's Face the Music
Monday, April 2, 2007
[ STARS ] Kristin Chenoweth to Host Drama Desk Awards; Another Phantom Milestone; A Passion Play; The Balcony Returns; At the Ballet; Choice TV and Film Programs
Wednesday, April 11, 2007
[ STARS ] Antoinette Perry's Daughter's Memories of a Theater Legend; Sondheim Remastered; Something New at the Met for Somethings Old; The Grandivas Return; An Off Broadway Milestone
Monday, April 16, 2007
[
STARS
] In
Legally Blonde
, Opposites Attract: Orfeh and Andy Karl Are a Real Life Duo; Celeste Holm Milestone; Cryer and Ford Return Big; Naked Angels One Act Fest; Rockin' Arias; Movies from Tribecca to Boxed Errol Flynn