A lot of memories have surfaced in the last two days about the incredible life of Kitty Carlisle Hart.
In 2002, when Rick McKay was attempting to raise awareness and funding to continue shooting his documentary Broadway: The Golden Age, By the Legends Who Were There, TV and recording personality and producer Jamie deRoy gave a reception for possible investors. Jane Powell, Farley Granger, Sheldon Harnick and Elizabeth Ashley were among the theatrical names in attendance.
About a quarter hour into the event, all eyes suddenly turned to the door as Kitty Carlisle Hart arrived - "chic as all hell," as one attendee put it - magnificently-coiffed, bejeweled and stylish beyond belief in a peach suit cut well above her knees and matching peach pumps. McKay went to greet her.
Skipping the small talk, she asked, "Whose house is this and what are we here for?" McKay told her. "Rick, darling," said Miss Hart, "I don't know exactly what you want me to do, but you just tell me what's expected of me and I'm off and running."
McKay explained that she didn't have to do a single thing except enjoy the same portions of the film and mingle. She looked him dead in the eye and purred, "In that case, tell me where the Champagne is!" McKay and deRoy got her some bubbly and Miss Hart spent around the room for hours pressing flesh and singing the praises of the film.
She mingled, that's what she did. And no one mingled better than Kitty Carlisle Hart.
"It was hard to believe that she was ninety-one," said Jane Klain of the Museum of Television and Radio. "As she played the room, she was thrilled not to be the oldest person in the room." That distinction went to [the late] Fay Wray.
Thanks to Miss Hart's imprimatur, McKay was able to raise the financial backing to continue his film.
That scenario was repeated time and time again through Miss Hart's 96 years of being a star of the concert stage, screen, TV, opera, recordings, niteries, her more than 70 years in the spotlight being well, Kitty Carlisle Hart, the perennial doyenne of New York society.
Her enthusiasm for doing the impossible could be infectious, most evidenced during her years as chair of the New York State Council on the Arts when she got legislators to make a complete turnaround in support of culture.
She attributed her longevity to discipline. She vocalized and exercised every day. After getting elegantly coiffed and stylishly dressed, she would stop in front of her full-length mirror to inspect "the goods," as she put. She'd look long and hard at herself and say, "I forgive you," as if somehow God didn't make her almost perfect. Then it was out the door, rarely into a limo but most often into a taxi and off to the adventures of her enormously active social axis.
In her 90s, Miss Hart amazed the theatrical community by going onstage again in her one-woman musical memoir Here's to Life at Feinstein's. She then proceeded to tour it around the country until about four months ago, when she was struck down by pneumonia.
Miss Hart, according to son Christopher [a West Coast-based producer/writer/director], passed away in her sleep Tuesday night. Her daughter Catharine said the ultimate cause of death was heart failure. As indefatigable as she always was, everyone expected her to live into her hundreds.
"Mother had such a wonderful life," Christopher Hart reported, "a great long run." How true.
"I love to make people laugh," Miss Hart often said. "It makes me happy." Even though she led the rarefied life that few of us will ever attain, she wasn't a snob.
Miss Hart was being remembered in obituaries for her entertainment career and her philanthropy [through the years she was on the board of countless charities and helped raise millions for worthy organizations], but what always struck me about her was her graciousness, impeccable manners and interest in those she met, even a lowly bus boy at her regular luncheon haunt, Gene Cavallero's famed Colony restaurant, then the gathering place of socialites and notables, gourmets and potentates, having her favorites, duck la orange and steak Diane.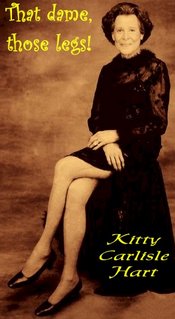 Her memory, especially her recall of names, amazed everyone she came in contact with. In the following years as that bus boy became a journalist, film studio exec, publicist, author and then an entertainment media writer, though their encounters weren't frequent, she always remembered his name and the fact that twice, in pouring rain, he hailed cabs for her.
He never forgot the pleasure of her company on the occasion of a 1999 concert production of late husband, the legendary Moss Hart's Jubilee [music by Cole Porter] in London at Ian Marshall Fisher's Lost Musicals; nor the invitations to her birthday "bashes," especially the "big one" when the Metropolitan Opera Guild honored not only Miss Hart but also Mr. Hart at a gala benefit called Hart to Hart in Avery Fisher Hall in 2004.
The performance was co-hosted by Beverly Sills and Julie Andrews [a star of Lerner and Loewe's Camelot and My Fair Lady, which Mr. Hart directed] and featured rare film and video excerpts as well as live performances and appearances by Miss Hart's opera semi-contemporaries Anna Moffo, Rise Stevens; and Jane Alexander, Audra McDonald, Robert Goulet [Lancelot in Camelot], Thomas Hampson, Celeste Holm, Rosemary Harris, Michael Feinstein and, among numerous others, former Governor Cuomo. As a special surprise, Kitty Carlisle Hart sang and brought the house down.
Rick Borutta, who has a documentary, Ubuhle Bezandla [South African for Beauty from Our Hands] at the Cannes Short Film Corner, worked as personal assistant to Elaine Stritch on her Tony and Drama Desk-winning Öat Liberty. Over a year ago, he was introduced to Miss Hart by Michael Feinstein, to shoot a documentary. He's captured approximately 20 hours.
"I followed Miss Hart everywhere," he reports. "Reading her autobiography didn't prepare me for Kitty: The Real Thing. On a cold February evening, we were on the way to the Metropolitan Museum for the gala opening of the Rauschenberg retrospective. When we got out of the taxi, Kitty, noticing a full moon, took a coin out of her purse, raised it toward the beacon of blue light and made a wish.
He continues, "As I was catching that moment on tape, I thought to myself ëWhat in the world could she be wishing for?' Kitty had everything: fame, fortune, devoted children and she had a wonderful life with a handsome husband. Even tough I'd only known her briefly at that point, I knew of her long list of good deeds helping people. It dawned on me that perhaps as she made her wish she was passing it to someone who needed it."
Although we tend to remember Kitty Carlisle Hart as the society queen living in Park Avenue luxury, she knew hardships.
"Everyone thought Kitty was surrounded by wine and roses," said Borutta. "It wasn't always so. Her mother was a major force in shaping her, and from the way Kitty described those times, she could be quite overbearing and her sharpest critic."
McKay called Miss Hart "the last of the true class acts." He filmed "that fabulous face" on three occasions and really got to know her. "We spent several nights together! One night, we sat chatting away and I remembered something that [the late] composer and musical director Wally Harper [who partnered with Barbara Cook for eons] told me, Kitty had commissioned him to adapt a musical version of one of Moss' plays.
At 13, upon the death of her husband [a former mayor of Shreveport, Louisiana, where Miss Hart was born], Hortense Conn uprooted her daughter from life in native New Orleans and they made the rounds of the European capitals. Young Kitty was tutored in piano, voice and the dramatic arts. Her mother accompanied on violin "and whenever I made a mistake, she would take her bow - like a long finger! - and touch the page. It felt like a severe reprimand."
Overseas, the goal was to land a suitable marriage, preferably to a king or prince; but when no royal coronets blared, Miss Hart's mother grew frustrated. In her autobiography, Miss Hart wrote that her mother came down strong against her, stating "You're not the prettiest girl, not the best singer and not the best actress, but if we put them all together, we'll find the husband we're looking for."
They eventually settled in New York, where young Kitty was to launch her stage career. Mother, still her harshest critic, looked her in the eye after her first performance and said sternly, "My dear, we've made a ghastly mistake." But Miss Hart persisted.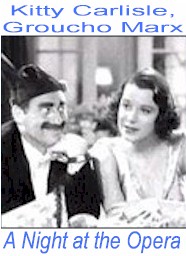 Her stage career [Internet Broadway Database: Kitty Carlisle Credits on Broadway] was overshadowed by her departure for Hollywood, no doubt in search of Tinseltown "royalty." She sang, quite gloriously, in three films before the esteemed director Sam Wood offered her A Night At the Opera [1935], starring opposite the Marx Brothers, Margaret Dumont, Sid Ruman and Allan Jones.
Duck Soup, the brothers' previous was a box office disappointment and none other than Hollywood wonder boy Irving Thalberg went to work to make sure their next picture wouldn't be. In addition to the zany gags, he insisted on a story, and a love story; and he personally helped to select not only the operatic arias but also the film's other songs.
The result, with everything including the kitchen sink thrown in, didn't make a lot of sense but it was nonetheless a gigantic smash.
Ironically, in spite of the fact that Kitty Carlisle had a classically trained voice, she almost didn't get to do her own vocals. "I agreed to do the film to sing opera seriously," she has said. In a Marx Brothers' movie? Yes; and she knew who they were: "knockabout comics." She admitted later she considered doing the movie "slumming." Then to arrive on set and hear someone's voice on the playback, "well, that was the last straw. I walked out." She held up production for three days until cooler heads prevailed. "So those High Cs you hear in the film are mine!"
However, the movies didn't seem interested in keeping Miss Hart out West. Back East, she returned to the musical stage in White Horse Inn and Three Waltzes. She became friends with the witty, stingingly sarcastic Dorothy Parker and soon found herself in the intimate circles of the famed Algonquin Round Table where Miss Parker, critic/writer Alexander Woolcott and other literary luminaries took on one and all.
Still, the "royal" marriage eluded her and Miss Hart's mother constantly reminded her that was wasn't getting any younger and that her female clock was ticking, ticking, ticking away.
Then it happened. At an audition, Kitty Carlisle met Moss Hart, already a Pulitzer Prize-winner for You Can't Take It with You. She didn't get the role, and neither did sparks erupt; but, wrote Miss Hart, "I knew that he was the one." It took a while for him to realize it - nearly 10 years!
"Finally, one evening," recalled Miss Hart, "we were at Lillian Hellman's, sitting near each other, and I asked him a direct question. For the first time he looked at me and saw that I was no-nonsense. When he called the next day, he asked if I was surprised. I said no." She said she knew finally she'd gained his respect. "Neither of us was very happy, but from then on, we were in each other's pockets."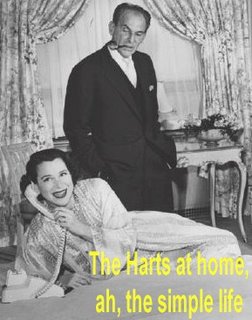 Moss and Kitty, as everyone called them, married eight months later. She was a "very old" 36. He was 42. They became one of Broadway's most colorful couples for 20 years. Already famous for his writing partnership with George S. Kaufman, Mr. Hart branched out into directing and producing.
Miss Hart often laughed that she was a "late bloomer" as far as becoming a concert and opera star since she didn't make her Metropolitan Opera debut until she was in her mid-50s. At the Met, she starred in Die Fledermaus and created the role of Lucretia in the American premiere of Benjamin Britten's Rape of Lucretia.
Recalling her mother, Miss Hart told Borutta of a time when she was admonished about an F-sharp she'd sung, with her mother intimating that it needed work. "I quipped, ëSo how's your F-sharp now?' She gave me a wink, wagged her finger and smiled, ëIt's just fine.'"
McKay told Miss Hart how much he liked her vocal register. "Kitty looked at me and smiled, 'Moss used to tell me the same thing. However, when we were driving between towns when he was doctoring shows previewing prior to Broadway, he'd say, 'Sing to me in that looooow voice I love so much.' I'd do it, but I told him if I had stuck to that register I wonder where my career would have gone?'"
Whenever they'd meet, McKay reported he and Miss Hart would get off on tangents and talk long after the camera was off. "Kitty told me stories about the parties she and Moss threw and who'd sing at the piano - Judy Garland, Leonard Bernstein, many others. Once, I asked how a particular song went and, in a low, lovely voice you didn't hear often from that classically trained soprano, she sang a few bars. As she sang, my mind raced back all those years to A Night at the Opera and I could hear Rosa Castaldi and Ricardo Baroni [Allan Jones] singing that great love ballad 'Alone' up there on the screen."
In 1961, four years after directing the landmark Lerner and Loewe musical My Fair Lady [for which he won the Tony for Best Director], Mr. Hart collapsed and died of a massive coronary. He was only 57. It was a devastating blow "as Moss was everything to me," said Miss Hart. "Everything!"
She was bequeathed a generous estate from the millions in royalties from Mr. Hart's plays and musicals [Internet Broadway Database: Moss Hart Credits on Broadway], but she didn't have access to it.
"I had two children and little money," she reported, "and I found myself tied up in litigation." For reasons unknown, the courts ruled against her receiving it. It took years for legal eagles to untangle the financial web. "I had no choice but to go back to work."
Her job made her a household name in America. She was on a panel of three and four celebrities [an array of Hollywood and Broadway Who's Who and featuring the dry wit of co-regular Henry Morgan] on a new show hosted by Bud Collyer, To Tell the Truth, where the blindfolded panelists attempted to guess the identity of mystery guests, often newsmakers and stars. Collyer would intone: "Will the real __________ please stand up?" The percentage of times the panel guessed correctly was amazing.
Miss Hart remained a popular entity for 16 seasons. They weren't all happy ones.
"A cigarette manufacturer was one of our sponsors," she noted. "In those days, the sponsor like you using their product, and they wanted us to smoke on camera. We had no intention of helping them sell their cigarettes and threatened to go on strike if Goodson-Todman [Productions] and CBS made us."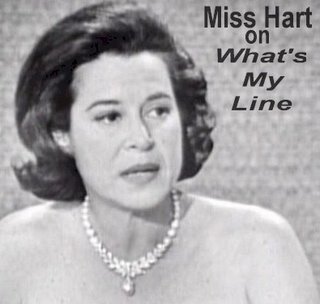 She also became a regular on What's My Line, hosted by John Daly and also starring the venomous but witty gossip columnist Dorothy Killgalen, Arlene Francis and the acerbic Bennett Cerf.
In 1971, after she ended her stint on the quiz show, Miss Hart, aged 64, at the urging of Governor Hugh Carey agreed to join the New York State Council on the Arts. Five years later, she became council chair, a post she held 21 years - stepping down at the age of 85, still going, going, going strong.
"It was a lot of work," she stated, "but worth it! There was no better way to give a child who's in trouble a chance at a new life than to introduce him or her to the arts." She traveled New York State exhaustively, visiting classrooms, museums, theater and dance companies to not only give encouragement but to also discover what they needed."
Governor Nelson Rockefeller appointed her chair of the Statewide Conference of Women and later as special consultant to New York on women's opportunities. Among many honors, she became an honorary trustee of the Metropolitan Museum of Art and the Museum of Modern Art.
Miss Hart could move mountains to accomplish great things. It's all but forgotten now, but in 1986 she was instrumental is saving 890 Broadway from being transformed from rehearsal studios into office space. Owner Michael Bennett purchased it with his A Chorus Line royalties and was about to put it on the market. Miss Hart convinced real estate mogul Lawrence Wein to purchase the building [for a then mean $15-million] and continue to maintain it as a theatrical center.
1984 saw the publication of her autobiography, Kitty, in which Miss Hart regally entertained but chose to skim over a number of personal details, especially in regard to her marriage. In 1998, Miss Hart was named a "living landmark" by the New York Landmarks Conservancy. The next year, saw her induction into the Hall of Fame.
At Miss Hart's apartment in the East 60s, Borutta observed that Mr. Hart still maintained a strong presence. "There was a first edition of Act One, his autobiography, on a table near the piano with an inscription to Kitty thanking her for encouraging him to write the book."
The apartment was also adorned with paintings given to Miss Hart by many admirers, including George Gershwin, who was an early beau, Irving Berlin and Noel Coward. Borutta says Miss Hart was a wonderful storyteller.
"She was able to remember long ago details about a conversation with Dorothy Parker and how appalled she was when Kitty told her what it was like for a young actress breaking into the business."
During another tape session, Borutta describes Miss Hart being "discreet, as one would expect, and indiscreet, as one might hope. Not above a bit of gossip, she began to tell me about an evening when Judy Garland came for a dinner party. They were friends since Mr. Hart wrote the screenplay for A Star Is Born [adapted from Dorothy Parker's original non-musical film]. Kitty asked me to turn the camera off."
She proceeded to describe how Judy excused herself to go to the bathroom. Sensing what Judy wanted, Kitty kept insisting that Judy use the downstairs powder room. But Judy left the dining room and went upstairs. Later, when Mr. Moss went to take a sleeping pill, he noticed that his last two were suddenly missing."
Miss Hart told McKay several Garland stories. "Judy was rigorously dieting to get through the shoot of A Star Is Born and was under enormous pressure to deliver. 'But,' said Kitty, 'she'd love to sneak off the set with me, since I had a car. When she got in the car, the first words out of Judy's mouth were, ëWhere is it? 'Fess up!' She was speaking of the chocolate that I always kept in the car. It became a routine and I got to the point where I would stop and buy more chocolate before I picked her up!'"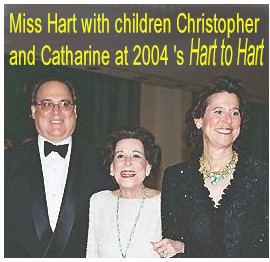 Several months later, McKay read that a theatre was showing A Star is Born in a new 35mm print. "I took Kitty and every time Judy came on screen, brilliant but probably ten to fifteen pounds overweight, Kitty would whisper 'I never should have given her that chocolate!' I can never watch the film without thinking of Judy and that woman in the dark and cracking up."
Going out to social events became part of Miss Hart's daily life. "It seemed she was going somewhere to something important every night," recalls McKay. "The time I arrived to film her segment for my movie [Broadway: The Golden Age...], Kitty was rehearsing with her pianist and friend David Lewis. She was in a bathrobe and had no make-up on.
"When they finished," McKay continues, "Kitty went to dress and make-up. I was on a tight schedule and wondered how much time we'd have. I knew she had an event that night and was worried she might tire easily. I knew that any woman going from a robe and no make-up to full evening dress would require hours. But, lo and behold, five minutes later Kitty was back - in full regalia, all made up and hair coiffed and speaking to me through those perfect, bright red rouged lips."
One night out was that February night at the Met with Rick Borutta. "It was amazing how people young and old gravitated to Kitty. Everyone was thanking her for all she did to support the arts and what that meant to them. Kitty enjoyed the champagne toasts, flowers and seemed to be able to laugh about the bum times."
Kitty Carlisle Hart was inducted into the Theater Hall of Fame and in 1991 President George Herbert Walker Bush bestowed on her the National Medal of Arts.
Of her passing, David Lewis, Miss Hart's longtime musical director, said, "Kitty will be remembered not only as the grande dame of show business but also for her unselfish philanthropy and her support for American musical theater."
Visit Kitty Carlisle Hart's web site : www.kittycarlisle.com/. For a tribute from National Public Radio, including Miss Hart singing "Alone" from A Night at the Opera and "In Marsovia" from The Merry Widow,
visit www.npr.org.


[Photos: 1) Hart Estate; 2) Portrait by JOYCE TENNESON from her Wise Women Portfolio; 3) Warner Home Video]

Recent Archive :
Monday, March 5, 2007
[ STARS ] A Banner Season for All-But-Forgotten Playwright Harley Granville-Barker; Voysey Inheritance's Designers; Philharmonic's Fair Lady; Metropolitan's Gaud" to Dal"
Wednesday, March 21, 2007
[ STARS ] Curtain Up on Kander & Ebb's Curtains; Harvey Fierstein Back to Broadway in New Muscial; Recalling Broadway 1938; A CD of 1929 Broadway Classics; Encores! Restores Berlin and Hart's Face the Music
Monday, April 2, 2007
[ STARS ] Kristin Chenoweth to Host Drama Desk Awards; Another Phantom Milestone; A Passion Play; The Balcony Returns; At the Ballet; Choice TV and Film Programs
Wednesday, April 11, 2007
[ STARS ] Antoinette Perry's Daughter's Memories of a Theater Legend; Sondheim Remastered; Something New at the Met for Somethings Old; The Grandivas Return; An Off Broadway Milestone
Monday, April 16, 2007
[ STARS ] In Legally Blonde, Opposites Attract: Orfeh and Andy Karl Are a Real Life Duo; Celeste Holm Milestone; Cryer and Ford Return Big; Naked Angels One Act Fest; Rockin' Arias; Movies from Tribecca to Boxed Errol Flynn
Friday, April 20, 2007
[ STARS ] Remembering Kitty Carlisle Hart: Just Point Her in the Right Direction and She Would Be Off and Running