Outstanding Actress, Musical: Ashley Brown,
Mary Poppins
; Laura Bell Bundy,
Legally Blonde
; Kristin Chenoweth,
The Apple Tree
; Audra McDonald,
110 in the Shade
; Lea Michele,
Spring Awakening
; Donna Murphy,
LoveMusik
Outstanding Featured Actor, Play: Anthony Chisholm, Radio Golf; Billy Crudup, The Coast of Utopia; Boyd Gaines, Journey's End; John Ortiz, Jack Goes Boating; Andrew Polk, The Accomplices; Frederick Weller, Some Men
[How did Charles Weldon, Seven Guitars; David Greenspan, Some Men; and Arthur French, Two Trains Running, get overlooked?]
Outstanding Featured Actress, Play: Myriam Acharki, Woyzeck; Xanthe Elbrick, Coram Boy; Sarah Nina Hayon, Rearviewmirror; Jan Maxwell, Coram Boy; Martha Plimpton, The Coast of Utopia; Rita Wolf, The American Pilot
[Isn't the exclusion of Michele Pawk in The Dark at the Top of the Stairs; Jennifer Ehle, The Coast of Utopia; and Brenda Pressley, Seven Guitars, a terrible oversight?]
Outstanding Featured Actor, Musical: Brooks Ashmanskas, Martin Short: Fame Becomes Me; Christian Borle, Legally Blonde; Aaron Lazar, Les Miserables; Gavin Lee, Mary Poppins; Orville Mendoza, Adrift in Macao; David Pittu, LoveMusik
[Isn't Lee the co-star of Mary Poppins? How did Stephen Spinella of Spring Awakening get left out?]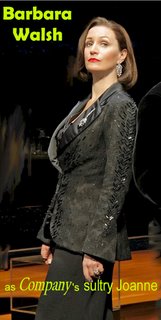 Outstanding Featured Actress, Musical: Linda Balgord, The Pirate Queen; Celia Keenan-Bolger, Les Miserables; Debra Monk, Curtains; Orfeh, Legally Blonde; Barbara Walsh, Company; Karen Ziemba, Curtains

[Isn't Monk the co-star of Curtains? How could Christine Estabrook of Spring Awakening be left out of this category?]
Outstanding Director, Play: Declan Donnellan, Twelfth Night; Michael Grandage, Frost/Nixon; Doug Hughes, Inherit the Wind; Jack O'Brien, The Coast of Utopia; Ciar·n O'Reilly, The Hairy Ape; Tom Ridgely, Marco Millions (based on lies)
Outstanding Director, Musical: John Doyle, Company; Thomas Kail, In the Heights; Michael Mayer, Spring Awakening; Jerry Mitchell, Legally Blonde; Harold Prince, LoveMusik; Alex Timbers, Gutenberg! The Musical!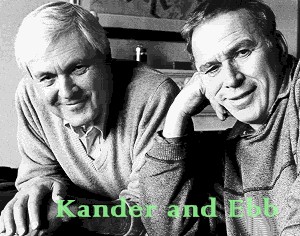 Among those receiving special awards are John Kander and [the late] Fred Ebb "for 42 years of excellence in advancing the art of the musical theater"; the National Yiddish Theatre Folksbiene "for preserving 92 consecutive seasons the cultural legacy of Yiddish speaking theater in America" and theatrical company Transport Group [the revival of The Dark at the Top of the Stairs; the original musical The Audience] "for its breadth of vision and its presentation of challenging productions."
For a complete list of the Drama Desk nominations and information on purchasing tickets for the May 20 Awards, go to www.dramadeskcom.

Legends Honored ~
Celeste Holm
Academy Award-winner and Theater Hall of Fame inductee Celeste Holm turned 90 Sunday, April 29 and the occasion was celebrated at a star-studded event at Times Square eatery Tony di Napoli, where Miss Holm was also inducted into the restaurant's Broadway Wall of Fame.
Miss Holm made her stage debut at 17 in King Lear in a cast headed by Leslie Howard. She was on Broadway two years later. After several bit roles, then a featured one in Saroyan's The Time of Your Life, she achieved star status as boy-crazy Ado Annie [who "cain't say no"] in Oklahoma! She went on to another 23 shows, including Bloomer Girl, The King and I, Mame and, most recently, I Hate Hamlet. She not only knew George M. Cohan, but performed onstage with him five times.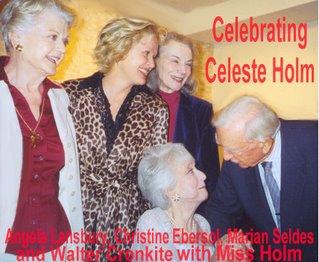 In her third film, Elia Kazan's blistering drama based on Laura Z. Hobson's novel on anti-Semitism, Gentlemen's Agreement [screenplay by Moss Hart], she won the Oscar and Golden Globe for Supporting Actress; and was Oscar-nominated twice again for Come to the Stable and All About Eve.
Though she made more films, including The Snake Pit, The Tender Trap and High Society [co-starring Bing Crosby, Frank Sinatra and Grace Kelly], it was TV that made her a beloved household presence. Miss Holm appeared on every conceivable type program, from the Golden Age of live TV and 1965's Rodgers and Hammerstein Cinderalla to her series Honestly, Celeste!
Through the years she became intimately involved in child welfare issues as a United Nations UNICEF Ambassador. President Reagan bestowed the Medal of Freedom on her.
After three failed marriages, in 1961 Ms. Holm married veteran actor Wesley Addy, who died in 1996. In 2004, on her birthday, she married opera Frank Basile, 45 years her junior, who on her birthday and their anniversary serenaded her with "Some Enchanted Evening." They are a fiercely devoted couple. He helped pull her through the devastating effects of a stroke which affected her speech.
The event was hosted by Grey Gardens producer Michael Alden. Among those paying tribute were former Governor Mario Cuomo and Mrs. Cuomo, Walter Cronkite and his 25-years-younger main squeeze Joanna Simon [sister of Carly], Christine Ebersol, Michael Feinstein, , Joe Franklin, Angela Lansbury, Joyce Randolph, Marian Seldes, Elaine Stritch, K.T. Sullivan, Bruce Vilanch, Fritz Weaver and Julie Wilson.
As anyone in the know knows, you risk danger getting onto the path between Elaine Stritch and a live microphone. That was true Sunday with Stritch, well, being Stritch. She blew in almost an hour late, complained there wasn't a place set for her, then of having to be anywhere at that time on a Sunday and, as Miss Holm's portrait was about to be unveiled, hogged the mike. Then, really being Stritch, she promoted some writer she was fond of and preceeded to tell guests that at the end of a video tribute sent by a TV star who couldn't be present, Miss Holm asked, ëWho's that?" Not very classy. News for Stritch: you think Miss Holm even knew who you were when you plopped down next to her and gave her that pink rose?

Jane Powell

MGM musical comedy star Jane Powell, still a Size 2 and quite radiant at 78, was the subject of a SRO Friars Club luncheon salute where she was interviewed by Joel Siegel, who revealed that when they were both growing up in Hollywood they lived only a block apart.
Miss Powell starred in Royal Wedding, where she danced with Astaire, Seven Brides for Seven Brothers, A Date with Judy, Hit the Deck and numerous guest stints on TV. Onstage, she appeared on Broadway in Irene, Off Broadway in Avow and regionally in the premiere of Sondheim's Bounce.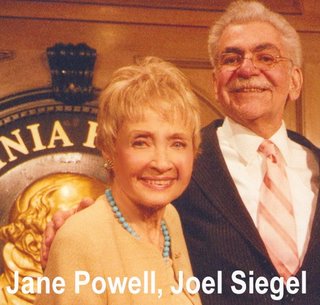 She admitted that she became a reluctant movie star "because my parents wanted me to. They had sacrificed so much, I didn't want to let them down."
Being famous at MGM wasn't a happy time. "I had no social life," she said. "I took classes on the set or in the ëLittle Red Schoolhouse' [with Liz, Roddy McDowall and Daryl Hickman]. But I was never there. I was daydreaming of being back home in Portland. I lived for the letters from my friends, who wrote and told me about their lives. When I wrote, I never said anything about knowing Fred Astaire or Clark Gable. I didn't want to brag. I didn't want them to think I was stuck up."
The event was produced by Randie Levine Miller. Fasten your seat belts, folks. Next up: Lanie Kazan, June 26. Columnist and theater critic Peter Filichia will be in the passenger seat.

The Dreams on DVD
Twenty-five years after first bringing audiences to their feet on Broadway, Henry Krieger and Tom Eyen's Dreamgirls arrived onscreen. David Geffen, who controlled the rights, was very protective and wanted to make sure he put the show in the right adapter's hand. He did. It was a long wait, but well worth it. Thanks to producer Laurence Mark and director Bill Condon, Dreamgirls is a dream! Michael Bennett would be proud.
Dreamgirls is officially released today on DVD, including a two-disc "showstopper" edition [Paramount Home Entertainment, SRP $35]. The film was nominated for eight Oscars, but puzzlingly wasn't nominated for Best Picture. However, it received that honor and won from the Golden Globes.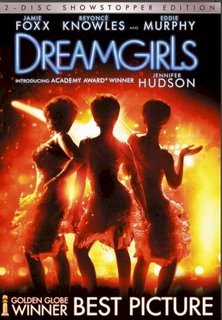 Dominating and stealing the film in her screen debut is Jennifer Hudson as Effie Melody White. For her performance she won Featured Actress Awards from the GGs and the Academy.
Hudson stars opposite Academy Award winner Jamie Foxx, the stunning BeyoncË Knowles [in the role of Deena Jones], Eddie Murphy [perhaps the finest performance of his career] as James "Thunder" Early, Tony winner Anika Noni Rose [Caroline or Change] as Lorrell Robinson, Keith Robinson as Effie's brother C.C., Danny Glover, three-time Tony Award winner [and two-time Drama Desk Award nominee] Hinton Battle. Featured in a cameo is original Dreamgirls star Loretta Devine.
Hudson is nothing short of breathtaking. Her Effie is one of the most impressive motion picture debuts ever. She scores extraordinarily well in performance, in comic bits and especially when she lets go of the caged fury that's been building as she realizes the man she loves, group manager Curtis Talylor [Jamie Foxx, who makes a smooth slick "villain"] is pushing her into the background in the recording studio and onstage because he infatuated with Deena.
Mark and Condon conducted a six-month search for their Effie and Deena. [Disc Two of the DVD "showstopper" edition features screen tests and auditions.] They saw more than 780 women in Atlanta, Chicago, Detroit, L.A., New York and St. Louis, and here in before "finding the right combination of strength, passion and vulnerability to embody the characters" in Hudson and Knowles.
"Effie was so important," explains Mark, "because she's the heart of the movie. It was critical that we find exactly the right person."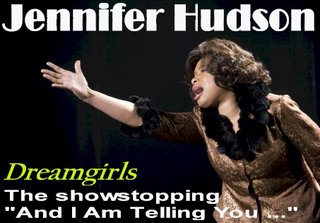 Hudson states, "I had always told people that Effie was a role I would one day love to play. To have the opportunity to audition for such a high caliber project and then to get the role was just unbelievable. With everyone believing so strongly in me, my goal was just not to let them down."
Hudson not only can soar when she sings, but she has acting chops. She's surprisingly comfortable and capable of great depth in the multi-layered role of the Detroit R&B singer who struggles to get recognition, and when she's on the verge of stardom gets pushed aside in favor trio member Deena.
Knowles also affects an amazing transformation. "Fans are going to be very shocked," she smiles. "They'll be expecting BeyoncÈ, but BeyoncÈ is nowhere in this movie." For almost a third of the film, Knowles downplays her stunning voice and cover girl looks. "I thought it important to hold back, because Deena's performance style is so different from mine."
"Dreamgirls onstage," recalls Condon [Kinsey, Gods and Monsters; adapter of the 2003 Best Picture Chicago] , "was one of those experiences you never forget. It was thrilling, with a brilliant cast and Michael's legendary staging. With the passage of time, it was possible to take a fresh look at the material."
The film is brilliantly photographed, choreographed, costumed, edited and captures the sung-through aspect of the stage show. Condon was smart not to tamper with Bennett's blueprint. He dedicated the film to him.
Other than Hudson, the casting coup is Murphy as flamboyant R&B star James "Thunder" Early. He displays an incredible range of maturity and is a force of nature. In the performance numbers, he really lets go. Murphy also surprises with his vocals, all his. Nothing was dubbed.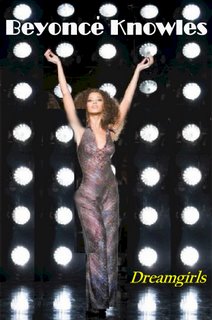 Dreamgirls came to life on Broadway in December, 1981; and went on to win 13 Tony Award nominations. The show took six: Best Book - Tom Eyen; Outstanding Actor - Ben Harney; Outstanding Actress - Jennifer Holliday; Outstanding Featured Actor - Cleavant Derricks; Outstanding Lighting - Tharon Musser; and Outstanding Choreography - Bennett and Michael Peters. It was also nominated for 10 Drama Desk nods [winning only four, but not Outstanding Musical, Score or Director]. Maury Yeston/Arthur Kopit/Mario Fratti's Nine captured the top honors.
The show ran on Broadway for nearly four years, 1,521 performances, before touring the U.S. and traveling to France and Japan. There have been numerous overseas productions.
Bennett's Tony for his choreography would be his seventh and final honor. Dreamgirls was his final production before he succumbed to complications from AIDS in July, 1987 at age 44. He was to be the director/choreographer of Tim Rice/Benny Andersson/Bjorn Ulvaeus' Chess on the West End, and developed a concept. The reins were eventually passed to Trevor Nunn.
All these years later, Krieger is reliving the dream. "The show has been faithfully kept intact and yet given its own vibration. Credit goes to Bill's screenwriting and direction, along with those who worked on Harold Wheeler original orchestrations. It offers its own interpretations of the original material, including the raw, emotional Act One finale show-stopper ["And I Am Telling YouÖ"] that always brought the house down. In the film, it's also sort of an Act One finale."
The movie has four new songs composed by Krieger and the DVD features 12 "never before seen" extended musical numbers and alternate takes, a disco version of "One Night Only," and Knowles' "Listen" music. Disc Two features much of the "blueprinting" of the film [costume design and sketches, lighting design, etc.] and a behind-the-scenes doc, Building the Dream.

Movie News
Just as the DVD of Dreamgirls is being released, comes news that the film's Oscar-winner Jennifer Hudson has graduated to her next acting gig, playing the daughter of fellow Oscar-winner Forest Whitaker in Winged Creatures. This is no musical, but the screen adaptation of Roy Freirich's crime novel about survivors bonding after witnessing a brutal murder. Co-starring are Guy Pearce, Kate Beckinsale, Dakota Fanning, Oscar-nominee Jackie Earle Haley and Jeanne Tripplehorn.

The Danes Are Coming, The Danes Are Coming

Experience whimsy, mystery and delight May 4-13 as the New Victory Theatre presents five of Denmark's acclaimed performing arts companies in the first New York festival of Danish theater for children. Produced in conjunction with the Danish Arts Council's DaNY Arts, the works, featuring puppetry and interactive programs, will be showcased in various intimate settings at the Duke on 42nd Street and the New 42nd Street Studios.
The works will include Hans Christian, You Must Be an Angel, Elephant and Crocdile, Songs from Above, The Attic Under the Sky and Diva. Tickets are $12.50 [with a savings of 20% with the purchase of two or more of the five shows] and are available the New Victory and Duke on 42nd Street box offices, online at www.df42.org or by calling (646) 223-3010.

The J.A.P.s Are Here! The J.A.P.s Are Here!

Cory Kahaney's J.A.P. Show, Jewish American Princesses of Comedy celebrates the ribald comedy Pearl Williams, Belle Barth, Totie Fields and Jean Carroll along side some of today's comic Jewesses at the Actors Temple Theatre [339 West 47th Street, between Eighth and Ninth Avenues], which doubles as a synagogue by day.
Along with Kahaney, Jackie Hoffman, Jessica Kirson and Cathy Ladman do zany stand-up on how the Jewish female comics of yore pioneered their way to top billing. The show includes vintage footage of veteran comediennes.
Kahaney was voted New York's Best Comedian by Backstage and has been seen on NBC's Last Comic Standing and her own specials on HBO and Comedy Central. Hoffman created a sensation in the original cast of Hairspray and has appeared in clubs and made numerous TV appearances. Ladman, awarded the American Comedy Award for Best Female Stand-up Comic, and Kirson are TV veterans.
Presented by Foster Entertainment and Maximum Entertainment, Dan Fields directs. Tickets are $49.50 - $65 and are available through Telecharge.com or by calling (212) 239-6200.

Choice Programming ~
The Record Producer Who Changed the Course of Rock
Don't miss tomorrow's PBS broadcast at 9 P.M. of The House that Ahmet Built, the video homage to music mogul Ahmet Ertegun whose revolutionary "Atlantic Sound" changed the course of music. Produced by Thirteen/WNET and Warner Music Group, the film follows Ertegun's remarkable career and its impact on the evolution of the world's most popular musical genre.
The House that Ahmet Built features rare, private and classic clips [such as from the 2006 Montreux Jazz Festival's Tribute To Atlantic Records], performances and studio sessions of Atlantic Records R&B, jazz and rock artists.
Bette Midler narrates. Solomon Burke, Ray Charles, Eric Clapton, Phil Collins, Aretha Franklin, David Geffen, Taylor Hackford, Mick Jagger, Ben E. King, Leiber And Stoller, Wynton Marsalis, Midler, Jimmy Page, Robert Plant, Kid Rock and Jerry Wexler are among those interviewed.