When The Fantasticks was on its way to becoming a solid Off Broadway hit, composers Tom Jones and Harvey Schmidt were dangled a carrot of another kind: Broadway. N. Richard Nash wanted to do a musical adaptation of his romantic comedy The Rainmaker, about a lonely farm girl reaching spinsterhood and yearning for love - which had been a 1952 TV special, a 1954 Broadway play starring Geraldine Page and Darren McGavin and a 1956 film with Katharine Hepburn and Burt Lancaster.
That Broadway musical, titled 110 in the Shade, came to be, but by a circuituous and torturous route.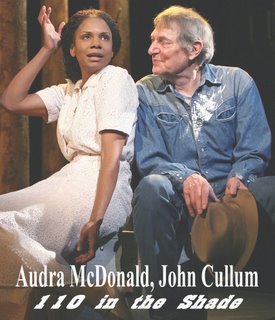 The Roundabout Theatre Company's revival, directed by Lonny Price and which opened Wednesday at Studio 54, had a much more pleasant journey.
It also marks the return to the stage [and musicals] and confirms stardom for Audra McDonald, who's been absent from Broadway since her 2004 Tony and Drama Desk Award winning role in the revival of Raisin in the Sun, which she recently wrapped shooting for a TV special, directed by Kenny Leon, who helmed the play, and original cast members Sean Combs, Phylicia Rashad, Sanaa Lathan and Bill Nunn.
As feisty Lizzie Curry, McDonald, a four-time Tony and two-time Drama Desk Award-winner [and multiple nominee], is receiving the type of critical acclaim, well, as she most often does.
Take this excerpt from Ben Brantley's NYTimes review: "Is it possible for a performance to be too good? Audra McDonald brings such breadth of skill and depth of feeling...that she threatens to burst the seams of this small, homey musical. Ravishing of voice and Olympian of stature, she's an overwhelming presence in an underwhelming show. Watching Ms. McDonald in this gentle, threadbare tale of a love-starved spinster in a rain-starved farmland...is like drinking rare Champagne from a plastic cup."
Also starring in the non-traditionally cast revival are two-time Tony and DD-winner [and multiple nominee] John Cullum as Lizze's father, Christopher Innvar as lonesome polecat Sheriff File and Steve Kazee as Starbuck. The featured players are highlighted by Chris Butler and, in one of the season's breakout roles, Bobby Stegert as Lizzie's brothers.
McDonald shows off her sly comic side in her Act One showstopper "Raunchy" and because of the anger she builds in "Old Maid" leaves the audience breathless at the intermission. At the blackout, the house erupts in a sustained ovation. In between those numbers, McDonald and Innvar create sparks in their duet, "A Man and a Woman."
The show marks the first starring role on Broadway for Kazee as the wandering dreamer and sometime scoundrel Starbuck, who in addition to claims that he can rejuvenate the parched earth by bringing rain also rejuvenates Lizze. His credits include Edward Albee's Seascape [u/s to Frederick Weller], being a later Sir Lancelot in Spamalot and the New York Shakespeare Festival's summer, 2005 As You Like It. He co-starred in the Kennedy Center 2006 revival of Frank Gilroy's Pulitizer Prize-winning The Subject Was Roses.
110 has been nominated for Outstanding Revival by Drama Desk, with McDonald receiving a nod as Outstanding Actress in a Musical. Now she and her cast members have May 15th to look forward to. That's the day the Tony nominations are to be announced.
To fulfill his dream in getting the original production to Broadway, Nash over several years approached a number of composers, including Rodgers and Hammerstein and Harold Rome, but couldn't find the right combination. Then he met with Jones and Schmidt.
[The book writer probably contacted Rodgers and Hammerstein before Merrick became producer. By the time Merrick optioned 110, he would have needed strong anger management to contain his disdain toward Rodgers, an immensely-gifted composer but not always the nicest of human beings, whom he felt had reneged on a cross promotion deal.]
"When he came to us," laughs Jones, "Richard said he wanted to work with some younger writers. We were in our thirties, so I figured we were at the bottom of his list and he got to us because no one else was interested. But The Rainmaker was the type of story we like to tackle."
It turned out the choice of composers wasn't just up to Nash. Producer Merrick, dubbed the "King of Broadway" because of numerous hits, had final say. "Out of the blue," recalled Jones, "the phone rang. It was Mr. Merrick, who loved The Fantasticks. We hadn't done anything on Broadway but he felt, since we were from Texas, that we'd be ideal."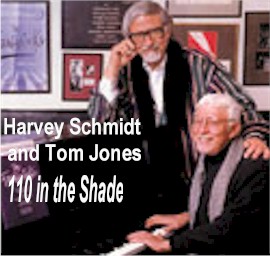 Business downtown on Sullivan Street had started to finally build and The Fantasticks was finding an audience. Schmidt, however, was still working his day job doing commercial art. "The day Mr. Merrick called," he reports, "I was packing to go to Iran for Sports Illustrated to do a series of paintings of the Shah's tiger hunt. The tigers had to wait, but Mr. Merrick turned out to be as crafty as any wild animal."
Jones had seen the original play on a trip to New York and loved it. "And, on the last night before I was discharged from the Army, I had watched the TV adaptation and was impressed with it." Schmidt was a fan of the movie and "thought the story was a natural to make into a musical."
For their audition, they played and sang tunes from a musical they'd been working on that was set in Texas. Merrick and Nash were pleased. They were aboard.
Joseph Anthony, an esteemed director whose only musical staging was the original Most Happy Fella and who had directed The Rainmaker on Broadway, would be captain; "but, really, Mr. Merrick," says Schmidt, "a hands-on person if ever there was one, called the shots."
Inga Swenson won out over Streisand for the role of Lizzie, the young "old maid" whose rancher father is trying to marry off. She was a Shakespearean actress with only one music revue credit; however, notes Jones, "Ironically, Inga was too beautiful to be playing a gal who was supposed to be plain, but she had a great voice. Wigs and make-up accomplished the required look. [Swenson went on to other musicals and a TV career; Streisand recovered pretty well from the rejection.] Will Geer, who became a household name playing Grandpa on The Waltons, was cast as Lizzie's father. Leslie Ann Warren, straight out of high school, won the role of Jimmy's Cupie doll sweetheart Snookie.
Stephen Douglass of Damn Yankees! fame was cast as Sheriff File, the town's most eligible bachelor. Hal Holbrook won the coveted role of the mythic, wandering stranger Starbuck. But, by all accounts, he wasn't Merrick's first choice.
Details Schmidt, "In some derring do, all of a sudden Hal was out and Robert Horton, a TV heartthrob [from the classic series Wagon Train] was in the role."
According to Jones and Schmidt, Horton had been under contract to star in Richard Rodgers and Alan Jay Lerner's musical I Picked A Daisy, but when the production was postponed [because Rodgers grew uneasy with Lerner's writing pace] and then aborted, Merrick gleefully snapped him up. Holbrook, however, had a contract; but Merrick's out was that it didn't stipulate what role Holbrook would play! Instead of simply staying in the show in a lesser role, Holbrook walked - no doubt with a nice check from Merrick in this pocket. The Daisy project later became the 1965 Lerner and Burton Lane musical On a Clear DayÖ, which co-starred Cullum and Barbara Harris.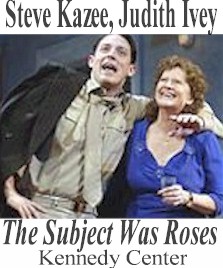 110 in the Shade has a rich score, and could have had a much, much richer one. In their eagerness to get their Broadway debut right, Jones and Schmidt wrote 114 songs before rehearsals ever began.
Their thinking, according to Schmidt, was "we wanted to be prepared when and if during tryouts Mr. Merrick or Joe wanted other songs. When that happened, we'd go to our room and pull another song from our suitcases instead of burning the midnight oil."
Sixteen songs made the cut. In addition to those mentioned, they include "Another Hot Day," another Lizzie's showstoppers "Love Don't Turn Away" and "Simple Little Things," "Is It Really Me?" and the finale number that aptly sums up Jones and Schmidt's score, "Wonderful Music." Starbuck's Act Two solo "Melisande" is a beautiful bit of magical thinking that could easily fit into The Fantasticks.

But, on it's way to Broadway, there was tension between the composers and Merrick.
"Mr. Merrick was a double-edged sword," claims Schmidt. "Because of his mega successes, doors opened for record deals and theater parties. Early on, we could tell he wanted something that wasn't there. He saw 110 as a big dance show. We didn't. We knew we were in trouble when he brought in Agnes DeMille."
The composers didn't want 110 to be a warmed-over Oklahoma! [which won DeMille critical acclaim for her choreography], but something more earthy. "We told Mr. Merrick and Miss DeMille how we felt," says Jones. "She replied, ëGreat. That's exactly what I want.' Then, I guess obeying orders from Mr. Merrick, proceeded to make it a dance show!"
"A couple of numbers ran over ten minutes," laughs Schmidt. "They were wonderful ballets, but not much room remained for the story and songs."
"It was a tumultuous time!" Jones explains, cringing at the memory. "There were all sorts of shenanigans and yelling over casting. For instance, here was a show about the dust bowl and Mr Merrick was screaming for a chorus of pretty girls."
Worst than the undercurrent of mistrust, Jones and Schmidt reported that Merrick kept shifting back and forth on creative decisions. After Boston, where the musical got mixed to positive reviews, he decided the musical, like the original play, would have three acts.
"I was close to suicidal!" exclaims Jones.
"Mr. Merrick wanted a superhit," says Schmidt, "and didn't react too well in Philadelphia when the reviews were negative."
"In fact," relays Jones, "he threatened to close the show. Harvey and I said, ëGreat!' We were relieved. It would be better than to go on like that. As we were about to walk, he said, ëWait. I'll give it one last chance.' We went back to two acts and put in other changes. It made a huge difference. Things started to click. Audiences were loving it."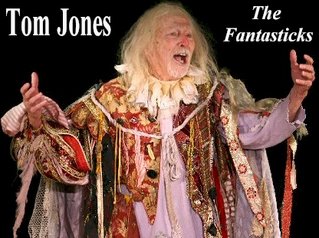 However, according to Jones and Schmidt, by the time the musical arrived in New York, the show was beset with rumors of impending doom.
It was a nervous opening night at the Broadhurst Theatre on October 24, 1963. As the dailies rolled off the press, there was hope. The newspaper critics found much to cheer about, especially in Jones and Schmidt's surviving score. That is, except for the NYTimes.
"Confound that damn Times review!" exclaims Jones. "Then and now, their critic established a show as a box-office bonanza or an also-ran." Adds Schmidt, "It was a weird, strange review, calling the musical everything but the dirtiest show on Broadway."
It didn't help that the nation was thrown into a collective depression the following month with the assassination of President John F. Kennedy. Then, when business picked up, Swenson slipped in the pouring stage water, injuring her ankle. She was out of the show for several weeks.
In spite of that review and events, points out Jones, 110 did modest business. It received four Tony noms, including one for Jones and Schmidt's score, Swenson and Anthony. However, it never became a must see.
"Mr. Merrick didn't market the show," notes Schmidt, "because his energies were more focused on Dolly [which was in out of town tryouts and, hard to believe now, having a difficult time]. He never got behind us. He made our lives and the lives of everyone involved a living hell."
In addition to Dolly, which opened on Broadway three months later, the season was soon to see another blockbuster in Funny Girl starring Streisand.
110 ran just over nine months, 330 performances. Thanks to the RCA original cast recording, the musical wasn't forgotten. There were Off Broadway and regional revivals and, in 1992, an acclaimed revival by New York City Opera, which co-starred Karen Ziemba and Richard Muenz [the 1979 Most Happy Fella and original 42nd Street,].
In the intervening years, several songs - including "A Man and A Woman," "Simple Little Things," "Wonderful Music" and "Love Don't Turn Away" - had a life of their own.
The composers are "more than pleased" with the first ever Broadway revival of 110 and have special praise for veteran Broadway and Encores! musical director Paul Gemignani and the "outstanding" orchestrations of Jonathan Tunick. The Roundabout production can only breathe new hope into a round of regional productions.
Jones and Schmidt never stopped writing for musical theater. "In spite of our duels with Merrick, our love of musical theater never diminished," states Schmidt. "It's always been our life."
There was to be another hit, I Do, I Do starring Mary Martin and Robert Preston and an innovative but devastating failure, Celebration, which came out of their Off Off Broadway workshop. More recently, there's been Grover's Corners, their musical adaptation of Our Town, and Mirette, an adaptation by Emily Arnold McCully of the Elizabeth Diggs book, Mirette on the High Wire.
"We've had tremendous career highs and lows," says Jones, currently appearing Off Broadway as the Old Actor in the duo's world-wide classic The Fantasticks. "The old way of doing Broadway musicals has changed. Almost none are created on Broadway. They come from regional theaters, workshops and Off Off Broadway experimental spaces.
"Then you have to consider our ages," he continues. "When we were young, we were a success because we were daring and innovative. Today, especially with our first show still running after forty-seven years, we're considered the past. It's harder to get considered for projects."
He explained that their interest in certain themes hasn't changed. "We're still writing about time and seasonal changes. All said and done, our career has been marked by some notable benchmarks. And, to be blunt, I never believed anyone would pay us to do what we most love to do."
"We never made a lot of money," adds Schmidt, "but we've made a living. In theater, that's something!"
According to Schmidt, neither he nor Jones have changed much from when they met in college in Texas and during their early New York days. "Working with Tom is certainly no different. We discovered a long time ago that collaboration is like a marriage. It just took years to figure out the best way to make ours work. Sometimes we want to strangle each other, but we've never been unfaithful!"
Jones and Schmidt are inductees into the Theater Hall of Fame. A retrospective of their work, The Show Goes On, was produced by the York Theatre. The CD of that revue is on DRG Records.

Legends Volley in Deuce

On opening night of Deuce, the latest play from Pulitzer Prize and Tony and Drama Desk-winner Terrence McNally, Marian Seldes sidestepped the showering accolades being heaped on her and co-star Angela Lansbury, who's making her return to Broadway for the first time in nearly a quarter century, to say, "If I wasn't in this play, I'd certainly buy a ticket. It's that good!"
Well, some critics didn't quite share that sentiment, but everyone's welcoming the ladies back to the stage with open arms. Friends and peers were on hand for the opening Sunday. Getting backstage was like those lines just prior to the 7:30 opening of theatres.
The ladies' dressing rooms were so overflowing with every manner of floral arrangement, some of course designed like tennis rackets, one might wonder if there wasn't a shortage of flowers on Monday.
Audiences long ago showed their loyalty. Reviews, be damned, the show has a large enough advance to be around for a long, long time. Is anyone really coming to the Music Box to do anything other than to celebrate the careers and lives of these leading ladies? One gentleman behind me kept saying, "Go Angela! That's a girl!"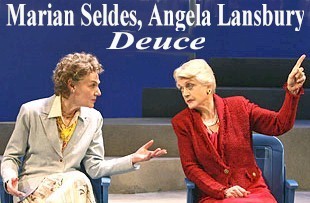 How can the Tony nominating committee not acknowledge the work and stage presence of Misses Lansbury and Seldes on May 15, when the nominations are announced?
[Deuce and the ladies will be eligible for Drama Desk honors next season because the show's producers couldn't accommodate the org's nominating committee before their 2006-2007 season cutoff date.]
There have already been some honors: a Lifetime Achievement Award for both from the Outer Critics Circle. In addition, Miss Lansbury will be honored on June 15 at the Theater Hall of Fame's Fourth Annual Marian Seldes-Garson Kanin Fellowship luncheon at the Friars Club, at which grants are awarded to emerging theater artists. The ladies are, of course, inductees in the Hall of Fame.
In Deuce, the ladies are former champion tennis doubles, reunited at a tribute match. As old friends, more than merely watch the game, they volley back and forth about old times, old boyfriends that became husbands, old rivals, what ultimately broke up their winning partnership and, "Lord, have mercy!" about lesbians in the game.
It's a bit disconcerting to hear the F and C-word from both legendary ladies, and even a few well-placed gdamns and slightly risquÈ metaphors; but with not much else to dominate the stage for the 95 minute intermissionless running time, it's good that the Misses Seldes and Lansbury are the ultimate pros. They know a thing or 20 about timing, especially the comic kind, double takes and how to command the stage, even when mostly sitting the entire time.
Miss Seldes, often called the "First Lady of Broadway," is certainly no stranger to the stage. Miss Lansbury, after a superlative movie career, had a huge presence on Broadway in musicals and then TV beckoned. But now she's back for the first time since the short-lived 1983 revival of Mame. Deuce is only her fourth Broadway play.
The ladies were quite overwhelmed opening night. "I was so overwrought," said Miss Seldes, "I thought I'd faint." Miss Lansbury quipped, "Marian!", but did say that she would try to catch her if she went weak in the knees.
Both are a bit stunned at the adulation of standing ovations and having security guards hold back the fans seeking autographs and photos.
Miss Lansbury, noting the high expectations of critics and audiences on her "comeback" admitted to being more than a bit nervous. She said she was finally comfortable as Leona Mullen now that the show opened and was finally frozen. "Funny thing, I sort of missed an overture!"
There is a certain musicality to the ladies' volleys and with tennis balls going left to right at warp speed. Maybe, instead of the commentators commentating, there could be musical underscoring by Herman or Sondheim.
Miss Seldes, who plays Midge Barker, who had a definite admirer in Edward Albee, was raving about his new play she'd just read, Me, Myself and I., which she described as "delectable."
After her 1967 Tony and DD for A Delicate Balance [she was also a standby in the playwright's Tiny Alice] and her successes in Three Tall Women, Beckett/Albee and her 2001 DD-nomination in The Play about the Baby, she was asked if she might consider starring in it.
"Darling," as she often famously replies, "it's about Siamese twins and I'm much too tall to play Siamese."

Do You Have Your Tkts to Paradise?

For City Center Encores! 2007 season finale, they are celebrating the Broadway revue. Flourishing on the main stem from around 1900 until the early 50s, these shows had songs by one or more composer teams. Instead of a book, they presented comic sketches with everything including the kitchen sink thrown in.
The timing of STP is perfect, as it coincides with the 100th anniversary of the Ziegfeld Follies, the opulent series of revues that played the New Amsterdam with such comics as Fanny Brice, W.C. Fields and Bob Hope, such dancers as Bojangles and its parade of dozens of beautiful girls in rather flimsy clothing.
Providing the star vocals and some comic relief in the Encores! tribute is Tony and Drama Desk winner Kristin Chenoweth, who arrives at City Center fresh from her acclaimed performance in Roundabout's revival of Bock and Harnick's The Apple Tree, which began as an Encores! production.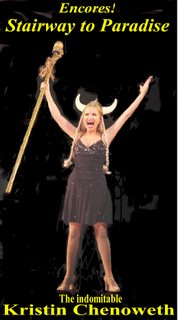 Other Encores! appearances include On A Clear DayÖ and Strike Up The Band. She will guest star in the season finale of the hit TV sitcom Ugly Betty, and has been busy helping to plan the 2007 Drama Desk Awards, which she will host on May 20. In addition, there's an encouraging buzz about Chenoweth's upcoming TV series Pushing Daisies, written by Bryan Fuller and directed by Barry Sonnefeld. She also has three films in upcoming release.
Co-starring are the gifted Kevin Chamberlin in a series of hilarious comic impersonations, the loose-limbed Christopher Fitzgerald, Jenn Gambatese and Shonn Wiley [as America's singing sweethearts], Carpathia Jenkins, tenor J. Mark McVey and Ruthie Henshall, proving she adept at singing torrid torch songs.
Encores! artistic director Jack Viertel, since 1994, has presented the rarely-heard works of Broadway composers and lyricists in lavish concert versions, but Stairway to Paradise, which he conceived, is the first-ever specially-created production; and it's most expensive.
The 30+ cast includes Holly Cruikshank, Emily Fletcher, Michael Gruber, young tapper Kendrick Jones and J.D. Webster.
Chenoweth and company perform the very best material from a half-century of the once immensely popular staple of revues. There are numbers and sketches from such classic shows as As Thousands Cheer, The Band Wagon, Call Me Mister, The Garrick Gaieties, The George White Scandals, New Faces of 1952 Pins and Needles, The Seven Lively Arts and, among others, Two on the Aisle.
Songs are by a Who's Who of Tin Pan Alley: Berlin, Comden and Green, DeSylva, Dietz, Jimmy Durante [yes, that Jimmy Durante!], G Gershwin, Harburg, Hart, Jerome Kern, Jimmy McHugh, Porter, Rodgers, Rome, Arthur Schwartz, Styne and P.G. Woodhouse.
In addition to "I'll Build a Stairway to Paradise," the classic songs include "Brother, Can You Spare a Dime?," "Dancing in the Dark," "Every Time We Say Goodbye," "Guess Who I Saw Today?," "I Guess I'll Have to Change My Plan," "Manhattan," "Mountain Greenery," "Oh, How I Hate to Get Up in the Morning," "This is the Army, Mr. Jones" and "Triplets," that showstopper from 1937's Between the Devil and so memorably reprised in the MGM musical The Bandwagon.
Four-time Tony and DD-winner Jerry Zaks, a former song and dance man, directed. Rob Berman is musical director, with choreography by Warren Carlyle. Encores! resident musical director Paul Gemignani waves the baton, but a lion's share of credit must go to Sondheim musical veteran and Tony and DD-winner [and multiple nominee] Jonathan Tunick for his original orchestrations.
The 2007 Encores! season sponsor is Newman's Own. Stairway to Paradise is made possible by the National Endowment for the Arts with additional support from Roz and Jerry Meyer, the Ira and Leonore Gershwin Philanthropic Fund, the Joseph S. and Diane H. Steinberg Charitable Trust and the Shubert Foundation.
Some seats are available for tonight, twice on Saturday, Sunday and the Encores! gala on Monday, May 14. Tickets are $25-$95 [not including the gala] and are available at the City Center box office, through CityTix at (212) 581-1212 and online at www.nycitycenter.org.
[Photos: 1, 4, 5 and 6) JOAN MARCUS; 2) LEO SOREL; 3) SCOTT SUCHMAN]

Recent Archive :
Wednesday, April 11, 2007
[ STARS ] Antoinette Perry's Daughter's Memories of a Theater Legend; Sondheim Remastered; Something New at the Met for Somethings Old; The Grandivas Return; An Off Broadway Milestone
Monday, April 16, 2007
[ STARS ] In Legally Blonde, Opposites Attract: Orfeh and Andy Karl Are a Real Life Duo; Celeste Holm Milestone; Cryer and Ford Return Big; Naked Angels One Act Fest; Rockin' Arias; Movies from Tribecca to Boxed Errol Flynn
Friday, April 20, 2007
[ STARS ] Remembering Kitty Carlisle Hart: Just Point Her in the Right Direction and She Would Be Off and Running
Tuesday, May 1, 2007
[ STARS ] Drama Desk Honors 2007 Nominees; Celeste Holm and Jane Powell Feted; Dreamgirls On DVD
Monday, May 7, 2007
[ STARS ] Donna Murphy: Singing in a Different Key in LoveMusik

--------
Ellis Nassour is an international media journalist, and author of Honky Tonk Angel: The Intimate Story of Patsy Cline, which he has adapted into a musical for the stage. Visit www.patsyclinehta.com.

He can be reached at [email protected]





Why are you looking all the way down here?
For more articles by Ellis Nassour, click the links below!

Previous: Donna Murphy: Singing in a Different Key in LoveMusik

Next: Brian Murray's Back as Gaslight Sleuth; Country Star Larry Gatlin Goes Metro; Papal Audiences; Brit Invasion; At the Obies with a Knight and a Nixon; A Few Words from Dame Helen; More

Or go to the Archives