Tony Roberts is on the menu Thursday at Food for Thought's lunch time play reading series at the Players Club [16 Gramercy Park South, between Park Avenue and Irving Place]. The bill of fare will be O'Henry's A Municipal Report and The Pirates by Susan Charlotte and Pascal Aubier.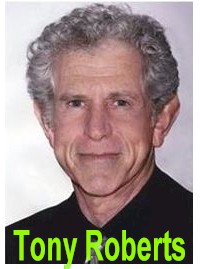 Two-time Tony nominee Roberts is currently starring in Broadway's sleeper hit musical Xanadu with Kerry Butler, Cheyenne Jackson, Jackie Hoffman and Mary Testa.
The O'Henry adaptation is the story of a reporter's encounters with mendacity [The Cat on a Hot Tin Roof kind] and murder in Nashville. The Pirates involves two storytellers at a dinner party where a murder has taken place. Both are set in the 20th Century, early and end. Antony Marsellis will direct.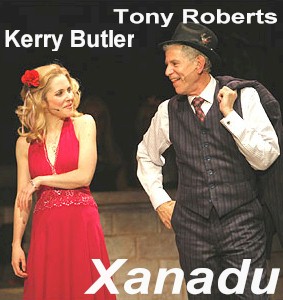 Lunch is from 12:30, with the performance at 1:30. An up close and personal Q&A and reception follow. Charlotte is founder and artistic director of FFT.
Tickets are $75. To reserve, call (212) 362-2560 or (646) 366-9340. For more information, visit http://www.foodforthoughtproductions.com/.
Monday night, Roberts was feted by his fellow Friars with a dinner and musical tribute that featured Hoffman, Testa, Lucie Arnaz, Veanne Cox, Jim Dale and Penny Fuller. Friar Dean Freddie Roman was emcee. Randie Levine-Miller produced.

Parsons Goes Latin
Oscar-winning and four-time Tony-nominee and Drama Desk-winning actress and director Estelle Parsons joins forces with INTAR Theatre, which produces Latin-influenced plays in English, to direct a 75-year-old classic of Pulitzer Prize-winner Maxwell Anderson, Night Over Taos, to inaugurate the theatre's 42nd season. The play runs through October 20 at Theater for the New City [155 First Avenue].
Produced on Broadway in 1932 by the legendary and revolutionary Group Theatre, Night Over Taso was directed by Lee Strasberg with a cast that included Stella Adler, Sanford Meisner and Clifford Odets.
It's set during the U.S.-Mexican War, when Mexico lost nearly half of its territory, including what is now New Mexico, and tells the story of freedom fighter Pablo Montoya.
INTAR artistic director Eduardo Machado says, "Night Over Taos is a play from America's rich past that talks intimately to us today who are struggling with issues of immigration and the Iraq War. Maxwell Anderson tells how the west was really won. We are thrilled Estelle Parsons was attracted to this project and to have the privilege of working with her."
The cast of 25, the largest of any INTAR production, includes Jack Landron, Shawn Elliott, Peter Jay Fernandez, Mercedes Herrero, Mickey Solis, Erin Wagner and Miriam
Colon.
Anderson, widely acknowledged as one of the most prolific American playwrights of the years between World Wars I and II, was a rival to Eugene O'Neill. He wrote poetry, screenplays and for theater. He received the Pulitzer in 1933 for Both Your Houses. In 1937, he received Drama Critics' Circle Awards, then Broadway's highest honors, for Winterset and High Tor.
Tickets are $10 - $35, $10 for students/seniors, and can be purchased by calling (212) 254.1109, or online at http://www.theatermania.com/. For more info, visit http://www.intartheatre.org/.

Swados Takes a Spirtual Path

The Cathedral Church of St. John the Divine [1047 Amsterdam Avenue at West 112th Street] will present the premiere of Atonement by composer Elizabeth Swados on Monday at 7 P.M. Tickets are free on a first-come, first-served basis. You'll be asked to make a donation to Artists Striving to End Poverty.
Atonement will be performed by eight soloists, a chorus of more than 30 singers and musicians.
Swados describes the work as a concert with liturgical underpinnings written as an interfaith Yom Kippur offering. "The tone of the music goes from the intimate solo of prayers for forgiveness," says Swados, "to the explosions of our dangerous lives and evolve into the celebration and joyousness of life itself."
The writer/composer/director, known for her political satire and edgy work [Doonesbury], added, "I wanted to examine the horrors our world is facing, as well as the destitution of many of its citizens, and to look into ourselves and recognize our complicity, active or passive, in this chaos."
Swados' Runaways debuted at the Public and went on to become a Broadway hit and put her in the theater history books. She garnered five 1978 Tony noms, including Best Musical, Book, Choreography, Director and Score - a still unmatched feat. There was also and Obie win for Direction.

The piece will also be performed at St. Marks Church's Church in-the-Bowery [Second Avenue at East 10th Street] as part of the Holy Wow! festival on October 14 at 7:30; and at Manhattan's Jewish Community Center [334 Amsterdam Avenue at West 76th Street] on October 27 at 8.

From the Palace to the Cutting Room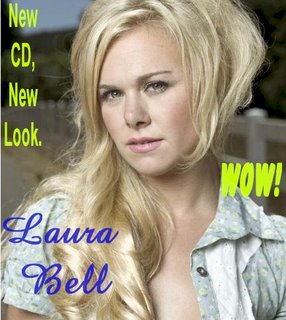 Legally Blonde's Elle Woods, Tony and DD-nominated star Laura Bell Bundy will drastically change personas Tuesday night, October 2, one of her nights off from Broadway.
Taking a break from her Harvard challenges, she'll become Laura Bell and channel her country side in anything but pink at Chris Noth and Steve Walker's Cutting Room [19 West 24th Street, between Broadway and Sixth Avenue]. Showtime is 8 P.M. She'll be appearing with her band.
Dynamo Bundy, who originated Amber Von Tussle in Hairspray and portrayed the good Glinda in Wicked, was greatly influenced by Patsy Cline, Loretta Lynn, Dolly Parton and, among others, Aretha Franklin growing up in her native Kentucky.
Her Cutting Room appearance will showcase her songwriting talents and tunes from her new CD, Longing for a Place Already Gone [LAB Records; SRP $15], which features 17 tracks, from uptempo to waltzy ballads, written by Bundy and Larson Paine.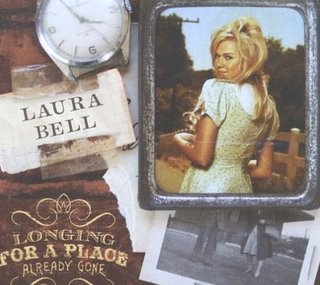 Laura Bell, wanting to use a name that would distinguish her from the actress/singer playing Elle, says, "My music is a throw back to the fifties and sixties, what I've coined 'y'alternative,' a sort of indie country meets Dixie-flavored rockabilly meets Top 40. The songs have the quality of a song Patsy Cline would have recorded or that Willie Nelson or Johnny Cash would have written." If Bell's vocals bear a resemblance to Cline, "it's because I've tried to capture the essence of her vocal styling."
The CD, recorded on the West Coast with top fiddle, dobro, mandolin and peddle steel players just prior to going into Legally Blonde, contains a colorful booklet of lyrics and some decidedly non-Legally Blonde photos [button a couple of those buttons, Laura!]. It's available at Amazon.com, where you can catch vocal samples, and http://www.labrecordsmusic.com./ At iTunes.com, you can do download purchases.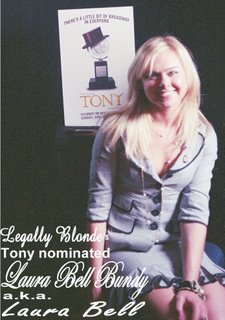 Bell, who describes her current life as "work heavy but one where I'm having a wonderful time," decided to do her album on her own label "because I felt it would be hard for an industry label to understand what I wanted to do and how I wanted to do it. It's a little new and different. In order for me to do it quickly, capture the traditional sound and maintain control, I just needed to do it myself."
Anyone getting an early start on holiday shopping can visit the LAB Records site to purchase of Laura Bell Bundy's I'll Be Home For Christmas, with proceeds benefiting the Kreative Kids Foundation.
Bundy, Christian Borle, Orfeh, Michael Rupert and the Legally Blonde company can be heard singing Laurence O'Keefe and Nell Benjamin's show tunes on Ghostlight Records. The just-taped performance of the musical will be broadcast on October 13 on MTV.
Keep in mind, when entering the artist's name on Search lines, that you are now dealing with two personalities: Laura Bell and Laura Bell Bundy. For much more on the many facets of Bundy/Bell [and to purchase a purse or two], visit http://www.lauraashleybellbundy.com/ and http://www.laurabellbundy.com/.
Tickets for Laura Bell in concert at Cutting Room are $15 and available at SmartTix.com. There's an additional $10 food or drink minimum.

Judy Kuhn Returns
Three-time Tony and DD-nominee, acclaimed actress/singer Judy Kuhn, star of stage and screen, has a new CD and will soon be joining the cast of the Les Mis?rables revival as Fantine.
Twenty years ago, in the original production, she played Cosette. She joins the show on October 23, succeeding Tony Award winner Lea Salonga, whose final performance is October 21.
In addition to her Broadway outings, Kuhn has performed on concert stages around the world including Carnegie Hall and London's Royal Albert Hall. Her new CD Serious Playground: The Songs of Laura Nyro [Ghostlight Records; SRP $19] celebrates the work of one of the pioneering singer/songwriters of the 60s and 70s.
The CD is based on Kuhn's January sold-out Lincoln Center American Songbook Series concert, which followed her Obie-winning performance Off Broadway in Eli's Comin' at the Vineyard.
Music Director Jeffrey Klitz leads an eight-piece band on 14 known ["Stoney End," "Sweet Blindness"] and rarely-recorded compositions.
This Monday and on October 8, 15 and 22, Kuhn will be performing at Joe's Pub. The Kennedy Center in Washington follows on October 26.

The Musical That Went Out in the Cold

Disney's huge break-out hit High School Musical arrives in New York September 29 and 30 for four performances only, but not to a theatre near you. This is Feld Entertainment, helmed by Tony-winning producer Kenneth Feld, and Emmy-winning Kenny Ortega's ice show adaptation in association with Disney Theatrical Productions chief Peter Schumacher.
As even a hermit in the vast wilderness will tell you, High School Musical is an international phenom first as a giga-rated Disney Channel TV movie, then quadruple-Platinum cast CD, concert tour and chart-topping DVD. Now, High School Musical is hitting the ice. The venue is Madison Square Garden and all the rah-rah Wildcat team-spirit will be intact.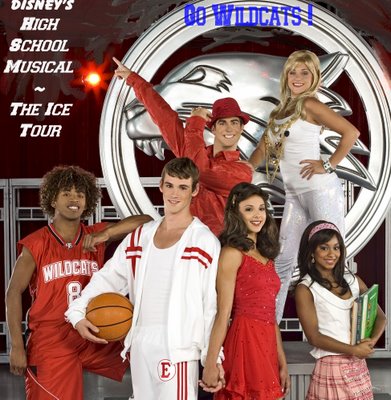 The director is Tony-nominee Jeff Calhoun [Brooklyn, Annie Get Your Gun, Big River]. Peter Barsocchini has scripted from his Disney Channel originals. There's razzle dazzle choreography by Charles Kaplow and Cindy Stuart.
Portraying Gabriella, Troy, Taylor, Ryan, Chad and mean girl Sharpay in the 35-strong cast of world class skaters [some a few years removed from their alma maters] are, respectively, Lane Walker, Jordan Brauninger [a U.S. double Gold Medalist in Senior Freestyle], Tetona Jackson, Peter B. Muck/Vyacheslav Chiliy [Russian Junior Singles champ and the Ukraine's first Men's Singles champ], Simon Hanks, and Sandy Rucker [2005 U.S. Junior National champ]/Helena Gundberg [two-time Swedish National Figure Skating champ and a member of the 1998 Olympic team].
High School Musical: the Ice Tour features the chart-topping songs that are close to every young gal's heart: "We're All in This Together" and "Start of Something New" by Matthew Gerrard and Robbie Nevil, "You Are the Music in Me" and "When There Was Me and You" by Jamie Houston, "What I've Been Looking For" by Andy Dodd and Adam Watts, plus 14 more songs by various composers and music from Disney's High School Musical 2.
Tickets are $15 to $125 for VIP Gold seating and available by calling Ticketmaster at (212) 307-7171, at www.ticketmaster.com or http://www.highschoolmusicaltheicetour.com/.

Met Musuem Honors Brooke Astor
This weekend all programs at the Metropolitan Museum ó gallery talks, lectures, tours, films and family programs ó will be free with admission in honor of their generous benefactor Brooke Astor.
Friday night at 7 P.M., Met director Philippe de Montebello and Lord William Astor will introduce Brooke Astor's Love Affair with Asian Art in the Grace Rainey Rogers Auditorium.
Current must-see exhibitions include The Age of Rembrandt: Dutch Paintings in The Metropolitan Museum of Art, through January 6, which puts on display the museum's 20 Rembrandts and its entire Dutch Paintings Collection - 228 works; and Abstract Expressionism and Other Modern Works: The Muriel Kallis Steinberg Newman Collection through February 3. The Met is closed on Mondays.

Inside Broadway's 25th Anniversary
The children's theater organization founded in 1982 by Michael Presser to create the audiences of tomorrow, Inside Broadway will celebrate its 25th Anniversary with a benefit concert and awards presentation on October 15 at 7:30 P.M. at the McGraw-Hill Auditorium [Rockefeller Center, West 49th Street and Sixth Avenue].
This year's honorees include Tony-winning Bebe Neuwirth, Roger Bart [Young Frankenstein], and Broadway couple Rebecca Luker [Mary Poppins] and Danny Burstein [Drowsy Chaperone]. Entertainment will be by the casts of several Broadway shows. Pia Lindstrom will emcee.
Cocktails will be served at six with the org's annual Broadway Beacon Awards, honoring theater industry advocates who help develop young audiences for Broadway. The benefit chairs include Harry Coghlan, president and GM of Clear Channel Spectacolor.
Benefit tickets are $350 and available by calling (212) 245-0710, or online at [email protected]. For more information, go to http://www.insidebroadway.org/.
This Fall, Inside Broadway is presenting Creating the Magic, a behind-the-scenes look at Broadway shows, in schools as well career workshops. The season culminates in the Spring with a production of You're A Good Man, Charlie Brown. The org began in 1982 at the request of late Shubert Org president Bernard Jacobs, by creating the first Broadway student ticket program in conjunction with Cats.

Coyote Innovation
Coyete REP this week introduces the premiere of three recorded sound plays from their 2007 Sound Play Series on the web at http://www.coyoterep.org/ and available for listening through iTunes.
The plays are the survival drama Coyote Rising by Tira Palmquist, The Boy at the Window the comedy by Douglas Braverman that revisits the kids from Peter Pan and Patriot Act (An Occurrence at Yankee Stadium) by Robert Emmet Lunney which reflects on real-life incidents.
The casts are large - directed by, respectively, Jeanne LaSala. Olivia Mora and Teresa K. Pond and Richard Romagnoli. Coyote REP's recorded sound plays are made possible in part by the donation of studio space by WNYC. Download info is available on the org's web site.

Scottish Wolves
The National Theatre of Scotland and London's Obie and Olivier Award-winning Improbable theater company are presenting The Wolves in the Walls, a 75-minute, multimedia "musical pandemonium" adapted from the best-selling book by Neil Gaiman and Dave McKean, for 16 performances October 5-21 at the New Victory Theatre.
This is the New York debut for the recently-created NTOS. The company will visit Brooklyn in the Fall, bringing its acclaimed production of Black Watch to St. Ann's Warehouse.
The award-winning, hit U.K. show is conceived for the stage by NTOS A.D. Vicky Featherstone, Improbable's Julian Crouch and musician Nick Powell and described as "comic book-scary, spooky fun for adults and children alike [seven and up] with live music, projections and eerily lifelike puppets." Improbable and Crouch debuted Shockheaded Peter at the New Vic in 1999.
Tickets $12.50 - $35 and available at the box office, by caling (646) 223-3010 and online at http://www.newvictory.org/. With the purchase tickets to TWINW and at least two other New Vic prods, buyers can save 30% on tickets to all shows this entire season. The Wolves in the Walls is being supported with a grant from the Jim Henson Foundation.

Tony Bennett on CD and DVD
Tony Bennett Sings The Ultimate American Songbook, Volume 1 [Legacy/RPM/Columbia Records; SRP $18] has arrived in stores with 15 songs covering three decades of his repertoire with Columbia.
Tunes include Cole Porter's "Ev'ry Time We Say Good­bye" from the revue Seven Lively Arts; Vernon Duke's "Taking A Chance On Love" from Cabin In The Sky; Sondheim's "You'll Never Get Away From Me" from Gypsy; Harold Arlen and Johnny Mercer's "That Old Black Magic" [accompanied by the Dave Brubeck Quartet] from the film Star Spangled Rhythm; and "Moonglow," a duet with k.d. lang.
The Music Never Ends, a two-disc DVD doc [Warner Home Video; SRP, $25] that captures Bennett's Monterey Jazz Festival concert will be in stores in November. Clint Eastwood executive produced the video for debut recently on PBS' American Masters.

Ghouls, Goblins and Coasters
ëTis the season to scream! And weekend and holidays through October 28, you can holler your lungs out at Six Flags Great Adventures' Fright Fest, the tri-state area's largest Halloween party, in Jackson, NJ.
If the two daunting, monster roller coasters Kingda Ka and El Torro aren't enough to give your lungs a good workout, you can raise some cain with the Creatures of the Night [not to be confused with the music of the night] at the nightly Parade of the Walking Dead and Winn's Thrill Circus. Not enough? Well, you can be "mealworthy" for a bunch of creepy critters in the Coffin of Fear.
For calmer pleasures, there the new Wiggle's children's section, meet and greet opts with Looney Tunes characters, Dolphin Discovery, a rumble in the jungle with gigantic Bengals at the Temple of the Tiger, Halloween-themed shows and dance parties galore and fireworks.
Saturday, October 6, Six Flags hosts their fifth annual American Red Cross blood drive. Those who donate at least a pint receive Fright Fest tickets. On October 14, the park will host its first 5K run/fitness walk Susan G. Komen Race for the Cure, the world's largest grassroots network of breast cancer survivors and activists.
One of the highlights of a Six Flags daylight visits is the drive-through Animal Safari, one of the biggest and best in the U.S. For directions, pricing and information, visit http://www.sixflags.com/.

Mickey and Judy Boxed
Mickey and Judy are ready to put on that show. And what a show! Actually, a whole bunch of ëem.
The five-disc DVD boxed set The Mickey Rooney & Judy Garland Collection: Ultimate Collector's Edition has arrived in stores [Warner Home Video; SRP $50]. The M-G-M musical classics, all remastered, finally making their first DVD appearance are the duo's Babes in Arms, Babes on Broadway, Strike Up the Band and Girl Crazy - four "backyard" extravaganzas that cemented the duo's reputation as one of Hollywood's beloved screen teams.
Disc Five contains nearly three hours of bonus material, including Private Screenings with Mickey Rooney, an in-depth, deeply personal interview by TCM's Robert Osborne, and The Judy Garland Songbook, 21 complete Garland movie musical numbers.
These four films were produced by M-G-M musicals legend Arthur Freed. Rooney earned a Best Actor Oscar nomination for Babes in Arms, considered the quintessential Mickey-Judy musical. It was quite freely adapted from the 1937 Rodgers and Hart Broadway hit. Busby Berkeley directed and lavishly choreographed.
The boxed set print restores a cut removed after World War II of the stars impersonating Franklin and Eleanor Roosevelt. Studio head Louis B. Mayer felt the public wouldn't want to see the recently deceased F.D.R. parodied. Footage of the deleted sequence was lost until it was discovered on a collector's print.
Strike up the Band [1940] features famed big band leader Paul Whiteman and the outrageous Berkeley production number "Do the La Conga." One of the songs, "Our Love Affair," was Oscar-nominated.
Girl Crazy [1943] is based on George and Ira Gershwin's 1930 Broadway hit and has a sublime score, highlighted by "Embraceable You," "Fascinating Rhythm," "Bidin' My Time" and the poignant Garland solo "But Not for Me." Berkeley, once again helmed. His colossal dude-ranch "I Got Rhythm" finale is still talked about today. June Allyson and Tommy Dorsey and his Orchestra also appear.
[Photos: 2) PAUL KOLNIK; 3) LARISSA UNDERWOOD; 5) ELLIS NASSOUR ]

--------
Ellis Nassour is an international media journalist, and author of Honky Tonk Angel: The Intimate Story of Patsy Cline, which he has adapted into a musical for the stage. Visit www.patsyclinehta.com.

He can be reached at [email protected]





Why are you looking all the way down here?
For more articles by Ellis Nassour, click the links below!

Previous: Remembering Hair and West Side Story; Starstudded Flea Market; Remembering Betty Comden

Next: Let's Go to the Movies: 45th New York Film Festival; George Clooney and Tom Wilkinson in Michael Clayton; New on DVD: Astaire and Hepburn in Restored Funny Face

Or go to the Archives