The 45th New York Film Festival, presented by the Film Society of Lincoln Center is in full swing through October 14. In total, avid moviegoers who want to get an advance peek at films from A-List directors from around the world will have their choice of 28 choice, sometimes provocative and controversial feature films, documentaries and shorts. In NYFF tradition, there will be tributes and salutes, retrospectives honoring cinema mastercraftmen and photo exhibits.
This year's main venue is the stunning Frederick P. Rose Hall, home of Jazz at Lincoln Center [this year's main FF site due to Alice Tully Hall's reconstruction of] at Time-Warner Center overlooking Central Park.
The Coen brothers, Claude Chabrol, Todd Haynes, Sidney Lumet, Eric Rohmer, Julian Schnabel are among the notable directors whose works will be or has been presented. Wes Anderson's The Darjeeling Limited was last week's Opening Night selection.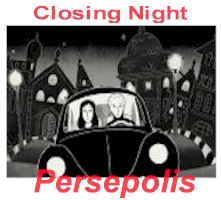 The Closing Night selection [October 14, 8:30] is Persepolis, based on Marjane Satrapi's novel about her childhood in Iran during the Islamic Revolution, comes to life with Vincent Paronnaud's animation and through the voices of a cast led by France's gorgeous Catherine Deneuve and her daughter [with Marcello Mastroianni] Chiara Mastroianni [talk about beauty and acting genes, but here we only hear her voice]. The film is France's entry in the Oscar Foreign Film category and opens here Christmas day.
The Festival's Centerpiece film is No Country for Old Men [tomorrow at 9 P.M. and Sunday at 10 A.M.], a Cannes Film Fest Golden Palm nominee, from Joel and Ethan Coen stars Tommy Lee Jones, Javier Bardem and Josh Brolin; and, in featured roles, Woody Harrelson, Scottish actress Kelly Macdonald [playing a Texas trailer park wife], former E.R. and John from Cincinnati hunk Garret Dillahunt [The Assassination of Jesse James...], Tess Harper and, in a memorable cameo, Margaret Bowman, well-remembered for her turn as ole Hank's mama in Lost Highway. The story follows the mayhem after a hunter stumbles upon dead bodies, heroin and millions in cash down along the ole Rio Grande. Jones is top-billed but the film belongs to bad, bad boy Bardem and Brolin. NCFOM will soon be in theatres from Miramax/Paramount Vantage.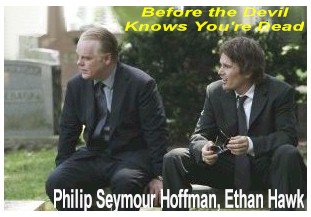 Sidney Lumet returns to NYFF for the first time in 33 years, with his all-star crime drama Before the Devil Knows You're Dead, [October 12 and 13 at, respectively, 6 and 12:45] with lead actors known also for their theater work: Philip Seymour Hoffman, Ethan Hawk, Albert Finney and Marisa Tomei; and some familiar stage names, Rosemary Harris, Br"an F. O'Byrne and Lee Wilkof. BTDKYD, about two brothers and a robbery that goes horribly wrong, opens October 26 from THINKFilms.
Screening tonight at Midnight and Sunday at 4:15 P.M. is Abel Ferrara's disjointed, soft-porn "screwball comedy" Go Go Tales, about a real estate struggle involving a disco and its inveterate gambler manager. It was shot on Ferrara's home turf, Roma, at the famed Cinecitta Studios [with producers Enrico Coletti and Massimo Cortesi daily sending money to keep the production afloat] but is set in NYC. The stars are William Defoe and Bob Hoskins; with Matthew Modine, Roy Dotrice and Asia Argento, featured. If you blink, you'll miss Burt Young in a cameo.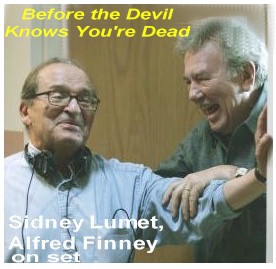 The dark, dark* comedy Margot at the Wedding [Sunday at 7 and Monday at 12:30] from Noah Baumbach [The Squid and the Whale, The Life Aquatic...] about contentious sisters thrown into a disastrous family weekend stars Nicole Kidman, Jennifer Jason Leigh [Mrs. Baumbach], Jack Black and Ciar·n Hinds. Black steals the picture. Paramount Vantage will release. *Baumbach's plan was to shoot as much as possible using available and he has dimly succeeded.
Brian De Palma is represented by the ultra-controversial Redacted [October 10 and 11, respectively, at 6 and 9 P.M.], a montage of stories about U.S. soldiers fighting in the Iraq conflict and how media covers the war]. Gus Van Sant's returns to the screen with a gutsy story of a skateboarder whose life is turned upside down, Paranoid Park [October 8 and 9, 3 and 9:15].
Todd Haynes' I'm Not There [tomorrow, 10 A.M.] stars Christian Bale, Cate Blanchett, Marcus Carl Franklin, Richard Gere and Heath Leger as dueling Bob Dylans, embodying aspects of his life and work over two and a half hours [in general release soon from The Weinstein Company]; and John Landis documentary on octogenarian King of Mean comic is titled Mr. Warmth, The Don Rickles Project [October 13, 9:30 and Midnight]. Julian Schnabel's The Diving Bell and the Butterfly has debuted and will open here December 19 from Miramax.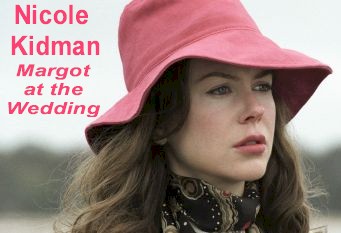 An advantage of the NYFF is that you don't have to wait months to see selections with a buzz. The majority have distributors, ad campaigns and open, as did The Darjeeling Limited, almost immediately in New York theatres - or are set to be shown on HBO.
With more than half of the Film Fest's slate devoted to international titles, there's a strong recognition of the diversity of cinema voices. French director Claude Chabrol will have A Girl Cut in Two [October 12 and 13, respectively, at 9 and 6:30]. French films also include Hou Hsiao-hsien's Flight of the Red Balloon and Valeria Bruni Tedeschi's Actresses. From Chile, France and Belgium is Carmen Castillo's Calle Santa Fe.
Eric Rohmer's The Romance of Astree and Celadon debuted last week. Cristian Mungiu made his Festival debut this week with his provocative 4 Months, 3 Weeks and 2 Days, a hit at Cannes, winning the Palme d'Or.
The FF's retro on renowned Brazilian director and screenwriter Joaquim Pedro de Andrade continues through Tuesday, with screenings of his features and shorts at the Walter Reade. These include: The Brazilwood Man and his 1969 Macunaima, a landmark of Latino filmmaking, the story of a man born full grown and his road, through miracles and minefields, to the Big City [won Brazi's Best Actor and Supporting Actor "Oscars" for Grande Otelo and Jardel Filho].
There are ten shorts, all shown on and included with the feature bills; six screenings of new music documentaries, including Murray Lerner's The Other Side of the Mirror: Bob Dylan Live at the Newport Folk [a lot shorter at 80 minutes] and Peter Bogdanovich's four-hour Runnin' Down a Dream: Tom Petty and the Heartbreakers [yikes! - four hours! Yes, there's an intermission]; and the always much-anticipated festival within a festival, Views from the Avant-Garde, a mixed bag of experimental films.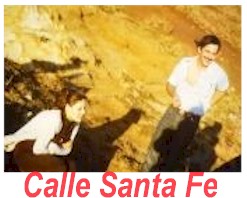 In the arena of retrospectives, the Fest presented Ridley Scott's sci-fi smash Blade Runner: The Final Cut, celebrating its 25th Anniversary and which is currently playing.
American Express and the Film Foundation are presenting In Glorious Technicolor as part of the Preservation Screening Program, which afford viewers the rare opportunity to see remastered prints of John Ford's Drums Along the Mohawk [October 12, 6:30], released in 1939, the same year as Gone with the Wind, which used Technicolor's vivid three-strip color process [as did GWTW], and the shattering 1945 drama Leave Her to Heaven [October 12, 9 P.M.], directed by John Stahl, starring the gorgeous Gene Tierney and Cornel Wilde but most famous for its incredible cinematography by the renowned Leon Shamroy.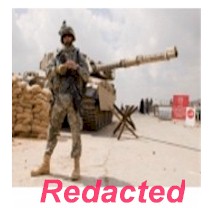 Leave Her to Heaven's plot could aptly be summed up: strangers meet on a train, tryst, fall in love, get married and then all hell breaks loose. It's a real nail-biter. Tierney, who won an Oscar nom for Best Actress, was never more beautiful or stunningly photographed [by the renowned Leon Shamroy, winning Oscar for cinematography] in vivid Technicolor. She was a reliable screen presence in that era and, today, is mostly forgotten. With the showing of LHTH, you can discover or rediscover her in all her elegant glory and see that she had acting chops to boot. Co-starring is screen hunk of the 40s, Cornel Wilde and Jeanne Crain, Vincent Price and Gene Lockhart.
Last Monday, ticketholders revisited John Ford's directorial debut, the filmed-on-magnificent- locations 1924 pre-talkie Western masterpiece [in which the building of the Union Pacific RR is delayed by Cheyenne seeking scalps] The Iron Horse, with accompaniment by full orchestra in Avery Fisher Hall.
In the way of upcoming historical screenings, there will be Josef von Sternberg's seamy 1927 Academy Award-winner Underworld with a new score by the Alloy Orchestra and Sven Gade and Heinz Schall's 1920 German production of Hamlet, starring Asta Nielsen.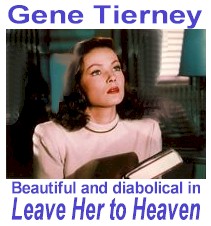 The NYFF's selection committee is composed of Richard PeÒa, Film Society chairman and program director; Kent Jones, F. S associate programming director and Film Comment editor-at-large; Scott Foundas, film editor and L.A. Weekly critic, J. Hoberman, Village Voice critic and Visiting Harvard Lecturer; and Lisa Schwarzbaum, Entertainment Weekly critic.
For filmmakers and film students, HBO Films Directors Dialogues is a must experience. These are up close and personal conversations between filmmakers and FSOLC or NYFF programmers. The line-up: Wes Anderson [October 10, 7 P.M.], Todd Haynes [tomorrow, 4 P.M.] and Sidney Lumet [October 13, 4 P.M.], who'll be interviewed on his 50-years in film and TV by Film Comment's Gavin Smith.
On Saturday and Sunday, there's Views from the Avant-Garde, which this year brings together work by luminaries and emerging artists.
Next Wednesday [and through October 16] the Fest salutes Chinese Modern, with seven classics from the 50s and 60s from Cathay Studios, introduced by one of the era's most recognizable actresses, Grace Chang.
Tonight, New Line Cinema is being feted by the NYFF for 40 years of "extraordinary moviemaking" at a black-tie gala in Rose Hall that will include a sneak peek at the upcoming The Golden Compass. Proceeds go to the building of the Film Society's multi-venue, state-of-the-art Elinor Bunin-Munroe Film Center, scheduled to open in the new Lincoln Center in 2010.
The 45th New York Film Festival is sponsored by Sardinia Region Tourism and The New York Times with additional support from illy caffË; HBO Films; Maxell; the Hong Kong Economic and Trade Office; Kodak; and, among numerous other corporate angels, the New York State Council on the Arts.
Screenings are at Time Warner Center's Rose Hall as well as the Walter Reade, Stanley H. Kaplan Penthouse [in the Rose Building, next to the Walter Reade] and The [New York] Times Center [on West 41 Street and Eighth Avenue. Go to The New York Film Festival/Film Society of Lincoln Center web site www.filmlinc.com for a complete list of remaining events, specific venues and information.
Tickets [$16 and $20; Midnight screenings, $16; Closing Night, $20 and $40] can be purchased at the Rose Hall and Walter Reade box offices, online at filmlinc.com and by phone through CenterCharge, (212) 721-6500. Pending availability, $10 Student/Senior Rush tickets go on sale day of performance with valid and current ID required [one ticket per person]. There are standby lines at each venue.

Also at the Movies:
Michael Clayton: Taunt, Tight Thriller
Oscar winner George Clooney returns to cinema gravitas after the fun and practical jokes of the Ocean films in Tony Gilroy's taunt, tight contemporary thriller Michael Clayton. It's good to have the serious Cloon back in a film, as Syriana and Good Night and Good Luck was, he can be very proud of. This is a thriller without worlds at war, absurd car chases, psychological babble and CGI effects.
Michael Clayton could have been one of the big nights at the NYFF, but the timing was off. However, it was a hit at the Venice, Deauville American and Toronto International Film Festivals. It certainly has the chops to be a contender for Oscars and Golden Globes.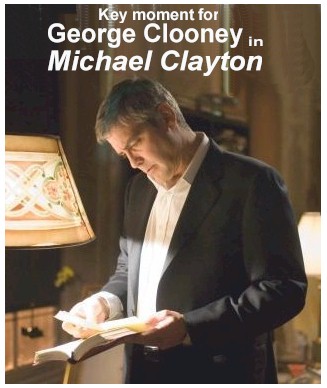 Clooney stars as a recovering alcoholic battling a gambling addiction who's a burnt-out fixer - and little more than a bag man - for a high-powered Manhattan law firm representing an industrial combine where the word ethics is never put on the table. He's great at solving the fiirm's problems, but not his own.
To realize further ambitions, he's gone into a side business with his brother that's failed miserably and he need big-time cash in a hurry. And he's divorced with a young son.
If he's not discontent enough, enter Oscar-nominee Tom Wilkson, as one of his most cherished friends who becomes one gigantic headache to keep under control. He's been the firm's promised son and ruthless litigator, but without his medication he takes manic depression to new levels.
In their own ways, Clooney and Wilkinson's characters, who haven't always done the right thing, decide to jump the fence and become heroes for the common good of mankind [well, sort of].
Oscar, Emmy and Golden Globe-nominee [and NYFilm Critics winner] Tom Wilkinson, though only in a third of the picture, steals it with his histrionics.
Gilroy, who also wrote the screenplay, is the son of 1965 Pulitzer Prize and Tony-winning playwright Frank Gilroy, who wrote the much-acclaimed The Subject Was Roses, which Jack Albertson, Irene Dailey and Martin Sheen, in his second Broadway outing after the very short-lived Never Live Over a Pretzel Factory.
Noted film director Sydney Pollack is one of the producers; Steven Soderbergh, Anthony Minghella and Clooney are among the exec producers. Pollack, who's been seen frequently in front of the camera, also co-stars with Tilda Swinton, Michael O'Keefe and Ken Howard.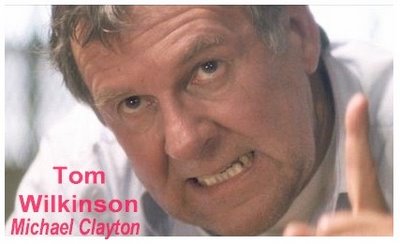 The plot has holes [what thriller doesn't?]. Addressing a couple of them, especially in the scene in the apartment Clooney enters illegally and uncovers a certain book that has fascinated his son. When he picks it up [and you may also ask why, since the book is sitting under a lamp, he makes an about face to turn another lamp on to read it. (It's the angle for the close-up. Gotta get that best side)], he and you only a split second look at a tiny woodcut on a page.
Pay attention to that split second [it's like finally seeing the painting of a magnolia blossom on the wall in Magnolia and finally hearing Julie White in Little Dog Laughed babbling out the title in a manic monologue] and it will take a little of the mystery away from an event in the prologue flash forward - an even which gets repeated around "11:00." It won't fully explain what that book has to do with anything, but it helps to explain Clooney's whim, when speeding out of a country estate drive way on his way to nowhere along Upstate New York back roads, to pull over and get out of his car.
Clooney's part is not dialogue-heavy, but as photographed by Robert Elswit, his facial expressions, ticks and eyes speak volumes.
Tony and Drama Desk-winner Denis O'Hare is excellent as a millionaire trying to explain his way out of a hit and run accident. I won't say if you blink, you'll miss Tony winner and DD-nominee Julie White; but it may take a moment or three for you to realize that's Julie White. Hint: she plays a very irate woman. Oh, if she'd only had more to do.
I'm a big fan of James Newton Howard and I'm so happy he didn't over do the score. It's not the type of score you'll listen to again and again, but at the moment he kicks it in high gear -- when Clooney jumps in his car after a high-stakes poker game -- it's probably one of his most exciting and different score sequences ever.

New to DVD: Restored Funny Face

Fred Astaire and Audrey Hepburn light up the City of Lights in the 50th Anniversary DVD release of Funny Face [Paramount Home Entertainment; SRP $14], singing and dancing to such glorious Gershwin tunes as "S'wonderful," "How Long Has This Been Going On," "Let's Kiss and Make Up" and "What Am I Going to Do (Funny Face)." Direction is by M-G-M musicals veteran Stanley Donen [Singin' in the Rain, Seven Brides for Seven Brothers]. The producer is none other than another Metro musicals veteran, Garland sidekick Roger Edens. Choreography is by Astaire and Eugene Loring [mentored by Balanchine and Kirstein, later an ABT principal and the choreograper of Billy the Kid].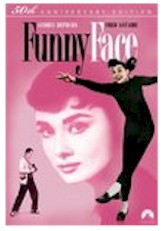 Though Astaire and Hepburn have star billing, it's the cinematography and art direction that set the film apart and puts it cinematically in the same league as An American in Paris. However, that film was shot entirely on sound stages. Funny Face was shot on location in Paris. The film received four Oscar nominations: cinematography [by Ray June], art direction, costume design and screenplay.
If ever there was a project perfect for the wide screen process VistaVision, Motion Picture High Fidelity, this was it. There's stunning scenery, stunning fashions and stunning Audrey Helpburn, who was a model in London before being cast in films which led to movie stardom in Roman Holiday [1953]. For years, Funny Face was available only in washed-out, flat prints. It's been painstakingly remastered to its exquisite original and wildly vivid Technicolor glory with the addition of surround sound.
The adaptation of George and Ira Gershwin and Paul Gerard Smith's witty and oozing-with-charm 1927 Broadway musical, which starred Astaire and his famed dancing partner sister Adele, is the sort of high-fashion Cinderella-like story of a fashion photographer [think Richard Avedon, who was the film's visual consultant and did the backgrounds for the opening credits ] and the search for a new face. That turns out to be a shy, drab Greenwich Village bookstore clerk; and, before you can say "Smile," he's whisked the wide-eyed waif to Paree and transforms her into fashionista's hottest model. Of course, Paree being Paree, can falling in love be far behind?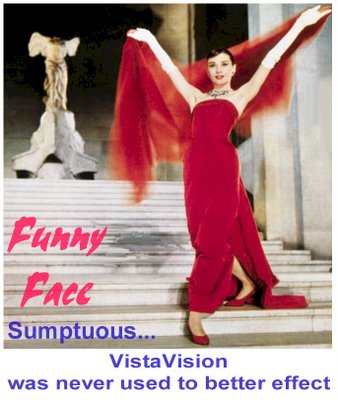 Even though Astaire was 30 years older than his leading lady, they have a wonderful, Pygmalionesque chemistry. Hepburn, though she often sounds dubbed when she's not talk-singing, unlike in My Fair Lady, actually does her own vocals. It was her dancing that concerned The Boss. She related many times that she was so scared on meeting him that she couldn't keep anything down. At their rehearsal, in spite of her ballet training, she tripped all over him and herself. Instead of giving up on her, Astaire kept her at it until - well, you'll see the results.
Of course, the original book and the majority of the Broadway score were thrown out and director Leonard Gershe wrote a sort of glorified travelogue and fashion show with songs and choregraphy thrown in. And high-fashion the movie is, with Hepburn's costumes by Givenchy and Astaire and company costumed by multi-Oscar-winning designer Edith Head.
Adding outstanding support and stealing every scene she's in is the delicious Kay Thompson [of Eloise fame, and with a rep for not being nicest person], who portrays Quality Magazine editor-in-chief [a sort of Diana Vreeland, or not-quite-a-devil wearing Dior]. Astaire didn't like being upstaged, so before he even arrives onscreen Thompson and her smoky voice raise the ante with the ultrastylish "Think Pink" sequence, written by Edens and Gershe. Also, featured is Michel Auclair, by 1957 already an acclaimed French film star who continued in major roles until his death in 1988.
Funny Face has highlights galore. It was one of the first American films allowed access to the Louvre; and the fashion shoot, with Winged Victory as a backdrop, is a dazzler as is the "He Loves and She Loves" sequence it segues into - with Hepburn in Givenchy bridal white and tulle veil and Astaire dancing in the almost fairy tale-like French countryside and onto a small raft that magically transports them across a rivulet [where they return for the fade-out, and float off into happiness ever after]. The five-minute plus love-letter "Bonjour, Paree" shot on the Left, Right and in-between Banks and covering every site from the Champs-Elysees, Arc de Triomphe and Rue de la Paix to Notre-Dame, Montmartre and Sacre-Coeur and finally up, up, up to the Eiffel Tower, must have quadrupled Parisian tourism. [Note in the montage sequences how Astaire is shot to appear taller than Hepburn and Thompson.] The hep-cat jazz ballet, with Hepburn a couple of times on pointe, in the Bohemian cellar bar is a standout.
Among the bonus features is The Designer and His Muse, which explores the collaborative relationship between Givenchy and Hepburn, who became his favorite subject.

Flat HD for the Movies

Wide screen processes were a dime-a-dozen - Cinerama, CinemaScope, Panavision, Todd-A-O - but Paramount Pictures was buying any of that. They decided to invent their own wide-screen process. The negative stock did have a bit of a wider ratio, but not as wide as, say, CinemaScope. In it's original concept, because it wasn't as wide, it "chop off" top to bottom as the wide screen systems did because of their ratio.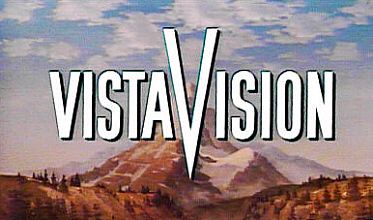 What made VV unique was that its film stock negative was high grain and yielded amazingly clarity. It was the first generation of high defintion film. Film was shot through the camera horizontally. In the lab, the film was matted to standard aspect ratio film and optically printed to be run through projectors vertically.
Unlike the wide screen processes, it didn't require projectors to be fitted with anamorphic lenss. When projected at the proper aspect ratio, it maintained a very sharp image onscreen.
Because of the processing expense, VV eventually lost out to the wide screen processes - not so much because those processes were better, but because high quality optical lens were created that insured greater clarity and deep focus. VistaVision, though no longer called that, it is still valued for it's high def quality in films heavy with special effects, such as the Star Wars series.
--------
Ellis Nassour is an international media journalist, and author of Honky Tonk Angel: The Intimate Story of Patsy Cline, which he has adapted into a musical for the stage. Visit www.patsyclinehta.com.

He can be reached at [email protected]





Why are you looking all the way down here?
For more articles by Ellis Nassour, click the links below!

Previous: Tony Roberts for Lunch; Estelle Parsons Directs; Elizabeth Swados Atones; Laura Bell Goes Country; Judy Kuhn On Stage and CD; High School Musical Chills; Mickey and Judy Boxed; More

Next: Broadway Cabaret Fest Salutes Stephen Schwartz, Betty Buckley and Broadway Originals; Tony Martin Sings; Unsinkable Tammy; Career Transitions Rocks; The War On DVD; More

Or go to the Archives