Unlike her big moment in the 1992 Broadway reading of Salome and her scenes in the Sidney Lumet film Before the Devil Knows You're Dead, where she left nothing to the imagination, Oscar winner Marisa Tomei will be doing a change of pace at the Drama Desk and Obie-honored Flea Theatre [41 White Street, between Broadway and Church Streets] in Oh, the Humanity and Other Good Intentions by Pulitzer finalist Will Eno.
The production of these five short plays dealing with contemporary realities runs through December 22.
Eno garnered international attention with Thom Pain (based on nothing), which played to acclaim in London, Edinburgh and New York and was nominated for the Pulitzer Prize for Drama. Tomei received a Supporting Actress Oscar for My Cousin Vinny and a nomination for In the Bedroom.
Tickets are $18, through tomorrow, to Flea members and, one hour prior to curtain, on a first-come/first-served basis to the public at the Flea box office. Beginning next Monday, tickets will be $50 and $60. They are available by calling (212) 352-3101 or online at theflea.org.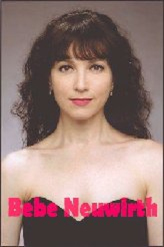 Friars Fete Friar Bebe Neuwirth
Tony and Emmy-winning star, dancer extraordinaire and new Friar Bebe Neuwirth, right on the heels of being honored by Inside Broadway for her theatrical outreach work and tributed with Rolex Gold at the Career Transitions for Dancers gala, will be grilled in the grill room of the Friar's Club on November 28 by New York Post theater columnist and Theater Talk co-host Michael Riedel. The event is being produced by Friar Randie Levine-Miller. Freddie Roman is head Friar.

Support Off Broadway!
Talks may have collapsed between the striking stagehands and the League of American Producers and Theatres, which is a darn shame (an even worse shame is that they do not plan to meet again until next week). Sadly, the majority of Broadway theatres are dark, inconveniencing hundreds of thousands of local and out of town theatergoers, during one of the theater season's usually busiest times. One door shuts, another opens; so don't sit home alone watching reruns. There's Off Bway and cabaret. Both are jumping. It's Turkey Lurkey Time. Happy Thanksgiving!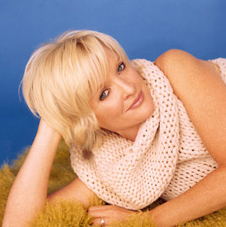 Ebersole and Stritch Create Winter Wonderland
Jim Caruso's Cast Party and TheaterMania.com are presenting Tony and DD-winner Christine Ebersole and pianist Billy Stritch in the holiday treat Winter Wonderland at Birdland December 5 and 6 at 8:30 and December 7 and 8 at 8:30 and 11.
The duo will perform seasonal standards and Ebersole will debut songs from her upcoming CD, Sunday In New York. Tickets are $40 with a $10 food/drink minimum [VIP tickets, $60 with the minimum] and can be purchased by calling (212) 581-3080 or online at www.birdlandjazz.com.

Golden-throated Luba Mason Returns
When Luba Mason enters a room, heads turn. After all, she's tall, blonde, beautiful, exotic and carries herself with the kind of je ne sais quoi that says she owns the world. When this classically trained Broadway babe sings, she has all ears.
You can enter Mason's ultra-sensual celestial zone for four nights, November 23-26 at the Metropolitan Room [34 West 22nd Street, between Fifth and Sixth Avenues] at 10 P.M. as her voice rocks the intimate room with a blend of Latin, pop, jazz and folk. Ed Alstrom will music direct as well as play keyboards, accompanied by his trio.
Mason, a first-generation American born to Slovak parents, participaticed in all manner of ethnic entertainments growing up in Queens. When she began auditioning after college, she worked extensively in regional theater, where she met Michael John LaChiusa, a budding composer who became a lifelong friend.
She wasn't so sure how show business would accept her given name and went through a period of Americanizing it. She finally settled on Luba, which is Slovak for love. Mason is her name from her first marriage.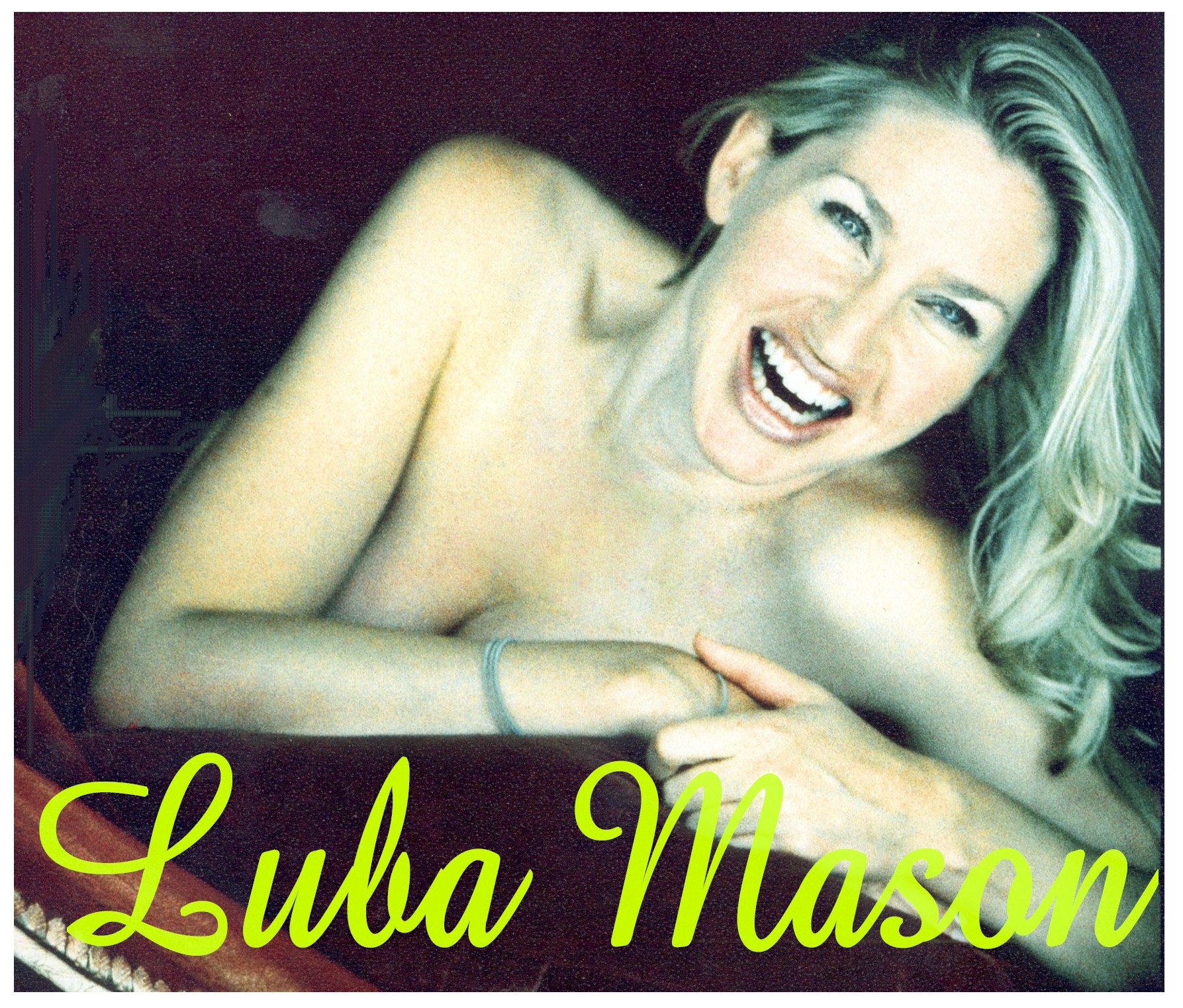 After meeting Ruben Blades on Broadway, she was tapped as a guest vocalist for his acclaimed CD Mundo, which won a 2002 Grammy Award. Mason received kudos from critcs, who called her crystal-clear pop soprano "celestial" and "soaring." Not long after, she became more than a guest in Blades' life. After a long courtship, a nice diamond engagement ring materialzed. The couple recently celebrated their first anniversary.
"Not only have I studied and can now sing in Spanish," she says proudly, "I've been learning how to cook a lot of Spanish dishes."
In 2005, she was on Broadway as Velma "opposite," as she puts it, "fellow Amazon Brooke Shields" in Chicago, where she also worked with Debra Monka, who at the time was playing matron Mama Morton.
Her first big featured role on Broadway was in the 1987 revival of How To Succeed..., where she as Hedy La Rue she proved a secretary is not a toy opposite Matthew Broderick, Ronn Carroll, Victoria Clark, Jonathan Freeman and Megan Mullally. Her duet with Carroll, "Love from a Heart of Gold" was a showstopper.
When Linda Eder announced she was leaving Jekyll & Hyde, Mason was determined the part would be hers. Not so fast, there. Known for her dancing and comic skills, director Robin Phillips and composer Frank Wildhorn weren't convinced she had a Eder-type voice. "But I persisted," she reports, "and finally got in. I sang, and that was that." Her renditions of "A New Life" and "Someone Like Me" never failed to bring the house down.
Mason got her feet wet, so to speak, "learning a lot about Broadway and also comedy in two very dissimilar projects." Mason refers to her Broadway debut under the name of Kim Freshwater in the 1987 four-performance flop Late Night Comic [*]; and two years later, rechristened Lubitza Gregus, in five performances in comedy legend and TV pioneer Sid Caesar's revue. Featured roles in Sunset Boulevard and The Will Rogers Follies followed.
In 1998, she auditioned for the much-anticipated Paul Simon musical The Capeman starring Marc Anthony as young Salvador Argon and and Blades as the older Argon. The show only lasted 68 performances but it led to her introduction to Blades.

Then, time off for good behavior. "I had time to really think about what I wanted to do," says Mason. That turned out to mean going West and working on an album, "which I never would have had time to do if I'd remained in New York. You get wound up in shows and benefits, it's hard to focus on anything."
The result was the CD Collage [PS Classics], produced by Jeffrey Lesser. The 14 tracks live up to the title. There are songs by Burt Bacharach and Hal David, Elvis Costello, Neil Diamond, George Harrison, Van Morrison, a memorable rendition of Lou Reed's post-9/11 commentary "The Calm Before the Storm" and Blades, who joins Mason for a super rendition of Johnny Nash's "I Can See Clearly Now."
Most recently, Mason was appearing in epsodic TV. Then, with a wish to return to her theater roots, she auditioned for what had the potential to be one of the most talked-about musicals of all time, the musical [yes!] adaptation of Cecil B. DeMille's blockbuster film The Ten Commandments at Hollywood's Kodak Theatre. "Sorry to say, it was talked about, but not in such a positive way," says Mason. She described the production as "absolutely incredible, but not especially in a good way."
Her portrayal of Egyptian princess Bithia who discovers Moses in the rushes and becomes his foster mother received good notices. She appeared opposite Val Kilmer as Moses She raved about Kilmer's professionalism in the face of an overblown and not-ready-for-primetime production. In spite of all the miracles God endowed upon Moses to perform, it doesn't seem bringing the musical to Broadway will be one of them.

Mason is no stranger to cabaret, having performed in at L.A'.s famed Roosevelt Cinegrill and Vibrato clubs plus Opia and Cafe Versailles here. A lesser known fact about Mason is that she's an accomplished pianist.
Before arriving in New York, Mason broke in her act in Chcago and San Francisco. She's spent the last few months finishing up a CD with music she's written in an acoustic Brazilian jazz style with two songs sung in Portuguese. She'll preview some of the material at the Metropolitan Room.
For reservations to see Luba Mason, call (212) 206-0440 or go online at www.metropolitanroom.com. There's a $30 cover with a two-drink minimum.

Also at the Metropolitan Room
Liz Callaway appears tonight through the 30th for six nights at various times. Christine Pedi will perform an early show on the 25th and a late show on the 30th.

*
Composer/lyricist Brian Gari, the grandson of stage and film legend Eddie Cantor, who resurrected memories of his short-lived musical with his book We Bombed in New London—the Inside Story of the Broadway musical Late Nite Comic [Bearmanor Media, 2006] now has a recording of the score and songs cut from the show. The 20th Anniversary edition CD, due December 1 on Original Cast Records with proceeds benefiting the Actors' Fund, features Liz Callaway, Mario Cantone, Jason Graae, Rupert Holmes, Brian D'Arcy James, Liz Larsen, Howard McGillin, Julia Murney, Daniel Reichard, Tony Roberts, Seth Rudetsky, Paul Shaffer, Mary Testa, Martin Vidnovic, Sal Viviano, Karen Ziemba and Chip Zien.

Feinstein at Feinstein's
Next Tuesday through December 29, four-time Grammy nominee Michael Feinstein will help ring in the holiday season with a festive program at his namesake club in the Regency Hotel [540 Park Avenue at 61st Street]. The all-new show, Winter Dreams, will contain seasonal favorites and standards, as well as tributes to Rosemary Clooney, Bing Crosby, Tony Martin and Kay Thompson.
Feinstein, who recently completed a sold-out two-week engagement in the West End, will be accompanied by musical director John Oddo on piano with a trio featuring guitarist Bucky Pizzarelli. His latest CD is Hopeless Romantics [Concord Records], a songbook of Harry Warren classics recorded with legendary jazz pianist George Shearing. Recently he hosted and produced The Great American Songbook, a PBS special, now available on DVD [Warner Home Video].
All shows have a $95 cover and a $40 minimum. Jackets are suggested, but not required. For reservations, call (212) 339-4095 or visit online at feinsteinsattheregency.com and TicketWeb.com.
This is the last week, through November 26, to catch Chita Rivera's extraordinary return engagement. If Linda Eder pops your cork, plan ahead. She'll be holding court at Feinstein's New Year's Eve.

Zip It
Gay Marshall, named by Playbill as one of the Top Ten Divas of 2006 for her performance in the recent revival of Jacques Brel Is Alive and Well and Living in Paris, brings her acclaimed solo show back to The Zipper [336 West 37th Street, between Eighth and Ninth Avenues], where she co-starred in JBIAAWALIP, for four performances November 27 through December 18, all at 7:30.
She plans an eclectic array of songs from blues and jazz and Piaf and Brel; in addition, she'll share her French/American experience in comedic excerpts from her one-woman shows If I Were Me and Piaf: La Vie l'Amour. Marshall appeared on Broadway in ACL and played Grizabella in the original French production of Cats.
Tickets for Gay Marshall at the Zipper are $25 in advance and available by calling Ovation Tix at (212) 352-3101, online at www.thezipperfactory.com; and, if available $30 at the door.

The Sound of Music with Strings Attached
Talk about a family treat for the holidays! The renowned Salzburg Marionette Theatre's production of Rodgers & Hammerstein's The Sound of Music and Mozart's Magic Flute will play two metropolitan-area dates. The company is celebrating its 94th year.
The elaborate, beautifully costumed, all-marionette production of TSOM, directed by Richard Hamburger, is set to a new fully orchestrated recording featuring, among numerous others, Christiane Noll and Tony-nominee and DD-winner and Broadway Unplugged veteran Martin Vidnovic as Maria and Captain von Trapp; Spring Awakening's Tony and DD-nominated Jonathan Groff as Rolf and Friederich von Trapp; Bill Youmans as Max; two-time Tony and DD-nominee Crista Moore as Elsa; Michael McCarty as Franz; Jeanne Lehman as the Mother Abbess; and Tarzan's Jane, Jenn Gambatese, as Louisa. The music is performed by the Istropolis Philharmonic Orchestra, conducted by Larry Blank.
TSOM plays solo at NJPAC's Victoria Theatre November 30–December 2. Tickets are $49 for adults, $26 for children under 14; and available by calling (888) 466-5722, at Newark's NJPAC box office or online at www.njpac.org.

TSOM plays four performances December 7, 8 and 9 and TMF one performance on December 8 at 7 P.M. in Grace Rainey Rogers Auditorium at the Metropolitan Museum of Art. Tickets are $15-$45 and available by calling (212) 570-3949, at the box office in the Great Hall or online at www.metmuseum.org/tickets.
The holiday season at the Met is in full swing with the stunning Baroque nativity creche, Christmas tree, concerts [December 18 and 19 ] and carols [December 20] with choristers from the Church of the Heavenly Rest. The concerts are at 6:30 and 8:30. To reserve, visit the above online address or box office.

John Ford Silent Classic Restored
One of the early works of legendary Western film director John Ford, that was originally supposed to be presented in the New York Film Festival, will be shown in its miraculously fully-restored print with orchestral scoring when the Film Society of Lincoln Center screens 1924's two-and-a-quarter-hour classic The Iron Horse at the Walter Reade Theater on November 27 at 2 and 7 P.M.
Kudos to 20th Century Fox for their digital restoration. No one knows how the negative survived, but it's believed that since Ford also produced the film he managed to somehow perserve it.

Starring is 20s hunk George O'Brien, a sort of pre-John Wayne [whom Ford would discover two years later] and an actor who easily made the transition from silents to talkies. He plays Davy Brandon, the son of a surveyor with dreams of building a railway to the West. The father is killed by a white man masquarading as an Indian [in attempts to raise Cheyenne uprisings as a means to stop the transcontinental railroad]. The role is played by one of the screen's great villians, Fred Kohler, then in his hunky prime [his partial right hand is no screen trick, but the result of a mine accident]. There are some excellent character roles among the Irish and Italian immigrants who laid the tracks and pounded the spikes.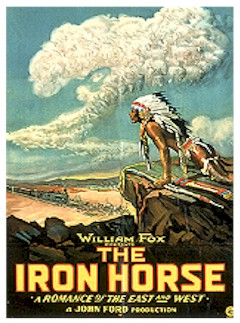 Four-time Oscar-winner Ford took three years to film this epic. He was 29 and this was his 52nd film; however, as may have been the custom then in silents, he isn't credited. The producer is. Ford had two worker towns built and used more than 5,000 extras [including Chinese workers, Pawnee soldiers and, for the most part, real Indians]. He proved his mastery of narrative by weaving a revenge tale into the fabric of American history. He painted a wide canvas, covering the aftermath of the Civil War where Blue and Gray worked side-by-side, Lincoln's presidency, warring Indians and even got in and Buffalo Bill Cody and Wild Bill Hickock.
For audiences of the time, the big draw was the train ambush by the Cheyenne Indians, but there are amazing sequences such as roaming herds of buffalo, stampeding cattle, stunning scenic vistas. There are impressive closeups, but the camera is stationary 99% of the time. You might detect a slight move to the left twice, but nothing approaching a pan shot, which evidently hadn't come into favor. The entire film was shot on location.
O'Brien, the son of a San Francisco police chief who went on to stardom not only on the athletic field and as a WWI heavyweight boxing champion, appeared in over 85 films, including six helmed by Ford. He co-starred with Janet Gaynor in 1927's Oscar winner Sunrise, directed by famed German emigre F.W. Murnau.
For a silent, it has none of the trademarks of films of that era, such as those circular and wipe fadeouts. The extraordinary cinematography [shot from under speeding trains and atop them] is by George Schneiderman. The recently added symphonic score is composed, orchestrated and conducted by Chirstopher Caliendo.
Single screening tickets for The Iron Horse are $11, $7 for Film Society members, students and seniors and are available at the Walter Reade box office and online at www.filmlinc.com.

Pasolini Remembered
The Italian Cultural Institute and Fondazione Aida in collaboration with the Film Society of Lincoln Center are presenting a tribute to controversial Italian filmmaker and writer Pier Paolo Pasolini from November 26 through December 4 onscreen, in exhibition, concert and readings.

Locations include the Italian Cultural Institute, the Film Society's Walter Reade, the Frieda and Roy Furman Gallery, Joe's Pub, La MaMa Experimental Theatre Club and Casa Italiana Zerilli Marimò. The series is sponsored by Consorzio per la Tutela dell'Asti Spumante.
Pasolini's murder at age 53 transformed an already controversial and extraordinary artist into an iconic figure. It's been a decade since his work has been exhibited here. His significance as film writer and director increased with the release of the notorious Salò: 120 Days of Sodom, which will screen December 2 at 4 P.M. and December 3 at 8 at the Walter Reade.
FSLC will screen 11 of Pasolini's features and shorts and documentaries on his work. Among other films to be screened are Accattone, Mamma Roma, The Gospel According to St. Matthew, The Hawks and the Sparrows and Teorema.

For complete information on screenings and events, visit www.filmlinc.com, www.iicnewyork.esteri.it and www.fondazioneaida.it.

A Classical Bonanza on CD
There have been so many changes in the recording industry due to mergers and acquisitions. For instance, BMG, bought RCA; Sony bought Columbia; then BMG and Sony merged. In the process, classical music got shortchanged. So it's good news that Sony BMG has reactivated the respected RCA Red Seal series.
A host of hard to find classical composers in the once-famous Living Stereo series has been released, all totally-remastered. Some highllights of the latest releases are: Berlioz's Harold in Italy and four overtures, including Roman Carnival, [1958, 1959] with William Primrose on violin and Charles Munch conducting the Boston Symphony [SRP $10]; Mahler's The Song of the Earth, one of the first [1959] stereo recordings of the composer's epic and haunting symphony, featuring contralto Maureen Forrester and tenor Richard Lewis under the baton of Fritz Reiner and the Chicago Symphony [SRP $11]; the acclaimed pianist Arthur Rubinstein with Saint-Saens Concerto No. 2 [SRP $12], Franck's Symphonic Variations and Liszt's Concerto No. 1 [with full symphony conducted by Alfred Wallenstein [1956, 1958] [SRP, $11]; and Richard Strauss' Symphonia Domestica and the charming French Baroque Le Bourgeois Gentilhomme with Reiner and the Chicago Symnphony [1956], unmatched in their interpretations of Strauss [SRP, $11].
Ellis Nassour is an international media journalist, and author of Honky Tonk Angel: The Intimate Story of Patsy Cline, which he has adapted into a musical for the stage. Visit www.patsyclinehta.com.

He can be reached at [email protected]





Why are you looking all the way down here?
For more articles by Ellis Nassour, click the links below!

Previous: Philharmonic Celebrates Barbara Cook Milestone; Broadway Unplugged; QM2 Hosts Busker Alley CD Release

Next: Light the Lights! Raise the Curtains! Celebrate! The Strike Is Over; Patrick Page Was Born to Play the Grinch; West Side Story's 50th Anniversary Celebrated; More

Or go to the Archives