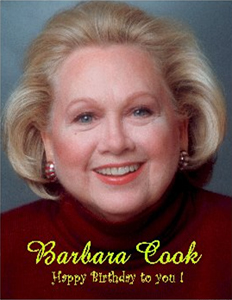 The New York Philharmonic will host a belated celebration of and with Barbara Cook to mark her 80th birthday, which was October 25. Miss Cook will reminisce about her storied career and sing from her lengthy repertory of songs by Bernstein and Comden and Green, Lerner and Loewe, Arlen and Mercer, Gershwin and Caesar, Hammerstein and Romberg and, among others, a friend named Stephen. The concerts are Monday and Tuesday at 7:30 at Avery Fisher Hall.
This week's birthday concerts mark Miss Cook's first time with the Philharmonic since playing Sally in the still-talked-about 1985 concert version of Follies. Lee Musiker will music direct in his Philharmonic debut and accompany on keyboards.
Sondheim will be in the concert repertory. She doesn't think of his tunes as songs but as gifts. "I love the simplicity and the clarity of Irving Berlin, and Stephen's work has that also. There's something so rich about his work that I never tire of his songs. The more I do them, the more I'm finding different things and subtleties. Quite simply, nobody writes as he does."
The 80th Birthday celebration will culminate in London December 2 with an all-star West End World AIDS Day concert, Barbara Cook and Friends at the London Coliseum. Such stars as Ruthie Henshall, Julia McKenzie, Elaine Paige and Sian Phillips will join her. The concert will benefit Interact Worldwide, a UK-based international AIDS charity.

Barbara Cook's pure soprano tone and warm presence have delighted audiences around the world for more than 50 years. Considered a favorite ingenue during the heyday of the Broadway musical, Miss Cook launched a second career as a concert and recording artist.
In her trasdemark black pants, black pull-over that's a cross between a chemise and a poncho and those oh-so-comfortable sandals, Miss Cook has been equally at home on international stages, such as London's Royal Albert Hall, Carnegie Hall or intimate cabaret settings, such as Cafe Carlyle, where she often rang in Spring with long-time collaborator and accompanist [the late] Wally Harper, and Feinstein's at Loews Regency.
She has a much-lauded career with Tony, Drama Desk, New York Drama Critics Circle and Grammy Awards. Miss Cook is a Theatre Hall of Fame inductee. In January, Miss Cook became the first female pop singer to be presented by the Metropolitan Opera in its 123-year history.
Her 2004 engagments on the West End and at Lincoln Center's Beaumont Theatre, Barbara Cook's Broadway, were hot tickets and received critical raves. Three years earlier, she premiered Mostly Sondheim at Carnegie Hall and took it to the West End, where she was nominated for Olivier Awards for Best Entertainment and Best Actress in a Musical.
Returning stateside, she took the show to the Beaumont for 14 sold-out weeks, and was Tony-nominated for Best Theatrical Event. Miss Cook and Harper, a team for over 30 years, were recipients of MAC Lifetime Achievement Awards.
It's been quite a lifetime for the seemingly ageless Miss Cook, who possesses one of the most impressive lyric soprano voices in show business.
Miss Cook arrived in New York from Atlanta in 1948 "to seek my fame and fortune." It took three years. "Considering the great talents in theater at that time," she says, "that was pure luck." A long-term cabaret experience in Boston prepared her for Broadway and clubs. "I spent nine months doing revues with small casts. The music was orter, Gershwin and Berlin."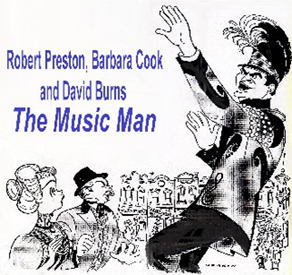 She made her Broadway debut at 23 in 1951 as the ingenue lead in Flahooley, went on to play Ado Annie in the City Center revival of Oklahoma!, did the national tour and, in 1954, was a memorable Carrie Pipperidge in Carousel. She went on to create roles in Plain and Fancy, the original Candide as Cunegonde, The Music Man as Marian the Librarian, The Gay Life, She Loves Me!, The Grass Harp and, less we forget, Carrie.
The original Candide lasted only 73 performances, but what a pedigree it boasts: the only musical libretto by Lillian Hellman and one of Leonard Bernstein's best scores. Lyricist, John LaTouche, died prior to rehearsals and Richard Wilbur took over. However, no less than Dorothy Parker made a few contributions.
"When I heard who was putting it together," explains Miss Cook, "I wanted to be cast, but never thought I'd get a part. My vocal instructor insisted I learn Verdi, Puccini and Mozart, even though I kept telling him it wasn't the type of music I wanted to sing."
As it turned out, that insistence was a huge pay off when she arrived at her first audition and found she was surrounded by opera singers.
Bernstein was always late, "but," relates Miss Cook, "I used the waiting time to look over the sheet music and, with all those high notes, you could have mistaken it for grand opera."
Audition she did, and Bernstein was impressed enough to want to hear more, but not what she was prepared to sing. In what she called quite a brazen and foolhardy moment, she told the mastro that she would do an aria from Madama Butterlfy if she had the music.
"He said, 'I don't need the music! I know it.' And Mr. Bernstein sat at the piano and started playing - at a different place than I knew. He was playing a part of the aria I didn't know! But we got on the same page and I gathered all my strength and ended with a D Flat and, boy, did he perk up!"
As one might assume, Miss Cook learned a lot about music working with Bernstein. "He was wonderful and made me feel as if I could do anything." She adds, "He loved to catch you off guard. There was, however, one time I could have strangled him. He came to my dressing room and took great delight in telling me Callas was out front. 'That's not what I need to hear before a performance,' I shot back. He laughed and replied, 'Watch out! She'd kill for some of your E Flats!'"
Miss Cook was a memorable Anna in the City Center revival of The King and I, appeared in their production of Carousel as Julie Jordan and did a stunning portrayal of Magnolia in the New York State Theater's production of Show Boat. She ventured into non-musical roles during the run of Any Wednesday, in Jules Feiffer's Little Murders and the Lincoln Center production of Gorky's Enemies.
There is one theatrical experience she omits and it won't take long to figure why.
Tastes had changed and the Barbara Cook of Carousel, The Music Man and She Loves Me found her style of music was out-of-favor with "audiences that count." Work was hard to find. When director Terry Hands offered her the co-starring role in the original production of the infamous Carrie at Stratford in the Royal Shakespeare Company production it seemed like a good idea. It would be a new start.
Casting her as Margaret White was quite unusal casting [the part was played on Broadway for a few nights by Betty Buckley]. Throughout her career, Miss Cook played those nice girls Broadway audiences of that period loved. She wasn't quite your vision of a rabid religious fanatic, but she dug in and gave it her all. There were more than a few "creative differences" during rehearsals as she and Hands got into heated arguments. She wanted to quit but thought that would be unprofessional, so she courageously stuck with the show.
"Courageously" is not used casually. "On opening night," reports Miss Cook, "in one of those freak stage accidents, I was almost decapitated when one of the props malfunctioned!" She wanted out as soon as posible. "I did absolutely the right thing in leaving. It was a debacle. There were some good songs, but as a whole it was...Oh, God!"
Hands, then a leading light of the RSC, she explains "had a good vision - in the beginning. But he was used to directing works by dead authors. He'd never done a musical [actually, he had]. Carrie was a whole different can of worms. And I think we may have had a few cans of them onstage!
"I don't know if it was so much ill-conceived, or just problem-plagued," she continues. "The biggest problem was that not one person working on it had done a show from scratch. No one had a clue as to how to fix it. I thought if a scene didn't work, Terry would see it. He didn't."
Miss Cook's new theatrical beginning was not to be. She admits she found solace in alcohol, "which led to manic depression. Somewhere, somehow when I saw how I was spiraling to that point of no return, I pulled myself up and sought help."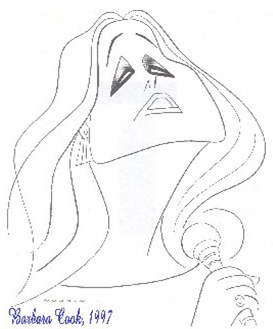 Part of her "recuperation" was getting back onstage and singing. And her concert appearances and new recordings led to a rediscovery from new audiences.

Miss Cook has a long memory and jokes about Broadway's so-called "Golden Years," saying, "I didn't know it. I was just walking, one foot in front of the other, wondering where my next job would come from. Do you think, one day, the actors working today will look back at this time as the 'Golden Years' of musicals."

On second thought, rolling off names such as Ethel Merman, Gwen Verdon, Rex Harrison and Julie Andrews and the shows they were appearing in at the time, she opines "I guess those were golden years. And I was lucky to be where I was. It was just the right time and I was the right package. I was so fortunate to have worked with such amazing people."

For Music Man, Miss Cook won a 1958 Tony. Strangely, it was in the Featured category but she was the co-star with Robert Preston and billed above the title.

She says she couldn't have asked for a more outstanding, easy-going or nicer co-star than Preston. "It was such a pleasure to come to work and hard to believe you were enjoying every day as much as you were. Robert was the engine of the show, the spark. Onstage, he had enough electricity to light Chicago for ten years!

"It was nice being in a show that was such a hit," she adds. "Everyone who was anyone came, and came back after. One night Robert came into my dressing room for our usual chit chat and said, 'Coop's out front.' I replied, 'Coop?' He said, 'Yes, Coop. Gary Cooper.' That got my attention. I told him if I didn't meet Gary Cooper there'd be hell to pay. After the curtain, there was a knock on my door. I opened it and there he was. I looked up at him and said, 'Oh, Mr. Cooper, it's so wonderful to meet you. I'm a huge fan.' And Gary Cooper replied, 'Gosh.' And that was it. Yes, there are some disappointments in life."

There was a huge one in 1964. Her She Loves Me! co-star Jack Cassidy was nominated for a Tony, but in her intergral role as Amalia Balash she was inexplicably overlooked by the Tony nominators. What made the oversight more unbelievable was the fact that Miss Cook had become a musical theater darling.

Though concerts and cabaret are her bread and butter, "Broadway," she says, "is still my first love." She was thrilled to be named to the Theater Hall of Fame in the early 90s.

"Candide, She Loves Me! and The Music Man were great experiences. Though I haven't done musical theater since 1971's The Grass Harp, there's nothing like it. I loved everything about it, especially the rehearsal period and being with people all working toward one goal. I made bonds that will last forever. Theater offers a wonderful sense of family and camaraderie. Even when you don't always get along!"

What? Not get along with Cunegonde, Marian the Librarian and Amalia Balash? "No, when they didn't get along with Barbara Cook," she reports. "It happened occasionally. But usually it was like we were all fighting on the same side, in the trenches, watching out for each other."

On those rare occasions when there were serious falling outs or a problem with a fellow performer, Cook says it was difficult to leave hurt feelings backstage, especially when she had to go out and sing a romantic ballad and do a love scene. "A couple of times it was quite the most difficult thing!" she emphasizes. "Most of the time, however, I just went out and did it. I didn't have a choice. Thankfully, the problems I had didn't last long. I'd try to patch things up quickly.

"It all comes down to the fact that you're not out there alone," she continues. "Some actors thrive on that. I never did. I hate that! I always tried to keep things cool because it's hard to work if you feel you can't trust the other person."

Miss Cook was greatly influenced in her approach to concert and cabaret music by the legendary song stylist Mabel Mercer. "I owe so much to Mabel for all I learned from her."

Over the years, it's often been noted that Cook's crystal soprano changed. Of course, she's aged, gained weight and isn't in the best physical shape. The voice is a shade darker but not in a blatant or perceptible way. There are other singers much younger who still perform and shouldn't. Miss Cook often forgets lyrics to songs she's sung a thousand times. Many wonder if it's a little trick to milk the audience. However, when she sings, it's magic.

Miss Cook is still blessed with the ability of sustaining mesmerizing and lengthy high notes with great clarity. She may not be younger than springtime, but her voice certainly is. It's amazing how very personal she makes the lyrics. You see she's feeling them and that makes for an affecting performance.

Now, at the milestone of her 80th years, you might wonder how much longer she can go on. "It's something I love doing," says Miss Cook, "so, as long as I can do it, why stop?"

Surprisingly, she never does vocal exercises. "I was fortunately born with a naturally sweet soprano. I had a wonderful vocal teacher who helped me build my voice. I learned good technique and I've always done what I was supposed to do. A lot of it has to do with the genes."

The person who often told her what to do was the person she trusted most, her rock, Harper. His death in 2004 was a devastating blow. Theirs was an incredible partnership where one seemed to know what the other was thinking before they even thought it. That's not to say they didn't argue and disagree. "Just like old friends," she laughs, "we went at each other over just about everything under the sun. In spite of that, we got along quite nicely. Now that I think about it, maybe it was because we rarely disagreed. On those occasions when we did, I listened to him. The best I can say about Wally is that he was simply a musical genius!"

From their first meetings in the 70s, Harper wanted to add another "element" to Miss Cook. She explained he really pushed her, not always willingly, to experiment to see what she was capable of doing. The result was the addition of a strong rhythmic pattern to her vocals.

Musiker is bringing a wealth of experience to the podium Monday and Tuesday. A fourth-generation musician, he's not only performed with the Philharmonic, New York City and American Ballet, the London Symphony and the Boston Pops, but has performed her and abroad as pianist with his trio.

Tickets for Barbara Cook's 80th Birthday Celebration with the New York Philharmonic are $29 to $119 and avaiable at the Avery Fisher box office, online at nyphil.org or by calling (212) 875-5656.




[Barbara Cook caricatures by SAM NORKIN]


A Monday without Amps and Mikes

Scott Siegel's Broadway Unplugged is back tomorrow night at 8 P.M. at Town Hall and amps and mikes be damned. The sound from the starry array of vocalists will be the old-fashioned kind, the way it used to be on Broadway: without microphones and amplification. You might say the credit can read: Sound design by God.

There will be approximately 20 stars, including Sarah Uriarte Berry, Darius de Haas, Max Von Essen, Marc Kudisch, Aaron Lazar, Beth Leavel, Andrea McArdle, William Michals, Paul Schoeffler, Emily Skinner, Martin Vidnovic and Barbara Walsh. Musical direction is by Ross Patterson who'll be on keyboards accompanied by his Little Big Band. Dan Foster is directing. Siegel will host.

"Marc Kudisch [on his off night from his tour-de-force in Stephen Flahery and Lynn Ahrens' The Glorious Ones] and Emily Skinner continue to be its foundation. The gold standard is represented by William Michals and Martin Vidnovic. We keep adding 'booming' talent. Aaron Lazar, Max Von Essen, Sarah Jane McMahon and Michael McElroy are new to Unplugged."

Lazar, Von Essen and McMahon proved their mettle by bringing down the house at Town Hall singing unplugged in Siegel's Broadway by the Year last season.

Broadway Unplugged is sponsored by the Edythe Kenner Foundation, Thoroughbred Records, TheaterMania.com, Trattoria Dopo Teatro, Jill and Irwin Cohen, Edith and Ervin Drake, Peter and Barbara Leavy, Fred Landau, Stuart E. Bloom and Robert Aaron: Lightstyles, LLC.

Tickets are $75, $50, or $25 and available at the Town Hall box office, through TicketMaster, (212) 307-4100, or www.ticketmaster.com.


A CD Launch in Elegant Style

The Jay Records cast album of the York Theater one night benefit production of Richard and Robert Sherman's Busker Alley, which starred Tony and Drama Desk winners Jim Dale and Glenn Close, will be launched on November 30, but not in a record megastore. The setting will be very first class: the majesty of Cunard's Queen Mary 2, docked in Brooklyn.

There will be lunch and a theatrical presentation directed by multi-Tony Award-winning theater/film designer Tony Walton, who helmed last November's benefit at the Kaye Playhouse. The musical staging reunited old friends Dale and Close, who starred in Barnum [1980]. It was also a reunion for Close and Walton, who worked together on Tom Stoppard's The Real Thing [1984]

Also starring were John Bolton, Jessica Grove, George S. Iriving, Simon Jones, Greg Mills, Noah Racey, Krista Rodriguez, Anne Rogers, Michael Lane Trautman and Jeff Williams.

The book is by A.J. Carothers, based on the 1938 British film St. Martin's Lane [released in the U.S. as The Sidewalks of London] which starred Charles Laughton, Vivien Leigh and Rex Harrison.

Busker Alley Partners have plans to bring the musical to Broadway next year starring Dale. That would be 39 years after the Shermans and Carothers finished it. The show's storied path to Broadway and the pratfalls along the way are now part of theatrical lore.

The Shermans, long a mainstay of anything that came out of Disney Studios with a song score [Mary Poppins, Chitty Chitty Bang Bang and one of the most played and best loved songs of all time, "It's A Small World"] will be honored.

Aaron Gandy will be music directing. Lisa Shriver will be choreographing. Among Walton's design credits is the acclaimed Guys and Dolls and Annie Get Your Gun revivals, the original Chicago , A Funny Thing Happened..., Grand Hotel, 1776, She Loves Me, Pippin, and The Will Rogers Follies. He will be directing Shaw's The Devil's Disciple, which begins performances at Irish Repertory on December 5. Last night he was honored by the National Arts Club with their Medal of Honor.

The event will be filmed for a Disney documentary about the Shermans.


Breakthrough for Early Thanksgiving?

According to sources involved in weekend negotiations between striking stagehands and the League of American Producers and Theatres, a major breakthough is predicted. As one producer active in the talks put it, "Let's hope by the end of Sunday, there will be compromises, handshakes around the table and that by Tuesday all Broadway shows will be up and running." He thought for a moment, then added, "Of course, there are no guarantees. If they dig their heels in, we're in big trouble."

If they don't, it will be just in time for the normally huge box office of the Thanksgiving holiday weekend. The sentiment on the picket lines was mostly for a quick settlement, as dragging the strike on is only creating ill will among theatergoers. One stagehand picketing in front of the St. James encountered a very irate parent who had tickets for The Grinch... and accused him of ruining her family's holiday trip to town.

Let's bring back Broadway...and soon!
Ellis Nassour is an international media journalist, and author of Honky Tonk Angel: The Intimate Story of Patsy Cline, which he has adapted into a musical for the stage. Visit www.patsyclinehta.com.

He can be reached at [email protected]





Why are you looking all the way down here?
For more articles by Ellis Nassour, click the links below!

Previous: Carol Burnett on PBS, Ethel Merman Screened Tonight; The Cabarets are Jumping with Chita and Marilyn Maye; Honors for Cherry Jones and Billy Crystal; The Lion King Celebrates 10; More

Next: Marisa Tomei Fully Clothed for Humanity; Bebe Neuwrith Friared; Busy Cabarets; The Sound of Music, Strings Attached; John Ford Silent Restored; Pasolini Remembered

Or go to the Archives