Almost any American of a certain age who watches TV has a favorite moment from The Carol Burnett Show: Star or starlet either descending a Tara-like staircase fully draped or descending from anywhere stunningly draped by Bob Mackie; Mrs. Wiggins fiddling with the intercom; Eunice bickering with her dyslectic family, ear tugging, no telling how many Tarzan yells and closing song renditions of "I'm So Glad We Had This Time Together."
Tonight on PBS' American Masters' Carol Burnett: A Woman of Character you can revisit those hilarious times and appreciate not only the splendid knockabout slapstick Burnett is famous for but also one of the best ensembles ever put together for a variety show, namely Tim Conway and Harvey Korman, and her look-a-like Vicki Lawrence.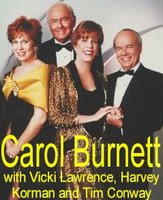 Burnett transformed herself from frumpy washerwoman into a one-woman army of comedic characters including blue collar women, dumb broads and goofy girls that many considered stereotypes, but on countless Saturday night she seduced us with laughter, the ROTF kind. And she didn't mind sharing the comic spotlight, allowing Harvey and Tim some of the most hilarious sketches ever - so funny, they often broke up laughing themselves.
In the process, The Carol Burnett Show won 25 Emmys, all well-deserved. Susan Lacy, American Masters creator and executive producer, says, "This consummate clown through force of will and talent forged a bond with her audience." Not too many would disagree with that statement. Burnett recollected that her grandmother told her, "Comedy is a tragedy plus time."
The child of divorced, alcoholic parents, Burnett was raised, as she put it, "a block north of Hollywood Boulevard, but a million miles from Hollywood" and amazed even herself by discovering who she was by pretending to be others. Going to the movie eight times a week accounts for her right-on characterizations. After more than 280 episodes, Burnett decided to tug that ear on last time. On March 17, 1978, she walked on in her charwoman character, delivered a moving speech about her colleagues and ended it.

A Tip of the Hat to the Merm
It's Ethel Merman time. There are two biographies in stores on one of Broadway's legendary talents and tonight from 6-7:30 P.M., the Paley Center for Media [formerly the Museum of Television & Radio, 25 West 52nd Street] celebrates the Broadway legend with highlights from her television legacy.
Selections from a 1949 performance of "I Got Rhythm" on Texaco Star Theater, her appearances on The Muppet Show, That Girl and The Tonight Show Starring Johnny Carson will be shown. One of the hosts will be Brian Kellow, author of the new tell-all Ethel Merman: A Life [Viking Books. SRP $25]. The other Merman tome is Brass Diva: The Life and Legends of Ethel Merman by Caryl Flinn [University of California Press, SRP $35].
Coming up November 14th at 6 P.M. the Paley Center is a night honoring three-time Oscar, four-time Tony and two-time DD-winner Angela Lansbury with An Evening with Angela Lansbury, part of their Media&Lens series. Broadway treasure and TV's beloved Jessica Fletcher will discuss her illustrious 60 years in show business and the importance of TV to her career. Some highlights of her work: Film - Gaslight, The Manchurian Candidate, The Dark at the Top of the Stairs; Stage - Deuce, Sweeney Todd, Gypsy, Mame, Dear World, Anyone Can Whistle; and TV Murder, She Wrote, numerous MFTV movies.

Chita's Back in Town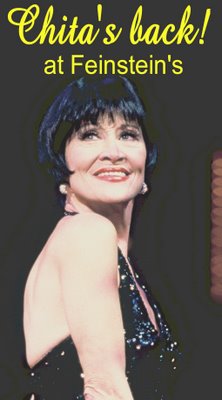 Two-time Tony and Drama Desk-winning theatrical treasure Chita Rivera will be heating things up starting Tuesday and through November 24th at Feinstein's at Loews Regency [540 Park Avenue at 61st Street]. Dolores Conchita, who has received an incredible 11 Tony noms, will perform songs from her celebrated musicals, including West Side Story, The Rink, Sweet Charity, Chicago and Kiss of the Spider Woman.
Carmel Dean is music directing and playing keyboards with Michael Croiter on percussion and Jim Donica on bass.
Rivera recently completed a tour of her short-lived Broadway autobiographical revue The Dancer's Life, which was written by Terence McNally and directed by Graciela Daniele.
Rivera will play Tuesdays through Saturdays at 8:30 P.M., with late shows Fridays and Saturdays at 11. Tickets are $75, with a $40 minimum. Go ahead, spring a few bucks. Chita's special and she'll spread plenty of good cheer to help ring in the holiday season. Feinstein's suggests gentlemen wear jackets, but if you're no a gentleman it's not mandatory. For reservations, call (212) 339-4095 or visit online at feinsteinsattheregency.com and TicketWeb.com.

Maye in November

She could easily sing for her supper, but at the Metropolitan Room [34 West 22nd Street, between Fifth and Sixth Avenues] the powerhouse chanteuse will have to be satisfied performing for desserts from the Little Pie Company. In addition to those delicious treats, audiences can tipple a few as Maye returns with an all new show, after her acclaimed and sold-out March engagement at Metro. That run marked her return to the cabaret stage for the first time in 16 years.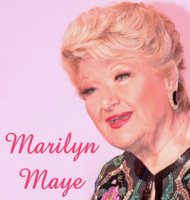 For 11 performances beginning Wednesday and through November 19, Maye will dazzle with her Super Singer!, her tribute to Johnny Carson and her numerous appearances on The Tonight Show.
Tickets are $30 with a two-drink minimum. For reservations, call (212) 206-0440 or visit http://www.metropolitanroom.com/.
Also headling in Metro's star-packed November is the woman of many voices, DD-nominee Christine Pedi, returning in Great Dames, November 9, 10, 16, 25 and 30, with songs made famous by, of course, a bunch of other gals from stage and screen, such as Andrews. Merman, Liza with a Z, Streisand and more. On November 23, Liz Callaway joins the lineup in her solo New York cabaret debut with nine performances and will be followed by Luba Mason [How to SucceedÖ, J&H, Chicago] with four shows.

Lion Pride
Disney's The Lion King will reach a new plateau not only in the African Plains but also on Broadway on the 13th when it celebrates its 10th Anniversary. There'll be a gala performance November 11th, with an anniversary proclamation from Mayor Bloomberg, and this Friday a caricature of the Rafiki character, originated by DD-winner and Tony-nominee Tsidii Le Loka, will be hung on Sardi's celebrity-filled walls. The role is currently played by Tshidi Manye, who'll be at the "unveiling."
The Tony and DD-winning Best Musical set a new definition for spectacle in Julie Taymor's eye-popping production. As a reward, she became the first woman in Broadway history to win the Tony for Best Director, Musical.
The majority of the Tony-winning score is by Sir Elton John and Sir Tim Rice. Contributing additional music is Hans Zimmer, who wrote the movie score. Songs include: "Can You Feel the Love Tonight?" [Oscar, Best Song], "Circle of Life," "Hakuna Matata," "I Just Can't Wait to Be King" and "They Live in You."
The Lion King is the 9th longest running musical in Broadway history. Of 70 awards worldwide, it garnered six Tonys, including Best Musical, eight Drama Desk and the New York Drama Critics Award for Best Musical. The Grammy-winning cast CD is certified Platinum. It has been seen by over 43 million people in 15 countries.
Some interesting trivia: Nathaniel Stampley, who plays Mufasa, met his wife Lanette Costas in the show; there are more than 230 puppets; 30 animals represented, including antelope, baboon, elephant, giraffe, hyenas, lion, meerkat and warthog [the tallest, of course, are the 18-foot giraffes, the biggest is the elephant at 13X11.3X9; to keep the musical faithful to its African origins, South African performers have been integral members of the company since opening; on average, the make-up department goes through 13 refill-packs of Baby Wipes per week [and they're used in a totally different way!].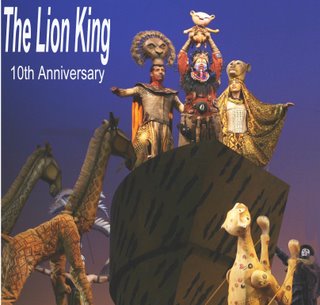 Dashaun Young as Simba and Kissy Simmons, in her Broadway debut, as Nala co-star in the cast of 52.
To make Lion King painstakingly accurate, hair and make-up designer Michael Ward drew inspiration for his colorful work by researching various African tribes.One of the behind-the-scenes craftspersons who keeps the show fresh is make-up supervisor Elizabeth Cohen, who has her share of stories when things don't go as planned. "It's our job to get it right," says Cohen, "but there're always things you're not prepared for."
Like the time Kissy Simmons, playing Nala, complained of illness but insisted on going on. Whew! "because," notes Cohen, "the only Nala cover was Reema Webb in the ensemble and she was very pregnant."
Backstage crews, like Boy Scouts, learn to be prepared. During intermission, Cohen and her make-up team pulled Webb in and got her ready. But you can't keep a trouper down and Simmons bravely raised her head and said, "I'm okay. I can go on." And out she went, just in time for her big solo.
However, even the applause was not a cure-all. When Simmons exited, she informed the stage manager she couldn't continue. "Of course," says Cohen, "Reema was now back in the ensemble and had to be discreetly plucked off stage."
As the hair and sound folks went to work, wardrobe supervisor Kjeld Andersen scrambled to put together a costume for Nala, who would appear suddenly pregnant. "Reema was ready within seconds of Nala's next entrance," reports Cohen. "When she appeared, the audience had to wonder how Nala had gone from tall and statuesque to short and pregnant. To make it funnier, her next line was ëThere's no food, no water.'"
With little make-up or touching up to do in Act Two Cohen's friends often ask why she stays until curtain. She laughs, "That story explains why!"
Disney has more to celebrate. Their and the Sherman Brothers' supercalifragilisticexpialidocious Tony and DD-nominated musical Mary Poppins enters its 2nd year on Broadway November 16, still starring DD-nominee Ashley Brown, Tony-nominee and DD-winner Gavin Lee, Tony nom Rebecca Luker and Daniel Jenkins co-star.
If that's not enough, Disney and Alan Menken and Howard Ashman's The Little Mermaid just began performances, and not under the sea but at the stunningly refurbished Lunt-Fontanne, where Disney's Beauty and the Beast recently ended its 13-year run.

Cherry Jones Honored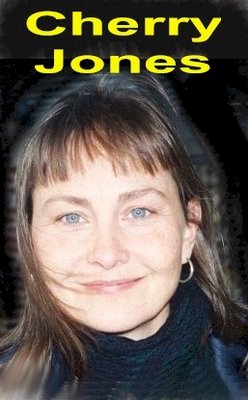 Cherry Jones outspoken? Who knew? Now bi-coastal, two-time Tony and three-time DD-winner Jones returned to New York after three months in L.A. shooting the hit TV series 24 to be honored as Outspoken Community Leader by the Lesbian, Gay, Bisexual & Transgender Community Center, which held it's annual women's gala Saturday night at Chelsea Piers. On 24, in a sort of precursor of things to come, Jones plays the president of the United States. [Watch out, HRC!]
Jones was introduced by dressed to the nines and very regally relaxed Tony and DD winner [and multiple nominee] Marian Seldes, who praised Jones as one of the finest stage actors of our time. "I fell in love with Cherry the very first time I saw her in Our Country's Good," said Seldes, "and I'm still in love and in awe of her. She brings such power and commitment to every role."
Taking the stage, Jones had the audience of mostly well-heeled lesbians, some dripping with more diamonds than you see on the Oscars, in stitches when, after warmly embracing Seldes, she said, "Don't you wish we could make her one of our own. Let's do it for tonight only!"
Also honored at the gala sponsored by IBM was Sally Susman, Executive VP for global communications at EstÈe Lauder.

Crystal Twained

The Tenth Annual Kennedy Center Mark Twain Prize will celebrate Billy Crystal. On PBS on November 12 from 9-10:30 P.M. you can enjoy the tributes and comic testimonials from Bob Costas, Robert DeNiro, Danny DeVito, Jimmy Fallon, Whoopi Goldberg, John Goodman, Jon Lovitz, Rob Reiner, Martin Short, Barbara Walters and Robin Williams. The program will also include an assortment of classic film clips from Crystal's career.
The Mark Twain Prize for American Humor was created in 1998 by the John F. Kennedy Center for the Performing Arts. Past recipients include Richard Pryor, Jonathan Winters, Carl Reiner, Whoopi Goldberg, Bob Newhart, Lily Tomlin, Steve Martin and Neil Simon.
"That's pretty heady company!" said Crystal. "It's a Who's Who of comic legends who helped write the book on contemporary comedy. To be given the same award is just unbelievable. As my grandfather said, ëIf you hang around the store long enough, once in a while they'll give you something!' I'm happy I hung around."
After touring with Billy Joel, Neil Sedaka and Sha Na Na, Crystal became a regular on Soap; and a pioneer of sorts, playing the first openly gay character on a network TV series. He went on to Saturday Night Live, became the first comedian to perform in what we knew then as the Soviet Union, hosted the Grammys and Oscars and starred in movies Crystal's film 61* for HBO garnered 12 Emmy noms, including Director and Best Made for Television Movie.
He made his Broadway debut in 2004 to SRO with 700 Sundays, his autobiographical one-man play about times sharing baseball with his dad. That venture turned into two best-selling children's books.

Theater Resources Benefit

Theater Resources Unlimited will be honoring Tony [Elaine Stritch At Liberty] and DD-winning [The Exonerated] producer Cheryl Wiesenfeld at their Sixth Annual TRU Love benefit on November 11th at 1 P.M. at Sardi's. Among those saluting Wiesenfeld will be Tony Winner and TV daytime drama star Tonya Pinkins, Mia Dillon, Keir Dullea and a possible appearance by Elaine Stritch. In addition, Danai Gurira and Nikkole Salter will perform highlights from their acclaimed play, In the Continuum.
There will be a silent auction for tickets to such shows as as The Color Purple, In the Heights and Legally Blonde, tickets to the Colbert Report, which include a behind-the-scenes tour, even a $5,000 sitting from Bradford Renaissance Portraits.
Tickets for the benefit luncheon are $100 for unreserved tables and may be purchased at www.truonline.org/store.htm. For more information, go to http://www.truonline.org/.

How About Some Soho Rapp?

Beginning Wednesday, the Flea Theater [41 White Street, between Broadway and Church Streets] is hosting the return of controversial Pulitzer Prize-finalist novelist and Obie Award-winning playwright Adam Rapp [Red Light Winter, Blackbird] with the world premiere of Bingo with the Indians, which he not only wrote but also will be directing.
The story tells of a disgruntled East Village theater company which descends upon a small New England town with a plan that will hopefully pay for their next production: they're going to rob the bingo game. If you've ever been to bingo, even in church halls, you know from some of the characters you've seen this isn't going to be a walk in the park.
The production stars members of the Flea's resident acting company, the Bats. The DD and Obie-winning Flea's A.D. is Jim Simpson with Carol Ostrow as producing director.
Tickets are $20 and $30. To purchcase, call OvationTix, (866) 811-4111.

Kabuki Anyone?

Renowned Japanese theater, film and TV star Ryuji Sawa returns to town with his show incorporating elements of Japanese popular theater, including Kabuki dance, Taiko drumming, sword fighting and martial arts. Performances are at Theater for the New City [155 First Avenue, between Ninth and Tenth Streets] from Tuesday through November 11.
Sawa, who made his stage debut at age four, is also a master of the quick costume change. Speaking of costumes, be prepared to be dazzled.
The cast of 11 features 12-year-old Ozora Takami, a fan dance prodigy playing, as is traditional in Kabuki, a female role, that of a geisha.
Tickets are $35 and can be purchased by calling (212) 352-3101 or online at www.TheaterMania.com. Student rush tickets for $20 are offered day of show, based on availability. For more information, visit http://www.tkonyc.com/.

Durang Returns
Ground UP Productions is presenting a revival of three-time Obie-winning Christopher Durang's wickedly comedy of manners, Baby with the Bathwater, through November 17th at Manhattan Theatre Source [177 MacDougal Street, between Waverly Place and West 8th Street].
The five-member ensemble is directed by Kevin Connell. Tickets are $20 and may be purchased by calling (212) 352-3101 or on-line at http://www.theatresource.org/.

Hot Feet
Punk rock and Celtic music and dance collide at the New Victory which is presenting Guiness Book of World Records' Fastest Dancer in the World, James Devine and his dance company in Tapeire through November 25.
Devine, who clocks in an astounding 38 taps per second, may be familiar as he starred with Michael Flatley in the world-wise smash Lord of the Dance. Acclaimed "grunge fiddler" Ashley MacIsaac and award-winning electric harpist Phamie Gow provide the musical fushion.
Tapeire was a sold-out hit at the 2006 Edinburgh Fringe Festival.
Tickets are $12.50-$35 and are available a the box office, by calling (646) 223-3010 or online at www.NewVictory.org. The New Vic is offering a special deal: those who purchase tickets to Tapeire and at least two other productions this season become automatically become members and can save 30% on tickets.
--------
Ellis Nassour is an international media journalist, and author of Honky Tonk Angel: The Intimate Story of Patsy Cline, which he has adapted into a musical for the stage. Visit www.patsyclinehta.com.

He can be reached at [email protected]





Why are you looking all the way down here?
For more articles by Ellis Nassour, click the links below!

Previous: Broadway Cabaret Fest Salutes Stephen Schwartz, Betty Buckley and Broadway Originals; Tony Martin Sings; Unsinkable Tammy; Career Transitions Rocks; The War On DVD; More

Next: Philharmonic Celebrates Barbara Cook Milestone; Broadway Unplugged; QM2 Hosts Busker Alley CD Release

Or go to the Archives