How do you make Young Frankenstein, Broadway's musical "monster hit," described as "dizzy, glitzy and funny," dizzier, glitzier and funnier?
Creator Mel Brooks and award-winning director/choreographer Susan Stroman knew how. They simply called triple-threat [singer, dancer, beauty] Tony and Drama Desk Award-winning Beth Leavel and said, "We'd like you to play Frau Blucher."
"How could I resist?" says the actress who won audience and critical accolades as the title character in the award-winning musical comedy The Drowsy Chaperone.
"There was no way I could! Frau Blucher - and in Transylvania you stress the 'blu' - is the keeper of the castle and all its secrets. She's highly mysterious. You wouldn't know it, but at one time she was not only Dr. Frankie's grandfather's live-in housekeeper but also lover. And she's still on the prowl."
There was just one problem. "After being so glamorous in the roles I've played, now I'm the total opposite," laughs Leavel. Those roles include the recent City Center Encores! No, No, Nanette and hilarious Anytime Annie in 42nd Street, her Broadway debut [she later unstudied the Dorothy Brock role in the revival].
Adds Leavel, "The women I've played have been ultra chic and in gorgeous costumes. Now, I'm in a drab outfit talking with a German accent and sporting this big mole and an Agnes Moorhead hairdo. I guess you could call it a different kind of glamour!"
As Blucher, Leavel gets to play a mean violin to sooth the arousing spirit of a creature who's suddenly "Alive!" She strikes fear into everyone, so much so that at the very mention of her name, horses neigh and bray, neigh and bray. But, around Broadway, Leavel is known as anything but fearsome. She's a sweetie.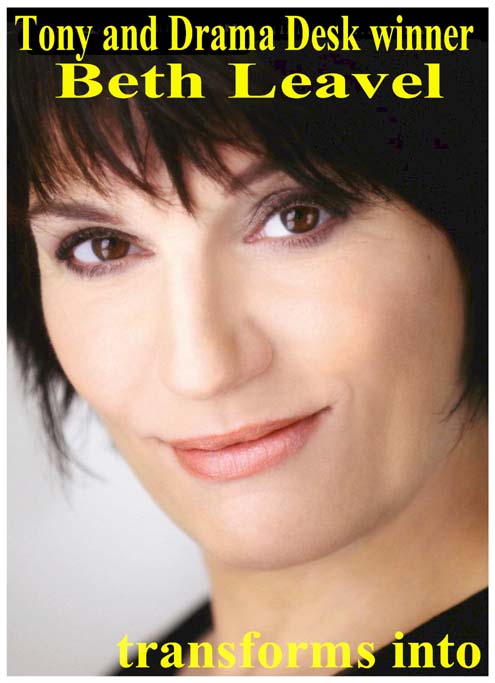 The actress says that being onstage with Roger Bart [The Producers], who plays the dashing grandson of Dr. Frankenstein, who's carrying on "the family business," is such a blast that she can't wait to go to work. "Roger's so hilarious that it's hard not to crack up. I've been a long-time fan, but hadn't known him till now. I understand why I'd been such a fan. We speak the same kind of comedy language."
She had no sooner exited Drowsy when she was cast in the Nanette Fabray role in the Old Globe premiere of Dancing in the Dark, the stage adaptation of M-G-M's classic 1953 musical The Bandwagon [which co-starred Fred Astaire and Cyd Charisse with a script by Comden and Green, with some uncredited work by none other than Alan Jay Lerner.]. The show was written by Douglas Carter Beane; directing was Gary Griffin. Scott Bakula, Mara Davi, Adam Heller and Patrick Page co-starred.
"It was three months," she notes, "and my family wasn't too crazy about it. They have school and jobs. But my children did okay without mommie. It helps that daddy [former dancer, John Milne, now a catering executive] can cook."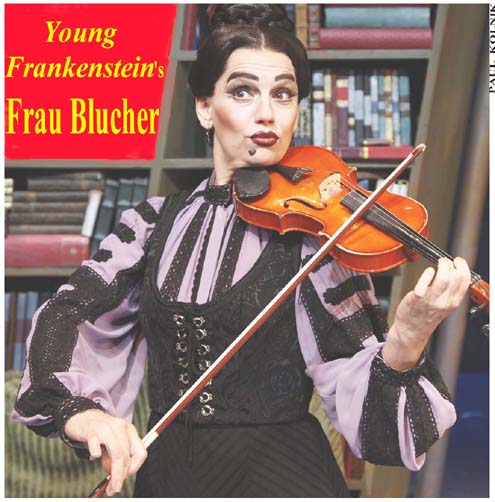 Getting to sing "That's Entertainment" and all those iconic numbers from the Howard Dietz and Arthur Schwartz.catalogue [which included "A Shine on Your Shoes," "By Myself," "I Guess I Have to Change My Plans," "Something to Remember You By" and "Dancing in the Dark"] "was just exhilarating. Yes, I got to do 'Triplets,' which is one of those incredible Golden Age of Movie Musicals moments."
Is Broadway in the show's future? "Everyone is trying to gauge what kind of life it might have, but I think the title's gone back to The Bandwagon."
Leavel returned from California and the next day started rehearsals for Nanette. "I hadn't even unpacked! Nanette was just great. What a joy to work with Sandy Duncan. It was a fully realized Broadway musical - wigs, costumes, choreography - just minus the weeks of rehearsal. It's all done in less than two weeks. You feel like you're being shot out of a canon."
Which was just the experience she needed as she stepped into Young Frankie. "I opened after only two weeks of rehearsal!"
Frau Blucher wasn't a role Leavel saw in her future. Comedy powerhouse Andrea Martin originated the role and, in addition to all but stealing the show, walked off with Tony and Drama Desk nominations.
"In the midst of Nanette, my agent called and said, 'Would you be interested in replacing Andrea Martin?' I replied, 'No one could replace Andrea Martin ever!' But I mulled it over and realized it would be a great opportunity to continue the role Andrea memorably created and put my own take on it."
Leavel, in a singing, dancing and comedy league of her own, laughed when a friend said, "You didn't have to audition, did you?" She replied, "Of course, I had to audition." Her stunning comic turns in Drowsy were still etched in everyone's mind, but go in she did - auditioning once for Stroman and once for Brooks, who on the spot informed her that she got the part.
"I'm having a ridiculously fun time playing Frau Blucher - now. However, my first time in front of an audience was another example of being shot out of a canon except in Young Frankenstein, everyone's been doing the show for a year. That's one of the 'fun' things about being a replacement. It's like being on the starting line and someone shouts 'Go!' and you're pushed. You say 'I'm a professional! I'm a professional' and you go."
Leavel recalls telling Bart and co-star Shuler Hensley, who plays the monster, "If I look like a deer in the headlights, please say my line for me!"
Thankfully, that hasn't happened! "One of the great things about being in a show," she says, "is that everyone's in it together. You're part of a family. And family watches out for you. Everyone has really taken care of me."
She really brags on Shuler Hensely, who as everyone probably knows, plays the Monster. "He's simply fantastic!" Leavel says of the 2002 Tony and DD-winner [Oklahoma!] and 2008 DD-nominee. "I admire him so much and in total awe of how he manages to do with he does in green make-up, that costume and on stilt shoes. When he does the 'Putting on the Ritz' number, the audience erupts into screams. We all do. You can't help it. It's a great theatrical moment."
Leavel isn't the only "new kid on the block." Joining the company of 27 with co-stars, the hilarious Fred Applegate, who plays the hermit and Inspector Kemp, and the ultra-hilarious [Tony and DD-nominee] Christopher Fitzgerald as Igor are Michele Ragusa as Elizabeth [replacing Megan Mullally] and Kelly Sullivan as Inga [replacing Sutton Foster].
She now lives in a home with a great yard just over the Hudson in New Jersey - a far cry from growing up in North Carolina. "When did you catch the show business buy? Was being in theater always your dream?"
"It was once I realized it was a possibility," she states. "I was a little chicken to move to New York when I got out of school, so I was a late bloomer. But once I discovered I could do it and became committed to doing it, I never looked back. There have been times when I've been poor, but what are you going to do?"
Next up, Leavel will work with her D.C. team - director-choreographer Casey Nicholaw and Tony-winning librettist Bob Martin--.in the much and long-anticipated Minsky's, "which I think has the potential to be a great musical. So keep your fingers crossed."
The score is by veteran composer Charles Strouse and lyricist Susan Birkenhead. It's based on the 1968 film, co-written by Norman Lear, The Night They Raided Minsky's, about an Amish girl who causes a sensation at New York's famed burlesque palace - a sensation that gets lots of police attention. The plan is to open late this year or early next in L.A. at Center Theatre Group's Ahmanson Theatre.
N.B. - Re: Young Frankenstein. Parents should remember, in spite of the fact that the Hilton Theatre offers booster seats, that this is an adult musical thanks to Mel Brooks double entendres and blatant vulgarity [even in one of the songs], including use of the F word [and for what reason?]. It could be rated R; PG-13, at best.

Another Big Fringe Fest
With a blockbuster, show-crammed [over 200! from around the world] week to go, the 12th annual New York International Fringe Festival [FringeNYC], which is the largest multi-arts festival in North America, already has 12 shows totally sold-out -- with the possibility of an added performance and then presentation in the encore series after the August 24th closing.
Among the hits: Becoming Britney [you might luck out with a ticket for Tuesday or Saturday]; The Fabulous Kane Sisters in Box Office Poison, bawdy burlesque set in Pocatello, Idaho, where murder not a star is borne in a trunk [Tuesday, Friday]; Gem! A Truly Outrageous Parody [Thursday, Saturday]; Hidden Fees [Thursday or Friday]; Hot Cripple [Friday, Sunday]; I Love You, Petty & Farvre [Saturday]; Krapp, 39, "a multi-media reflection on the kinship with Beckett's character" [Tuesday, Friday]; Paper Dolls [Thursday, Friday, Saturday]; and there are two sides to the story in Zombie [Thursday].
Highlights of this week's shows are: @lice in www.onderland, based on Lewis Carroll; the sexually-charged 52 Man Pickup; trash and glitter abound in Be Brave, Anna!, where Anna Nicole Smith is transformed into the heroine of a 19th century French melodrama; Blanche Survives Katrina in a FEMA Trailer Named Desire; China - The Whole Enchilada, "a slapstick race through 4,000 years of China history in 90 minutes"; The Home for Wayward Girls and Fallen Women; and, among numerous, numerous others, Kaboom, a comedy/vaudeville/side show/magic/burlesque romp.
Tickets are $15 each, and available at FringeCENTRAL [Openhouse, 201 Mulberry Street, between Spring and Kenmare Streets], www.fringenyc.org or by calling (866) 468-7619. Discount passes for multiple shows are available. For listings, venues and showtimes, visit www.FringeNYC.org.

Down by the Riverside
Ross Mollison's Spiegelworld has returned to the far side of Pier 17 at the South Street Seaport for a third season, running to November 2. Along with the two featured cirque shows, Absinthe and Desir, are intimate concerts, burlesque, "Headphone Disco" [two DJs spinning into your ears], dining and drink, not to mention jewelry from France's Boucheron [visit the boutique to be blinded by the elegant opulence].
Absinthe and Desir are presented in the large vintage Belgian Spiegeltent, named the Salon Perdu. In a smaller tent, dubbed the Deluxe, there are presentations of FringeNYC shows.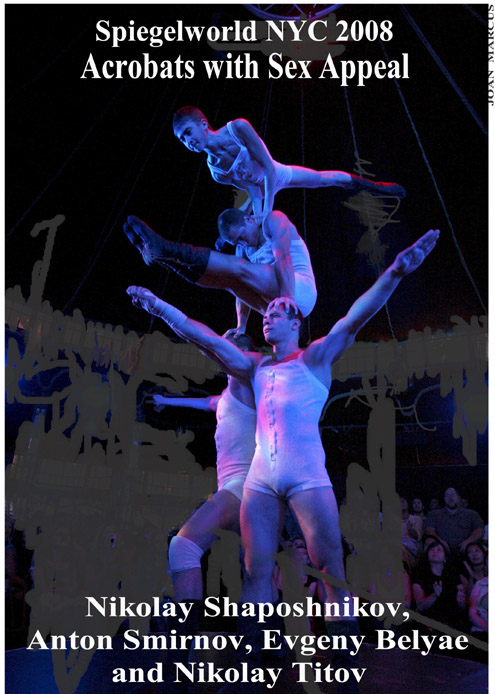 Absinthe brings back a couple of crowd-pleasers from last year: the dare-devil roller skating duo, the Willers [Jean-Pierre and Wanda Poissonnet] and burlesque artiste Julie Atlas Muz with her tassles and giant balloon.
There are "Icarian Games" courtesy of eighth generation circus performers, the Anastasini Brothers, who defy gravity with human tilt-a-whirling. Princess Anya segues from hula hoops to contortion; Duo Sergio [Sergey Petrov and Sergey Dubovyk] strip to the very basic and execute highly-sexual and punishing beefcake hand balancing to the max, but hardly anyone is looking at their hands; Paris and Montreal's sizzling Duo Ssens [Genevieve Morin and Maxime], prove love in high places [such as a trapeze] is possible; and then there's Adil Rida's raw strap performance that will leave you breathless.
The new show in the Spiegeltent, Desir, is a themed exotic sexual adventure akin to sketches at Paris' Crazy Horse nightclub and Cirque du Soleil's adult Vegas show, Zumanity, with a lot of Victoria's Secrets thrown into the mix.
This show is blessed with some dazzling costumes, jewelry and, thankfully, the total absence of Absinthe's grating Gazillionaire, Voki Kalsayan, a sort of down and dirty Don Rickles for the 00's, who goes on so long with his heckling of audience members - along with filthy comedienne sidekick Pretty Penny, Anais Thomassian - that it feels like obnoxious filler taking up time where another act could have been presented.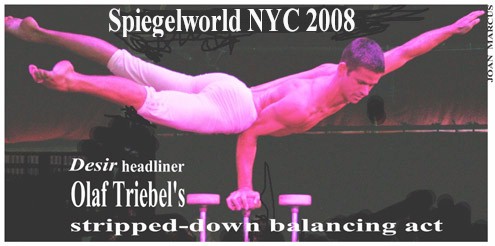 Desir's creative team is impressive: the director is former Sydney Theater Company A.D. Wayne Harrison with choreography by John "Cha Cha" O'Connell [Enchanted, Moulin Rouge, Baz Luhrmann's Australia, Shall We Dance and Strictly Ballroom]. It's amazing what they're able to accomplish on the small stage areas.

Harrison returns after directing last year's Absinthe. He was creative director of the 2005-2007 New Year's Eve celebrations on Sydney Harbor; and directed the 2006 Melbourne Commonwealth Games closing ceremony. He's developing two musicals: Catherine Johnson's Through the Wire, for London's Royal National Theatre; and Justin Fleming/Stewart D'Arrietta's Satango in Sydney.
It's reported that some 500,000 miles were clocked -- from Russia and the Ukraine, China and Europe to Down Under and even Texas -- in Mollison and Harrison's talent search. They chose well.
Duo Scarlette [beauties oozing sex appeal Annie-Kim Dery and Marieve Hemond] are sizzling lovers airborne in a cloud swing pas de deux. Olaf Triebel [formerly, Cirque du Soleil] is an acrobaticl wonder flexing his perfect physique into mind-boggling positions balancing on wooden rods. It's also said that he's a medical wonder, having had his ribs removed? Desir has its strap act, courtesy of Marco Noury, who displays handsomeness, masculinity, power, elegance and incredible physical control.
In a show filled with scene-stealers, Evolution [Evgeny Belyaev, Nikolay Shaposhnikov, Anton Smirnov and Nikolay Titov] almost walk away with the show. They strip down from their Czarist sailor outfits to Victorian-era undies and are as awesome as they are agile as they combine Spartacus-type acrobatics with some Isadora Duncan/Martha Graham-style movement and keep audience members errupting in howls of laughter even as their jaws drop.
Coming in pretty darn close and also bringing down the house is the hilarious spoof of an impossible-to-perform hand-to-hand acrobatics by Antoine Auger and Genevieve Morin.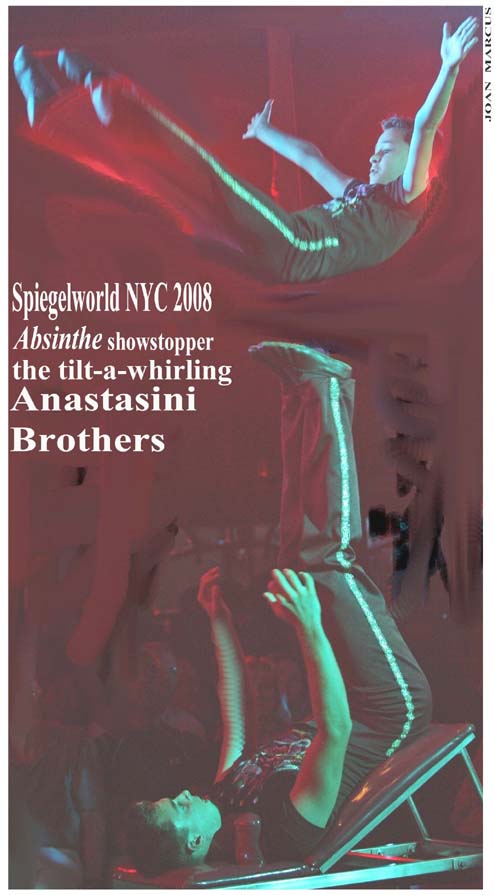 There is another "star" in this show, which unlike larger attractions today, isn't computer-driven at all. Behind-the-scenes rigger Daryl outdoes any state-of-the-art technology by powerfully handling all the ropes for the aerial acts single-handledly. Thankfully, he gets a bow and a tribute of thanks from the cast. Niluka Hotaling is the very busy stage manager, so fast that she's seemingly sometimes in two places at once.
The handsome artists of Absinthe and Desir could bring back the old tradition of stage door Johnnies and Janes. If you arrive short-handed but have that impulse to impress, well, Boucheron has their little boutique only steps away. Buy a little trinket!
Though Absinthe and Desir have their share of showstopping headliners, they are a bit similar [and both are certainly adults-only]. If you've seen one, the other is going to be quite familiar [hula hoops, straps, hand balancers, contortionists]; however, there are vast differences, too. If you have the money, see both.
Highlights of visiting Spiegelworld at Pier 17 include museums, storied clipper ships, nighttime views of the Brooklyn, Manhattan and Williamsburg Bridges, waterfalls and light reflecting and bouncing off the waters of the East River.
If you're looking for an ultra-romantic setting, this is it. There are cruises, ferry service, a food court atop Pier 17 and numerous boutiques and surrounding restaurants. The Seaport is reachable by A and C trains to Broadway-Nassau [a convoluted station if ever there was one!] and Seventh Avenue 2 and 3 and Lexington Avenue 4 and 5 to Fulton Street.

Tickets are $25 - $69, with dinner/show packages available for $100, and available through www.Spiegelworld.com or by calling Ticket Central, (212) 279- 4200. For more information, showtimes and the concert rooster, visit www.Spiegelworld.com.

Luba's Back - One Night Only
Slovak beauty, belter and classically-trained vocalist/pianist Luba Mason will perform selectionf from her debut CD, Collage, and her long-anticipated CD, Krazy Love, Monday, August 25 at 7 P.M. in the Voices From the Great White Way series at the Laurie Beechman Theatre [407 West 42nd Street, between Ninth and Tenth Avenues].
Of the new album, Mason said, "It exudes a cool, Brazilian mood and that wonderful acoustic sound so many of the great Brazilian composers, such Antonio Carlos Jobim, who took the extroverted rhythms of samba and the bossa nova and created a richly romantic and intimate music."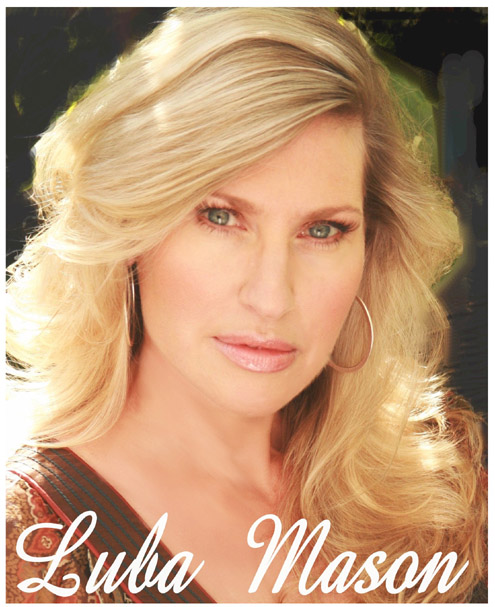 Saturday, Mason headlined the annual Wildflower Music Festival in Hawley, Pennsylvania, which was taped by NPR for airing this week in Pennsylvania, New Jersey and New York.
Straight out of school, Mason was plucked by Tommy Tune to join the Tony-winning, The Will Rogers Follies as Ziegfeld's Favorite. But it was Des McAnuff who really put her on the "map" in the Broadway revival of How to Succeed..., where she played the sexpot with a heart of gold, Hedy LaRue, opposite Matthew Broderick. Among other Bway credits: Paul Simon's The Capeman [where she met her husband, musician/Panamian ambassador Ruben Blades], Jekyll & Hyde and as Velma Kelly opposite Brooke Shields' Roxy in the Chicago revival.
Coming up in the Monday Voices From the Great White Way series are Barbara Walsh, Christine Andreas, John Treacy Egan, Alison Fraser, Andrea Burns, Mary Testa, Alexander Gemignani and Judy McLane.
Beechman tickets are $25 with a $15 beverage or food minimum. For reservations, call (212) 695-6909.

LuPone and Gypsy Cast Sign;
More LuPone Coming
Patti LuPone, Boyd Gaines and Laura Benanti will discuss their Tony and DD award- winning revival of Gypsy and their performances on Thursday, August 28 at 5 P.M. in the Barnes & Noble concert space at the Lincoln Triangle store [Broadway and 65th Street].
No performance is planned, but the Tony and DD-winning cast members will sign copies of the just-released 2008 Broadway cast recording of the show [Time-Life Records], which contains a booklet with notes by LuPone and author Steven Susskind in addition to full-page photos and costume sketches. As bonus material, the cast recorded six tunes cut from the original production.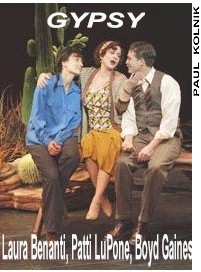 LuPone is very generous in her praise of Laurents. "I didn't do this alone," she says of her acclaimed, award-winning [Tony and DD], mesmerizing, dynamic, shattering performance as Mama Rose in Gypsy. "I brought Patti LuPone, but it's Arthur who's responsible for what Patti LuPone is doing. It has been one of the most satisfying and incredible journeys of my career working with Arthur in creating Rose. Did I say he is amazing? This has long been his dream project and he really wanted to bring something new to it. Throughout the entire process he was very focused. Whatever I've accomplished, I owe it all to Arthur."
The stirring tribute LuPone was making on the Tonys to Gypsy original star Ethel Merman was, sadly, all but drowned out by the Okay-that's-it-you've-said-enough-now-get-off music; but playing Rose, she accounts, "never entered my mind."
On hearing the show's cast album at home on L.I., she fell in love with Dainty June's opening "Cow Song." However, she didn't have eyes on playing June but on Mazeppa! She liked the way she played the trumpet.
She did go on to play Louise at 13 in a Northport school production. "I was stripping in front of my teachers," she recalls in the liner notes. "There I was pulling the panels off my costume staring straight at my science teacher, thinking 'How do you like them eggrolls, Mr. Goldstone?'"
After the Ravina concerts in Illinois and the sold-out City Center Encores!, when it seemed possible Gyspy could be moved to Broadway, LuPone remembers Laurents telling her, "I want this Gypsy to be different from all the other productions. I want to cast it with actors." And so he did.
The result is "a company unparalleled in my theatrical experience," LuPone writes. "I'm so proud to work with this finest and most dedicated group."
There's more LuPone news. And, perhaps, another signing in LuPone's future. No, she's not penning her autobiography - yet! Nothing ever seems lost forever [except our youth]. Along with news of the discovery of a long-lost Michelangelo comes word that a lost concert by the reigning queen of Broadway has been found -- not only found but digitally remastered.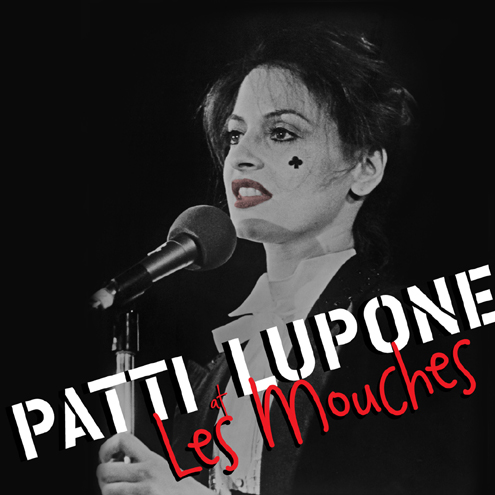 On November 11th Ghostlight Records releases Patti LuPone at Les Mouches, a 1980 concert at the high-end, trendy club. Except for anyone with access to the source, none of the material has ever been commercially released in any format.
Ghostlight prez Kurt Deutsch, producing partner Joel Moss and co-producers Ben Rimalower and David Lewis culled the tracks from the venue's original board mixes. "We've assembled a recording that captures the raw energy and excitement of a once-in-a- lifetime concert and moment in time," says Deutsch. "It was quite a night. Everybody who was anybody was there, from Andy Warhol to Jodie Foster to Stephen Sondheim. It was literally the hottest ticket in town.
The Daily News critic raved, "Anyone who thinks there are no volcanoes in Manhattan should check out Les Mouches...Patti LuPone fulminates, thunders and showers the room with sparks."
LuPone was starring in Evita, the toast of Broadway and on her way to winning the Tony and DD for Best/Outstanding Actress, Musical. Every Saturday night at midnight, for 27 weeks, after her performance ended, she was onstage at Les Mouches performing solo in a tour de force concert.

The L.M. concerts featured songs from Patti Smith, Bruce Springsteen, Fats Waller, Broadway and such classics as "Come Rain or Come Shine" and "Meadowlark."

News of the Rialto: Other Theatre Premium-Pricing Ideas
Jujamcyn did it first. If it succeeds, expect the Nederlanders and Shuberts to copy the idea of premium-priced orchestra aisle seats [does that mean all aisle seats, or merely select orchestra seats?] with such upcoming potentially blockbuster musicals such as Billy Elliott and Shrek! Scuttlebutt along the Great White Way has it that soon theatres will introduce, to women at first, premium-priced entry to restrooms; and a $4 surcharge if you insist on bringing drinks to your seats. There's even been discussion of dinner theatre right at your seat with China, silver tableware, crystal and fine wines.
Ellis Nassour is an international media journalist, and author of Honky Tonk Angel: The Intimate Story of Patsy Cline, which he has adapted into a musical for the stage. Visit www.patsyclinehta.com.

He can be reached at [email protected]





Why are you looking all the way down here?
For more articles by Ellis Nassour, click the links below!

Previous: Blockbuster Movie Weekend with Mamma Mia! and The Dark Knight; Town Hall's Alive with the Sound of Music; Kyra Sedgwick's Back in More Ways Than One; More

Next: LuPone Launches Gypsy CD; Marilyn Maye; Pavarotti Remembered; Stellar Breeze Ensemble; Sizzling Flamenco; Sondheim Retrospective; Biltmore No More; Licks for Bette Davis; More

Or go to the Archives