Leslie Uggams, celebrating over 50 years in show business, is not showing her age.
In Thoroughly Modern Millie, you waited an hour for her entrance. But what an entrance! The set parted and there she was in a jaw-dropping white fox coat. When Uggams [replacing Sheryl Lee Ralph], as 20s vamp Muzzie Van Hossmere, opened that coat, it was as if time stopped. In that sequin-studded, tight-fitting black, white and silver dress, she looked as she did 30 years ago.
As she proved in King Hedley II, as Ethel Thayer in the revival of On Golden Pond opposite James Earl Jones and now in Ruben Santiago-Hudson's acclaimed, blistering revival of Leslie Lee's semi-autobiographicalThe First Breeze of Summer at the Signature, Uggams doesn't have a problem playing older.
In the role of Gremmar, the beloved matriarch of the Edwards family who had a shady past, Uggams is padded and wigged. Amazingly, as she exits arm-in-arm with cast members, once again it's as if time stopped. Catch this incredible performance while you can, for Uggams will be headed to the West Coast at year's end to portray Lena Horne in Stormy Weather, a bio-drama, at the Pasadena Playhouse in January. [Read on for another six-degrees-of-separation link to Ms. Horne.]
The journey traveled by the younger Lucretia, portrayed by Yaya DaCosta, who has a habit of falling for the wrong men [and having children by then] and then having her relationship with "the right man" destroyed because of her past. "It's a great study in contrasts," says Uggams. "It raises the question is it better to hold on to secrets or admit you're human and have made mistakes."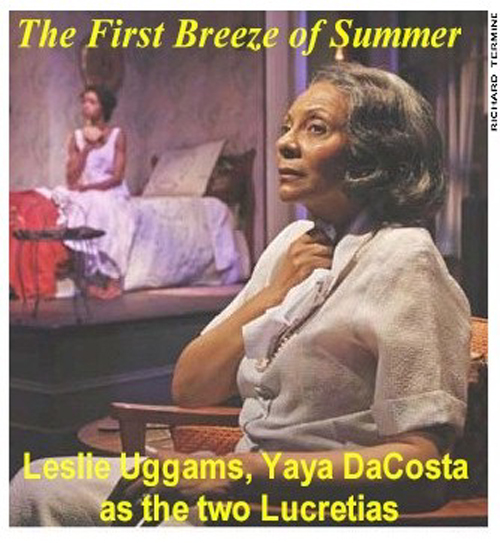 Uggams, seemingly, has done it all: best-selling recording artist, ground-breaking TV star, Vegas headliner, concert tours, daytime TV, stage drama and musicals. She's been nominated for Tony and Drama Desk Awards. In fact, Uggams has even been a cover girl - TV Guide and Newsweek.
A "born and raised New Yorker," as she likes to say, Uggams grew up in a four-room apartment in Washington Heights. Her father was a singer, elevator operator and maintenance man; her mother, a waitress and Cotton Club chorus girl. "We had a modest but stable life," she says, "where somehow my parents always made ends meet."
Early on, Uggams was exposed to music. Her father was a member of the Hall Johnson Choir - "but," she points out, "in their pre-movie days."
As a tot, Uggams sang along to records, impressing family and their friends with a remarkably mature voice. At age six, Uggams made her "professional" debut, singing in church. Tap lessons led to appearances on NBC's Milton Berle show. At 10, she had best-selling records, such as "Missus Santa Claus," "Every Little Piggy Has a Curly Tail" and "Easter Bunny Days." Soon, she was opening for Louis Armstrong, Ella Fitzgerald and Dinah Washington. In 1951, she made her acting debut on TV's landmark Beulah.
"I played Ethel Waters' niece and the producers wanted my hair in 'pickaninny' braids," she recalls. "Miss Waters said, "Absolutely not! You see the way her hair is now. She has beautiful curls. That's how it is going to be on the show.' I was impressed with her even at six years old. She invited my mother and me to see her in Member of the Wedding. It was an extraordinary performance and made quite an impact on me."
[Trivia: Dooley Wilson, Sam in Casablanca, was Uggams' boyfriend in her Beulah appearance; and Uggams and Brandon De Wilde, who played John Henry in Member of the Wedding were friends in elementary and high school.]
Her first Broadway show was Porgy and Bess. "I was enthralled by Leontyne Price, William Warfield, Cab Calloway and my aunt Eloise Uggams [Blackbirds of 1929] in the ensemble and that incredible Gershwin music. That's when the bug bit!" She says that her aunt wanted her to study opera "and become another Marian Anderson, but I wasn't leaning that way."
After third grade, Uggams attended Professional Children's School, where she became friends with Mary Martin's daughter Helen "and got to see tons of Broadway shows." Soon, she was "going to auditions. I got lots of kiddie roles. I grew up with Gregory and Maurice Hines. We were the token black kids."
At 14, she won $25,000 as a contestant on Name That Tune. She laughs, "The excitement in the neighborhood was like in the movies when everyone opens their windows and shout the news!"
In 1961, while studying at Julliard, Uggams got the break that made her a household name. Bandleader Mitch Miller broke color-barrier taboos and cast her on his weekly Sing Along with Mitch. When stations in the South complained and refused to air the show, Miller held his ground. "Mitch was told either I go or the show goes," reports Uggams. "He said, 'She stays or there's no show.' He loved that show, and had been trying to sell it for years, so to do that was heroic."
Uggams' infectious smile and vocal talent made her America's sweetheart. Sammy Davis, Jr., whom she "fell madly in love with when I saw him on Broadway in Golden Boy," said in an interview: "Everybody identifies with Leslie. She's bridged a very important space. The first great step has happened with her."
TV stardom came at a price. "Being an African American performer on TV," she says, "was a great honor but also a heavy load. A lot was expected of me." In 1963, "when I was finally able to vote!, I was invited by President Kennedy to sing at the White House!" [She later did a command performance for President George H.W. Bush].
In the late 60s, Uggams starred in her own variety series. Slotted opposite Bonanza, it lasted a season.
Uggams found it all frustrating. She was singing, singing, singing, "but, more than anything, I wanted to act. No one realized I'd been studying since I was eight. All through my teens."
That dream became a reality when she starred out West in The Boyfriend. "My notices were wonderful," says Uggams, "and word filtered back to New York where gossip was spreading that Lena Horne had bowed out of a show and David Merrick was looking for a leading lady."
Appearing in Atlantic City, Uggams suddenly found "all these Broadway folks coming to check me out. Then I got a call to audition. While I was reading, Mr. Merrick fell asleep. I thought, 'I'm never going to get this part.' But, next thing I knew, he was out and there were new producers. And I got the part."
That was 1967's Hallelujah, Baby!, a cavalcade of African-Americana from the turn of the 20th Century to the late 60s with music by Jule Styne, lyrics by Adolph Green and Betty Comden and book by Arthur Laurents. "I was 23 and on Broadway in a show written by legends. I couldn't believe it." She won the Tony.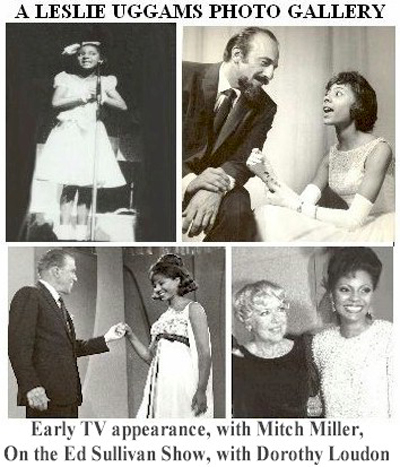 Then there was playing Kizzy in one of TV's biggest hits, 1976's TV mini-series Roots. "That was extraordinary. Getting to know Alex Haley was thrilling." The role won her an Emmy nomination for Best Leading Actress.
Other career highlights: the short-lived, much under appreciated musical Her First Roman [1968] as Cleopatra and Jerry's Girls [1985] with Dorothy Loudon and Chita Rivera. She appears in Rick McKay's Broadway:The Golden Age...
Uggams says she's "fortunate that things seem to naturally come my way. It helps that I'm receptive to the right projects. So many talented actresses have had a difficult time, I consider myself blessed that in every decade to be doing something exciting."
And it's been a good, exciting life. "I wasn't denied anything by being in show business. I feel just the opposite. I look at what it's given me. One thing it did was save me from being a thug. I lived in a tough neighborhood! Back then, I had no idea I'd ever be in such a wonderful place and still doing what I love most: theater.
"I love going out to a different audience every show and having to win them over," she says. "It's deliver or else. You're up there with no place to go. You're challenged every performance. When the light hits me, the adrenaline is pumping like a biggest Texas oil well. But, I have to admit, doing it eight times a week for months, it's not a job for sissies!"

Broadway Flea Circus
There'll be more stars than in the night sky [stage, film and TV] and more bargains than you can find at Conway or Costco! In fact, it will boggle your mind what a buck or a thousand dollars can buy. Every sale at Sunday's celebrity-studded 22nd annual Broadway Flea Market and Grand Auction in Shubert Alley from 10 A.M. - 7 P.M. benefits Broadway Cares/Equity Fights AIDS' outreach programs.

Push those tourists aside [our money is still good!], jump the barricades and get thee to the Celebrity Photo Booths, where you'll leave with a snap and an autographed frame! [I know!] [$10]. Treasures of a lifetime can be found on over 50 tables filled with theatrical memorabilia, DVDs and CDs at fire sale prices, autograph tables, silent auctions, live auction [bring lots of cash!], Playbills, scores and posters.
The Flea is the annual opportunity to get even A-List "I don't sign autographs!" to sign autographs. Everyone is in a reach-out-and-touch mode [because they're doing a good deed!].
DVDs of The Leading Men II and III concerts, Broadway Bares, the Easter Bonnet Competition, Gypsy of the Year and Nothin' Like a Dame will be on sale [$25]. Michael Crawford fans from all over the U.S. and abroad come into town to man his table of memorabilia.
Posing with big smiles after you pays your money will be Laura Benanti, Tituss Burgess, Kerry Butler, Mario Cantone, Gavin Creel, Stephanie D'Abruzzo, Bailey Hanks [Legally Blonde's new Elle Woods], Christian Hoff, Cheyenne Jackson, Aaron Lazar, Beth Leavel, Norm Lewis, Priscilla Lopez, Rebecca Luker, Bebe Neuwirth, Lynne Redgrave, as well as Lin-Manuel Miranda and the In the Heights cast and Hunter Bell and Jeff Bowen and [title of show]cast.
This year, there will be the opt for multiple fans to pose with cast members and stars of TV daytime soaps.
For more information on the Flea Market and other BC/EFA events, visit www.bcefa.org or call (212) 840-0770.

Lost and Found
The Paley Center for Media [25 West 52 Street, between Fifth and Sixth Avenues] has partnered with the New York Musical Theater Festival to screen rare television musicals during the festival run.
Of special note is a new addition to their treasure trove: Junior Miss, an original musical written for TV and the only collaboration of Burton Lane [...Clear Day] and Dorothy Fields [Annie Get Your Gun, Sweet Charity, so many more], long considered lost until unearthed last summer in the archives of the Hagley Museum and Library in Wilmington.
Starring Don Ameche, Joan Bennett, Paul Ford, Carol Lynley, Diana Lynn, Jill St. John and David Wayne, it will have its first public screening in over 50 years Sunday at 3 P.M. at the Center.
The musical was produced in a live 1957 telecast. The show's score contains "I'll Buy It," which Miss Fields always claimed was one of her favorite songs.
The Hagley is dedicated to business, but according to the Paley's Jane Klain, "Apparently Dupont donated all of its kinescopes and stills from TV programs they sponsored. Amazingly, we were also able to secure copies of several other Dupont Show of the Month specials."
At 2 P.M. Sunday, the Center will debut another new acquisition, Cole Porter's Anything Goes, "highly truncated," says Klain, "yet highly enjoyable presentation" broadcast in 1954 with Merman reprising her Reno Sweeney). The co-stars aren't too shabby either: Frank Sinatra and Bert Lahr.
There is a suggested donation of $10; $8, seniors and students; $5, children under 14. For more information, visit www.paleycenter.org or call (212) 621-6800.

Nobody Does It Like They Do
Jim Caruso's Cast Party and TheaterMania.com present Tony-winner and DD-nominee Betty Buckley and Tony, DD and Emmy-nominee Michele Lee next week in two don't miss concerts.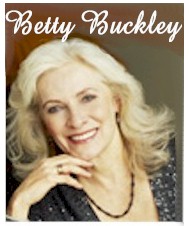 Lee's show, Lights, Broadway, Action!, Monday at 7 P.M., is a concert benefiting the Actors Fund as part of the long-running, Nightlife Award-winning Broadway at Birdland series.
She starred on Broadway in The Tale of the Allergist's Wife, Seesaw and in the cast of the original How to Succeed... Lee will be forever known, of course, for her starring role in TV's Knots Landing.
The incomparable Betty Buckley's concert is The Music @ Birdland , running Tuesday - Saturday, with shows nightly at 8:30 and 11.
She'll be accompanied by her jazz quartet: Clifford Carter, keyboards; Billy Drewes, sax; Tony Marino, bass; and Anthony Pinciotti, drums.
Admission for Michelle Lee is $40, with special orchestra seating at $75. For Buckley, $40/$50 with beverage/food minimum. To book, visit www.BirdlandJazz.com or call (212) 581-3080.

Here's Looking at You, Kid
Eighty-five years of cinema history at Warner Bros., the studio that introduced sound movies and a roster of great stars, morph through the documentary You Must Remember This: The Warner Bros. Story, on PBS' acclaimed American Masters series is Tuesday - Thursday at 9 P.M.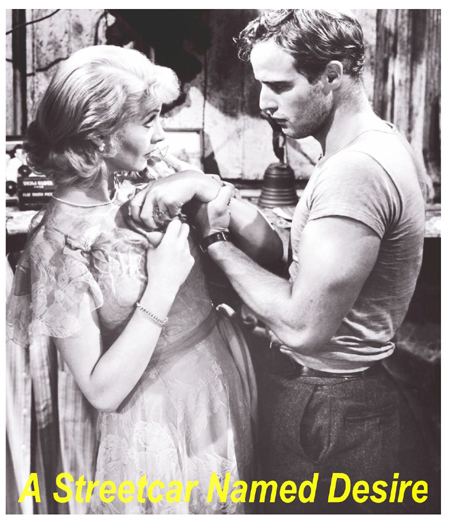 Clint Eastwood, who also was exec producer, narrates. The five-hour series is directed, written and produced by award-winning filmmaker/critic Richard Schickel. American Masters is produced by Thirteen/WNET New York.
There is archival footage from the films of the studio's A-list stars from Hollywood's Golden Era: Bette Davis, Humphrey Bogart, Errol Flynn, James Cagney, the kaleidoscopic escapism of Busby Berkeley, James Dean and Bugs Bunny.
In addition, there are interviews with Scorsese, Spielberg, Lumet and such stars as Jack Nicholson, Warren Beatty, George Clooney and Eastwood trace the history of the studio from the silent era, Jolson talkie/singie that changed movies forever to their widescreen epics.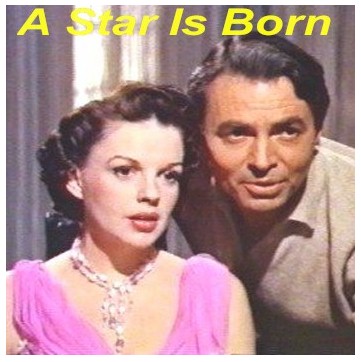 Gems from WB - all in glorious B&W - include Casablanca, The Maltese Falcon, Now, Voyager, The Letter, Mildred Pierce, Jezebel, To Have and Have Not, Yankee Doodle Dandy, A Streetcar Named Desire [heavily sanitized for the screen adaptation, but a classic nonetheless], Whatever Happened to Baby Jane? and Who's Afraid of Virginia Woolf? and, in breathtaking color, The Adventures of Robin Hood, A Star Is Born, Giant, My Fair Lady and the Harry Potter and Batman franchises.
The series is the centerpiece of a year-long celebration of WB's 85th anniversary. A stunningly-illustrated companion book of the same title, written by Schickel and George Perry with an introduction by Eastwood, is just out from Running Press.

Song Fest Tribute
Tuesday and Thursday, the New York Festival of Song honors two "guiding lights" of the acclaimed series, Leonard Bernstein and William Bolcom, "quintessential American composers and great spirits who have long provided wisdom, guidance and music to the world." The concerts will be at 8 P.M. in Merkin Hall at the Kaufman Center [129 West 67th Street, between Broadway and Amsterdam Avenue].
Bernstein and Bolcom were mentors to NYFOS co-founders Steven Blier and Michael Barrett. This 20th Anniversary celebration coincides with Bolcom's 70th birthday and what would be Bernstein's 90th.
Pulitzer Prize-winner, Musical America's 2007 Composer of the Year and multiple Grammy-winner Bolcom and acclaimed mezzo-soprano Joan Morris are guests with soprano Sari Gruber, mezzo-sopranos Rebecca Jo Loeb and Renee Tatum, tenor Alex Mansoori, baritone William Sharp and bass Marc Webster.
Songs from Bernstein's Peter Pan, 1600 Pennsylvania Avenue, Wonderful Town, On the Town and Arias and Barcarolles; and Bolcom's Cabaret Songs, I Will Breathe a Mountain and McTeague will be performed.
Tickets are $40 - $55, with half-priced student tickets [as available] a half hour before curtain. To purchase, call (212) 501-3330, or visit www.kaufman-center.org.
The NYFOS concert series is funded, in part, by the City of New York Department of Cultural Affairs and New York State Council on the Arts.

Free at Last and Coming Home
Hairspray film star Nikki Blonsky returns to New York - after incidents way South of the border - hopefully, safely and without incident, for her debut at high-tone Feinstein's at Loews Regency [40 Park Avenue at 61st Street] from Tuesday - October 4 with her aptly-titled show, Coming Home, which will feature songs from Broadway, pop classics and, of course, Hairspray.
Shows are Tuesday - Thursday at 8:30 P.M and Friday and Saturday at 8 and 10. All shows have a $60 cover and a $40 food/beverage minimum. Jackets are suggested but not required. For reservations, call (212) 339-4095 or visit online at feinsteinsatloewsregency.com and TicketWeb.com.
Ellis Nassour is an international media journalist, and author of Honky Tonk Angel: The Intimate Story of Patsy Cline, which he has adapted into a musical for the stage. Visit www.patsyclinehta.com.

He can be reached at [email protected]





Why are you looking all the way down here?
For more articles by Ellis Nassour, click the links below!

Previous: LuPone Launches Gypsy CD; Marilyn Maye; Pavarotti Remembered; Stellar Breeze Ensemble; Sizzling Flamenco; Sondheim Retrospective; Biltmore No More; Licks for Bette Davis; More

Next: New York Film Festival; Tovah Feldshuh Channels a Heroine; Euan Morton Returns; Choreographer Jack Cole Remembered; More

Or go to the Archives