An international slate of productions highlight the 46th New York Film Festival, September 26 - October 12, which this year might just be called A Tribute to the Cannes Film Festival. Some entries are short; a couple extremely long. But don't be disappointed. Get thee to the box offices, as the Festival sells out quickly.
With construction ongoing at Alice Tully Hall, the 28-film main slate will screen at the Ziegfeld Theatre, the Walter Reade and Avery Fisher Hall.
Among the anticipated films are France's Entre les Murs/The Class, winner of Cannes' Golden Palm, an unusual opening night [September 26, Ziegfeld and Avery Fisher] choice since it's a totally improvised film featuring a cast of multi-ethnic unknowns; the Festival's centerpiece, Clint Eastwood's Changeling [October 4, Z], starring Angelina Jolie and John Malkovich; and, closing night's much-heralded return of bad boy Mickey Rourke in Darren Aronofsky's "raw and raucous" The Wrestler [October 12, AF].

A newly-restored print of Max Ophuls' Lola Montès will be the Festival's Retrospective [October 4, Z]. The NYFF is saluting Nagisa Oshima, the Japanese director and "one of the essential figures of modern cinema," with a retrospective. A free panel, The Place of Oshima, will take place October 1 at 6:30.
In addition to HBO's Films Dialogues, panels with directors and stars and the annual showcase of avant-garde films, there will also be premieres of 17 short films, some with quite provocative themes [Love You More by playwright Patrick Marber and directed by Sam Taylor-Wood; Jia Zhangke's Cry Me a River; and Wait for Me from Oscar-winner Ross Kaufman (Born into Brothels)].
You thought American public schools were bad! Just wait until you see Entre les Murs, directed by Laurent Cantet, which follows a teacher through an explosive year in an unconventional, undisciplined public school as he battles to teach and challenge a rowdy [to say the least] class. The film, though much too long and often a bit unfocused, eventually becomes a grabber - especially toward the end when some real drama arises.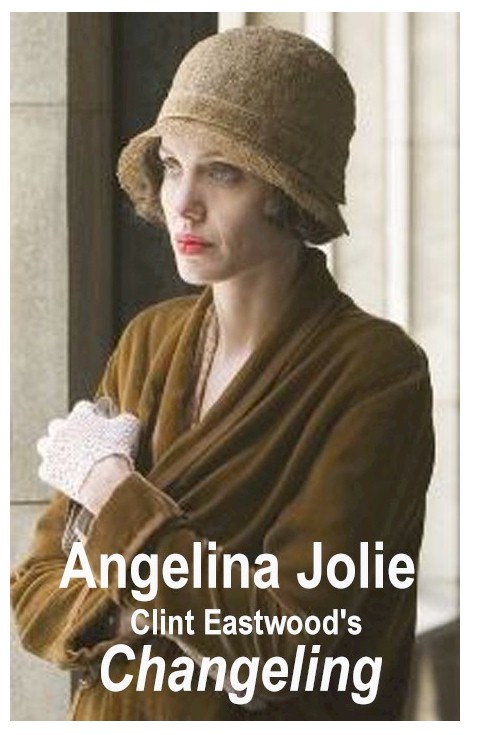 Cantet [Human Resources, Heading South] shot multiple takes of students [a few whose necks you'd like to ring] and real teacher, François Bégaudeau, who wrote the book the film is based on. There is a breakout performance from Franck Keita, whose lack of respect and laziness lead to expulsion and, perhaps, turmoil for his Mali family. If he has a command of English, he could emerge as an American teen superidol.
Changeling, running almost two-and-a-half hours, stars Jolie in the based-on-a-true-story set in 1928 L.A., written by J. Michael Straczynski, of a slandered mother's search for her son against corrupt police and a skeptical public; Malkovich co-stars an activist minister. Rourke returns to the screen in a "blistering" performance in The Wrestler, written by Robert D. Siegel. as a once-popular tumbler now on the skids and rethinking his life after a heart attack and attempting to reconnect with his daughter as he begins a relationship with a stripper, played by - surprise! - Oscar-winner Marisa Tomei.
In addition to the above two, the U.S. is represented by Antonio Campos's Afterschool, the story of a tribute for two prep school students who overdosed; Kelly Reichardt's Wendy and Lucy, starring Michelle Williams, is a follow-up to her acclaimed Old Joy, as Wendy searches for Lucy - her dog; and The Windmill Movie, in which Alexander Olch, using material from late filmmaker Richard Rogers' attempt at a film autobiography, attempts to make sense of his mentor.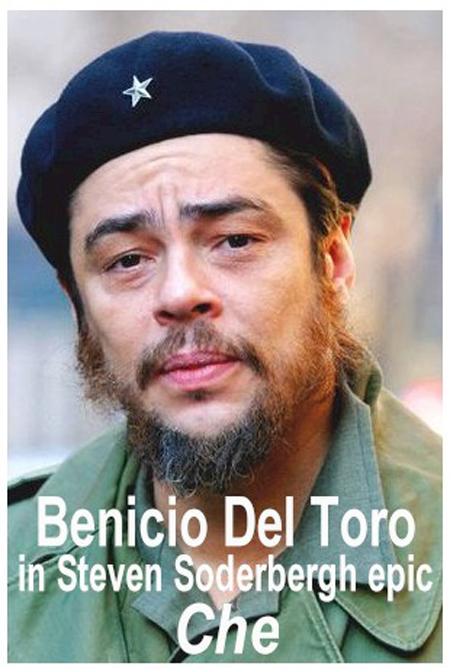 France is well-represented this year with four films and eight co-productions. Alongside Entre les Murs , there's Un Conte de Noel/A Christmas Tale, starring the still-stunning Catherine Deneuve in Arnaud Desplechin's story of a dysfunctional family [a French one, for a change of pace!] gathering for the holidays; Parlez Moi de la Pluie/Let It Rain, Agnès Jaoui's story of aspiring filmmakers following a female politician; and Olivier Assayas's L'heure d'Eté/Summer Hours, with an ensemble cast headed by Juliette Binoche in the story of a famous family's dealing with their legacy on the death of their mother.
Attempting to follow in the footsteps of last year's sleeper, Persepolis, is a co-production [with Israel]: Ari Folman's autobiographical anime doc Waltz with Bashir, about Israel's 1982 war with Lebanon.
Career paths and families are at the center of several of the foreign entries, such as Bam guan Nat/Night and Day [South Korea], directed by Hong Sang-soo, the story of an artist who goes to Paris for enlightenment; A Corte do Norte/The Northern Land [Portugal], directed by João Botelho, about a woman's search for the truth about her life; Kiyoshi Kurosawa's Tokyo Sonata [Japan, Denmark], the story of a family struggling stay together after the father loses his job; and Voy a Explotar/I'm Going to Explode, from Gerardo Naranjo [Mexico] and the story of two naughty teens who go into hiding to see what reaction it will stir from their family.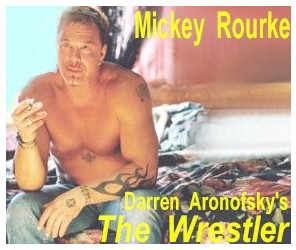 The NYFF is welcoming such alumni back as Steven Soderbergh [with his controversial two-part, four-and-a-half-hour biopic Che [October 7, Z], in Spanish, co-produced by France and Spain, and starring Benicio del Toro, who won Best Actor at this year's Cannes.
Also returning are the U.K.'s Mike Leigh [Happy-Go-Lucky, the story of a 30-something teacher who's not really as happy on the inside as she is on the outside - It stars Sally Hawkins, who took Best Actress honors at the Berlin FF; and has two outstanding, scene-stealing featured actors, Eddie Marsan and Karina Fernandez; Jia Zhangke [the semi-doc Er Shi si Cheng ji/24 City, about the fall of a factory town]; and Wong Kar Wai [Ashes of Time Redux, an update of his Chinese martial arts tale].
Of interest to cinema buffs are four more Cannes prizewinners: Italy's Matteo Garrone's Gomorrah [Grand Prize], about the modern-day Neapolitan mafia; U.K.'s Steve McQueen's Hunger [Camera d'Or]; Sergey Dvortsevoy's Tulpan [Un Certain Regard Prize], financed by five countries including his native Russia; and Kiyoshi Kurosawa's Tokyo Sonata [Jury/Un Certain Regard Prize].
Hunger marks the feature film debut of controversial black British political visual artist McQueen in "an uncompromising look at the 1974 hunger strike led by IRA prisoner Bobby Sands."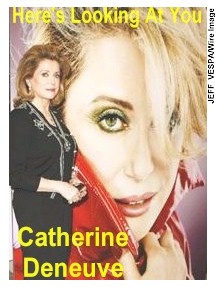 In the NYFF's tradition of presenting restored classics, this year's Retrospective is Ophuls' dazzling 1955 widescreen color romp Lola Montès, starring Martine Carol as a circus artiste who becomes the notorious courtesan "to kings, knaves, [supposedly] King Ludwig and Franz Liszt." Peter Ustinov, Oskar Werner and Anton Walbrook [as Ludwig] co-star.
The director called his final masterpiece "a meditation on time and the evanescent nature of fame and riches." Several attempts to restore prints of Lola Montès weren't exactly pristine, due to Ophuls' use of the relatively unstable Eastmancolor process. The new restoration incorporating long-lost footage and color correction, courtesy of the Cinémathèque Française, is stunning.
On October 6, at 6 and 8:30 P.M. [WR], the Festival offers cinema buffs a delectable treat: a remastered 35mm print of Josef von Sternberg's 1928 classic The Last Command, starring Emil Jannings and William Powell. Jannings, as a once-decorated Russian general reliving the Revolution as a Hollywood extra, won the first Best Actor Oscar. The film will be accompanied by a new score by the three-member Alloy Orchestra [which also composed the new score for the restored Metropolis].

Martin Scorsese will introduce a restored Technicolor print [courtesy of George Eastman House] of 1951's Pandora and the Flying Dutchman on October 10 at 6:15 [WR]. Directed and adapted by Albert Lewin, with a celebrated production design by Clive Donner with some assist from Man Ray and magnificently shot on the Spanish coast by renowned cinematographer Jack Cardiff.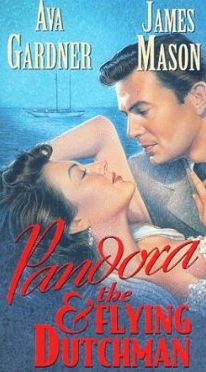 It stars a very seductive Ava Gardner and James Mason, Nigel Patrick, Juan Montalvo and Marius Goring. Cardiff went on to directing. Lewin, all but forgotten today, was a Brooklynite who had a brief stint as film critic before heading West where he became assistant to Irving Thalberg. He produced such highbrow fare as The Picture of Dorian Gray and The Moon and Sixpence. But later he was regulated to writing for such TV fare as My Favorite Martian and Diff'rent Strokes.
Comprising the NYFF selection panel are Film Society chair/program director Richard Pena, LCFS associate program director Kent Jones [Film Comment], L.A. Weekly critic Scott Foundas; VV critic J. Hoberman; and Entertainment Weekly's Lisa Schwarzbaum.
Among the sponsors of the 46th New York Film Festival are Chopard, The New York Times and Sardinia Region Tourism.
Tickets for screenings are on sale at Avery Fisher Hall and online at filmlinc.com; and, beginning Saturday, at the Ziegfeld. For showtimes and information the numerous other NYFF events, visit the web site.

Remembering a Forgotten Heroine
Four-time Tony Award-nominee and two-time Drama Desk-winner Tovah Feldshuh is channeling the spirit and heroism of an unsung WWII Polish woman in Irena's Vow, by Dan Gordon. It officially opens tonight at Baruch Performing Arts Center [55 Lexington Avenue, at 25th Street] with a cast of 10 under Michael Parva's direction.
This is Feldshuh's first New York stage appearance since her triumphant DD-win and Tony nod for her turn in Golda's Balcony, which moved from Off-Bway to become Bway's longest-running one-woman show and then to the West End.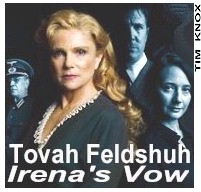 She describes Irena's Vow as "a riveting, life affirming story about one of wartime's most courageous heroines. During the Nazi occupation of Poland, Irena Gut Opdyke, a Catholic, was forced to work as housekeeper for a Nazi major. Over two years, she hid twelve Jewish refugees.
"There are over 50,000 recorded acts of heroism by Polish citizens who reached out to save victims of the Nazi terror," she continued. "This is the extraordinary story of one woman, who chose to do good in the midst of evil. Her story is a searing testament to the bravery of those who risked their lives to save Jews from certain death."
Feldshuh is known for her incredible roster of accents and stage personalities which she develops through intense research. In preparation for Irena's Vow, she embarked on a journey to locate the places "graced by Irena Gut. As luck would have it, in searching for her, I found the best of myself. I found the part that nurtures, the part that's just, the part that's brave against daunting odds, the part that reaches out to those in need, the part that's the best of America."

Before the war and German occupation, there were 3.5 million Jews in Poland - about ten percent of the population. Only 100,000 somehow survived the death camps.
On her trip, Feldshuh felt obligated to visit Auschwitz and Birkenau. "When I walked through the gates of Birkenau, my legs gave out. I fell to my knees because I couldn't even see to the end of this ground - this factory of death, developed for the annihilation of human beings."

She reflected for a moment and stated, "Thirteen is a lucky number in the Jewish religion. Irena's heroism saved 13 lives and thus 13 universes. She did it in the flower of her youth and by giving herself over to a high-ranking officer. Most amazing is the fact that she never spoke of it for 35 years. Well, this is her season, and I am so honored to be portraying her and to stop for a moment in time and cast a light on a young woman who was a light unto the nations."
She adds, "Of course, our goal is to use this drama in the hope of inspiring the very best in ourselves and that we may follow in Irena's footsteps."

Morton Goes Metro
Broadway's favorite Scot, Euan Morton brings his new show, Stranger in a Strange Land, "an evening of song and poetry," to the Metropolitan Room [34 West 22nd Street, between Fifth and Sixth Avenues] for three consecutive Sundays, October 5, 12, 19 at 9:30 P.M. He will using material from John Lennon, Julian Lennon, John Denver and Nik Kershaw, as well as some of his signature material from Taboo [in which he portrayed Boy George]. Bryan Reeder is music director.
Morton was in a very introspective mood when asked to describe his concert's theme. Morton said, "Have you ever felt like an outsider, even amongst your dearest friends? Do you sometimes ask, 'how the hell did we get here'? Then, indeed, you might just be a stranger and maybe this is a very strange land indeed." I know!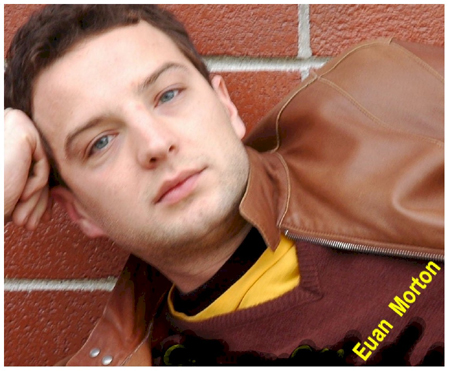 "After a near death experience [from a burst appendix]," he says, "it's time to bring something serious to the table. I'm older, wiser. It's time to ask some deep questions."
Admission for Euan Morton at the MR is $30 with a two drink minimum For reservations, call (212) 206-0440 or visit www.metropolitanroom.com.
Also appearing at the Metro in October is Neile Adams [original Kismet and Pajama Game] on the 1st at 7 P.M. and the 2nd - 4th, at 7:30, with a show "dishing on my early New York days as a hoofer and how I was courted by and married to Steve McQueen." Yes, that Steve McQueen - she was his first wife. Adams made her Bway debut at 17. Her cover is $20, etc.
On three consecutive Saturdays, October 4, 11, 18 at 9:45 P.M., Gay Marshall [ACL, Jacques Brel...] will preview her new Piaf CD. She notes, "Unlike Yvonne Constant [also playing the MR in October], who does a more continental take on Piaf, mine is raffish, rascally and a different shade of dark." And with no regrets! A $20 cover, etc.


Dancers Salute a Renowned Choreographer
In a rare appearance, Dick Cavett will host Chita Rivera, Marge Champion and members of Dancers Over 40 on Monday, October 13 at 8 P.M. at the Leonard Nimoy Thalia at Symphony Space [2537 Broadway at 95th Street], when that org pays tribute to a renowned and influential Broadway and Hollywood hoofer and choreographer in Jack Cole: Alive and Kicking. Also appearing will be a group of veterans who danced under Cole - Alan Johnson, Ethel and George Martin, Dana Moore - and NYC Dancemakers, a group dedicated to preserving stage, TV and film choreography.
Cole went from Bway gypsy to choreographer of such shows as Jamaica, A Funny Thing...and Man of LaMancha. His roster of movie choreography includes Gilda [Rita Hayworth's torrid "Put the Blame on Mame"], Gentlemen Prefer Blondes, There's No Business Like Show Business [working with Merman and Marilyn Monroe], Kismet and Les Girls..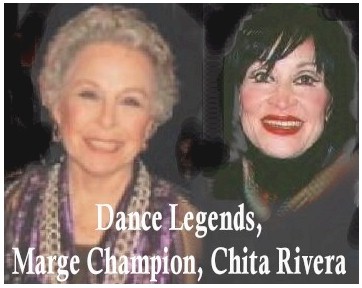 Rivera said, "Jack was brilliant. He gave Broadway, film and television a vocabulary and style of movement that is still imitated. His protégés Gwen [Verdon], Carol [Haney], Bob [Fosse] and me have passed down his legacy. His influence can still be seen. Dancers of a certain age, those of my generation, are greatly indebted to him."

The spirit of Gwen Verdon, one of Cole's original company members and who was featured in almost every Cole movie, will be recalled by Dana Moore [Dancin', Fosse], who'll perform a Cole-inspired piece with NYC Dancemakers.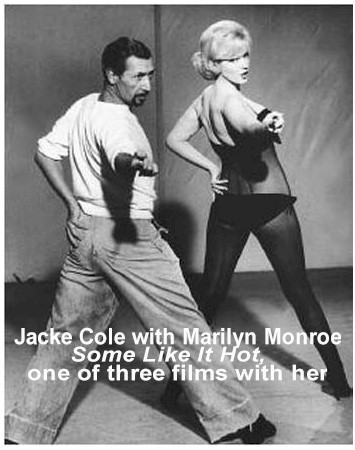 There will be clips from TV shows choreographed by Cole. One, from 1955's Three for the Show, features Rivera and Miss Champion. DO40 member Gemze de Lappe, who assisted Cole, and Stuart Hodes will discuss working with Cole in a revival of Kismet.
The Dancers Over 40 mission is to preserve the history, legacy and lives of dancers and choreographers from the golden years of theater and dance. The org also assists dancers in need. They donate annual support to Dancers' Resource, the Actors' Fund program spearheaded by Bebe Neuwirth.
The evening will be videotaped and donated to the Jerome Robbins Dance Collection at the Lincoln Center Library for the Performing Arts.
Advance tickets are $15 for DO40 members, $35.00 for non-members; $50 at the box office. They are available by calling Symphony Space at (212) 864-5400 or by visiting www.symphonyspace.org. For more information on Dancers Over 40, check out their web site, www.dancersover40.org.

Save the Date...Order Tickets Now
October 17, 18 and 19 Town Hall presents its Fourth Annual Broadway Broadway Cabaret Festival, hosted by Scott Siegel [Broadway by the Year]. The respective programs are A Tribute to Lerner & Lowe with, among others, Max Von Essen; a rare concert appearance by Colm Wilkinson [Les Miz, POTO]; and the always eagerly-anticipated Broadway Originals!, which brings back stars, such as Lucie Arnaz [They're Playing Our Song], Stephen Mo Hanan [Cats], Karen Morrow [I Had a Ball] and Pamela Myers [Company], singing songs from show they were in. Tickets for a three-show package are $150, with individual tickets at $55, and are available at the Town Hall box office.
One of the most anticipated dance events annually is Career Transition for Dancers' tribute to dancers in all fields. The 23rd anniversary show, On Broadway!, A Glittering Salute To The American Musical, presented by Rolex, is Monday, October 27 at 7 P.M. at City Center with Angela Lansbury hosting. Tommy Tune will receive the Rolex Dance Award. Among participating special guests are Mikhail Baryshnikov, Kelly Bishop, Jane Krakowski, Bebe Neuwirth, Noah Racey, John Selya and Karen Ziemba; participating dance companies will include the American Ballet Theatre [Xiomara Reyes and Herman Cornejo]. There'll also be a film montage of Broadway musicals choreography. A supper dance follows. Show tickets, at $45 - $130, are available at the City Center box office and through CityTix, (212) 581-1212.
Ellis Nassour is an international media journalist, and author of Honky Tonk Angel: The Intimate Story of Patsy Cline, which he has adapted into a musical for the stage. Visit www.patsyclinehta.com.

He can be reached at [email protected]





Why are you looking all the way down here?
For more articles by Ellis Nassour, click the links below!

Previous: Leslie Uggams: A Woman for All Ages; BC/EFA Flea; Lost Musical Found; Betty Buckley/Michele Lee Sing; WB Retrospective; More

Next: NY Film Fest's Final Week, IFC Scores Release Bonanza; Sleeping Beauty Remastered; Mary Costa; Luba Loves Brazil; Road Show; Devlin's Return; More

Or go to the Archives