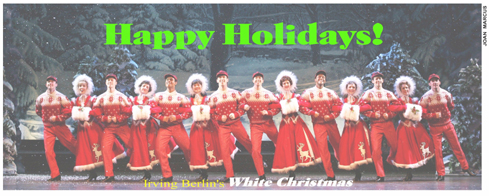 Theatergoers were really dreaming of a white Christmas. That holiday spirit made Irving Berlin's White Christmas the highest grossing show on Broadway for nine performances the week ending December 14th..
The musical stage adaptation, based on the classic film about two G.I. buddies now in showbiz helping save their general's inn by putting on a show [and falling in love], plays through January 4.
Featuring a cast of 33, Tony Award nom Stephen Bogardus [Love! Valour! Compassion!], Kerry O'Malley [Into the Woods], Jeffry Denman [The Producers] and Meredith Patterson [42nd Street] co-star. Susan Mansur provides the comic relief and steals every bit of scenery not nailed down. Tony/DD winner Walter Bobbie [Chicago] directs, with choreography by Tony/DD nom Randy Skinner [42nd Street].
Songs include "Let Yourself Go," "Sisters," "The Best Things Happen While You're Dancing," "Let Me Sing and I'm Happy," "Count Your Blessings," "Blue Skies," "I Love a Piano," "Love, You Didn't Do Right By Me," "How Deep Is the Ocean," "I've Got My Love to Keep Me Warm" and, of course, the title tune, for which the entire audience joins in.

Holiday Stocking Stuffers: Theater Tickets
Shrek the Musical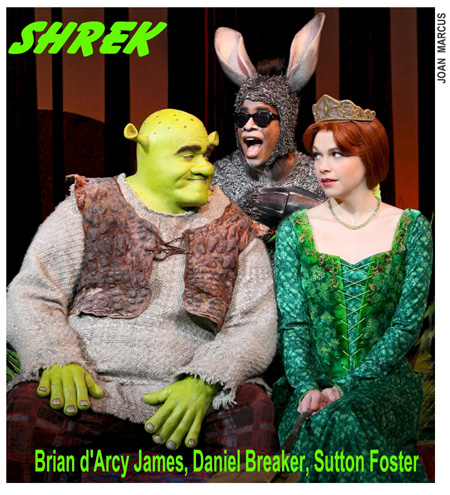 Dreamworks Theatricals has brought to the stage a rollicking musical adaptation of its box office champ franchise Shrek with book and lyrics by 2007 Pulitizer Prize winner and Tony nominated David Lindsay-Abaire [Rabitt Hole] and music by Jeanine Tesori [Thoroughly Modern Millie, Caroline, or Change].
You can spend millions on sets and costumes [and they did], but if you don't get it right in the casting department it can all go down the rabitt hole, so to speak, in a matter of reviews. Dreamworks and Avenue Q director Jason Moore got it right.
Shrek the Musical stars Tony and DD nom Brian d'Arcy James in a two-hour extreme make-up makeover, Tony and DD winner Sutton Foster as the expectant Princess Fiona, Tony nom Christopher Sieber [Spamalot] cut down in size to play Lord Farquaad, a role that'll forever be his legacy and Tony and DD nom Daniel Breaker [Passing Strange] as Donkey.
For a great family entertainment [even with the Mel Brooks-like fart jokes], the show is much too long and is a bit lacking imusically, but Lindsay-Abaire's book and clever lyrics more than make up for those short[and long]comings in this sort of prequel to the original movie. In telling the story of the swamp-dwelling outcast ogre who sets out to right what he feels has been wronged - and gets more than he bargained for, there are enough insider jokes and one-liners for four shows.
All those disgruntled fairytale characters are fun, but as their scenes run on a bit too long focus is taken away from the main event. That said, there are two standouts: Haven Burton as as the Sugar Plum Fairy and Gingy with soul; and Forbidden Broadway vet Jennifer Simard as the Wicked Witch.
It takes a while to get to Foster's showstopper, "Morning Person" at the top of Act Two, but once there, she's unstoppable. Then, following that, is the wisecracking Fiona/Shrek showstoppind duet "I Think I Got You Beat" [or "Anything You Endured, I Endured Better"!].
But, but, but not to be outdone are those rascal stage thieves Sieber and Breaker. How incredible it is to have to notorious scenestealers competing for the prize. Who would have predicated such a hilarious performance from Braker after his Passing Strange turn? And who wouldn't have expected anything but high crimes and misdemeanors from Sieber, who even at half his size reaches towering heights. These are two great comedy performances for the record books, and surely will be rewarded at awards time.

Disney's New York Magic Kingdom:
New Leads for Mary Poppins
With three Disney musicals, New York could almost pass for a magic kingdom. We even have an electrical parade every night - just stand in Times Square where the neon is ablaze.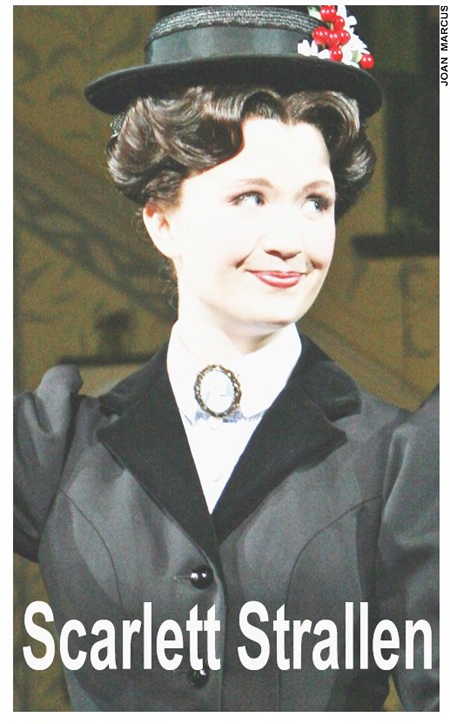 Mary Poppins, with its timeless, Oscar-winning score by Richard M. Sherman and Robert B. Sherman and in spite of its one flaw [muchhhhh toooooo long], is in its third year on Broadway. It has just welcomed newcomers: Olivier Award-nominee Scarlett Strallen, Mary on the West End; and, as Bert, Adam Fiorentino, who at 17 made his theatrical debut in Australia in Saturday Night Fever.

"I loved the film," relates Strallen, "and grew to love the P.L. Travers stories while I was preparing to play Mary. London was a thrilling experience, but now I'm having the most wonderful time experiencing American audiences. Being on Broadway is a dream come true.
"The role of Mary is completely magical," she continues. "She's the world's most famous nanny. Every girl knows her. I can't believe how lucky I am! I can think of nothing that compares to flying out over the audience show after show!"
Fiorentino is no less enthused. "It's great to be making my Broadway debut playing such an iconic role," he says, still with a bit of trepidation in his voice. "Growing up, I wore out the tape from rewinding it so many times. For an actor, Broadway is sort of the Mount Everest. I can't tell you what an incredible high I get just walking down Broadway to work everyday.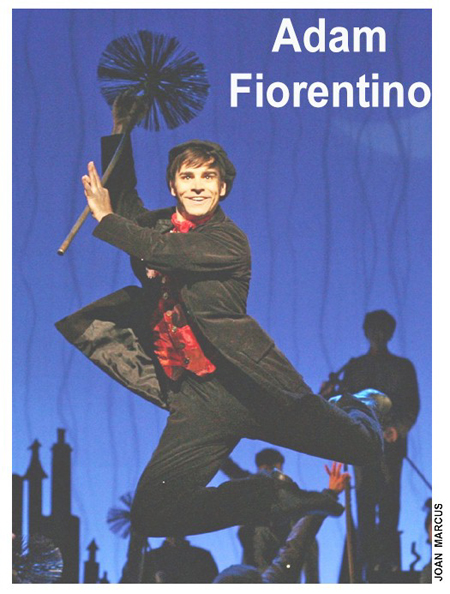 "Mary Poppins is an incredible show to be doing," he adds. "Bert's like your favorite uncle. I get to do it all: sing, dance and act - even tap upside down on the ceiling! That's not something you do everyday!"
Both are gratified with audience response. "It's so rewarding to witness the faces of theatergoers of all ages light up with wonderment right in front of me," states Strallen. "That feeling is priceless."
The MP Broadway cast includes Tony and DD nom Rebecca Luker as Mrs. Banks, Daniel Jenkins as Mr. Banks, Jane Carr as Mrs. Brill and the ab fab Ruth Gottschall as the very strict Miss Andrew.
DD nom Ashley Brown and DD winner and Tony nom Gavin Lee, the original Broadway stars, will reprise their roles in MP North American tour, beginning in March.

More Disney
The Tony-winning The Lion King continues to reign as one of the most popular shows on Broadway and around the world. It's in its 11th year in New York. While Sierra Boggess and Sean Palmer still headline The Little Mermaid with Norm Lewis [King Triton], Eddie Korbich [Scuttle] and Jonathan Freeman [Grimsby], there are new cast members: Rogelio Douglas, Jr. [Sebastian], Robert Creighton [Chef Louis] and Heidi Blickenstaff, fresh from [title of show] as Ursula.

What's Cooking?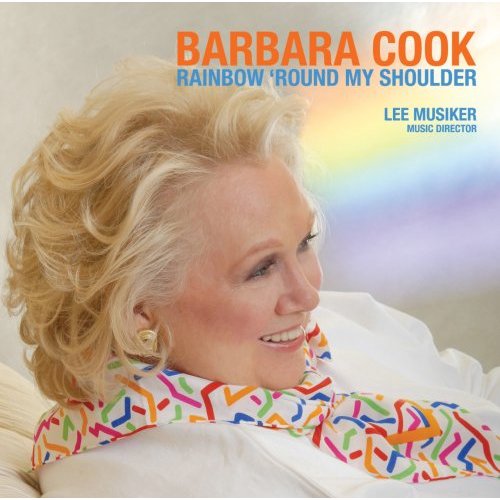 Rainbow 'round My Shoulder, Barbara Cook's 14th album for DRG Records [SRP $18], that's what. She accompanied by musical director/arranger Lee Musiker and trio. Grammy winner Hugh Fordin, DRG prez, produced the 15 tracks/17 songs.
Cook segues from Jolson/Rose [title tune] to the Gershwins ["He Loves and She Loves"], Rodgers/Hart ["Where or When"], Bernstein/Comden and Green ["Lucky to Be Me"], Bucchino ["If I Ever Say I'm Over You"'], Kahn/Livingston ["I'm Through with Love"], Chaplin/John Turner/Geoffrey Parsons ["Smile"], Allen ["Harbour"], Lane/Harbugh ["Old Devil Moon"], Weill/Anderson ["Lost in the Stars"] and Charles ["Hallelujah, I Love Him So"].

Some Things Comin'
The post holiday season looks bright!
Cyrano on PBS
Almost a year after closing on Broadway, on Wednesday, January 7, PBS will broadcast David Leveaux's stylish Broadway production of Rostand's Cyrano de Bergerac in Hi Def beginning at 8 P.M. Kevin Kline, Jennifer Garner and Daniel Sunjata star in this heartbreaking and heartwarming epic bursting with swashbuckling gascons and duplicitous noblemen, fops and ruffians..

Allergo
The first complete recording of Rodgers & Hammerstein's 1947 Broadway musical Allergo be released by Sony Masterworks Broadway on February 3.
Among the artists from the worlds of Broadway and opera for this studio recording are Laura Benanti, Judith Blazer, Maureen Brennan, Ashley Brown, Danny Burstein, Norbert Leo Butz, Liz Callaway, Harvey Evans, Nathan Gunn, Judy Kuhn, Audra McDonald; Marni Nixon, Kurt Peterson and Patrick Wilson.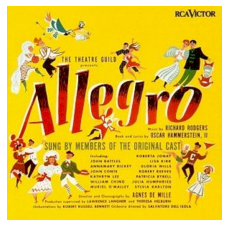 Produced by David Lai, Bruce Pomahac and Ted Chapin, Larry Blank conducts a 50-piece orchestra, featuring Robert Russell Bennett's original orchestrations.
Allergo follows the life journey, both literal and moral, of a country doctor. It was Rodgers & Hammerstein's fourth musical. Somewhat controversial, it ran for a season and earned some rave reviews, but was less than a blockbuster hit.
The show challenged audiences with its unusual storytelling style and groundbreaking approach to musical staging. There were Agnes de Mille's extended ballet sequences. Fragments of song were used as passing thoughts; and melodies flitting by in one scene didn't take hold until the next. It broke new ground, but divided critics.
"I've long wanted to capture the score in a way that explains how the musical tapestry was conceived and get it as close as possible to the way the composers intended," R&H prez Chapin explains. "It has innovative qualities in the use of songs in dramatic ways and that it's almost all sung through. The stellar group we assembled is icing on the cake."
Come Fall, Allegro will have company. Masterworks Broadway will release a 50th Anniversary special edition of the original Broadway cast recording of The Sound of Music..

Paree, New York with Love
On Saturday, January 31 at 3 P.M. and Sunday, February 1 at 3 P.M., the Museum of the City of New York [1220 Fifth Avenue and 103rd Street] will present a cabaret production to draw attention to the love affair between Paris and New York. Paris/New York: Deux Amours, written and directed by Michael Montel, will feature selections from the Gershwins' An American in Paris , Porter's Can-Can, Yeston's Nine "Folies Bergères" number and songs from Josephine Baker's La Revue Négre.
It's inspired by the current exhibition Paris/New York: Design Fashion Culture 1925-1940 featuring the designs of Gilbert Rohde and featuring the 1925 avant-garde film L'Inhumaine. Among the stars to appear: Nancy Anderson and Gregg Edelman. Lawrence Yurman will music direct.
Admissions is $20, $15 for museum members. To reserve, go to www.mcny.org and click on Public Programs.

Looking for a Good Holiday Read?
Frank Sinatra carved out one of the biggest careers in show biz history, yet his screen legacy has often been overshadowed by his achievements as recording artist. Tom Santopietro [Considering Doris Day, The Importance of Being Barbara] remedies that in Sinatra in Hollywood [Thomas Dunne Books, 530 pages including Filmography, Index, B&W photos; SRP $30].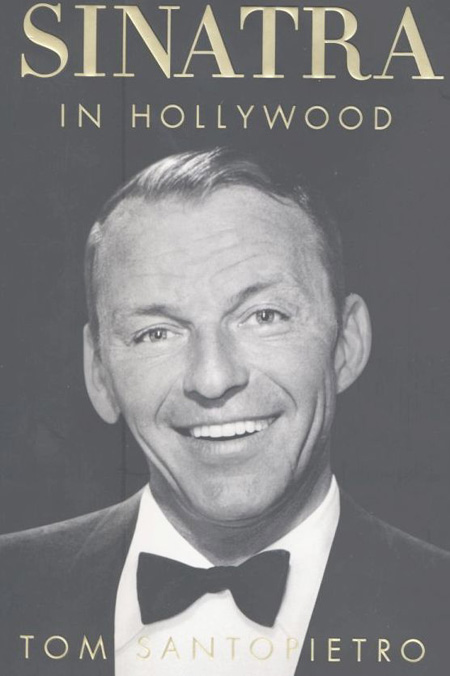 He examines two crucial questions: Was Sinatra a good actor? and Did Sinatra take his film career seriously? Answers: "He was a great actor," says the author, "who, when given the right material, proved himself an artist capable of elucidating the human condition with a depth and range every bit the equal of his work in the recording studio. Contrary to popular opinion, he cared big time about his film work. He also had a sense of humor about some of the roles. He was the first to joke about cringe-worthy films like Double Dynamite."

Santopietro writes vividly about Ole Blue Eyes' 60-year career [over 60 films] and its cost on his personal life. Drawing on the observations of contemporaries and Sinatra's self-criticism, he constructs the history of Sinatra's films, including the musicals [The Kissing Bandit, Anchors Aweigh, On The Town, Pal Joey] and dramas [The Man with the Golden Arm, Von Ryan's Express, The Pride and the Passion), his "Rat Pack" films [Ocean's Eleven and Robin and the 7 Hoods rank as the best], as well as ground-breaking roles in The Manchurian Candidate, and his Oscar-winning triumph in From Here to Eternity.

Best Picture Winners on DVD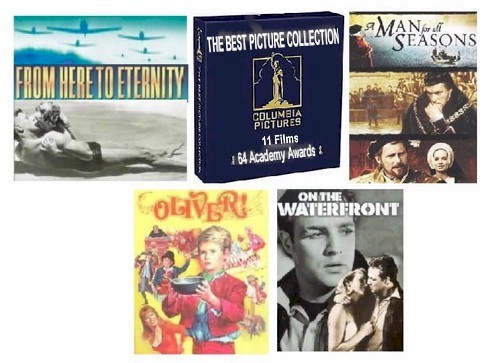 If there's a movie buff on your holiday gift list [and it could be you!], treat them to the 14-DVD Columbia Pictures Best Picture Collection [Sony Home Entertainment; 15 + hours; SRP $136], which spans six decades of The Little Studio That Could's Best Picture Oscar wins [1934-1982].
The films, which netted 64 Oscars, are It Happened One Night, You Can't Take It With You, All the King's Men, From Here to Eternity, On the Waterfront, The Bridge on the River Kwai, Lawrence of Arabia, A Man for All Seasons, "Oliver!, Kramer vs. Kramer and Gandhi.
The collection showcases the directorial work of Sir Richard Attenborough, Robert Benton, Frank Capra, Elia Kazan, Sir David Lean, Carol Reed, Robert Rossen and Fred Zinnemann. Among the stars: Clark Gable, Claudette Colbert, Jean Arthur, James Stewart, Broderick Crawford, Burt Lancaster, Montgomery Clift, Deborah Kerr, Frank Sinatra, Donna Reed, Marlon Brando, Eva Marie Saint, Karl Malden, William Holden, Alec Guiness, Sessue Hayakawa, Peter O'Toole, Paul Scofield, Ron Moody, Oliver Reed,
Dustin Hoffman, Meryl Streep and Ben Kingsley.
The package, designed as a family album, includes synopsis, posters, phtoos and info on each film. There are eight hours + of special features from the Columbia archives. These include Making Of/Behind the Scenes featurettes, docs, commentaries and interviews with Attenborough, Kazan, Lean, Zinnemann, Kingsley and O'Toole - even Steven Spielberg - plus such archival components as ads and premiere footage. The Oliver! disc is filled with surprises: sing-alongs to eight songs, games, quizes, dance instructions and featurettes.

What's Hot
Meryl Streep, in yet another amazing performance - mesmerizingly beautiful, youthful and doing things expected of Ringling Bros. acrobats and Olympic gymnasts, headlined a star-laden cast to bring the music of ABBA and the glories of Greece to the screen in the film adaptation of Mamma Mia! [Universal Pictures], the stage musical [a 2002 Best Musical Tony nominee] that's become a phenomenon the world over.
Now, after breaking box office records, it's scoring again with the release of Mamma Mia!on DVD and Blu-ray in a two-disc Special Edition [Universal Home Entertainment; SRP $35]. Not to be outdone, BroadwayDecca has issued a "deluxe" soundtrack CD package with bonus Behind the Scenes DVD [SRP $25].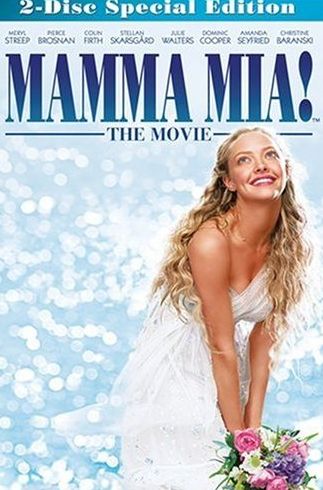 Besides her agile ability to leap and do splits, Streep had been keeping another secret. She can still sing! For someone's who last major singing role was 31 years ago in the Brecht-Weill musical, Happy End, for which she received a DD nom, she acquits herself quite well.

As she tramped, stamped and flung herself through Mamma Mia!, all I could think of was why hasn't she come back to Broadway in a musical? She's a dyed-in-the-wool New Yorker and, undoubtedly, there've been countless offers. We got a taste of her stage vocalizing last summer in the Public Theater's production of Mother Courage and Her Children.

It's a big year for the much-honored* star. She's pulling no punches [and scaring the hell out of young students] in the screen adaptation of Doubt.
[* Two Oscars out of 14 nominations, more than any actor; six Golden Globes out of 21 noms; a Tony nom; two Emmys; two SAGs; four Grammy noms; a BAFTA; and recognition from the Cannes Film Fest]

In MM!, Streep rocks - and often against great odds [ignoring the material and just having a great time]. Like Streisand, she's not your typical Hollywood beauty, but Haris Zambarloukos' camera embraces Streep lovingly. There are moments when she lets her all-over-the-place hair down and is downright sexy.

The movie is not all-Streep. There's strong backing from Pierce Brosnan, Colin Firth, Stellan Skarsgrd [the prime suspects in the Who's the Daddy contest], Christine Baranski [channeling her drunken Maryann Thorpe from the TV series Cybill], the irrepressible Julie Walters, Amanda Seyfried and Dominic Cooper.

MM! does hit some false notes: the ABBA uptempo songs, while quite infectious, sound so alike that they get monotonous; the choreography, by Anthony Van Laast [from the stage musical's WE and Bway prods], is on a par with that of an Oscar telecast or something at an Olympics opening. All in all, it's an odd package but it works and is lively fun.

Disc Two is fully-loaded with bonuses: a sing-along capability, deleted scenes and outtakes, Making Of/Behind the Scenes docs, the "Gimme! Gimme! Gimme!" music video and a new number, "The Name of the Game."
[For a full story on Mamma Mia! the movie and also the Broadway production, visit Ellis Nassour | BroadwayStars, July 18, 2008]

And how about some DVD 3D
There is finally the release of Oscar winner Robert Zemeckis' motion capture animated feature The Polar Express on DVD as originally presented in 3D [WHV, 100 minutes; includes four sets of viewing glasses and 2D disc; SPR, $21]. The holiday film, a fav among train buffs, is based on Chris Van Allsburg Caldecott Medal-winning children's book. In a manner of speaking, it stars two-time Oscar winner Tom Hanks. My wish would be that it was also in IMAX! Though the 3D is only moderately effective, if you don't have the 2D DVD release, this can be fun. Just don't expect big screen/theatre-qualitry 3D. What's impressive in the Sony Imaging 3D is the depth of field [something folks have forgotten about 3D - it wasn't all arrows and spears being thrown at the camera].
Ellis Nassour is an international media journalist, and author of Honky Tonk Angel: The Intimate Story of Patsy Cline, which he has adapted into a musical for the stage. Visit www.patsyclinehta.com.

He can be reached at [email protected]





Why are you looking all the way down here?
For more articles by Ellis Nassour, click the links below!

Previous: The Holidays Are Upon Us! How the Rockettes Spend Christmas; Theatrical Stocking Stuffers: Holiday Fare to Catch While You Still Can, What to See, Do

Next: Kennedy Center Honors Telecast; Special TV; Coming Up [Early] Next Year; Douglas Fairbanks Remembered; New to DVD; More

Or go to the Archives