The holidays are upon us. Are you dreamin' of a slushy and/or white Hanukkah, Christmas, Kwanzaa and New Year? Better watch out. You may get your wish. So much to do and so little time to do it in. But there are plenty of arts-related ideal gifts for stocking stuffers.
Here's wishing you a joyous Hanukkah, merry and blessed Christmas, happy Kwanzaa and an ab fab New Year filled with peace, happiness, good health and prosperity!

Hard (Rockette) Candy Christmas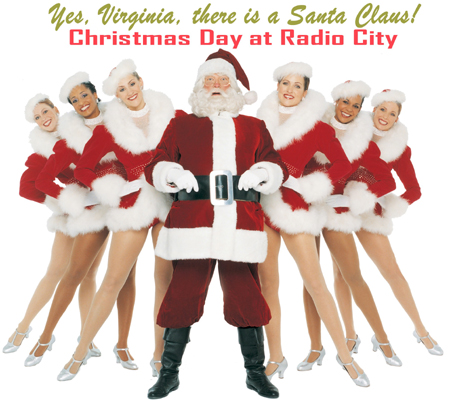 This weekend, there will be 11 shows for the two casts of Rockettes, who are the primary star, along with Santa, of the Radio City Music Hall Christmas Spectacular,
directed and choreographed by former Broadway gypsy [and one-time assistant to Bob Fosse] Linda Haberman.
In addition, there'll be four shows on Monday and Tuesday and three on Christmas Eve and Christmas Day; so there's not a lot of time for the two casts of precision dancers - 72 in all - to spend at home with family and friends.
"This is especially true on Christmas Eve and Christmas Day," says Amy York, a Rockette since 1997, "but we know this going in. It's a great job in a, well, spectacular show. The Christmas Spectacular has something for everyone: gorgeous girls in dazzling costumes doing astounding high kicks and military precision routines, Santa flying across Manhattan, 3-D and all sorts of special effects."
The Rockettes are more front and center than ever before, dominating more than three quarters of the program. In addition to their famed rag doll number, the tour-de-force "12 Days of Christmas" and the classic "March of the Wooden Soldiers," they perform two new numbers: a double-decker bus ride that rocks and rolls you through a montage of Manhattan's scenic wonders to a fireworks finale in Times Square; and "Let Christmas Shine," the finale where a tree grows 20 feel high right before your eyes decorated with 36 live Rockette diamond ornaments.

Since its inception, the holiday show has been seen by 65 million. If you've experienced it the before, there's reason to see it again. In many ways, the show is bigger and grander than ever - re-touched, re-tuned and re-imagined with more than half of the 90-minute show all new. Many of the special effects are projected on the world's largest flying indoor LED screen [90 feet wide, 40 feet high].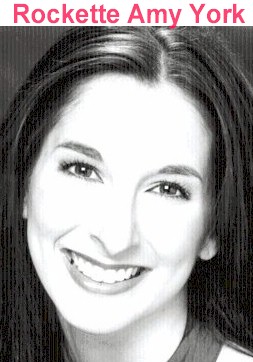 Factor in elements audiences have come to love, such as hundreds of razzle-dazzle costumes for the cast of 140, songs and carols, ice skaters, Santa in person and the living Nativity and it's a cold, cold heart that can't get into the holiday spirit.
There are blasts of confetti and tons of special effects and you won't have to dream of a white Christmas. It's guaranteed at the Christmas Spectacular. Snow falls - inside - all the way to the balconies.
"The purpose of this new edition is all about celebrating the legacy of the Rockettes and the talented dancers that we are," states York. "It really brings the group into the 21st Century."

York, a Texas native, has done the Christmas Spectacular in several of the tour cities but says, "There's no place like audiences in New York and the Music Hall. Doing the show at the Music Hall is quite different than doing it on the road. Stepping out on that great stage and looking into the vast auditorium filled with people is pure magic."
She says it's an honor to be a part of the Music Hall and Rockette tradition, a sentiment she explains is shared by all of her dancing colleagues. This is a much sought after gig and it's quite telling that of the two troupes this season, there are only six new dancers.
"There's a saying," points out York, "that once a Rockette, always a Rockette!"
There's a group of dancers for the morning and afternoon and another group for evening and night.
Even with five weeks of rehearsals, from 10 A.M. to 6 P.M. with just one day off, prior to the opening and frequent notes from dance captains Michelle Hammar and Karen Keeler, York admits that occasionally a dancer will miss a step. "It happens, but you just have to brush it off and keep on going to the next step. We're professional dancers thoroughly rehearsed to work in unison, so it's not something that happens on a regular basis."
When it does happen, could it be from doing back to back shows? Exhaustion has to enter into the picture; but, says York, "no matter how tired you might be, no sooner than you step into those sparkly costumes and set foof onstage the adrenaline really pumps."
With all the extra shows as Christmas draws closer, "getting shopping done is not as difficult as one might think," York notes, "mostly thanks to your laptop and all the online shopping opportunities."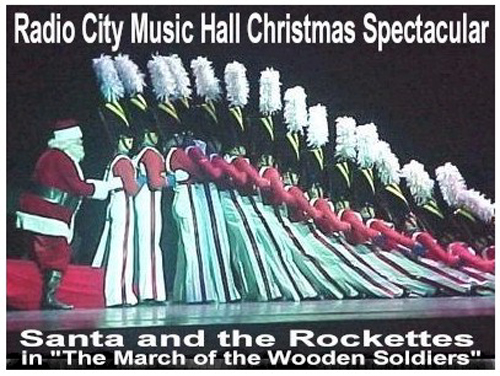 Christmas Eve and Christmas Day, there will be some cheer when the women aren't onstage. "We try to bring the holidays backstage," points out York. "It's festive. We have decorations, a tree and we get together and play Secret Santa. On Christmas Day, in the large rehearsal hall, we have a dinner to which we can bring our families. That's very special and makes a huge difference even if you do have to work."
York has appeared as a featured dancer in regional productions. She has a classical background, having studied at Seattle's Pacific Northwest Ballet School and with the Joffery's summer intensive program in San Antonio. She graduated in 1998 from Southern Methodist University with a BFA in Dance Performance.
Speaking of the Rockettes and the Christmas Spectacular, did you know you can experience the acclaimed holiday show year-round? All you need is a roarin' fireplace, real or artifical snow falling outside your windows and The Radio City Christmas Spectacular: The Rockettes DVD [Time-Life, 80 + minutes; SRP $30].
The package contains 12 high-kick and precision dance performances, a behind-the-scenes bonus disc, plus a commemorative ornament.
For much more Christmas Spectacular-related and Music Hall gift ideas, visit www.radiocitychristmas.com.

Catch While Catch Can
Even if you've seen the acclaimed Tony and DD-winning revival of Sondheim/Styne's Gypsy, starring the much acclaimed Patti Lupone, Laura Benanti and Boyd Gaines, you might consider an incredible holiday treat of going one last time before the production closes on Sunday, January 11.
And no matter how many times you've seen Steven Sater/Duncan Sheik's Tony and DD-winning Spring Awakening, there's a good reason to experience it one last time before it closes on Sunday, January 18.
We're also losing two long-running champs:
The 2003 Tony and DD Best/Outstanding Musical Hairspray, where Harvey Firestein has returned to his Tony and DD-winning role as Edna, until the final curtain on January 4, with his original Tony and DD-winning co-star Marissa Jaret Winokur. On the boards with them are Karen Mason as Velma Von Tussle and Charlotte Crossly as Motormouth Maybelle.
It's unthinkable to imagine Broadway won't be [lovingly, laughingly] skewered anymore Gerald Alessandrini's and Forbidden Broadway, playing in numerous editions almost non-stop in West Side/East Side/West Side clubs/theatres since 1982. The show spoofs the best and worst, brightest and dimmest on the boards, It found favor with hundreds of thousands from around the world even with the Tony Awards, which presented it a special 2006 Tony. Forbidden Broadway Goes to Rehab, the current edition, scheduled to close no doubt with a big bang on March 1, stars Christina Bianco, James Donegan, Gina Kreiezmar, Michael "Let Me Show You My Body" West, Kristen Mengelkoch and music director David Campbell.
Let's talk Gypsy:
LuPone is very generous in her praise of bookwriter and production director Arthur Laurents. "I didn't do this alone," she says of her shattering performance as Mama Rose. "I brought Patti LuPone, but it's Arthur who's responsible for what Patti is doing. It has been one of the most satisfying and incredible journeys of my career working with Arthur. Did I say he is amazing? This has long been his dream project and he really wanted to bring something new to it. Throughout the entire process he was very focused. Whatever I've accomplished, I owe it all to Arthur."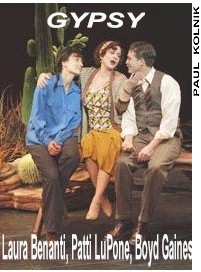 The stirring tribute LuPone was making on the Tonys to Gypsy original star Ethel Merman was, sadly, all but drowned out by the Okay-that's-it-you've-said-enough-now-get-off music; but she says she had very large shoes to fill. Growing up in L.I., listening to the original cast album, she remembers being blown away by The Merm, but guess who she fell in love with? Dainty June and the Cow. She loved "Cow Song" and sang it "endlessly."
"It never entered my mind to want to play Rose," LuPone says. "I didn't have eyes set on playing June. It was Mazeppa! I liked the way she played the trumpet."
But Lupone did go on to play Louise - at 13 in a Northport school production. "I was stripping in front of my teachers," she recalls in the revival cast album liner notes. "There I was pulling the panels off my costume staring straight at my science teacher, thinking 'How do you like them eggrolls, Mr. Goldstone?'"
After the Ravina concerts in Illinois and the sold-out City Center Encores!, when it seemed possible Gyspy could be moved to Broadway, LuPone remembers Laurents telling her, "I want this Gypsy to be different from all the other productions. I want to cast it with actors." And so he did.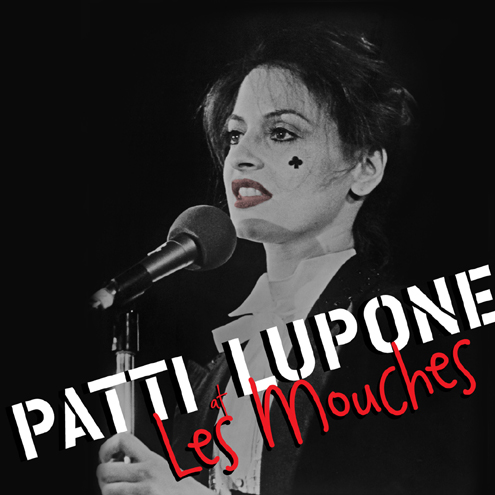 The result is "a company unparalleled in my theatrical experience," says LuPone. "I'm so proud to work with this finest and most dedicated group. We are blessed with the best company. It's just been the best, the happiest that I've ever been. I look forward to going to work. Everybody likes each other, and in a musical, no less!"
She says Benanti and Gaines are "two of the most unbelievable actors I've ever worked with. They make it possible for them to go out there and dare to do what I have to do and really break it open during those final moments."
Some things in the production, such as the sexy dance with Herbie and that wonderful dip he sweeps her into that lands them on the floor were quite accidental. "We were dancing and someone yelled drop her. Boyd had a bad back and was in some pain and he did what he was told. We cracked up laughing and it stayed in."

Of the CD release of excerpts from her 1980 midnight concerts, Patti LuPone at Les Mouches [Ghostlight Records], LuPone says that, except for our youth, "nothing ever seems lost forever."
LuPone was starring in Evita, the toast of Broadway and on her way to winning the Tony and DD for Best/Outstanding Actress, Musical. But every Saturday night at midnight, for 27 weeks, she was onstage at Les Mouches performing solo in a tour de force concert.
The Evita experience was "heaven, everyone who was anyone came backstage. Lana Turner, Douglas Fairbanks Jr., Jane Fonda, so many others. I was hobnobbing with the royalty of Broadway and show business, people I idolized. And then the concerts. Les Mouches became the place to go on Saturday nights. Everyone came - Sondheim, Jodie Foster, Warhol, you name it. Suddenly, this little concert became the hottest ticket in town."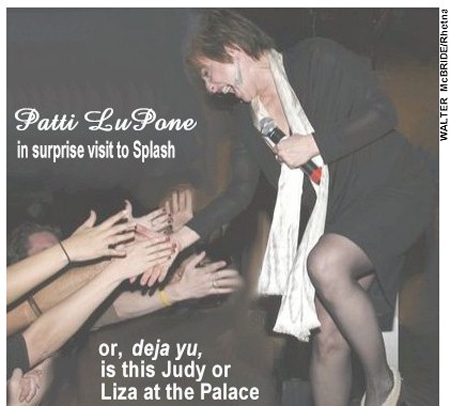 LuPone says the Les Mouches was expensive: cover, two-drink minimum, dinner, "but the place was packed, four deep. It became the thing to do not once but again and again."
The concert disc feature songs from Patti Smith, Bruce Springsteen, Fats Waller, Broadway and such classics as "Come Rain or Come Shine" and "Meadowlark."
"I crack up listening," says LuPone, "because I can't believe those tempos. That David Lewis [music director, who also conceived the show]! It was like we were on speed. Those shows were pure, unadulterated joy. I remember one night getting so excited I slide right off the piano!


Let's talk Spring Awakening: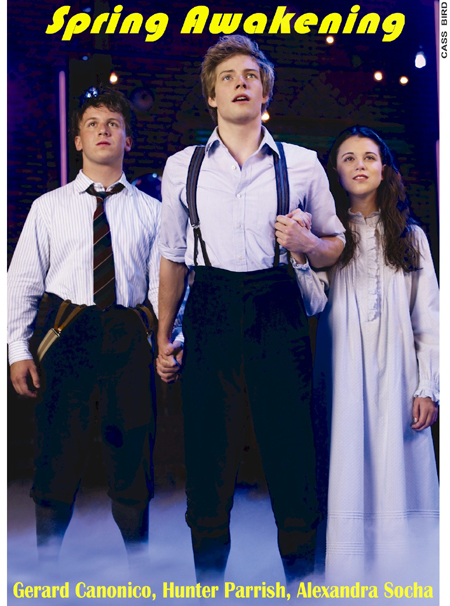 No matter how much you loved the original cast [Jonathan Groff, John Gallagher Jr. and Lea Michelle], there's good reason to return. The production remains in shipshape condition, and new cast members Hunter Parrish [TV's Weeds] as Melchoir, Gerard Canonico [Gavroche, Les Miz revival] as Moritz and the stunning Alexandra Socha in her Bway debut as Wendla are more than mere replacements. They bring a wonderful spontaneity, tenderness and humor to the roles.
It's also a last time to reexperience the multi-layered performances of Christine Estabrook as Mama and all the adult women. It's a performance to remember and Estabrook etches it deeply. Then there's large, hulking Glenn Fleshler, who could give Mickey Rourke a run for his money in The Wrestler. His wonderfully intimidating presence works well for Papa and makes the the adult men even more powerful. He packs a wallop.
Other Spring Awakening news:
Joe's Pub Sh-K-Boom/Ghostlight series will host the last Spring Awakening Christmas concert of the '08 season, featuring the show's current cast and special guest original cast member Lilli Cooper, December 29 at 11:30 P.M. S.A. vocal arranger Ann Marie Milazzo has done new arrangements to some old chestnuts. Jodie Moore will be music directing.
Tickets are $25 and available at www.joespub.com. Proceeds benefit SafePlace, a nationwide org providing access for supportive resources for young people in crisis. For more information, visit www.nationalsafeplace.org/aboutus.

The Singin' Barbour of 44th Street
Vocal power house James Barbour, who recently rocked audience as Sydney Carton in A Tale of Two Cites at 45th Street and Eighth Avenue, is doing some holiday rocking up the street and around the corner, at Sardi's to be specific.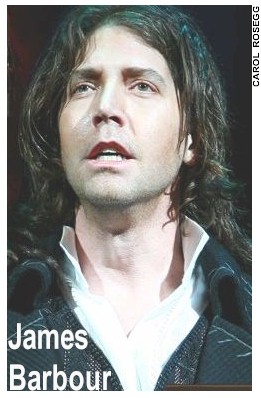 He premieres his Holiday Concert series with special guest stars tomorrow at 8:30 P.M. upstairs at the famed Theatre District eatery. There'll be 11 concerts - Tuesday, Friday and Saturdays at 8:30 and matinees at 3 P.M. Sunday and Wednesdays - of traditional Christmas songs, inspirational tunes and carols through January 4.
Various Broadway friends - names all being kept hush-hush - will be appearing along side Barbour during the Sardi series. Jeremy Roberts is music director. [But we can reveal a couple, if you promise to keep it secret: December 20, Brandi Burkhardt [ATOTC]; December 23, Natalie Toro; and December 26, Jodi Graham].
Tickets are $25-$60 [premium seating], plus $25 minimum, and are available by calling (212) 868-4444 or on line at www.SmartTix.com.

Puccini Celebration
In honor of the 150th Anniversary of Puccini's birth, Mayor Bloomberg will declare December 22nd Puccini Day in New York. That night, at 8 P.M. at Lincoln Center's Rose Hall in the Time-Warner Building, the Dicapo Opera Theatre will present an all-Puccini program with arias and fully-costumed scenes from all of the composer's operas.
Selections will include the opening of Act Two of Edgar, both the Brescia and La Scala versions of Madama Butterfly, Le Villi and his last opera Turandot.
Renata Scotto and Dicapo's general director Michael Capasso will host the concert. Members of the Opera Orchestra of New York and the Dicapo Opera Theatre Chorus will be led by Eve Queler and guest conductors Francisco Bonnin, Victor De Renzi, and Pacien Mazzagatti. Singers include Italy's leading Puccini specialists soprano Daniela Dessi and tenor Fabio Armiliato as well as numerous artists, such as Aprile Millo, Francisco Casanova, Olga Makarina and Anthony Laciura as well as members of Dicapo's Resident Artists Program.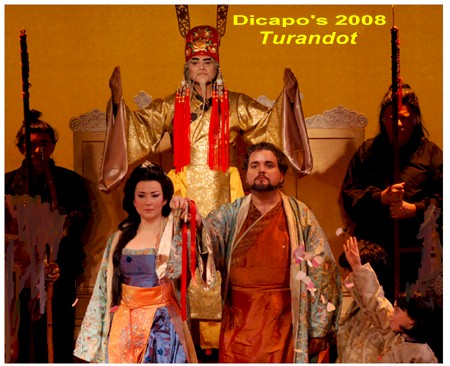 Tickets are $65, $50 for subscribers and $100 for VIP seating, which includes a post-performance reception. They're available by calling (212) 288-9438 X. 10.
Co-founded in 1981 by Capasso and Diane Martindale, Dicapo Opera has long been known as New York's third opera company. After the Met and City Opera, it's the only non-profit opera company in the city presenting an entire season of opera productions, musical theatre and concerts in its 204-seat, state-of-the-art opera house complete with supertitles at St. Jean Baptiste Church at 186 East 76th Street at Lexington Avenue.
The next performance in the popular Opera for Kids series will be Tobias Picker's Fantastic Mr. Fox, Saturday and Sunday at 11 A.M. at the Dicapo Opera Theatre at St. Jean Baptiste. It's based on Roald Dahl's children's book about the Fox family's revenge against the evil farmers Boggis, Bunce and Bean.
Tickets are $20 for adults, $10 for children. Order as above.

Kennedy Center Honors Televised

On December 8, the 31th Annual John F. Kennedy Center for the Performing Arts presented honors to six performing arts icons "for the gifts they have shared with us" in a star-studded evening attended by President and Mrs. Bush and a host of capital powerbrokers.

The 2008 honorees are Academy Award-winning actor Morgan Freeman; two-time Grammy-winning country singer George Jones; Oscar/Grammy-winning director, actress, singer, writer, composer and producer Barbra Streisand; acclaimed Tony and DD-winning choreographer Twyla Tharp; and, though I love 'em, you'll have to admit a strange, interesting, brave choice: Rock 'n Roll Hall of Fame musicians Pete Townshend and Roger Daltrey of The Who. Each star is saluted by celebrities and entertainment-laden segments.
A much-edited Honors will be broadcast on CBS as a two-hour prime-time special on December 30 at 9 P.M.

Sondheim Treasure Trove

Musical theater buffs rejoice! Releasing on the 30th is a comprehensive treasure trove of the works of Stephen Sondheim, The Story So Far, a comprehensive four-CD, four and a half hour + set [SonyBMG/Legacy Records; SRP $55]. It features 81 tracks with selections from Sondheim's 15 Broadway shows, film scores, TV specials, incidental music and demo recordings from his private collection [songs cut from shows or written for aborted stage and film projects].

Sondheim served as exec producer with A&R head Steve Berkowitz as producer. The set was prepared by veteran producers Didier C. Deutsch and Darcy M. Proper.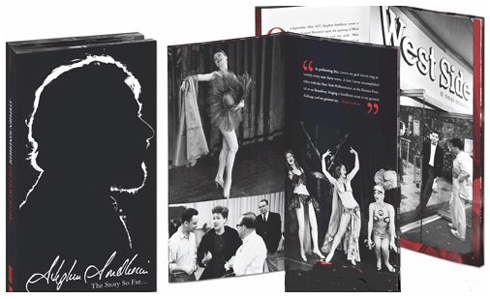 "Show buffs love nothing more than demos, out-of-print and private recordings," says Sondheim, "particularly cut songs - especially when sung by the composer. This has all of the above and more. I'm listed as co-producer, but the work and choices were Didier and Darcy's. They have packaged these buried and not-so-buried nuggets with care and lavish elegance."

Of particular interest, the box set includes 28 previously-unreleased tracks and such rarities as songs from Evening Primrose, the 1966 television musical starring Anthony Perkins and Charmain Carr, and demos from Saturday Night, the 1955 musical that would have marked Sondheim's Bway debut had it reached a NY stage. It remained on the shelf until a 1997 London production. In 1998, it finally received a professional recording, which was followed in 2000 by a production at Second Stage.

Other unreleased tracks in the set include demos of songs from Do I Hear a Waltz?; discarded tunes from Company, Follies, A Little Night Music and Pacific Overtures; and songs for an intended 1992 TV production of Into the Woods.

Artists in the set Julie Andrews, Carol Burnett, Len Cariou, Barbara Cook, Victor Garber Dean Jones, Glynis Johns, Nathan Lane, Angela Lansbury, Madonna, Merman, Minnelli, Mandy Patinkin, Bernadette Peters, Zero Mostel and Donna Murphy.

The profusely illustrated booklet features an introduction by Harold Prince, notes by Mark Horowitz, Library of Congress senior music specialist, as well as Sondheim's personal reflections.

Behind-the-Scenes Tell All, Lavishly Illustrated
There's no finer gift for theater fans than a book you'll want to go on reading forever, the expanded edition of How Does The Show Go On?, An Introduction to the Theater by Disney Theatricals president Thomas Schumacher and Jeff Kurt [Disney Editions; 120 pages; SRP $25]. One reason you'll want to go on reading forever is to discover all the book's fun surprises. The book has been updated to include The Little Mermaid and High School Musical.
HDTSGO gives readers the opportunity to meet the casts and behind-the-scene workers and explore the inner workings of theater and theatre buildings. It's a complete and interactive guide to what goes on behind the curtain.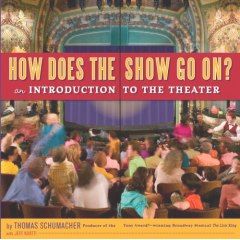 Schumacher stated, "I wanted to create the kind of book about the theater that I would have enjoyed when I was a kid." Another goal was to craft an indispensable guide "for young theater lovers to show the countless career opportunities that do not involve being on stage."
Readers meet everyone from the playwright, choreographer and stage manager to the set designer, composer, director and actors, even the usher. Considering the gorgeous color illustrations, production and at-work photos and all its fun elements, the book is amazingly bargain-priced. It is filled with artifacts you can pull out and hold in your hand.
How Does The Show Go On? includes a mock ticket to The Lion King, costume designer's sketchbook with swatches, Playbill, two excerpts from a Tarzan rehearsal script, theater-speak glossary, a page on how to put on a play, sections on Front of House and Back of House and hundreds of color photos from mini to oversize [with a stunning Lion King endpaper and a mid-section quadruple trunk fold-out of a scene from Lion King and Mary Poppins].
Schumacher has launched a Gift-A-Book pilot program to provide drama teachers and students throughout New York public schools with gift copies of HDTSGO. "This book exists because of the great inspiration of my childhood teachers," he explains. "When I heard from people that they were buying multiple copies to give as gifts, I thought it would be great to offer that concept to anyone who wanted to gift a book to a public school."
Individuals interested in gifting a copy of How Does The Show Go On? to a City public school can go to www.howdoestheshowgoon.com for instructions.

Still Kicking - Those Gorgeous Gams

Before there was Dancing with the Stars, there was Mitzi Gaynor - the original TV star dancer, winning a decade of huge ratings starting in 1968 with her Emmy-winning variety specials. Her triple threat talent - singer, dancer, comedienne - made her a film, TV, concert tour, nitery and stage star.
Now, you can treasure some of those jaw-dropping Bob Mackie costumes, production numbers, eye-popping special effects and M.G. energy that could have sent a rocket to the moon. Just released is Mitzi Gaynor - Razzle Dazzle! The Special Years, a one-hour-and-45-minute DVD encompassing performances from the NBC colorcasts. Ms. Gaynor note some of the numbers haven't been seen in over 30 years.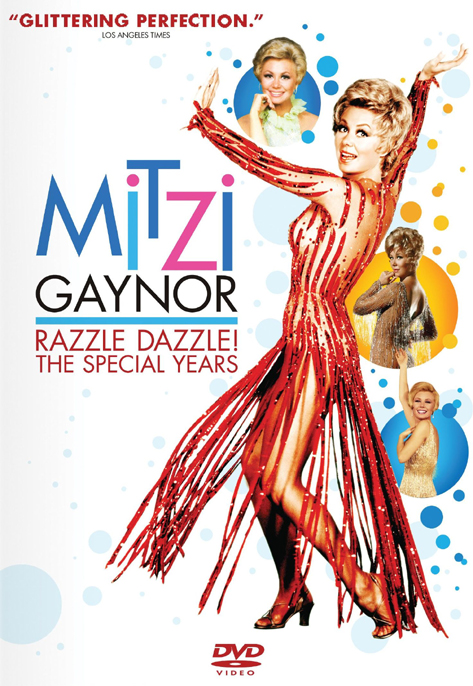 The DVD features clips from South Pacific, numerous excerpts from the TV specials' production numbers and interviews with Ms. Gaynor, choreographer Tony Charmoli, Mackie, Kelli O'Hara, Kristin Chenoweth, Carl Reiner, Rex Reed and dancers Alton Ruff and Randy Doney, whom she worked with.
The specials weren't tape before a live audience. Jack Bean and the choreographers would put together a new show every year, tour six to eight months, then come back to L.A., where they'd rehearse for three weeks and put the show on tape with the very best canned applause I've ever heard. The show is presented in such a way you think it's live. However, with all the various camera shots, including Busby Berkley overhead kaleidoscope shots and the numerous costume quick changes, it would have been impossible.

Mackie's stunning and flamboyant spangled and sequined costumes, in many cases as skimpy as the law would allow at the time, are also stars of the specials. Many of them appear to show more of Ms. Gaynor than censors would tolerate, but shrewd Mackie used a nude-colored material.
The eight production numbers in the bonus material are vastly entertaining. They include "Pretty" (1968), choreographed by Peter Gennaro and runs 2:55; the Brazilian flavored "Let Go," with a lot of frug thrown in (1969), choreographed by Danny Daniels, running 4:41; "Limehouse Blues" (1973), choreographed by Bob Sidney, with Ms. Gaynor costumed in, perhaps, Mackie's most elaborate and wildly amusing costume, a sort of Princess-Turandot-as-glittering-Vegas-showgirl; and the absolute piece de resistance, the Late Show Movie Parody comedy sketch (1968) with Ms. Gaynor reimagined as Rosalind Russell, Doris Day and Rita Hayworth.
Most amazing, in the very energetic choreorgraphy, Ms. Gaynor never has a hair out of place, loses a wig, earring or eyelash and can sing as well as dance.
One disappointment is that there's not enough of the bravura dance number from 1975's Mitzi Gaynor & 100 Guys, where she and her dancers are joined in an elaborately-Charmoli-choreographed number by 100 leading men working in TV [Ed Asner, Tom Bosley, Mike Connors, Andy Griffin, Monty Hall, Ted Knight, Michael Landon, Gavin MacLeod, Peter Marshall, Greg Morris and, among others, William Shatner].
Ms. Gaynor says if it wasn't for her most memorable film role, Nellie Forbush, in the film adaptation of Rodgers & Hammerstein's South Pacific, directed by Joshua Logan [who directed the Broadway original], she "probably wouldn't be remembered today. It was an incredible experience. We shot on location in Hawaii. It was photographed in widescreen, high depth Todd-A-O. Those songs! The movie didn't end up being the blockbuster [20th Century] Fox hoped, but it did well, especially overseas. And today people still stop me and say how much they loved my Nellie."

What Becomes a Legend Most?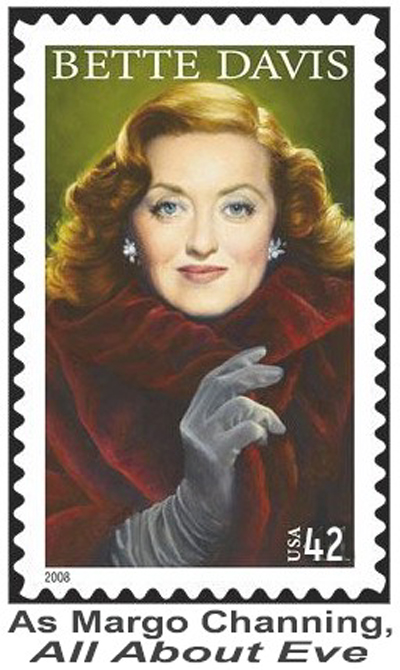 Memories of a feisty movie diva surfaced with the U.S. Postal Services issue of a Bette Davis first-class stamp on the 100th anniversary of her birth. Davis is 14th star to be honored in the Legends of Hollywood Series. A 10-time Academy Award nominee, Davis won twice, for her roles in Dangerous [1935] and Jezebel [1938]. She shares the record for most consecutive nominations [with Greer Garson]: five years in a row: 1939, 1940, 1941, 1942 and 1943.
In a bow to too much political correctness, Davis' ever-present cigarette has been airbrushed out of her hand.

Davis was the first female honored with the American Film Institute's lifetime achievement award. On AFI' s 100 Years of The Greatest Heroes and Villains list, her Regina Giddens in The Little Foxes [1941] ranks #43 and Baby Jane Hudson in What Ever Happened to Baby Jane? comes in at #44. She is #2 on AFI's Greatest Screen Legends actress list.

Regarding the years-long feud between Davis and rival Joan Crawford, it wasn't easy to get B.D. to speak of J.C., but when she did she was quite blunt - once stating that "I wouldn't p--s on her if she was on fire." Another time, she recalled that "the best time I ever had with Joan Crawford was when I pushed her down the stairs in Baby Jane?"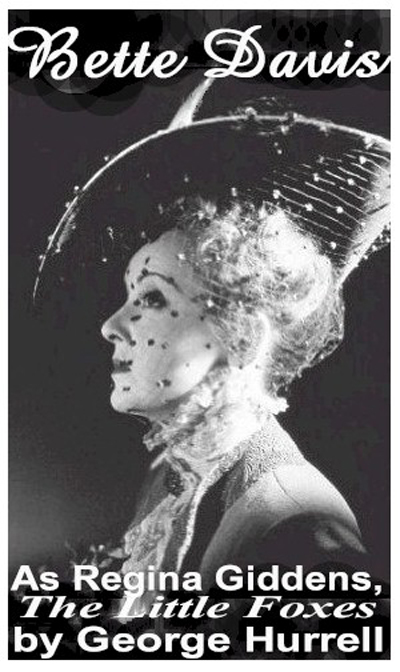 But when Crawford died in 1977, I had occasion to be working with Davis at her home in Weston, CT. She was literally in her cups -- drinking Bell's Scotch out of a tea cup. She made sympathetic comments about J.C.'s long-fight with cancer and that, indeed, she had been a screen legend. At one point, she retorted, "I always felt her greatest performance was Crawford being Crawford." When reporters asked her of her opinion of J.C., however, the old bitterness returned and she told one, "My mother told me never to speak badly of the dead. She's dead....Good."

Davis claimed to have given the Academy Award the nickname "Oscar," stating that the statue's "bum" reminded her of her first husband Harmon Oscar Nelson.

She was a perfectioness who went to war against Warner for putting her "in so much drivel." Her reputation for being difficult is legendary. She stated, "I've been known as difficult for fifty years. And it's always because I want to make it the best film I can."

On Davis' tombstone at Forest Lawn, it's inscribed "She did it the hard way." She did.

A Must-See Exhibition
Time is running out to see an exhibition at the Metropolitan Museum that will, undoubtedly, never be repeated. The Philippe de Montebello Years: Curators Celebrate Three Decades of Acquisitions is a spectacular tribute to the retiring, longest-serving director Philippe de Montebellow, who has guided the Met in the acquisition of over 250 masterpieces during his tenure. It opens October 24 and runs through February 1.
Ellis Nassour is an international media journalist, and author of Honky Tonk Angel: The Intimate Story of Patsy Cline, which he has adapted into a musical for the stage. Visit www.patsyclinehta.com.

He can be reached at [email protected]





Why are you looking all the way down here?
For more articles by Ellis Nassour, click the links below!

Previous: Liza's At the Palace and WOW!

Next: The Holidays, The Holidays: A Festive Time to See and Enjoy; Shrek Comes to the Stage; More

Or go to the Archives