We don't hear a lot of Jerome Kern/Oscar Hammerstein. But if that dynamo diva Kristin Chenoweth and dashing tenor Douglas Sills sang their songs more often, seats would be filled as they were way back in 1932 at the Alvin, now the Neil Simon, where the composers' Music in the Air operetta roused audiences for 342 performances.
Not a lot of excitement emerged when City Center Encores! announced the operetta as part of its 2009 season. There was a buzz after initial casting then, due to life-interrupted circumstances, changes had to be made. Tony winner and Drama Desk nom Chenoweth was aboard, joining absent-from-the-stage-much-too-long Tony and DD nom Sills.
Co-starring are Sierra Boggess [on leave from The Little Mermaid], Ryan Silverman, Tony and DD winner Dick Latessa and Walter Charles were announced in lead and featured roles. Then, after another life-interrupted circumstance, Marni "Voice of Voices" Nixon joined the company.
The musical romance, under the direction of Garry Griffin [The Color Purple] and musical direction of Rob Berman, combines sharp comedy and elegance the way Ernst Lubitsch did in his films. But Music in the Air came along just as operetta had fallen out of favor and was written as a bit of a spoof of the genre. It also broke new ground in the heavy use of extended huge choral numbers and also underscoring. It appears David Ives has contemporazed Hammerstein's book [maybe a little too much] because some of the humor as presented here just wouldn't have been acceptable back then.
If Kern and Hammerstein aren't enough, you have the brilliant orchestrations by Robert Russell Bennett [South Pacific, so many more], a cast of nearly 40 [just like the good old days] and the 28-member Encores! orchestra. The score and orchestrations have been meticulously restored by Bruce Pomahac of the Rodgers and Hammerstein Organization.
Four performances remain: tonight at 8, tomorrow at 2 and 8 and Sunday at 6:30.
Music in the Air is the story of young Bavarian singer Sieglinde [Boggess] who goes to Munich with her boyfriend [Silverman] on a lark and ends up being groomed for stardom in a theater company by a lothario librettist [Sills], who when not [hilariously] preening in front of mirrors is feuding with his opera diva and live-in "fiance" of nearly a decade, Frieda Hatzfeld [Chenoweth]. The show has charm but is terribly outdated; however when Chenoweth and Sills go at it, egos clash and claws flair in Kiss Me, Kate fashion.
It's no surprise that Chenoweth and Sills, as the long-suffering couple know how to command a stage, but their chemistry in MITA is WOW! Chenoweth and then she and Sills score in Act One with the comic "I Am So Eager." In Act Two, Chenoweth has a poignant moment with "I'm Alone." Near the end of the act, Sills soars singing "The Song Is You" to Boggess, then when he and Chenoweth [now in one of her trademark ultra low cut fully and quite revealing gowns] duet on the classic song, the dome lifts off the Arabesque temple to the arts.
Boggess and Ryan Silverman have their moment, too, with another classic "I've Told Every Little Star," which, undoubtedly you'll go up the aisle humming since it's reprised and reprised. Encore! Encore! Other songs include: "And Love Was Born," " "Night Flies By," "One More Dance," "We Belong Together" and "When Spring Is in the Air."
Nixon, winning a huge ovation from the audience, Joy Hermalyn in a cameo as Frieda's maid [and who knows how to milk slapstick] and Sella as the orchestra leader have memorable turns.
Tickets are $25-$95 and available at the City Center box office, through CityTix (212) 581-1212 and online at www.nycitycenter.org.

Hop the A Train
The critically acclaimed [12 DD noms, an Olivier nom] LAByrinth Theater Company, the multicultural collective whose mission is to produce plays reflecting the many voices of New York, plans to revive Stephen Adly Guirguis' Jesus Hopped the A Train , blisteringly set at Rikers Island, next season on Broadway, according to John Gould Rubin, the troupe's co-artistic and exec director. Guirguis also wrote the highly acclaimed In Arabia, We'd All Be Kings.
The 2000 Off Bway play was directed by Oscar and Golden Globe winner and Tony and DD nom [as actor and director] and LAB'S co-artistic director Philip Seymour Hoffman, who's expected to helm the controversial play in its main stem bow. In its Off Bway run it played for one month. Hoffman is Oscar-nominated for Best Actor for last year's Doubt.
Ben Brantley wrote in the New York Times in 2000, " In this probing, intense portrait of lives behind bars . . . the road to redemption isn't just paved with obstacles. In absolute terms, it probably doesn't even exist."

Liza
She's not at the Palace anymore, but $19.98.the buzz of her performance of a lifetime still rings among fans. She was at Barnes & Noble, Lincoln Triangle, on Wednesday to launch her live two-disc CD [Hybrid Records] of the Palace show. Her less than timid fans began lining up in frigid temps and snow outside the store at 3 A.M. in order to be among the first to get a wristband and purchase the album.
By 6 P.M., B&N had to call in extra security. There was a turnaway crowd, but over 150 got to experience Liza live [while more than another 100 got to just hear her] sing Kander and Ebb's "And the World Goes Round," Aznavour's "What Makes a Man a Man?", the original tune "I Would Never Leave You" and, accompanied by "my boys" [Cortes Alexander, Jim Caruso, Tiger Martina and Johnny Rodgers], "I Love a Violin," from her second act tribute to her godmother, film star and MGM vocal arranger/music director/vocal coach Kay Thompson.
Oscar, Tony, Grammy, Golden Globe winner and DD nom Liza was accompanied by her long-time friend and Palace pianist/musical supervisor Billy Stritch.
The CD, produced by Phil Ramone contains 16 songs and the Palace medley sequence that is a tribute to Minnelli's mom. The tracks, of course, include two of her other signature K&E standards, "Cabaret" and "New York, New York."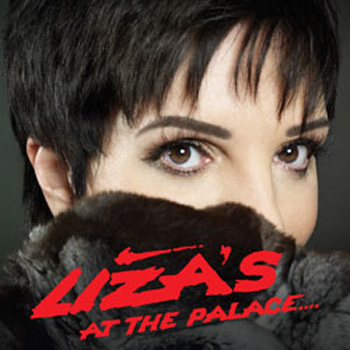 Minnelli stayed longer than planned to sign every CD purchased. She also posed for photos. Onstage, taking questions, she displayed her famous sense of humor. When a young woman exclaimed, "I've loved you all my life," Ms. Z retorted, "How old are you? Eight?" The woman confessed she was a ripe, old 22. Another daringly asked, "Would you ever get married again?" Liza shouted, "Are you nuts?"
Her response to "What's your secret for staying so young?" was "I keep moving!" To that it might be added that Liza Minnelli also keeps moving us with her ebullience at age 63 [next month] and sheer, mad determination to keep going, going, going.
They Bewitch, Bewilder and Sizzle
Who would have expected Martha Plimpton and Stockard Channing would emerge as this season sex symbols? And both in the same show, Pal Joey.
Tony and DD nom Plimpton, often cast in dour roles, is a revelation as showgirl-with-an-attitude Gladys Bumps. Like a much later showgirl-with-attitude, Mazeppa, she really "stumps" it; alas, without a trumpet. She's not up there alone. She seems to be channeling Shelley Winters in her ultra sexy heyday, Mae West and Jean Harlow. The new adaptation of the Rodgers and Hart musical also gives Miss Bumps the opt to sing the showstopping "Zip."
Channing, turning 65 next week, in a scene with co-star hunk Matthew Risch tucked snug under her sheets, reveals a "hot mama" side totally unexpected for a woman of a certain age and one we haven't seen since her Rizzo of three decades ago. With that bod, do you think she's been spending a lot of time with pilates?
Divided opinion and body parts aside, director Joe Mantello, with his seamless segues, Graciela Daniel's choreography and Paul Gemignani's musical direction are also assests.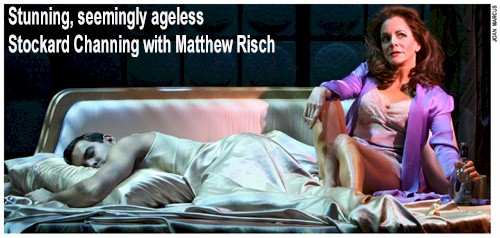 Everyone Needs a Little Spirit
Broadway welcomes the third revival of one of the most popular stage comedies of all-time when Noel Coward's Blithe Spirit begins previews February 26. Featuring a ghost, a love triangle, a medium, it stars Christine Ebersole, Angela Lansbury, Rupert Everett, Jayne Atkinson and Simon Jones.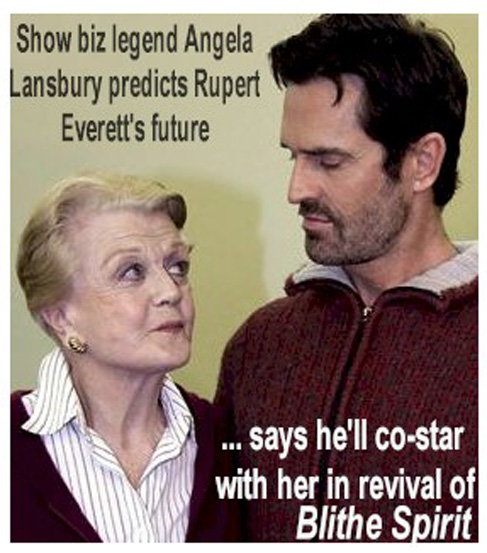 Two-time Tony winner and three-time DD winner Michael Blakemore [Is He Dead? Copenhagen, Kiss Me, Kate revival, Noises Off] directs.
"At this time, with capitalism in a free fall, it's a good time to cheer people," says Blakemore with Cowardian understatement of the revival. "I hadn't read the play for years. I saw it when I was a kid, and not since. When I reread it, it seemed remarkably fresh. Of course, it's Coward. It was a dark time then, He knew what the public wanted."
Written in 1941, Blithe Spirit is one of a string of comedies Coward penned and which continue to be performed. His Present Laughter is slated for revival next season on Broadway.

Even Ms. Lansbury, who plays beloved fortune teller Madame Arcatti, was taken aback once - when she met Sir Noel. "I was awestruck," she smiles. "Awesome. I met him with Marlene Dietrich. They were dear friends. I have such admiration for the amount of work he managed to do. He was an actor. He wrote some of the most important stage works and films of that period."
"Blithe Spirit is one of the great, entertaining plays in the world of theater," offers Everett, who's making his Broadway debut. He's starred in film versions of two of Oscar Wilde's plays and find "many similarities between the two comic masters."

New Allegro
It's been over 60 years since Allegro opened on Broadway. It played over 300 performances but is considered one of Rodgers and Hammerstein's rare failures. It was the team's fourth musical and there was high anticipation and expectation. Ticket buyers lined down the block of the Majestic Theatre to get tkts. But it wasn't to be.
The musical many considered a sort of musical Our Town was controversial, some said even dull. It earned some raves, but was less than a R&H blockbuster. Hammerstein claimed he'd love to rewrite the second act - feeling audiences weren't getting the story. He also worried that the story of Everyman Joseph Taylor's journey from birth, high school, college, marriage, to becoming a country doctor and his infidelity closely mirrored his experiences.
Rodgers stated, "Of all the musicals I ever worked on that didn't quite succeed, Allegro is the one I think most worthy of a second chance."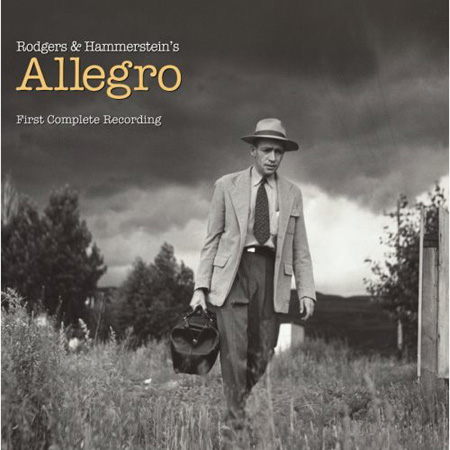 Now the composers' dream is, in a manner of speaking, coming true courtesy of dedicated producers and a score restoration by the Rodgers and Hammerstein Org. The cast includes Laura Benanti, Judith Blazer, Maureen Brennan, Ashley Brown, Danny Burstein, Norbert Leo Butz, Liz Callaway, Harvey Evans, Nathan Gunn, Judy Kuhn, Audra McDonald; Kathy Morath, Marni Nixon, Kurt Peterson and Patrick Wilson.
Allegro challenged audiences with its unusual storytelling style and groundbreaking approach to musical staging. There were Agnes de Mille's extended ballets. Fragments of song were used as passing thoughts; and melodies flitting by in one scene didn't take hold until the next. It broke new ground, but divided audiences.
The opening night disasters didn't help: scenery fell, narrowly missing chorus members, a dancer's leg got caught in a moving dog track resulting in painful injury and his being carried offstage moaning and groaning. That was just Act One. After intermission, Lisa Kirk [Mack and Mabel], making her main stem debut, got bitten by another dog track and landed in the orchestra pit [real pro that she was even at that young age, she was back onstage in a heartbeat].
[Trivia: Sondheim was a production assistant on the show.]
In the 40s, it was rare for a Broadway score to have a full recording. Many felt R&H's score, presented in such and abstract way, wouldn't work on record. In addition, Act One had 29 song cues, with 15 in Act Two.
That idea has been challenged with the first complete recording of Allegro in a deluxe package [Sony Masterworks/Broadway; two discs, 100 minutes playing time; SRP $25], which is a musical theater lover's must have. It comes with an 80-page book of lyrics, original production stills, recording studio shots and extensive notes. It's produced by Larry Blank, Chapin, David Lai and Bruce Pomahac. Music direction is by Pomahac with Blank conducting a 50-piece orchestra, featuring Robert Russell Bennett's original orchestrations.
"I've long wanted to capture the score in a way that explains how the musical tapestry was conceived and get it as close as possible to the way the composers intended," R&H prez Chapin explains. "It has innovative qualities in the use of songs in dramatic ways and that it's almost all sung through. The stellar group we assembled is icing on the cake."

Broadway Fixer-upper
What's playin' at the Roxy? Nothin' anymore, but there's a whole lot going on at the Nederlander.
The theatre was allowed to become a low-rent wreck during the long run of Rent [in residence for 13 years]. Now that the denizens of the East Village have left [though they are touring and also on film], the Nederlander is getting an extreme makeover in prep for the beginning of previews tonight and in anticipation of a March 1 opening of the fifth revival of the classic Guys and Dolls.
Starring in the production are Craig Bierko as Sky Masterson, TVs Lauren Graham as Miss Adelaide, Kate Jennings Grant as Sister Sarah Brown,Oliver Platt as Nathan Detroit and Tituss Burgess as Nicely-Nicely. Directing is Des Mcanuff.
You may encounter a bit of sticker shock at the box office: the price of orchestra seats have skyrocketed to $126, plus facility fee. That just seems like the wrong direction to be going in during this financial crisis. If the show receives raves, maybe the show can command such a price; otherwise, there'll be some heavy discounting and good seats at the TKTS booth.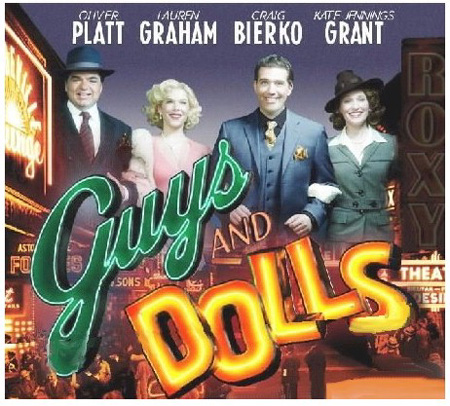 Among the featured cast is two-time Tony and four time DD nom Mary Testa as Salvation Army General Cartwright, Tony and DD nom dancer extraordinaire John Selya and Jim Walton [Sweeney Todd revival 1, Merrily We Roll Along].
The box office is open and previews begin tonight, even as a bevy of intense activity that, according to the Nederlander Theatre org, will leave no stone untouched. The work began on the 1,200-seat house as the Rent set was struck and was scheduled to take 10 weeks. Can this miracle renovation and restoration be accomplished in less than three weeks? More I cannot wish you. Luck be a lady tonight.
Nederlander VP James A. Boese [also prez of the League of Historic American Theatres] reported that new signage would go up, restrooms would be totally replaced, tech systems upgraded to state-of-the-art and the roof repaired after long neglect. He said that new seating, carpeting and wall and fixture paint would reflect the original 1921 decor of the venerable venue, which began life as a mill.
Originally the National, then the Trafalgar and later the Billy Rose, it debuted works by Albee, Hellman, Lerner and Loewe, O'Casey, Odets, Pinter, Stoppard, Welles and Williams. Among it's long-run hits was Who's Afraid of Virginia Woolf.

Jukebox Sunday Nights
Siegel Expands Empire, the headlines should read, but that's not the Siegel style. However, Scott Siegel's amazing ability to conceive vastly entertaining projects that haven't been mined in a while or really need to be mined again is mindboggling. Does the man ever sleep? He must wear IMDB, IBDB and every other kind of data base out doing research; and without a staff. Well, he does have an accompanist in wife Barbara.
He's good in getting powers-that-be behind his ideas, such as Town Hall with his Broadway by the Year and, among others, Broadway Unplugged series. And some generous sponsors who believe he's doing something that just isn't done anymore have come aboard. He probably could have single-handily kept the Miss America Pageant in Atlantic City!
Now, Birdland joins the venue list with the Broadway Jukebox series where the audience selects the songs, that begins Sunday night at 6:30 and goes forth, probably, for eternity. Kerry Butler, extraordinary-voiced William Michals [a South Pacific Emile] and Jill Abramovitz [Martin Short: Fame Becomes Me] top the bill [and just try and stump 'em]. Scott Coulter directs, with music direction by the superb Tedd Firth.
Admission is $25 and $35. For reservations, call (212) 581-3080.

The Lion Roars
The movies changed forever in 1924 when Metro-Goldwyn-Mayer opened in Hollywood and began assembling, as they often boasted, "more stars than there are in the heavens." The three-part Emmy winning series MGM: When the Lion Roars [Turner/Warner Home Video; two discs; SRP $30], now available on DVD and hosted by Patrick Stewart, brings the story of this legendary Dream Factory up close and personal, the rise and fall of a mighty empire [so to speak].
The much hated and beloved Louis B. Mayer signed such luminaries as Crawford, Clark Gable, Garland, Harlow, Hayes, Hepburn, Kelly, Loy, Rooney, Shearer, Taylor, Tracy and Williams. No first names needed, since they not only lit up the dark movie palaces with their talent but also became an integral part of our lives. Grandpa or curmudgeon, you have to give the old man credit. He knew talent, and not just the on-screen kind. Cukor, Donen, Fleming, Freed, Kanin, Minnelli, Schary, Thalberg and Thompson are some of the behind-the-scenes geniuses he employed to bring magic to the screen.
Filmdom's most famous studio is mainly known as the site where Jeopardy! tapes, but in a mother lode of clips from landmark films - drama, comedy, adventure, lavish musicals; interviews; and doc footage the once mighty lion is not asleep but roaring "ars gratia artis" [art for art's sake] again.

The Fan[ning]s Have It
Another acting dynasty surfaces this weekend as Dakota Fanning, seemingly all grown up ["Many still think of me as seven or eight, but I will be 15"] and, in a career move that will surely push her into new territory, she's going "Miley Cyrus" as a clairvoyant, angry teen tossing her pink-streaked hair strutting around in mini skirts in Push.
On other screens, with a lot less hype, younger sister Elle Fanning is opening in Phoebe in Wonderland, the indie that was a Sundance nominee for Grand Jury Prize and a wonder of a film that should be shared with all the family.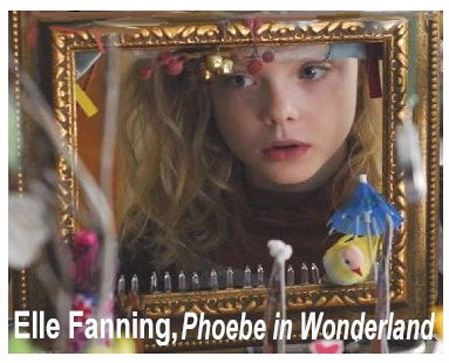 Daniel Barnz has done an admirable job as screenwriter and director, but Elle [11 in April] delivers one of the best performances of any age group is a troubled girl with Tourette's Syndrome. She displays acting chops way beyond her age. This is a role she'll be wildly acclaimed for but, opening now, it'll be long forgotten or at least in the DVD bins by the next awards season.
Felicity Huffman, save for a horrendous wig or hairdo she's stuck with for the entire film, as the overprotective mother delivers a capable performance. She does what she can, but, hey, she' up against quite a powerhouse in Fanning. To her credit, she doesn't try to steal the movie from her young co-star but rather embraces her. Toward mid-picture, they share a long, intimate, continuously-shot scene that will certainly be one of the great tearjerker moments of the year.
For years, Patricia Clarkson has been a fav character actress. In PIW, she adds magic and sparkle to what could be a forgettable role at a grammar school theater teacher. Campbell Scott can do no wrong, but here, playing very much against type, he's a hoot as the school principal. Last but not least, the always reliable Bill Pullman gives a laid back performance that builds to powerful moments. Even with star billing, he knows he's not the star of this movie and he moves aside and lets Elle astound and amaze. Ian Colletti, another junior actor, does a memorable turn as one of Elle's classmates. Bobby Bukowski's cinematography is a standout.

Phoebe in Wonderland is a poignant film, one worth of your support.
Ellis Nassour is an international media journalist, and author of Honky Tonk Angel: The Intimate Story of Patsy Cline, which he has adapted into a musical for the stage. Visit www.patsyclinehta.com.

He can be reached at [email protected]





Why are you looking all the way down here?
For more articles by Ellis Nassour, click the links below!

Previous: Kennedy Center Honors Telecast; Special TV; Coming Up [Early] Next Year; Douglas Fairbanks Remembered; New to DVD; More

Next: Leslie Uggams, Celebrating 50 Years in Show Business, Portrays Lena Horne and Looks Younger than Springtime

Or go to the Archives