Pasadena, CA - Stormy weather or not, the sun seems to always come out for Leslie Uggams. Seeing and hearing her onstage at the Pasedena Playhouse in Stormy Weather, you might be surprised to find out she's celebrating over 50 years in show business. Like the subject of the musical revue, she simply seems ageless.
Seeing her channel [the older] Lena Horne in this loosely biographical musical based on the life of the legendary songstress and star of MGM movie musicals, you can't help but be impressed with the timbre of the Tony and Emmy Award winner's voice and the youthful beauty she exudes.
You'd never guess it but, come May, she'll be 66. Looking back on over a quarter century of memories, she discusses her ups and downs.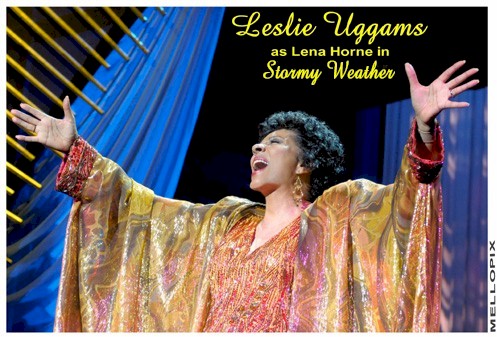 After a New York workshop and Phily "preview," audience response and reviews here have been riding high. The show broke P.P. box office records with $330,000 in advance single ticket sales.
"Philadelphia was the opportunity to get the show on it's feet and see what we had," says Uggams. "The production team is made up of all the top designers from Broadway, so we were very blessed in that aspect. I'm happy to report the audiences have gone crazy over it. In the end, that's the most important thing."
Suggested by the biography Lena Horne, now 91, S. W. is conceived and written by Sharleen Cooper Cohen and filled with musical gems from the Porter, Arlen and Mercer, Rodgers and Hart and Strayhorn songbooks.
Co-starring are triple Tony nom Dee Hoty as Kay Thompson [who's enjoying a huge revival of interest], Nikki Crawford as the younger Ms. Horne.
Michael Bush, former A.D. of the Manhattan Theatre Club, directs the cast of 16. Choreography is by Tony and DD nom Randy Skinner. Linda Twine is music director, with costume design by Martin Pakledinaz.
"As a long time fan of the iconic Lena Horne, it's a great honor to have that lady and her music presented on our stage," says Pasadena Playhouse A.D. Sheldon Epps. "I'm a huge admirer of our trio of leading ladies. It's been my pleasure to work with Leslie and Nikki many times and I welcome Dee to our stage with great enthusiasm. Our audiences are the lucky recipients of all of this theatrical and musical magic."
S.W. is a musical but it doesn't shortchange the racial challenges Ms. Horne faced upon marrying "white," to MGM musical director, composer and arranger Lennie Hayton.
A great deal of the Lena Horne story parallels Leslie Uggams' story, especially her marriage to Australian Grahame Pratt. "There are similarities," Uggams admits, "but not that many. We faced a lot of the same prejudices, but I started out as a kid. Lena got her first stage job at 16. Her parents were on the move a lot and I had quite a stable upbringing born and raised in New York."
Uggams was the ultimate Horne fan. "Anytime she was in a musical, I went to the theater. When she was in a movie, I was there. I think my parents got tired of me always talking about Lena!, Lena!, Lena!"
With glamour, grace and an inner fire that blazed a trail for generations, the legendary Lena Horne never failed to amaze. Though best known as an actress, she took the music industry by storm. She didn't face the same challenges on record as she did with her films. MGM studio chief Louis B. Mayer broke taboos by featuring Horne in the studio's big musicals.
Due to the racial climate in the 40s and early 50s, some theatres in the South deleted her scenes. She wasn't the black stereotype all too often seen in film at that time. Horne was light-skinned, stunningly beautiful and very sexy. She could embrace a poignant ballad but she could also cut loose in the style of Ella Fitzgerald.
MGM also crafted all-black musicals with Horne as star. On screen, record and in concert and later on TV, her voice resonated throughout the decades with hits, now classics, such as "From This Moment On," "The Lady Is a Tramp," "They'll Be Some Changes Made," "Can't Help Lovin' That Man O' Mine," "Come Rain or Come Shine" and, of course, "Stormy Weather"; and also through her determination to fight for what she believed.
Though in a much more low-key way, so did Uggams. She also had champions, white and black, who believed in her and felt her talent trumped racial barriers.
As she proved on Bway in King Hedley II, as Ethel Thayer in the revival of On Golden Pond [opposite James Earl Jones] and in the recent blistering revival of Leslie Lee's semi-autobiographical The First Breeze of Summer at Off Bway's Signature, Uggams doesn't have a problem playing older. The challenge is getting audiences to believe she's older.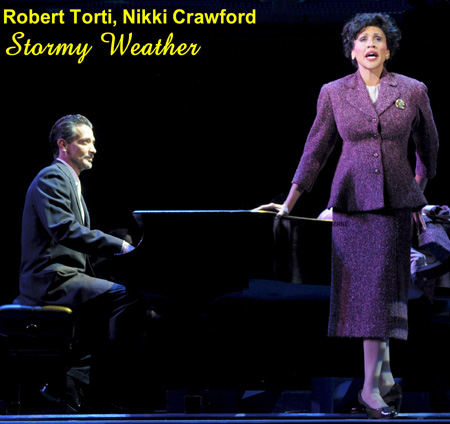 In the role of Gremmar, the beloved matriarch of a modern black family "movin' on up" who's revealed to have had a shady past, Uggams was padded and wigged to look in her 80s, but she simply didn't look old. "All I can say," she announces, "is that it must be something in the genes."
Uggams says that Stormy Weather "takes audiences on the full journey, the stormy times and the extraordinary ones. But here the older Lena doesn't just sit and reminisce and observe her younger self as Gremmar did, she's out there and very much a part of everything."
The above plays weren't the first time Uggams made audiences feel she'd found the fountain of youth.
In Thoroughly Modern Millie, you waited an hour for her entrance. But what an entrance! The set parted and there was Uggams [replacing Sheryl Lee Ralph mid run], as 20s vamp Muzzie Van Hossmere wearing a jaw-dropping white fox coat. When she threw that coat open with great abandon, it was as if time stopped. In that sequin-studded, tight-fitting black, white and silver dress, she looked as she did 30 years ago.
The role of Lena Horne is tailor-made for Uggams even if it wasn't specifically written for her. She won the right to portray her idol over some pretty big names.
"It's a great role and Leslie's great in it," says choreographer Skinner. "The best news is that she still has a great set of pipes! She loves to sing, and you can tell."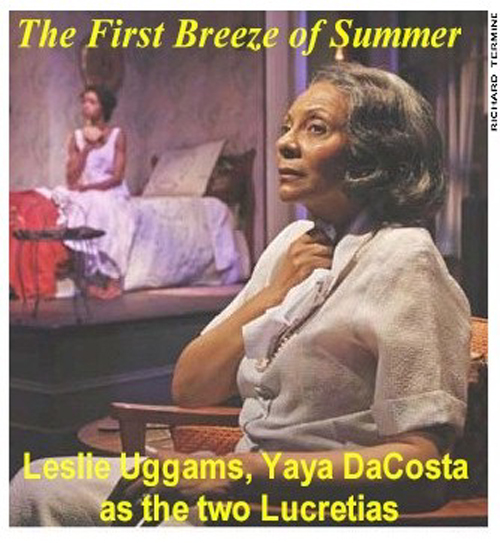 Has the show changed since Phily? "Michael has done some tweeks and fixes here and there. As far as the choreography, it's basically the same. There's a wide range of dance sensibilities."
These and the songs take Lena from the chorus of the Cotton Club in the 30s through the swing era to the soundstages of MGM, her blacklisting for being tagged a Communist sympathizer to her ultimate "comeback" in her brilliant and often searing 1981 one-woman show on Broadway, The Lady and Her Music. It not only ran for 333 performances and won Horne a special Tony award but also still holds the record for the longest-running solo performance in Broadway history.
"Lena's life wasn't all roses and honeydew," states Uggams, "but a lot of people don't know that."
Stormy Weather tells Lena Horne's story in a nonextravaganza extravagant way. "We don't have those gigantic fantasty sets that took over the MGM soundstages," reports Skinner. "In fact, we don't have any big chorus numbers. It's mainly trios and duets. The numbers are all Lena's hits, so there's great music to work with."
Skinner, who has been hailed as the King of Tap Choreography has created a tap production number for the stand-in for the famed Nicholas Brothers, who in S.W. are called Bones and Jones.
How does Leslie Uggams keep those "pipes" so pristine? "I just respect it and take care of it," she proudly replies.
They've been her prime asset for some time.
Uggams, seemingly, has done it all: best-selling recording artist, ground-breaking TV star, Vegas headliner, concert tours, daytime TV, stage drama and musicals. She's been nominated for Tony and Drama Desk Awards. In fact, Uggams has even been a cover girl - TV Guide and Newsweek.
She grew up in a four-room apartment in Washington Heights. Her father was a singer, elevator operator and maintenance man; her mother, a waitress and Cotton Club chorus girl. "We had a modest but stable life," she says, "where somehow my parents always made ends meet."
Early on, Uggams was exposed to music. Her father was a member of the Hall Johnson Choir - "but," she points out, "in their pre-movie days."
As a tot, Uggams sang along to records, impressing family and their friends with a remarkably mature voice. At age six, Uggams made her "professional" debut, singing in church. Tap lessons led to appearances on NBC's Milton Berle show. At 10, she had best-selling records, such as "Missus Santa Claus," "Every Little Piggy Has a Curly Tail" and "Easter Bunny Days." Soon, she was opening for Louis Armstrong, Ella Fitzgerald and Dinah Washington. In 1951, she made her acting debut on TV's landmark Beulah.
"I played Ethel Waters' niece and the producers wanted my hair in 'pickaninny' braids," she recalls. "Miss Waters said, "Absolutely not! You see the way her hair is now. She has beautiful curls. That's how it is going to be on the show.' I was impressed with her even at six years old. She invited my mother and me to see her in Member of the Wedding. It was an extraordinary performance and made quite an impact on me."
[Trivia: Dooley Wilson, Sam in Casablanca, was Uggams' boyfriend in her Beulah appearance; and Uggams and Brandon De Wilde, who played John Henry in Member of the Wedding were friends in elementary and high school.]
Her first Broadway show was Porgy and Bess. "I was enthralled by Leontyne Price, William Warfield, Cab Calloway and my aunt Eloise Uggams [Blackbirds of 1929] in the ensemble and that incredible Gershwin music. That's when the bug bit!" She says that her aunt wanted her to study opera "and become another Marian Anderson, but I wasn't leaning that way."
After third grade, Uggams attended Professional Children's School, where she became friends with Mary Martin's daughter Helen "and got to see tons of Broadway shows." Soon, she was "going to auditions. I got lots of kiddie roles. I grew up with Gregory and Maurice Hines. We were the token black kids."
At 14, she won $25,000 as a contestant on Name That Tune. She laughs, "The excitement in the neighborhood was like in the movies when everyone opens their windows and shout the news!"
In 1961, while studying at Julliard, Uggams got the break that made her a household name. Bandleader Mitch Miller broke color-barrier taboos and cast her on his weekly Sing Along with Mitch. When stations in the South complained and refused to air the show, Miller held his ground. "Mitch was told either I go or the show goes," reports Uggams. "He said, 'She stays or there's no show.' He loved that show, and had been trying to sell it for years, so to do that was heroic."
The South soon fell and "it seemed the world embraced me. When I went to Australia, where the show was very popular, and walked off the plane and saw the crowds I thought, 'Oh, my God, I must be a rock star!'"

She went Down Under to play a club date and left with a tall, handsome Aussie following her back to the States. Uggams and Graham Pratt married in 1965. He's now her manager.
Uggams' infectious smile and vocal talent made her America's sweetheart. Sammy Davis, Jr., whom she "fell madly in love with when I saw him on Broadway in Golden Boy," said in an interview: "Everybody identifies with Leslie. She's bridged a very important space. The first great step has happened with her."
TV stardom came at a price. "Being an African American performer on TV," she says, "was a great honor but also a heavy load. A lot was expected of me." In 1963, "when I was finally able to vote!, I was invited by President Kennedy to sing at the White House!" [She later did a command performance for President George H.W. Bush].
In the late 60s, Uggams starred in her own variety series. Slotted opposite Bonanza, it lasted only a season.
Uggams found it all frustrating. She was singing, singing, singing, "but, more than anything, I wanted to act. No one realized I'd been studying since I was eight. All through my teens."
That dream became a reality when she starred out West in The Boyfriend. "My notices were wonderful," says Uggams, "and word filtered back to New York where gossip was spreading that Lena Horne had bowed out of a show and David Merrick was looking for a leading lady."
Appearing in Atlantic City, Uggams suddenly found "all these Broadway folks coming to check me out. Then I got a call to audition. While I was reading, Mr. Merrick fell asleep. I thought, 'I'm never going to get this part.' But, next thing I knew, he was out and there were new producers. And I got the part."
That was 1967's Hallelujah, Baby!, a cavalcade of African-Americana from the turn of the 20th Century to the late 60s with music by Jule Styne, lyrics by Adolph Green and Betty Comden and book by Arthur Laurents. "I was 23 and on Broadway in a show written by legends. I couldn't believe it." She won the Tony.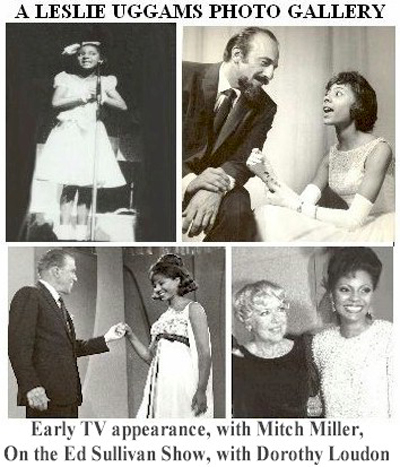 Then there was playing Kizzy in one of TV's biggest hits, 1976's TV mini-series Roots. "That was extraordinary. Getting to know Alex Haley was thrilling." The role won her an Emmy nomination for Best Leading Actress.
Other career highlights: the short-lived, much under appreciated musical Her First Roman [1968] as Cleopatra and Jerry's Girls [1985] with Dorothy Loudon and Chita Rivera. She appears in Rick McKay's Broadway:The Golden Age...
Uggams says she's "fortunate that things seem to naturally come my way. It helps that I'm receptive to the right projects. So many talented actresses have had a difficult time, I consider myself blessed that in every decade to be doing something exciting."
And it's been a good, exciting life. "I wasn't denied anything by being in show business. I feel just the opposite. I look at what it's given me. One thing it did was save me from being a thug. I lived in a tough neighborhood! Back then, I had no idea I'd ever be in such a wonderful place and still doing what I love most: theater.
"I love going out to a different audience every show and having to win them over," she says. "It's deliver or else. You're up there with no place to go. You're challenged every performance. When the light hits me, the adrenaline is pumping like a biggest Texas oil well. But, I have to admit, doing it eight times a week for months, it's not a job for sissies!"
The featured cast of Stormy Weather includues Tony Award-winner Cleavant Derricks, Tony nom Robert Torti as Lennie Hayton, Kevyn Morrow as Billy Strayhorn and, in a variety of roles, including respectively, MGM studio head Louis B. Mayer and MGM musicals unit chief Arthur Freed, Bruce Katzman and Michael Scott.
What next for Stormy Weather? "We're hoping there'll be a recording," says Uggams, "because audiences are going crazy for the songs. Of course, the goal is to bring the show to Broadway, where we know there can be an audience. But hope springs eternal, especially these days. We know what the economy's like. But we're not a Shrek/$25-million musical. This is a little show.
"Still, times are tough for everyone," she continues. "Theater will definitely be affected. I picked up the paper again today and, as I'm reading the news, once again I said, 'Oh, my God!' California has really taken a beating. That's all the more reason to be amazed at our wonderful box office. None of us expected this type of response. Let's just hope things improve and quickly."
The world prem of S. W. was produced at Phily's Prince Music Theater in 2007. The original New York workshop was presented by Amas Musical Theater in 2003.
Stormy Weather, barring an extension, plays through March 1 at the Pasadena Playhouse [39 South El Molino Avenue]. Tickets are $48 - $78 and are available at the box office, by calling (626) 356-7529, and online at www.Pasadenaplayhouse.org.

[For those in the L.A. area, Leslie Uggams will give an intimate glimse into her life and career with "a candid and lively conversation" tonight a the Pasadena Playhouse courtyard. This inaugural event of their 2009 Conversation with ... series begins at 7:30 P.M. Sheldon Epps will moderate. There will be entertainment from 6:30.]
Ellis Nassour is an international media journalist, and author of Honky Tonk Angel: The Intimate Story of Patsy Cline, which he has adapted into a musical for the stage. Visit www.patsyclinehta.com.

He can be reached at [email protected]





Why are you looking all the way down here?
For more articles by Ellis Nassour, click the links below!

Previous: Chenoweth and Sills Encores! Standouts; A Train Broadway Bound; Liza Scores Again; Channing and Plimpton Sizzle; Blithe Spirit; New Allegro; Broadway Extreme Makeover; Broadway Jukebox; More

Next: Black History Month; Jerome Robbins Remembered; Estelle Parsons Contributes; Broadway/Cabaret Valentine's Day Love Fest; Romantic Getaways; More

Or go to the Archives