Every theater season has its share of standout shows and performances but the Atlantic Theatre Company and Ireland's Druid Theater Company seemingly have outdone themselves. ATC is staging Druid's acclaimed production of Martin McDonagh's The Cripple of Inishmaan for its Main Stage, where it runs through March 15.
Cripple is McDonagh-lite with no blood and guts spilling out all over the place. However, there is plenty of laughter. And some of the best, most memorable performances of the season.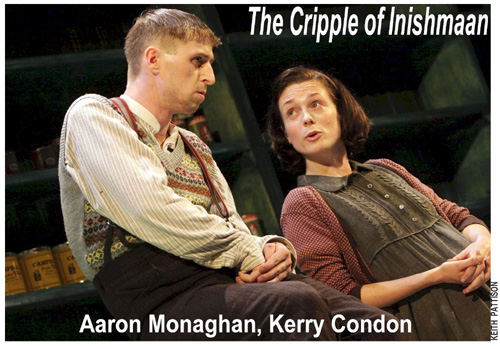 There's not a false note in the cast, superbly directed by Tony winner and DD nom Garry Hynes [Translations, Beauty Queen of Leenane, Lonesome West]: Kerry Condon [Lieutenant of Inishmore], Andrew Connolly [LOI], Laurence Kinlan, Dearbhla Molloy [Touch of the Poet; original cast Dancing at Lughnasa], Aaron Monaghan, Marie Mullen, Patricia O'Connell, David Pearse and John C. Vennema.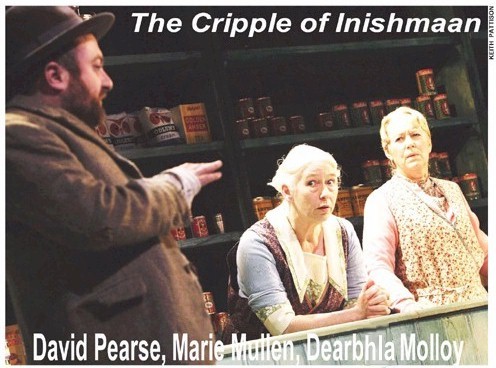 In particular Pearse, as the village town crier, Laurence Kinlan as the incredibly juvenile Bartley and most especially Condon, as Helen, the local gal of easy virtue and egg-throwing, must have mastered in Scene Stealing. Condon should emerge from TCOI as the go-to actress for wildly eccentric, over-the-top comic roles. If ever there was a star-making role, she's created it.
Stand out is not exactly the word for Monaghan's performance as Cripple Billy. He amazingly transforms himself into the twisted misfit yearning for romance and displays incredible acting chops. It's not easy to get his performance out of your head. It's one for the ages.
The Atlantic/Druid's production is no-frills, but what you want to see when you attend theater is onstage: a beautifully-crafted play that's beguiling, poignant, tragic, funny and heartbreaking. It's certainly one of the highlights of the season on or off Broadway. Cripple is an absolute must-see for anyone interested in the dynamics of theater.

Just Try and Stop Her

Kathleen Turner took that old show biz expression just a little too seriously!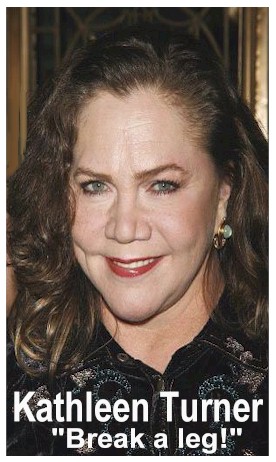 Due to an injury sustained onstage by the actress co-starring in MCC Theater's production of The Third Story, two performances were canceled at the Lortel Theatre, as will be the case tonight while Ms. Turner gets her footing.
Word is out from A.D.s Robert LuPone and Bernard Telsey that Ms. Turner will be back onstage with Charles Busch in his play by Saturday. In the-show-must-go-on tradition, Turner will perform with a cast on her foot and cane in hand.
Gangster flicks, fairy tales and B-movie sci-fi collide in T.S., which centers on a mother/son screenwriting team fleeing Commie-obsessed 1940's Hollywood for Omaha.
"Kathleen Turner personifies the Broadway trouper," states Telsey. "Against any odds, she must and will make her performance."
A Third Story benefit performance has been scheduled for the Actors Fund for Sunday, March 8 at 7P.M.

Henry Battles On
The Tony-winning Guthrie Theater of Minneapolis and New York's Acting Company are presenting a new production of Shakespeare's Henry V, the epic tale of the Brit warrior King's pursuit for the French crown, at the New Victory Theatre from February 27 - March 8. Matthew Amendt wears the crown, with 12 actors in more than 55 roles. Tkts are $12.50 - $35 and available at the box office, by calling (646) 223-3010 and online at www.NewVictory.org. There will be Talk Back and sign-interpreted performances. Purchase a ducat for Henry V and two other New Vic prods and not only become a New Vic member but also save 30% on season tkts.

Musical Time Travel
Ah, it's back to happier times.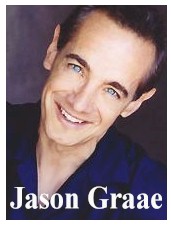 That era just before that other depression hit, as Scott Siegel and Town Hall's musical travelogue Broadway by the Year kicks off its ninth season Monday with Broadway Musicals of 1924.
James Barbour [Tale of Two Cities], Jeffry Denman [White Christmas], Jason Graae, tap dynamo Kendrick Jones, Marc Kudisch, Sarah Jane McMahon, Kerry O'Malley, Ryan Silverman and the Howard Fishman Quartet are among the headliners. Series regulars know that Siegel is adding cast members as they read this.
1924 includes songs from The Student Prince, Rose-Marie, Lady Be Good, among many others, and songs from revues such as The Grand Street Follies. You can also expect some always-anticipated "unplugged" moments.
Denman also choreographs and directs. Musical direction and arrangements are by Ross Patterson, accompanied by his Little Big Band.
"It's great having Jeffry back in his triple-threat capacity," said Siegel. "He directed last season's opener, The Broadway Musicals of 1947, one of our most popular to date. As he did with 1947, it looks like he'll go with a lot of dance."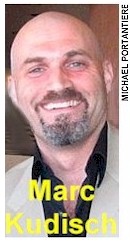 BBTY regular and King of the Unplugged Kudisch made it back to town just in the nick of time after doing a Denver reading with O'Malley of a new adaptation by Dick Scanlan of Meredith Wilson's Unsinkable Molly Brown.
He was hardly back and unpacked before flying down Ft. Lauderdale way, his hometown, to rendezvous on the beach with main squeeze Shannon Lewis, bus and trucking into there with the Chorus Line tour. He loves BBTY to such a degree ["because there is nothing else like it. Where else do you get to sing such great songs from our past?"] that he's missing 9 to 5's first day of rehearsal. A highlight on Monday, he says, will be songs from The Student Prince by Barbour, Silverman and himself. "And," adds K, "wait till you hear Ryan sing 'Rose Marie'!"

Broadway by the Year is funded by Bank of America and the Edythe Kenner Foundation. Tickets are $45 and $50 and on sale through TicketMaster, (212) 307-4100, at www.ticketmaster.com and the Town Hall box office.

1930 on CD
Probably more songs from the Great American Songbook were introduced in 1930, than in any other Broadway season. Although America was going through the effects of the previous year's devastating stock market crash, the Gershwins, Rodgers and Hart, Porter, Dietz and Schwartz, Arlen, Fields and Youmans brought vibrant life to Broadway with such tunes as "Body and Soul," "But Not For Me," "Embraceable You," "Get Happy," "I Got Rhythm," "I Happen to Like New York," "I've Got a Crush On You," "Love for Sale," "On the Sunny Side of the Street," "Ten Cents a Dance" and "Time On My Hands."
Original Cast Records has just released the CD of Broadway by the Year 1930 [SRP, $15]. Nancy Anderson, Celia Keenan-Bolger, Marc Kudisch, Deven May, Jennifer Simard, Emily Skinner, Mary Testa and Michael Winther are among the artists, accompanied by Ross Patterson and his Little Big Band. Scott Siegel adds historic tidbits. For more information, visit www.originalcastrecords.com.

Remembering a Forgotten Heroine
Four-time Tony Award-nominee and two-time Drama Desk-winner Tovah Feldshuh will again channel the spirit and heroism of an unsung WWII Polish woman in Dan Gordon's Irena's Vow, which moves from its extended Off Bway run to Bway and the Walter Kerr on March 10. There's a cast of 10 under Michael Parva's direction.
The play marked Feldshuh's first New York stage appearance since her triumphant DD-win and Tony nod for Golda's Balcony, which also transferred from Off-Bway to become Bway's longest-running one-woman show, later playing the West End.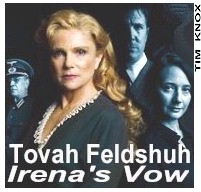 Feldshuh describes Irena's Vow as "a riveting, life affirming story about one of wartime's most courageous heroines. During the Nazi occupation of Poland, Irena Gut Opdyke, a Catholic, was forced to work as housekeeper for a Nazi major. Over two years, she hid twelve Jewish refugees.
"There are over 50,000 recorded acts of heroism by Polish citizens who reached out to save victims of the Nazi terror," she continues "This is the extraordinary story of one woman, who chose to do good in the midst of evil. Her story is a searing testament to the bravery of those who risked their lives to save Jews from certain death."
Feldshuh is known for her incredible roster of accents and characters which she develops through intense research. In preparation for Irena's Vow, she visited the places "graced by Irena Gut. In searching for her, I found the best of myself - the part that nurtures, the part that's just, the part that reaches out to those in need."
Before the war and German occupation, there were 3.5 million Jews in Poland - about ten percent of the population. Only 100,000 somehow survived the death camps. On her trip, Feldshuh felt obligated to visit Auschwitz and Birkenau. "When I walked through the gates of Birkenau, my legs gave out. I fell to my knees because I couldn't even see to the end of this ground - this factory of death, developed for the annihilation of human beings."
She reflected on Gut's amazing deed. "Irena did it in the flower of her youth and never spoke of it for 35 years. I like to stop for a moment and cast a light on this incredible heroine. Our goal is to use this drama to inspire the very best in ourselves so that we may follow in Irena's footsteps."

Avow Returns
Love, the kind that used to dare not speak its name, is the subject of Bill C. Davis' Avow, in a limited engagement of a new production by the Cardinal Group at the 45th Street Theatre [354 West 45th Street, between Eighth and Ninth Avenues].
Playwright, sometime actor Davis' Mass Appeal , which moved from MTC to Bway [and later to screen] has been produced world-wide.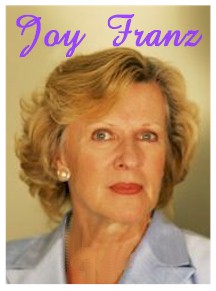 C.G.'s D.H. Johnson and Richard Pepenella feel the time is right for the return of Avow. California's Proposition 8 being in the news for months. The play focuses on a Catholic male couple who ask to be married by their parish priest. Though liberal and sympathetic to them, the priest holds to church policy, that same-sex individuals cannot be "married" and must remain celibate.
The plight of Tom and Brian, respectively Jaron Farnham and Timothy Sekk, is complicated by their friendship with the priest, played by Jerimah Wiggins, Brian's single pregnant sister and their devout mother Rose, portrayed by theater veteran Joy Franz.
Franz has worked frequent with Cardinal and if her name sounds familiar, it should.
She's appeared in Into the Woods [original and revival] as Cinderella's not-so-nice stepmother, Assassins [original, Playwrights Horizon], A Little Night Music, Company, Merrily We Roll Along, Pippin, Sweet Charity, Guys and Dolls [1965 revival], Jacques Brel... and also in Bernstein's Mass.
Tickets are $18 and available at www.smarttix.com or calling 212) 868-4444. For more information, visit www.CardinalGroupNYC.com.

Musical from Cather Novella
La MaMa E.T.C. [74 East 4th Street, between Second Avenue and the Bowery] and Watson Arts are presenting the premiere of Coming Aphrodite!, Paul Foglino/Mark Ettinger/Mary Fulham's musical adapted from the novella by Willa Cather running through March 8.
The plot revolves around a man, woman and dog and "is a love story that explores the pursuit of art and the nature of success. The man is a painter; the woman is a new neighbor, an aspiring actress who likes to sing and exercise in the nude.
Lyricist Foglino took home the 2005 FringeNYC Award for Overall Excellence for Outstanding Music and Lyrics for Hercules in High Suburbia. Fulham, who was an original member of High Heeled Women, also directs the four-member cast.
Tickets for Coming Aphrodite! are $18 and available by calling (212) 475-7710 or online at www.lamama.org.

One Night Only ~
Benefits with More Stars Than There are in Heaven>:
The stars are certainly coming out for Monday's Defying Inequality: The Broadway Concert - A Celebrity Benefit for Equal Rights, at 8 P.M. at the Gershwin. Co-hosting are Judy Gold and Carson Kressley.
Headliners on tap are Douglas Carter Beane, Shoshana Bean, PJ Benjamin, Stephanie J. Block, Daniel Breaker, Kerry Butler, Lynda Carter, Gavin Creel, Harvey Fierstein, Jane Fonda, John Gallagher, Jr., Malcolm Gets, Jonathan Groff, Jayne Houdyshell, Allison Janney, Capathia Jenkins, Nathan Lane, Cyndi Lauper, Adriane Lenox, Rue McClanahan, Phyllis Newman, Keith Olbermann, David Hyde Pierce, Billy Porter, Seth Rudetsky, Stephen Schwartz, Carole Shelley, Christopher Sieber, Sally Struthers, Tamara Tunie and Scott Wittman.
The evening will also feature the Broadway Boys, Gay Men's Chorus and cast members from Billy Elliot, Color Purple national tour, Gypsy, Hair, Jersey Boys, Lion King, Little Mermaid, Mary Poppins, South Pacific, Spring Awakening and Wicked. There'll also be guests from Saturday Night Live and Sesame Street. There'll also be the premiere of an excerpt from Marc Shaiman's Prop 8 - The Musical; and a video message from Elton John.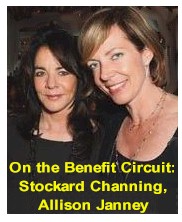 Orgs benefiting are five groups from the Northeast and California working to promote equality and guarantee civil rights for gay, lesbian and transgender communities. Tickets are $50 - $500 [prime seating] and $1,000 [premium seating] and available through www.Ticketmaster.com. With the $1,000 purchase, you receive a signed benefit poster and entry to the post-performance cast party. For more information, visit www.defyinginequality.com.

The Jewish Alliance for Change presents Broadway for a New America - Standing Up for Marriage Equality and a Progressive Agenda for Change March 2 at 7 P.M. at Peter Norton Symphony Space with Bway, film, TV and comedy performers, not to mention political and LGBT activists.

The host will be multiple Tony, DD, Grammy and Audie [spoken word]-winnerJim Dale. Scheduled to appear are: Richard Belzer [L&O, Homicide...], Tony and Emmy-winning Stockard Channing; multi-DD winner and multi-Tony nom Tovah Feldshuh, singer Mario Frangoulis; Tony nom and multi-MAC Award winner Ann Hampton Callaway; DD-winner and Tony nom Eve Best [The Homecoming, Moon...Misbegotten], Marni Nixon, political comic Scott Blakeman; Tony nom Jonathan Freeman [currently, Little Mermaid and Seth Rudetsky.
JAC's mission is to mobilize America, fighting for marriage equality and a progressive agenda for change. Tickets, $80 - $125, are available by calling (212) 864-5400 or online at www.Jews4Change.com or www.symphonyspace.org. Premium seats, which include tkts to a post-show cast reception may be obtained at www.jews4change.com/broadway.php.

R&H Go Digital

Coinciding with the CD release of the complete, restored score of Rodgers and Hammerstein's Allegro, Masterworks Broadway and ArkivMusic have released the first in a series of digital-only editions of classic cast recordings by the musical theater legends.
The cast of 1965's Lincoln Center Carousel features the original Billy Bigelow, John Raitt, Eileen Christy [Julie Jordan], Jerry Orbach [Jigger] and Katherine Hilgenberg [Nettie Fowler]. Bonus tracks: Raitt, Doretta Morrow, Patrice Munsel and Robert Merrill with songs from Carousel studio albums.
The Oklahoma! CD is the complete 1952 studio recording, conducted by Lehman Engel, featuring Nelson Eddy as Curly, Virginia Haskins as Laurey, Portia Nelson [Aunt Eller] and Kaye Ballard [Ado Annie]. Bonus tracks: songs by Raitt and Patricia Northrup from a 1953 Ok! studio recording.
Rodgers Conducts Rodgers with the NY Philharmonic. Tracks include On Your Toes's "Slaughter on Tenth Avenue" ballet suite, "The Carousel Waltz," "March of the Siamese Children," waltzes written with Hart [Jumbo, Boys from Syracuse] and Hammerstein [Ok!] and a suite from the TV doc Victory at Sea. The bonus track is a promotional radio interview with Rodgers.
The CDs have each original cover art and liner notes. They're available through ArkivMusic.com [SRP $14 each; type Richard Rodgers in the Composer Search Box].

Julie Salutes Billie
On March 4 at 7:30 at the Metropolitan Room veteran chantuse Julie Wilson will present A Tribute to Billie Holiday, which, says Miss Wilson, "runs the gamut from catchy, clever swing to deep, soulful blues." Miss Wilson's trademark gardenia is a homage to Holiday, a friend and her fav singer. She'll give her legendary interpretation to such Holiday classics as "The Very Thought of You", "God Bless The Child", "Body and Soul", "Good Morning, Heartache", "Don't Explain" and "Ain't Nobody's Business If I Do." Admission is $25 plus two-drink minimum. Book by calling (212) 206-0440 or online at www.metropolitanroom.com.

Tales of Depression
Brother, Can You Spare A Dime? Songs and Stories from the Great Depression, a revue told through 24 songs and first-hand accounts of that first financial crisis brought on by stock market manipulation, opens March 6 to play Friday, Saturday and Sundays at the Triad [158 West 72nd Street, between Broadway and Columbus Avenue].
Conceived and staged by Bill Daugherty [When the Lights Go On Again; formerly part of comedy duo Daugherty & Field], Brother... will take audiences on "a heartfelt journey from pre-crash mania through to the plight of the Dustbowl Okies and laborers riding the rails in search of better times." He co-stars with a cast of five.
Tickets may be purchased at www.theatermania.com.
Ellis Nassour is an international media journalist, and author of Honky Tonk Angel: The Intimate Story of Patsy Cline, which he has adapted into a musical for the stage. Visit www.patsyclinehta.com.

He can be reached at [email protected]





Why are you looking all the way down here?
For more articles by Ellis Nassour, click the links below!

Previous: Black History Month; Jerome Robbins Remembered; Estelle Parsons Contributes; Broadway/Cabaret Valentine's Day Love Fest; Romantic Getaways; More

Next: Oscar Buzzzz: And the Envelope, Please; New to DVD; Movie Palaces; More

Or go to the Archives