Hollywood's all dressed up for cinema's biggest night: the Oscars.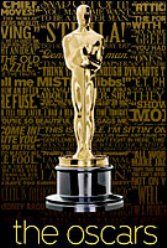 Recession hasn't hurt business at cineplex box offices. More than $10-billion in tickets were sold, which means more people than ever went to the movies in the last years [of course, that big number could be the result of skyrocketing movie prices in the last 20 years]. It seems when the going gets tough, America goes to the movies. We love rooting for the slumdogs, superheroes and supervillians, even wackos attempting to make a movie in the jungle. And, more than anything, we love a comeback story; and 2008 gave us a highly improbable one.
Compared to other forms of entertainment, even with the highest movie prices in the nation in New York City, going to the movies is still one of the least expensive [even less than bowling]excursions you can make, especially if you stay away from concession stands. Of course, it would be nice if even 50% of the films released were worth going to see.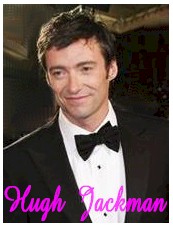 Inevitably, movie tickets will go higher; maybe not as quickly as Broadway producers are raising their prices and increasing fees for premium seating. But for now, movies out or in are an inexpensive escape from realism [that is, unless you count those who jumped on the bandwagon for The Class].
Tonight, the American movie industry honors the world-wide movie industry with the 81st Academy Awards. An at-home audience of an estimated 32 million have the pizzas ordered and the trail mix mixed. The show will be seen live on ABC from 8 P.M. [a half hour of red carpet arrivals] and broadcast to eager viewers in 200 countries.
Hugh Jackman hosts the newly conceived idea of an "intimate" Oscars [in the behemoth Kodak Theatre?].Among the entertainers will be Queen Latifah and, performing a production number with Jackman staged by Baz Luhrmann, Beyonce.
Audiences can expect some interesting innovations for the Actor, Actress, Supporting Actor and Supporting Actress categories. Presenters will include Jennifer Anniston, Jack Black, Marion Cotillard, Robert DiNero, Michael Douglas, Whoppi Goldberg, Cuba Gooding Jr., Joel Gray, Anthony Hopkins, Angelica Huston, Alicia Keyes, Nicole Kidman, Ben Kingsley, Sophia Loren, Shirley MacLaine, Mary Louise Parker, Natalie Portman, Eva Marie Saint and Ben Stiller.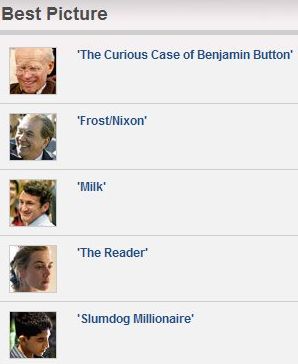 But who wants intimate? We want outrageous costumes, those fabled Debbie Allen production numbers where dancers are dancing for no logical reason while someone sings or attempts to sing nominated songs, the quality of which sure's not what it used to be.
Bewitched, bewhiskered Bruce Vilanch is back doing the bulk of special material writing, this year with Jenny Bicks [the late Men in Trees; contributor, Sex and the City].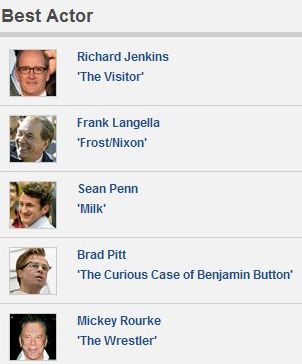 Buttons or Slumdog
Talk about taking a short story, by F. Scott Fitzgerald, to extraordinary lengths, David Fincher's The Curious Case of Benjamin Buttons raked in a very long list of nominations; in fact, the most this year.
A close second in the noms is the sleeper of the year, Danny Boyle's Slumdog Millionaire, which had a budget of $10-m and was almost consigned to straight-to-video [when original co-financier Warner Independent was shut down]. It certainly rose from the ashes. But while being hailed and accoladed here, the movie that Boyle describes as "a story of love lost and love found is being slammed in Mumbai and across India as being insulting to slum-dwellers [who don't get doused with chocolate and peanut butter when they take the "dive in"].
While we certainly know much of this industry has heart, it will be interesting to see if a studio film, well-hyped and with a respected megastar, wins out over a much-praised indie, from half-way around the world and with no stars, that almost didn't see release until Fox Searchlight came to the rescue.

Frank, the Mick or Sean?/strong>
Mid-season, it appeared no actor had even a remote chance to beat Frank Langella's Nixon in Ron Howard's Frost/Nixon, then came Gus Van Sant's Milk and Sean Penn's totally unexpected bravura performance, and, at the New York Film Festival, the unveiling of the return of Mickey Rourke in Darren Aronofsky's The Wrestler, which became the big comeback story of the year.
Not that he has a chance in hell of winning, but it's great to see the Academy nominators recognize veteran character actor Richard Jenkins as Best Actor for The Visitor, which has been on everyone' must-see list [they just can't find it playing anywhere].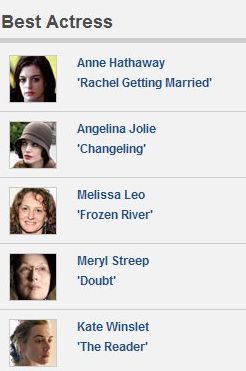 Kate's Year - Finally?
Now six-time nom Kate Winslet is nom'd for the infamous The Reader, that coming of age story [yes, I spelled "coming" correctly!] of Nazi-era bibliophiles set against the backdrop of the Auschwitz extermination camps.
Everyone who rushed box offices to see RR expected nominators to double-dip her, but she has to settle for just one nod this year. Will 2009 be her year? Will she somehow manage to ace out mean old Sister Aloysius Meryl Streep for her redoubtable work in Doubt? Good luck, Kate!
Speaking of toiling away for years without recognition, the Academy has also made a worthy nod to Melissa Leo, mainly known to those who work at home for her days on All My Children, for her portrayal of a desperate mother suddenly in the business of transporting illegal aliens across the bleak tundra in the less-than-exhilarating Frozen River. Did you see it? [You should be ashamed of yourself!]
The best female supporting role of the year is turned in by newcomer Tarji P. Henson in Ben Butts, however she's up against adored Amy Adams [Doubt] and, in one of her very best ever screen portrayals, Penelope Cruz [Vicky Cristina Barcelona].
And in this cat, don't discount Oscar winner Marisa "I Can't Keep My Clothes On!" Tomei in The Wrestler.
Then there are the snubs - those who did great work but got left off the ballot [there are no write in votes allowed!]. At the top of the list is baby-faced, but all-grown-up three-time nom Leonardo DiCaprio, one of the anchors of Revolutionary Road.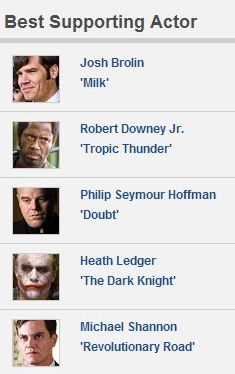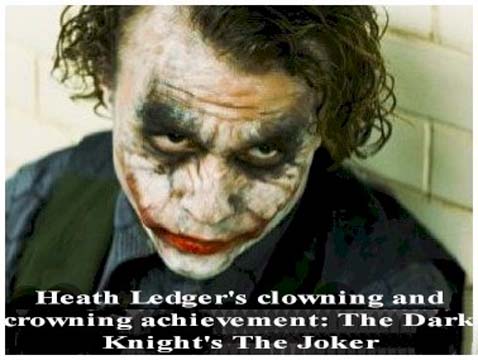 No Joking, Can Heath Lose?
In the Supporting Actor cat, can there be any winner other than the late Heath Ledger; and will the Oscars trot out his adorable daughter to accept on his behalf?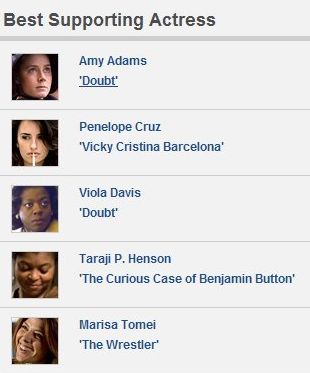 There have been no shortage of megascenestealers in the Batman movie franchise created from the DC Comic books of Bob Kane: Jack Nicholson's 1989 Joker; Danny DeVito's Penguin and Michelle Pfeiffer's Catwoman in 1992; Tommy Lee Jones Two-Face and Jim Carrey's Riddler in 1995; and Schwarzenegger's Mr. Freeze and Uma Thurman's Poison Ivy in 1997.
However, there has probably never been a movie, much less a Batman one, where the film was stolen lock, stock and barrel from the "star" and, in the case of The Dark Knight , all those gadgets and vehicles in gigantic IMAX, by what was surely envisioned as a real featured role. But what's an Oscar-winner to do in such a role but attempt to steal the movie?
Heath Ledger does that and creates a role that's one for the cinema history books in his portrayal of ultimate arch-villain The Joker. It's a performance that the bets are on. It would be hard to believe that he won't be awarded, but stranger things have happened..
Christopher Nolan's The Dark Knight didn't make the Best Pic list. It must have gotten edged out by the fast-paced, edge-of-the-seat, spectacularly entertaining Milk.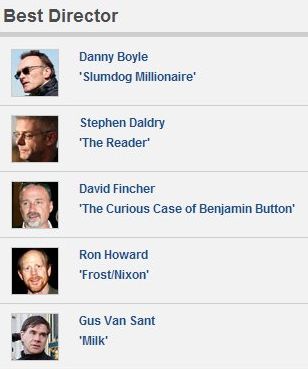 The filmmaking is flawless, thanks to now three-time Oscar-nominated cinematographer Wally Pfister [The Prestige, Batman Begins], nominated Nathan Crowley and Peter Lando for Art Direction [which includes set decoration] and Oscar-nominated editor Lee Smith. Dark Knight also has received nominations for Visual Effects, Make-up Design, Sound Editing and Sound Mixing.
The pulsing score, by Oscar winner and multiple nom Hans Zimmer and seven-time nom James Newton Howard, who also collaborated on Batman Begins, strangely didn't get a nod.

Got Milk?
James Brolin does. He's quite the capable actor but is his nominated performance [Supporting Actor] in this bio pic about Harvey Milk, California's first openly gay elected official, anywhere near as strong as Emile Hirsch or Diego Luna's?

What's the Score?
A.R. Rahman [do you remember when he journeyed to Bway with the score to ALW's Bombay Dreams?] nominated score for Slumdog is multilayered, to say the least. And in the multiple noms tradition of Alan Menken, Rahman has two nominated songs [those two with the exotic beat that had you Bollywooding in the aisles]. But, also as worthy, are James Newton Howard's Defiance and Thomas Newman's WALL-E scores.

Hey,Laaaady!
Jerry Lewis will receive the Jean Hersholt Humanitarian Award in recognition of his medical research fundraising.
[For an insightful look at his career, read Manohla Dargis' profile in today's New York Times:
http://www.nytimes.com/2009/02/22/movies/22darg.html?ref=arts]

New to DVD
Want some family fun the whole family can enjoy? Take home the sequel to one of the most successful animated films of the last few years: Madagascar - Escape 2 Africa in a double DVD pack [Dreamworks, 1 hour, 29 minutes; SRP, $35]. The animation is stellar. Ben Stiller, Chris Rock, Alec Baldwin, David Schwimmer, Sasha Baron Cohen, Bernie Mac, Cedric the Entertainer, Sherri Sheperd and Jada Pinkett Smith provide the voices. Oscar winner and multiple nom Hans Zimmer and Will.i.am composed the score and songs. Ethan Cohen [from King of the Hill] is one of the writers. This sequel is a rarity: it's funnier and better than the original. The second DVD is The Penguins of Madagascar, a 24-minute animated short [widescreen]. Both discs contains a variety of bonus material, including video games and the features African Adventure and Going MAD at the Bronx Zoo.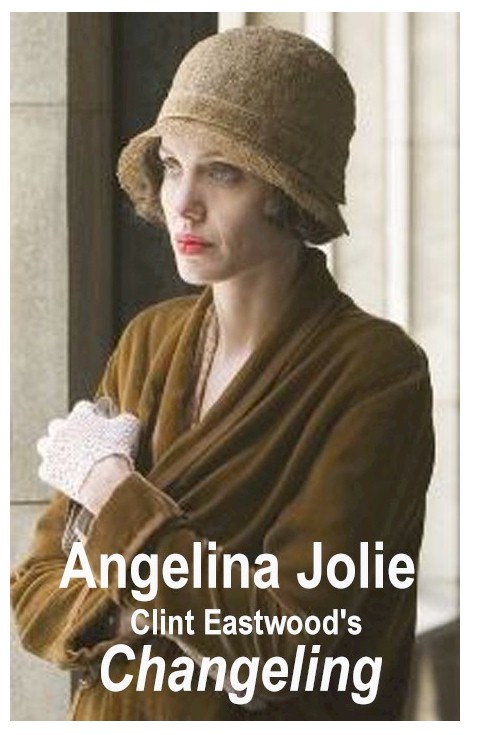 Changeling, starring Oscar nom Angelina Jolie, was the centerpiece of this year's New York Film Festival and has just been released on DVD and Blu-ray [Universal; SRP, $30, $40]. Directed by Cline Eastwood [and running much too long at almost two-and-a-half hours] and written by J. Michael Straczynski, this is the based-on-a-true-story of a mother in 1928 L.A. and her search for her son. With the help of an activist minister [John Malkovich, with not much to do, but he's fiery], she goes up against corrupt police and a skeptical public. Jolie delivers a poignant performance. The CGI special effects of early L.A. are a plus. Tom Stern's cinematography and James Murakami and Gary Fettis are Oscar-nominated. Eastwood composed the score.

Fans of Showtime's acclaimed epic, lavish, sexy and scandalous historical series The Tudors starring Jonathan Rhys Meyers as Henry VIII can continue to be regaled at home in the regal splendor with the DVD release of the complete Second Season [Paramount Home Entertainment, Four discs, Nine hours; SRP $41].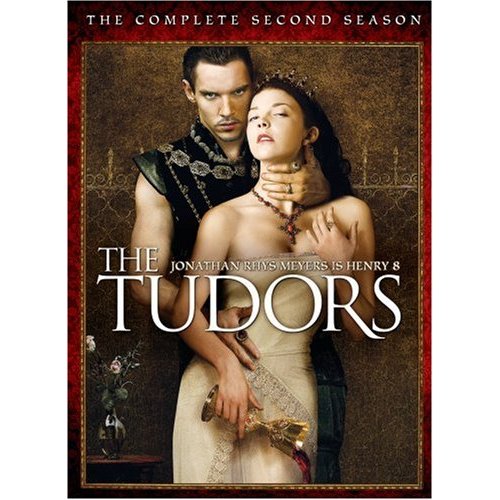 Meyers, once a wonderful Elvis has been thrust to stardom in the role the power-hungry king, still young and lusting here, whose thrusting ways change the course of history as he moves to divorce Queen Katherine [stunningly beautiful Maria Doyle Kennedy] to marry the shy and innocent schemer Anne Boleyn [Natalie Dormer]. From the series debauchery, evidently the 60s had nothing on the decadent 16-Century. A central early element is Henry's conflicts with Pope Clement VII and, when he can't get his way, the deconstruction of the Catholic Church in England, which later prompts the wrath of Pope Paul III [eight-time Oscar nom Peter O'Toole] and gets him excommunicated. But, Henry, be careful what you wish for. Anne ain't all she's tooted up to be when she finally gets bedded inthe royal chamber. Her failure to provide Henry with a male heir sets the wheels in motion for her beheading and sends the King into the arms of Jane Seymour [Anita Briem]. From the historical standpoint, don't expect a lot of accuracy though Season Two isn't quite so sticky. Disc Four bonus material includes featurettes Descendents of Henry and : Tower of London, plus second season premiere episodes of Showtime series This American Life and Californication. Season Three, The Tudors debuts on Showtime in April.

Serial killer, anyone? The Blue-ray DVD of Season One of the Emmy-nominated Showtime series Dexter, starring Emmy and Golden Globe-nom Michael C. Hall as the eerily sympathetic vigilante serial killer, has just splattered out [CBS Home Entertainment/PHE; three discs, 10 + hours; SRP $58]. Based on Jeff Lindsay's novel Darkly Dreaming Dexter, the series [thanks to edgy writing] is compelling and quite often hilarious crime drama like no other with audiences rooting for the serial killer next door who only those whom he feels deserve to die. Bonus material includes a Michael C. Hall podcast, the first episode of Dexter, Season 3 and the first two episodes of Showtime's United States of Tara, starring Toni Collette.

Coming Soon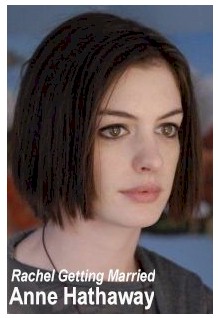 Due March 10 are two movies on DVD and Blue-ray that generated a lot of Oscar and Golden Globe buzz, Rachel Gets Married, starring Oscar nom Anne Hathaway, and Oscar-winning writer Charlie Kaufman debut directorial film, the sprawling Syncedoche, New York [pronounce it: si-nek-duh-kee], starring Oscar nom Philip Seymour Hoffman.
Rachel Getting Married [Sony Pictures Home Entertainment; SRP $29 and $40] the family drama directed by Jonathan Demme [Manchurian Candidate, Silence of the Lambs] and penned by first-time writer Jenny Lumet, has created quite a buzz. In addition to Hathaway, there are acclaimed performances by Rosemarie Dewitt [Mad Men], Bill Irwin and Oscar nom Debra Winger. The film has been honored with six Spirit Award noms, including Best Feature, Actress, Director, Screenplay, and Supporting Female [Dewitt, Winger].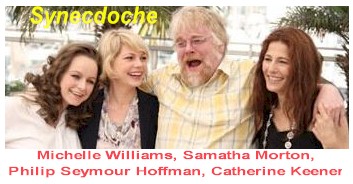 In Syncedoche, New York on DVD and Blu-ray [SPHE; SRP $29,$40], Hoffman plays a husband, a theater director, in free fall and obsessed with his own mortality after his wife leaves him. When it premiered at Cannes, some audiences found it fascinating but puzzling. One critic named it one of the better films of 2008, calling it "a miracle movie." The strong buzz subsided. No Oscar or GG noms for the movie, which blends fantasy, drama and comedy and has plenty of twists and curves, some have subtitled "one man's search for meaning in the midst of meaninglessness." Kaufman [screenplays for Being John Malkovich, Adaptation and Eternal Sunshine...], however, was honored with a Cannes Golden Palm. The stellar cast includes Hope Davis [soon on Bway in God of Carnage], Peter Friedman, Catherine Keener, Jennifer Jason Leigh, Samantha Morton, Tom Noonan, Emily Watson, Diane Wiest and Michelle Williams. Synecdoche received this year's Spirit Awards' Robert Altman Award, honoring the ensemble cast, Kaufman and casting director Jeanne McCarthy.

Movies the Way They Used to Be
Movies, movies, movies at one time were shown in "everyman" palaces with Wonder Organs to interlude audiences between showings. You get a taste of that era when you go to some events at Radio City Music Hall, opened in 1931, and they whip out the dueling organs. But New York City's movie palaces have, so sadly, gone the way of the wrecking ball.
If you'd like to see of how our parents and grand parents saw films, you can visit the still intact, almost 78-year old opulent former Loew's Paradise in the Bronx [2413 Grand Concourse] recently reopened for concerts and special events after an extensive $5-mil renovation of most of its Italian Baroque grandeur by entrepreneur Gerald Lieblich. The cherubs, caryatids, recumbent lions, gargoyles and other statuary in the vaulted lobby [often used for high tone parties and such in film/TV] and gargantuan auditorium have been cleaned. The famed midnight-blue ceiling has been repainted, but the stars won't start twinkling and the clouds won't begin rolling again for a while.
The fate of Jersey City's magnificent treasure 3,000 + seat movie palace, Loew's Jersey [54 Journal Square, and easily reached by PATH] which opened in 1929 as "the most lavish temple of entertainment in New Jersey," is not quite the happy story, yet. Slowly, but surely, its glory years are returning with restoration ongoing. The theatre's huge Wonder Organ masterpiece recently returned after being refurbished and rebuilt.
This landmark deserves the support of dedicated moviegoers. Next weekend is a wonderful opt to rediscover the Jersey. On February 27 and 28, there's a Film Noir Weekend. Chinatown shows on Friday at 8 P.M. On Saturday at 3 P.M., there's Jules Dassin's Night and Day, the rarely seen film starring Richard Widmark and one of filmdom's great beauties, Gene Tierney; and at 7 P.M. a double bill of Stanley Kubrick's The Killing in stark B&W, starring Sterling Hayden, Coleen Gray and Marie Windsor, and Henry Hathaway's Niagara, in breathtaking Technicolor, starring Joseph Cotten, Marilyn Monroe and another screen beauty Jean Peters.
Admission to monthly screenings is bargain-priced and the popcorn is popped fresh in the huge and stunning lobby with one of the most awesome crystal chandeliers you'll ever see. And everything at the concession stand is more than reasonably-priced. For movie screenings and concert information, visit www.loewsjersey.org.
On Sunday, March 8, at 3 P.M., the Wonder Morton Pipe Organ is the show as the Garden State Theatre Organ Society presents March Musical Madness. Tom Hehn will be at the mighty console with Avery Tunningley at piano. Tickets, which are purchased at the door, are $15; seniors and children, $13.
Ellis Nassour is an international media journalist, and author of Honky Tonk Angel: The Intimate Story of Patsy Cline, which he has adapted into a musical for the stage. Visit www.patsyclinehta.com.

He can be reached at [email protected]





Why are you looking all the way down here?
For more articles by Ellis Nassour, click the links below!

Previous: A Must-See Cripple; Kathleen Turner, Trouper; Henry V; Broadway by the Year; Irena's Vow; Avow Returns; Willa Cather Musical; Star-Studded Benefits; More

Next: Zach Grenier Portrays a Beethoven for the Ages; From Africa, with Love for Dolly; Martha Graham Company Returns; New to CD, DVD; John Patrick Shanley on Doubt

Or go to the Archives