Zach Grenier, who gives one of the most powerful performances of the season as Beethoven in Moisés Kaufman's 33 Variations [unless extended, playing through May 24], worked steadily Off Broadway beginning in 1987 in Talk Radio. He made his Bway debut in 1989's Mastergate.
Though born in New Jersey, "Like Beethoven, who lived in 73 different dwellings, I was a restless soul." Funny how the number 18 has played a role in his life. "I had 18 homes by the time I was 18." He met wife Lynn in acting school and when they moved to New York in the early 80s, "a miracle happened. We found a dream place in Brooklyn and really hunkered down." They stayed put 18 years before Grenier became restless again. "Lynn was an Army brat and was used to moving."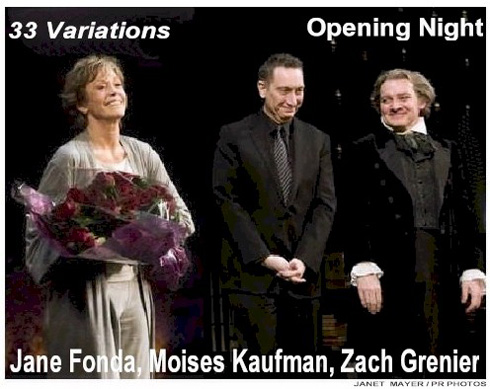 During 18 years, off and on, West Coast/East Coast, Grenier worked steadily in TV and film and major regionals. He was nominated for a Joseph Jefferson Award for his performance as Yvan in the Chicago production of Yasmina Reza's Art. He's be, as he puts it "that guy" in countless TV guest starring roles and prominent featured roles in film.
Most recently, he had recurring roles on 24, Touching Evil, Law & Order and, most impressively in Deadwood as Andy Cramed [rhymes with framed], who brought the plague to the city, later becoming the town's quasi preacher after the death of Reverend H. W. Smith [portrayed brilliantly by Ray McKinnon].
Back in town in 2006, he was cast by Dan Sullivan as Dick Cheney in the Public's acclaimed production of Stuff Happens [whose cast won the Drama Desk Outstanding Ensemble Performance Award].
"The thing I love about getting to a certain place in my career," he states, "is that you have the opportunity to work with the most incredible talent. You're always being inspired by the people around you. The learning never stops. Every moment is a curiosity!
"Stuff Happens was such a great experience," he continues, "I wanted to come back and do theater. We returned on faith that things would work out. Then another miracle happened. We moved back in July and two weeks later I started working, cast by Doug Hughes as the sinster Cromwell opposite Frank Langella in the recent revival of Robert Bolt's Man for All Seasons."
Then came the opportunity to play one of the most daunting characters of his career, the maddingly obsessed Beethoven in the regional premiere of 33 Variations at D.C.'s acclaimed Arena Stage, where it received the 2008 Harold and Mimi Steinberg/American Theatre Critics Association New Play Award. He repeated the role last year at the LaJolla Playhouse. And now he's back on Broadway "and playing opposite Jane Fonda!"
"I've always been fascinated with Beethoven" Grenier relates, "so it's an absolute joy to be playing him. I read of his bombastic personality; and then there was his deafness and his ability to create such works as the Ninth and the Mass. He could hear the music in his head. I became so fascinated that I absorbed all I could."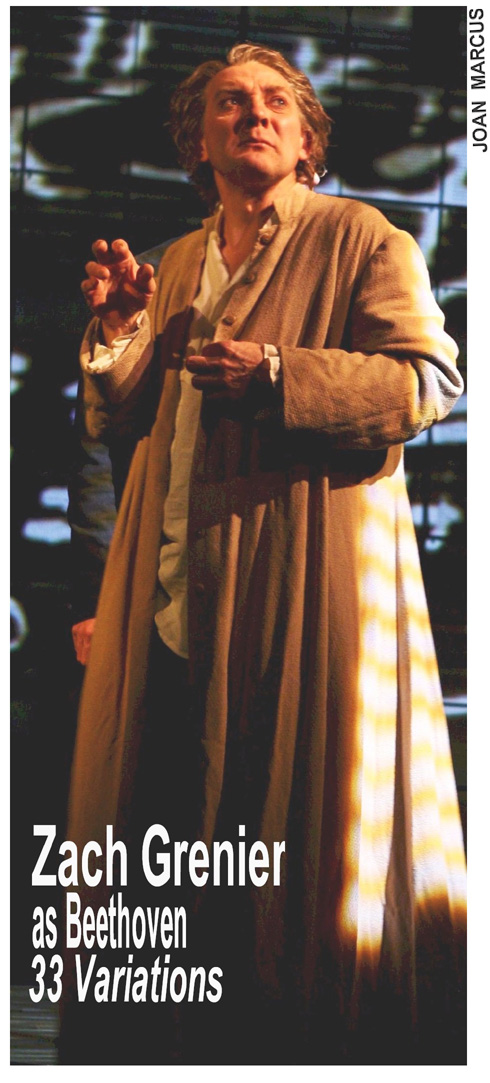 An actor acts, but his is such a masterful manic performance that it had to emerge from someplace very dark or very special.
"When you're creating a character," he says, "you want to dig deep down where you and the character meet. Playing a genius wasn't something I could think about, because I'm not a genius. You respect that, but leave it alone and find a commonality. As I began to understand who Beethoven was, I found we shared a passion for humanity, a love of nature and that we shared a desire to do something important. Of course, I also had great guidance from Moisés, who really got to know Beethoven profoundly."

He explained that since 33 Variations isn't the definitive story of Beethoven, it's not like something biographical where you have to get it right. "He exists in Jane's character's imagination," he explains, "so, keeping that in mind, you have a bit of free rein. There's a wonderfuly freeing aspect in creating such a role."
He says it was "sort of like woodcarving. You keep widdling. You don't want to leave it alone, although at some point you need to. Then you do a little more, and it doesn't work; and you keep widdling until you get it right."
The story of Dr. Katherine Brandt's obsession with Beethoven's obsession with Diabelli's composition, since it's not based on a book, is a strange one to simply pull out of a hat.
"But that's what happened," states Grenier. "Moisés was in Tower Records, rummaging through the classical titles. A clerk asked him if he'd ever heard Beethoven's 'Diabelli Variations.' He hadn't and the clerk told him the story. He said he knew that was going to be his next play."
He traveled to Bonn and did the research that Jane Fonda as Dr. Brandt does in the play. As seen in Derek McLane's arresting set design, in spite of looting after the composer's death, volumes of Beethoven's work survived.
Sadly, as Grenier points out, Anton Schindler [played by Erik Steele], who worked as an assistant to Beethoven, burned most of the books of his conversation notes with the composer and wrote his own version [Beethoven, As I Knew Him], which was far from factual.
Except for a time when he was the great improviser going from parlor room to parlor room playing piano, Beethove never enjoyed great wealth. As he began going deaf, he moved from performing to composing.
Because his "Diabelli Variations" are a form of improvisation, Grenier believes, "It's one reason he became obsessed with them."
Curtain call bows don't often lie, and at 33 Variations you get the impression that Fonda isn't one of those movie star divas who's remote or keeps her dressing room closed.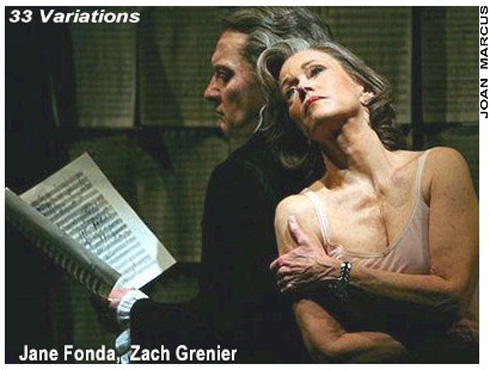 "Jane's such a community spirit*," observes Grenier. "Charming, disarming. She's never pulled any rank. She wants to do the very best job. She knows that when you're really searching for the truth, you do your best work. It has to have been a challenge to come back to the stage after so many years, and she's doing it with an incredible amount of bravery."
[* 33 Variations was the leading fundraiser in the recent BC/Equity Fights AIDS drive party due to Fonda posing with audience members for $400 a picture. All total, generous audiences helped Broadway shows raise in excess of $3-million.]
Fonda, a two-time Oscar winner and an Emmy winner, returns to Broadway for the first since portraying Madeline Arnold in the celebrated 1963 revival of O'Neill's Strange Interlude, which she doesn't mention in her Playbill bio. She was Tony-nominated in her 1960 Bway debut, the short-lived There Was a Little Girl by Daniel Taradash and directed by Josh Logan.
Grenier informs that Fonda looks years younger than 71. "Believe me, it's not makeup! That's Jane. She's taken amazing care of herself."
After an especially poignant and affection sequence that ends the play, Grenier takes his bow arm-in-arm with Fonda, undoubtedly her appreciation of the performance he gives.
Grenier says that one of the best moments in the play for him is his duet with award-winning pianist Diane Walsh at the top of Act Two. But after playing so intensely for two and a half hours, it can't be easy to just suddenly segue to normality. "There's a certain afterglow in both Jane's and my performances that takes a while to lose, especially since this is a play that opens people's hearts. We have very attentive audiences and the response is really grafifying."

Dolly Parton as Mentor
Since Dolly Parton, whose musical version of the film hit 9 to 5 opened last night, never shies away from stating that her style influence growing up in the Tennessee hills was a flamboyant woman "sort of considered the town tramp," you have to wonder how many young girls grew up wanting to imulate the look she made famous: piles and piles and piles of blond tresses, those famed "melons" [as she refers to them], cinched waist and painted nails.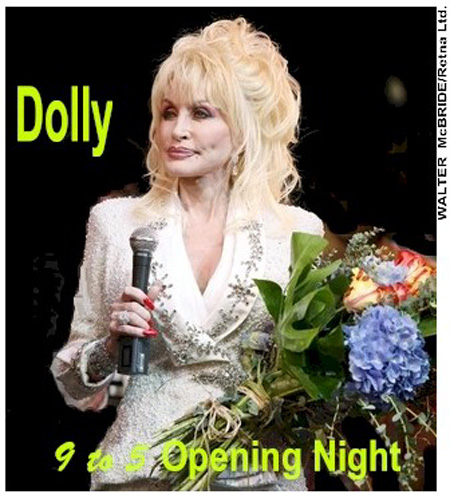 But two New York women, natives of Africa, who have never met state that Parton was not only their role model but the role model of countless young girls growing up in the continent's villages and towns.
One of the women is well-known to theatergoers, Drama Desk-winning and Tony-nominated South African actress/singer Tsidii Le Loka, who brilliantly created the role of Rafiki in the Broadway company of the Tony-winning and DD-nominated musical The Lion King. The other is marketing/public relations consultant and event producer Ndeye Anta Niang, who is from Senegal.
"I grew up listening to everything from South African popular music to all things American," say Le Loka. "Then there was Kenny Rodgers and Dolly Parton. I had an endless crush on Kenny! Rodgers. I especially identified with Dolly, who like me, was built like a well-rounded bubble of effervescence. I even imagined there must be a connection to her voice and her additional beauty assets."
Le Loka explains that was so unlike present day when African women grow up with the same negative messages young women grow up with here. "It was a different world," she says, "with much to treasure. All this juxtaposed in the realities of my world laden with the violence and ugliness of apartheid."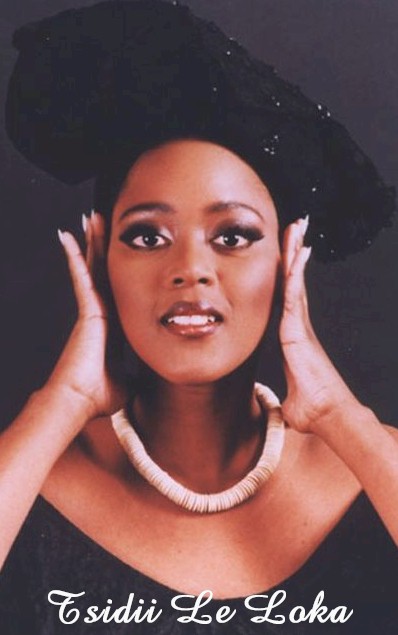 The woman who took care of Le Loka and her siblings loved Dolly Parton. "She didn't speak much English, and I was learning it at school. She would ask me to sing Dolly's songs for her. I was inspired to start playing the guitar to sing her songs. 'It's Too Late' and 'Don't Let Me Cross Over' were my favorites. Did I hear any other music? Oh, yes, but you will hear a peak of Dolly on occasion, since her beautiful music influenced me so. Of course, as I grew, I found my own voice."
Niang's mother is a fashion designer, so she was very much into clothes from an early age. "Hearing Dolly and seeing her on TV, the movie 9 to 5 and pictures in magazines really pushed by fashion sensibilities," laughs Niang. "In my teens, I was very much into European designs. Everyone thought Dolly was very sexy and suddenly I wanted to emulate her. I didn't want to do traditional dress and cover myself up. I wanted to be a coquette."
She found she wasn't the only girl. "A lot had to do with the WOW-factor. Here was this woman in America who was in her 40s and looking hot and sexy. We also looked at Joan Collins, who was even older and looked great, as a role model."
Niang and friends were never too worried about their very stern elders thinking they were a bit tacky in their Dolly mode. "If some one individual would dress like that, they might be called that behavior trampy, but because it was influenced by Western culture everyone just thought you were making a fashion statement. We just wanted to dress up the way we desired. Dolly was our heroine! Even today at her age and looking as good as she does, the boys and girls admire Dolly as their dreamgirl."

Le Loka is now developing a tribute concert, To the Rising Sun, celebrating the music of "three magnificent and inspiring legends" who also had great influences on her: innovative African song stylist Miriam Makeba, controversial blues artist Nina Simone and legendary folk star Odetta. For more on Niang, visit www.antavenues.com

Martha Graham Troupe Returns
The arts in NYC owe veteran impresario Paul Szilard a great debt of thanks. Even with the worlwide economy in bad shape, he continues to invest into bringing major dance companies to the City. In association with ATTRACT Productions of Greece, he will present America's oldest and most celebrated contemporary dance company, Martha Graham, at the Skirball Center for the Performing Arts at NYU [566 LaGuardia Place at Washington Square South], May 12 - 16. The company will perform two programs of Graham classics.
On May 14 at the annual fundraising gala, Szilard will be honored. As a leading dancer, Szilard performed throughout the world. As impresario, he's presented such companies as Alvin Ailey for over 37 years, NYC Ballet, ABT and numerous international companies. He produced the first Japanese tour of WSS with an American cast, rehearsed by Jerome Robbins - the first English language Broadway show to appear there. His autobiography, Under My Wings: My Life as an Impresario, was published in 2002.
The Graham Program A is a full-length, recently reconstructed Clytemnestra, a landmark work not seen in its entirety in decades [5/12; 15; 16 eve], believed to be Graham's finest dance-drama built on Greek mythology and the tragedies. Performing the lead will be celebrated Graham dancer Fang-yi Sheu.
Program B [5/13; 16 mat] is a diverse Graham repertory: Sketches from Chronicle, Errand into the Maze; Maple Leaf Rag and Lamentation Variations with choreography by Aszure Barton, Larry Keigwin and Richard Move. The program is conceived by M.G. A.D. Janet Eilber.
Regular tickets are $35 - $65 and available at the Skirball box office, by calling (212) 352-3101 and online at www.skirballcenter.nyu.edu, where you will find showtimes and information on tkts for the gala.

Happy birthday, André!
Even among the wide-ranging, singularly American talents of the past 60 years, André Previn stands out as a celebrated film composer, incomparable jazz pianist and respected conductor/composer of serious music. André Previn: An 80th Birthday CelebrationC [Sony Masterworks; SRP $14] celebrates his lifetime of achievement with a showcase of the composer and performer at his most varied and inspired.
Previn's musical personality -- lightly playful, keenly smart, elegantly precise -- is everywhere apparent. There are jazz renditions of Ray Henderson's "Bye Bye Blackbird," Gershwin's "A Foggy Day," and Weill's "Mack the Knife" and "Bilbao Song." Previn's film scores are represented by the haunting theme from The Four Horsemen of the Apocalypse and his hip, smoky theme from The Subterraneans, a1960 beatnik film. He conducts Vaughan Williams's The Wasps: Overture and, for the first time on CD, his own Concerto for Guitar and Orchestra with renowned guitarist John Williams. Also included is "Vocalise" with soprano Sylvia McNair and cellist Yo-Yo Ma.
Previn, born in Berlin, began his career orchestrating film scores at MGM as a teenager. Shortly after winning his fourth Oscar for scoring My Fair Lady, he shifted energies from film and jazz to a successful career as a classical conductor. He held music director posts with the London and Pittsburgh Symphonies and the L.A. and Oslo Philharmonics. He has won four Oscars, 10 Grammys, was a 1998 Kennedy Center Honoree and was bestowed with an honorary knighthood from QEII in 1996.

More
Tom Kitt and Brian Yorkey's Next to Normal original Broadway cast album has been released [Ghostlight Records, two discs with illustrated booklet, synopsis and lyrics; SRP $22]. The stars are Alice Ripley, J. Robert Spencer, Aaron Tveit and Jennifer Damiano. The director is Michael Grief [Rent]. There are 37 tracks, featuring 35 songs. The musical is a poignant and provocative contemporary tale examing a suburban household coping with crisis. In the Off Bway run, Ripley and the score received DD noms.
Just out is the soundtrack to the hot, hot and sumptuous film adaptation of Noel Coward's Easy Virtue [Decca] with 17 vintage Coward, Porter and classic Tin Pan Alley gems and new music by Marius de Vries and, among others, Billy Ocean. Coward wrote the play, a sex-revenge-secrets driven potboiler, in his 20s. Though not as well known as some others, it was a success and made by Hitchcock into a silent. The new film, making it's U.S. debut in the Tribecca Film Festival, is complimented by beautiful English locales and stately mansions. Starring are Jessica Biel, Colin Firth, Kristin Scott Thomas [quite juicy as the vengeful Mrs. Whittaker, who can't bring herself to accept the crass American car racer her son marries], Ben Barnes and, as the quite dubious butler, Kris Marshall, who embraces the role with gusto.

New to DVD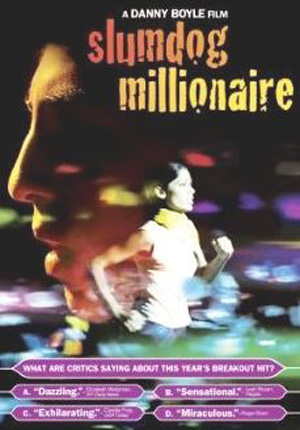 A sleeper film that almost didn't find theatrical distribution, Danny Boyle's Slumdog Millionaire charged through the finish line not only as a box office block office, building originally on feel-good audience word-of-mouth, and all the way to the Oscars, winning Best Picture and Best Director against some heavy hitters.
Along the way, Slumdog became the year's critical darling. Now the story of a boy from the Mumbai slums who discovers love, freedom and fortune, has been released on DVD and Blu-ray with Digital Copy [Fox Searchlight/Twentieth Century Fox Home Entertainment; widescreen; two hours; SRP $30, $40].
Amazingly shot on locations with virtual unknowns to Western markets and on a slim budget of $10-million, it has been praised for its gaudy, gorgeous rush of colors, sounds and emotion, and additional Oscars were won for Original Score - A. R. Rahman [who wrote the score for the Andrew Lloyd Webber production, Bombay Dreams], Original Song - A. R. Rahman and Sampooran Singh Gulzar, "Jai Ho" and Best Adapted Screenplay - Simon Beaufoy. The film also won four Golden Globes, including Picture - Drama and Director.
While being hailed and accoladed here, the movie that Boyle describes as "a story of love lost and love found" was being slammed in Mumbai and across India as being insulting to slum-dwellers [who don't get doused with chocolate and peanut butter when they take the "dive in" as in one of the film's most disgusting, most hilarious and, for the actors, most delicious scenes].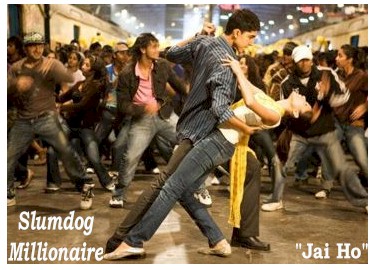 S.M. is based on Vikas Swarup's novel Q and A and tracks the life of Jamal Malik, who lives a sprawling slum. After losing his mother, Jamal [played as a teen by the talented and photogenic Dev Patel] and his brother Salim [Madhur Mittal] do what's necessary to survive. Jamal's travels are filled with memorable encounters, good and bad. Along the way he meets orphan Latika [stunning Freida Pinto]. They become separated and he becomes romantically determined to reunite with her. One way is to get national exposure by appearing on the Indian version of Who Wants To Be A Millionaire? On the program, categories pop up that mirror his past experiences and he breezes through, but, since it's thought he can't be that intelligent, is accused of cheating. There are incidents of child slavery and mutilation but in the end, love triumphantly conquers all -- and Jamal gets the big ruppee prize.
The DVD features deleted scenes galore [it appears the uncut film could have been a TV miniseries]; music tracks by M.I.A., including the Grammy-nominated song for Record of the Year. "Paper Planes"; commentary by the director, Patel, adapter Simon Beaufoy and producer Christian Colson; and a Making of featurette.

Have you been looking to take home a family film that's also one of the best recent romantic comedies? And one that's watchable over and over, and has all sorts of fun extras? Look no further than the DVD and Blu-ray release of the blockbuster smash Marley & Me [20th Century Fox Home Entertainment; widescreen; 110 minutes; SRP $30, two-disc $35, three-disc $40].
Starring are Oscar-nominee Owen Wilson and Emmy-winner Jennifer Aniston [in roles so very tailor-made for them] as newlyweds seguing through the hardknock life and, through the years overcoming obstacles to learn important life lessons from their adorable dog who grows quickly into a very naughty, highstrung, neurotic, boisterous and uncontrollable 100-pound steamroller. In that major co-starring role, without any screen credit, are a series of variously-aged and excellently-trained canine actors as the loyal yellow Labrador named Marley. Featured are Eric Dane [Grey's Anatomy], GG-winner Kathleen Turner and Oscar-winner Alan Arkin. Based on John Grogan's best-selling novel, David Frankel [The Devil Wears Prada] directs.
The single and "Bad Boy" two-disc Special Edition DVD comes fully-loaded with digital copy, deleted scenes, gag reel, featurettes and much more. The three-disc Blu-ray [call it "Worst Boy"] is a treasure trove with all of the above, Finding Marley featurette, single-disc DVD, digital copy, dog training and special offers.

Also just released is the screen adaptation of Doubt [Miramax Films/Buena Vista Home Entertainment; 103 minutes; widescreen; $30, Blu-ray $35] - which garnered five Oscar noms - Actress for Meryl Streep, Supporting Actor for Philip Seymour Hoffman, Supporting Actress for Amy Adams and Viola Davis and Adapted Screenplay for playwright John Patrick Shanley, who also directed.
Doubt delivers a balance of drama, intrigue and, interestingly, humor. Streep's steely performance isn't the least bit subtle, but rather chilling and unflinching. Shanley defines his story as the quest for truth amid the forces of change, which lead to devastating consequences and blind justice in an age defined by moral conviction.
Fans of the Broadway play will notice one huge difference. In the theater, one of the most interesting aspects of the work was that because of the writing and performances of Cherry Jones and Brían F. O'Byrne audience were fiercely split, often 50/50, over Father Flynn's guilt; however, in the film, because of the portrayals by Streep and Hoffman, Flynn's guilt is much more obvious.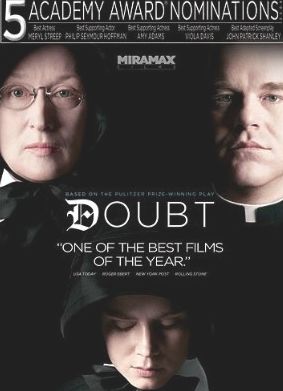 Bonus features include an intimate discussion with Shanley about Doubt's history and the process of adapting it for the screen. Joining him are are Streep and
Sister Margaret McEntee, a consultant on the film and Shanley's former teacher. He and Streep also discuss interviews he did before shooting with nuns, discussing their lives.
There's also a conversation with Hoffman, Adams and Davis.

An Oscar winner for his 1987 screenplay for Norman Jewison's Moonstruck, and the screenwriter behind a variety of films, Doubt was John Patrick Shanley's second film as a director, following his 1990 directorial debut with the underappreciated, now cult Joe Versus the Volcano. After Joe, producer Scott Rudin suggested he should do another film. Shanley didn't want to. During his protracted hiatus, Shanley contracted advanced glaucoma - going blind in one eye, then the other. After a series of operations, he says his sight fully restored.

When Rudin approached him to adapt his play Doubt, which had won a host of awards including the Pulitzer Prize, a Tony and DD, Shanley, now 58, jumped at the chance. "I made this a decision when I was 35 that I'd write about personal matters until I'm 40, then I'd turn outward and write about society more. And that's what I did."


___________________________________________________
Ensemble Studio Theatre honors Shanley at Monday's benefit. SEE BELOW.
___________________________________________________

However, re: the adaptation, as does Sister Aloysius, he had his doubts. "I knew it was my fate, but knew it was going to be very hard; and I didn't know how to do it. I was like, 'I'm going to try and do a film where they talk a lot and you like it.' It was the most difficult screenplay I ever wrote. I solved that problem one page at a time - with a lot of devices, a lot of tricks. They couldn't simply be camera moves, but things that happened between the participants and the physical environment they were inhabiting, that lent the story forward movement and motivated camera movement."

For the stage, he explained that there was a lot of things he made himself do because of the economics of theater. "With the film, I could include and celebrate those things."
When the film was announced, Shanley says, "Everyone asked me the same question: 'Are you going to show the kid?' I said, 'You have to.' A lot of people thought that wasn't going to work."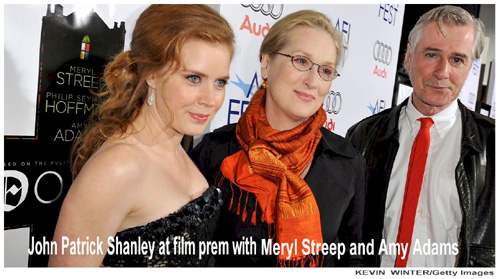 His interest in telling this story was personal. "I went to Catholic school in the Bronx in 1964, a time during which you felt you were in this working class enclave and the world was an unchanging place. Values were shared by everyone, and you felt nothing would ever change. Yet, there was this rumble, this gigantic noise heading your way. All the things that seemed so permanent were being swept away.
"I found myself living in an era of very entrenched positions," he continues. "True discourse had fallen by the wayside. Anybody that expressed doubt about something was perceived to be weak. I thought doubt was a hallmark of wisdom and that dogma was the shutting down of the frame. I wanted to write about those issues - a time of change, when valuable things are going to be lost and valuable things are going to be found."

On his creation of Sister Aloysius, he states, "She's a submarine commander on a broken down old submarine - lightbulbs going out, the wind blowing in - trying to keep the future out. And she's right. There are reasons to not want the future along. It's not always good to move on. There were things lost in terms of classical education."

He said that Meryl Streep signed on "straight away. The great thing about working with somebody like Meryl or Phil [Seymour Hoffman] is that when you work with really good people, your job is easier! People asked if I was intimidated by Meryl. I wasn't particularly. We hit it off, spoke the same language. If it was about me proving myself to Meryl, that would be uncomfortable. But we were about telling a story. She was very collaborative, very present, and very open to direction. I didn't excessively intrude on what she was doing, because her choices were by and large incredibly good. After a take and say, 'Want something else?' And I'd say, 'Give me something else.' If I felt there was something else, I'd push her until we got that. It was a very good collaboration."

EST honors Shanley
Ensemble Studio Theatre will honor Tony, Academy Award and Pulitzer Prize-winning playwright John Patrick Shanley at its 2009 anniversary benefit on May 4. Shanley, a longtime EST member, will receive the Distinguished Member Award in recognition of his outstanding contributions to theater. Artists who've worked with the playwright/director will take part in the award presentation.
The benefit is at the recently restored, ornate, neo-Renaissance Prince George Ballroom at the World Monuments Fund Gallery [15 East 27th Street, between Fifth and Madison Avenues]. Tickets for the 6 P.M. event, including cocktails, hors d'ouevres and silent auction, are $300. To purchase, call (212) 247-4982 X.115.
Ellis Nassour is an international media journalist, and author of Honky Tonk Angel: The Intimate Story of Patsy Cline, which he has adapted into a musical for the stage. Visit www.patsyclinehta.com.

He can be reached at [email protected]





Why are you looking all the way down here?
For more articles by Ellis Nassour, click the links below!

Previous: Oscar Buzzzz: And the Envelope, Please; New to DVD; Movie Palaces; More

Next: Drama Desk Nominees Feted; Jane Fonda and Dolly Parton Reunite; Fonda and Channing Among Presenters for May 17 Awards to be Hosted by Harvey Fierstein

Or go to the Archives