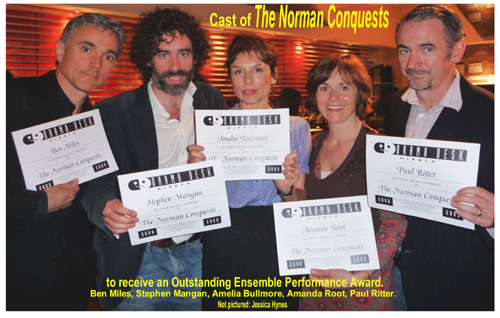 Timing is everything in theater. And at Friday's cocktail reception for the 54th Annual Drama Desk Awards nominees the timing couldn't be better for 9 to 5: the movie co-stars Dolly Parton, in a luminous black and white outfit and making her Broadway debut as composer of 9 to 5: the musical; and Jane Fonda, back on Broadway after a longgggggg absence in 33 Variations, carrying her precious dog Tulia.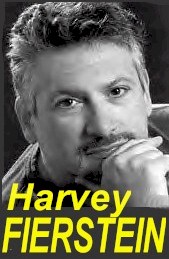 After a few rounds of show biz paparazzi shouting "Over here, Ms. Fonda!", "Jane, over here!", "Hey, Janie, baby!" [I know!] and just as she was about to brave the media and DD members, the irrepressible Dolly arrived, sneaked up behind JF and grabbed her. As pandemonium and the papps broke loose, they shared an animated embrace.
A most excuberant Dolly, accompanied by two fairly friendly bodyguards, exclaimed, "Howdy, y'all! My goodness, the Drama Desk Awards. We don't have anything like this in Pigeon Forge!" She greeted some old friends and, along with other nominees, autographed the Drama Desk jacket that will be auctioned for charity.
Jane's dog Tulia didn't seem the mind the crowds making a big fuss over her while Jane doodled for the prized Drama Desk Art*Kives collection of drawings by the nominees.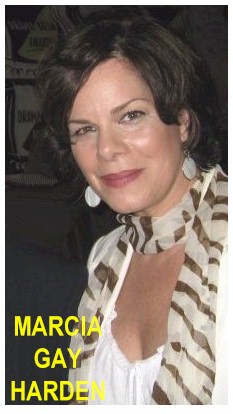 The Drama Desk Awards are Sunday, May 17, hosted by Tony and DD winner Harvey Fierstein, in the F.H. La Guardia Concert Hall at Lincoln Center at 9 P.M.
Presenters on tap include Stockard Channing, Jim Dale, Jason Danieley, André De Shields, John Cullum, Jane Fonda, John Lithgow, Marin Mazzie, Parker Posey,Tom Wopat and the cast of title of show - Jeff Bowen, Hunter Bell, Susan Blackwell and Heidi Blickenstaff.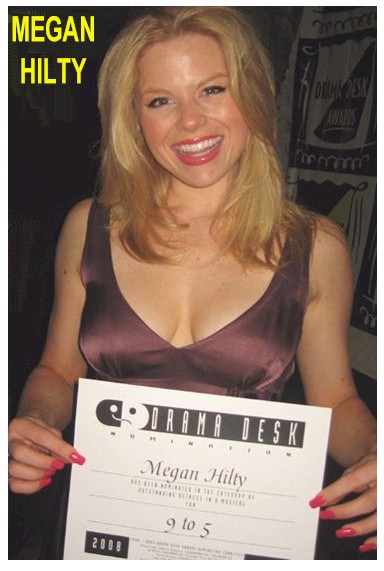 Among the nominees from all crafts in attendance were James Barbour, Reed Birney, Stephanie J. Block, Walter Bobbie, Daniel Breaker, Brian d'Arcy James, Jeremy Davidson, Saidah Arrika Ekulona, Raúl Esparza, Hunter Foster, Sutton Foster, Peter Friedman, Josh Grisetti, Demond Green, Haydn Gwynne, Marcia Gay Harden, Megan Hilty, Bill Irwin, Gregory Jbara, Marc Kudisch, Allison Janney, Michael Laurence, Janet McTeer, Joe Mantello, Jan Maxwell and Karen Murphy.
Also attending were Sahr Ngaujah, Lynn Nottage, Nancy Opel, Martha Plimton, Geoffrey Rush, Bryce Ryness, Pablo Schreiber, Jeremy Shamos, Christopher Sieber, Randy Skinner, Joseph Stein, Will Swenson and cast members of The Norman Conquests - Amelia Bullmore, Stephen Mangan, Ben Miles, Paul Ritter and Amanda Root, who along with co-star Jessica Hynes, will receive a DD Outstanding Ensemble Performance Award.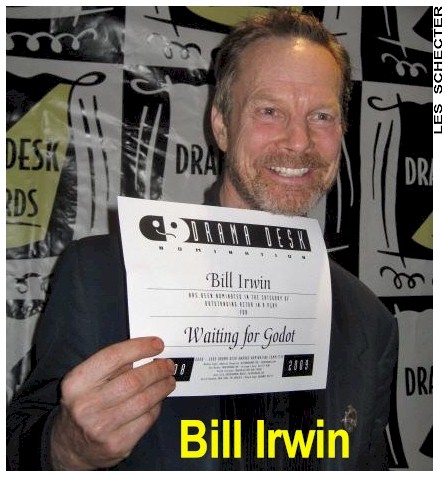 Amazingly, the DD nominators saw hundreds of Broadway, Off and Off Broadway shows this season, which in spite of the economic downturn turned into a championship season of excellent work from excellent performers, known and unknown.
Many at the reception spoke of the challenge nominators faced this season with so many heavyweight actors giving superb performances. There was a lot of chat between gulps of wine and the downing of hors d'oeuvres about those actors from such shows as God of Carnage, Hair, TFANA's Hamlet, Mary Stuart, 33 Variations andWaiting for Godot who must have weighed down the nominators' weighted ballots leaving them [such leading co-stars as Christian Camargo, Gavin Creel, James Gandolfini, Zach Grenier, Nathan Lane and Harriet Walter] in the starting gate.
This was the year the busy nominators chose to expand the Outstanding Actor, Play cat from six to seven. In retrospect, it would have been a good year to expand the Actress, Play cat.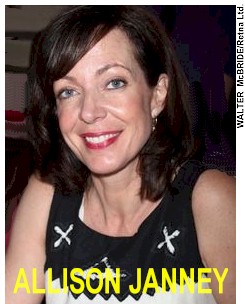 Speaking of timing, it was a very nice moment when sister and brother nominees, Sutton Foster for Shrek and Hunter Foster for Happiness, ran into each other. This is a sort of milestone for the DD noms, as it's rare, if ever, for a sister and brother to be nom'd the same season.

The very outgoing Geoffrey Rush said, "Ah, it's great playing the king, but getting a Drama Desk nomination is even better!"
Allison Janney spoke of her amazement and excitement of being DD-nominated in her Broadway debut in 1996 when she played opposite Frank Langella in Present Laughter, winning a DD the following season for her poignant portrayal as Beatrice opposite Anthony LaPaglia in Roundabout's revival of Arthur Miller's View from the Bridge. She said it's incredible to be back onstage in front of live audiences.
There was a bit of a buzz about LCT's revival of August Wilson's Joe Turner's Come and Gone being overlooked in the Outstanding Revival cat; and, it might be added, the lack of recognition for Chad L. Coleman's blistering performance, in his Broadway debut; and Jeremy Holland's impressive comic-relief turn in his Broadway debut.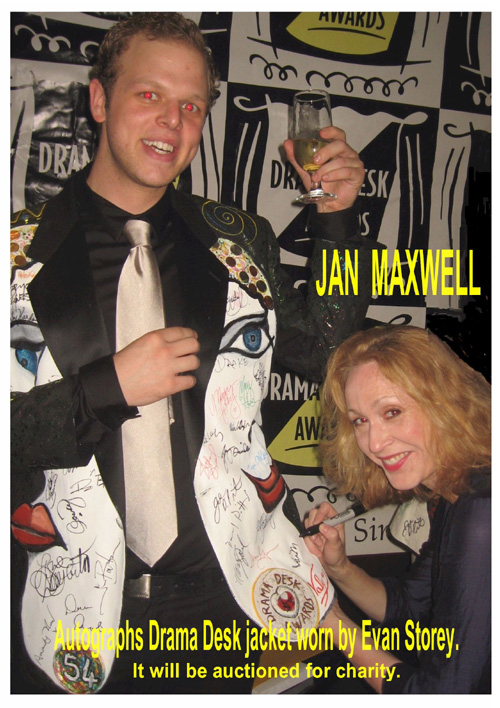 Making a huge impression on attendees were the humbly gracious cast members of The Norman Conquests, so thrilled to be receiving the DD Outstanding Ensemble recognition. They didn't want to leave. Stephen Mangan and Ben Miles spoke of how wonderful audiences have been here. Often the cast takes four and five bows because of audience response. it's amazing that the audience can find time to applaud and stand en masse becuase they are laughing so hard at Sir Alan's comedies.
Swenson, calm for a change instead of doing sommersaults and making out with audience members, and Ryness spoke of the excuberant audiences who eagerly join the cast onstage for Hair's joyous "Let the Sun Shin In" finale. Amazingly, it was noted, many older audience members go up - regaling cast members of their anti-war protests or service and shattering experiences in Vietnam and other conflicts.
Such is the whipped-up fervor that on occasion those on crutches or walkers make it up the stairs to the stage slowly and wheelchair bound audience members are lifted up. Even after Nadia Digiallonardo's incredible orchestra has stopped playing, many find it difficult to leave the stage. The show is brand new and already some said they have seen it more than five times! [At $112-$122 a pop for orchestra seats! I know!] [They must not have invested in the market!].
A topic that was never addressed is the potential discomfort resulting from where Swenson must hide his body mike battery pack [hopefully, for the sound person, it's encased in a condom] [ever wonder what the budget for latex gloves is?].
The reception was held at New York Restaurant Group's Il Bastardo restaurant on Seventh Avenue, between 21st and 22nd Streets.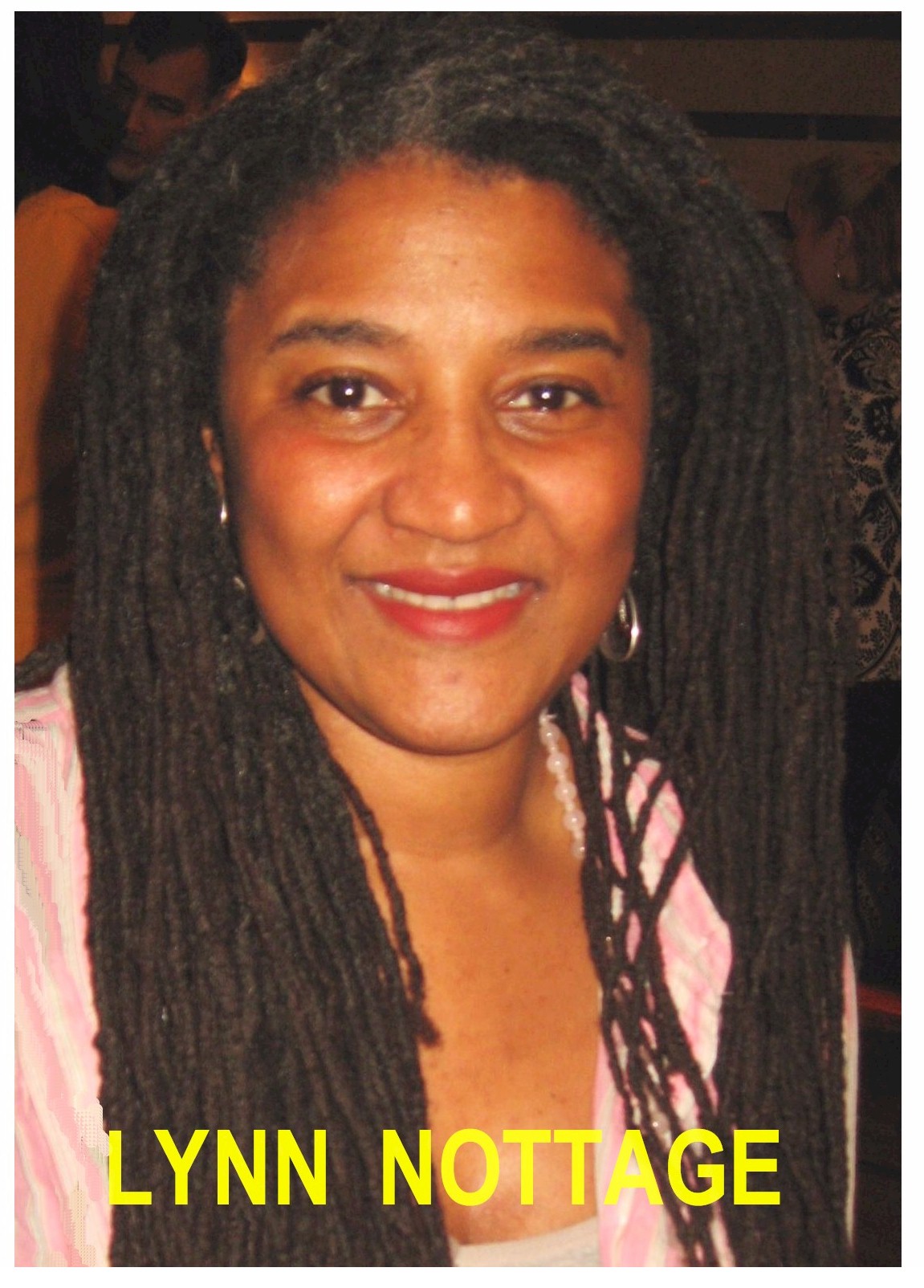 InViolet Repertory Theatre will host a pre-show ticketholders reception in the Concert Hall lobby during red carpet arrivals.
A private reception for nominees, complete with red carept arrivals, will take place at Rouge Tomate on East 60th Street, which will also fete nonimees and winners to a post rshow reception. Gray Line New York Sightseeing will provide transportation roundtrip from Rouge Tomate to the Concert Hall.

For the seventh year, TheaterMania.com will carry the Awards live via webcast. .
Tickets for the 54th annual Drama Desk Awards are $225 [premium gold, which includes the Rouge Tomate private pre- and post-receptons, $850] and may be purchased through TheaterMania.com, or by calling (212) 352-3101.
Among the sponsors of this year's Awards are the Smart Family Foundation/David S. Stone, Esq., Richard Kandel, Ted Snowdon and TheaterMania.com/Gretchen Shugart.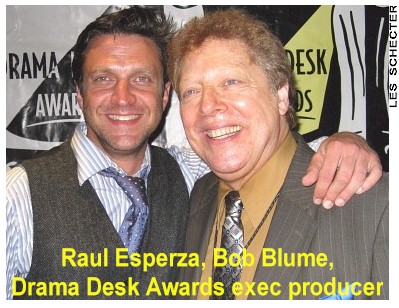 William Wolf is Drama Desk president. Robert R. Blume is exec producer with Blume Media Group Ltd as the producing company. Lauren Class Schneider will produce with Jeff Kalpak returning as director.
For a complete list of 2009 Drama Desk nominees, go to www.dramadeskawards.com.
Photographs by Barry Gordin
except where noted
Home Page shot of Dolly Parton and Jane Fonda: Les Schecter
Ellis Nassour is an international media journalist, and author of Honky Tonk Angel: The Intimate Story of Patsy Cline, which he has adapted into a musical for the stage. Visit www.patsyclinehta.com.

He can be reached at [email protected]





Why are you looking all the way down here?
For more articles by Ellis Nassour, click the links below!

Previous: Zach Grenier Portrays a Beethoven for the Ages; From Africa, with Love for Dolly; Martha Graham Company Returns; New to CD, DVD; John Patrick Shanley on Doubt

Next: Possible Last Chance for Sublime Torture; Temperamentals Buzz; Broadway, 1944; Actors Working; Loaded Merman Gypsy CD and Streisand Live DVD; New to DVD; More

Or go to the Archives