On Sunday, June 7, the Broadway community gathers at Radio City Music Hall for the American Theatre Wing's 63rd annual Tony Awards. The show will be carried as a live, three-hour special on CBS, beginning at 8 P. M.
At Wednesday morning's reception for the nominees, who were announced only the day before, several interesting facts about the Awards came to light.
There's a first this season. Billy Elliot made history as the only show to nominate a trio of performers - David Alvarez, Trent Kowalik and Kiril Kulish - who share the same role as a single nomination. There've been instances where more than one performer was considered jointly for a single nomination; but in those cases, they were playing different characters as in 1998's brilliant, but short-lived Side Show where Best Actress, Musical nominee Alice Ripley in Next to Normal shared a nomination with Emily Skinner, who played her Siamese twin.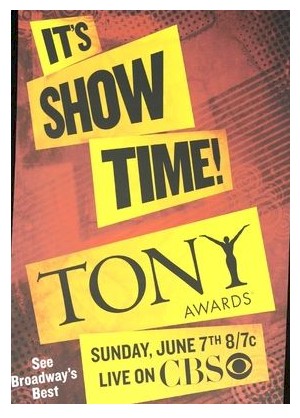 The musical, with 15 nominations, has matched the record set in 2001 by The Producers, which went on to win 12 trophies - also a record. Will Billy do as well?
In what is certainly a rare occasion, God of Carnage's entire cast - Jeff Daniels, Hope Davis, Marcia Gay Harden and James Gandolfini - received Tony nods in the Best Leading Actor/Actress, Play cats.
Raúl Esparza and Martha Plimpton have been nominated three times in three consecutive years: He for the revival of Speed-the-Plow this season, the revival of The Homecoming last year and the revival of Company[2007]; and she for Roundabout's revival of Pal Joey, Tom Stoppard's The Coast of Utopia last year; and Top Girls [2008].
Jane Greenwood now holds the honor of being the most-nominated costume designer in Tony history by earning 16th nom this season for Waiting for Godot.
Angela Lansbury and Stockard Channing are racking up their sixth Tony nom. Ms. Lansbury for her exuberant portrayal of psychic Madame Arcati in Blithe Spirit; Ms. Channing for her savvy, sexy Vera Simpson in Pal Joey. The record for the most noms is Julie Harris, with 10.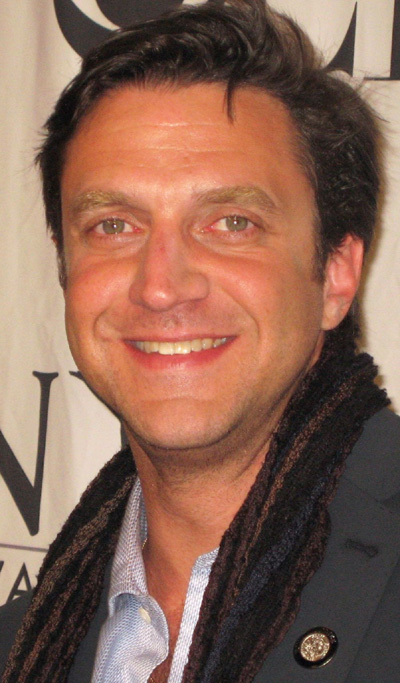 Jane Fonda received her first Tony nom in 1960, for a featured role in the play There Was a Little Girl;and, after a 49-year gap, she's nominated again for her portrayal of an obsessed and dying musicologist in Best Play nominee 33 Variations.
Featured Actor, Musical, nominee Marc Kudisch, who has been bruised and battered - even fairly seriously injured during the L.A. pre-Broadway run, as chauvinistic boss Franklin Hart in 9 to 5, calls his role the "best in his career."
He had nothing but high praise for his onstage colleagues. "The company is talented and smart -- and we all get along. You can read that onstage. Audiences know when things are sinking or grooving. [Nominees] Allison [Janney], Megan [Hilty], and Stephanie [Block] are these unique personalities that come together so beautifully. Their energies balance each other so well they become a three-headed monster."
He adds, "You really have to watch out when they come to life. They're on fire and they mean business! And then you have Kathy Fitzgerald [who plays very suspicious office manager Roz]. She's amazing and, next to me, the most shameless creature on the face of the planet."
Liza with a Z's arrival stirred great interest. She made the rounds, smiling, friendly, accessible, very animated and with the same exuberance she displayed in her Liza's at the Palace revue. But, within minutes, she was wilting from the heat of the lights and crowds surrounding her every move.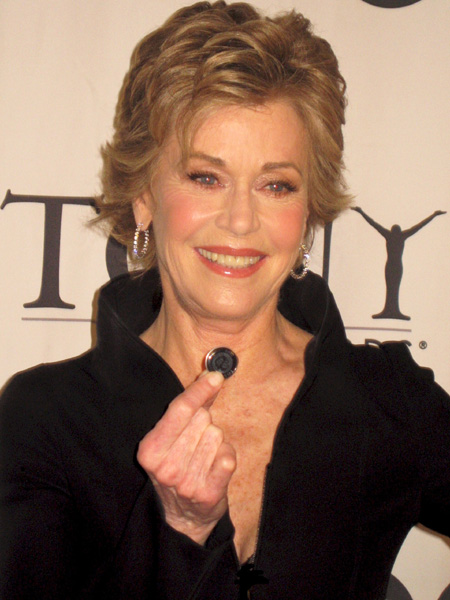 "Being back on Broadway with my boys [Cortes Alexander, Jim Caruso, Tiger Martina and Johnny Rodgers], and especially doing the show at the Palace, which holds so many great memories for me was such a joy. I'll be honest, day after day after day, I couldn't believe it. They [the audiences] were amazing! And some of them came back four, five and six times. Imagine that!"
Haydn Gwynne and Carole Shelley are nominated in the Featured cat for Billy Elliot. Gwynne explained that even though the show was a success in London, they never took it for granted that it would work and resonate with New York audiences. "Having made that journey, and sitting here today with 15 nominations, I have to pinch myself. The boys are amazing, each with their distinct personality." Working with the different Billys "eight shows a week is a challenge, but it also keeps you on your toes and helps to keep us fresh."
From the standpoint of producers and critics wondering if the show, with it's heavy English slang and accents, would be understood here, Gwynne says, "We all were concerned, but it hasn't been a problem. That's been a great surprise. Because of some of the strong language, I thought there're be rows about what we could and could not do. There's been no condescension or an effort to explain things. The audiences told us very quickly that it wasn't a problem, that they get it, especially on the terms of what a great human story it is."
She added that working with Featured Actor noms Gregory Jbara and Ms. Shelley, American members of the cast, has "simply been a divine pleasure. They were very comfortable and at home from the very first day."
Jbara seemed to be more excited about his three Billys being nominated as one and young David Bologna [who so beautifully plays the Billys' friend Michael] up against him in Featured. "He's on Cloud 9," beamed Jabara, "and we're on Cloud 9 for him. We're so happy. The [Tony] nominating committee went up another notch in our hearts."
Speaking of the show, he said that the message is universal "especially in today's economy. If we've opened last season, as was intended, I don't know if it would've had the same resonance." He added that the dialects have been toned "way down," that they are not nearly as authentic as they should be. "But you have have keep your audience in mind. What good is telling the story if it can't be understood?"

Jessica Hynes and Stephen Mangan, nominated in the Featured cats for the hit revival of The Norman Conquests , spoke of the chemistry of working with their cast members, Amelia Bullmore, Ben Miles, Paul Ritter and Amanda Root. "It just wouldn't have the same effect without such a strong ensemble feeling," says Mangan.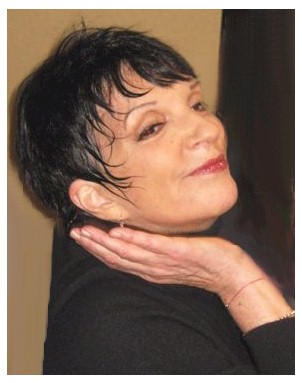 The cast has been selected by Drama Desk for an Outstanding Ensemble Performance Award, which, says Mangan notes, "as wonderful as it is for Jessica and I to be nominated for a Tony, that is something we're incredibly proud of. We've been together a year, which brings it's own rewards. You get to know your mates well, which deepens the relationship onstage."
Audiences react to various lines differently. "That helps keeps things fresh," he observes. "Doing comedy is less cathartic than doing tragedy. We're acting and playing it straight. The audience is releasing."
Reaction from the audience influences the performances. "How you approach each moment is so vital," says Hynes. "Of course, it's scripted, but If you go out and keep it real, that's where the fun comes from."
She notes that director Matthew Warchus [who'll be going up against himself since he's also nominated for God of Carnage] had a great influence on how they work together by manipulating relationships with the other actors.
"Yes," laughs Mangan, "you grow to feel something about them, even if it's contempt!"
They agree that there's a surprise at every performance because, points out Mangan, "You never know how an audience will respond. At one performance, they look at you with warmth; at another, with disdain. That switches all the way through the trilogy. They're falling in and out of love with Norman throughout. Love him, hate him. I love that."
How you perform, says Hynes, telegraphs something to the audience. "All the characters are quite contradictory, in fact. Funny thing, I don't think of Norman as the 'villain.' To me, that's Tom [played by Miles]. He's the real criminal because he's incapable of doing what he needs to do."
The trilogy, he explains, needs all the performances to work in sync "or the whole thing falls apart. You rely on each other. It's not a question of the star wandering down stage and spouting a soliloquy. Being in the round emphasizes that even more. When you're onstage, up close and personal surrounded by a sea of audience, you really need each other. The show lives and dies on all of us, not just one or two."
However, Mangan quips, "Now, if I should by some miracle win Best Featured Actor, I won't be mentioning them!" That earns him a nice jab in the arm by Hynes.
Martha Plimpton, Featured Actress, Musical, nom, said of her singing/dancing role as Gladys Bumps in Pal Joey, "Oh, where do I begin? It was terrifying and exciting - all at the same time."
Of her revival of Hair, director Diane Paulus' goal was to bring the show very high energy. "I'd never seen it onstage, but had seen the film and, of course, knew the music, so working on the show was a very pure experience. I had my inner dream of what it should feel like. I wanted to represent the 70s in a passionate and truthful way and stay away from a tie-die, urban outfitter, campy show. It was important to get to the heart of it, inside out. I tried to transmit that in every choice I made from costumes, casting, set design, every aspect of the project."
Paulus was able to discover more than has been known about Hair for decades. "Working with [co-writer/lyricist] Jim [Rado], we dug up bits of dialogue from the original Off Broadway script. I worked closely with him and Galt [MacDermont] to focus the show on what would have the most impact today." [Co-writer/lyricist Gerome Ragni passed away in 1991].
She said that no one was prepared for the effect the show would have on audiences today, not only young but also older ones. For the finale, "Let the Sunshine In," when castmembers invite audience members onstage to dance and sing, "We've had people in their 70s and 80s, Vietnam and Gulf War veterans, people on walkers and crutches, a blind person with their seeing eye dog, wheelchairs lifted onto the stage. I love that because it's not about exhibitionism but about inclusion and community, about people saying 'I have been moved.' That's very touching to all of us."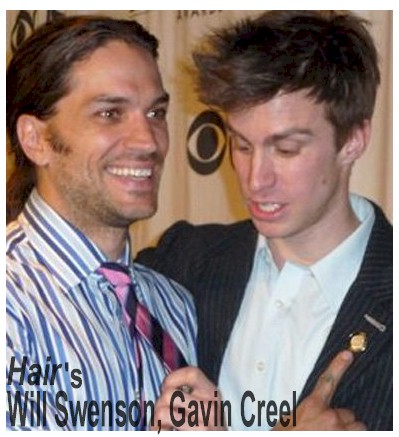 To most observers, the Tony nominators got their nods for Will Swenson and Gavin Creel ass backwards, with Swenson, who plays Burger and in this revival seems to dominate the production, nominated as Featured Actor, and Creel, who plays Claude, as Actor. However, that hasn't affected the way they feel about each other. "It's a mutual admiration society," says Swenson. Touching him tenderly, Creel, who must have been 11 when he co-starred in Thoroughly Modern Millie, says, "Will's my man. He's the only man for me." Swenson responded, "And that's okay, Gavin. It's fine with me."
Swenson, asked if he'd been threatened with arrest yet for accosting any audience members with various members of his body or for sitting in their laps, replied, "No, but there've been some angry people. They get over it quickly." "They can't help it," quips Creel. "His personality is overwhelming." Well, not always. "The other night," recalls Swenson, "I had this woman scream 'Don't touch me. I've got arthritis!'"
Zack Grenier, nominated as Featured Actor, Play, for his portrayal of Beethoven in 33 Variations, of star Jane Fonda, "She's such a community spirit*," observes Grenier. "Charming, disarming. She's never pulled any rank. She wants to do the very best job. She knows that when you're really searching for the truth, you do your best work. It has to have been a challenge to come back to the stage after so many years, and she's doing it with an incredible amount of bravery."
On developing his character, he explained that since 33 Variations isn't the definitive story of Beethoven, "It's not something biographical where you have to get it right. He exists in Jane's character's imagination, Keeping that in mind, [director and writer] Moises Kaufman gave me a bit of free rein.
"I've always been fascinated with Beethoven," he explained, "so it's an absolute joy to be playing him. I read of his bombastic personality; and then there was his deafness and his ability to create such works as the Ninth and the Mass. He could hear the music in his head. I became so fascinated that I absorbed all I could and dug deep down where the character and I met. Playing a genius wasn't something I could think about, because I'm not a genius. You respect that, but leave it alone and find a commonality."
Choreographer Randy Skinner, up for his third nomination for his work on White Christmas, explains, "I had a ball working with these wonderful Irving Berlin songs. His music simply makes you want to dance. My goal was to bring that joy and as much variety to the show as I could. Because of the period, I was able to do ballroom, jazz and tap. It's fun and challenging to work with the dancers in achieving the nuances of style that were a part of the 50's. That's what [director] Walter wanted from all departments - sets, costumes, vocal arrangements, orchestrations - he wanted the show to really feel and look like we were in 1954."
He added that working with Bobbie on the various regional productions of White Christmas the past five years, "and creating a show that has fast become a seasonal favorite with audiences across the country is a collaboration I truly cherish."
For a listing of the 2009 Tony Award nominations, how the nominees reacted on getting the news, video of past winners, photos, trivia, staying connected through social networds, mobile alerts and a brief history of the awards namesake Antoinette Perry, visit the ultimate Tony fan site: www.tonyawards.com.

Photos by BARRY GORDIN
Except where noted

In Depth for Last Year's Tony-winning Heights
Making it in New York City is tough. Few get the chance to live out their dreams. The cast, creative team and crew of In the Heights know this all too well. The young, diverse and relatively unknown artists dreamed of making it on Broadway, but were well aware that a musical set outside a bodega in the Latino neighborhood of Washington Heights would be a highly risky proposition.

It took eight years, but they succeeded - and beyond their wildest expectations, winning four Tony Awards along the way, including Best Musical and Best Score. The doc In the Heights: Chasing Broadway Dreams, airing on PBS' Great Performances May 27, chronicles the personal stories of composer/lyricist Lin-Manuel Miranda and cast members in the months leading up to opening night.
For Miranda, bringing In the Heights to life began when he was a sophomore at Wesleyan College. Having grown up as a first generation American in one of New York's toughest neighborhoods, he struggled to find his identity. Writing about the stories, sacrifices and sounds of the people in his 'hood was a way to share his experience.
"When I saw Rent, it was the first time a musical took place now," he recounted. "A light bulb went off and it was like 'You can write a musical that's about you, about your life.' If you had told me it'd take eight years, I probably would have been too scared to continue."
In addition to extended performance sequences, the program offers an intimate behind-the-scenes look. Producers from @radical.media realized the show's potential at an early reading, and began filming shortly thereafter. They were provided unprecedented access to the cast as they went through workshops, to off-Broadway and finally to Broadway to the Richard Rodgers Theatre.
Karen Olivo, Miranda's on-stage love interest, who's now starring in and Tony and DD-nominated for her portrayal of Anita in the WSS revival, describes her "dedication to performing as an addiction." Mandy Gonzalez explains that her real life experience growing up with immigrant parents mirrors the character of Nina that she plays. Seth Stewart, who portrays Graffiti Pete, has struggled to balance his love of dancing with his football career.
Broadway veteran and ACL alumna Priscilla Lopez, In the Heights "is a journey back in time."
Bill O'Donnell is WNET's Great Performances series producer. Michael Kantor [Broadway: The American Musical, Make 'Em Laugh: The Funny Business of America] is consulting producer, with David Horn as exec producer. The series is funded by the Irene Diamond Fund, the National Endowment for the Arts, Vivian Milstein, the Corporation for Public Broadcasting, the LuEsther T. Mertz Charitable Trust and viewers like you.

Brenda Leigh's Back and in Command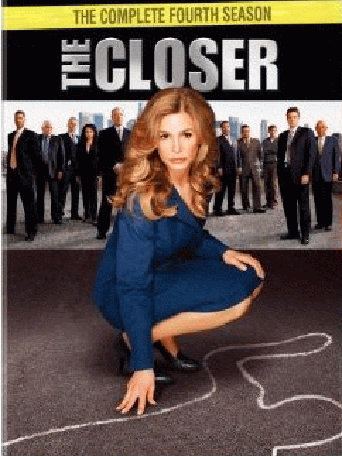 How y'all doin'? The top brass of the LAPD have their hands full battling con artists, bomb plots, arsonists, kidnappers, predators and serial murders. So, lordy, could things get any worse for them? Why, yes, y'all: Brenda Leigh Johnson, that feisty Georgia peach that oozes with Southern charm, is on her way to a big promotion.
That's how The Complete Fourth Season of The Closer [Warner Home Video; 15 episodes, four discs; SRP $40] of TV's hot, addictive and award-winning series gets underway - available May 26. Of course, there's a cliffhanger: Will Brenda Lee and her patient, frustrated love interest Fritz finally make it to the altar or even a Justice of the Peace?
The good news is B.L. hasn't changed - she's still not all sweetness and joy. The bad news is that the worst thing is that at the end of an episode you want more. The complete fourth season provides that, seamlessly. The series has been notched up a bit. CIA-trained belle Brenda Leigh takes her gritty oneupmanship and brilliant savvy crime-solving techniques with her as she heads up the new Major Crimes Division, a sort of L&O: MCD or L.A.'s Worst vs. L.A.'s Best.



Sedgwick manages an amazing consistency of charm, quirkiness and spunk in one of TV's most off-beat and compelling characters. The role has earned her three Emmy noms [Season 1, 2, 3] and a fourth Golden Globe nom for 4. She received the 2007 GG for Best Performance, Actress, Television Series Drama. Sedgwick and the cast have been honored with SAG Awards.
Despite her offbeat personality, bad eating habits and endearing tendency to step on people's toes while managing somehow to love cats, Brenda Leigh's tough-as-nails approach, interrogation charm and boiling female intuition solves murders.
Besides Sedgwick's amazing star turn, she's got good back up from co-stars Corey Reynolds as loyal right hand Sgt. Gabriel; that scoundrel Commander Taylor played by Robert Gossett [gosh, he seems to have changed, which means he must have something up his sleeve!]; lazy but loyal Lt. Provenza, G.W. Bailey, who provides comic relief; and Michael Paul Chan, Raymond Cruz [who is front and center in an intense episode], Anthony Denison, Gina Ravera; J.K. Simmons [Juno; Oz] as Assistant Chief Will Pope [a former paramour, it turns out; which often leads to some dicey moments]; and Jon Tenney, as recovering alchoholic, FBI special agent Fritz Howard, Brenda Leigh's long-suffering fiance.
Welcome returning and much-anticipated frequent guest stars Frances Sternhagen and Barry Corbin as B.L.'s parents, seeminly the only two people who can instill fear in her and vividly stealing every scene they're in.
Arresting bonus features on the DVD set include a gag reel, deleted scenes and two featurettes [Catching a Lie and A Day in the Life of a Homicide Detective].
The fourth season package debuts just as the show's fifth season gets underway on TNT. The series is created by James Duff, who has frequently contributed extremely well-written teleplays [along with Hunt Baldwin, John Coveny, Mike Berchem, Adam Belanoff and Steven Kane]. Broadway's Scott Ellis directs Episodes 6 and 12; Kevin Bacon, who's known in an intimate way to Ms. Sedgwick, directs #7.
Ellis Nassour is an international media journalist, and author of Honky Tonk Angel: The Intimate Story of Patsy Cline, which he has adapted into a musical for the stage. Visit www.patsyclinehta.com.

He can be reached at [email protected]





Why are you looking all the way down here?
For more articles by Ellis Nassour, click the links below!

Previous: Possible Last Chance for Sublime Torture; Temperamentals Buzz; Broadway, 1944; Actors Working; Loaded Merman Gypsy CD and Streisand Live DVD; New to DVD; More

Next: The 63rd Annual Tony Awards Honoring Broadway Achievement

Or go to the Archives