The excitement's building. Rentals of black tie have been exhausted. Harry Winston and Tiffany's are raiding their vaults for more diamond loanouts. Designers are still putting finishing touches on their gowns. The champagne's iced. Anticipation's bubbling. Nerves are at the breaking point. Broadway's main event is just days, hours away.
Yes, of course, that's the American Theatre Wing's 63rd Annual Tony Awards, to be broadcast live from Radio City Music Hall by CBS on Sunday from 8 P.M.-11 P.M.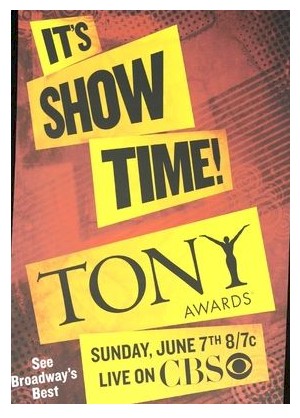 Neil Patrick Harris is rehearsing his big surprise 11:00 number. That would be Neil Patrick Harris, a.k.a. NPH - yes, Doogie Howser, M.D. all grown up now - who's hosting. The multiple Emmy and Golden Globe nominee is Tony's youngest host. He just wrapped another hit season as Barney Stintson on CBS' sit-com How I Met Your Mother.
Since his early teens, NPH's been a TV and movie staple. However, he's no novice onstage. He made his Bway debut during the run of Proof, went on to play the emcee in Roundabout's Cabaret revival, and appear in a 2001 Sweeney Todd... TV concert. Harris got props for his portrayal of Lee Harvey Oswald in Roundabout's revival of Sondheim's Assassins and for the movie Prop 8: The Musical. West Coast stage work includes Rent and All My Sons.
Many thought going with Harris, instead of a Hugh or Whoopie, was a wild card choice. However, with NPH's winning personality, wicked sense of humor and the fact that he's been known to have a lot of tricks - up his sleeve! [you know he's also a magician], he has the ability to add freshness to the proceedings and draw that social-networking audience.
There'll be enough A+-List smiles on the program to boost Con Ed's output for the long, hot summer. Providing backup will be presenters Lucie Arnaz, Kate Burton, Kristin Chenoweth, Jeff Daniels, Hope Davis, Edie Falco, Will Ferrell, Carrie Fisher, Jane Fonda, Hallie Foote, James Gandolfini, Lauren Graham, Marcia Gay Harden, Nicole Kidman, Anne Hathaway, Jessica Lange, Frank Langella, Angela Lansbury, Audra McDonald, David Hyde Pierce, Oliver Platt, Susan Sarandon, Kevin Spacey, John Stamos and, among others, Chandra Wilson.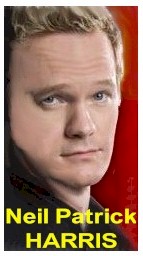 Entertainment will showcase performances from the Best Musical and Best Revival, Musical nominees, Dolly Parton and her 9 to 5 cast, Elton John, Liza Minnelli and the band Poison - plus numbers from three touring productions - Jersey Boys, Legally Blonde and Mamma Mia!
TonyAwards.com will present a live webcast of the creative awards presented before the telecast begins with Tony winners Laura Benanti and Brian Stokes Mitchelll hosting.

For the first time ever, the entire program will be simulcast live on Times Square's jumbo ClearChannel Spectacolor HD Screen from 7 P.M. There'll even be Tweetering, from Mark Indelicato [Ugly Betty], working with TonyAwards.com to do backstage and behind-the-scenes coverage. Follow the Tweeter at Twitter.com/TheTonyAwards.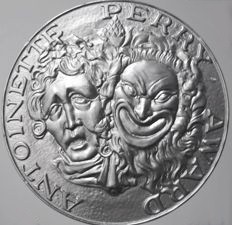 New this year is the Thank-you Cam, a live feed from the Music Hall wings to catch winners' immediate responses as they exit the stage. There's no planned No Thank-you cam to capture the disappointment os those just thrilled to be nominated.
TheatreMania.com editor-in-chief Brian Scott Lipton will blog from the press room, adding his unique and fun perspectives.
There's another first this season. Billy Elliot made history as the only show to have a trio of performers - David Alvarez, Trent Kowalik and Kiril Kulish - share the same role as a single nomination. There've been instances where more than one performer was considered jointly for a single nomination, as in 1998's brilliant, but short-lived Side Show where Next to Normal Best Actress nominee Alice Ripley shared a nomination with Emily Skinner, who played her Siamese twin.
BE, with 15 nominations, has matched the record set in 2001 by The Producers, which went on to win 12 trophies - also a record. Will Billy do as well? It seems to be the fav.
In what's certainly a rare occasion, God of Carnage's entire cast - Jeff Daniels, Hope Davis, Marcia Gay Harden and James Gandolfini - received Tony nods in the Best Leading Actor/Actress, Play categories.
Angela Lansbury and Stockard Channing racked up their sixth Tony nom - Ms. Lansbury for her exuberant portrayal of psychic Madame Arcati in Blithe Spirit; Ms. Channing for her savvy, sexy Vera Simpson in Pal Joey. The recordholder is Julie Harris, with 10.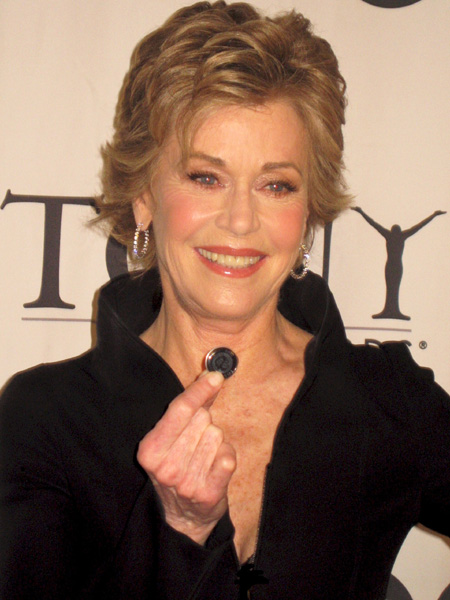 Jane Fonda received her first Tony nom in 1960, for a featured role in the play There Was a Little Girl;and, after a 49-year gap, she's nominated again for her portrayal of an obsessed and dying musicologist in Best Play nominee 33 Variations.
Raúl Esparza and Martha Plimpton have been nominated three times in three consecutive years: He for this season for the revival of Speed-the-Plow, last season's revival of The Homecoming and the 07 Company revival; and she for Roundabout's revival of Pal Joey, last season's Tom Stoppard's The Coast of Utopia; and Top Girls [2008].
Haydn Gwynne and Carole Shelley are nominated in the Featured cat for Billy Elliot. It's Gwynne's first, and Miss Shelley's fourth [she won '79's Actress, Play for Elephant Man].
B.E. Featured nominee Gregory Jbara seemed to be more excited about his three Billys being nominated and, competing against him, young David Bologna [who plays the Billys' friend Michael]. "The boys are on Cloud 9," beamed Jabara, "and we're on Cloud 9 for them. The [Tony] nominating committee went up another notch in our hearts."

Martha Plimpton, Featured Actress, Musical, nom, said of her singing/dancing role as Gladys Bumps in Pal Joey, "Oh, where do I begin? It was terrifying and exciting - all at the same time."
To most observers, the Tony nominators got their nods for Hair co-stars Will Swenson and Gavin Creel ass backwards. Swenson, who plays Burger and seems to dominate the production, was nominated as Featured Actor, and Creel, who plays Claude, as Actor.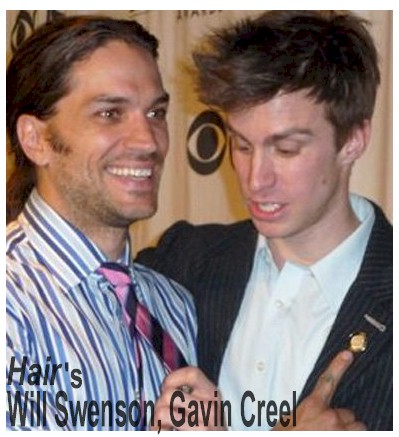 However, that hasn't affected their "mutual admiration society," says Swenson. Touching him tenderly, Creel [Thoroughly Modern Millie], beams, "Will's my man. He's the only man for me." Swenson responded, "That's fine with me."
Swenson, asked if he'd been threatened with arrest yet for accosting any audience members with various members of his body or for sitting in their laps, replied, "No, but there've been some angry people. They get over it quickly." Quips Creel, "They can't help it. Will's personality is overwhelming."
Zack Grenier, nominated as Featured Actor, Play, for his portrayal of Beethoven in 33 Variations, observes of star Jane Fonda, "She's was such a community spirit. Charming, disarming. She never pulled any rank. She knew that when you're really searching for the truth, you do your best work. It was a challenge to come back to the stage after so many years, and she did it with an incredible amount of bravery."
On developing his character, he explained that since 33 Variations isn't the definitive story of Beethoven, "It wasn't biographical so you didn't have to be point on. [Director and writer] Moises Kaufman gave me free rein. I absorbed all I could and dug deep down where the character and I met. Playing a genius wasn't something I could think about, because I'm not a genius."
Choreographer Randy Skinner, up for a third nomination for his work on White Christmas, explains, "I had a ball working with these wonderful Irving Berlin songs. His music simply makes you want to dance. My goal was to bring that joy to the show. I was able to do ballroom, jazz and tap to achieve styles that were part of the 50's. That's what [director] Walter [Bobbie] wanted from all departments."
CBS closely adheres to the bottom line, so seven categories - Scenic Design, Play and Musical; Costume Design, Play and Musical; Lighting Design, Play and Musical; and Orchestrations - will be presented pre-broadcast and later recapped.
On the Tony web site, with features content from Playbill, you can enjoy video interactive features such as mobile alerts, access acceptance speeches, winners' thoughts on winning a Tony, an archive of nominees and winners from 1947, Tony trivia and a detailed profile of Antoinette Perry, namesake of the Awards.
The Tonys are co-presented by the Broadway League. Tony partners include Visa, Continental Airlines and Sprint.
~~Photos by BARRY GORDIN except Neil Patrick Harris~~

Have You Voted? Nomination Highlights
A complete list of the nominations appears at TonyAwards.com, where you can download a printable ballot.

Play
Dividing the Estate, Horton Foote
God of Carnage, Yasmina Reza
Reasons to Be Pretty, Neil LaBute
33 Variations, Moisés Kaufman

Musical
Billy Elliot
ext to Normal
Rock of Ages
Shrek
Book
Billy Elliot, Lee Hall
Next to Normal, Brian Yorkey
Shrek, David Lindsay-Abaire
[Title of Show], Hunter Bell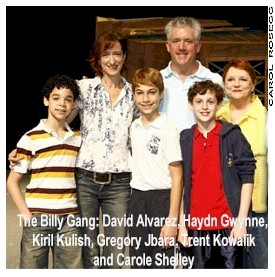 Score
Billy Elliot, Music: Elton John, Lyrics: Lee Hall
Next to Normal : Music: Tom Kitt, Lyrics: Brian Yorkey
9 to 5, Music and Lyrics, Dolly Parton
Shrek, Music: Jeanine Tesori, Lyrics: David Lindsay-Abaire

Revival, Play
Joe Turner's Come and Gone,
Mary Stuart,
The Norman Conquests
Waiting for Godot

Revival, Musica
Guys and Dolls
Hair
Pal Joey
West Side Story
Actor, Play
Jeff Daniels, God of Carnage
Raúl Esparza, Speed-the-Plow
James Gandolfini, God of Carnage
Geoffrey Rush, Exit the King
Thomas Sadoski, Reasons to Be Pretty

Actress, Play
Hope Davis, God of Carnage
Jane Fonda, 33 Variations
Marcia Gay Harden, God of Carnage
Janet McTeer, Mary Stuart
Harriet Walter, Mary Stuart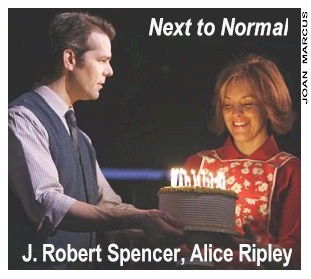 Actor, Musical
David Alvarez, Trent Kowalik and Kiril Kulish, Billy Elliot
Gavin Creel, Hair
Brian d'Arcy James, Shrek
Constantine Maroulis, Rock of Ages
J. Robert Spencer, Next to Normal
Actress, Musical
Stockard Channing, Pal Joey
Sutton Foster, Shrek
Allison Janney, 9 to 5
Alice Ripley, Next to Normal
Josefina Scaglione, West Side Story

Featured Actor, Play
John Glover, Waiting for Godot
Zach Grenier, 33 Variations
Stephen Mangan, The Norman Conquests
Paul Ritter, The Norman Conquests
Roger Robinson, Joe Turner's Come and Gone

Featured Actress, Play
Hallie Foote, Dividing the Estate
Jessica Hynes, The Norman Conquests
Marin Ireland, Reasons to Be Pretty
Angela Lansbury, Blithe Spirit
Amanda Root, The Norman Conquests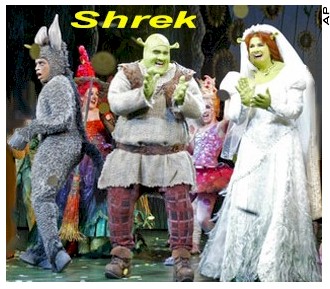 Featured Actor, Musical
David Bologna, Billy Elliot
Gregory Jbara, Billy Elliot
Marc Kudisch, 9 to 5
Christopher Sieber, Shrek
Will Swenson, Hair
Featured Actress, Musical
Jennifer Damiano, Next to Normal
Haydn Gwynne, Billy Elliot
Karen Olivo, West Side Story
Martha Plimpton, Pal Joey
Carole Shelley, Billy Elliot
Director, Play
Phyllida Lloyd, Mary Stuart
Bartlett Sher, Joe Turner's Come and Gone
Matthew Warchus, God of Carnage
Matthew Warchus, The Norman Conquests
Director, Musical
Stephen Daldry, Billy Elliot
Michael Greif, Next to Normal
Kristin Hanggi, Rock of Ages
Diane Paulus, Hair

Special Tony Awards
Jerry Herman, Lifetime Achievement in the Theater
Signature Theatre, Arlington, VA, Regional Theatre Award
Phyllis Newman, Isabelle Stevenson Award
Shirley Herz, press agent, Excellence in the Theater

Sidebars
The Norman Conquests Cast
Jessica Hynes and Stephen Mangan, nominated in the Featured cats for the hit revival of The Norman Conquests , spoke of the chemistry of working with their cast members, Amelia Bullmore, Ben Miles, Paul Ritter and Amanda Root. ."It just wouldn't have the same effect without such a strong ensemble," says Mangan
The cast won a Drama Desk Outstanding Ensemble Performance Award, which, Mangan notes, "as wonderful as it is for Jessica and I to be Tony-nominated, that's something we're incredibly proud of. We've been together a year, which brings it's own rewards. You get to know your mates well, which deepens the relationship onstage."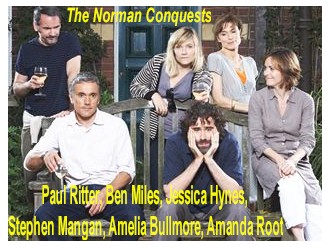 Hynes spoke of the contribution of director Matthew Warchus [who's up against himself since he's also nominated for God of Carnage]. "He had a great influence on how we work together by manipulating our relationships with each other and thereby creating feelings." Laughs Mangan, "You grow to feel something about them, even if it's contempt!"
The big surprise at every performance, he points out, is "never knowing how an audience will respond. At one performance, they look at you with warmth; at another, with disdain. That switches back and forth throughout the trilogy for me. They're constantly falling in and out of love with Norman. Love him, hate him. I love that!"
The trilogy, Mangan explains, needs all the performances to work in sync "or the whole thing falls apart. It's not a question of the star wandering down stage and spouting a soliloquy. Being in the round emphasizes that even more. When you're onstage, up close and personal surrounded by a sea of audience, you need and rely on each other. The show lives and dies on all of us. Now, if I should by some miracle win Best Featured Actor, I won't be mentioning them!"

Diane Paulus, Director, Hair


Of her Hair revival, director Diane Paulus says her goal was to bring the show very high energy. "I'd never seen it onstage, but had seen the film and, of course, knew the music, so working on the show was a very pure experience. I had an inner dream of what it should feel like. I wanted to represent the 70s in a passionate and truthful way and stay away from a tie-die, urban outfitter, campy show. It was important to get to the heart of it, inside out. I tried to transmit that in every choice I made."

"No one was prepared for the effect the show would have," she says. "Not only on those who know the era but also young audiences. For the finale, 'Let the Sunshine In,' when castmembers invite audience members onstage to dance and sing. We've had people in their 70s and 80s, Vietnam and Gulf War veterans, people on walkers and crutches, a blind person with their seeing eye dog, people in wheelchairs lifted onto the stage. I love that because it's not about exhibitionism but about inclusion and community, about people saying 'I've been moved.'"

Down Tony Awards Memory Lane
Who Was This Tony, Rather Toni, The Namesake of the Tony Tony Awards?
Toni was the nickname of beautiful Denver actress Antoinette Perry, who, after several years playing ingÈnues on Broadway, turned to producing and directing in an era when women in the theater were relegated to acting, costume design, or choreography. The success of the same named home permanent product that was the subject of a huge media blitz caused her to change the i to a y. When she decided to move from acting and become a producer and director, she became a theatrical trailblazer for women.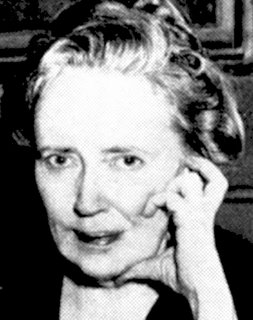 Well into the 70s, Miss Perry was the only woman director with a track record of hits. Today, she's all but forgotten. In her prime, she showed innovative theatrical instincts and scored an enviable roster of hits - producing and often directing 17 plays in 13 years. In one month in 1937, according to her daughter Margaret, Miss Perry directed and produced three productions, "once rehearsing in our Fifth Avenue living room while peeling peaches for preserves."
Among her impressive hits were Personal Appearance [1934] and Claire Boothe's Kiss the Boys Goodbye [1938], a spoof of the search for Scarlett O'Hara for the film adaptation of Gone with the Wind. The latter had a stellar cast, including Benay Venuta, a perennial star of stage and screen [who died in 1995].
"Tony was rather a theatrical pioneer," said Miss Venuta, "in that she made a huge impact as a producer and director in an era of male theatrical powerbrokers. She was successful and success either earns you envy or respect. In Tony's case, it was both, but I never heard her criticized on the basis of being a woman."

In Memoriam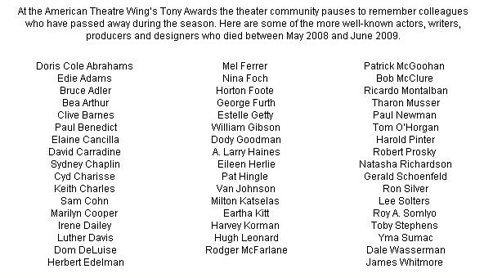 From the Discussions Archive: The Understudy Gets the Nomination
Larry Kert of West Side Story fame, wasn't nominated for a 1958 Tony for his Tony in WSS. However, he holds the distinction of being the only cast replacement to be Tony-nominated - in 1971 for Best Actor, Musical for his Bobby in the original Company.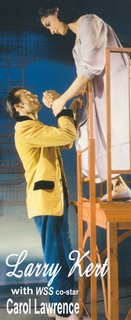 He won that honor over opening night star Dean Jones, who a little over two weeks into the show and after recording the cast album, pulled out. It was agreed to state he was ill. Because of a bitter divorce from his wife of 17 years, Dean was depressed and found a show about hard-edged, unromantic relationships too painful.
The Tony Administration Committee ruled not enough nominators caught Jones, whose reviews as Bobby could have established him as a major Bway player after such Disney fare as That Darn Cat! and The Love Bug.
"It was a crowning glory moment," said Kert. "We never understood what the thinking was when Carol [Lawrence] was nominated in the Featured category* for West Side Story and Chita and I were totally overlooked. It was downright puzzling. So, being nominated for Company was sweet, indeed."
[* In another mindboggler, Barbara Cook, MM's co-star, was nominated in the Featured category.]
WSS, put together by a quartet of theatrical genuises [Robbins, Bernstein, Sondheim and Laurents - and produced by Hal Prince], was nominated for six Tonys, including Best Musical [losing to The Music Man]. It won for Choreography and Set Design. In a seemingly purposeful snub, only Meredith Wilson was nominated in the score category. He won!
When Kert opened in Company on the West End, Columbia Records took him into the studio and had him record the Bobby tracks for the cast album; however, listen closely, and you can hear Jones on the duet harmonies. Later, on a remastered reissue, Kert was featured on a bonus track, singing "Being Alive."
Kert died June 5, 1991, three days after the Tony Awards. Amazingly, Kert has never been named to the Theater Hall of Fame.

Do You Know:
1. What now famous composer was rehearsal pianist for the original production of Styne/Sondheim/Laurents Gypsy?
A. Cy Coleman
B. Jerry Herman
C. John Kander
D. Frederick Loewe
E. Charles Strouse
2. Which of these one-word play titles took Best Play Tony Awards?
A. Art
B. Closer
C.Copenhagen
D. Da
E. Equus
F. Seascape
3. Which of these one-word musical titles took Best Musical Tony Awards?
A. Carnival!
B. Fiorello!
C. Gypsy
D. Hair
E. Mame
F. Redhead
4. Which actresses tied for the coveted Tony Award for Best Actress in a Musical in 1968?
A. Barbara Harris, The Apple Tree; and Mary Martin, I Do! I Do!
B. Julie Harris, Skyscraper; and Angela Lansbury, Mame
C. Angela Lansbury, Dear World; and Dorothy Loudon, The Fig Leaves Are Falling
D. Mary Martin, The Sound of Music; and Ethel Merman, Gypsy
E. Patricia Routledge, Darling of the Day; and Leslie Uggams, Hallelujah, Baby!
5. He won a Tony for his performance in Jerome Robbins' Broadway but never won an Emmy for his most famous TV character. Who is he?
A. Jason Alexander (George Costanza, Seinfeld)
B. Simon Cowell (Mean judge, American Idol)
C. John Goodman (Dan Conner, Roseanne)
D. Andy Griffith (Andy Taylor, Andy Griffith Show)
6. In 2003, Vanessa Redgrave in Long Day's Journey Into Night became one of a handful of actresses to have won a Tony, an Emmy and an Oscar. Who else can boast that?
A. Paula Abdul
B. Patty Duke
C. Rita Moreno
D. Rosie O'Donnell
E. Joanne Woodward
7. Who is the only Tony to have hosted the Tony Awards since the first national telecast in 1967?
A. Tony Bennett
B. Tony Curtis
C. Tony Martin
D. Tony Danza
E. Tony Randall
8. Three sets of family members have been Tony-nominated in the same category in the same year. Which duo below is not correct?
A. Tammy Grimes and daughter Amanda Plummer, 1982
B. Rosemary Harris and daughter Jennifer Ehle, 2000
C. Lynn Redgrave and niece Natasha Richardson, 1993
D. Debbie Reynolds and daughter Carrie Fisher, 1973
E.Richard Rodgers and daughter Mary Rodgers, 1960

>[Answers appear below]<

Remembering the Season
You can take home musical treasures of the season. Just released or eminent are the cast CDs of Hair [Ghostlight, SRP $19], with 37 tracks; and West Side Story [MasterworksBroadway, SRP $19], which features the original orchestrations and a 30-piece orchestra. Both have colorfully illustrated booklets. WSS's contains all the Sondheim lyrics.
Recently released: Next to Normal [Ghostlight, two discs; SRP $22]; Shrek [Decca Broadway; SPR $19], in an innovative quad photo layout fold. Surprises include ringtone downloads and character stickers; Liza's at the Palace [Hybrid, two discs; SRP $20]; and The Toxic Avenger[Time-Life; SRP $18], All have illustrated booklets with notes and, except LATP, complete lyrics.
Also available is the short-lived The Story of My Life [PSClassics, SRP $20]. Upcoming July 7 is the cast CD of the season's sleeper hit, Rock of Ages [NewLine; SRP $19].
Lost Treasures from Broadway
Anyone interested in the archives of great performances from the Tony Awards, including the early shows produced by Broadway impresario Alexander Cohen [through 1986] will enjoy excerpts from those telecasts presented on Broadway's Lost Treasures. Acorn Productions has issued a boxed set of Volumes 1-3 [SRP, $60].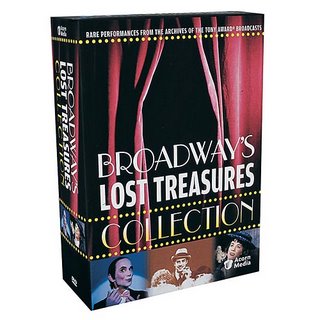 Volume 3, for example, is a motherlode of rare Broadway moments: 23 production numbers, including the company of the lavish revival of 42nd Street ["We're In the Money"], Gwen Verdon performing "Whatever Lola Wants" from Damn Yankees with, among others, an eight minute tribute to Ethel Merman, Julie Andrews medley and numbers from Fosse, Funny Thing..., How Now Dow Jones, Into the Woods, Kiss Me Kate, Peter Pan, Ragtimeand WSS.
A bonus DVD has rare excerpts from 18 nominated Best Plays featured on Tony telecasts. Highlighted are Jane Alexander, Philip Bosco, Art Carney, Charles Dutton, Morgan Freeman, Victor Garber, James Earl Jones, Linda Lavin, John Lithgow, Brian Stokes Mitchell, Gary Sinise and Maggie Smith.

Sing for Tony Tickets at Macy's
You want free Tony Awards tickets? Macy's got 'em. You just have to sing for them this evening. If you're a golden-voiced Broadway baby or think you could be a contender for Broadway Idol, show up at the Herald Square store as early as possible for the first 25 on line get a chance to win two tickets and a load of other prizes.
Beginning at 5 P.M., in the Main Floor Fragrance Arcade, contenders will be asked to step up to the mic and Sing For Your Tony Tickets, selecting a tune from a list of 25 favorites. Judges are Tony-winner Priscilla Lopez [ACL] and Tony-nominee Olga Merediz, both from 2008's Best Musical, ITHs, and Laura Osnes and Tony nom Danny Burstein, stars of the 2008 Best Musical Revival, SP.
The judges' pick will compete with other Macy's semi-finalists for Tony tickets, a NYC weekend, $1,000 Macy's card and the opt to join Seth Rudetsky of Sirius/XM's On Broadway channel.
You don't have to sing to win other prizes, just spend. Any $150 Macy purchase during the event nets a pair of tickets to ITH or SP.

_______________________________________

[Answers: 1. C; 2. A,C,D and E; 3. B and F ; 4. E; 5. A; 6. C; 7. E; 8. C and E.]
Ellis Nassour is an international media journalist, and author of Honky Tonk Angel: The Intimate Story of Patsy Cline, which he has adapted into a musical for the stage. Visit www.patsyclinehta.com.

He can be reached at [email protected]





Why are you looking all the way down here?
For more articles by Ellis Nassour, click the links below!

Previous: The Road to the Tonys; Awards Telecast on CBS June 7; Heights in Depth on Great Performances; Bring Home Brenda Leigh [on DVD]

Next: What You Didn't See at the Tony's; Quinn's Gimmick; Marilyn's Mercer; Debbie Does the Friars; The Queen Salutes Young Playwrights; Broadway 1970; Theodore Bikel; The Wiz; Chess; Off Broadway's Temperamentals Reopens; New to CD, DVD; More

Or go to the Archives