The three hours and four minutes of the 63rd Annual Tony Awards on TV, courtesy of CBS, was crammed with spectacular musical numbers from the nominated shows, revivals and three touring shows. But what you didn't see were some short videos which kept the Radio City Music Hall audience entertained during the endless round of commercials that help put the show on the air.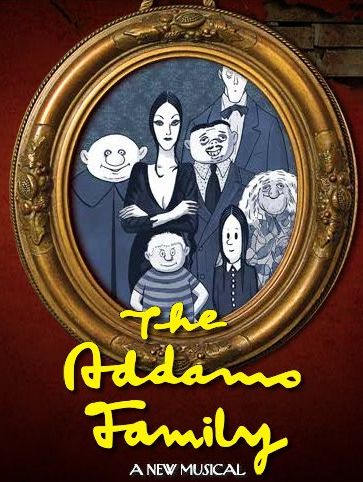 There was a preview video of shows coming to Broadway next season, such as Andrew Lippa and [Jersey Boys] Marshall Brickman and Rick Elice's The Adams Family, starring Nathan Lane and Bebe Neuwirth and which is set to open in April with direction and design by Phelm McDermott and choreography by Sergio Trujillo; and, arriving from Seattle, the revue about the birth of rock 'n' roll in Memphis, which will rock the Shubert beginning in early Fall.
Jerry Lee Lewis, Carl Perkins, Elvis and Johnny Cash, or the characters portraying them, performed songs from Million Dollar Quartet, the revue that memorializes a 1956 Memphis jam session put together by Sun Records producer Sam Phillips. The show premiered in Seattle and is currently a hit in Chicago.
The video that got the most response was the one of the cast members from Shrek: The Musical in costume auditioning for their roles, but auditioning and singing quite inappropriate songs in such a way that they would have never gotten the roles.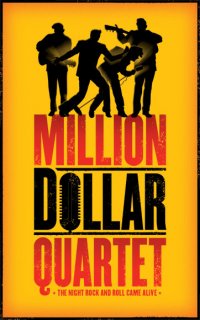 Then there were the hilarious Times Square auditions, taped especially for the Tonys, that featured the Naked Cowboy, placard-carrying hawkers promoting shows, tourists and denizens around the TKTS booth.
Another video sequence showed TV commercials of such past Broadway shows as the acclaimed 1992 Guys and Dolls revival, the 1980 West Side Story revival, Timbuktu, which starred a preening, purring Eartha Kitt and the 1997 Hair revival.
There were also two drawings for lucky audience members who won classic Swiss jeweled Audemars Piguet watches worth several thousand dollars. It was unknown if bodyguards were provided to protect them on the way home.

Tony Ratings Bump
Mr. Charm, host Neil Patrick Harris, brought some good vibes and good luck to the telecast. He and, no doubt the spectacular 11-minute opening production number of excerpts from nominated musicals and revivals and the hoopla surrounding Hair, broke the decade-long decline in ratings by posting the highest Neilsens since the 2006 hostless broadcast.
CBS was handsomely rewarded for network chief Les Mooves' loyalty to the Tonys; however it wasn't quite as huge a bum as poor Bret Michaels suffered, but the telecast posted a double digit percentage gains in viewers and key demographics over last year. It was the best showing since 2006 and an increase of nearly 20% over last year's broadcast. TonyAwards.com, in partnership with IBM, reported that website traffic was up by 57% on Tony night.
Over 1,000 people gathered in Times Square for the first ever live Tony simulcast on the jumbo ClearChannel Spectacolor HD Screen. That event, in partnership with the Times Square Alliance and the City of New York, was hosted by WCBS anchor Katie McGee, and four-time Tony nom Tovah Feldshuh. Unlike viewers at home, they got to see the presentation of the 11 Creative Art Awards.
There was some contention that a couple of those awards, such as Book and Choreography, would have been better served on the actual telecast by trimming some of the tour musical numbers. Of course, one of the goals of the Tonys is not only to fill Broadway seats but also seats on the road and regionally.
Check out the winners of the Tony Award photo contest at TonyAwards.com.

WSS Signing and Performance
Cast members of the Tony and Drama Desk-nominated hit revival of West Side Story, fresh from being outstandingly showcased on the Tony Awards, will be performing live on Thursday and signing the just released cast Sony Masterworks Broadway CD at Barnes & Noble, Lincoln Triangle [Broadway and 66th Street]. Among the stars onhand at 4:30 will be Matt Cavenaugh, Josefina Scaglione, Karen Olivo, Cody Green, George Akram and Curtis Holbrook. Seating is limited, so arrive early.

She's Back, but Not Rita Anymore
Let Quinn Lemley entertain you and you'll have a real good time. After her hit tour as Rita Hayworth in The Heat Is On, the ab fab Lemley returns to NYC and B.B. King's launching a new Vegas-style show, Got to Get a Gimmick: Burlesque to Broadway, on Wednesday, one night only at B. B. King's Times Square club.

The vivacious, sizzling Lemley, soon to be seen opposite Bette Midler and Nora Jones in The Greatest Ears In Town - The Arif Mardin Story [based on the life of the legendary music producer], is "an innocent mid-western girl who comes to New York seeking fame and fortune and discovers her gimmick through the world and music of burlesque."
Lemley co-wrote the show, "inspired by the outrageous Gypsy Rose Lee, other icons of burlesque, Ziegfeld's Follies with a little Bette Midler for good measure," which she's been developing over the last year.
She says, "It's high-energy, fast-paced and, of course, sexy. It's very demanding in terms of choreography and musical numbers. There's plenty of humor, too. Audiences have been very responsive and I'm hoping lightning will strike twice at B.B. King's , where I had incredible audience for The Heat Is On."
Some of the songs Hep Cat recording artist Lemley performs in the two-act revue are "The Stripper," "Let Me Entertain You," "Zip," "If You've Got It, Flaunt It!" - "a quartet of songs," she says, "that are apt for this show" - "Big Spender," "Ten Cents a Dance," "My Heart Belongs to Daddy," "You Don't Own Me," "Girls Night Out," "She's a Lady" and, of course, "You Gotta Get a Gimmick."
Jamie Jackson, who appeared in the national tour of Dirty Rotten Scoundrels, is the everyman burlyque comic. Gina Marie Trello and Elaine Hayhearst are the additional beautiful girls wearing sequins, feathers and not much else. Thom Garvey directs, with choreogrpahy by Jill Gorre. David Epstein music directs a nine-piece orchestra.
Ticket are $30 [no minimum required] and are available at the B.B. King box office, TicketMaster locations, by phone at (212) 307-7171 or at www.ticketmaster.com. Doors open at 6 P.M., for dinner and drinks. Showtime is 8. For more information, visit www.gottagetagimmick.com.

Marilyn Salutes Johnny Mercer
After engineering one of the most exciting late-career surges ever, the unstoppable Marilyn Maye returns to the Metropolitan Room in Mercer: the Maye Way on Friday at 7:30 P.M. for nine shows, paying tribute to one of her greatest influences, lyricist Johnny Mercer. Tedd Firth leads Miss Maye's three-piece combo that includes Jim Eklof [her drummer for more than 40 years] and Tom Hubbard on bass.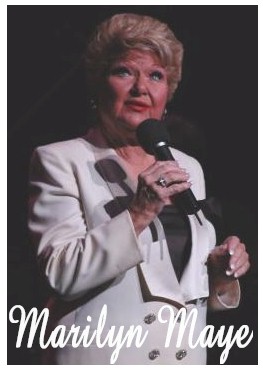 "Johnny's contributions to the Great American Songbook and the American vernacular," says Miss Maye, "are so seminal as to seem ingrained in our collective unconscious. On the centenary of his birth, I wanted to celebrate his prolific gift for artfully encapsulating so much with seemingly so little."
Miss Maye has won two consecutive Nightlife Awards for Outstanding Cabaret Vocalist in a Major Engagement, a Back Stage Bistro Award for Lifetime Achievement and a MAC Celebrity Award. She's also the subject of a documentary by Beck Lee.

During the first phase of her career, where she became Johnny Carson's favorite singer [appearing on The Tonight Show76 times!], Miss Maye was nominated for a 1965 Best New Artist Grammy. She had seven RCA albums and 34 singles; and was first to introduce numerous showtunes, including "Cabaret," "Step to the Rear," "Sherry" and "If My Friends Could See Me Now." Her recording of "Too Late Now" was selected by the Smithsonian as one of the 100 Best Recordings of the 20th century.

The cover for Mercer: the Maye Way is $30 plus two beverage minimum. For reservations, call (212) 206-0440 or go online at www.metropolitanroom.com.

Monday Is the New Saturday
Remember when Monday was the dark day of rest. Not any more.

Debbie Reynolds Wish Fulfilled
On Monday, legendary film star and Tony nominee Debbie Reynolds, currently wowin' 'em through June 27th at Cafe Carlyle, will take time to fulfill a lifelong dream - to become a Friar.
"In Hollywood, in the heyday of the L.A. branch of the Friars," says Miss Reynolds, "I was surrounded by Friars in the entertainment business. I even had a husband who was a Friar [Number Two, Harry Karl], so it was something I found very appealing."
There was a problem. At that time, the Friars didn't accept women. That changed in 1988, but the L.A. branch gradually faded into oblivion.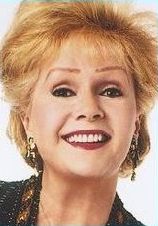 Dean Freddie Roman, hearing of Miss Reynolds' wish, will be inducting her as an honorary Friar at the New York club on East 55th Street, where women are not only members but where several of them are anchors of the club. The occasion will be a luncheon, followed by an interview and audience Q&A. Friar Randie Levine Miller is producing. [Broadway Stars own Ellis Nassour will conduct the interview.]
From the late 50s into the late 60s, Debbie Reynolds was voted one of Hollywood's top stars. She has many claims to fame - playing opposite Gene Kelly and Donald O'Connor in Singin' in the Rain; being married to and famously divorced from Eddie Fisher; losing a fortune to pay off second husband Karl's gambling debts; surviving playing opposite Bette Davis in June Bride and The Catered Affair; and her recurring, Emmy-nominated role as Debra Messing's mother on sit-com Will and Grace.
Earlier she introduced the unsophisticated Mississippi bumpkin who falls in love in Tammy and the Bachelor [her recording of "Tammy" became an international hit]; and portrayed Sister Ann in The Singing Nun. Then there was her Oscar-nominated role in Meredith Wilson's The Unsinkable Molly Brown, which she toured regionally after it was adapted for the stage; her Tony-nominated Broadway debut in the 1973 revival of Irene; and a return to Broadway to replace Lauren Bacall in Woman of the Year.
And, as she proudly states in her show, "many of you will know me as the mother of Princess Leia," Carrie Fisher [who incidentally will be on Broadway, beginning in September, at Roundabout's Studio 54 starring in the stage adaptation of her book Wishful Drinking.]
To catch Miss Reynolds at Cafe Carlyle [35 East 76th Street at Madison Avenue], there's a cover charge [no minimum required]. For reservations, call (212) 744-1600 or visit www.thecarlyle.com. Show times are Tuesday-Thursday at 8:45 P.M. [$50-$100] and Friday at 8:45 and Saturday at 8:45 and 10:45 [$75-$150]. Gentlemen, jackets required.

All Hail the Queen
Fidelity Investments in partnership with the Tony and Drama Desk-winning Billy Elliot: the Musical, the Viertel/Frankel/Baruch/Routh Group, Learning through an Expanded Arts and Camp Broadway have lured entertainment icon Queen Latifah to host Monday's Fidelity FutureStage 2009 young playwrights finale at Broadway's Imperial Theatre, home of Billy Elliot. At 7:30 P.M., six student plays will premiere.
Participants from 10 NY/NJ schools submitted more than 500 ten-minute plays reflecting themes from Billy Elliot. The selection panel included David Henry Hwang, casting director Megan Larche and FutureStage finale director Michael Bush.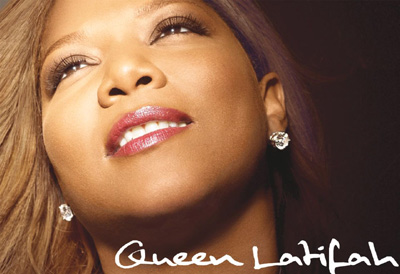 "This is a fabulous, once-in-a-lifetime opportunity to become Broadway's youngest playwrights," said Queen Latifah. "I'm so happy to help them celebrate a night they'll always remember."
The winning play will be selected by the Tony and DD-winning Billy Elliot team of book writer Lee Hall, producer Jon Finn, resident director B.T. McNicholl and the show's co-star Gregory Jbara (Dad). The plays will be published by Samuel French.
Fidelity FutureStage is in its third year of bringing theater to 600+ students in inner-city schools. The year-long curriculum affords students the opportunity to learn from playwrights, directors, designers, actors and experience their work being performed on a professional stage.
Among the artists lending support are Charles Dutton, Raúl Esparza, William Ivey Long, Kathleen Marshall, Alan Menken, Lin-Manuel Miranda, Chazz Palmintari, David Hyde Pierce, David Strathairn, Charles Strouse and Jerry Zaks.

For more information, visit www.FutureStage.com.

Broadway: 39 Years Ago
Town Hall will present songs from Applause, Company, Minnie's Boys, Purlie, The Rothschilds, Two by Two and many more shows as Broadway Musicals of 1970, created, written and hosted by Scott Siegel [Broadway Unplugged], takes the T.H. stage Monday at 8 P.M. The concert concludes the acclaimed series' ninth season.
Directing, choreographing and co-starring will be Jeffry Denman. Other artists include Nightlife and MAC Award winner Scott Coulter, Darius de Haas, Stephen DeRosa, Tony-nom Melissa Errico, Cheryl Freeman, tap dancer extraordinaire Kendrick Jones, Sahr Ngaujah, Christiane Noll, Meredith Patterson, Martin Vidnovic and Max von Essen. Ross Patterson is musical director, conducting his Little Big Band.
"The music from Broadway circa 1970 is one of the great collections of show tunes from any of the later years," said Siegel. "We intend to bring it back to life, and we've assembled the cast that can do it and put on a spectacular show."
Tickets are $45 and $50 and available at the Town Hall box office, online at www.ticketmaster.com or by calling (212) 307-4100. BBTY is supported by Bank of America and the Edythe Kenner Foundation. For more information, visit
www.the-townhall-nyc.org

Hootenanny For A Jolly Good Fellow!
A varied, star-studded roster of artists will gather Monday at Carnegie Hall in a birthday salute Broadway legend and social justice advocate Theodore Bikel, veteran concert and recording artist and the original Captain Von Trapp in Rodgers and Hammerstein's The Sound of Music. Proceeds from Theodore Bikel: The First 85 Years will benefit the Juvenile Law Center, the non-profit law firm dedicated to the child welfare and juvenile justice.
Honorary committee co-chairs include Barbara Cook, Frank Langella, Pete Seeger and Elie Wiesel. Onstage will be Alan Alda, David Amram, Beyond the Pale, Artie Butler, Patricia Conolly, Arlo Guthrie, Rosemary Harris, Judy Kaye, Tom Paxton, Serendipity 4 [featuring Mr. Bikel], Noel Paul Stookey and Peter Yarrow [of Peter, Paul and Mary].
Bikel, an unrelenting advocate for peace, human rights, and social justice for more than 50 years. "I've allied myself with others whose use guitars, banjos, fiddles and words to conquer fear and injustice," he said. "There's no better way to celebrate my life than with a night of music with some of my dearest friends, and no more deserving a use than protecting the rights of our nation's most vulnerable children."
He made his Carnegie Hall debut in 1956 and went on to forge an extraordinary career as a musician, actor and activist. Stage/screen credits include The African Queen and the groundbreaking The Defiant Ones . He's performed Fiddler on the Roof's Tevye more than 2,000 times and currently stars in a
tour of Sholom Aleichem: Laughter through Tears.

Tickets are $30-$500 and available at the Carnegie Hall box office or online at www.jlc.org./bikel. The high-end ticket affords attendance at the pre-show VIP
reception.

Checkmate Triangle
Tim Rice, Benny Andersson and Björn Ulvaeus' 1986 cult musical Chess and its recent spectacular concert staging at London's Royal Albert Hall will be presented on PBS' Great Performances June 17 at 8 P.M. Among the stars are Josh Groban, Idina Menzel and Adam Pascal. The musical's rich score includes "I Know Him So Well," "One Night in Bangkok" and "The Anthem." The concert will be broadcast in HD and 5.1 digital surround sound. David Firman music directs the 50-piece City of London Philharmonic and the 100-voice West End Chorus.
The musical, set against the U.S./Soviet Union cold war and an East/West chess championship, is the story of the romantic triangle that develops between Anatoly, the Russian [Groban] and Freddie, the American [Pascal], competitors and Florence [Menzel], who manages one and falls in love with the other.
Andersson and Ulvaeus are part of ABBA and Rice, of course, is lyricist for Jesus Christ Superstar and Evita.
Reprise is releasing Chess in Concert as a two-CD set, a single audio CD and DVD. A three-disc Special Edition, which includes the CD set and DVD, is available exclusively through Groban's website, www.joshgroban.com, his official fan site www.friendsofjoshgroban.com, and Menzel's www.idinamenzel.com. The limited-edition package includes the performance, full-color booklet with photos and synopsis by Rice, sheet music for "Anthem" and "I Know Him So Well," plus an MP3 download of the two-CD audio content.
Chess in Concert is a co-production of THIRTEEN, Reprise Records and Peppermint Pictures, in association with Rice's production company, Heartaches Ltd. David Horn directed the May, 2008 taping, staged by Hugh Wooldridge. Great Performances is funded by the Irene Diamond Fund, the National Endowment for the Arts, Vivian Milstein, the Corporation for Public Broadcasting, PBS and viewers like you.
Check out the THIRTEEN interview with Josh Groban:
>http://www.pbs.org/wnet/gperf/episodes/chess-in-concert/interview-with-josh-groban/785/<
To view the Chess trailer:
>http://link.brightcove.com/services/player/bcpid4020141001/?bctid=ref:A10302B00008738924<

Ease On Over to City Center
Encores! Summer Stars production of The Wiz, the 1974 rock and soul musical, starring Top 10 recording artist Ashanti, making her stage debut as Dorothy, begins performances Friday through July 5 at City Center. The show has music and lyrics by the late Charlie Smalls and book by William Brown. Easing down the road to Oz with Dorothy in the 30-member cast are LaChanze and Orlando Jones.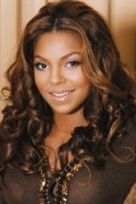 The musical, based on the L. Frank Baum classic, has a creative team head by Tony and DD-winning In the Heights Thomas Kail [director], Andy Blankenbuehler [choreography] and Alex Lacamoire [music director]. Sets are by David Korins; costumes by Paul Tazewell. The show's using Harold Wheeler's original orchestrations.
The original production, starring Stephanie Mills, was directed by Geoffrey Holder and choreographed by George Faison and won seven Tonys, including Musical, Score and Choreography.
Tickets are $25-$110 and available at the City Center box office, through CityTix at (212) 581-1212 or online at www.nycitycenter.org.

Harry and Rudi Are Back - In a Larger Venue
MAN underdog Productions and Daryl Roth have moved Jon Marans' Temperamentals, after its sold-out run in a 40-seat venue, for a four week run in the larger TBG Theater [312 West 36 Street Third floor, between Eighth and Ninth Avenues]. Thomas Jay Ryan as Communist rabblerouser/gay activist Harry Hay and Michael Urie [Ugly Betty] as long-time partner Viennese fashion designer Rudi Gernreich head the cast of five in this true story of the struggle to create the Mattachine Society, the first gay rights organization. Keen Company resident director Jonathan Silverstein helms.
"Temperamental" was a code word for homosexual in the early 1950s, part of an underground language gays used to communicate.
Marans' Old Wicked Songs, produced Off Bway, on the West End and in over a dozen countries, was a 1996 Pulitzer Prize finalist and winner of numerous awards.
Tickets are $50 and available through Smarttix, online at www.smarttix.com or by phone at (212) 868-4444.

A Return to the Beach Boys
To coincide with Beach Boy songwriter/producer Brian Wilson's 67th birthday, on Saturday, June 20, at Don't Tell Mama at 7 P.M. Brian Gari performs his Brian Sings Wilson CD, featuring songs by the pop songwriter. In addition to accompany himself on electric guitar, Gari will use layered vocal and instrumental tracks to replicate the Beach Boys sound he created on the album. There's a $5 cover and two drink minimum. For reservations, call (212)757-0788

And Now for the Beacon
Among the honorees at Inside Broadway's Broadway Beacon Awards are Rock Of Ages Tony-nomed Constantine Maroulis, Tony and DD winner Laura Benanti and her husband Steven Pasquale [of Reasons to Be Pretty, which, sadly, closes Sunday, so catch it while you can!], multiple Tony and DD-nomed Judy Kuhn [BTW, one of the original stars of the Broadway Chess] and Loews Corp. VP and I. B. board member Alan Momeyer. The cocktails and performance event is Thursday, June 25 at 5:30 P.M. at the Players Club [16 Gramercy Park South, between Park Avenue and Irving Place]. Emceeing will be Fox 5 News entertainment reporter Julie Chang.

Kuhn will perform selections from her show Music from the Broadway Songbook and More. There'll also be a number by students from Brooklyn's JHS 278.

Individual tickets are $350 [$200 tax-deductible], with patron packages available. Contact Inside Broadway at (212) 245-0710 or online at www.insidebroadway.org.

Inside Broadway, which has introduced musical theatre to more than 750,000 children in the New York metro area in its 26-year history, presents annual awards to artist who support arts education. It presents 50-minute adaptations of musical theatre classics. I. B. receives funding from the NYC Department of Education, NY State Office of Children and Family Services and, among others, the NYC Department of Cultural Affairs.

More Rodgers and Hammerstein
Masterworks Broadway adds three more digital-only editions of Rodgers and Hammerstein classics to the roster available exclusively through ArkivMusic.com. They are the original cast recordings of Flower Drum Song ["I Enjoy Being a Girl," "Love, Look Away" and "A Hundred Million Miracles"], the 1964 revival cast recording of The King and I and a real collectors item, The Rodgers and Hammerstein Songbook in an expanded edition of the original compilation. The CDs have original cover art and liner notes.
The FDS CD contains six long-unavailable bonus tracks, all covers of the show's top songs by star Pat Suzuki and young Flo Henderson, who wasn't in the show. The show's exotic, racy "Fan Tan Fanny" number is rendered by Sandra Church, who was about to become part of Bway history as the original Louise/Gypsy Rose Lee.
The King and I, produced at Lincoln Center, starred Darren McGavin and opera legend Risë Stevens. There are five bonus tracks including opera star Robert Merrill ["A Puzzlement"], a duet of "I Have Dreamed" with soprano Patrice Munsel and Tony Martin and, from a studio recording, two-time Tony winner Richard Kiley ["Getting to Know You," "Hello, Young Lovers."

The gem here is the perennial best-seller The Rodgers and Hammerstein Songbook, originally compiled in 1993 to celebrate the 50th anniversary of the Rodgers and Hammerstein collaboration. The expanded edition adds songs from the original cast recordings including of Allegro, Cinderella, South Pacific and The Sound of Music , as well as revivals of Oklahoma!, Carousel and The King and I.

The CDs are $14 each. To purchase, visit www.ArkivMusic.com.

New to DVD

Leonardo DiCaprio and Kate Winslet display amazing acting chops in the emotionally gripping Revolutionary Road [Paramount Home Entertainment; 118 minutes; HD; SRP, $20/$30 (Blu-ray)]. The acclaimed film, directed by Oscar winner Sam Mendes [American Beauty] and adapted from the best-seller by Richard Yates, was nominated for three Academy Awards and four Golden Globes.
This incisive portrait of a disintegrating 1950s marriage reunited DiCaprio and Winslet for the first time since Titanic. Winslet won her first Golden Globe for Best Performance, Actress, Motion Picture, Drama. Bonus material includes commentary by Mendes and screenwriter Justin Haythe, deleted scenesthe behind-the-scenes doc Lives of Quiet Desperation: The Making of Revolutionary Road. [The Blu-ray includes Richard Yates: The Wages of Truth.]

The Warner Bros. Archive Collection [www.WarnerArchive.com] has added 21 classic movie titles to its online service. They include the six-title Gary Cooper Collection [SRP $60] that spans a 17-year period and includes Saratoga Trunk and Bright Leaf [co-starring Lauren Bacall and Patricia Neal].
The Dick Powell/Ruby Keeler Collection [SRP $50] consists of three of the team's pairings, including Flirtation Walk, a 1934 Oscar nom for Best Picture, and Shipmates Forever, Powell center stage in Happiness Ahead and Keeler in her final major film appearance, Ready, Willing and Able.
Seven silent films are also debuting, including gems When a Man Loves, starring John Barrymore; and four classics starring the all-but-forgotten ace comedienne Marie Dressler, including Min and Bill [for which she earned a Best Actress Oscar]. Other titles include Dolores Costello and Warner Oland [the original Charlie Chan] in Old San Francisco and the original The Sea Hawk.
Ellis Nassour is an international media journalist, and author of Honky Tonk Angel: The Intimate Story of Patsy Cline, which he has adapted into a musical for the stage. Visit www.patsyclinehta.com.

He can be reached at [email protected]





Why are you looking all the way down here?
For more articles by Ellis Nassour, click the links below!

Previous: The 63rd Annual Tony Awards Honoring Broadway Achievement

Next: Summer Fest All Singin', All Dancin' Finale; MM's Birdland Debut; Temperamentals Mingles Singles; Toxic and Potter Scene Stealers; More Chess; Film Noir's Nicholas Ray; 3-D's the New Dimension; Classical TV; More

Or go to the Archives