Broadway's national treasure, Presidential Medal of Freedom recipient, Kennedy Center honoree, Theater Hall of Famer, two-time Tony and Drama Desk-winner [not to mention multiple T and DD nominations], Chita Rivera hasn't been resting on her laurels.
She not only has a new CD launching this week but is playing six shows up close and personal at Birdland tonight-Saturday. In addition to numbers from her most celebrated musicals - including West Side Story, Sweet Charity, Chicago, Kiss of the Spider Woman, and The Rink, the new act showcases several tunes from, And Now I Swing [Yellow Sound Records; 11 tracks, 13 songs; SRP $14].
The album is a variation on her long-ago solo CD, And Now I Sing, now an expensive collectible; and her 2006 entry in the Legends of Broadway series with solo songs from her shows and those with such co-stars as Gwen Verdon.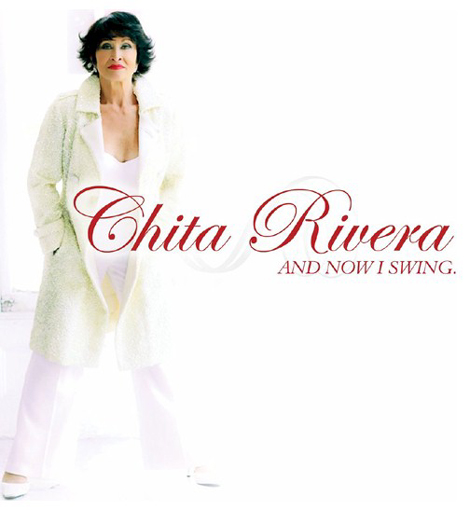 Last night, among the guests at the Birdland album launch party and preview were Lucie Arnaz, Stephanie J. Block, Alan Cumming, Michael Douglas and Catherine Zeta Jones, George Dvorsky, Harvey Fierstein, David Hyde-Pierce, John Kander, Terrence McNally, Lin-Manuel Miranda, Bebe Neuwirth, and Tommy Tune.
In addition, Senorita Chita will perform and sign copies of the CD as part of the Live At Lincoln series at Barnes & Noble, Lincoln Triangle [Broadway at 66th Street], Monday at 7:30 P.M. And, talk about a busy night! Afterward, she'll will be whisked, breathless no doubt, to St. Luke's Theater [308 West 46th Street] for the in-progress Dancers Over 40 tribute to legendary dancer/choreographer Peter Gennaro. [See Below]

Her Birdland show and CD reflect her theater roots along with her love for standards, accompanied by a jazz bands. Songs include "I Won't Dance," "Nowadays, "Where Am I Going," "Love and Love Alone" [a poignant ballad from Kander and Ebb's The Visit], Lynn Ahrens and Stephen Flaherty's "A Woman the World Has Never Seen" from Chita's The Dancer's Life; Jacques Brel's "Carousel," "I Don't Remember You," and "More Than You Know."
The only thing lacking, and you would have thought that Chita would have realized this, is that after waiting this long for another solo CD, why aren't there a few more tracks. It's not like our gal can find material.
She begins a concert tour, Chita Rivera: My Broadway, in January in Floriday, with a stop at Lincoln Center on March 6. For additional dates and more information, visit www.chitarivera.com.

Birdland tickets are $40, and $50 premium seating, plus $10 food/drink minimum. Chita performs tomorrow and Thursday at 8:30; and Friday and Saturday at 8:30 and 11. To purchase, call [212] 581-3080 or go online at www.birdlandjazz.com. For Monday's B&N event, arrive early. Seating is limited.

A Weekend Where You Can Have It All
The Town Hall launches its new season with a celebration of Broadway and cabaret. Friday through Sunday is the 5th Annual Broadway Cabaret Festival, a three-concert series hosted by Broadway by the Year's Scott Siegel. There will be tunes from David Merrick musicals, Linda Eder in concert, and the always much-anticipated Broadway Originals reunion concert.
Friday at 8 P.M., A Tribute to David Merrick will headline an all-star cast including Stephanie J. Block, Stephen Bogardus, Carleton Carpenter, Robert Cuccioli, Marc Kudisch, Sharon McNight, Lee Roy Reams, Emily Skinner and Elizabeth Stanley in a concert celebrating the fabled and infamous showman.
His six-decade career with 38 Tony noms [nine wins and two special Tony Awards] and gave Broadway not only many great plays [such as Becket, Look Back in Anger, Rosencrantz and Guildenstern Are Dead, One Flew Over the Cuckoo's Nest] but also such musicals as Gypsy, Oliver!, Hello Dolly!, Carnival, 42nd Street, Mack & Mabel, Promises, Promises, 110 in the Shade, I Do! I Do!, Roar of the Greasepaint..., Oh, What a Lovely War, and I Can Get It for You Wholesale.
These shows yielded popular standards by Comden and Green, Herman, Jones and Schmidt, Kander and Ebb, Rome, Sondheim, and Styne; and gave the likes of Channing and Merman roles that would define their careers. Others catapulted Barbra Streisand and Woody Allen to stardom.
Joining the cast will be TV and recording star Corbin Bleu from the High School Musical, franchise; tap dancer extraordinaire Kendrick Jones, and MAC Award winner Jim Caruso, and a chorus of Broadway gypsies.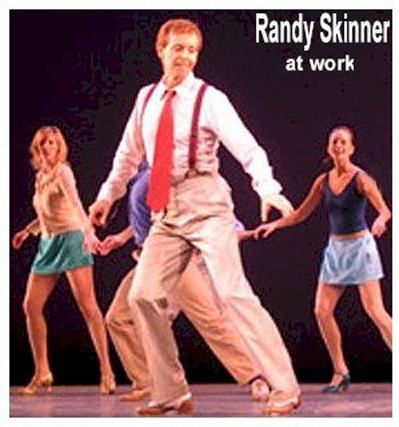 Of Merrick, choreographer/director Randy Skinner who worked with Merrick twice. "Over eight years on the original 42nd Street, I got to know Mr. Merrick and his philosophies about how to produce and promote shows. Later in his life, he was responsible for bringing the stage musical adaptation of Rodgers and Hammerstein's State Fair [which Skinner directed/choreographed] to Broadway from the road. Although it was a short run, he really believed the show would have a very positive message for audiences who got to see it.
"I won't say Mr. Merrick was always easy to work with," continues Skinner. "He was a man of his convictions and wasn't swayed easily, but look at what he gave world-wide theater. Working with him and the incredibly talented Gower Champion [on 42nd Street] provided me with an education that no amount of money could buy. I was mentored by two theatrical giants. It was an amazing time in my life."
[Tom Jones and Harvey Schmidt of The Fantasticks fame have a different spin on David Merrick. See Below.]
On Saturday at 8 P.M., the Fest continues when Linda Eder returns to take the Town Hall center stage again for the first time since her 1997 triumphant concert there during the run of Jekyll and Hyde.
The occasion of her new show, All of Me, will also mark the launch her new CD, Soundtrack [Verve Records; 11 tracks; SRP $14]. Eder's sweeping vocals on such signature tunes as "Vienna" and "Someone Like You," will receive a bit of a jazz treatment backed by her tour band of seven musicians led by Billy Stein.
Sunday, October 18th at 3pm, the Festival concludes with Broadway Originals, where, for one performance only, 20 stars including Bogardus and Kerry O'Malley [White Christmas], Cheryl Freeman [Play On], Alexander Gemignani [Sunday in the Park with George, Les Miserables], Kudisch [The Wild Party], Sharon McNight [Starmites], Julia Murney [Wicked, Lennon], O'Malley [Into the Woods], and revisit the songs they made famous on Broadway.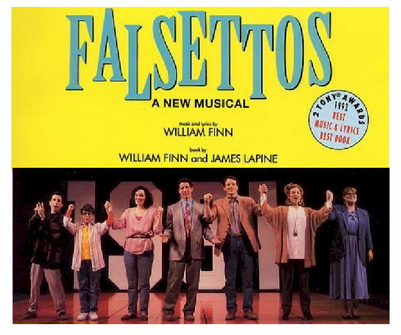 A must-see for Broadway aficionados, the program features favorites by Irving Berlin, Alain Boublil and Claude-Michel Schönberg, Kander and Ebb, Stephen Sondheim, and Stephen Schwartz.
There'll also be a reunion of the cast of William Finn/James Lapine's Falsettos, minus Carolee Carmello [soon to be seen in The Adams Family]. Janet Metz who did the show Off Broadway will be stepping into her shoes. Singing a substantial percentage of the score will be Bogardus, Michael Rupert, Chip Zien, Jonathan Kaplan, Heather MacRae and Barbara Walsh. Siegel promises "a special, poignant, tear-jerking moment."
Tickets for the Broadway Cabaret Festival are $55 to $50 and limited seats are still available at the Town Hall box office, through Ticketmaster.com, or by calling [212] 307-4100.

Linda Eder Goes to the Movies
After a CD of quasi contemporary country, Linda Eder has chosen some of her fav themes from blockbuster movies over the last 50 years for her Soundtrack.
The tunes includes the Beatles' "Help!"; Nilsson's "Everybody's Talking" from Midnight Cowboy; Johnny Mercer/Henry Mancini's Oscar-nominated "Charade"; Hugo and Luigi/George Weiss/J.P.E. Martini's "Can't Help Falling in Love" from Blue Hawaii, and the Bee Gees' "If I Can't Have You" from Saturday Night Fever.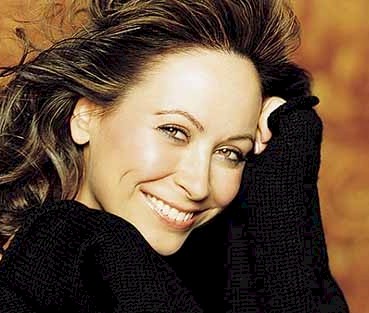 There are two very personal favs: Michael Kamen/Bryan Adams/Robert John Lange's Oscar-nominated "Everything I Do (I Do It for You)," from Robin Hood: Prince of Thieves] - "a song I've always loved and wanted to record; and the quite poignant Oscar-winning "Falling Slowly" from the 2006 Irish indie Once.
Surely, you remember Glen Hansard/Marketa Irglova's tune from the movie musical you and hardly anyone but Eder saw. It was about a busker and an immigrant and their week in Dublin, as they write, rehearse and record songs that tell their love story.
In the last three years, Eder has returned to her country [as on her last Verve CD, The Other Side of Me] and jazz roots. "Soundtrack is a lybrid cross between some of those original songs and songs I wrote and the traditional things fans expect - you know, my 'Over the Rainbow's."
The recent CD had a quite poignant, self-penned song, "Waiting for the Fall." Says Eder, "It wasn't about the weather, but about being in a relationship and waiting for it to crash. No [she says laughing], it isn't autobiographical at all!"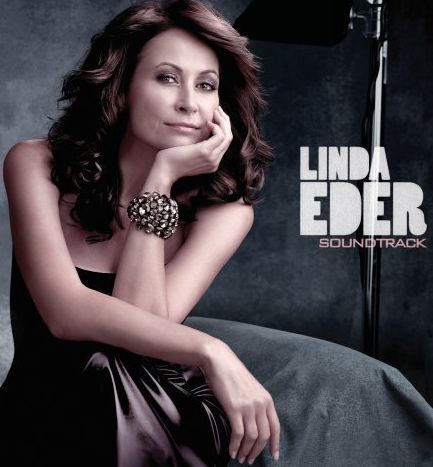 The big disappointment on the CD, which was produced by Peter Collins, is that there are only 11 tracks. You wait and wait, and this is what you get. It's a real let-down to fans.
Eder said she has no plans for Broadway. "Being in a show takes over your life. And now I have my son [with Frank Wildhorn], who's now 10. These are the special years. If I was on Broadway, I'd hardly see him. When I'd be home, he'd either be asleep or off at school." Though she plays some 60 tour dates annually with her band and as a guest with symphonies, she limits engagements to weekends to spend more time at home.
Eder will be performing October 24 at 8 P.M. at the Tilles Center, on a bill with Brian Stokes Mitchell, in Greenvale, NY; and November 20 at 8 at the Paramount Center for the Arts in Peekskill.

Remembering David Merrick
When N. Richard Nash's The Rainmaker was adapted for the musical stage into 110 in the Shade, producer David Merrick, then dubbed the "King of Broadway" because of his numerous hits, had final say.
"Out of the blue," recalled lyricist Tom Jones, "the phone rang. It was Mr. Merrick, who told us how much he loved The Fantasticks. We hadn't done anything on Broadway but he felt, since we were from Texas, that we'd be ideal for 110."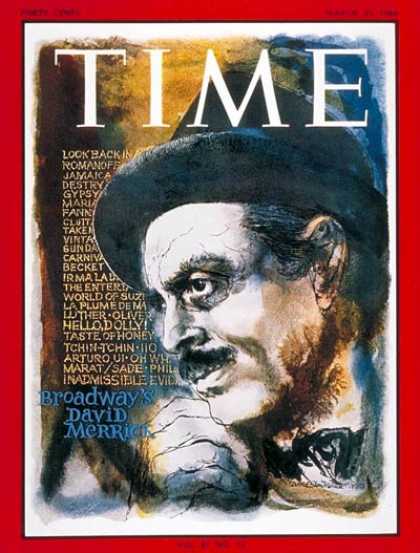 Composer Harvey Schmidt was still working his day job doing commercial art. "The day Mr. Merrick called," he reports, "I was packing to go to Iran to do a series of paintings of the Shah's tiger hunt for Sports Illustrated. The tigers had to wait. Our world was about to turn upside down working on a Merrick show. The elation didn't last long. Mr. Merrick turned out to be as crafty as any wild animal."
Joseph Anthony, an esteemed director whose only musical staging was the original Most Happy Fella and who had directed The Rainmaker on Broadway, would be captain; "but, really, Mr. Merrick," says Schmidt, "a hands-on person if ever there was one, called the shots."
Inga Swenson won out over Streisand, whose sudden stardom while she was in I Can Get It for You Wholesale led to numerous missed performances and a miffed Mr. Merrick, for the role of Lizzie, the young "old maid" whose rancher father is trying to marry off.
"Inga was a Shakespearean actress with only one music revue credit," notes Jones, "however she was beautiful. A little too beautiful to be playing a gal who was supposed to be plain, but, oh, what a voice. Hal Holbrook won the coveted role of the mythic, wandering stranger Starbuck. But, by all accounts, he wasn't Merrick's first choice.
Details Schmidt, "In some derring do, all of a sudden Hal was out and Robert Horton, a TV heartthrob from the Wagon Train series was in."
110 has a rich score, and could have had a much richer one. In their zeal to get their Broadway debut right, Jones and Schmidt wrote 114 songs before rehearsals ever began. "Our thinking," explains Schmidt, "was we wanted to be prepared when and if during tryouts Mr. Merrick or Joe wanted other songs. When that happened, we'd go to our room and pull another song from our suitcases instead of burning the midnight oil."
Sixteen songs made the cut, including Lizzie's showstoppers "Love Don't Turn Away" and "Simple Little Things," and "Is It Really Me?" But, on it's way to Broadway, there was tension between the composers and Merrick.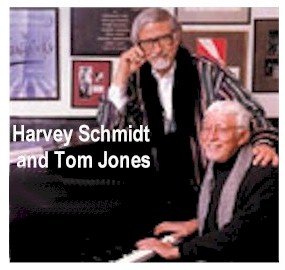 "Mr. Merrick was a double-edged sword," claims Schmidt. "Because of his mega successes, doors opened for record deals and theater parties. Early on, we could tell he wanted something that wasn't there. He saw 110 as a big dance show. We didn't. We knew we were in trouble when he brought in Agnes DeMille."
The composers didn't want the show to be a warmed-over Oklahoma! [which won DeMille critical acclaim for her choreography], but something more earthy. "We told Mr. Merrick and Miss DeMille how we felt," says Jones. "She replied, 'Great. That's exactly what I want.' Then, I guess obeying orders from Mr. Merrick, proceeded to make it a dance show!"
"A couple of numbers ran over ten minutes," laughs Schmidt. "They were wonderful ballets, but not much room remained for the story and songs."
"It was a tumultuous time!" Jones points out, cringing at the memory. "There were all sorts of shenanigans and yelling over casting. For instance, here was a show about the dust bowl and Mr. Merrick was screaming for a chorus of pretty girls."
Jones and Schmidt reported that Merrick kept shifting back and forth on creative decisions. After Boston, where the musical got mixed to positive reviews, he decided the musical, like the original play, would have three acts.
"I was close to suicidal!" exclaims Jones. "Mr. Merrick wanted a superhit," says Schmidt, "and didn't react well in Philadelphia when the reviews were negative."
"In fact," adds Jones, "he threatened to close the show. Harvey and I said, 'Great!' We were relieved. It would be better than to go on like we were. As we were about to walk, he said, 'Wait. I'll give it one last chance.' We went back to two acts and put in other changes. It made a huge difference. Things started to click. Audiences were loving it."
However, according to Jones and Schmidt, by the time the musical arrived in New York, the show was beset with rumors of impending doom. It was a nervous opening night at the Broadhurst Theatre on October 24, 1963. As the dailies rolled off the press, there was hope. The newspaper critics found much to cheer about, especially in the score.
"There was a big exception, exclaims Jones: the New York Times. Confound that damn Times review! Then as now, their critic established a show as a box-office bonanza or an also-ran." Adds Schmidt, "It was a weird, strange review, calling the musical everything but the dirtiest show on Broadway."
It didn't help that the nation was thrown into a collective depression the following month with the assassination of President John F. Kennedy. Then, when business picked up, Swenson slipped in the pouring stage rain, injuring her ankle. She was out for several weeks.
In spite of that review and events, points out Jones, 110 did modest business. It received four Tony noms, including one for Jones and Schmidt's score, Swenson and Anthony. However, it never became a must see.
"And that was thanks to Mr. Merrick, who didn't market the show," Schmidt states, "because his energies were more focused on Dolly [which was in out of town tryouts and, hard to believe now, having a difficult time]. He never got behind us. He made our lives and the lives of everyone involved a living hell."
110 ran just over nine months, 330 performances. Thanks to the RCA original cast recording, the musical wasn't forgotten. There were Off Broadway and regional revivals, an acclaimed 1992 revival by New York City Opera, and Roundabout's 2007 revival.
In the intervening years, several songs - including "A Man and A Woman," "Simple Little Things," "Wonderful Music" and "Love Don't Turn Away" - had a life of their own.
Jones and Schmidt never stopped writing for musical theater. "In spite of our duels with Merrick, our love of musical theater never diminished," states Schmidt. "It's always been our life."

Showstoppers
Three of Them in The Royal Family:
There's nothing like an old-fashioned George Kaufman/Edna Ferber classic comedy, such as The Royal Family, to light up and lighten up Broadway. Doug Hughes' revival of this gem leaves no comic stone unturned.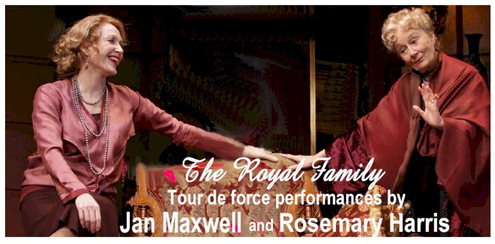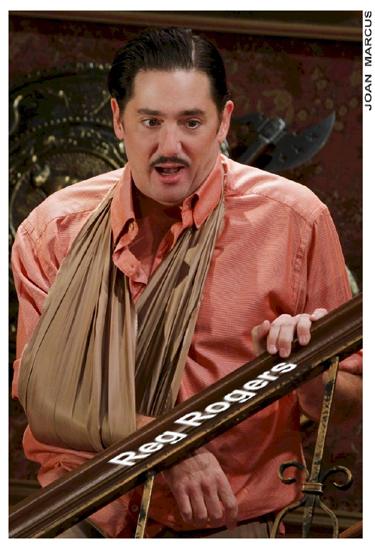 Rosemary Harris and Jan Maxwell play mother and daughter, Fanny and Julie, the acting doyenes of the the eccentric theatrical Cavendish family [think Barrymores], whose daily routines get disrupted by news that their granddauther/daughter plans to leave the stage for marriage. Add to mix, Tony, the dashing stage actor [think John B.] son turned disgruntled movie star on the run from legal beavers over a director he hit and an actress he made promises to.
The esteemed Tony and DD-winning [with numerous nominations] Miss Harris essays the role with great aplomb. However, great acting emantating from Miss Harris is no surprise. She had the distinction of playing the role of daughter Julie in Ellis Rabb's acclaimed DD-winning 1975 revival. [Miss Harris had been married to Rabb.]
But TRF truly belongs to Jan Maxwell. The production will surely mark a star high in the horizons for her. As Julie, she runs all the emotional gamuts and runs them extraordinarily well. Her performance in the second act is expecially memorable. And three cheers for Reg Rogers as Tony, who can ham it up as well as he can fence.

Marilyn's Back in Town

Down at the Metropolitan Room, through Saturday is the indefatigible Marily Maye covers more moods of legendary composer Johnny Mercer in her superdazzling Marilyn Maye Presents More Mercer. She is reprising her June tribute with the addition of some new material. There isn't a singer today who can do what Miss Maye does. And she's 82, but seemingly has found the fountain of youth!
She thinks of her shows as parties and she always attracts wildly devoted fans. In fact, at many performances, there are six to eight fans who attend every show.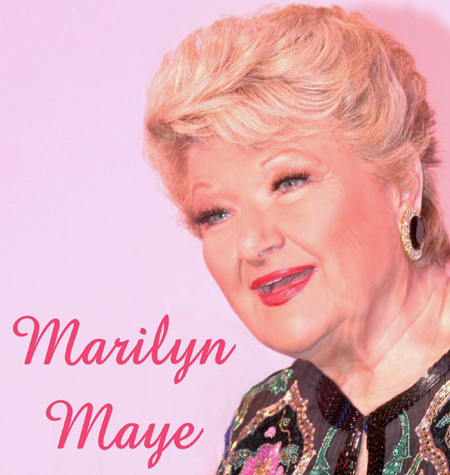 Miss Maye earns their devotion and loyalty. She displays a great kinship and passion for the Mercer tunes. The lyricist is one of her all times favs. "To my great regret," she says, "I never got to meet Johnny. I understood he drank a lot, something he had in common with three of my husbands. So I could have really worked with him. Back when I was recording for RCA, I was in the studio and someone came in and slipped me a note on a torn piece of paper. It read, "No one sings 'Misty' like you!' and it was signed Johnny Mercer. And he didn't even write 'Misty.' I ran to the hall looking for him but he has slipped away."
She goes full blast in excess of 90 minutes singing 40 songs from the Mercer treasure trove by such lyricists as Arlen, Carmichael, Ellington, Kern, Mancini, Raskin, Strayhorn and Warren. The tunes include "Come Rain or Come Shine," "Fools Rush In," "I Remember You," "Emily," "Laura," "Satin Doll," "Skylark," "Tangerine," "That Old Black Magic," "Too Marvelous for Words," "In the Cool, Cool, Cool of the Evening," "On the Atchinson, Topeka, and the Santa Fe," "One for My Baby (and One More for the Road)," and "You Must Have Been a Beautiful Baby."
"Johnny was in many ways," adds Miss Maye, "a tortured soul and it's easy to find the drama in his lyric text. I don't know another composer who provides the perfect music to show the many aspects of the how I enjoy performing."
Miss Maye is a true showstopper. She most ably accompanied by musical director Ted Firth on piano, Tom Hubbard on bass, and Jim Eklof on drums.
Showtimes vary [no performance Thursday], $30 cover, two-drink minimum. Visit www.metropolitanroom.com for reservations or call [212] 206-0440.

Bill Pullman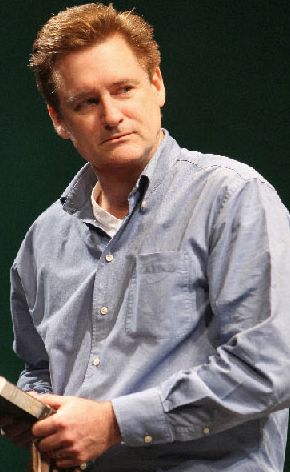 Think what you may about Doug Hughes' revival of David Mamet's spin on political correctness and sexual harrasment in the 90s Oleanna - and it will have you talking - maybe wondering where the title comes from, what's it about, and what the brisk, emotional 90 minutes mean - but one thing you can't deny is two-time DD-nominee Bill Pullman, breaking down, bitterly angry, aggitated, and falling to pieces, in the tour de force of his career.
Mamet's play about a power struggle and ultimate academic showdown - between a university professor, who may or may not be guilty of sexual discretions and who often has trouble speaking in full sentences, and one of his female students, played by Julia Stiles in her Broadway debut, who may or may not be on her own power trip in wild exaggerations. It's all quite intense, and perhaps not for everyone, but John's dialogue should become every serious actor's favorite audition choice.
There's another scenestealer in Oleanna: those slick, automated aluminum Venetian blinds that seem to have a mind of their own [but exactly what are they contributing?]. There could be a run on them for every home in the Hamptons.

A Tribute to Peter Genaro
Dancers over 40 will pay tribute on Monday at 7:30 at St. Luke's Theater to Broadway, movie, and TV dance legend Peter Gennaro, also a legendary choreographer. Gennaro evolved from his performance days in Guys and Dolls and his contribution to West Side Story choreography to work on the Perry Como, Ed Sullivan and numerous shows and live original TV musicals [such as Steve Allen's The Bachelor, opposite Tony winner and his Pajama Game "Steam Heat" vets Carol Haney and Buzz Miller, which can be screened at the Paley Center for Broadcasting].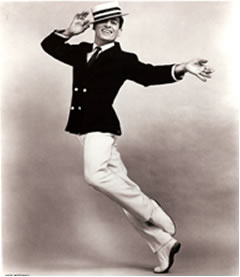 Gennaro became Broadway's go-to choreographer and put the moves in The Unsinkable Molly Brown, Bajour, and, of course, Annie.
Hosts for the tribute will Carol Lawrence [WSS], and Lee Roy Reams [42nd Street, Applause], with Harvey Evans, another WSS vet, moderating a chat with Chita. Dancers from Gennaro's Broadway and TV days will attend.

There will be a separate section devoted to WSS with rare footage from Gennaro's memorable dances, including a duet with Lawrence. In addition, his daughter Liza Gennaro will stage a short reproduction of one of Gennaro's TV performances.
The program will be videoed for inclusion into the Jerome Robbins Dance Collection at the Lincoln Center Library for the Performing Arts.
Tickets are $15 for DO40 members and $35 for non-members. Non-members may purchase at the St. Luke's box office or book through Telecharge, (212) 239-6200 or online at www.telecharge.com.

Upcoming
October at the Metropolitan Room is as talent-jammed as October on Broadway/Off Broaday. Marilyn Maye is in performance; and tomorrow at 7:30 Jamie deRoy and Friends present an a variety show starring MAC Award winners. Joining deRoy will be Tony and DD-nominee Euan Morton, comedian David Baker; and British actor Jon Peterson. Barry Kleinbort direct, with Ian Herman as musical director. $30.
The always watchable/listenable Liz Callawy begins a Metro engagement on October 20 at 7 with Passage Of Time, celebrating the release of her same-title CD, her first CD in eight years. There are tunes by Ahrens and Flaherty, Maltby and Shire, Rogers and Hammerstein, Schwartz, Carly Simon, Sondheim, and James Taylor. Shows continue October 22 - 25, but at 7:30. $30.
Also, heading into the Metro are Marcus Simeone, October 21, $20; and from October 26-28 and 30, Amanda McBroom, $35.
There's a two beverage minimum for all show. For reserations, call (212) 206-0440.
Ellis Nassour is an international media journalist, and author of Honky Tonk Angel: The Intimate Story of Patsy Cline, which he has adapted into a musical for the stage. Visit www.patsyclinehta.com.

He can be reached at [email protected]





Why are you looking all the way down here?
For more articles by Ellis Nassour, click the links below!

Previous: Theater Hall of Fame Inductees Announced; Welcome Back, Tony; Carrie Fisher to the Rescue; NY Film Festival Closes; It Takes [More Than] Two to Tango; MM's Back in Town; March for Equality; TV Musical Gems Rediscovered; Last Chance to Catch Kate

Next: Chita Rivera Shakes, Shimmies, Salsas, Mambos, Sizzles, and Sings: Muchas Gracias

Or go to the Archives