Broadway's not quiet anymore. The new season is off to a high-flying start.
The newest revival, Bye, Bye, Birdie , at the new Henry Miller's, and the newest musical, Memphis, at the classic Shubert have turn-up-the-heat choreography by, respectively, director Robert Longbottom and Sergio Trujillo. BBB's Conrad B., as gyratingly and high-flyingly portrayed by former gymnast Nolan Gerard Funk, and the amazing Sweet Apple, Ohio, "kids" and Ms breathlessly jiving ensemble are reason enough to catch the two shows.
The beloved, Tony-winning Charles Strouse/Michael Stewart Best Musical BBB[seemingly a staple in annual school productions] is a thinly-disguised parody of the Elvismania that swept the nation when the rck 'n roll king was inducted into the Army at the peack of his popularity. In a huge promotion, Birdie's manager Albert Peterson, played by John Stamos, wreaks havoc on a small town by having his star plant one last kiss on a more-than-willing teen.
Sadly, the teen's mom doesn't have a lot to do. It's sad because the role is filled by the always watchable Dee Hoty. Dad is portrayed by one of theater/circusdom's great clowns, the always irrepressible, ingratiating Bill Irwin, who does some high-flying of his own. You hire a clown, you get a clown. Does his love-it/hate-it performance distract from the show? Yes, particularly, in the rendition of what should be one of the show's supreme showstoppers, "Kids." As rendered by Irwin and Hoty, it comes over as a throwaway number.
Assuming director Longbottom didn't want Irwin's wild antics, he would have spun him in a different direction. Few critics were bowled over by Irwin's havoc wrecking; however, audiences are ROTFIL. Along with the choreography, he scores as one of the show's high points - which says something about the Roundabout production itself.
In the role of Mae Peterson, Albert's interfering mother, Irwin gets fierce competition from Tony-nom [Well] Jayne Houdyshell, an actress not exactly born to the realm of sarcastic comedy as was the gifted original so memorably played by Kay Medford [Funny Girl].

Memphis, on Broadway via the La Jolla Playhouse and Seattle's 5th Avenue Theatre, is a very fictionalized account of the roots of rock 'n roll as it emerged from unknown black boppers in "underground" clubs of the 50s along Memphis' Beale Street [there are no basement clubs, but storefront ones].
Radical, white DJ Huey Calhoun is determined to take "race music" from storefront clubs to the mainstream and make it the white rage. Of course, there are obstacles such as falling in love, Calhoun's ignorance-is-bliss attitude toward racial boundaries, racist violence, and his swelling head as he becomes a celebrity. In the end, most are overcome.
The role dominates the musical and is given an exuberant, sometimes over-the-top but nonetheless star-making turn by Chad Kimball [Lennon, and various roles in the short-lived Good Vibrations, and the Into the Woods revival], who soars along a path that segues from an unknown with rebel exuberance to an arrogant, foolhardy, and reckless celebrity.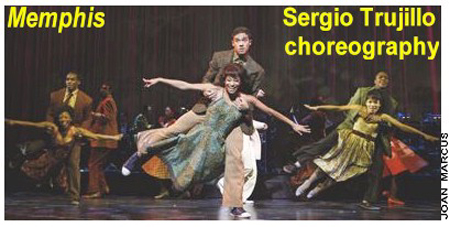 Directing is Tony nom Christopher Ashley [Xanadu], who could have trimmed the show by a good 20 minutes. Joe DiPietro [I Love You, You're Perfect, Now Change] book is based on various incidents during that segregated era [for instance, there was a pioneering Memphis DJ, Dewey Phillips]; however, not all of the ground-breaking ones took place in Memphis or Tennessee. The city wasn't exactly the Baltimore of Hairspray! So you might call the show fiction loosely based on semi-fact.
However, the original score by Bon Jovi founding member David Bryan, with three especially outstanding numbers: "Memphis Lives in Me," "Everybody Wants to Be Black On a Saturday Night" and "Colored Woman," is a scintillating combo of gospel, soul, R&B, and Carl Perkins-era rock 'n roll.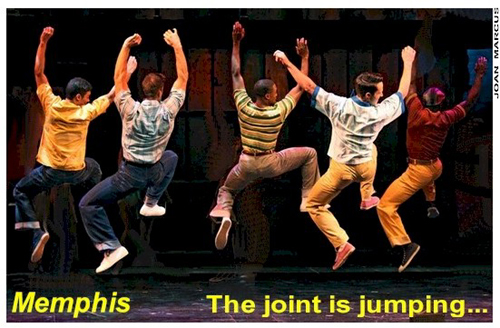 It is vibrantly performed by stunning and golden-voiced Montego Gover [as the black singer Calhoun pushes into the big time], booming J. Bernard Calloway, James Monroe Iglehart, and, in a showstopping featured role, Cass Morgan as Kimball's bigoted mom. Tony and Drama Desk nom Michael McGrath is also featured but not in a role that showcases his amazing range of talent.
If the music doesn't grab you and whip you around the room, Sergio Trujillo [Jersey Boys] pulls out all the stops with the passionate and quite sensuous dancing of his incredible 17 + ensemble. You won't have to look too closely to spot what might seem like a familiar face. If you think it's Debbie Allen, it's okay. However, it's her daughter Vivian Nixon, who's the spitting image of Mom and just as dexterous and talented.

Aiding Dancers
Rolex once again is sponsoring one of the premiere dance events, the 24th annual Career Transition for Dancers' gala and fundraiser America Dances! Celebrating Our Sparkling Heritage - Broadway, TV & Film November 2 at 7 P.M. at City Center. Honored posthumously with the 2009 Rolex Dance Award will be Patrick Swayze.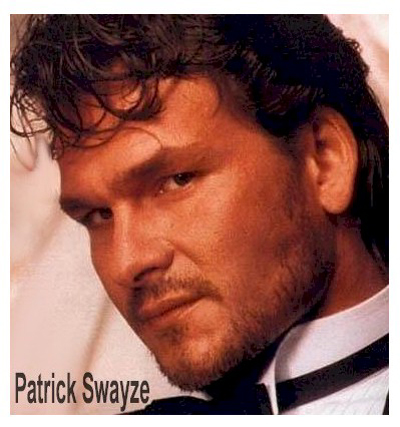 The event, produced/directed by Ann Marie DeAngelo, celebrates the variety of dance genres that defines our culture, with an assimilation and fusion of styles that move from stage to television and film. A film montage will cavalcade through the crazes and evolution of dance in America.
The talent roster is star-studded. Among those scheduled to appear are Tony and DD-winner Laura Benanti, legendary choreographer Jacques d'Amboise, Nicole Fosse [with selections from Bob Fosse's Dancin'], four-time Emmy winner Valerie Harper, Tony and DD-winning director/choreographer Kathleen Marshall, Met Opera megastar Samuel Ramey, and Tony and DD-nominee John Selya and Nicole Graniero [dancing to Rodgers and Hammerstein's Carousel classic "If I Loved You"].
Representing national dance companies and TV dance shows will be lead dancers from Cedar Lake Contemporary Ballet, Dance Times Square, Dancing with the Stars, the Isadora Duncan Dance Company [Dance of the Furies], Electric Boogaloo's Mr. Wiggles, New York City Ballet [Ashley Bouder and Andrew Veyette performing Balanchine's Stars and Stripes" pas de deux], Rock Steady Crew, So You Think You Can Dance, and Tap City Youth Ensemble.
In addtion, there will be appearances by Stephen Hanna from Billy Elliott, Kiril Kulish, one of the Tony-winning Billys from Billy Elliot, NYCB and ABT dancer/choreographer Robert LaFosse, Tony-nominee and Alvin Ailey and ABT's Demond Richardson [Dancin', Movin' Out, The Look of Love: The Songs of Burt Bacharach], and former NYCB principal dancer Jack Soto.
Among the special tributes will be a Duke Ellington salute, Sophisticated Ladies, choreographed by granddaughter Mercedes Ellington; and interpretations to the music of tango legendary composer Astor Piazzolla by the Lombard Twins.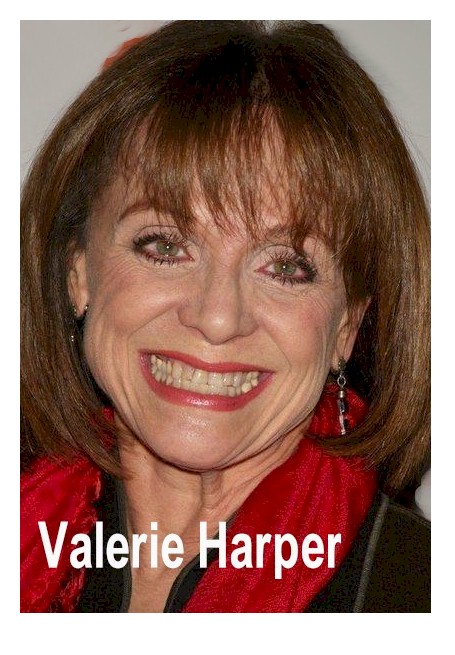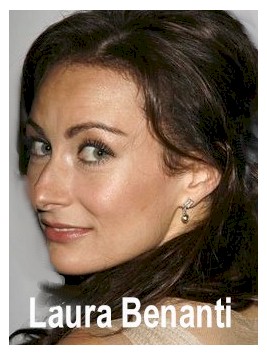 CTFD's Awards for Outstanding Contributions to the World of Dance will be given to the Lawrence Herbert, chair/CEO of Pantone, one of the world's premiere color standards company and color authority; and the Lloyd E. Rigler - Lawrence E. Deutsch Foundation. Rigler made his fortune selling Adolph's Meat Tenderizer and became a major patron of the arts and a founding donor of L.A.'s Music Center, vice chair of the NYC Opera board, and a Joffrey Ballet principal supporter.
On the sale of business, he continued sponsoring arts with business partner Lawrence Deutsch. Projects included restoration of Hollywood's Egyptian Theatre and TV's Classic Arts Showcase, available to more than 50 million homes nationwide.
Gala/supper dance [at the Hilton, Rockefeller Center] tickets are $600 - $1,200 and available by calling (212) 228-7446 X. 33. Show only tickets are $45 - $75 and available at the City Center box office, through CityTix, (212) 581-1212, and online at www.nycitycenter.org.

Celebrating Music and Theater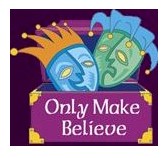 Only Make Believe, the non-profit organization dedicated to freeing children's imagination as a valuable part of the healing process, celebrates their 10th Anniversary on November 2 at 7 P.M. with a star-studded program of music and theater artists at the Shubert Theatre. Only Make Believe creates and performs interactive theatre for children in hospitals and care facilities.

The gala host is Sir Ian McKellen. Headliners will be BBB's Nolan Gerard Funk, Memphis co-star Montego Glover performing "Colored Woman", Jude Law, Nellie McKay, Christopher Meloni, Euan Morton, and the Big Apple Circus' juggler extraordinaire Picasso Jr.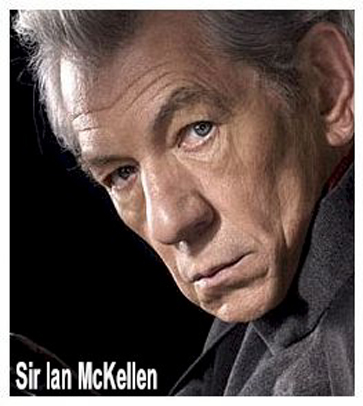 Seth Rudetsky and an ensemble of 12 dancers will present a segment from his Broadway 101; the cast of Hair will perform "Good Morning Starshine"; and Disney's Lion King cast will perform "One by One";
OMB will honor Chris Wearing, managing director, Accenture Capital Markets North America, with the OMB Founders' Award; songwriter/music director/XM Sirius Radio host Seth Rudetsky with the Volunteer Award; and Bernadette Longford, manager of New York Community Relations at Disney Worldwide Outreach with the James Hammerstein Award.
Accenture is presenting sponsor, additional support from Bloomberg, Disney, Reuters, the McGraw-Hill Companies, and Morgan Stanley.
Tickets starting at $100 are available at www.telecharge.com or by calling (888) 432-7250. For more information, visit www.onlymakebelieve.org.

A Premiere Movie Event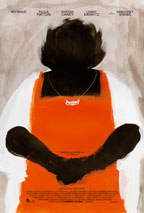 Opening next weekend from Lionsgate Films, direct from it's sold-out showings as the Centerpiece attraction at the New York Film Festival is Lee Daniels' unsparingly raw and deeply poignant Precious: Based on the Novel 'Push' by Sapphire. Considering what a huge hit it was at Cannes, Toronto, and Sundance, where it won the Grand Jury Prize and Audience Award, it should have been the Closing Night attraction.
It began raising a lot of anticipation when moguls Big O and Tyler Perry joined forces as exec producers. There are many shattering moments and it's not always easy to watch. There is a high quota of violence, but not the shoot-'em-up, blood-spoutin' kind. It will surely become one of the year's most talked about films of many a year. There's little doubt Precious won't be a contender for end-of-the-year Best awards and nominations.
Adapted from the 1966 novel, it's the story of 16-year-old Claireece Precious Jones who endures unimaginable hardships - poor, angry, barely literate, hugely overweight, unloved - ridiculed by classmates, abused by her mother and raped by her father. She is blessed in the rare instance when the public school system actually works to benefit the child. Suddenly, a mother and with the help of new friends, her life begins to change.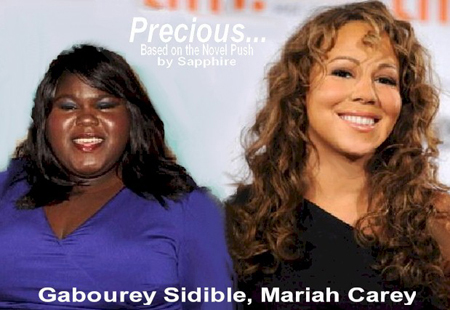 Daniels says, "Precious isn't just a tale of endless abjection. It's also the celebration of a young woman's determination to free herself from the pathologies surrounding her," guided by a teacher who senses innate talents and a tough yet compassionate welfare officer.
The casting is innovative: Sidibe, an unknown; stunning Paula Patton as the teacher has a magical screen presence [and could be almost mistaken for JLo]; and Mariah Carey, in only her fourth film since the Glitter fiasco should receive award buzz for losing her glam side and appearing "unvarnished" as a welfare worker. Rocker Lenny Kravitz, and Sherri Shepherd [The View; Everybody Loves Raymond] appear in featured roles.
Sidibe is a casting coup and Daniels extracts an awesome performance from her, but there's another coup: comedienne Mo'Nique [Special Jury Prize, Sundance] as Precious' monstrous, jealous, abusive mother. Audiences who know her TV sitcom work and stand-up will be jaw-droppingly stunned at the depth of her performance. Mo'Nique makes every meanie and heavy you've seen onscreen look like Girl and Boy Scouts helping blind and infirmed cross the street.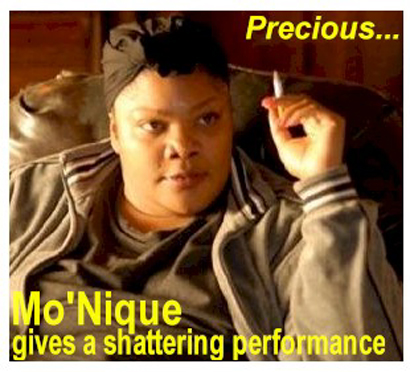 She had a champion in Daniels, who had worked with her "so I knew what she's capable of pulling out of herself way down deep from a place she didn't even realize was there."
Her portrayal will open many doors and lead Mo'Nique down a path to heavy dramatic roles. If she's not Oscar-nominated, there's something wrong with the Academy!
When Daniels was reading the novel, he recalled a horrific childhood incident where a neighboring young girl came to the family door naked, bleeding and crying. She screamed, "My Mommy's going to kill me!"
Casting the + size + plum role of Precious was painstaking. Casting directors couldn't fill the role. "There weren't too many 300 lb. actresses on their agency lists," laughs Daniels. So he auditioned, as he put it, "in the hood." Sidibe was the last of over 400 put to the test.
Considering the nature of the film, Daniels explained that the shoot was "surprisingly lighthearted. Mariah was often helping Gabby with her make-up. Lenny was helping with costumes. Mo'Nique was always embedded in the script. When she got to particularly troubling parts, like where she has to throw a baby across a room, I had to keep her away from the craft services."

ACL Documentary on DVD
Every Little Step -- a portrait of the struggle to achieve a dream as seen through the mounting of the smash Broadway show, "A Chorus Line" -- is just out on DVD [Sony Pictures Home Entertainment; SRP $29]. The film was an official selection at the 2008 Torontol, Berlin, and 2009 New Directors/New Films Festivals; and subsequently won high criitical praise. It was directed and produced by multiple Tony and DD nom and winner James D. Stern [The Producers; Hairspray] and film producer Adam Del Deo [So Goes the Nation, The Year of Yao].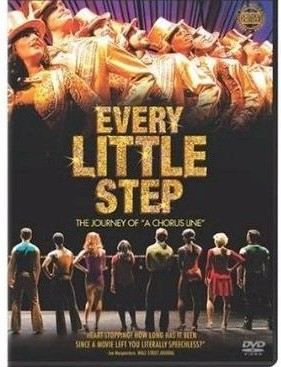 The doc captures the magic of the show by following auditions and casting of the successful 2006 stage revival, while at the same time exploring the history of A Chorus Line, from late director/choreographer Michael Bennett's ground-breaking concept of inviting Broadway chorus performers to tell their real stories, to the show becoming an international phenomenon from the 1970s through the 1990s.
Every Little Step not only compares and contrasts the original musical with the 2006 revival, it also takes viewers behind the scenes for actual auditions (including peeks at many of the show's beloved song and dance numbers), as well as candid interviews with hopeful performers and those who decide their fate. Bonus features include deleted scenes, a commentary with directors Adam Del Deo & James D. Stern and composer Marvin Hamlisch,
The film features interview footage with Broadway legends Bob Avian, Michael Bennett, Jacques & Charlotte d'Amboise, Baayork Lee, and, among numerous other vets of the original produciton, composer Marvin Hamlisch
Prominently featured in ELS are Charlotte, currently in L.A. co-starring with T.R Knight in the Donmar Warehouse production of Alfred Uhry and Jason Robert Brown's DD-winning Best Musical Parade, which took Tonys and DDs for Best Book and Score. Diorio can be seen on Fox's So You Think You Can Dance.
Marvin Hamlisch and various ACL perfomers will be at Barnes and Noble, Lincoln Square, on November 12 performing numbers from the musical and also signing DVDs.
Coming Soon
Broadway will be getting another "new" theatre. Though the Shuberts are being very hush hush about it and not revealing any details, the Belasco, built by producer/playwright David Belasco and opened in 1907 as the Stuyvesant, is getting a long-in-coming, stem-to-stern renovation - maybe even an elevator to the gods [replacing the long-ago removed one that Belasco used to go up, up, up, up to his "apartment" at the apex].
One of the highlights of the 1,100-seat theatre is the unique Tiffany-like stained glass treatments and lighting fixtures throughout. It boast heavenly flies, great wing space and was one of the first to have an stage elevators and state-of-the-then-art stage lighting. After many years of Belasco-produced shows, following a production of Jean Giraudoux's Madwoman of Chaillot in 1948, it became an NBC studio and, sadly, two of the lower boxes were ripped out. It returned to legit with a solid-gold hit in 1953, The Solid Gold Cadillac by George S. Kaufman and Howard Teichmann.
The Shuberts can't make some of the mistakes made by the developers of the new Henry Miller's. They probably won't dig three continents down and expect the theatre to empty in an efficent way with only stairways and two humongous elevators. Hopefully, they will install seats that are a bit more generous with wiggle room.
And...
If you want a taste of how actors projected back in that era and the more recent one where you don't actually have to purchase a tkt to a musical [you can just grab one of those chairs from Bloomberg's Seventh Avenue/Broadway parkland and enjoy from the sidewalk], get tickets now for Scott Siegel's Sixth Annual Broadway Unplugged November 16 at Town Hall, where standards from classic musicals are performed by vocalists without mikes and amplication. Siegel likes to call it "sound by God." Showtime is 8 P.M. Tickets are $25-$75 and available at the Town Hall box office or by calling (212) 365-4345.

Last Chance
Run, don't walk, to the Vineyard and catch the last performances of Colman Domingo's captivating, hilarious, and poignant one-man show with benenits, A Boy and His Soul. The show closes Sunday. As Domingo tells of his coming of age and coming out in a not-so-traditional, extended Phily black family, he accompanies every step of the way with the music that drove him: soul, the Motown kind. Though no relation to the mega opera star with the same surname, Colman's got vibe. His list of credits is mind-boggling, but you may recall him in Stew/Heidi Rodewald's Tony-nominated and DD-winning Passing Strange [and Spike Lee's film]. He's currently a regular on f Logo TV/Rosie O'Donnell's Big Gay Sketch Show. Tickets are $55 and available at the Vineyard box office or online at www.vineyardtheatre.org.

Boo!
There's always lots to do on Halloween, a very special "holiday" in NYC and an opportunity for generally normal, or fairly normal, folks to shake up their unhibited side. The big event is the annual Greenwich Village into Chelsa Halloween. What follows after, especially on such Village streets as Christopher, might be called the Exhibitionists Parade!
For some daytime fun, there's the Bronx Zoo's Boo at the Zoo fest. The huge array of animals in the vast complex won't be wearing costumes but there will be plenty of focus on the Zoo's creepy inhabitants, which include bats, rats, owls, and snakes. In the trick and treat department, activities will include a magic show, spooky stories, costume parades, musical haunted hayrides, and even some trick or treating.
Only a 90-minute ride away by car or from Port Authority is the always-festive Six Flags Great Adventure Fright Fest - thrills by day [from all those roller coasters] and chills by night from the ghosts and ghouls surrounding the Fountain of Blood to costume and character parades, face-painting, live shows, dolphin and tiger shows, and children's ride park. Any visit should include the free-with-admission-if-you-drive-through Wild Safari, the world's largest such "drive-thru" attraction outside of Africa. The Safari has seen huge population growth with dozens of new babies born this season. Wear comfortable shoes!
Ellis Nassour is an international media journalist, and author of Honky Tonk Angel: The Intimate Story of Patsy Cline, which he has adapted into a musical for the stage. Visit www.patsyclinehta.com.

He can be reached at [email protected]





Why are you looking all the way down here?
For more articles by Ellis Nassour, click the links below!

Previous: Chita Rivera Shakes, Shimmies, Salsas, Mambos, Sizzles, and Sings: Muchas Gracias

Next: Rainbow's Pot of Gold; Golden Rainbow Story; Allen Moyer Set Design; God of Carnage's New Cast; Tonight, Tonight...Monday Overload; Saluting Forbidden Broadway; GWTW Returns

Or go to the Archives