Director/choreographer Warren Carlyle of Finian's Rainbow and associate producers/casting directors Nikole Vallins and Jay Binder found their pot of gold at the end of their rainbow: Their sensational cast.
The Broadway revival of Yip Harburg/Burton Lane/Fred Saidy's 1947 fantasy musical, Finian's Rainbow just transferred to the St. James from its Encores! concert has such perfectly cast leads as Olivier and Tony winner Jim Norton [The Seafarer], Kate Baldwin, charismatic Cheyenne Jackson, and multi-talented dynamo Christopher Fitzgerald.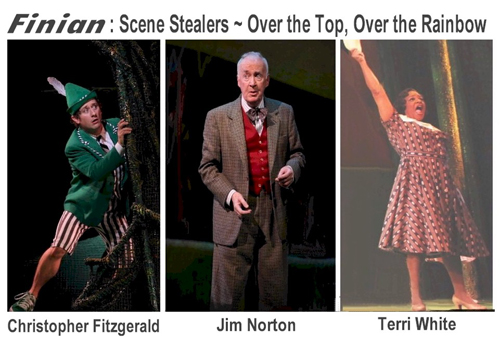 Luckily, it also boasts a magical score that ranges from beguiling ballads and blues to spirited gospel. It includes such now-classic tunes as "Old Devil Moon," "If This Isn't Love," "How Are Things in Glocca Morra?," "When I'm Not Near the Girl I Love (I Love the Girl I'm Near)," "Necessity," "That Great Come and Get It Day," "The Begat," and "Look to the Rainbow."
The show has great voices in Baldwin and Jackson, however they are not alone. Who knew Norton and Fitzgerald could put over songs so well?
The 30 + cast includes more than its share of scene stealers: Fitzgerald, not so long ago wowing audiences as Young Frankenstein's Igor [Tony, DD Featured noms], as Og the leprechaun; stage/screen veteran David Schramm and power bass Chuck Cooper [Tony, Featured Actor, The Life; Caroline, or Change] as the bigoted/benevolent Senator Hawkins; veteran belter back on the Main Stem for the first time in nearly 30 years, Terri White; and former ABT dancer Alina Faye. Add to this, the sensational dance ensemble, which boasts those awesome high leapers Tyler Frey, Tyrick Wiltez Jones, Joe Aaron Reid, and Steve Schepis.

FR is the whimsical, socially conscious story that literally dances [thanks to Faye] between romance, satire, and fairy tale. Set in the mythical Deep South state of Missitucky, an Irish dreamer, Finian [Norton] arrives with a pot of stolen gold from the end of a rainbow and beautiful daughter Sharon [Baldwin]. Complications ensue - like romance, with Woody [Jackson], a farmer just back from adventures in NYC to save his land; and land grabbing in the wake of the TVA.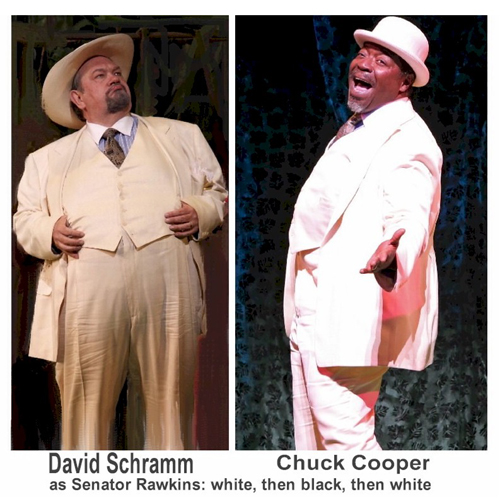 In an era when segregation was in place, black and white mingle, socialize, and dance together - most highly probably because this is a Broadway fantasy musical. Bigotry does raise its ugly head in the form of a robust Senator who attempts to seize Woody's land.
Og, the pesky leprechaun, arrives in search of his gold and finds he's becoming human. This is something he resists, as it will mean the loss of his magical powers, until he falls for Sharon. Standing a bit too close to the buried treasure, she makes a wish that turns the plot topsy-turvy and a white man black - and, eventually, vice versa.
"There are major differences between the Encores! staging," says Carlyle, "and Broadway. Arthur Perlman adapted the Harburg/Saidy book from David Ives' Encores! revised book. I've built on my original concept by re-imagining every design element."
Tony/DD-winning designer John Lee Beatty [with 14 DD and 12 Tony noms] has created a fully realized set, which is filled with Toni-Leslie James's eye-popping costumes [over 200 of 'em]. The orchestra has moved from stage to the pit. "The latter decision provided me with more opportunities to fully choreograph," adds Carlyle. "In addition, bits of magic have been incorporated."
One element of the original production remains: Robert Russell Bennett and Don Walker's orchestrations. Music direction is by Rob Berman [Pajama Game revival], also on Broadway with Irving Berlin's White Christmas.
Though it's said that this FR is the first Broadway revival of the classic musical in nearly 50 years, that's not literally true. After running an impressive 725 performances and winning three Tonys, including one for David Wayne, portraying Og, and legendary choreographer Michael Kidd, in his Broadway debut, it was revived twice in limited engagements by the then City Center Light Opera Company, once on Broadway at the 46th Street Theatre, now the Richard Rodgers.

A Golden Rainbow Story
Finian's Rainbow also has a story that goes from heart-breaking to heart-warming.
When Terri White, as Dottie, Rainbow Valley's strong-willed and seemingly only woman of a certain age, delivers "Necessity" and turns it into a late Act One showstopper, she knows of what she sings.

The daughter of black vaudevillians, she'd been singing and dancing since age eight. She enjoyed early success making her Broadway debut in Barnum opposite Jim Dale and Glenn Close.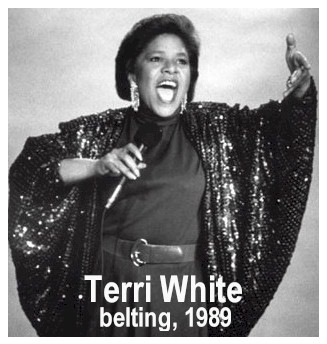 "Terri was a bubbling ball of fun during the rehearsals and run of Barnum," states Dale. "She played Joice Heth, 'the oldest wman in the World,' to perfection. She brought down the house very early in the show singing 'Thank God I'm Old!' Barnum would have been humbugged without her. She was a joy of a performer!"
She followed the Cy Coleman/Michael Stewart musical by stepping into Ain't Misbehavin', and a later role in the short-lived Welcome to the Club.
She worked regionally, such as in a production of Nunsense; and appeared with Liza Minnelli at Radio City Music Hall.
Working for tips, she sang regularly at piano bars, such as Rose's Turn and the long-gone 88s in Greenwich Village. When piano bars went out of fashion, gigs were hard to find. "I couldn't pay my rent and was evicted. For several months, I crashed in friends pads."
She was too embarrassed to apply for help from city agencies or outreach orgs such as the Actors Fund. Few in the acting community knew of Ms. White's situation. Shows close and actors move on. At one low point, she was sleeping on a Washington Square Park bench. Singing at whatever club that would hire her, she took advantage of their restrooms to wash up. Somehow, she managed the money for a basic cell phone and went to audition after audition.
"There was nothing," she states. "I felt washed up." In a stroke of karma, in 2008 police officer David Taylor recognized Ms. White. Hearing her story, he arranged for her to have a rent-free basement apartment in New Jersey. When she got invited to sing at a Florida supper club, it was a new beginning. That trip led to more than a new beginning. She met jewelry designer Donna Barnett and romance ensued.
When she heard about auditions for Encores! Finian's Rainbow, she let it be known she had performed in a production when she was a child. She was gifted with airfare and hopped a plane to New York, auditioned for Carlye, wowed him, and was cast. Now 61, she says, "What a blessing this has been. I've found my pot of gold. I pinch myself every day to make sure it's not a dream."
For more on Terri White, including an extensive photo gallery, visit www.terriwhite.com.

Getting It Authentic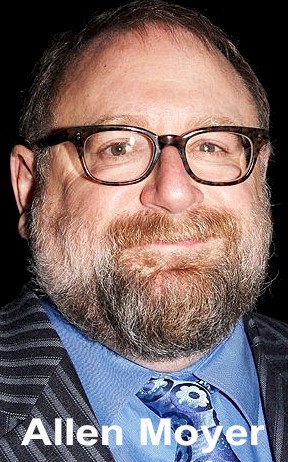 When it comes to certain things like authenticity, Allen Moyer is not your typical set designer. He's represented this season on Broadway with Roundabout's After Miss Julie, where he has literally recreated the massive kitchen of a heralded English estate for the Patrick Marber play which is set in 1945. To the extent possible, everything had to be to the manor born: the real thing or as real as the budget would allow.
Moyer's list of designs in New York alone seems endless. He's most celebrated for the unique setting of Playwrights Horizons' Doug Wright/Michael Korie/Scott Frankel offbeat musical Grey Gardens, which starred Christine Ebersole, winning her a Tony and DD, and Mary Louise Wilson, winning a Tony and a DD nom. The musical is now in its first Asian engagment, wowing them in Japan.
He's also designed, to name three, The Little Dog Laughed, The Constant Wife, and Twelve Angry Men; while also working regularly with Roundabout, MTC, Playwrights, numerous regional theatres, and quite extensively in opera. In 2006, he was honored with an Obie for Sustained Excellence.
For GG, Moyer was Tony and DD-nominated for his set that was the height of Long Island glamour in Act One and the depth of squalor in Act Two.
He says that since beginning design work in 1986, one of his biggest biggest challenges was GG. "It wasn't just a challenge for me," he laughs, "but for everyone because at Playwrights and at the Kerr. There was no place to store Act Two. I had to come up with something novel." The novelty was that both sets were in place all the time. At the end of Act One, the walls had to be turned - by hand.

"The walls were propped up from behind," he explains. "At the interval, stagehands would break them apart piece by piece and flip. Before we even got everything assembled at Playwrights, I knew intermission would have to be stretched a bit. It was really bad the first time. It took 30 minutes. It was like going to the opera!"
When the time was reduced to 19 minutes, he and the crew felt they were "getting there. By the time the show was running a couple of weeks, it was down to a very manageable 12 minutes."
To achieve Act Two's squalor look the set was piled high with garbage, old newspapers, and empty cat food cans. "Everyone brought their empty cans. Then there was the process of sanitizing them, to avoid a vermin problem, and painting them to look older. I've found that there's a place you can go for just about anything, but I never thought I'd find one to purchase new empty cans."
He was delighted to know that After Miss Julie director Mark Brokaw wanted a very authentic set even for a production that would have a limited engagement. "Authentic is a magic word for me," he smiles. "I went for it full steam."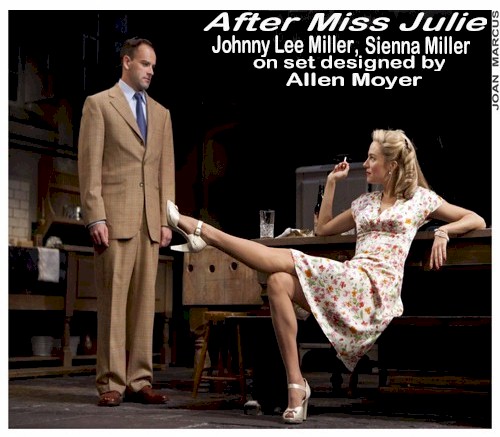 At Roundabout, states Moyer, "When I ask for something, they know I feel it's important. The After Miss Julie set is quite elaborate and quite expensive, but I got what I needed to make that kitchen look like it actually is a working one in a grand manor house."
Even the sound of walking across AMJ's stage at the American Airlines Theatre had to be authentic, "and faking it wouldn't cut it for me. I was so tired of seeing fake stone floors. It had to be the real thing. I also wanted the floor elevated four inches. When the bids came back, it would have been as much as 40% of my budget so the limestone was simply laid over the stage floor. It was like putting together a jigsaw puzzle. We had to bring in stoneworkers to do the grouting. As it turned out, we have a rise of almost two inches."
Moyer does windows authentically, too. "I didn't want plastic! If you use Plexiglass, which is what we usually do, and you have light coming through, the light is not the same. Glass is the way to go. The windows in a stately home built in the 1860s would have used glazed glass, and that's what I wanted -- and got."
The gigantic work table was built from scratch, based on meticulous research. The dinner China is Spode. "No short cuts there or on the cutlery." You also may notice that the AMJ, sets don't stop, but continue to various rooms off stage.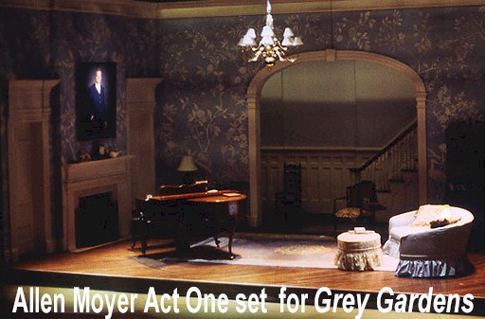 "I wanted Sienna Miller, Johnny Lee Miller and Marin Ireland to feel as it they were going to the actual rooms. That provides a sense of scenic continuity. When Sienna and Johnny Lee told me that they feel so at home on the set, that gave me a great sense of satisfaction."
In addition to having your imagination working when you read a script, says Moyer, "You have to know how to shop around, but you can't always find what you need in a shop." Case in point is his pride and joy in AMJ , the magnificent iron range where Ireland is seen cooking.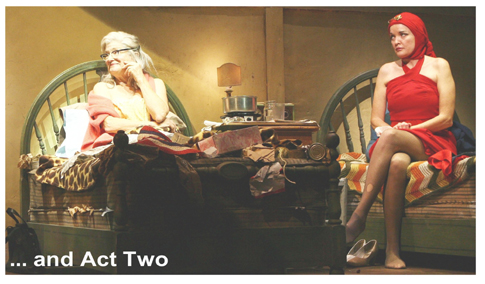 "It was found in England at a salvage company. It was solidly bolted together and we had to take it apart for shipping over in a container. It was very expensive, but that was something I really wanted that I couldn't find here. It's a beauty and looks like it belongs at Miss Julie's estate."
He has his eye on that range. At the end of After Miss Julie's run he hopes Roundabout will make the price right so he can purchase it.
Almost every Broadway house has very limited load-in doors, "so the very first thing you have to do is take three confirmed measurements. Then the set pieces arrive in sections and are assembled onstage. Since you don't want it to look like a jigsaw puzzle, your crew has to paint over the seams - so that to the audience's eye it's seamless."

God's Newcomers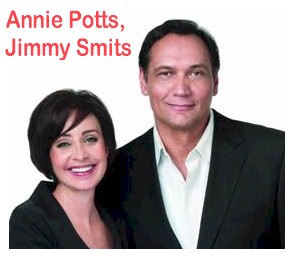 Broadway's "comedy of manners without the manners," Yasmina Reza's Tony/Olivier-winning Best Play, God of Carnage gets a totally new cast beginning tomorrow.
Taking over in the roles played, respectfully, by Marcia Gay Harden, Hope Davis, Jeff Daniels, and James Gandolfini are: Emmy-winner Christine Lahti [Chicago Hope] as Veronica; Emmy/Golden Globe-nom Annie Potts [Designing Women] as Annette; Emmy/Golden Globe-winner Jimmy Smits [Cane, West Wing] as Alan; and from the original cast of GOC's West End production, as Michael, Olivier Award-nom Ken Stott, who also starred on the W.E. in Reza's Art.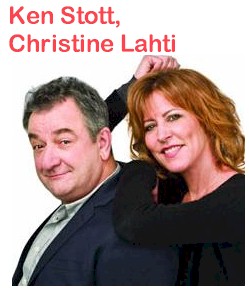 Lahti was DD-nominated in 1993 as Outstanding Actress, Play for her role in Three Hotels. She appeared in the 1982 revival of Noel Coward's Present Laughter, opposite George C. Scott, and The Heidi Chronicles. Potts, mainly known for her comic sensibilities, stunned the entertainment world with her dramatic recurring role on Huff as a single-minded mother with a mission.
Smits has played numerous roles for the Public/NYSF. He made his Bway debut in Nilo Cruz's Pulitzer Prize-winning/Tony-nom'd Anna in the Tropics. He completed a season on Dexter and can be seen onscreen in Rodrigo Garcia's Mother and Child, which features Annette Bening, Amy Brenneman, Lisa Gay Hamilton, Samuel L. Jackson, Cherry Jones, S. Epatha Merkerson, Kerry Washington, and Naomi Watts.
God of Carnage takes place at a meeting of two sets of parents over a playground altercation between their kids and turns into a battle zone. GOC also won a Tony for Matthew Warchus, Best Direction.

Monday Overload: Tonight, Tonight ...
Tonight isn't just like any other night, you'll have to make some choices of where to go and what to see. It won't be easy. Among the night's numerous worthy events are:
Sound by God
Town Hall will come alive tonight at 8 at Scott Seigel's Sixth Annual Broadway Unplugged concert with the sound of music as it was once heard on Broadway: without amplification.
"Amps and mikes be damned," states Seigel, who writes and hosts. "The only sound you hear from our starry array of vocalists will be the old-fashioned kind, the way it used to be heard on Broadway - remember Merman? Martin? Drake? Gray? - without microphones and amplification. You might say the credit can read: Sound design by God.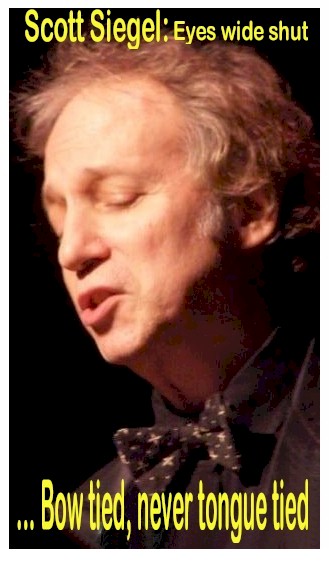 "I dress loud," adds Siegel, "but can't project like the stars of our show, so I'll be the only one on mike." As with every Siegel event [he co-produces and creates Broadway by the Year], the biggest laughs will come from an ad-libbed moments, as when he brought the house down with the fact that the Empire State Building was built faster than the new TKTS booth.
"We have Grammy winner John Easterlin, fresh from his triumph at the Vienna State Theatre," states Siegel. "He'll soon be starring in the Met's Elektra. Then there's the amazing Marc Kudisch in two duets and a solo number from Street Scene. "
Also headlining are White Christmas' Tony Yazbeck [Gypsy], surely to perform some fancy footwork; Emily Skinner and Daniel Reichard; Jeffry Denman and Jill Paice with a song/dance number from Crazy For You; power vocalists William Michals [alternating in South Pacific] and recording artist/vocal coach/Bistro Award winner Bill Daugherty singing "The Man of La Mancha"; and Nightlife Award winner David Colbert.
"There'll be 21 songs," Siegel points out, "each performed with the pure beauty of the human voice, backed by the strains of piano, bass and violin. And, as always, there'll be a few surprises. Can't tell, otherwise it won't be a surprise."
Ross Patterson is the musical director/arranger, accompanied by his Little Big Band. Scott Coulter is directing. Broadway Unplugged is sponsored by, among others, the Edythe Kenner Foundation, Thoroughbred Records, TheaterMania.com, Trattoria Dopo Teatro, Jill and Irwin Cohen, and Edith and Ervin Drake.
Tickets are $25 - $75 and available at the Town Hall box office, by calling (212) 307-4100, and online at TicketMaster.com.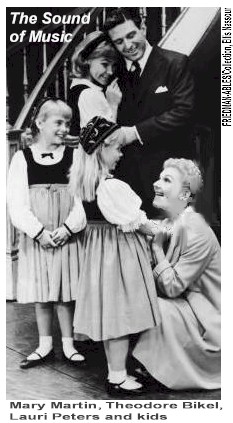 The Hills Around Lincoln Center Will Be Alive
Barnes & Noble's Live at Lincoln series, Lincoln Triangle store, will help celebrate the 50th Anniversary of Rodgers and Hammerstein's The Sound of Music at 5 P.M. Theodore Bikel, co-star of the original Bway production as Captain von Trapp, joins Lauri Peters [Liesl] and Brian Davies [Rolf] in a discussion about the show's creators and inimitable star, the late Mary Martin.
Sharing stories about Maria von Trapp, whose story is the basis for the musical, will be her grandson, Sam von Trapp. R&H president Ted Chapin will introduce a panel to be moderated by Laurence Maslon, author of The Sound of Music Companion; and which includes R&H's Bert Fink, author of The Sound of Music: A Classic Collectible Pop-Up book [Little Simon; $27], where Maria, the Abbey, and Austria's hills literally come alive. He has also written the new liner notes to Columbia Record's cast album reissue.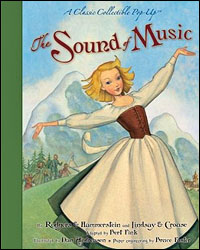 The CD includes bonus tracks "From Switzerland: The Pratt Family," Julie Andrews/ Carol Burnett's spoof of TSOM from their 1962 TV special Julie and Carol Live at Carnegie Hall; "Edelweiss," in German, from TSOM's 2005 Vienna production; and a Swedish cover of "Climb Ev'ry Mountain" by Tommy Körberg, best known from the Chess concept album.
The Sound of Music won 1960 Tony Awards for Best Musical [book by Howard Lindsay and Russel Crouse], Best Actress, Featured [Patricia Neway]. Bikel, admittedly in a starring role, was nominated as Featured Actor, along with co-star Kurt Kasznar; and Ms. Peters was nominated in the Featured category along with children Kathy Dunn, Evanna Lien, Mary Susan Locke, Marilyn Robers, William Snowden, and Joseph Stewart. There was a Tony for set designer Oliver Smith and an nom for director Vincent Donehue. TSOM became a world-wide classic, Oscar-winning film, starring Julie Andrews and Christopher Plummer.

Don't Miss
Birdland's Jim Caruso's Cast Party will salute Gerard Alessandrini's book Forbidden Broadway: Behind the Mylar Curtain [Applause/Hal Leonard Books; 256 pages; SRP $25] next Monday at 9:30 P.M. with a "mini-show."
Alessandrini's revue spoofed Bway's best in 20 incarnations over 30 years. At Birdland, he'll step into the spotlight and perform with original FB cast member Nora Mae Lyng, and FB vets Michael "The Body" West, Christina Bianco, and Gina Kreiezmar. Accompanying will be FB's longtime music director David Caldwell. $10 cover and $10 food/ drink minimum. For reservations, call (212) 581-3080.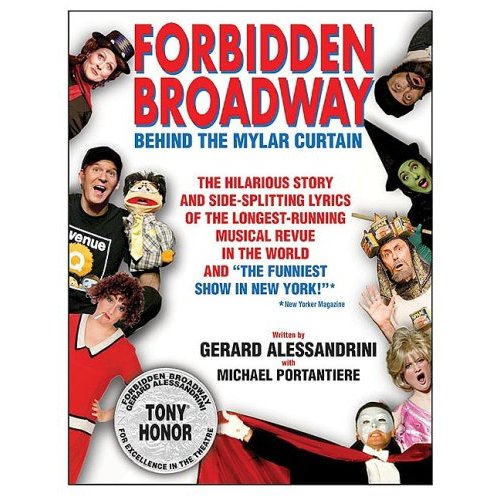 The FB creator has as many awards as his revue has fans, including the Tony Honor for Excellence in the Theatre, four DDs, an Obie, and among numerous others, two Lucille Lortel Awards.
In the book, written with Michael Portantiere, Alassandrini looks back at the creation and evolution of FB with cast members including Bryan Batt, Christine Pedi, and Daniel Reichard. Among the chapter titles are "Cats, Phantoms, and More Misérables," "Teeny Todds and Grim Hotels," and "Who's Afraid of the Light in the Piazza?". This "mockument," as he calls it, contains over 100 B&W/color photos from worldwide productions as well as those of the celebrities who came to laugh at themselves.

Classic Remastered [Again]
Gone with the Wind is one of the most celebrated motion pictures of all time - winner of 10 Academy Awards including Best Picture and Best Actress. In adjusted 2009 dollars, it holds the record for the biggest worldwide box office gross, $1.5-billion. Just released to celebrate the film's 70th Anniversary are two packages with the film stunningly restored/remastered and available for the first time on Blu-ray [WHV; SRP, limited five-disc Blu-ray/Ultimate Edition in keepsake box, $84 and as standard DVD, $70; two-disc edition, $25].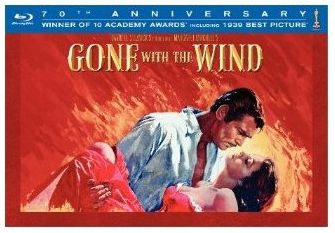 With more than 50 speaking roles and up to 2,500 extras, GWTW is the quintessential Hollywood epic. It stars Clark Gable, Vivian Leigh in her Oscar-winning role as Scarlett, Olivia de Havilland, Leslie Howard, and Hattie McDaniel. In featured roles, Jane Darwell and, especially, Laura Hope Crews steal every scene they're in.
Miss McDaniel's casting as house servant Mammy was precedent-setting as the largest role for a black actor in a major studio release. Her retorts to Scarlett and reaction expressions are priceless. She's particularly outstanding in dramatic moments toward the end - as in her scene with Gable following Bonnie's death. In a stunning upset, she beat out favorite de Havilland for the Supporting Oscar - not only the first black to be nominated, but also the first to win. Oddly, not all the black community praised her breakthrough win. Sadly, press materials for the set, do not even mention her name, much less her achievement. Though the 1967 trasfer of the film to the widescreen process was disastrous, the billing was redone to feature McDaniel's name and pioneering achievement.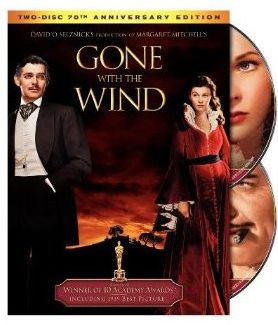 Considering three-strip Technicolor was in its infancy in the late 30s, the negatives have held up well; however there's been frame-by-frame restoration to correct technical errors [such as the carriages entering Twelve Oaks for the barbeque] and quivers on dual matte process shots. The Blu-ray clarity heightens images to six times higher resolution and allows you see the texture of garments. No matter how many times you've seen GWTW, viewing the movie on the new discs will be a revelation.
The soundtrack has been "digitally cleaned" and maximized using Dolby TruHD. As classic as Max Steiner's lush score is, you'd think it won the Oscar, but it was only nominated. The packages contain memorabilia such as posters and reproductions of the 1939 Atlanta premiere souvenir book; 40-page, illustrated hardcover book; and bonus discs with hours of entertainment and commentary by film historian Rudy Behlmer. Extras include screen tests, and foreign language scenes.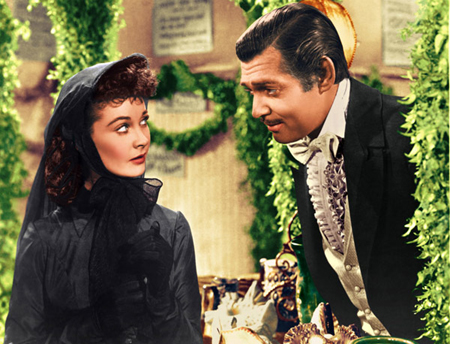 Would you be surprised to discover Tallulah Bankhead, Katharine Hepburn and, get this, Mae West, were considered for Scarlett? What's more amazing - considering the popularity of Margaret Mitchell's 1936 novel, readers' notions of who should play whom, the revolving door of writers, the era's technical limitations, and, that three or more directors including credited Victor Flemming worked on it - is that the film got made and became one of our endearing masterpieces. Thank your lucky stars for the all-consuming zeal of David O. Sleznick, who wasn't that interested in obtaining film rights when he heard the price was a then astronomical $50,000.
There are docs with the film restorers, explaining how faded or detoriated parts of the film were "fixed"; on Gable and Miss Leigh; Gone with the Wind: The Legend Lives On; The Making of a Legend, narrated by Christopher Plummer [with pointed observations from Butterfly McQueen, who played Prissy]; and Melanie Remembers with Miss de Havilland.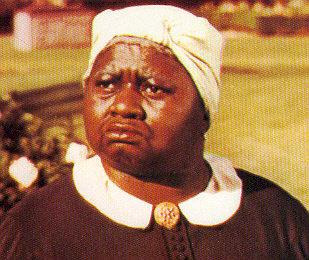 GWTW has three other stars - on the technical side: production supervisor William Cameron Menzies, the guiding light behind the film's look; costume designer Walter Plunket [there was no Oscar category for costumes in 1939]; and Lyle Wheeler, Oscar-winner for Art Decoration.
Visit Amazon.com's Gone with the Wind page for film clips and a 36-minute doc with WHV's George Feltenstein discussing the restoration of GWTW and the 70th Anniversary DVD of The Wizard of Oz.
Ellis Nassour is an international media journalist, and author of Honky Tonk Angel: The Intimate Story of Patsy Cline, which he has adapted into a musical for the stage. Visit www.patsyclinehta.com.

He can be reached at [email protected]





Why are you looking all the way down here?
For more articles by Ellis Nassour, click the links below!

Previous: Memphis and Birdie Choreography Soars; Star-Studded Galas; Bold, Daring Precious; ACL Documentary; Coming Soon; Last Chance; Boo!

Next: Ragtime Harmony; Encores! Season Opener: Girl Crazy; Kudisch/Denman Home for the Holidays; What Next for Rob Marshall?; Oscars Going MTV Route; Tennessee Williams Symposium/Film Retrospective; Remembering Johnny Mercer; Idiots Return

Or go to the Archives