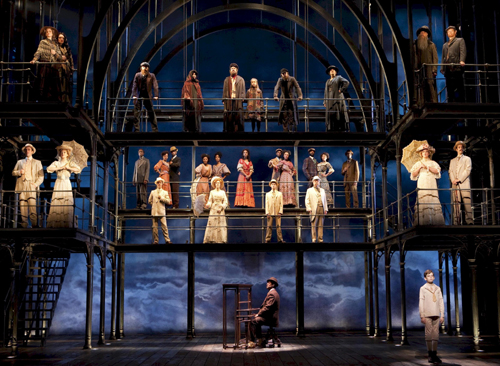 Marcia Pilgrim Dodge's poignant pageant of America coming of age at the turn of the 20th Century, Stephen Flaherty, Lynn Ahrens and Terrence McNally's Ragtime revival has so many stirring, rousing, and dramatic musical numbers that is soars, soars again, and keeps on soaring for over two and a half hours.
The variety of the Flaherty/Ahrens amazing score is endless - from rousing ragtime to, well, soaring, ballads that will long stay with you.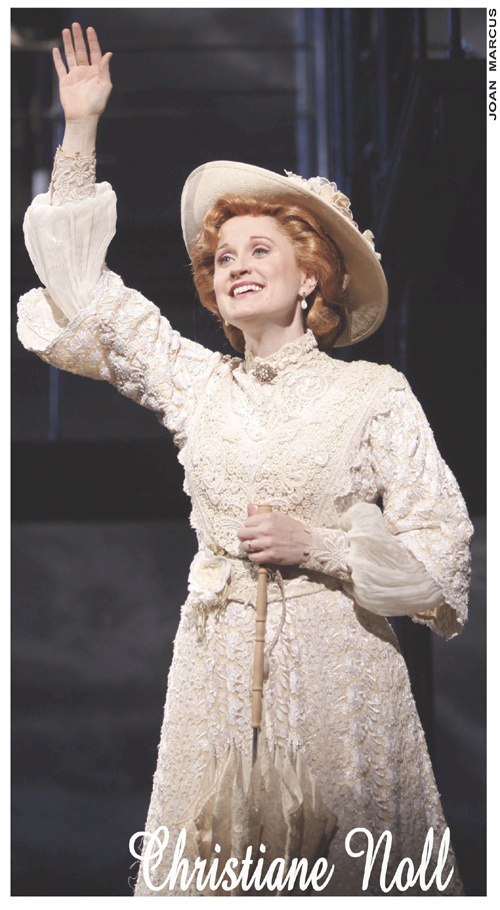 Ragtime is def one of those musicals where you won't forget the music.There are dynamic solos, such as Coalhouse's "Make Them Hear You" and "Coalhouse's Soliloquy"; Mother's heart-wrenching "Back to Before"; and Tateh's tender "Gliding."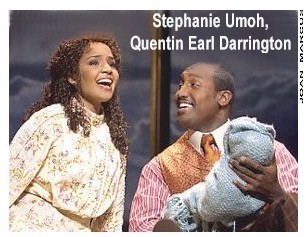 There are uplifting duets, such as Coalhouse and Sarah's anthem "The Wheels of a Dream" and playful "Sarah Brown Eyes." There are trios, such as Father, Mother, and Tateh's moving "Journey On."
The show boasts quintets, such as the marvelous "New Music." And there are comic relief numbers such as Evelyn Nesbit, Houdini, and Father's colorful "Atlantic City"; not to mention huge company numbers like the showstopping "Ragtime," "Getting Ready Rag," and "Till We Reach that Day."
The one thing all the tunes have in common are beautiful, blended harmonies. As outstanding as Flaherty/Ahrens' Tony and Drama Desk-winning score is, there's another standout Ragtime element: the nearly 30-piece orchestra under musical director James Moore and using William David Brohn's award-winning original orchestrations.
.


Then there's the 40-member cast - all shabbily to magnificently costumed by Santo Loquasto, highlighted by Ron Bohmer as Father; Quentin Earl Darrington as pianist Coalhouse, who develops into a dangerous radical; seemingly ageless Christiane Noll as Mother; scenestealer extraordinaire Robert Perkoff as Tateh; Bobby Steggert [who made such an impact with his hijinks in Roundabout's 110 in the Shade revival] revealing the depth of his talent as he goes from shy Younger Brother to an exploding powder key; and stunningly beautiful and stunning vocalist Stephanie Umoh as Sarah
In main featured roles, there's young master Christopher Cox displaying comic timing way beyond his age as Little Boy [Father and Mother's son]; stalwart Donna Migliaccio as Emma Goldman; and tantalizing Savannah Wise in the role of Evelyn Nesbit. And, to the credit of Miss Dodge and Laura Stanczyk Casting, it doesn't stop there but goes on and on.
These actors and their characters weave together the vast and complex stories from E.L. Doctorow's novel of a world where not only the comfortable status quo but also everything is on the verge of change as privilidged New Rochelle WASPs, who aren't as thin-skinned as they might at first appear, become entwined in the volatile melting pot of Harlem blacks attempting to overcome rabid bigotry and Jewish immigrants fulfilling their dream of coming to a new land where anything is possible, especially freedom.
This is the first revival of the musical which originally opened on Broadway in January, 1998, and went on to play 834 performances. It won DD's Outstanding Musical, Score, and Book Awards; and was Tony-nominated for Best Musical, losing to The Lion King; but garnered four Tonys, including Book, Score, and Orchestrations.
The sum of Ragtime's parts add up to masterpiece, a musical pageant that could easily be the definitive American opera. Flaherty and Ahrens, through a 26-year collaboration, have been honored with Tony, DD, Grammy and many other awards but, though it might be possible, it's doubtful they will ever top what they achieved with Ragtime which, forgetting their other work, could stand alone in the annals of show business history as their legacy.

Another Openin' of Another Encores! Season
George and Ira Gershwin's Girl Crazy, the first production of this season's City Center Encores! runs through Sunday. Four-time Tony and Drama Desk winner Jerry Zaks directs Chris Diamantopoulos, Ana Gasteyer, Wayne Knight, Marc Kudisch, and Becki Newton in the "fanciful depression-era musical" with book by veteran West End and Broadway writers Guy Bolton and Jack McGowan. David Ives has done the Encores! adaptation.
Hurry to the box office or charge line because there are only four remaining performances: tonight at 8, tomorrow at 2 and 8, and Sunday at 6:30.
With fabulous, classic tunes and an exhilarating cast - that will have you going, "I didn't know you could do that!" - bursting with energy, this is the perfect season opener. The story may be convoluted but the show is extremely well played and danced.
There are so many highlights and showstoppers it's hard to know where to start, but let's begin with the score. Girl Crazy features more of the songs that became Gershwin smashes than any other of their shows.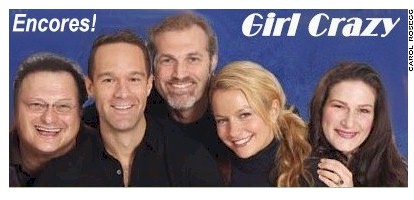 Gasteyer as Frisco Kate, the role 22-year-old Merman created in her Bway debut, has showstoppers: "I Got Rhythm" and "Sam and Delilah." Diamantopoulos, in the playboy role of Danny Churchill and easily matinee idol material, duets with Newton [who happens to be his wife] on "Could You Use Me?" Newton, who seems born to the musical stage, may have opened a new career path with her portrayal of Molly [the role created by 19-year-old Ginger Rogers] has her big moments in the duets "Embraceable You," sung with Diamantopoulos, and "But Not For Me," done with Knight, who displays never-before-known characteristics.
Kudisch, who plays Kate's hubby Slick, can always be depended upon for a big moment that stops a show. He does just that with "Treat Me Rough." Jeremy Beck, Mylinda Hull, Richard Poe, Daniel Stewart Sherman and Gregory Wooddell are among the featured players.
Every Encores! makes great use of the ensemble and Zaks uses them to good effect as "cowboys, cow punchers, and dudeens" [female "dudes"] on "Broncho Busters,' "Land of the Gay Caballero," and "Bidin' My Time".
What's an Encores! without the huge orchestra? Rob Fisher, founding music director/conductor for the series [through 2005] makes great use of Robert Russell Bennett's original arrangements [including an overture and, that rarity today, an extended entr'acte], which strongly benefit from the almost 30-strong musicians.
The ab fab choreography is by Warren Carlyle, represented on Broadway by Finian's Rainbow, an Encores! hit last season. Costumes and the set are by, respectively, Broadway's celebrated William Ivey Long and John Lee Beatty.
Diamantopoulos joined the cast of The Full Monty in the role of Ethan and earlier appeared as Marius in the original production of Les Miz. After giving a memorable performance as Robin Williams in the NBC movie Behind the Camera: Mork & Mindy, he was cast as Rodney in USA Network's The Starter Wife. Newton, who began playing summer stock at age 13 had aspirations to be on Bway, but went the TV route. She's an Emmy nominee for her role of ditzy/man crazy Amanda on ABC's Ugly Betty. Gasteyer is currently on Broadway in The Royal Family.
Knight, an audience fav for his role as Newman on Seinfeld, 3rd Rock from the Sun, and the web series Woke Up Dead, was most recently onstage opposite Christina Applegatge in the Sweet Charity revival. Multiple Tony and DD-nominee Kudisch, playing the tailor-made role of Slick, just completed a run in Dolly Parton's 9 to 5.

The story, ah, the story. They don't write 'em like this anymore: The father of New York playboy Danny Churchill sends him to a dusty Arizona cow town and a family-owned dude ranch to get him away from nightclubs, gambling, and women. Danny hires a cabbie [Knight] to transport him. On arrival, he aspires to a higher calling. Manhattan femme fatales invade the ranch, which Danny turns into a swinging club with gambling. Of course, he falls in love - with Molly, woos her, and eventually wins her.
The Gershwins' music was one of the mainstays of the 20th Century and saw America through some of the dark days of the depression and WWII. Girl Crazy, which, opened at the Alvin [now Neil Simon] Theatre in 1930, had one of the most momentous openings in Broadway history. It ran 272 performances, becoming one of the decade's biggest stage hits. George Gershwin conducted on opening night and stacked his orchestra with some of the biggest names in music: Tommy Dorsey, Benny Goodman, Gene Krupa, Glenn Miller, and Jack Teagarden.
Girl Crazy has seen many lives. Ken Ludwig did an adaptation retitled Crazy for You, which was directed by the late Mike Ockrent and choreographed by Susan Stroman [which is how they met and later married] that kept four of the original songs and interpolated tunes from other Gershwin show. It went on to win the 1992 Tony Award for Best Musical. The stars were Harry Groener, best known for his TV comedy roles who proved to be quite a song and dance man, Jodi Benson, Jane Connell, Ronn Carroll, John Hillner, and featured Michele Pawk, Beth Leavel, and Casey Nicholaw.
The musical has been adapted three times for film: in 1932, mostly with only the score intact; in 1943, M-G-M's lavish version starring Garland and Rooney; and 1965, when Metro dusted off the property and contemporized it as Where the Boys Meet the Girls as a vehicle for pop idol Connie Francis, with a featured cast that included Harve Presnell, Louis Armstrong, Herman's Hermits, Sam the Sham, the Pharaohs, and, get this, Liberace.
Jack Viertel is Encores! A.D. Newman's Own Foundation is lead sponsor. The season is also made possible by the Shuman and Steinberg Funds, Roz and Jerry Meyer and Ruthe and Tony Ponturo.
Season and individual tickets are available at the City Center box office, through CityTix at (212) 581-1212, or online at www.nycitycenter.org. Single tickets are $25-$95.

Upcoming for Encores!

Harold Rome's 1954 poignant, romantic musical Fanny, with book by S. N. Behrman based on the famed Marcel Pagnol trilogy, plays February 4-7.

The much-anticipated concert of Anyone Can Whistle, Sondheim and Laurents' 1964 experimental satire of the American cultural scene [conformity, psychology, race, greed, religion, and politics] plays April 8 - 11. Sutton Foster has been announced for the role originated by Lee Remick. There's much buzz about who'll play the role originated by Angela Lansbury in her Bway debut, and that of the male lead, played in an unusual bit of casting by Harry Guardino. This could be another Encores! event - such as Follies and Gypsy - that results in a Bway move.

Holiday Time Buddies
Marc Kudisch and Jeffry Denman will be together again, but this time for the holidays. They are putting together a special show, The Holiday Guys, for Monday nights at 7 P.M. in December for Gotham Comedy Club [208 West 23rd Street, between Seventh and Eighth Avenues].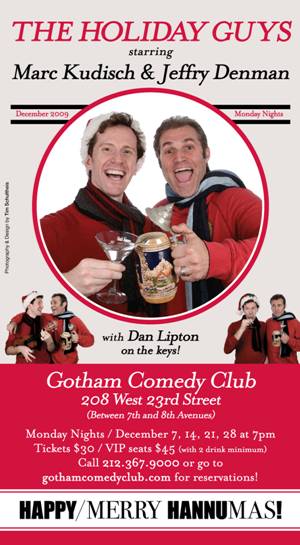 "This is our first solo show together," says Kudisch. "We've worked with and directed each other at Town Hall in Scott Siegel's Broadway by the Year series, and always enjoyed each other's energy. We're so different and yet seem to approach things similarly. Some of our best ideas come from spontaneous moments that we both recognize and enjoy. It's great to work with someone when it comes so easy"
"It'll be a non-traditional/traditional holiday show," states Denman, "with song, dance, and silliness."
Kudisch and Denman state that their show won't be a Broadway concert. "It's purely holiday music," explains Kudisch. "Some of it will be contemporary, but most of will be traditional - however, done in untraditional ways. It will be a doorway into our personal feelings and views of the holidays, of course from our skewered point of view. There'll be solos and we'll be singing a lot together.
"We invite you to come in, beat the stress of the season, grab a glass of eggnog," adds Kudisch, "and let us remind you of the real meaning of the season."
Dan Lipton will music direct; and, note Kudisch and Denman, there'll be special guests dropping in.
Tickets are $30 and $45, plus two-drink minimum. To reserve, call (212) 367-9000. For more information, visit www.gothamcomedyclub.com.

After Nine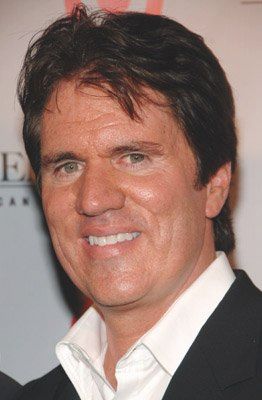 Before his film adaptation of Murray Yeston's Nine, even opens next month, the airwaves are full of accolades for director/choreographer/co-producer Rob Marshall, the Bway vet and Oscar-nominated director/choreographer of the film version of Chicago, which captured the Oscar for Best Picture.
So, after all the Oscar noms to come in February for the long-awaited film, what next for Marshall? Maybe a huge, water-based shoot from Disney - say,maybe, the fourth installment of Pirates of the Caribbean: On Stranger Tides? Filming, with Johnny Depp again in the lead role, is set to begin in May and it's been strongly reported that Marshall is in talks to helm.
Nine on film from the Wienstein Company stars two-time Oscar-winner Daniel Day-Lewis, who replaced the earlier-announced Javier Bardem, who dropped out "due to exhaustion," as Guido, and Oscar winner Penélope Cruz as Carla, Best Actress Oscar winner Marion Cotillard [La vie en Rose , the Piaf bio film], Oscar winner Judi Dench as Lilli [either a new character or the "old" Liliane La Fleur], Oscar nom Kate Hudson as [a newly-named character] Stephanie, Best Actress Oscar winner Nicole Kidman as Claudia, Best Actress Oscar winner and screen legend Sophia Loren as Mama Maddelena.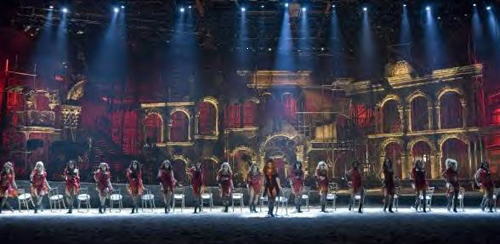 The sceenplay is by Michael Tolkin, who was Oscar-nom'd for The Player, and the director/producer Anthony Minghella,The much-talked about cinematography is by Oscar-winner Dion Beebe [for Marshall's Memoirs of a Geisha], who was Oscar-nom'd for Chicago.
The Broadway production book was by Arthur Kopit, who with Yeston is among the film's exec producers, after development by theater journalist/playwright Mario Fratti, who worked to get the rights from director Frederico Fellini. It was directed/choreographed by Tommy Tune.

The Oscars Shake Things Up

Oh, remember the days when the Oscar telecast was so status quo? Well, not any more. Traditional producers like Dreamgirls' Larence Mark and Bill Condon and directors, such as specials/award show helmers Louis Horvitz and Roger Goodman, are being pushed aside for the avant garde in an effort to make the show more cutting-edge attractive to the younger set.

Producing the March 7th 82nd Annual Academy Awards ON ABD will be Bill Mechanic and Adam Shankman; and in the director's chair will be Hamish Hamilton. They are vets of live "Kudos Events" [award shows] for TV. Hamilton has directed MTV's Video Music Awards and concert performances by Christina Aguilera, Neil Diamond, Josh Groban, U2, and Stevie Wonder. He'll be directing the spectacular half-time show for February's Super Bowl XLIV.
Another change is a new Governors Award dinner, which was initiated last weekend, to present honorary and career awards, thereby giving the Oscar telecast more entertainment time.

Tennessee Williams Remembered
As part of a nationwide celebration of Tennessee Williams surrounding the December 30th release of the film The Loss of a Teardrop Diamond, based on a rediscovered Williams screenplay, the Museum of the Moving Image plans a December 9th panel Tennessee Williams on Screen and Stage at 7 P.M. at the Times Center and a retrospective at the IFC Center during the first two weekends of December. The film adds a new character to Williams's pantheon of richly drawn, archetypal heroines.
The discussion will be moderated by NY Times theater critic Charles Isherwood. On the panel will be Teardrop director Jodie Markell and stars of the film: Bryce Dallas Howard, Ellen Burstyn, Elaine Stritch, and Eli Wallach, who starred in the film adaptation of Williams' novela Baby Doll.
Tennessee Williams on Film, a series co-presented by the Museum and IFC Center, will take place on weekends at IFC from December 5 through 13. Films include The Glass Menagerie; Suddenly, Last Summer; Cat on a Hot Tin Roof; and The Fugitive Kind. The series was programmed by David Schwartz, the Museum's chief curator, and IFC Center's John Vanco, VP and GM; and Harris Dew, director of programs and promotions. An exhibition of Tennessee Williams movie posters will take place in the theater's second floor lobby.
Tickets are $12.50 general public, $9.50 for IFC Center and Museum of Moving Image members, $8.50 for seniors and children. For more information, including showtimes, call (212) 924-7771 or visit www.ifccenter.com.
Other Williams activities this month and in December include: the acclaimed Australian production of A Streetcar Named Desire starring Cate Blanchett and directed by Liv Ullmann at BAM, November 27-December 20; and a retrospective of classic Williams teleplays at the Paley Center from December 11-13. The playwright was recently inducted into the Poets' Corner at the Cathedral of St. John the Divine.

Remembering Johnny Mercer
Oscar-winning director/producer/composer/music enthusiastic Clint Eastwood is paying tribute to the legendary composer Johnny Mercer on the centenary of his birth [November 18] with the release of Bruce Ricker's Turner Classic Movies' Johnny Mercer: The Dream's On Me on DVD [Warner Home Video, two discs; SRP $30]. The disc is produced in association with the BBC and commissioned by the Johnny Mercer Foundation.
Ricker [Tony Bennett: The Music Never Ends] chronicles the life of a songwriter who truly left his mark on generations around the world not only with this famous songs in movies but also those that have become classic standards.
The features rare interviews and performances by Mercer himself and includes rare movie and TV featuring a Whos' Who of the entertainment world: Julie Andrews, Astaire, Pearl Bailey, Bennett, Nat "King" Cole, Crosby, Fitzgerald, Garland, Audrey Hepburn, Lena Horne, Sinatra, Streisand, and Andy Williams. Disc Two is packed with bonus material, including the featurette At the Piano with Clint and performances by Dr. John, Michael Feinstein and Audra McDonald.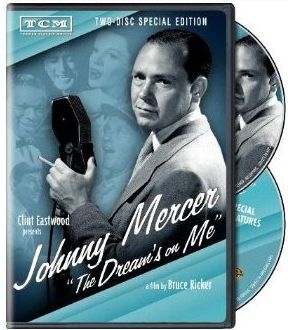 Though the composer/lyricist/saloon singer wrote music and lyrics, he mainly contributed lyrics to partnerships with composers Harold Arlen, Harry Warren, Richard Whiting, and Henry Mancini. His songs have kept the world singing for more than eight decades. Among his best-known are "Laura," "Dream," "I Remember You," "And The Angels Sing", "Blues In The Night," "Come Rain Or Come Shine," "One For My Baby (and One More for the Road)", "You Must Have Been A Beautiful Baby," "Satin Doll," "Tangerine," "Glow Worm," "Hooray for Hollywood," "Jeepers Creepers," "That Old Black Magic," "On the Atchison, Topeka and the Santa Fe," "Skylark," "Moon River," "The Days of Wine and Roses," "Day In and Day Out," "I'm An Old Cowhand from the Rio Grande," and among numerous others "Autumn Leaves."
Mercer wrote lyrics to more than a 1,000 songs, including those for 90 movies and six Broadway shows. He received 19 Oscar noms. His songs can be heard in such films as Seven Brides for Seven Brothers, Blues in the Night, The Harvey Girls, Breakfast at Tiffany's, The Days of Wine and Roses, The Americanization of Emily, Li'l Abner, and The Belle of New York.
In conjunction with the DVD release, New Line Records has released a CD Johnny Mercer - The Dream's On Me: A Celebration of His Music [SRP $16], featuring songs performed by Bono, Ray Charles, Crosby, Fitzgerald, Sinatra, Streisand, and, among othrs, John Williams.

More Mercer
Tonight at 8 at Carnegie Hall the New York Pops celebrate the centenary of Johnny Mercer's birth. Ann Hampton Callaway and actress/opera singer N'Kenge will co-headline a concert featuring Steven Reineke and orchestra. Special guests will be the Camp Broadway Kids. Tickets are $33-$104 and available at the Carnegie Hall box office, by calling CarnegieCharge at (212) 247-7800, or online at www.carnegiehall.org.

Idiots Return
They're back! And reignited! If you're looking for an explosive holiday gift that keeps on giving, and giving and giving look no further than the Flaming Idiots. The wise-cracking, whip-snapping three-man band [accompanied by a three-man band] will really put some spirit into the season in at the New Victory in their new show Chestnuts Roasting on the Flaming Idiots, which runs December 4 - January 3.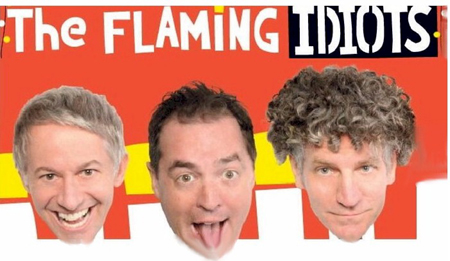 The 75-minute show represents a happy and unexpected reunion for the madcap comedians, who performed what was supposed to be their "very last show ever" at the Vic in 2004. The outrageous onslaught of crackerjack juggling and zany shenanigans resumes in this buffoonery-filled neo-vaudevillian variety show. Gyro, Pyro and Walter bring some of their signature acts back to the New Vic - bean-bag chair juggling, balloon swallowing, tossing machetes and jugglingf laming torches - along with a goody bag full of zany new antics and gross-out goofs.
Tickets are $15-$50; members $10.50-$35; and are available at the box office. Become a member and save. When you order tickets to three or more productions at one time, you become a member and save 30%. For more information, visit www.newvictory.com .
Ellis Nassour is an international media journalist, and author of Honky Tonk Angel: The Intimate Story of Patsy Cline, which he has adapted into a musical for the stage. Visit www.patsyclinehta.com.

He can be reached at [email protected]





Why are you looking all the way down here?
For more articles by Ellis Nassour, click the links below!

Previous: Rainbow's Pot of Gold; Golden Rainbow Story; Allen Moyer Set Design; God of Carnage's New Cast; Tonight, Tonight...Monday Overload; Saluting Forbidden Broadway; GWTW Returns

Next: 'Tis the Season to Be Merry, See Lotsa Shows; Holiday Attractions; Lorna Luft; Last Chance/Must Catch; More

Or go to the Archives