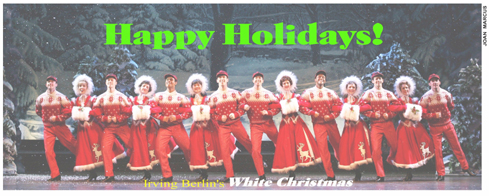 The holidays are upon us. Theatergoers dreaming of a white Christmas don't have to dream, there's lots of snow falling in several of the seasonal entertainments.
Support theater! Tickets to shows make shopping so easy and are great stocking stuffers. Is there anything that makes someone smile when they dip into a hung stocking more than tickets to a show [well, other than keys to a car, condo, sailing on Royal Carribean's Oasis of the Seas, a week in Paree]?.
There's so much frantic running around and stress, then it's all over in an instant. Through all this, the true meaning of the season is often forgotten. The best wish for anyone celebrating their special holidays is a return to the seriousness of purpose in our lives, especially in such hard times when so many are needy.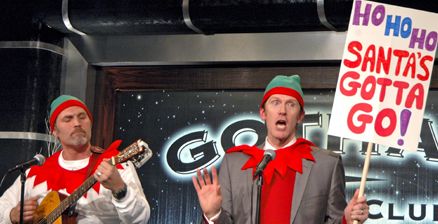 This is a point poignantly made in vastly entertaining and unique ways by Marc Kudisch and Jeffry Denman, who spent last holiday season on Bway in the ultimate holiday show - White Christmas, as the Holiday Guys. In song, dance, and comic bits in their Gotham Comedy Club show, they explore the joys of Hanukkah and Christmas, and with lots of gift giving - not to mention guest stars.
"The show is our doorway into our personal feelings and views of the holidays," says Kudisch, "of course from our skewered point of view."
Even though mounted quickly and with hardly a rehearsal before the first show last week, to Kudisch and Denman's credit, it's also one of the most entertaining shows in recent years. The guys have game; and aren't at all shabby in the area of production design.
Two more performances, December 21 and 28. Tickets are $30 and $45, plus two-drink minimum. To reserve, call (212) 367-9000. For more information, visit www.gothamcomedyclub.com.
The point is also made, but more subtlety, by Michael Feinstein and David Hyde Pierce, in his club debut, in their delightful Holiday Celebration at Feinstein's at Loews Regency, where with a couple of hilarious exceptions [such as their "You're the Top" duet and Pierce's discourse from Spamalot, "You Won't Succeed on Broadway"], the songs and some very fancy tinkling of the keys not only by Feinstein but also Pierce, who is classically-trained, raise the spirit.
In the words of one of their duets, they are "The Best of Friends"; not to mention a mutual admiration society. "Working with David is a true joy," states Feinstein, "because he's kind, talented, and the ultimate professional. I never know what he'll do or say. He's dangerously spontaneous! David learned our duets faster than I could and made many suggestions steming from his years as a music major. He can read music and I can't. My education has been deeply enhanced by watching him. When it comes to things like timing, tone of voice, motivation, and such, David makes it look so easy; yet I've rarely seen anyone work harder."
When Feinstein sits at the piano in a single spot and croons a great old chestnut such as "Have Yourself a Merry Little Christmas," it is so breathtakingly touching that not only does it give you goosebumps but it also makes you want to run right out and drop cash in every Salvation Army bucket.
Admission is $95 - premium seating at $250, plus $40 food/beverage minimum. For shows at 10:30 P.M., $75, no minimum. To reserve, call (212) 339-4095 or book online at www.feinsteinsatloewsregency.com or www.ticketweb.com.
Speaking of Feinstein, if you're looking for stocking stuffers look no further than his Sinatra Project CD [Cocord; SRP $19] and the more recent Power of Two [Harbinger; SRP $15], the album of songs from his Feinstein's show co-starring Cheyenne Jackson. Of the 15 tracks, 17 songs, there are standout, lushly romantic renditions of "We Kiss in a Shadow" [King and I] and "So in Love" [Kiss Me, Kate].


Holiday Inn
Irving Berlin's White Christmas, the stage musical reinvention of the beloved film is back for a second season on Broadway through January 3. The movie musical starred Bing Crosby, Danny Kaye, Rosemary Clooney, and Vera-Ellen. Headlining the 2009 cast of 33 are James Clow as Bob Wallace [Crosby] and Tony Yazbeck as Phil Davis [Kaye] - G.I. buddies out of the foxholes and now crooning and dancing their way to TV and recording fame. Playing the Haynes sisters, Betty [Clooney] and Judy [V-E] are Melissa Errico and Mara Davi, hopefuls trying to make it in show biz. Of course, they meet and, along with snow and a good deed in the air, they either immediately or finally fall in love.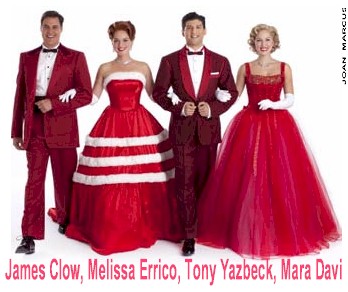 Joining these newcomers to the show is David Ogden Stiers [Major Winchester on M*A*S*H, among numerous other TV/film roles] as General Waverly, who now owns a Vermont inn mortaged to the hilt and faced with a holiday season without snow.
Not a newcomer to the show, the indefatigible Ruth Williamson is back on Broadway from W.C.'s last season Los Angeles sit-down to provide comic relief as Martha, the congenial inn manager. She steals every bit of scenery not nailed down and stuns audiences with her Merman belt.
The stage adaptation of W.C. not only has songs featured in the film but also other Berlin standards. There are dazzling tap and production numbers set to "I Love a Piano," "Blue Skies," "Let Me Sing and I'm Happy," and "I've Got My Love to Keep Me Warm." There are poignant moments, too, with "Count Your Blessings" and "How Deep Is the Ocean?" Other tunes include "Let Yourself Go," "Sisters," "The Best Things Happen While You're Dancing," "Love, You Didn't Do Right By Me," and, of course, the title tune, for which the entire audience joins in.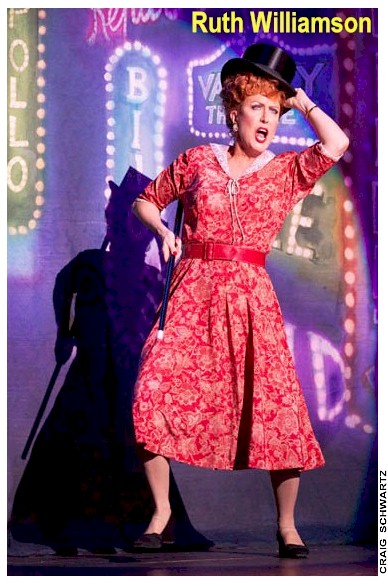 The book by David Ives and Paul Blake is adapted from the 1954 screenplay, which was based the 1942 screeplay for Holiday Inn, which co-starred Crosby. Berlin won a Best Song Oscar for that song that will forever epitomize the holiday season, "White Christmas."
Though slapstick circumstances, and very much in the spirit of Judy and Mickey, the foursome arrive to find lots of room at the inn - due to not a speck of snow; and the general in debt up to his Santa Claus hat. In an instant, an entire Broadway company arrives on the next train. To keep the general afloat, they put on a show in the barn that oddly looks like a Broadway theatre .
Tony and Drama Desk-winner and former song and dance man Walter Bobbie [Chicago] directs. Tony and DD-nominated Randy Skinner [42nd Street] is choreographer.
There are lots of newcomers in the ensemble. Skinner estimates the debuting cast members at about a third. "It's a real pleasure to give a dancer their first Broadway show," he says. "Your first time on Broadway is very special. We have eight dancers making their debuts - Abby Church, Sara Edwards, Chad Harlow, Matthew J. Kilgore, Jason Luks, Taryn Molnar, Dennis O'Bannion, and Richard Riaz Yoder."
There's one dancer who's making White Christmas his perpetual annuity. Drew Humphrey has the distinction of being with the show all six years in various sit-downs.

Martha on Broadway and Tour
There's been lots of invention in the revamping of White Christmas. One of the biggest changes involves inn manager Martha, a role that wasn't, per se, in the film. There was an inn caretaker, played by Mary Wickes, but the role has been drastically reinvented.
Regarding Ruth Williamson, Martha on Bway; and Lorna Luft, Martha in White Christmas' first national tour, Walter Bobbie states, "There are no carbon copies here, but very strong, vivid personalities. They are uniquely-gifted Broadway pros who have fine tuned Martha to their singular talents. When they sing, Ruth and Lorna really knock it out of the park, but with a surprisingly different swings of the bat."

Lorna Luft
She's back in the "good ole U.S.A." and, says Lorna Luft, who's portraying Martha in Irving Berlin's White Christmas' first national tour, "happy, thrilled to be here after two seasons in the U.K. edition."
"I loved our British cast," she exclaims, "but I don't think the creative team had a full understanding of the show. White Christmas is American as apple pie. We didn't get to bring the show to the West End but played Edinburgh, Plymouth, Southhampton, and Cardiff [Wales]. After that, I called my agent and pleaded, 'Tell them to let me come home!'"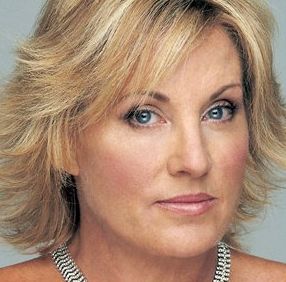 Being part of W.C. is "the type of experience where I have to pinch myself to make sure it's real. Certainly there's no other show that casts the holiday spirit better than White Christmas."
She felt she'd be perceived as a stranger coming to the American company. "Everyone had been together so long. I was the new kid on the block. It felt like my first day in school. On the first day of rehearsal, I had this ache in my stomach. But Walter [Bobbie] was so kind and generous. I can't sing his praises enough as a director. He's kind, considerate, and awfully smart."
Luft states she's having a blast with her cast: Stephen Bogardus [Bob], David Elde [Phil], Kerry O'Malley [Betty], and Megan Sikora [Judy]. Bogardus and O'Malley are from last season's Bway cast. "I'm in awe. They can do it all - act, sing, act, dance. We have an ensemble that couldn't be more wonderful or more talented. And, oh, can they tap! But, the best part for me is doing the show in the right accent!"
She delivers one of Berlin's brightest tunes, "Let Me Sing and I'm Happy." She notes that it's been fun to play with the character of Martha. "Karen Morrow originated Martha, and I'm honored to step into her shoes. My Martha is made up of a lot of those larger than life characters - Eve Arden, Lucy, Martha Raye, and, of course, Ethel Merman."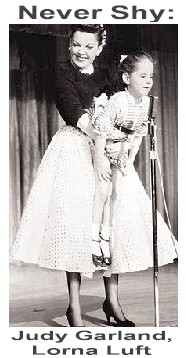 This is a special night for the tour. It opens tonight in St. Louis [at the Fox]. It was at the Muny where long-time exec producer Paul Blake first hatched the stage adaptation of White Christmas. The show has been further developed with David Ives as co-book writer.
In W.C., Luft was happy to be working with a friend of 20 years, Tony and DD-nominated choreographer Randy Skinner. "Our first time out was in a 1998 regional production of Girl Crazy. White Christmas is dance driven and Randy has created phenomenal numbers. No one understands and respects the era of movies' golden years and what musicals are made of as well as Randy.
"What I respect most," she continues, "is that his choreography reminds us of the masters. He carries on the tradition of such geniuses as Hermes Pan, Michael Kidd, and Gene Kelly."
She has praise for another old friend, Kelli Barclay, Skinner's assistant and frequent dance captain on shows he's involved with [as she is with the Bway company]. "She's a force of nature. Kelli wants the best for you and you want to do your best for her. I've never met anyone as positive. When I first saw her dance, I was floored. She knocked my socks off. On top of her talent, she's the most wonderful human. I'd do anything for Kelli. If she told me to jump off a bridge, I'd say 'On what foot?'"
Luft discovered the stage early. Growing up in a musical home where legends passed through on a regular basis, how could it have been avoided? "Mother didn't have to beg me to go out onstage and sing," she laughs. "I was ready, willing, and able." At 11, she made her TV debut on The Judy Garland Show. At 16, she, along with brother Joey, shared the bill with mom in 1967 in a month-long Palace engagement.
Four years later, she made her Bway theatrical debut in Promises, Promises, joining to play Fran Kubelik for it's final year. Off Broadway she took a break from comedy and musicals, replacing Ellen Barkin and working alongside Farrah Fawcett in William Mastrosimone's Extremities; and played Peppermint Patty in Larry Grossman/Hal Hackady's Snoopy. She's done years of regional theater.
Luft has name recognition in the U.K., where she starred two years ago in Babes in Arms at the Chichester Festival and, earlier this year as Hugh Whitemore's femme fatale, the American spy, in the U.K. tour of Pack of Lies.
She's also an author, her 1998 autobiography Me And My Shadows: A Family Memoir, which was adapted for a TV movie and in turn was the inspiration for her acclaimed one-woman show Songs My Mother Taught Me [written by Ken and Mitzi Welch who worked on the Carol Burnette shows; the CD is on Frist Night Records], which is arranged and music directed by her husband, Colin Freeman. Following the W.C. tour, she takes that show to Palm Springs.
"We want to bring the show to New York," Luft states, "but it's always all about the economics - finding the right theatre, coming at the right time."
She wants to do another Broadway musical and states that she'd be pleased to do W.C. on Bway next season "if it's in the cards. I pray that at least I'll be in one of the companies. I guess you can tell I'm just having the time of my life. And the cherry on top of the dessert is that we are doing incredible business. White Christmas has something for everyone!"
Irving Berlin's White Christmas plays in St. Louis through December 27, then moves to Louisville from December 29 - January 3, and closes after the January 5 - 10 engagement in Kansas City. For much more on Luft, visit her official website, www.lornaluft.com.

Hurry, Hurry, Hurry - Last Chance
The DD and Obie-winning Mint Theater Company witha celebrated reputation for re-discovering worthy but neglected gems has again found a treasure, Maurine Dallas Watkins' long forgotten backstage, backstabbing comedy So Help Me God! The original script hasn't been tampered with except to made a few trims in the three-act play, which has ageless crisp, biting dialogue.

Watkins authored Chicago, the play on which the musical is based. Mint A.D. Jonathan Bank directs. It plays at the Lucille Lortel Theatre through Sunday. This is the first time Mint has ventured away from it's West 43rd St. home of more than 15 years. The larger stage and seating capacity were pluses.

Kristen Johnston, two-time Emmy Award winner for her performance in 3rd Rock from the Sun, plays Lily, a fabulously decadent, egomanical diva who is a director's nightmare. Her antics will have you ROTFIL. In a magnificent reversal of fortune, straight out of All About Eve but 20 years before, she must fend off a challenge from her ambitious but naïve understudy, played by Anna Chlumsky [My Girl films].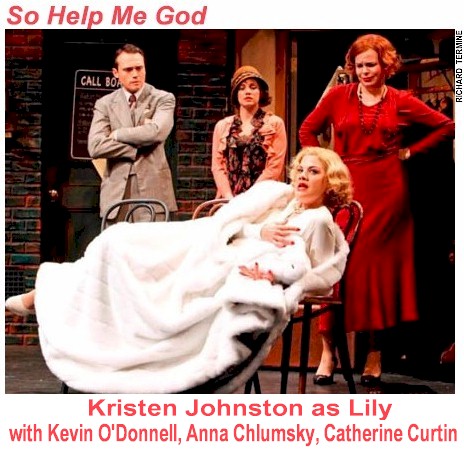 Johnston has appeared on and off-Broadway in The Women, Aunt Dan and Lemon and The Skin of Our Teeth. Anna Chlumsky has done extensive Off Bway work and can soon be seen in the films My Sweet Misery and Eavesdrop.
Bank has put together a first rate cast that includes Brad Bellamy as the frazzled director [right out of 42nd Street] and the delish Catherine Curtin as Belle, a Broadway babe who's seen it all and then some. It's hard to take your eyes off her as she reacts to Johnston's antics. Sadly, you don't see much of her after Act One.
Part of the show is watching as stagehands transform Bill Clarke's sets from act to act to act. Clint Ramos has come up with some drop dead diva outfits for Johnston's Lily.
In the 30s and '40s, Watkins wrote at least 19 screenplays including 1936's Best Picture nominee Libeled Lady , Up The River [directed by John Ford and starring Spencer Tracy and Humphrey Bogart in their debuts], No Man Of Her Own [starring Clark Gable and Carole Lombard], and Roxie Hart, her film adaptation of Chicago, which starred Ginger Rogers.
Miss Watkins, who passed in 1969 is a bit of a mysterious figure. She was a journalist, playwright, and screenwriter of Oscar-nominated films, but there's no critical biography of her life, no definitive collection of her work. When she gave interviews, they weren't very revelatory. In fact, she recalled her origins in details as angelically vague as the fake past she cooked up for Chicago's murderous heroine, Roxie Hart.
After several successes, she faded into obscurity in the 40s. In later years, she became a recluse. Always heavily veiled on her rare outings. This may have been her way of handling a disfiguring facial cancer. In her will, she bequeathed over $2-million to universities to fund classical studies.
To purchase tickets, visit the box office, www.ticketcentral.com, or call (212) 279-4200.

Spoofing Broadway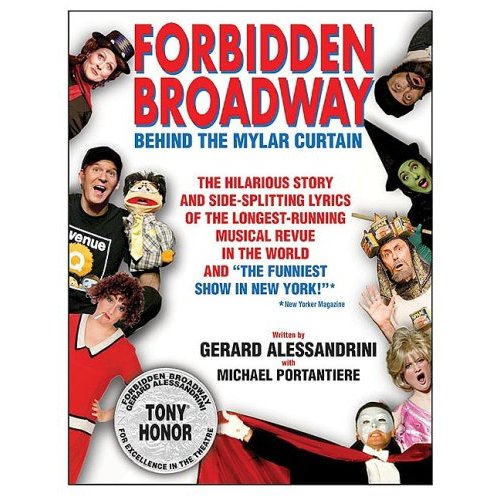 Gerard Alessandrini's book Forbidden Broadway: Behind the Mylar Curtain [Applause/Hal Leonard Books; 256 pages; lavishly illustrated; SRP $25] tells the hilarious story of the revue that spoofed Bway's best in 20 incarnations over 30 years.
The FB creator has as many awards as his revue has fans, including the Tony Honor for Excellence in the Theatre, four DDs, an Obie, and among numerous others, two Lucille Lortel Awards. In the book, written with Michael Portantiere, Alassandrini looks back at the creation and evolution of FB with cast members including Bryan Batt, Christine Pedi, and Daniel Reichard.
Among the chapter titles are "Cats, Phantoms, and More Misérables," "Teeny Todds and Grim Hotels," and "Who's Afraid of the Light in the Piazza?". This "mockument," as he calls it, contains over 100 B&W/color photos from worldwide productions as well as those of the celebrities who came to laugh at themselves.

Theater Read
Enchanted Evenings: The Broadway Musical from Show Boat to Sondheim and Lloyd Webber [Oxford University Press, 446 pages, multiple illustrations; trade softcover; SRP $28] by Geoffrey Block mines the rich vein of American musicals. Block, a professor of music history at the Puget Sound University, digs into the history of 18 musicals, including Show Boat, West Side Story and Phantom of the Opera. "I couldn't presume to unravel the mysteries of either artistic merit or popular success for these classic shows, but rather to establish a critical framework to an understanding and appreciation." The book equally addresses the importance of Bway musical film adaptations of Broadway musicals, mainly focusing on Tim Burton's Sweeney Todd and Joel Schumacher's POTO.

On Screen
After tonight's star-studded New York premiere of Rob Marshall's Golden Globe-nominated [Comedy/Musical] screen adaptation of Maury Yeston/Arthur Kopit/Mario Fratti's Nine, hopefully GG-nominated [Drama] Precious: Based on the Novel 'Push' by Sapphire won't be forgotten by moviegoers. In a stunning turn of events, director Lee Daniels wasn't nominated. His unsparingly raw, deeply poignant film isn't a big, splashy musical; and it's far from the ideal holiday entertainment [unless you feel your life is miserable and want to see how much worse off you could be].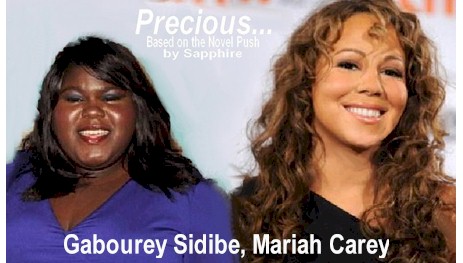 It tells the harrowing story of a young black woman's abuse by her mother and her ultimate rescue thanks to caring friends. The part is brilliantly played by unknown Gabourey 'Gabby' Sidibe, who just received a GG-nom [Actress/Drama].
In addition to already becoming one of the year's most talked about films, the movie has captured honors at the Cannes, Toronto, and Sundance Festivals. There are many shattering moments and it's not always easy to watch. There is a high quota of violence, but not the shoot-'em-up, blood-spoutin' kind.
Adapted from the 1966 novel, it's the story of 16-year-old Claireece Precious Jones who endures unimaginable hardships - obese, poor, angry, barely literate, unloved, ridiculed for her aspirations, abused by her mother, and raped by her father. She is blessed in the rare instance when the public school system actually works to benefit the child. Suddenly, pregnant, with the help of new friends, her life begins to change.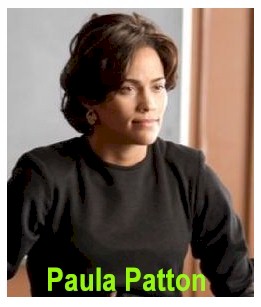 Daniels says, "Precious isn't just a tale of endless abjection. It's also the celebration of a young woman's determination to free herself from the pathologies surrounding her," guided by a teacher who senses innate talents and a tough yet compassionate welfare officer.
The casting is innovative: Sidibe, an unknown; stunning Paula Patton as the teacher has a magical screen presence [and could be almost mistaken for JLo]; and Mariah Carey, in only her fourth film since the Glitter fiasco should receive award buzz for losing her glam side and appearing "unvarnished" as a welfare worker. Rocker Lenny Kravitz, and Sherri Shepherd [The View; Everybody Loves Raymond] appear in featured roles.
Sidibe is a casting coup and Daniels extracts an awesome performance from her, but there's another coup: GG-nom [Featured Actress/Drama] comedienne Mo'Nique [Special Jury Prize, Sundance] as Precious' monstrous, jealous, abusive mother. Audiences who know her TV sitcom work and stand-up will be stunned at the depth of her performance. Mo'Nique makes every heavy you've seen onscreen look like Girl and Boy Scouts helping the blind and infirmed cross the street.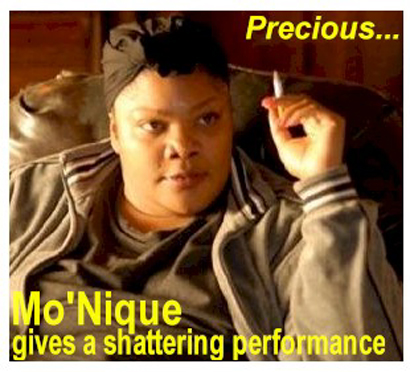 Casting the + size + plum role of Precious was painstaking. Casting directors couldn't fill the role. "There weren't too many 300 lb. actresses on their agency lists," laughs Daniels. So he auditioned, as he put it, "in the hood." Sidibe was the last of over 400 put to the test.
Daniels became her champion, working day and night with her "so I knew what she was capable of pulling out of herself from that place way down deep she didn't even realize was there." Sidibe's portrayal will open many doors and lead Mo'Nique down a path to heavy dramatic roles.
The inspiration to make the film came from a horrfic childhood incident that haunts him to this day. A young girl from his neighborhood came to his family's door naked, bleeding, and crying. She screamed, "My Mommy's going to kill me!"
Considering the nature of the film, Daniels explained that the shoot was "surprisingly lighthearted. Mariah was often helping Gabby with her make-up. Lenny was helping with costumes. Mo'Nique was always embedded in the script. When she got to particularly troubling parts, like where she has to throw a baby across a room, I had to keep her away from the craft services."

Here's to a joyous Hanukkah, merry and blessed Christmas, happy Kwanzaa and an ab fab New Year filled with peace, good health, and prosperity!
Ellis Nassour is an international media journalist, and author of Honky Tonk Angel: The Intimate Story of Patsy Cline, which he has adapted into a musical for the stage. Visit www.patsyclinehta.com.

He can be reached at [email protected]





Why are you looking all the way down here?
For more articles by Ellis Nassour, click the links below!

Previous: Ragtime Harmony; Encores! Season Opener: Girl Crazy; Kudisch/Denman Home for the Holidays; What Next for Rob Marshall?; Oscars Going MTV Route; Tennessee Williams Symposium/Film Retrospective; Remembering Johnny Mercer; Idiots Return

Next: Romance, Temptation, Passion, Debauchery, Torment - with Mixed Reaction - Onstage, Onscreen: A Little Night Music and Nine; Zero Hour Plans Move; Big Apple Circus; Rare Revival; La Boheme Telecast; More

Or go to the Archives