In 1967, when "starving" writer Mart Crowley "on the brink of destitution" but sitting in the lap of luxury finished his play The Boys in the Band, he says he intended it to be controversial. But, having distanced himself from gay politics, he didn't set out to be an rights activist. "I probably didn't even know what that meant," he laughs.
He soon found out. When the play opened Off Broadway in 1968, whether he wanted it to happen or not, Crowley and his play became catch words of the gay civil rights movement. Accolades and anger were heaped upon Crowley. Looking back, Crowley says he never thought he'd achieve such acclaim -- or be so reviled. In the matter of the latter, one leading critic termed BITB, "The Uncle Tom's Cabin of homosexual literature."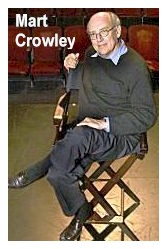 If you are going to be reviled [even by a segment of the gay community] for something you wrote - a ground-breaking comedy with a very dark side about eight gay men at a birthday party which segues from celebration to bitchy and brutal onslaught among the participants - better it become a world-wide hit and film [which Crowley co-produced in 1970] and provide the good life you always wanted to be accustomed to.
The cherries on top would be 35 years later writing a sequel about those boys [The Men from the Boys] and 42 years later having a second revival, with it's Sunday opening Off Broadway in a 99-seat site-specific production at 37 West 26th Street [between Broadway and Sixth Avenue, Penthouse], produced by the Transport Group and directed by T.G. A.D. Jack Cummings III.
Cummings had a unique idea on the staging. "I wanted you to come in and feel at home with the cast, so our design was going to have to be non-traditional." Sandra Goldmark created a 99-seat apartment setting in a loft space on West 26th Street. At first, Crowley wasn't wowed. "He'd always seen the play proscenium-bound," states Cumming. "He told me, 'This is going to look like a 12-step AA meeting,' and I shot back 'Well, in a way, it is!'"
BITB cast members are Jonathan Hammond [Ragtime] as Michael; Christopher Innvar [110 in the Shade, Floyd Collins] as Larry; Kevin Isola as Alan; Jon Levenson [Irish Rep's The Hairy Ape] as Harold; Kevyn Morrow [Olivier nom, West End, Ragtime] as Bernard; Graham Rowat [Lovemusik, Guys and Dolls, 2009], as Hank; Aaron Sharff as Cowboy; John Wellmann as Emory; and Nick Westrate as Donald.
The Boys in the Band has a disadvantage now. It appears years after an across-the-boards acceptance of just about everything homosexual; and Crowley is considered a pioneer in gay theatricals.
After becoming a worldwide cause celeb, Crowley described the years after the release of the film; the Off Broadway production of, perhaps, his finest work, the autobiographical A Breeze from the Gulf; and his career as a TV producer/writer as "relaxing and dull years."
Now, relocated to New York where it all began when he was living in the Theatre District with late Boys director Robert Moore, just as his career as an acclaimed director was beginning, life is hectic again with non-stop calls, faxes, and conversations with his agent.
Success at age 32 was exhilarating for someone who dreamed all his childhood of writing and making movies; but it also brought its demons: stress, depression and alcoholism. Following the failure of his second play, Remote Asylum, in L.A., he began to ruminate about being a "one hit" playwright. It was a theme that haunted him for years.
At 74, the past is behind him. He admits he went though "tons of money" buying the good life in New York, Los Angeles and throughout Europe; but he's not bad off. During his Hollywood era, he lived in a historic and legendary area of Hollywood where Fitzgerald wrote and Monroe lived -- in a 20s bungalow complex whose architecture typifies the "old" grandiose Hollywood -- where he had a stylish duplex, drove a Mercedes, and mixed with the rich and powerful.
Crowley grew up in Vicksburg, MS, site of a fierce siege that was a turning point in the Civil War and where Coca-Cola was first bottled. He describes his childhood in a dysfunctional family with an alcoholic father and drug-addicted mother as a "Eugene O'Neill nightmare. I was always pissed off that O'Neill had stolen all my material." Not to mention Tennessee Williams.
He attended Catholic school where, interestingly, he was an equipment boy for the football team. His escape was working with the Little Theatre, where he impressed with his set designs. He also spent "endless hours in the dark." Movies were his world and, he reports, where he developed his writer's imagination.
After graduation in 1953, Crowley went West, where he washed dishes in the UCLA cafeteria. In his spare time, he was obsessed with visiting movie lots. His father demanded he attend a Catholic university. "My goal was UCLA's film school, but I found that Catholic University in Washington had an excellent drama department. That led to a compromise."
Over Christmas, 1955, he met director Elia Kazan. Recalls Crowley, "He was shooting Baby Doll [with a screenplay by Tennessee Williams based on one-acts 27 Wagon Loads of Cotton and The Long Stay Cut Short] in the Mississippi Delta town of Benoit. I'd seen On the Waterfront, East of Eden, A Streetcar Named Desire and, onstage, Cat on a Hot Tin Roof , so I was already in awe. I spent days hanging about the locations, gawking at Carroll Baker, Karl Malden and Eli Wallach."

The crew befriended him. It didn't take long for Kazan to take notice. "I asked him a ton of questions," he says. "He seemed rather amused, and we developed a fast rapport. However, when I began talking about working in the movies, he advised 'Go back to school. Get your education, then come and see me.'"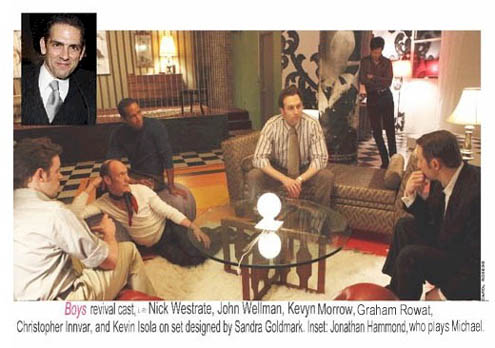 After working on an art degree at UCLA, briefly becoming an illustrator, and majoring in speech and drama at Catholic U., Crowley performed in regional theater and began writing.
On a trip to New York, he got a job as a production assistant on the Mickey Rooney film The Last Mile, which led to jobs on The Fugitive Kind, based on Williams' play Orpheus Descending, starring Marlon Brando, Anna Magnani, Joanne Woodward and Maureen Stapleton, and Buttlerfield 8, starring Elizabeth Taylor.
One night, Crowley bumped into Kazan, who offered him a job as his personal assistant on Splendor in the Grass. He did everything from making the director Greek salads to being the shoulder Natalie Wood cried on. When Wood was cast in West Side Story, she hired him as an assistant.
"She knew I was writing all these screenplays and said if I came to California she'd introduce me to agents. Natalie trusted me enough to read scripts she received. Their relationship blossomed into a lifelong friendship [and continued later with husbands Robert Wagner and Richard Gregson and their children]. Of Wood he says, "She was that extraordinarily rare individual - warm, caring, wonderful. I loved her deeply."
The pressure of stardom and romance led Wood to attempt suicide with an overdose of sleeping pills. It was Crowley who discovered her unconscious and rushed her to the hospital, registering her under a pseudonym and avoiding a Hollywood scandal.
In Hollywood, he wrote scripts, submitted them and received nothing but rejection slips. But in 1967 he was hired to develop projects for Paramount. Shooting began on his screenplay, Fade-In, starring Burt Reynolds. It was an insider's take on how they make movies. Studio heads thought it a little too inside and brought in another writer.
"In the end," notes Crowley, "the film was ruined and deemed unreleasable." He hated it so much that with his first money from BITB, he paid to have his name removed from the credits. It occasionally popped up on TV and was released on video as Iron Cowboy.
At Paramount, Crowley had an office "but nothing to do. On days when I didn't have one martini too many, I'd fall asleep reading or start a project of my own. One of those was the seed for Boys. The idea of setting it among a gathering of gay friends had been rolling around in my head, but the idea of setting it at a birthday party came when I attended one, attended an interesting collection of people. In the end, the characters are based on people I knew."
The title came from a Garland line inA Star Is Born, but he says the stimulus that really got him motivated was a New York Times feature on "closeted drama." "This critic wondered why America's leading playwrights didn't really write what they were really writing about. It stirred lots of controversy and I thought, 'Why hasn't anyone done that?'"
By the summer of 1967, Crowley says, "I had dried up as a Hollywood screenwriter and was so exasperated at being shut out that I considered throwing in the towel." Then he got a call from actress Diana Lynn, who asked him to house-sit her Beverly Hills mansion. "For five weeks," he laughs, "in a state of sheer determination and hysteria, I sat in the library and fought off the servants and wrote."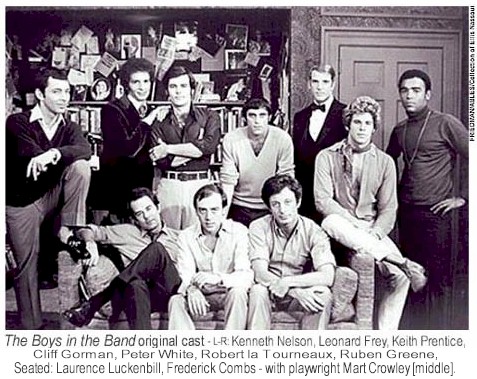 When he began shopping his play around, doors didn't exactly fly open. Crowley recalls the reaction of a New York agent, who exclaimed "A play about homosexuals at a birthday party! Come back in five years." BITB predated by a year the so-called Greenwich Village Stonewall riot, one of the flash points of gay liberation.
Edward Albee and his producer Richard Barr, no strangers to controversy, presented a workshop through their Playwrights Unit for invited audiences at the Vandam Playhouse [now the Soho Playhouse]. The list must have been long for the lines stretched around the block. With Charles Woodward as co-producer, the play premiered Off Broadway at West 55th Street's Theatre Four, where it ran 1,000 performances.
Co-star Cliff Gorman [Lenny], in the role of Emory, won an Obie for Ditinguished Performance. Other cast members included Leonard Frey, Laurence Luckinbill, Michael Keith, Kenneth Nelson, and Peter White. A later replacement was Tom Aldredge.
Clive Barnes, writing in the Times, noted: "The Boys in the Band is one of the best-acted plays of the season. It is quite an achievement. I have a feeling that most of us will find it a gripping, if painful, experience - so uncompromising in it's honesty that is becomes an affirmation of life." More recently, a critic wrote: "It was a brave play for 1968, vividly juxtaposing societal abhorrence and gay self-hatred against a growing desire to live and love openly."
Crowley and Moore, a longtime college friend, were blessed with the perfect cast. For the longest time, Crowley declined big movie buy-outs because he wanted to maintain control and keep the cast intact. William Friedkin directed the film adaptation [1970].
"My history up to then had been nothing more than one flop or false start after another," says the playwright. "Those failures left me unprepared for the sudden acclaim."
For a time, Crowley had more money than he ever imagined, "but," he says, "it didn't last the way I lived." And after the failure of his next plays, from 1973-1979, "I sort of evaporated, spending time in Paris, Rome, the south of France, so you see where the money went. But, like Edith Piaf, I am regret-free!"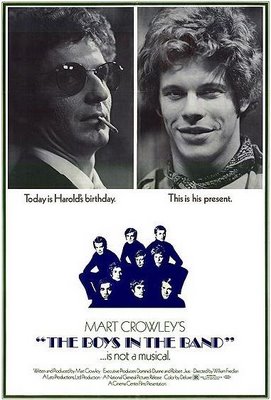 On his return Stateside, desperately in need of money, he was hired by Aaron Spelling as executive script editor and later became a producer for TV's Hart to Hart, which co-starred old friend Robert Wagner. After four years, he left to concentrate on writing Movies of the Week. "I was under immense stress to prove myself again, and had a heart attack. It was a wake-up call to change my diet and stop drinking."
The Collected Plays of Mart Crowley is available from Alyson Books. Boys film adaptation is available on DVD. A doc, entitled Making the Boys, about the original production, was an official selection at last year's Tribeca Film Festival.
One criticism consistently leveled against The Boys in the Band is that it depicts only guilt-ridden self-hating gay men who wish they weren't gay. Maybe, but thousands of young gay men claimed their lives were changed as a result of seeing the play and/or it's immense worldwide success. One young fan wrote Crowley: "I am 19 and I know why these men are so guilt-ridden and self-hating. It's still tough to be gay in America. If The Boys in the Band seems a bit narrow for focusing only on that, it's remarkably deep in spite of that."
Through the years, Crowley's been asked if the character of Michael is based somewhat or in whole on himself. He says, "I'm not ashamed if anyone wants to make an association between Michael and me. It's obvious he's based on me more than on anyone else."
Notes Crowley, "The themes of The Boys in the Band and The Men from the Boys - self-loathing and self-destruction -- fascinate me and are what I was hung up on for years. I've learned we do not have to be our own worst enemies. After all this time and a number of very expensive psychoanalysts, I've changed about as much as I'm going to change. The most amazing thing about life is that if you can come to grips with yourself, you can be a lot happier. I've finally been able to achieve happiness!"
Crowley appeared in the docs The Celluloid Closet (1995), about homosexuality and its depiction onscreen, and Dominick Dunne: After the Party, a biography of his and co-producer of the film, late author Dominick Dunne.
The Collected Plays of Mart Crowley is available from Alyson Books. Boys film adaptation is available on DVD. A doc, entitled Making the Boys, about the original production, was an official selection at last year's Tribeca Film Festival.
Crowley was also hand-picked by Kay Thompson's heirs to carry on the tradition of her Eloise books with her long-time collaborator [and long-time Crowley friend] illustrator Hilary Knight.
[BITB tkts are available at www.transportgroup.org or by phoning TheaterMania at (866) 811-4111 or (212) 352-3101. The venue box office opens one hour before curtain.]
Transport Group is sponsoring several special events connected with their production of The Boys in the Band: Thursday, March 4, at 8 P.M. tickets will be half price for buyers under 30 and there will be a post show reception [photo ID required]; and Friday, March 5, 7 P.M. , T.G. joins with the Matthew Shepard Foundation for a special intergenerational post show dialogue on equality. For tickets and information, visit www.transportgroup.org.
The company's "Dark Nights" series will give theatergoers a rare opportunity to experience readings of Mart Crowley's theatrical body of work. Sunday, February 28, following the 5 P.M. performance, there will be a reading of Crowley's BITB sequel, The Men From the Boys, set as the "boys" meet again at Larry's wake; and on Monday, March 8, 7 P.M., For Reasons That Remain Unclear, the autobiographical play, set in Rome, of "the chance meeting that brings a man face-to-face with the priest who abused him when he was nine years old." Tickets for the series are $19 each and may be reserved at www.transportgroup.com.
On dates TBA T.G. will present readings of Crowley's critically acclaimed A Breeze from the Gulf, about a 15-year-old Mississippi homosexual "suffering through adolescence with a drug-addicted mother and alcoholic father and how he grows into success as a writer"; Remote Asylum, the playwright's first post BITB work which focuses on a group of "bruised souls forced to deal with fears of loneliness, mortality, and emotional wounds not yet healed"; and Avec Schmaltz, which tells of "a perilous, smug, comfortable family, on the brink of dissolution," as they experience Christmas in Connecticut and New Year's Eve in California.
[N.B. - In the spirit of full disclosure, I'm a native of Vicksburg, MS, and have long known Mart Crowley.]

A Review
The Boys in the Band, Transport Group, 37. West 26th Street, Penthouse, between Fifth and Sixth Avenues. Set to run through March 14, but now with the likelihood of an extension.
For a long time, Jack Cummings and his Transport Group have been known for innovative, award-winning revivals. The tradition continues with the current revival of Mart Crowley's The Boys in the Band.
BITB takes place in a NY UES apartment where Michael, an alcoholic on the wagon who lives way above his means, and friend Donald ready to host a birthday party for long-time friend Harold, who has issues with his looks and who seems to know exactly how to push Michael's buttons. They are joined by seven friends: Bernard, an African-American who allows himself to be denigrated by best bud, the ultra flamboyant Emory, who's always on; bi-sexual Hank and promiscuous Larry, who disagree on relationship monogamy; and Cowboy, a prostitute who has been hired as Harold's present. The unexpected arrival of Michael's college chum Alan, as the "boys" do a Fire Island line dance, upsets the apple cart and turns the party topsy turvy.
Cummings concept of staging the play in a non-traditional site which 99 seats placed throughout Sanda Goldmark's evocative set was an idea that has paid off handsomely. The staging intimately involves audiences as spectators very close by the sidelines and, often, right in the middle of the action. This intimacy gives the play even more blistering bite.
Beginning in 1961, Neil Simon gradually built a rep as king of the comic one-liners. He had a brilliant skill of being able to craft these jolts that elicited great audience laughter into a coherent whole. You might say that Crowley, some seven years later, could have easily inherited the crown.
Amazingly, some 42 years later, 99 99/100% of his groundbreaking BITB holds up extraordinarily well not only as absorbing storytelling [much of it very autobiographical] but also as black comedy with almost two hours of slung one-liners that still elict mighty laughter. Perhaps one reason is that many of Crowley's zingers have found a home in hip vernacular - not only gay, but also straight.
The revival is sharply focused by Cummings' direction in a work that doesn't seem the least bit dated [though younger audiences might not understand a time when some had two phone lines or, when dialing Information, getting a human voice who miraculously and immediately has the number you're looking for at her fingertips. Often, and very powerfully, the director's deft hand is even felt in moments of silence when the "boys" are caught by surprise or standing, heads bowed.
The staging, as effective as it is overall, can be a disadvantage at times to those not seated close to a particular sequence - particularly true of those moments in Michael's bedroom, an elevated area at the far end of the loft space.
The Boys in the Band, with its black comic overtones that mask bitchiness, hostility, revenge, and tones of self-hatred, is a play not only dependent on excellent writing but also on perfect casting.
The original cast of the play is so indelibly set in many people's minds because of the work's inital long run and the fact that the film adaptation, though immensely opened up in early moments, starred - thanks to Crowley's insistence - the original cast. It's hard to forget those portrayals.
However, to a great extent, Cummings' cast is incredibly well chosen. Jonathan Hammond, in the pivotal role of Michael, covers all the camp and minefield of emotional bases excellently except in a prolonged breakdown that's just a little too hysterical and prolonged for its own good. He receives steady and able support especially from Graham Rowat as Hank, Nick Westrate as Donald, Kevyn Morrow as Bernard, and, as the unexpected guest, Kevin Isola as Alan.
It's never fair to make comparisons with actors in an original cast, but the performances of Clff Gorman as Emory and Leonard Frey as Harold are still so memorable and the characters so vital to making the play work that, respectively, John Wellmann and Jon Levenson have big shoes to fill.
In a clever touch, which especially adds nuance to the fadeout, Dane Laffrey has lit the playing area with assorted lamps and a light fixture.
Ellis Nassour is an international media journalist, and author of Honky Tonk Angel: The Intimate Story of Patsy Cline, which he has adapted into a musical for the stage. Visit www.patsyclinehta.com.

He can be reached at [email protected]





Why are you looking all the way down here?
For more articles by Ellis Nassour, click the links below!

Previous: On and Off Broadway: A Season of Gay Themes; Kathryn Grayson; Broadway by the Year Season Opener; Some Opera; At the Movies; More

Next: Songbook Season Closes with Chita Rivera; Leslie Uggams Dazzles; Jamie deRoy Salutes; Marilyn Maye Moves Up; Temperamentals TalkOut; Speed the Bard; Lea Salonga in Song; More

Or go to the Archives