Cirque du Soleil has returned to New York and has pitched its trademark 2,500-seat blue-and-yellow grand chapiteau again at Randall's Island, where it's scheduled to play through June 6.
Things are a bit different with this edition, titled OVO. It's about time. For one thing, at its helm is a woman director for the first time in Cirque's quarter century of shows, acclaimed Brazilian choreographer Deborah Colker. Her much-honored contemporary dance troupe tours the world. And the show has a new beat, very Brazilian.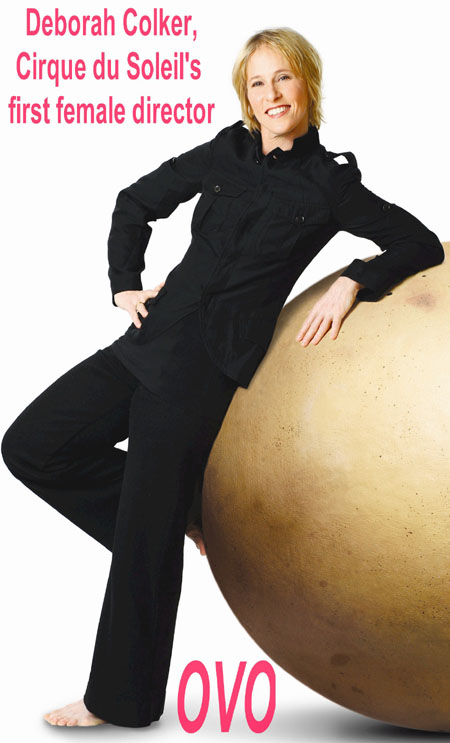 Montreal-based Cirque has become a huge worldwide entertainment entity. It presents 21 shows throughout the world. Though all are colorful and exciting in various ways, the tented shows have recently been affected with a sameness. Colker was hand-picked two years ago by CduS co-owner Guy Laliberté thought it was time to shake things up. "I think they had been looking for me for a long time," she laughs. "They had been watching for a long time what I have been doing."
A CduS VP met Colker after a performance of her dance company in London in 2006 "and that's how it all began. They invited me to create a show. Guy said he wanted a show about nature and bio-diversity, my first instinct was to choose the insect world. I brought my way to think movement and combined it with all the famous Cirque du Soleil style. I feel I've breathed new breath into Cirque."
It's good to report that OVO is undoubtedly the best CduS in several years - not so much because it's earth-shattering different as far as acrobatic and thrill acts go; but because it dances.
Colker brought aboard award-winning Brazilian film composer Berna Ceppas, an old friend who composed for her dance company. The OVO score is a fusion of samba, forró [the traditional music of Brazil's Northeast], carimbó [Latin and Afro rhythms], reggae, Rio fun [the electronic beat favored in the city's favelas [shanty towns], and unique "Cirquephonic."
The exuberant Colker, who also choreographed and wrote, speaking in deeply accented English but with a Portuguese lilt describes OVO as "a headlong rush into a colorful ecosystem teeming with life, a sort of rain forest, where insects work, eat, crawl, flutter, play, and fight. I love to work on a large scale and create a big impact with tons of energy and excitement.
"The world created for this show teems with contrasts," she continues. "The hidden, secret world at our feet is revealed as tender and torrid, chaotic and tranquil. With each new day, the vibrant cycle of insect life begins anew. It was important to me to bring to audiences the feelings and different movements of each insect group."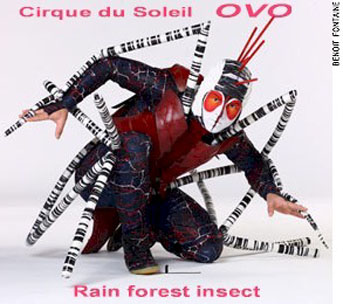 The name translates as "egg" in Portuguese and "it's this timeless symbol of the life cycle that's the underlying thread of the show. When a mysterious egg appears in the rain forest, the insects - everything from dragonflies, soldier ants, and the segue from cocoon to butterfly to spiders, scarabs, and never-before-seen-or-heard-of "monsters" - are awestruck and intensely curious about this iconic object. And, yes, there's a love story - between a gawky, quirky insect and riotous ladybug.
The cast comprises 54 performing artists from 16 different countries. None were dancers, reports Colker. "And that's the way I wanted it. My decision was to not have dancers attempt to be acrobats, but to train acrobats to be dancers. I wanted to make all these acrobats move and dance to tell my story through body language."
Rehearsals began in Montreal in October, 2008 and ran through April, 2009. "Those seven months allowed me by Cirque du Soleil gave me the opportunity to create an original work set against a particular theme."
OVO has clowns, singers, and all manner of acts that combine such circus disciplines as banquine, Russian swing, and swinging chair.
They include hand balancing, foot juggling, aerial silk, Spanish web, and contortion.
There are three supreme highlights: the Act One finale, Scarabs Valant, a six-person Russian troupe who fly high, high, high [40 feet, in fact] in and through the air - doing triple and quad somersaults - often sans trapeze [in free fall into the hands of the catcher]; an edge-of-the-seat slack wire act; and the grand finale, Trampo-wall, an extended, thrill act featuring 20 multi-national artists running, jumping, and leaping on trampolines and landing atop a 24-foot vertical climbing wall.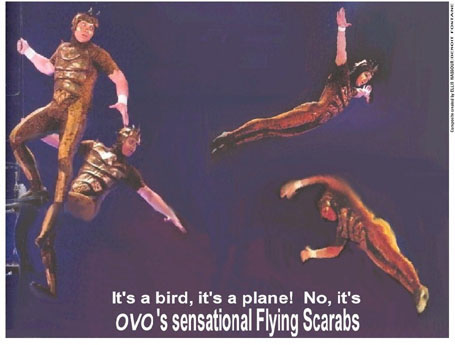 For a video preview of OVO, click here:
http://www.cirquedusoleil.com/en/shows/ovo/media/official-video.aspx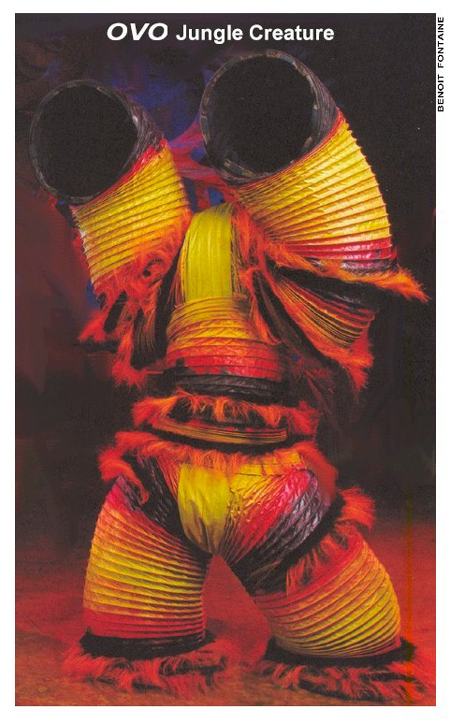 Artistic guides are CduS owners Laliberté and Gilles Ste-Croix. Chantal Tremblay is director of creation, with scenic design by Gringo Cardia. Colorful, often Felliniesque costumes and unique makeup are trademarks of every Cirque show; and that's certainly true of OVO. Costumes are by Liz Vandal, with make-up by Julie Bégin.
The OVO score, currently available on iTunes, will be available as a CD on April 27.
Tickets are $55-$140 for adults; $38.50-$98 for children 2-12 years old; and, weekdays only, $49.50-$117 for senior and students. They are available at www.cirquedusoleil/ovo or by calling (800) 450-1480. CduS's VIP Tapis Rouge packages are $225 for adults and $178.50 for children and includes premium seating, and access to Champagne, wine, and beverages, as well as a variety of food choices and desserts during the half-hour intermission. The on-site box office opens two hours prior to showtime. Visit the site for directions and transportation options.
The U.S. presenting sponsor is iShares. Sun Life Financial, CGI, Wyndham Hotels and Resorts, Infiniti, and American Express are also participating sponsors.

Deborah Colker
As a child in her native Brazil, Deborah Colker, who is now a vibrant, energetic 49 who keeps the pace of a 20-year-old, grew up in a creative environment. Her father was a violinist and conductor and she played piano from age eight. "I was quite good," she notes, explaining that by age 14 she was playing with an orchestra. "But I soon realized I needed to express my emotions physically."
She also became quite adept at sports, which segued into an interest in movement and dance. "I was very passionate and intense and contemporary dance gave me the chance to fit physical and intellectual emotion together."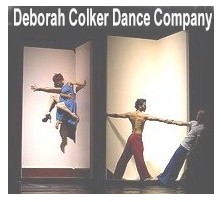 Colker became a member of Uruguayan choreographer Graciela Figueroa's Coringa company in 1980. In 1984, she began choreographing and directing musicals, TV programs, movies, and working with high intensity in Rio's famed samba schools.
Wanting to create a choreographic language of her own, Colker in 1994 founded her company, Companhia de Dança Deborah Colker, now a company of 20 dancers [on a two-month tour in the U.K. beginning April 23]. "We say we are a contemporary dance company, but the basis for my choreography is classical ballet. My work is like Brazil," she says, "the mix of colors, rhythms, happiness, and discovery. I was fortunate to be born in such a beautiful, creative, and musical country."
Working with Cirque was a departure from Colker's customary way of working. While she develops concepts during the rehearsal process, for OVO she had to come up with concepts a year and a half before rehearsals began.
"I have a very physical choreographic language," says Colker. "The world of insects is one of constant movement. OVO reflects my background in dance, of course, but it also represents my lifelong love of music, the inspiration I draw from sport and the liveliness you can discover in every aspect of life."

Another Opening of Another Cirque
After much anticipation, much delay, and a complete reworking, Cirque du Soliel's new show Banana Shpeel begin previews April 29 at the Beacon Theatre. It's set to run through the end of August.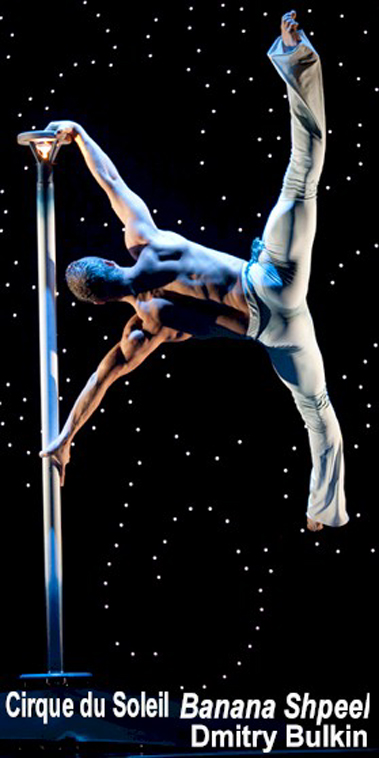 Like the touring OVO, this has a different feel. In story and concept, instead of thrill acts, it harks back to the glory days of vaudeville. While there are some outstanding acts, the emphasis is on comedy and dance.
The show introduces "producer extraordinaire" Marty Schmelky, who has a larger-than-life personality. He showcases a colorful array of slapstick comedy, eclectic dance, and acrobatic acts from around the world. It doesn't take long before some of the zanier characters are spreading mayhem and chaos.
Schmelky is played by Danny Rutigliano, best known for his role as Timon in Disney's The Lion King. Assisting Schmelky are three slapstick sidekicks, Daniel Passer, Wayne Wilson, and Shereen Hickman. They are backed by comics Claudio Carneiro, Patrick de Valette, and Gordon White.
Hand balancing, hat juggling, foot juggling, and contortionists are among the featured acts by an international cast of 38. The large dance ensemble features brother-sister tap dance duo Joseph and Josette Wiggan. Music director Petros Sakelliou and six musicians perform an original score.
CduS founder Guy Laliberté was very hands-on in guiding the revamping of B.S., assisted by Gilles Ste-Croix. Former clown and Bway vet David Shiner [Kooza] is writer/director. Choreography is by Jared Grimes. The score is composed and arranged by Simon Carpentier. Cirque's Serge Roy is director of creation.
Through May 18 Banana Shpeel tickets are $35-$89. From May 21 to August 29, they are $45-$110. Tickets, and VIP premium seating, are available at the Beacon box office, online at www.schmelkyproductions.com or www.ticketmaster.com, or by calling (866) 858-0008.

The Tonys are Coming, The Tonys Are Coming
The 64th annual Tony Award nominations will be announced on May 4 by Lea Michele [Spring Awakening; TV's Glee] and Tony nom Jeff Daniels [God of Carnage]. It all happens at 8:30 A.M. at the Bruno Walter Auditorium in the Dorothy and Lewis B. Cullman Center of the New York Public Library for Performing Arts at Lincoln Center.
Sponsored by IBM, the nominations can be viewed in their entirety at www.TonyAwards.com. The road to the June 13 Tony Awards can be followed on Twitter [Twitter.com/TheTonyAwards] and Facebook [Facebook.com/TheTonyAwards]. The Awards will be emanate from Radio City Music Hall in a live three-hour CBS telecast,

Zero Hour Extends
Some may remember him as Father James on All My Children; and from his years of regional theater. Still others may recall him Off Broadway in The Big Voice: God or Merman. However, from now on Jim Brochu will be remembered for his vivid, spot-on impersonation of the irresistible, irascible, legendary, and famously volatile comic actor Zero Mostel in his one-man play Zero Hour.
Brochu gives the performance of his lifetime - one of the best ever, On or Off - in this vastly entertaining play that's a must-see for theaterlovers.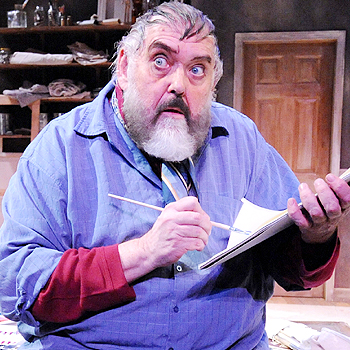 Following its acclaimed run Off Bway,Zero Hour is now at the DR2 Theatre [103 East 15th Street, east of Park Avenue South]. .
The play is 90 minutes of edge-of-the-seat explosive theater. The concept is built around a 1977 NYTimes interview with Mostel at his West 28th Street artist studio. The ensuing session leads to an explosion of memory, humor, outrage, and juicy backstage lore.
Z.H. has earned across-the-board raves for Brochu's crisp writing and animated portrayal of Mostel.
Jason Zinoman, in the New York Times, wrote, "Singularly captivating. Zero Hour is a success. Brochu is the spitting image of the bearish Mostel, down to the strands of hair barely covering his head. His wildly expressive gestures are particularly spot on. It brings Mostel back to life, just the way his fans want him."
The interview, given shortly before Mostel left for Philadelphia for the pre-Broadway tryout of The Merchant of Venice. He played one performance as Shylock before his sudden death at age 62.
Z.H. won numerous honors in regional engagements including L.A.'s Ovation Award for Best New Play.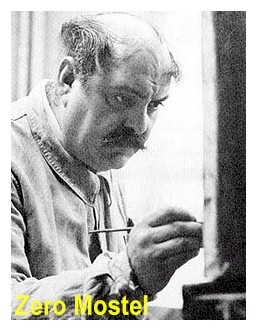 Brochu traces Mostel's early days growing up on the Lower East Side as the son of Orthodox Jewish immigrant parents, through his rise as a stand-up comedian, from the Borscht Belt to Manhattan's most exclusive supper clubs, and from the devastation of the blacklist to his Broadway triumphs - most memorably in A Funny Thing... and as Tevye in Fiddler on the Roof.
Brochu relives the devastation the blacklist had on careers such as Mostel, Jack Gilford, and hundreds more in one of America's darkest, most shameful eras, In the late 40s into the mid-50s the buffoonish but powerful senator from Wisconsin, "Commie Hunter" Joseph McCarthy, who headed the Congressional House Un-American Activities Committee. House, seized headlines wildly accusing high profile actors of stage and screen of being "reds." These actors were exiled, with some of the accused committing suicide.
The one person Mostel despised above all others was choreographer/director Jerome Robbins, who went before the committee and named names. In an odd set of love/hate circumstances, it was Robbins, a.k.a. "Loose Lips" by Mostel, who led the actor to two of his most memorable portrayals, that of Pseudolus in Funny Thing... [1962], and Tevye in FOTR [1964]. Before those two landmark performances, the three-time Tony-winner received great acclaim playing John in Ionesco's Rhinoceros.
Then came his triumph onscreen: Mel Brooks' The Producers, which co-starred Mostel as Max Bialystock opposite Gene Wilder as Leo Bloom. It was a role and picture he despised. Mostel's last role in New York was as Leopold Bloom in Ulysses in Nightgown, which garnered him a DD Award and Tony nom.
"Zero had a great influence on my life," says Brochu. "I was fortunate to get to know him when I was starting out. His life was filled with great laughter, drama, and life lessons. Few in show business had more obstacles to overcome than Zero. Drama is about overcoming obstacles - the protagonist and the antagonist. Zero had a lot of antagonists in his life. He said, 'I've been excluded as a man. I've been excluded as an entertainer. I've been excluded as a Jew.'
"He was disowned by his parents when he married a Catholic," continues Brochu. "There was the blacklist; and just when then things were going great, he was hit by a bus and, had he not spoken up with great determination, would have had a leg amputated. That's a pretty dramatic life."
Mostel tried to heal the rupture with his mother when she was dying by bringing his son Josh to the hospital so she could meet him; but what was broken remained broken. When she raised up from the bed and saw them in the doorway, she screamed, "No! No! No!"
Zero Hour is directed by one of the 50s most popular movie sweethearts, Piper Laurie, who segued to three Oscars noms [Hustler, Carrie, and Children of a Lesser God], a Golden Globe nom [TV's Twin Peaks], and nine Emmy noms [including a nod for the live TV broadcast of Days of Wine and Roses, directed by John Frankenheimer] with a 1986 win.
She appeared on Bway in revivals of Morning's at Seven as Esther; and The Glass Menagerie as The Daughter; Off Bway in Larry Kramer's The Destiny of Me and MTC's revival of Biography. She has toured extensively in William Luce's one-woman show, The Last Flapper, based on the writing of Zelda Fitzgerald. Ms. Laurie also directs film and, still works in them. She just wrapped a featured role in her 61st, Hesher with Natalie Portman and Joseph Gordon-Levitt.
Producers are Edmund Gaynes and Kurt Peterson [who, in his acting career, starred in the Lincoln Center revival of WSS, opposite Angela Lansbury in Dear World, and as Young Ben in the original Follies ] .
For more information, visit www.ZeroHourShow.com.

What a Gift!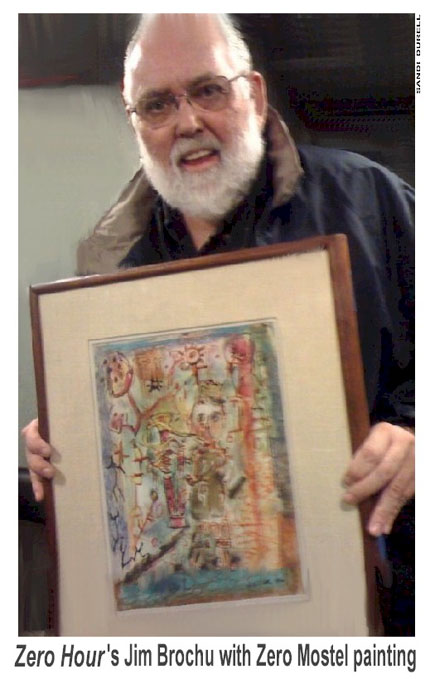 Now Jim Brochu has a piece of Zero Mostel. Last week, Paulette and Ira Buch were so impressed with Brochu's impersonation and the play that they returned to present the star with an authentic oil-on-canvas 1960 Mostel, in the style of Marc Chagall.
Mrs. Buch's father, Alex Segal, a successful businessman who knew Mostel and several up-and-coming painters from his days at City College, purchased works from Mostel in the 60s.
"If Zero was in need of money," said Mrs. Buch, "which given the blacklist and his being called before the congressional committee and then his near fatal injury [when the actor was slammed by a careening bus, which literally shattered one of his legs],was no doubt the case, my father would buy a couple of paintings to be of help."
Brochu was floored. "What an incredible legacy to possess paintings by Zero Mostel and what amazing and kind thoughtfulness to present me with one of them. This will be something I'll treasure the rest of my life."

Gotta Dance! Gotta Dance!
Anticipation is building for Career Transition For Dancers' 25th Anniversary star-studded Silver Jubilee and it's not until November 8. CTFD galas are always star-studded and this one already has quite a star line-up. Among those joining host, five-time Tony-winner [perhaps soon-to-be six-time, with the acclaim heaped upon her co-starring role in the Little Night Music revival] and three-time DD winner Angela Lansbury will be Tony and DD winners Bebe Neuwirth, Ann Reinking, and Chita Rivera.
The always spectacular show, to be produced/directed by Ann Marie DeAngelo, will feature artists from dance, theater, and film to highlight memorable moments from past galas. The presenting sponsor is Rolex.
[
CTFD, with offices and programs in New York [the Caroline and Theodore Newhouse Center for Dancers, 165 West 46th Street at Broadway, Suite 701], L.A., and Chicago, has helped over 4,300 professional dancers identify their unique talents in preparation for establishing careers when dance is no longer an option. It annually awards millions of dollars in scholarships for education, entrepreneurial grants, and certification programs. For more information,visit www.careertransition.org
It's time to begin planning. Patron tickets are $600, $750 and $1,200. Tables of 10 for the after-concert dinner dance start at $7,500. These include premium seating, post-performance dinner dance, and live auction. To purchase, call Marjorie Horne, McEvoy & Associates, (212) 228-7446 X.33. Show only tickets will go on sale soon at the City Center box office.

Writing Toward Broadway's Future
Kurt Deutsch and Noah Cornman of Sh-K-Boom and Ghostlight Records will present NewMusicalTheatre.com, a one-night concert at Le Poisson Rouge [158 Bleecker Street at Thompson Street], on Monday at 10 P.M. The show will celebrate the label's recent website launch and the future of musical theater by bringing together a large group of young songwriters.

The concert will bring together the next generation of musical theater writers, featuring the six composers on the site - Nick Blaemire [Glory Days], Adam Gwon [Ordinary Days], Joe Iconis [The Black Suits], Kait Kerrigan and Brian Lowdermilk [The Unauthorized Autobiography of Samantha Brown], Ryan Scott Oliver [Mrs. Sharp], and Benj Pasek and Justin Paul [Edges]. The concert with this generation's most celebrated performers -- with a starry lineup of performers. The roster of 15 performers will include former South Pacific/Pajama Game star Kelli O'Hara and Addams Family co-star Krysta Rodriguez. Tickets are $22 and available online at www,lepoissonrouge.com.

Season of Benefits
Primary Stages kicks off their 25th Anniversary celebration at 59E59 with a week of special concerts, "each one a gem." April 25, Julie Halston and Charles Busch are center stage, followed on the 27th by Mario Cantone. On April 28, Penny Fuller and legendary composer Charles Strouse [Bye, Bye, Birdie, All American, Golden Boy, Annie, Applause] headline. Gregg Edleman and Karen Mason are April 29. Larry Gatlin will make a rare appearance on the 30th with his Gatlin Brothers and will be joined by Billy Stritch. On May 1 Jamie deRoy & Friends - Loni Ackerman, Christopher Fitzgerald, Anita Gillette, Bonnie Langford, Christiane Noll, and Kevin Spirtas - saltue songs from Tony-winning musicals with special guest, legendary lyricist Sheldon Harnick [Fiorello!, Fiddler, She Loves Me, The Apple Tree]. Showtimes are 8 P.M., except April 25 at 7. Tickets are $20 and $30 and available at www.ticketcentral.com or by calling (212) 279-4200.

Online auction bidding for a vast array of gift items begins on April 29 [and continues until 10 P.M. that day] in connection with Playwrights Horizons' annual Spring gala benefit, to be held on May 3 at awesome Guastavino's in the arches of the 59th Street Bridge. Register at www.playwrightshorizons.cmarket.com, then place your bids. Among the "opportunities" are dinners with Stephen Sondheim, Craig Lucas, Christine Ebersole, and composer Scott Frankel; dinner with director Michael Mayer before attending a performance of Green Day's American Idiot , which includes a backstage visit; a backstage visit to the 30 Rock set that includes a photo with the cast, signed script, DVD set and attendance at a taping with director Don Scardino; horseback riding with Jonathan Groff; having a song written for you by Avenue Q's Tony and DD-winning composer/lyricist Robert Lopez; a seven-night stay in Argentina at spectacular Casa al Reves; tickets for the 2011 Sundance Film Festival; sitting in the orchestra pit during a performance of Mamma Mia!; and, among numerous other items, attendance at a P.H. opening night with Kelli O'Hara and Greg Naughton.
The gala, In Quarter Time, honors Playwrights' A.D. Tim Sanford, celebrating 25 years with the company and will feature a performance by Tony and DD winner Victoria Clark. Co-chairs are nine notable P.H. vets: Joan Allen, Christopher Durang, Craig Lucas, Michael Mayer, Cynthia Nixon, Lynn Nottage, Mary-Louise Parker, Theresa Rebeck, and a, hopefully, fully-clothed Marisa Tomei. Raffle prizes include two round-trip coach airline tickets for a week in Palm Springs in a mid-20th century, three-bedroom, three-bath manse with mountain views, garden, heated pool and spa. [Hey, if you're staying in a pad like that, shouldn't the tkts be First Class? Maybe you'll get an upgrade!]Tickets start at $800. Reserve by calling Michelle Kiefel, (212) 564-1235 X. 3143.

New to DVD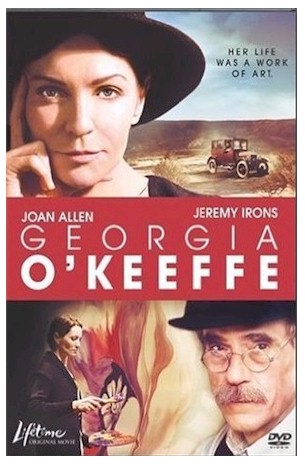 Joan Allen, sporting a makeover that might make you wonder what happened to the "old" Joan Allen, gives the performance of a lifetime as iconic American painter Georgia O'Keefee [Sony Pictures Home Entertainment; SRP, $25]. The shattering and much-nominated made-for-TV film [for Lifetime], landing on April 27, costars Oscar winner Jeremy Irons as O'Keeffe's husband, charismatic master photographer Alfred Stieglitz. The film chronicles the couple's turbulent 20-year-relationship and O'Keeffe's nervous breakdown on learning of Stieglitz's infidelity and her eventual self-discovery in the painted desert of Taos, New Mexico. Tyne Daly as renowned Taos society doyenne Mabel Dodge Stern, wife of painter Maurice Stern, is featured along with Linda Emond, and Kathleen Chalfant. Michael Cristofer [Pulitzer Prize winner, The Shadow Box] did the teleplay. Bob Balaban directed. The package includes the featurette, Portrait of an Artist: The Making of Georgia O'Keeffe.
Ellis Nassour is an international media journalist, and author of Honky Tonk Angel: The Intimate Story of Patsy Cline, which he has adapted into a musical for the stage. Visit www.patsyclinehta.com.

He can be reached at [email protected]





Why are you looking all the way down here?
For more articles by Ellis Nassour, click the links below!

Previous: You Know How to Whistle, Don't You?: Encores! Season Finale Is a Hit; A Shattering Glass Menagerie; Yank! to Soldier On; No Miracle for Miracle Worker; More

Next: Euan Morton Sings the Praises of Sondheim and the Sondheim on Sondheim Cast

Or go to the Archives